10×10 London Event, Article 25 Exhibition, Building, Auction, Design, Image
10×10 London : Event by Article 25
Article 25 Exhibition + Auction, London, England : Art for Architecture
1 Nov 2020
Preeminent artists and architects unite in Article 25's flagship auction fundraiser.
What do Banksy, a Brexit piggy bank and the RIBA's latest Gold Medallist, Sir David Adjaye, all have in common? They each feature in Article 25's 10th anniversary art auction fundraiser.
Article 25 Auction Exhibition: 10×10 London
Article 25 auction in 2013
10×10 Drawing the City – information re the event in Sep 2013
16 Nov 2012
Article 25 Event
10 x 10 Drawing the City exhibition & auction
The 10×10 Drawing the City auction, which raised over £80,000 for Article 25.
Over 100 artworks by renowned artists, architects and designers were auctioned at Somerset House on the 14th November 2012, raising over £80,000 for Article 25, the UK's leading construction charity that designs and delivers projects to provide better shelter where there is disaster, poverty or need.
Image by Eric Parry:


As part of this year's 10×10 Drawing the City London, renowned auction-house Sotheby's brought the hammer down on twenty-eight lots at the live auction, including works by artists Jake & Dinos Chapman, architects Zaha Hadid, David Adjaye, Eric Parry and Norman Foster and fashion designer Paul Smith. The remaining lots were sold in a silent auction on the night as well as online throughout the preceding two-week exhibition. Over 400 bidders attended the auction to compete for their favourite pieces and 100 of the luckiest walked away with exclusive artworks depicting the architecture of London.
Robin Cross, Acting CEO and Director of Projects, praised all involved: "Through the generosity of our sponsors, Article 25 is able to run 10×10 Drawing the City with no overheads, which means every penny raised at the auction goes into our work to rebuild lives and transform communities. I heartily thank all the bidders who are enabling us to realise vital construction projects in some of the world's poorest countries."
Yesterday's auction was the culmination of this year's 10×10 Drawing the City, in which London's West End was divided up into a 10 x 10 grid and participants assigned a square as inspiration for creating their artworks. Participants collectively took to the streets on a special drawing weekend in mid-September to draw their given squares. All the artworks were exhibited prior to auction in the newly refurbished West Wing Galleries of Somerset House. 10×10 Drawing the City is the flagship fundraiser for Article 25 and was supported this year by Barratt London, ING MEDIA, Sotheby's and Somerset House.
1 Nov + 31 Oct 2012
Article 25 Event in 2012
Safer Buildings for Communities Across the Globe
'Article 25: the built environment's charity'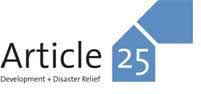 10×10 article for e-architect
10 x 10 Drawing the City exhibition & auction
London
1 – 14 Nov 2012
One hundred celebrity architects and artists, including Lord Foster, Dame Zaha Hadid and Jake & Dinos Chapman, have all been let loose in London's West End with pens, pencils, paintbrushes & sketchpads. Their diverse artistic interpretations of the cityscape has been brought together in a unique exhibition that is entitled 10 x 10 Drawing the City and runs for two weeks from 1 November to 13 November at Somerset House on the Strand. Then on 14 November, the event culminates in a live auction, when the artworks will be sold off for the benefit of Article 25, the charity set up by UK architects for "building solutions to global problems".
Image by Charlie Whitaker:


What makes 10 x 10 unique as an exhibition format is that an area of the city is divided up into 100 identical squares by overlaying a notional grid. And then each "square" is allocated to a different participant, who can interpret what is to be found there in any visual way he or she pleases. The exhibition is the brainchild of architect Tim Makower, who pioneered it last year in the City of London on behalf of Article 25. This year it is the turn of the West End including Covent Garden. The result of this union of the individual and the collective is, in Makower's words, "a snapshot of the city made up of one hundred personal viewpoints."
The myriad personal viewpoints of the West End range from traditional renditions of architectural landmarks, as in Eric Parry's watercoloured sketch of Cambridge Circus, to Matthew Lloyd's acidic, Cubist interpretation of Renzo Piano's Central St Giles. A few participants even flirt with Surrealism, such as Charlie Whitaker, who has recreated the city in giant polystyrene coffee cups. "The car is gone," comments Whitaker, "the bicycle is everywhere, and daily life runs on coffee."
Image by Matthew Lloyd:

These three tasty concoctions, along with 97 more, can all be gulped down at Somerset House over the next fortnight.
The exhibition 10 x 10 Drawing the City London will be open every day from 1 November to 13 November from 10 am to 6 pm in the West Wing Galleries, Somerset House. An Exhibition Guide, price £15.00, is illustrated with all 100 exhibits. A live auction of 25 selected pieces will take place at Somerset House at 6 pm on 14 November, and a silent auction of the remaining 75 pieces will be conducted throughout the exhibition and live auction.
Article 25 Event in 2011
Safer Buildings for Communities Across the Globe
'Article 25: the built environment's charity'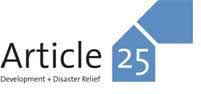 Monthly Report by Article 25
Article written by Jessica Toale for www.e-architect.com
13 Dec 2011
Re-examining the City – 10×10 London
Every day millions of people walk through the City of London. They walk past ancient landmarks, historic buildings and modern megaliths, but most of these architectural points of interest go unnoticed.
To remedy this, "10×10" was created. A drawing event that sent 100 artists and architects out onto the streets of London to rediscover these beautiful, yet hidden and forgotten, details of the City. The works that were created were then auctioned in aid of Article 25 on December 1st at the stunning German Gymnasium at Kings Cross raising over £82,000 for the charity.
10×10 London:


Together the works formed a truly distinctive and dynamic collection presenting a unique re-interpretation of the familiar fabric of the City. What made this event so fascinating is that it gave some of the designers of the City collaborating in the event an opportunity to turn their gaze back to the built environment that they helped to create.
Many of the artists and architects commented that 10×10 is a celebration of the distinctive and fast changing nature of the Square Mile of London, with many of them discovering buildings they had not noticed before when they were just walking past. Tim Makower, who along with Stephen Taylor can be credited with the genesis of the event, commented that it made you really see the city and notice a great deal more, rather than just looking at it.10×10 London:

The drawing took place on the weekend of the 8th of October, where reporters and photographers had the opportunity to see the artists and architects in situ. Some of the contributors included Lord Norman Foster, Pierre D'Avione, Odile Decq, Peter Murray, Norman Ackroyd, Hanif Kara, Kathryn Findlay, Angela Brady, Sunand Prasad, David Adjaye, Sir Jeremy Dixon, Sir Jeremy Dixon, Professor Sir Colin Stansfield Smith, Dominique Perrault, Eric Parry, Alan Stanton, John McAslan, Ian Ritchie, Niall McLaughlin, Ted Cullinan, Graham Morrison, Maxwell Hutchinson, CJ Lim, as well as British designer, writer and television presenter Kevin McCloud.Colin Stansfield Smith:

Laurie Chetwood:


Another thing that sets this event apart is the vast number of different ways that the artist and architects interpreted the brief, not only in what they choose to focus on but the mediums they choose to represent their work in. From watercolours, to sketches, to glass works, all of the works present a really varied picture of the City of London which very much represents The City itself. A full gallery of the works is available here: http://www.10x10london.com/galleryofartworks/Lord Norman Foster:

Mark Cazalet:


The Mayor of London, Boris Johnson endorsed the event, saying: "Article 25′s work to design and build shelter for people affected by natural disasters is a very welcome initiative. This latest project is a fascinating idea with some of the biggest names in architecture creating a unique snapshot of London's landscape. I hope its focus on the City of London will encourage those working there to dig deep to raise as much money as possible in support of hard hit communities around the world."
There was also an exhibition and "Show and Tell" event displaying the works on Wednesday 30th November where a number of the artists, including Chris Choa, Karl Singaporewala, Takero Shimazaki, Tim Makower, and many more, spoke about the inspiration behind their work.Norman Ackroyd:

Peter Murray:


The aspiration is to make 10×10 an annual and international event with planning for next year's event in London already underway and conversations to expand to Doha, New York, Rotterdam and Boston.
Venue address: German Gymnasium, 26 Pancras Road, London N1C 4TB
Tel: 020 7427 2590
Article 25 Architecture
Monthly Reports by Article 25
London Artwork Auction : David Downes – St Pancras painting
Comments / photos for the Article 25 Event page – 10×10 London welcome: info(at)e-architect.com
Website: Article 25 London