Article 25 Africa Building, children's centres project, Schools news, Design property image
Article 25 Buildings in Africa
Safer Buildings for Communities Across the Globe
'Article 25: the built environment's charity'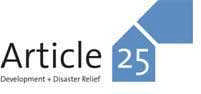 Monthly Report by Robin Cross, Director of Projects for Article 25
Written for www.e-architect.com
16 Jun 2009
Article 25 in Africa
School children at an Article 25 school in Goa: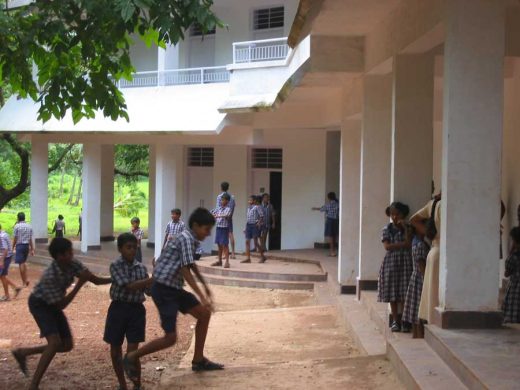 The issue of safer buildings for communities affected by natural disasters is growing. Climate Change indicators show a trend towards greater frequency and impact of these disasters. Those most affected are the poor and vulnerable communities living in precarious built environments: their schools and hospitals collapse after an earthquake, homes are flooded by the rains, entire streets are wiped out by mudslides. Article 25 of the UN Declaration of Human Rights lists adequate shelter as a fundamental human right.
Article 25, the charity, is a team of construction professionals who take on the reconstruction and development of post-disaster areas. They work closely with other international aid organizations, taking a hands-on approach to ground-breaking capacity building, livelihood creation and skill-sharing. Their objective is to bring professional expertise to the process and generate long-term shelter solutions in post-disaster reconstruction, building schools, children's centres, and sports-based facilities. Article 25 aims to reduce vulnerability and help people create and build secure and sustainable livelihoods.
Community participation workshop with children in Ethiopia:


Article 25's team is integral in the responsible stewardship of the building process from start to finish. They have brought experienced, field-appropriate skills and academically rigorous research findings to over 30 projects in 15 countries.
Their participatory approach has helped to foster community ownership and has had a positive impact on the lives of thousands. They are supported by a group of dedicated professionals in the UK and overseas, all volunteering their time and expertise in support of Article 25 projects. Article 25's board of trustees is headed by well-respected professionals including former and current RIBA presidents, Lord Foster of Thames Bank O.M., and Peter Murray, founder of Blueprint magazine and Wordsearch marketing.
Previous acknowledgements of their work have included the "Diploma of Special Recognition" at the MIPIM Awards 2009 for their project in Pakistan (2006-2008), building earthquake-resistant sustainable housing. This project was the first non-commercial award winner recognised at the MIPIM event, which this year brought together 15,000 attendees from the built environment professions. Article 25 is also a finalist for the 2009 Urban Land Institute Global Awards for Excellence, which recognizes projects that provide the best cross-regional lessons in land use practices.
Seismically-resistant housing in Pakistan, recognised at the MIPIM Awards 2009:


In order for Article 25 to continue championing their goal of addressing the need for safer shelter, it is imperative that dedicated professionals continue to come forward to put their skills to work where they will count more. Working with communities, our industry can create 'A world where there is never a life or livelihood lost for the want of the built solution that can serve and preserve them.'
Robin Cross BA(Hons) DipArch(Dist) ADPP(Dist) ARB
Director of Projects, Article 25
Location: 13-19 Curtain Rd, City of London, Greater London, EC2A 3LU
Sierra Leone School – involvement of Article 25
Article 25 Buildings
Monthly Reports by Article 25
Democratic Republic of Congo Schools
African Buildings
African Architecture Designs – chronological list
Contemporary Africa Architectural Designs – recent selection from e-architect:
Pure Power/Daily Combat Strategy for Water Collection, Rujewa, Tanzania, eastern Africa
Design: Hong-En,Lin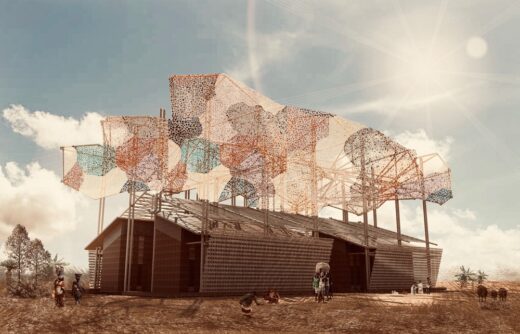 render : Hong-En,Lin
Pure Power, Tanzania, Eastern Africa
National Teachers Colleges, near the towns of Kaliro and Mubende, Uganda
Design: Oubuntu-DASUDA & BKVV Architects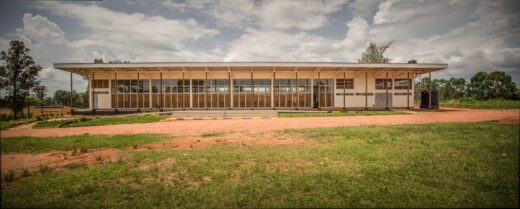 Eppo Karsijn
photos : Eppo Karsijns and Nambasa Sabrina – Frame Media
National Teachers Colleges, Mubende Uganda
Comments / photos for the Article 25 Architecture page welcome