Article 25 Buildings, Objects of Change Art Auction in London, Projects, Photos, UK Exhibition News, Design
Article 25 Projects : Information + Images
Article 25 Architecture
23 Apr 2011
Article 25 Buildings
Safer Buildings for Communities Across the Globe
'Article 25: the built environment's charity'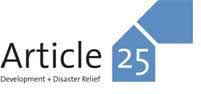 May 2011 sees the unveiling of Article 25's most ambitious fundraiser to date: a high-profile art exhibition and auction in May 2011 entitled 'Objects of Change'. Held at prestigious contemporary art gallery and auction house La Galleria on Pall Mall, this raised essential funds for Article 25's vital work in post-disaster regions throughout the world.
Objects of Change Art Exhibition and Auction in London, England: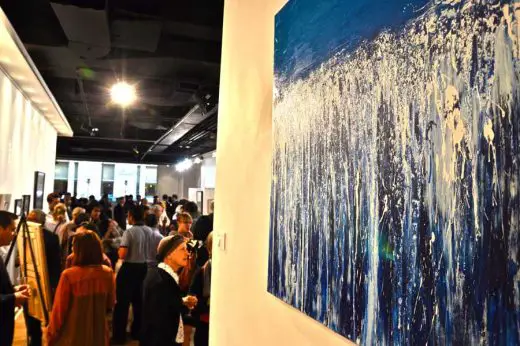 Building on the phenomenal success of their 'Art for Architecture' auction in 2009 which displayed contributions from the likes of Tracey Emin, Chapman Brothers, and Zaha Hadid, 'Objects of Change' saw a shift in focus to 3D pieces.
With models of iconic structures such as Foster's Gherkin, Rogers' Lloyds of London and Bjarke Ingels' 2010 Shanghai Expo Pavilion taking centre stage amongst a glittering array of pieces donated by other giants of the 'art-chitectural' world, the event was an apt display of the power of an object to inspire change and shape a more hopeful future.
Lord Foster's custom made Gherkin model – donated for OOC


Article 25 believes that buildings, whether ostentatiously or quietly inspiring, play a key role in changing and improving lives. As Article 25 Trustee Lord Norman Foster affirms: "As a designer I have always been driven by a belief that the quality of our surroundings directly influences the quality of our lives, whether in the workplace, at home or in the public spaces that make up our cities. Architecture is a social art – a necessity and not a luxury. It is generated by the needs of people, both spiritual and physical… Article 25 is demonstrating in a very real way how design can be a force for good."
Now in its 5th year and having worked on over 50 projects in 22 countries, Article 25 continues to prove the unique difference that intelligent design and good buildings can make. What's more, they are in it for the long haul. Article 25 stick around long after the cameras have gone home, ensuring that solutions for recovery and reconstruction are community-driven and sustainable. We build for the next generation, seeing every building in itself as being part of a larger process of community peace building.
In Haiti, almost a year and a half on from the devastating earthquake of January 2010, Article 25 architects are still on the ground alongside partner Outreach International, continuing an ambitious school reconstruction project. This will help restore a sense of normalcy, permanence and hope to a generation of children still struggling with the after-effects of the disaster, suspended in what seems to be a permanent state of limbo.
Haiti aftermath, 2010 (© Wayne Rowe, Outreach International)


In the Gola Forest of Sierra Leone, Article 25 are collaborating on a project of huge scale with RSPB and the Government of Sierra Leone to conserve the 75,000 hectares of precious, war-ravaged rainforest, and offer a route out of poverty for local communities. While most of the world breathes a sigh of relief that the bloody civil war has come to an end, Article 25 is aware that the post-conflict peace is a fragile one, one that won't prosper without long-term commitment and disaster-risk mitigation programming. A Masterplan has therefore been designed to lay the building blocks for sustainable and lasting peace.
Gola Forest Headquarters Building, Sierra Leone


In Uganda, Article 25 is breaking ground on a unique vocational training centre for former child mothers and soldiers in the town of Patongo in northern Uganda. Although now enjoying tentative peacetime, twenty years of civil war and unimaginable brutality by the Lord's Resistance Army rebel group have left a generation accustomed to nothing but violence. 'Despite the fact there has been peace in Patongo since 2006, there are still issues of violence here', observes Article 25's local partner. 'The community still hasn't got its senses back'. In Patongo, reconciliation and community cohesion are clear priorities. Many former child soldiers in Patongo failed to gain basic skills and are now unemployable. Article 25's Training Centre will ensure that life post-war does not have to signal a dead end – and that peace is subsequently given a chance.
Grace, a female former child soldier helping with the construction of a new Vocational Training Centre in Patongo, Uganda


In March of this year, 6 years after Pakistan's devastating 2005 earthquake, the report 'Education Emergency Pakistan' was published. It states that about 10% of the world's primary school-age children who do not attend school live in Pakistan. In the global ranking of out-of-school children, Pakistan is in second place. David Cameron then visited Pakistan where he announced a huge £650m in aid for education.
To ensure that the reconstruction of Pakistan's education infrastructure post-2005 was being carried out in a safe and sustainable manner, Article 25 was called in to assess the performance of the IFRC's (International Federation of Red Cross and Red Crescent Societies) and PRCS's (Pakistan Red Crescent Society) reconstruction of 34 schools, colleges and health clinics.
The evaluation addressed a wide spectrum of performance indices, including appropriate design, community participation, contractor capacity, client capacity, environmental sustainability and budget management. The evaluation was presented in a series of graphs which explained in easily read for the performance of individual buildings and the programme as a whole.
Pakistan post-earthquake seismic resistant housing construction

The fieldwork for the review lasted only 10 days, and the comprehensive report provided performance analysis with recommendations, Good Practice and Lessons Learned identified for long-term programme improvement. Following the evaluation review, Article 25 was requested to provide ongoing technical advisors to the IFRC's reconstruction programme. This enabled us to help the IFRC and PRCS to implement the recommendations of the evaluation.
The reconstruction programme was being undertaken in difficult geographical locations, with the challenges of logistics and a shortage of skills and material. The remote locations of some buildings made monitoring and quality control more difficult. Article 25 provided specialist monitoring of the construction projects, generating detailed progress reports and independent quality control advice to assist the IFRC and PRCS in their role in the construction process.
The creation of clear and explanatory reports provided guidance to the management of IFRC and PRCS in their role overseeing a large programme. The added-value was to improve the earthquake resistance, programme management, accountability and delivery of challenging construction projects. During the period of Article 25's specialist technical advice, the projects significantly improved in performance and overcame many of the challenges that faced them.
It's in order to continue carrying out life-saving work like this that Article 25 held 'Objects of Change' this month. Article 25 is still young, now in its 5th year and growing, but the likes of Foster, Rogers, Ando and Christo are willing to support them because what they do isn't just a good idea, it's absolutely vital to the lives of the world's most vulnerable. You too can get involved by donating towards Article 25's work worldwide: http://bit.ly/kIY0yK.
Article 25 Projects images / information from Article 25
Article 25 Reports
Monthly Reports by Article 25
Comments / photos for the Article 25 Art for Architecture Exhibition + Auction page welcome