Maggie's Hong Kong Design, Tuen Mun Hospital Development, Frank Gehry China
Maggie's Hong Kong Health Centre
HK Health Centre Building, Tuen Mun Hospital – design by Frank Gehry
7 + 4 Mar 2013
Maggie's Hong Kong Cancer Care
Maggie's goes international with opening of Hong Kong Centre
Photograph of the new Centre in Hong Kong which opened today, 7 March: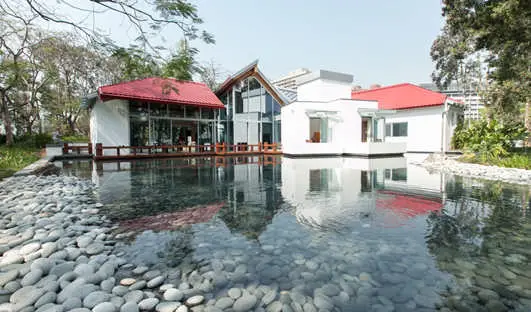 photograph : Pako Ko
Secretary for Food & Health, Dr Ko Wing Man
will open Maggie's Hong Kong on Thursday, March 7.
They will join Charles Jencks Maggie's co-founder, Laura Lee chief executive, Keith Kerr chairman of Maggie's Hong Kong Board of Directors and Eleanor Ling from the Keswick Foundation.


photograph © maggies
The official opening heralds a new era of cancer care and support for people with cancer across the region, bringing hope and solace to thousands.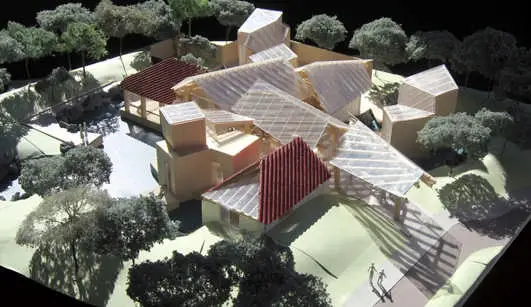 photograph © maggies
The new purpose built Centre was designed by internationally renowned architect Frank Gehry, who also designed Maggie's Dundee in Scotland. Maggie's Hong Kong is the first Maggie's Centre to be built outside of the United Kingdom.


photograph © maggies
Since December 2008 Maggie's Hong Kong has been providing an interim service at its temporary building on the ground at Tuen Mun Hospital, offering free support for anyone living with cancer including friends, family and carers. Centre visitors can take part in relaxation sessions, nutrition classes, yoga and individual and family support sessions.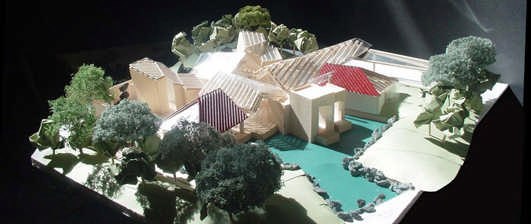 photograph © maggies
The Centre's design is a series of pavilions arranged to encourage movement between the interior and the landscape. Rooms open out to the surrounding gardens or have private terraces overlooking the pond. There is a public living and dining area that serves as the focal point of the building, with views of both the ponds and gardens. The Centre could be thought of as a Chinese garden inspired by, though not beholden to, the Suzhou tradition.

photograph © maggies
Maggie's chief executive Laura Lee said: "This is a very special occasion, not only are we able to provide more help and support for people who are living with cancer in the region but Maggie's Hong Kong is our first international Centre.
"Maggie's proven programme of support will act as an antidote to the isolation and despair of a cancer diagnosis. Frank Gehry's design will help to facilitate this support, by making people feel safe, inspired and valued. Under one extraordinary roof, Maggie's will help people to find their way out of the hopelessness of cancer."
Frank Gehry:



image of the architect
Architect Frank Gehry said: "Maggie was bright and sunny and open and fun and whimsical and smart as hell. She was a real creative spirit, she had a healthy curiosity and she tried things, and in a sense I emulated her.
"The building has feelings which I hope engender community activity, and that it's comfortable for the patients to be there. It's respectful of Chinese architecture and motifs. I hope it's not copying anything Chinese or architectural, but I hope it's very respectful of them.
"I was going through the loss of a daughter while I was designing the Centre. I think you sort of suck it up and hope to make something that is soothing and respectful and hopeful. There's always hope, it's not a dead end."

photograph © maggies
Landscape architect Lily Jencks – daughter of founders Maggie Keswick Jencks and Charles Jencks – has designed the garden for Maggie's Hong Kong.
Lily said: "These intimate gardens represent the macrocosm of the universe within the microcosm of a landscape, bringing an awareness of man's place in nature. This early integration of landscape form and building has created a complex relationship between the man-made forms and naturalistic garden setting."
The new Centre will mean staff can provide more support and groups can run at the same time. Programme activities include support groups, nutrition classes, tai chi, yoga, managing symptoms and side effects, relaxation, art and music therapy. Maggie's Hong Kong is supported by the Keswick Foundation Ltd and Maggie's Centres.
Maggie's Hong Kong is Maggie's first complete international centre. Plans are underway to create a Maggie's in Barcelona, along with a further three international centres by 2017. Since the charity's inception 16 years ago, Maggie's has influenced and inspired a number of international cancer support organisations such as the Danish Cancer Society and the Swiss Cancer League, and it continues to support and collaborate with a significant number of cancer care groups from around the world including Japan, Australia, Qatar and Europe.
Maggies Centre, Dundee, Scotland, UK



image © Adrian Welch
Maggie's Dundee



photo © Keith Hunter
Maggie's Centre Hong Kong
Background Information
• Maggie's offers free emotional, practical and social support to people with cancer and their families and friends.
• Maggie's is there for people at any stage of any type of cancer and no appointments are necessary.
• Maggie's Centres are in the grounds of specialist cancer hospitals and are designed by architects including Frank Gehry, Zaha Hadid and Norman Foster.
• The first Maggie's Centre opened in Edinburgh in 1996 and there are now 14 Centres offering our programme of support: Edinburgh, Glasgow Gatehouse, Glasgow Gartnavel, Dundee, Highlands, Fife, West London, Cheltenham, Nottingham, Southwest Wales, Cambridge, Oxford, Lanarkshire and Hong Kong.
• In 2011, Maggie's Centres across the UK received more than 100,000 visits.
• Maggie's Online Centre extends support to reach people wherever they are in the world and whenever they need it at: community.maggiescentres.org
• Grant-making charity Walk the Walk, which has been able to support Maggie's by money raised through The MoonWalk Edinburgh, funded Maggie's Gartnavel which opened in October 2011 and is also the principle funder for the planned Maggie's Forth Valley.
About Maggie's Hong Kong
Maggie's Centre is a cancer support centre to provide what people affected by cancer really needed – time, friendship, information, psychological and emotional support, and a non-institutional approach to finding the best way of coping with the disease. It was founded by Maggie Keswick Jencks, with the first centre opened its door in Edinburgh in 1996. Currently, Maggie's has has 11 centres in UK and a first overseas centre in Hong Kong.
Who is Maggie Keswick Jencks?
Maggie Keswick Jencks was first diagnosed with breast cancer in 1988. In May 1993, Maggie was told that her breast cancer had recrurred and spread to her bones, liver and brain. Maggie joined a trial involving advanced chemotherapy and extended her life by a further 18 months and it was this time that her idea for a cancer centre was born.
Throughout her experience, Maggie talked incessantly to her medical team about fulfilling imperative needs for people with cancer. She felt people needed help in making sense of the vast amount of information available and in managing the psychological consequences of a life threatening illness. She believed those who participated in their medical treatment with good information and coping strategies had a better quality of life and even, she hoped, might extend their life expectancy.
In May 1995, Maggie's cancer returned for the third time and she realized that there were needs of those with cancer that busy hospital personnel could not meet. From her own experience, study, travel and conversations with professionals, a 'blueprint' emerged consisting of three core elements: information, psychological support and stress management within a non-institutional environment designed to be stimulating, uplifting, safe and comfortable.
Maggie's history in Greater China
Maggie Keswick Jencks spent her younger years living in China and Hong Kong as her father, Sir John Keswick, was working with Jardine Matheson. Both she and her father developed a deep love and respect for the Chinese people and Chinese culture. Together they set up the Keswick Foundation in Hong Kong to support pilot projects, which address new or inadequate areas in our medical and social systems.
The Keswick Foundation approached Maggie's UK for the establishment of a Maggie's Keswick Jencks Cancer Caring Foundation in Hong Kong. After much research and discussion with relevant stakeholders, the Keswick Foundation built the first Maggie's Centre in Hong Kong at Tuen Mun Hospital and opened its door in December 2008.
About Maggie's Hong Kong
Maggie's Centre Hong Kong is a drop-in centre for people affected by cancer, their family and friends to visit whenever they choose, offering all services free of charge. Our cancer support specialists welcome every visitor with attention and care, offering information and guidance on Maggie's support programme specifically catered to his or her individual needs.
The primary aim of Maggie's Centres is to help visitors discover and develop the strength within themselves to effectively cope and deal with living with cancer. Maggie's Hong Kong is staffed by a Centre Head, two cancer support specialists/oncology nurses, two clinical psychologists, a public affairs manager and an administrative staff. As there is only one Maggie's Centre in Hong Kong, people from all areas are welcome.
In 2011, Maggie's Centre Hong Kong recorded 10,133 visits from people with cancer and 2,023 visits from carers.
Maggie's Centre Hong Kong at Tuen Mun Hospital
What makes Maggie's different?
Maggie's Centre fills the service gap within the healthcare system, collaborating closely with hospitals as a working partner to provide complete care and support to people touched by cancer.
Maggie's Hong Kong provides support programmes to not only cancer patients but to their families and friends. Maggie's support programme offers service in four main areas:
– Information Support
– Emotional and Psychological Support
– Relaxation and Stress Management
– A non-institutional environrment
The Maggie's Hong Kong centre provides welcoming and home-like atmostphere, so that visitors are empowered to explore new avenues and capabilities to improve life with cancer.
Maggie's also helps and supoorts patients in making choices to live differently. Some of the examples of Maggie's programmes are:
Drop-in Service
Visitors are welcome to use the centre anytime they need. Referrals are not necessary and all programmes are free of charge.
Individual Support
Visitors may drop-in or make an appointment to see any one of our professional staff (cancer information specialist, clinical psychologist or social worker) for support, information and learn strategies to deal with a cancer diagnosis and its consequences.
Relaxation – Individual and Group
Relaxation and stress management techniques can significantly reduce emotional distress and facilitate healthy psychological and physical adjustment to a cancer diagnosis. Both individual and group sessions are available.
Support Groups for those with Cancer / Carers
Many diagnosed with cancer feel relief knowing there are others in the same situation with whom they can share their experience on a regular basis. With the support and encouragement of our professional staff, as well as each other, group members learn to develop strategies to manage their practical and emotional concerns.
Psycho-educational Courses
Courses including Stress Management, Mindfulness, Dealing with Fear of Recurrence and Sleep Difficulties, Pain Management, Positive Psychology, Effective Communication Employment and Healthy Lifestyle, Reconciliation and other courses are all designed to meet specific needs of individuals.
Managing Symptoms and Side Effects
Introduction on how to manage symptoms of cancer and the side effects of treatment, as well as how to get the best out of healthcare services. Through communication and sharing, their anxiety can be reduced and confidence enhanced in facing the disease.
Chinese Nutrition Class
Registered Chinese practitioner teaches Chinese nutrition knowledge applied for different seasons and health conditions to promote a healthy, balanced and varied diet for the benefit of those living with cancer.
Nutrition Workshop
Professional dietitian shares nutrition knowledge for a healthy and enjoyable lifestyle, simple but delicious recipes, delightful cooking demonstration and joyful food sharing combined to create an uplifting and enlightening session to those with cancer, particularly those with low appetite or multiple health issues.
Beauty Workshop "Look Good Feel Better"
An opportunity for women with cancer to learn about cosmetic possibilities for managing changes while undergoing treatment, and thus building confidence and self-esteem.
Tai Chi
Apart from physical health benefits, Tai Chi helps relaxation and tension relief. Our small group classes encourage sharing and communication and participants benefit from targeted attention.
Yoga
As health professionals, yoga instructors understand what poses are suitable for people with cancer. Through practicing these poses, with focus on breathing, participants become more relaxed, experience inner calm and make positive steps towards better physical, mental and spiritual health.
Creative Writing, Art and Music Therapy
Writing, art and music, are creative constructs that can help anyone reflect upon and understand their reactions to cancer, teaching them to slow down, relax and gather their thoughts, find new ways of expressing their feelings and gain confidence what they are going through.
New Purpose Built Centre
The first purpose built Maggie's Centre – Maggie's Dundee is designed by Mr Frank Gehry. Maggie's Hong Kong is Mr Frank Gehry's second design for Maggie's, with landscape designed by Lily Jencks, daughter of Maggie's Keswick Jencks. Together, the entire environment creates a place where people feel considered, valued and cared for, especially for those who come to find hope, support and peace.
Maggie's Centre Hong Kong
Open Mondays to Fridays, 9am to 5pm
Tuen Mun Hospital, Tsing Chung Koon Road,
Tuen Mun, N.T., Hong Kong
Tel: (852) 2465 6006
Fax: (852) 2465 6063
Email: [email protected]
www.maggiescentre.org.hk
Maggie's Hong Kong images / information from Maggie's Centre
Location: Tuen Mun Hospital, Tsing Chung Koon Road, Tuen Mun, N.T., Hong Kong
Hong Kong Architecture
Hong Kong Architecture Designs – chronological list
Hong Kong Architectural Tours by e-architect
A recent building design by Frank Gehry Architect shown on e-architect:
Dr Chau Chak Wing Building, Sydney, Australia
Design: Gehry Partners LLP with architect Daryl Jackson Robin Dyke (Australia)
East façade, view across Ultimo Pedestrian Network, model scale: 1-to-100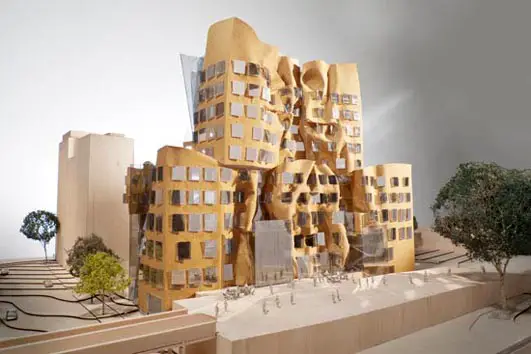 image : Gehry Partners, LLP
Dr Chau Chak Wing Building
Hong Kong Architecture Walking Tours
Hong Kong Buildings – Selection
Chu Hai Colllege Campus, Hong Kong – Architecture Competition
OMA
Chu Hai Colllege Campus
Innovation Tower, The Hong Kong Polytechnic University – PolyU
Zaha Hadid Architects
Hong Kong University Building
West Kowloon Development, Kowloon
Foster + Partners Architects
West Kowloon Cultural Complex
Comments / photos for the Maggie's Hong Kong Design – Tuen Mun Hospital Building page welcome