Renzo Piano Architect, Designer of The Shard in London, Building Workshop, Images, Designs
Renzo Piano Architect
RPBW: Contemporary Architecture Practice based in Italy, France & USA
2 Sep 2016
Renzo Piano – The Iconic Architect Behind The Shard
A look at some of award-winning Italian architect Renzo Piano's most famous works
Article first published on Houzz
Catherine Macaulay, Houzz Contributor
Architect at a Glance
Name Renzo Piano, b1937
Design philosophy Piano believes architecture is one of the ways in which people tell stories, and that we must never be content with just one result, but rather should continuously be striving for more.
Distinctive style He has avoided any one recognisable signature so as not to be confined by expectations, but is a firm believer in coherence, and a common thread throughout his varying projects is that they are lightweight and contemporary structures.
Major works The Shard in London (2000-2012); the Centre Georges Pompidou in Paris (1971-1977); Kimbell Art Museum expansion in Texas (2007-2013); The New York Times Building in New York (2000-2007).
Honours RIBA Gold Medal 1989; Kyoto Prize 1990; Neutra Prize 1991; Erasmus Prize 1995; The Pritzker Architecture Prize 1998; The Sonning Prize 2008; AIA Gold Medal 2008, among others.
Renzo Piano
Photo: Stefano Goldberg – Publifoto © RPBW
Born in Genoa, Italy, in 1937 into a family of builders, Renzo Piano graduated from the Politecnico di Milano in 1964, where he was very involved in the community life of the university. 'It's true, I came from a family of builders, but I also came from a very strong social experience of community life… This funny bouillabaisse of emotion is very rich,' Piano told Marcus Fairs in an interview. 'It's stupid to say that coming from a family of builders was a good thing in itself, because you can learn later on, but it was good because it kept me away from formality.'
After leaving, he collaborated on various high-profile projects with highly regarded architects, including Louis Kahn, Richard Rogers (with whom he founded Piano & Rogers 1971-1977) and Peter Rice (with whom he shared L'Atelier Piano & Rice 1977-1981), before going on to establish Renzo Piano Building Workshop (RPBW) in 1981.
The Shard, London 2000-2012
© Chris Martin
One of the most iconic projects Piano has worked on is the London Bridge Tower, more commonly known as The Shard. He managed to achieve something rather special with the tower by creating a mixed-use space that's both public and private. So often skyscrapers are closed off to the inhabitants of a city and exist as symbols of power, wealth and exclusion, but the London Bridge Tower was designed not only to be used by the city, but loved by it also.
It houses office space, a hotel, restaurants and bars, and a viewing gallery on the 68th, 69th and 72nd floors, open to all (tickets must be bought in advance). The Shard is rather like a vertical city, with commercial, residential and public spaces all accessed by public transport.
California Academy of Sciences, California 2000-2008
Photo: Tom Fox © RPBW
The California Academy of Sciences is one of the largest museums of natural history in the world, and is located in Golden Gate Park, San Francisco. It is home to more than 25 million species.
The original structure was damaged by an earthquake, and Piano was brought in to create a replacement. His structure melds form with function, and effectively conveys a love for nature and an appreciation of the fragility of the earth through its sustainable design.
Centre Pompidou, Paris 1971-1977
Photo: Piano & Rogers ©Fondazione Renzo Piano
The Centre Pompidou, or Beaubourg, in Paris, is a multi-disciplinary public space – a Museum, a library, a design centre and a music centre.
It is made primarily of glass and steel, with various coloured tubes protruding from the structure, in great contrast to many of the other cultural institutions in Paris. 'The Beaubourg is… about the joy of life. It's a rebellion,' Piano told Marcus Fairs.
Protests in 1968 sought to overthrow Pompidou's government. Although the revolution never happened, 'it was a highly active period of politics, and you could argue that it was a part of the concept [for the building]… We wanted to catch what was going on at the moment,' explains Richard Rogers in an interview on the project.
Parco della Musica Auditorium, Rome 1994-2002
Photo: Moreno Maggi ©RPBW 1994 -2002
The Parco della Musica Auditorium in Rome was completed in 2002 by RPBW. Its construction was announced as a competition by the City of Rome in 1993; they wanted a multi-purpose complex in which various musical and cultural events could be held. 'It's a real "city" for music,' say RPBW.
Pictured above is the Santa Cecilia Hall, which has 2,800 seats and is used for symphonic concerts. The cherry wood ceiling was carefully constructed to ensure the hall became a place 'where listening to music becomes an almost religious experience,' say RPBW.
Beyeler Foundation Museum, Riehen, Switzerland 1992-1997
Photo: Christian Richters © RPBW
Art collector Ernst Beyeler and his wife, Hilda Kunz, had an extensive private art collection, including works by Monet, Cézanne and Picasso, which they exhibited in various museums across the world before deciding to give it a permanent home.
Beyeler commissioned Piano to design the Beyeler Foundation Museum in a secluded spot in the grounds of an 18th century villa near Basle, Switzerland, away from the stresses of everyday life.
Kansai International Airport Terminal Building, Japan 1988-1994
Photo: KIAC_Kawatetsu © Fondazione Renzo Piano
Located on an artificial island in Osaka Bay, Kansai International Airport was constructed to provide relief to the overcrowded Osaka International Airport. The artificial island construction was begun in 1987 and involved 1 million workers and 10 million hours over three years. It took land from three mountains to fill a sea wall needed for the construction.
The terminal building's long, slim shape resembles a glider seen from the side. It was specially designed to be able to withstand earthquakes, which are common in the area.
Renzo Piano Building Workshop headquarters, Punta Nave, Italy 1989-1991
Photo: Fregoso & Basalto © Fondazione Renzo Piano
Naturally, the headquarters of Renzo Piano's Building Workshop are no less remarkable than many of the other structures he's designed over the years. It's built on a sloping hill on the edge of Genoa that trundles down to the sea.
The offices are a series of terraces built largely with glass and wood, giving them a conservatory-like feel that connects them to the tranquil landscape surrounding them. As offices go, they have to be up there with the best.
Ronchamp Monastery, France 2006-2011
Photo: Georges Engel © RPBW
In the foothills of Notre Dame du Haut in Ronchamp stands a chapel and convent for the Poor Clare nuns. The chapel itself (pictured at the top of the hill) was designed by Le Corbusier and completed in 1954.
In 2006, RPBW was commissioned to design a convent for the sisters and a welcome building for visitors. The convent is embedded into hillside, bordering the trees. It features living roofs, bare pale cement walls and zinc window awnings.
Kimbell Art Museum expansion, Texas, USA 2007-2013
Photo: Michel Denancé © Michel Denancé
The museum itself was designed by Louis Kahn in 1972, but its collection grew dramatically and quickly exceeded the gallery space allowed. RPBW designed and built a new building, roughly doubling the gallery space and adding in classrooms, studios and a large auditorium.
While Piano's new building echoes the older structure, it has its own distinctive character – lightweight, open and transparent.
Discover the life and work of Louis Kahn
Redevelopment of the old harbour, Genoa, Italy 1985-1992
Photo: Michel Denancé © Michel Denancé
To mark the 500 year anniversary of the discovery of America, the 1992 Columbus Celebrations provided the impetus for further regeneration of the Port Antico (old harbour) in Genoa, Renzo Piano's home town.
Alongside the restoration of numerous historic buildings, quite a few new structures were built, too. The aim was to reconnect the historical centre of Genoa with the old port, and to create an additional bustling and beautiful area of the city.
Harvard Art Museums, Cambridge, Massachusetts, USA 2006-2014
Photo: Nic Lehoux
Harvard's three museums – the Fogg Museum, the Busch-Reisinger Museum and the Arthur M Sackler Museum – are undergoing reorganisation to become just one facility.
The transformation unites three diverse museums and their expansive collections under one roof, introducing contemporary modifications to a historic building in a sensitive, responsive and sustainable manner.
Find more iconic architect profiles on Houzz
Renzo Piano News
RPBW Architecture News, chronological:
550 Broome Street Skyscraper, SoHo, New York City, NY, USA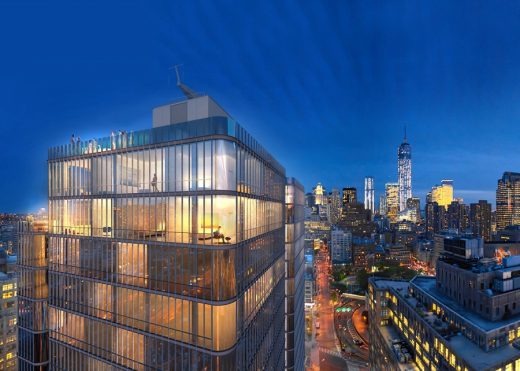 image courtesy Renzo Piano Building Workshop, architects
The Soho Tower New York City – 11 Jan 2016
31 London Street, Paddington, North West London, England, UK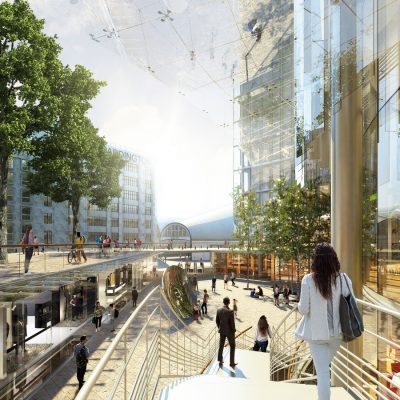 picture : RPBW
31 London Street in London – 21 Oct 2015
Kimbell Art Museum Pavilion Building, KAM, Texas, USA
Design: Renzo Piano Building Workshop (RPBW) and Kendall/Heaton Associates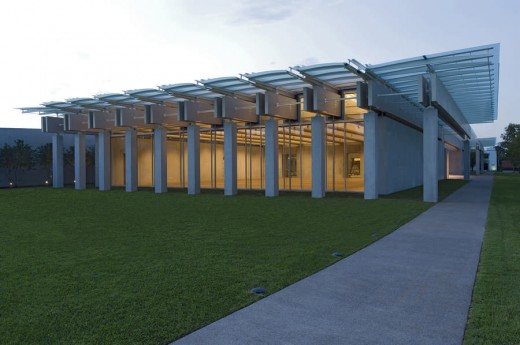 photograph : Robert Polidori
Renzo Piano Pavilion at Kimbell Art Museum – 2 Dec 2013
Whitney Museum of American Art Building, Manhattan, NYC, USA



photo : Timothy Schenck
Whitney Museum of American Art Building – 10 Nov 2013
J.P. Morgan Library and Museum Building, New York City, USA



photo by Michel Denancé, provided by permission of the Morgan Library and Museum
J.P. Morgan Library and Museum Building : architecture article by Joel Solkoff – 13 Jul 2013
Stavros Niarchos Foundation Cultural Center – SNFCC, Athens, Greece
Design: Renzo Piano Building Workshop ; Georgio Bianchi, Partner in Charge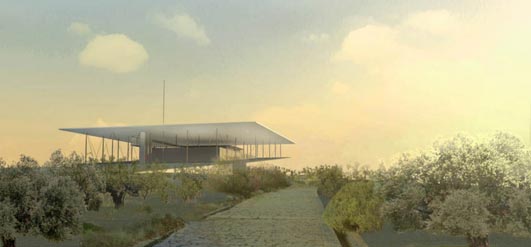 picture : RPBW
SNFCC Athens
Gagosian Gallery Renzo Piano Exhibition, New York City, NY, USA
Gagosian Gallery Renzo Piano Exhibition – 2013
e-architect feature a short video from this show.
Astrup Fearnley Museet, Oslo, Norway
Design: Renzo Piano Building Workshop / Narud Stokke Wiig architects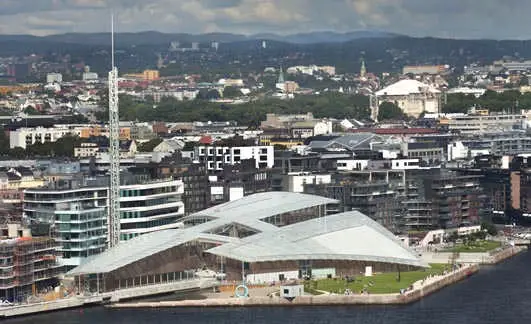 image © Nic Lehoux
Astrup Fearnley Museet Oslo – 28 Sep 2012
Renzo Piano – Latest Major Building
The Shard – London Bridge Tower, London, UK
2012
Western Europe's tallest building:

The Shard : the major Renzo Piano design to be completed so far.
Exclusive photos on e-architect tracked the construction from start to finish.
At a height of 310 metres (1,020 feet) and with a total 72 occupied floors reaching skyward into a breathtaking 15 story spire, the building is now the tallest building in Western Europe.
Isabella Stewart Gardner Museum, Boston, MA, USA



photo © Nic Lehoux / Renzo Piano Building Workshop
Isabella Stewart Gardner Museum Boston – 12 Jan 2012
LACMA Lynda and Stewart Resnick Exhibition Pavilion, Los Angeles, USA



photo from LACMA
LACMA Resnick Pavilion
Renzo Piano – Key Buildings
Designs by RPBW, alphabetical:
Art Institute of Chicago Modern Wing, Chicago, USA



photo : Andrew Campbell Photography
Art Institute of Chicago Modern Wing
Central Saint Giles development, Oxford Street, London, UK



photo © Nick Weall
Central Saint Giles – recent major Renzo Piano building
Daimler Financial Services Headquarters, Potsdamer Platz, Berlin, Germany
Renzo Piano Building Partnership and Christoph Kohlbecker



photo © Adrian Welch
Debis Building
Manhattanville redevelopment plan, Columbia University, New York, USA
Design: Renzo Piano Building Workshop (RPBW) with SOM



picture from RPBW
Columbia University Campus Plan
Music Auditoria, north Rome, Italy



photo © Adrian Welch
Italian Music Auditoria building
Nemo, Centrum, Amsterdam, The Netherlands



image © AW
Nemo Amsterdam
New York Times Company New Headquarters, New York, USA
Design: Renzo Piano Building Workshop (RPBW) with Fox & Fowle Architects



photo by David Sundberg/Esto
New York Times Headquarters – new photo added Nov 2013
Pompidou Centre, Paris, France
Richard Rogers / Renzo Piano Architects



photo © AJW
Pompidou Centre
Renzo Piano Building Workshop : alphabetical list of all key buildings / designs by RPBW
More Renzo Piano projects online soon
Location:Genoa, Italy '
Renzo Piano – Practice Information
Renzo Piano was born in Genoa, Italy, in 1937.
Renzo Piano Architect : Italian Architects Studio
Renzo Piano established Renzo Piano Building Workshop in 1981.
RPBW has architecture offices in Paris, Genoa and New York.
Winner of RIBA Gold Medal 1989
Renzo Piano Architect : Pritzker Prize Winner 1998
Former collaborator : Richard Rogers – Pompidou Centre
Buildings / photos for the Renzo Piano Architect page welcome
Renzo Piano Architect – page
Website: Renzo Piano