Architecture competition, Design contests 2017, Dates, Deadlines, Entries, Architect students prizes
Architects Competitions : Design Contests Archive
Architecture Prizes 2017 – Background Information
Architecture Competitions : Current Design Contest Listings
Architecture Competition – archive
Recent Architects Competitions
Recent Architectural Competitions up and including 2017, chronological:
reTH!NKING Landscape Observatory Pamukkale Architecture Competition
Jun 20: Early Registration starts
Sep 4: Submission deadline
Location: Pamukkale, Denizli Province, southwestern Turkey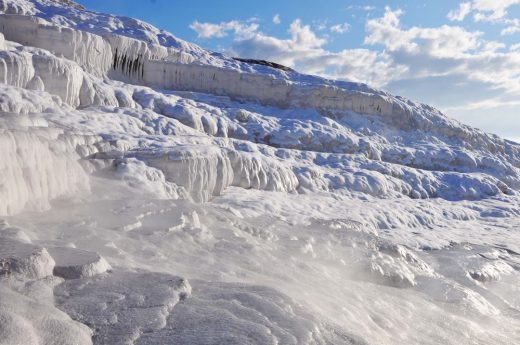 reTH!NKING team is delighted to introduce the new competition Landscape Observatory Pamukkale, a competition which pretends to create a place to observe the landscape, as peculiar and unique as this enclave of our planet is.
Landscape Observatory Pamukkale Architecture Competition
Big data exposes a widening construction knowledge gap
The closing date is 2nd November 2017. Winners will be announced w/c 20th November.
Designing Buildings Wiki, the construction industry knowledge base, has joined forces with BSRIA to launch a new competition looking for fresh and innovative ideas in response to the question:
How can tomorrow's challenges be met by today's buildings?
Designing Buildings Wiki is open to students and professionals from all disciplines, is seeking original ideas for design solutions to the future trends that will affect the built environment. It asks the question; how can buildings be designed today to ensure they are resilient to the changes they will face tomorrow?
RIBA Southmere Village Library in Thamesmead Competition
, UK
Peabody and the Royal Institute of British Architects (RIBA) are pleased to announce the launch of an international design competition for a new library building in Southmere Village, Thamesmead. This new civic building will be at the heart of the first phase of the planned 1,622 new homes to be delivered as part of the Abbey Wood and South Thamesmead Housing Zone in the London Borough of Bexley. It will be located on the south side of Southmere Lake within 10 minutes' walk of the eastern most terminus of the new Elizabeth Line at Abbey Wood.
RIBA Southmere Village Library in Thamesmead Architecture Competition
Gasholder bases international ideas competition
National Grid Property, which manages the company's surplus land, has a portfolio of former gasholders which will be dismantled over the coming years. These voids represent an opportunity for repurposing and the competition is seeking alternative uses rather than the default practice of backfilling the holder.
The initial phase of the Gasholder architecture competition will require digital submissions only, with five concept designs shortlisted for further development at the second phase.
Deadline for first stage submissions was Tuesday 10 Oct 2017.
Each shortlisted designer will receive an honorarium of £3,000 +VAT. The winner will receive an additional £4,000 +VAT and there may be an additional payment of £1,000 +VAT for a highly commended scheme.
For further information about how to enter the competition please visit: RIBA Gasholder bases international ideas competition
IE Spaces for Innovation Prize
IE School of Architecture and Design announces its fourth IE SPACES FOR INNOVATION PRIZE for young architects and designers to attract and reward young talented professionals around the world.
Registration: 4 Sep – 20 Oct 2017
Prizes:
– Full-time, 6-month, paid professional internship at UNStudio, Studio O+A and Ingenhoven Architects
– Admittance to IE Master´s in Strategic Design of Spaces
– Scholarships worth € 21.000 towards program tuition fees
IE Spaces for Innovation Prize
Dalian Wanda International Shopping Plaza Concept Competition
Dalian Wanda, a leading Chinese real estate developer and parent company of UK subsidiary Wanda One (UK) has unveiled the second International Shopping Plaza Concept Competition, celebrating the best of design and architecture across the globe.
The prestigious competition follows the inaugural International "Shopping Plaza Concept" Competition in 2015 which was held successfully by the Architecture and Culture Society of China and Wanda Commercial Planning & Research Institute.
This year, the competition focuses on "Commerce Changes Life" and encourages participants to upgrade shopping centers in the era of "experience economy".
The results of the competition will be announced on Wednesday 15 November 2017, with the winners enjoying the opportunity to participate in further design work of Wanda projects as well as joining the "supplier's data base" of Wanda Group. There will also be a cash prize for winning entries, and all the winners will be invited to the award ceremony.
For more information about this architecture competition, please visit: http://www.wanda-gh.com/registerIndex.jspx?lang=en
Jury members:
For the professional's competition, jury members include:
• Jury Chairman: Daniel Libeskind, Founder and principal architect of Studio Libeskind
• Astrid Piber, Partner of UN Studio
• Norm Garden, Executive Vice President of CallisonRTKL
• Simon Bee, Managing Director of Benoy
• Jiangu Wang, Academician of China Engineering Academy and Professor of Southeast University
• Jianyan Lai, Chief Architect and Senior Vice President of Dalian Wanda Commercial Properties
• Zhibin Wang, Director and Senior Vice President of Dalian Wanda Commercial Properties
Yilong Futuristic City International Design Competition
Urban Environment Design (UED) Magazine, Beijing, China, launch an international urban design competition, the Yilong Futuristic City International Design Competition.
Thi architectural competition is organized by Yilong District Management Committee, co-organized by CBC (China Building Centre) and Urban Environment Design (UED) Magazine. Taking urban design in central area as the main concern and "Oriental Landscapeand Futuristic City" as the competition concept, Yilong Cup is aiming at soliciting urban design proposals all over the world for building up the area from scratch.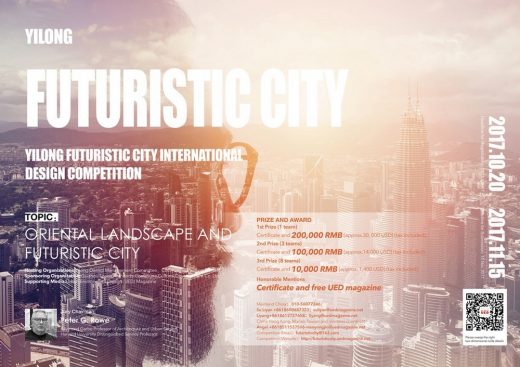 Please check out this architectural contest website (http://futuristiccity.uedmagazine.net/en_index.html) and Facebook (https://www.facebook.com/UEDmagazine) for updates.
You can find the assignment and poster from the download page: http://futuristiccity.uedmagazine.net/en_down.html
Jury Chairman: Peter G. Rowe, Raymond Garbe Professor of Architecture and Urban Design, Harvard University Distinguished Service Professor
Theme: Oriental Landscape and Futuristic City
Deadline for Registration: 20 Oct 2017
Deadline for Submission: 15 Nov 2017
Jury Convenes: December 2017
1st Prize (1 team) Certificate and 200,000 RMB (approx.30, 000 USD) (tax included);
2nd Prize (3 teams) Certificate and 100,000 RMB (approx.14,000 USD) (tax included);
3rd Prize (8 teams) Certificate and 10,000 RMB (approx. 1,400 USD) (tax included);
Honorable Mentions Certificate and free UED magazine;
The winning projects are expected to be implemented, and detailed proposal is in accordance with the determination of local government.Detailed design proposal and construction cost are not included in the reward.
THEME OF THE COMPETITION AND INTERPRETATION
Oriental Landscape and FuturisticCity
In the era of globalization, small-mid size citiesare the engine of local development, and the potential core habitat residence.The urbanization of Chinese Midwest cities are crucial to the development of abalanced city network of China. In such scenario, we are confronted with many emerging challenges such as climate change, population migration, energycrisis, inheriting regional characters, etc., which demands development of newinnovative and adaptive urban approach and more complex urban morphology.
Thus, this design competition is intended to initiate a conversation on the modern city life founded on nature, involving topics such as local vs global, tradition vsfuture, Eastern vs Western, landscape vs city, nature vs living habitat,preservation vs development, intention vs reality. The unique mountainous landscape of Guizhou has its own regionalism characters, that inspired many poetsto write down grandeur and sensational lines.
This architecture contest is focusing on the new relationship between the local typical Chinese landscape and the development required for the future city, the connection between the nostalgia of traditional landscape vs modern way of living, with the foresight of globalization in local regional development.
Shelter 48 Design Competition
Shelter 48: Emergency Life Support Design Architecture Competition
Seventh international architecture & design competition by Eleven magazine to imagine a post-disaster life-saving shelter concept.
Submission: Nov 11, 2017
Registration: Nov 11, 2017
Language: English
Location: Copenhagen, Denmark
Prizes: Please see link below
Type: Open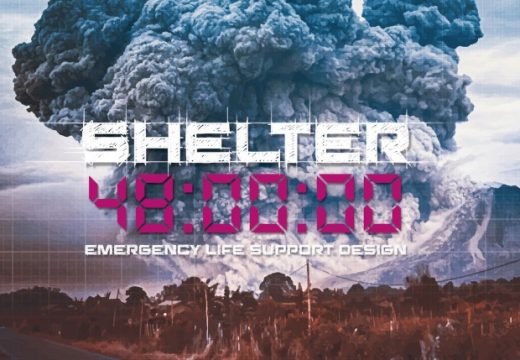 Eleven has announced their latest ideas and design open competition: 'Shelter 48: Emergency Life Support Design'. The magazine's latest challenge calls on creatives from all around the world to design innovative concepts for an emergency life-support system capable of being deployed rapidly in the immediate aftermath of a natural disaster.
Shelter 48 Architecture Competition
Design Awards Competition
Deadline: October 31, 2017
Designing Healthy, 10-Minute Neighborhoods 55th International Making Cities Livable Conference
The 2018 IMCL Design Competition jury will consider all submissions that speak to Designing Healthy 10-Minute Neighborhoods. Projects that emphasize Community, Health, Sustainability, and Equity are actively sought, and will be given particular consideration.
Submitted projects do not have to be complete plans for a new urban neighborhood.
Projects might focus, for example, on the transformation of a mall into a mixed-use neighborhood center; or a plan to restructure an existing neighborhood into a "complete" neighborhood through infill. Projects might focus on one element that is needed to bring about a healthy neighborhood, such as walkable, bikeable streets, or a neighborhood park; or they may focus on a project that creates a community gathering place, etc.
In all projects, the jury will be looking for evidence that the project enhances its context, and contributes to Community, Health, Sustainability, and Equity at the neighborhood level.
For more details and to submit a proposal, please see: Liveable Cities Design Awards Competition
International Student Competition Drawing of the Year 2017
Aarhus School of Architecture, schmidt hammer lassen architects, VOLA and The Danish Arts Foundation announce the fifth joint venture competition Drawing of the Year 2017. This year's theme is Everyday Utopia.
Prizes
• 1st prize: 5000 Euro
• 2nd prize: 2000 Euro
• 3rd prize: 1000 Euro
Deadline
20 November 2017 at 12.00 noon (CET). The winners will be announced 1 December at an award ceremony at Aarhus School of Architecture.
International Student Competition Drawing of the Year 2017
Nordic Architecture Fair Award
Deadline for entering the Nordic Architecture Fair Award is in just a few days, on Sunday October 1.
Judging the entries are architects Julien De Smedt (JDS), Charles Renfro (Diller Scofidio + Renfro) and Oana Bogdan (BOGDAN & VAN BROECK). The architectural contest is part of the Nordic Architecture Fair and is entirely free of charge, open to all architectural firms that have completed a project in the Nordic countries between 2015 and 2017.
The presentations by the nominated architects will be followed by the jury's deliberation – all in front of a live audience. The winner will be announced at a prize ceremony in the evening of November 7.
Enter now, before it's too late! https://en.nordicarchitecture.se/hem/om-nordic-architecture-fair/nordic-architecture-fair-award/
'NaTian' Cup International Design Competition
20 Aug registration deadline
An architecture competition for international designers in fields of landscape, architecture, urban design and art design.
The award for first prize is more than 58000 USD. This is a good opportunity for designers to find their potential in China.
'NaTian' Cup International Design Competition – Sustainable Design, Sustainable Life
Registration Deadline: Aug 20, 2017
Submission Deadline: Sep 15, 2017
Result release: Oct 2017
Register linkage: http://natiancompetition.uedmagazine.net/?r=site&en=1
Detailed information for the two sites: http://natiancompetition.uedmagazine.net/?r=info/down&en=1
Chairmanof the Jury: Vicente Guallart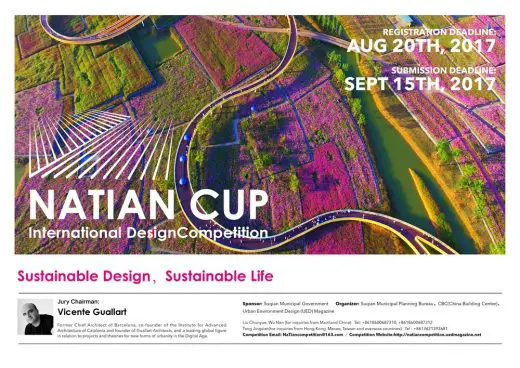 Theme of the Competition and Interpretation: Identity for the Sustainable Design
The selected sites, the Shanshui Green Corridor and NaTian Flower arm, are locatedon the Axis between the Luoma Lake and the NaTian Flower Farm in Suqian. The prime location is a great opportunity for designers to imagine the city of thefuture based in ecological principles. Suqian as many Chinese cities are facinga new era for their development base in the idea of urban regeneration,landscape preservation and sustainable development. The site is a unique landscape that every year manifest the beauty of nature with their impressivecolors and the biodiversity explosion. And that's why rethinking how the citycan extended the benefits of the beauty of thatphenomena in time, and to integrate all the natural cycles in their urban lifeis a challenge from which many cities can learn.
To develop an innovative design that bears an important effect in creating an identity for the city of Suqian, and may functionally impact the new Green Axis and the NaTian Flower Farm in the Shantaishan Forest Park. The proposal is suggested to pay attention to the two sites: the new Shanshui Green Corridor being developed and the existing flower farm.
1. Design Principles
1) Creativity: Create diverse and interesting places for SuQian residents and tourists. Design must be original.
2) Regionalism: Design should combine local history, culture, and natural environment.
3) Sustainability: Designers should take into account the sustainability of design, materials and management.
4) Practicality: The project should not be a mere conception. The material choices, the construction forms and the craftsmanship requirements should be practical.
5) The proposal should be able to develop the identity of the area, adding new functions and becoming an expressive public space.
2. Design Types
The type of design is not restrained. It could be building, landscape, sculpture or device, for example, Observatory tower, Sculpture, tourist center, teahouse, café, pavilion, restaurant, gallery, Art events etc. The project should be creative, based on local historic and cultural contexts and define a new urban icon.
3. Site
The competition encourages participants to freely investigate in the given region, delineate their own design area and make their own themes. Photos and satellite images of the site should be attached to the project.
First 'Naian' Cup International Competition for Sustainable Design wasinitiated jointly by Suqian Municipal Government, Suqian Planning Bureau, and CBC (China Building Centre).
Urban Environment Design (UED) Magazine covers the frontier ideas and practice of architecture, predicts the trend ofcontemporary architecture, and analyzes the profound relations amongarchitectures, events, city and environment. From domestic to international,from the established architect to emerging minds, UED Magazine reports thecurrent significant events, competition, ideas, and works.
ROB|ARCH 2018: Call for Workshops
15 Sep deadline
CALL FOR WORKSHOPS: SUBMISSION DEADLINE EXTENDED TO SEPTEMBER 15
ROB|ARCH 2018 now welcomes proposals for workshops. Researchers and practitioners are invited to submit proposals for two-day OR three-day workshops, which will be held September 10th – 12th, 2018 at ETH Zurich, Switzerland. Workshop proposals with strong cross-disciplinary trajectories that actively integrate experts from multiple fields are highly encouraged.
Deadline for submissions is September 15th, 2017 (extended!). Visit ROB|ARCH 2018 website for more information and submission guidelines.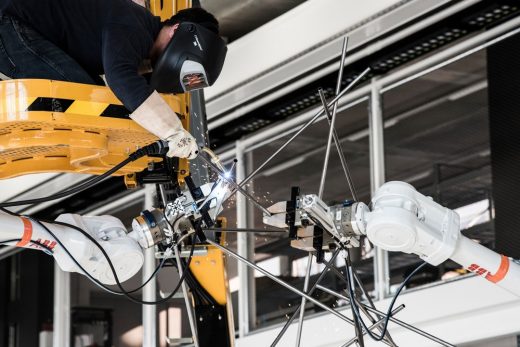 About ROB|ARCH 2018
The ROB|ARCH 2018 conference and workshops will take place at ETH Zurich and are proudly hosted by the National Centre of Competence in Research (NCCR) Digital Fabrication, a cross-disciplinary research network leading the development and integration of digital technologies within the field of architecture. Against this background the conference will provide an ideal setting for a series of interdisciplinary workshops pushing the boundaries of the state-of-the-art in robotic fabrication. The ROB|ARCH workshops will allow for hands-on experience with the most current robotic technologies, offer a unique platform for dissemination of new knowledge, and provide an opportunity for researchers, practitioners and industry leaders to share and exchange expertise, explore methods, compare techniques and create new connections.
Call for Papers:
September 29, 2017
Workshops and Conference:
ETH Zurich, Switzerland, September 10–15, 2018
Conference Chairs:
Fabio Gramazio and Matthias Kohler (ETH Zurich)
Scientific Chairs
Kendra Byrne (X, the moonshot factory)
Tim Schork (University of Technology Sidney)
Jan Willmann (Bauhaus University, Weimar)
Workshop Chair
Romana Rust (ETH Zurich)
Site Chair
Russell Loveridge (NCCR Digital Fabrication)
Coordinator
Orkun Kasap (NCCR Digital Fabrication)
IE School of Architecture & Design Competition
3 Aug registration deadline
IE School of Architecture & Design announces its fourth IE ARCHITECTURE + DESIGN PRIZE.
Participants
Young architects and designers who graduated between 2014 and 2017 and who were ranked in the top 25% of their class are elegible to compete for the IE ARCHITECTURE + DESIGN PRIZE.
Registration
May 10, 2017 to August 3, 2017
Submission
August 20, 2017
Prize
Scholarships worth € 35,500 towards the program tuition fees + Admittance to IE Master in Real Estate Development or
IE Master in Strategic Design of Spaces or IE Master in Architectural Management and Design programs.
arquideas Architecture Competition
2017 International Design Competition–Greater Tainan Expo Center, Taiwan
30 Aug submission deadline
Key dates:
Deadline for Submission of Tender: 30 Aug 2017 12:00 p.m.
Announcement of Qualified Tenderer: 30 Aug 2017 02:00 p.m.
Evaluation Meeting: 2017.09.07
Web address: www.tainanexpocenter.com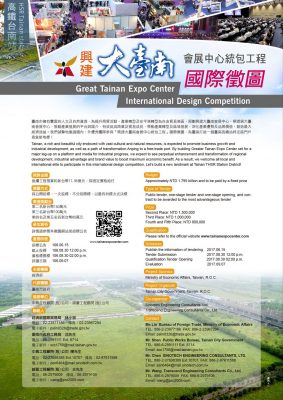 International Design Competition of Project of the Greater Tainan Expo Center
All local and international elite are cordially invited to participate in the International Design Competition of the Greater Tainan Expo Center and to witness this critical moment of Tainan's industry transformation!
It is a turnkey project and the estimated construction cost is NTD 1.795 billion. It is expected to generate maximum economic benefits by establishing a platform and media for industrial development to promote the growth of business and trade, to boost industrial development and area transformation as well as to deepen the advantage of industrial specialty and brand value.
The project includes 600 exhibition booths for flexible use, and the exhibition space should be a column-free space with a clear height of over 12m. There should also be one conference room for 1000 delegates (divisible into four rooms with the capacity of 250), one conference room for 800 delegates (divisible into two rooms with the capacity of 500 and 300 respectively), five conference rooms for 100 delegates (divisible into spaces for 50 delegates) and three for 20 delegates (divisible into spaces for 20-40 delegates), as well as parking space for 550 cars and 450 scooters. The area to be designed is 39,000m2.
All welcome to participate in this international design competition to design a new landmark at Tainan THSR Station District.
Budget: Approximately NTD 1.795 billion and to be paid by a fixed price.
Type of Tender: Public tender, one-stage tender and one-stage opening, and contract to be awarded to the most advantageous tender.
Prize Money: First Prize: Priority right for contract without extra incentive
Second Prize: NT$1,500,000
Third Prize: NT$1,000,000
Fourth & Fifth Prize: NT$800,000
Tender documents: http://web.pcc.gov.tw/tps/tpam/main/tps/tpam/tpam_tender_detail.do?lang=eng&searchMode=eng&scope=F&primaryKey=52170525
Qualification: refer to official website www.tainanexpocenter.com
Showing – alternative designs for museums, from Non Architecture Competitions
Showing – Alternative Designs for Museums
e-architect offered a discount on this competition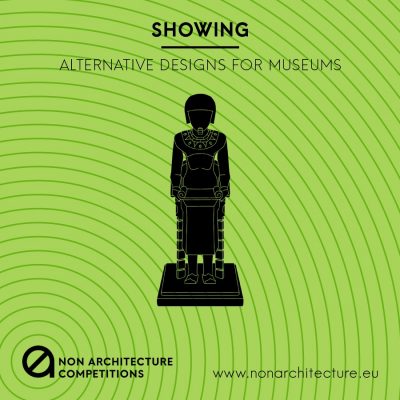 We can consider "Architecture" everything that has already been designed and/or built. That would define a realm of conventional solutions, often repeated in a self-referential system. We imagined a counterpart, a "Non Architecture".
Showing – alternative designs for museums, is the fourth Non Architecture Competition.

If you would like a discount on the entry fee you need to go to this page and quote our coupon code:
Showing – Alternative Designs for Museums
16 Aug – 27 Aug 2017 – Late Registration (75 €) period
Use the code: e-architect
UIA HYP Cup 2017 International Student Competition in Architectural Design
31 Jul registration deadline
This is the sixth session of this international architecture competition:
UIA HYP Cup 2017 International Student Competition in Architectural Design.
Theme: Architecture in Transformation
Topic: Transformation and Reconquest
Jury Chairman: Jean Nouvel
Registration Deadline: July 31, 2017
Submission Deadline: August 31, 2017
Jury Convenes: September, 2017
UIA HYP Cup 2017 International Student Competition
University Hospital Hradec Králové Design Competition, Czech Republic
7 Jul 2017 submission deadline
Open Call: NEXT LEVEL University Hospital Hradec Králové
The architectural and urban design competition for the modernization of the Surgical Centre of the University Hospital Králové.
Website: nextlevelfnhk.cz
The Surgical Centre will be composed of a new building (addition) and the reconstructed (now technologically outdated) older surgical pavilion. These two structures will be connected into a viable whole.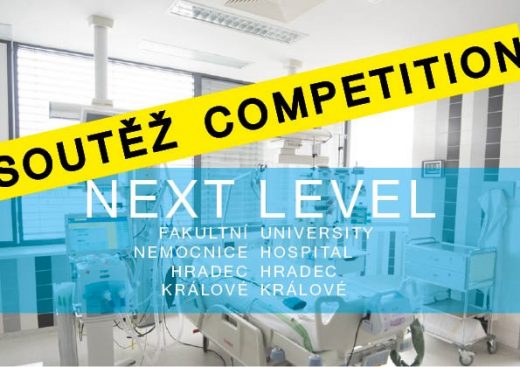 The winning design should meet all the functional needs of the hospital's surgery departments and form the best possible working environment for medical staff, as well as a safe and pleasant setting for patients.
• University Hospital Hradec Králové is one of the largest medical facilities in the Czech Republic
• Modernization of the Surgical Centre is a project approved by the Czech government as a strategic area of health care
• When finished, the Surgical Centre will be (with 21 operating theatres including all the services) one of the best European medical facilities of its kind
All the competition documentation is in Czech and English and the teams can submit their proposals in both languages.
The competition has two rounds:
1. Round 1: Anonymous open call – submission: 4 posters and portfolio in printed form – deadline: 7 July 2017; 6 best designs will go to the Round 2
2. Round 2: Anonymous – submission: 6 posters and portfolio in printed form, model – deadline: 20 October 2017; 3 prizes and sketching fee for non-awarded teams
1st prize: 3 500 000 CZK (around 129 600 €)
2nd prize: 2 200 000 CZK (around 81 500 €)
3rd prize: 1 500 000 CZK (around 55 500 €)
Among those entering and fulfilling the conditions of Round 2: divided 1 800 000 CZK (around 66 660 €)
Participation fee: No
Jury: Zdeněk Zavřel (Chairman of the jury, CZ), Mario Corea (ES), Richard Klinger (AT), Sergio Bruns (CH), Kristina Richter Adamson (SK/GB), Martin Tycar (CZ); on behalf of the investor: Vladimír Palička (Vice chairman of the jury), Jan Vojáček, Veronika Bartošová, Michal Hudík, Karel Antoš.
The Spit in Nizhny Novgorod
A Town-planning Comprehension of the Important Urban Public Space
15 Jul 2017 registration deadline
The Union of Moscow architects invite professionals to the participation in The Open Architectural and Urban Competition "The Spit in Nizhny Novgorod – a Town-planning Comprehension of the Important Urban Public Space"
The Competition will be held within the framework of the International Festival "Eco-Shore". The Festival is unique international annual project devoted to the innovative ideas of the urban, architecture and design development of coastal areas.
Founder and Organiser: Union of Moscow architects (Russia)
Location: Nizhny Novgorod (Russia)
Registration deadline: July 15, 2017
Submission deadline: August 30, 2017
Type: Open
Registration fee: 80 euro
Nizhny Novgorod Architecture Competition
Reshape 17 | wearable technology competition
Deadline: Participants must submit their entries via e-mail on/or before 30th of June 2017 at 23:59 (UTC/GMT +1 hour)
Reshape is an online platform promoting research, design and production of digital ideas, exploring implications and applications of technology and innovation in our society. Representing an international community of designers, makers and customers inspired by innovation, Reshape intends to establish a new worldwide network of ideas and creativity able to shift the production paradigm.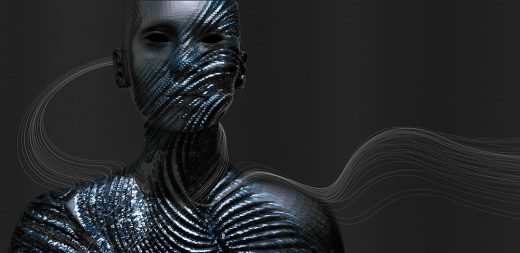 Reshape wearable technology design competition
School without classrooms : Berlin Competition
30 Jun 2017 submission deadline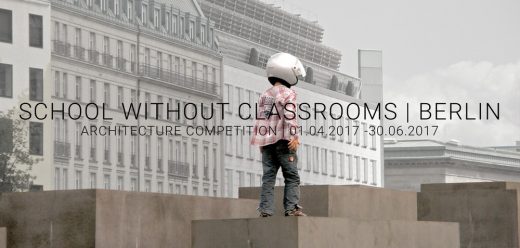 School without classrooms Berlin Architecture Competition
This architecture competition seeks the creation of a middle school (age group 5-12) that completely negates the present day 'bench-table-chalkboard' idea of a classroom and a regularized building typology of a school.
The registrations and briefs for the same open on 1st April, 2017. The architecture competition duration is for three months and the submission deadline is scheduled on 30th June, 2017. We will announce the results on 24th July, 2017. Eminent architects of international repute will be on the jury.
Architecture Competition – archive
Architectural Designs
Website: e-architect YouTube
Comments for the Architects Competitions 2017 Archive page welcome