Architecture Competition, Design Contests 2016, Dates, Deadlines, Entries, Students, Prizes
Architectural Competitions : Design Contests Archive
Architecture Prizes 2016 – Background Information
Architecture Competitions : Current Design Contest Listings
Architecture Competition – archive
Recent Architectural Competitions
Recent Architectural Competitions up and including 2016, chronological:
Daugava Stadium The Sketch Design Competition
Country: Latvia
Deadline: 20 Mar 2017
Prize money of the competition: 15,000 EUR
Design contest website: http://www.metukonkurss.lv/index.php/en/daugava-stadium
#MorphedSquare Architecture Competition
Name of the contest: Square-in-Square Photo Contest
Deadline: March 16th 2017
Share your 'Square in Square' shot for a chance to win Morpho experience and signed copies of our first Monograph, Morphogenesis: The Indian Perspective. The Global Context.
To be a part of this photo contest, post the picture(s) using hashtag #MorphedSquare and tag Morphogenesis in your post/tweet. You may submit your entries on Facebook, Instagram and/or Twitter.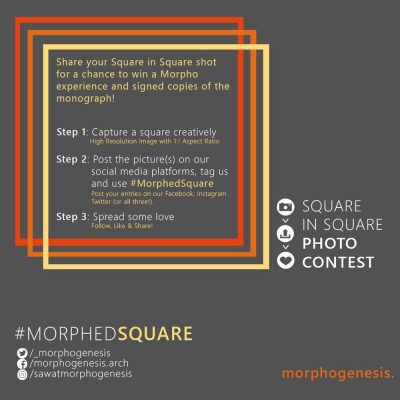 Prizes
One Grand Prize Winner will get –
– 'A Day in the Life of Morphogenesis' (visit the Morphogenesis, Delhi studio for a day, interact with the partners and/or attend a lecture).
– a signed copy of the Monograph
– a Swag Pack: prize bundle including specially designed ('limited edition', if you will) fun stationary and products (Diary, Bookmarks, Postcards, Coasters, Mouse Pads, etc.).
Three Other Winners will get –
– Three (3) winners, one from each social media platform (Facebook, Twitter, Instagram), will win a signed copy of the Monograph and a Swag Pack (detailed out above).
Rules & Regulations:
Please read these rules before entering the Contest.
By participating in this Contest, you agree to be bound by these Official Rules and confirm that you satisfy all of the eligibility requirements below. No purchase or payment of any kind is required to enter this contest.
1. Eligibility. To be eligible to win a prize, entries must be completed and received by Morphogenesis in the manner and format designated in the Submission guidelines. Photos can be shot on any device – Phone or camera. All applicable laws and regulations apply. Contest void in where prohibited by law.
2. Contest Period. The Contest starts on March 3, 2017 at UTC+05:30 and ends on March 16, 2017 at UTC+05:30 (the "Contest Period"). All entries must be received during the Contest Period to be eligible to win a prize.
3. How to Enter. During the Contest Period
o Visit the Morphogenesis official Facebook page, Instagram profile, Twitter account OR all three and
o Follow the instructions on how to submit your entry (the "Submission"). Morphogenesis may display all Submissions on the Morphogenesis Facebook page, Instagram profile and/or Twitter account.
4. Submission Guidelines (Contest Rules)
The entrants must use the contest hashtag #MorphedSquare when uploading the contest entries, to be eligible to win a prize;
The Submission must be a digital photo;
The Submission must be entrant's original creation and owned one hundred percent (100%) by the entrant;
The Submission must demonstrate the following contest theme ("Contest Theme: Square In Square"):
o The picture must have one or multiple squares captured creatively
o The image uploaded must be a square (1:1 Aspect Ratio)
You may submit more than one entry during the Contest Period
5. Terms and Conditions
General
o The decision of the Jury will be final and binding.
o It is in the sole and final discretion of the organizers/ Jury to cancel any entry on the grounds of plagiarism, illegality, infringement of any third party rights, or misinterpretation under the constitutional right of freedom of expression.
o The organizers hold the right to terminate the competition or amend rules at any time and stage at its sole discretion.
Content Restrictions:
o The Submission must not contain material that violates, misappropriates, or infringes upon any law or regulation or the rights of any third party, including any copyright, trademark, or any rights of publicity or privacy, or any other intellectual property or proprietary rights;
Copyright
o The competition entry must be your original creation and not infringe on any copyright. The onus of ensuring the originality of work lies with the participant(s) at all times.
o Any sign of plagiarism will disqualify the entire team/individual from participating. A plagiarism committee will be instituted to monitor the plagiarism during the pre-screening process. The participating team/ individual must grant the organizers the non-exclusive right to make royalty-free reproductions of the entry in any manner or form, for marketing, promotional or educational purposes of the main activity and associated events. Refer http://www.facebook.com/events/395627414135105/?active_tab=about
Place and Displacement: A Marketplace in Refugee Settlements
Registration (rolling basis): Nov. 14, 2016 11:59 PM EST – Feb. 1, 2017 11:59 PM EST
$30 early (Nov 14 – Dec 3, 2016)
$50 regular (Dec 4 – Dec 31, 2016)
$70 late (Jan 1 – Feb 1, 2017)
Submission : Dec. 3, 2016 11:59 PM EST – Feb. 1, 2017 11:59 PM EST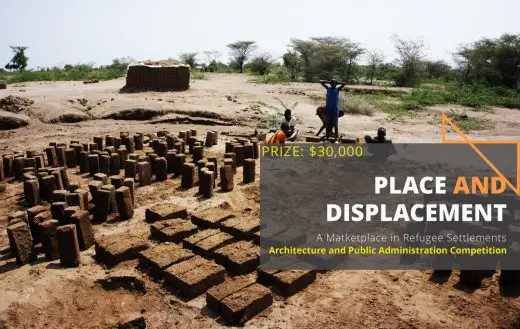 CHALLENGE
we challenge the innovative minds around the globe to design a marketplace with an operational plan for more than 20 users from a vulnerable population (adolescents, single mothers, people with trauma, etc) in one of the refugee settlements listed in the brief. The marketplace should be able to run as long as possible, and benefit as many people as possible. The overall budget limit for both construction and long-term operation of the entire marketplace is $100,000 or less. The finalists teams will come to New York City to attend a workshop and present at a symposium
JURY
10 Architects + 7 United Nations Representatives and Directors + 7 Scholars + 6 NGO Leaders
PRIZE
Total Prize: $30,000
1 Overall Winning Team: $3,000
3 Winning Teams: $3,000 Per Team + Travel to New York City
6 Honorable Mentions: $1,000 Per Team
* All awarded proposals will be presented to a group of related humanitarian organizations and philanthropies with credits to participants.
To view the jury, download competition brief and register for the competition – link expired.
SITE DWELLING international architecture ideas competition
Registration deadline: Jan 30, 2017
The SITE DWELLING international architecture ideas competition for architecture students and young professionals is run by ARKxSITE.
The Site Dwelling, located on the cliff of the bay, in the village of Salir do Porto, aims to create a secluded destination, a place of retreat to engage with the landscape while providing shelter from the natural elements. This is a place to stay and inhabit for a few days, offering visitors a unique experience in a very special setting; visitors must leave the space as they found it, empty.
Early Registration Period: until December 15, 2016
Regular Registration Period: December 16 – January 19, 2017
Late Registration Period: January 20 – January 30, 2017
Submission Deadline: February 04, 2017
Jury Evaluation: February 24 – March 10, 2017
Competition Results: March 20, 2017
Open to Architecture Students and Young Professionals (≤ 40 years old)
SITE DWELLING Architecture Competition
Website: www.arkxsite.com
Art Complex, Pyeongchang-dong, Seoul Architecture Competition
Registration Deadline: Jan 25, 2017
Seoul Metropolitan Government is in process of planning on "Art Complex, Pyeongchang-dong, Seoul (working title)."And for this, "Design Competition: Art Complex, Pyeongchang-dong, Seoul" will be held and announced on November 4. Total prize amount will be approximately 75,000,000 KRW, and the winner will be granted a right to sign the design contract.
Art Complex aims to contribute to the development of local community, maturity of cultural environment and communication between artistic activities by formation of a complex cultural space for combination of enjoyment of culture, research & development and learning with use of abundant local historical infrastructure and the art archive as the medium.
The competition seeks for openness, combination and connection among the space elements instead of division by function. Therefore, the design is expected to be an innovative plan that forms connection and interaction between materials and activities throughout the space. Also, it must be an eco-friendly space that is in harmony with Bukhansan, Bugaksan and the surrounding natural environment.
Registration for the competition is available through Friday Nov. 4, 2016 ~ Wednesday, Jan. 25 (by 17:00) on Seoul Public Building Design Competition website "Let's Design Seoul" (http://project.seoul.go.kr) and submission of entry work is due Wednesday, Feb. 1, 2017 at Seoul Urban Space Improvement Bureau.
Competition Title: Design Competition : Art Complex, Pyeongchang-dong, Seoul
Registration Deadline: Wednesday, Jan. 25. 2017, 17:00 p.m. (Korean Standard Time, UTC+9)
Submission Deadline: Wednesday, Feb. 1, 2017, 17:00 p.m. (Korean Standard Time, UTC+9)
Announcement of Winners: Monday, Feb. 20, 2017
Award Ceremony: Monday, Feb. 20, 2017
Contractor: Museum Division, Culture Planning Bureau, Culture Headquarters, Seoul Metropolitan Government
Location: 148-16, Pyeongchang-dong, Jongno-gu, Seoul, and 8 additional blocks
First Prize: Design Contract for the Construction Documents
Website: http://project.seoul.go.kr
XII International Prize for Sustainable Architecture
Entry deadline has now passed
Submission deadline: 25 Jan 2017
The Department of Architecture at Ferrara University, Italy, has the pleasure to announce the opening of registrations for the twelfth edition of the International Prize for Sustainable Architecture Fassa Bortolo dedicated to new works, redevelopments, existing building expansions, urban-scale interventions, landscape design and in any other project that clearly expresses the ideals of sustainability.
Individual professionals and architecture and engineering studios can take part to the competition, submitting one realized project, which must have been realized and completed within the past five years.
The Prize has involved during the years – over 1000 built projects in more than 30 countries of the five continents.
This edition also introduces the 'Fassa Bortolo Special Prize' to award those following the principles of sustainability and architectural quality who have used solutions from the 'Integrated System Fassa Bortolo' or main related systems.
The International Jury has been composed by prestigious and very well-known members coming from all over the world, as shown in the brochure on the history of the Prize linked below.
The International Jury for the 2017 twelfth edition includes:
Thomas Herzog (Chairman)
Louisa Hutton
Diébédo Francis Kéré
Roberto Di Giulio
Nicola Marzot (Secretary).
Deadlines:
On-line registration (at www.premioarchitettura.it) extended to December 30th 2016
Submission of documentation by January 25th 2017.
Information:
www.premioarchitettura.it
IMPACT Scotland Architecture Competition for concert venue in Edinburgh
Submission deadline: 13 Jan 2017
Expressions of Interest must be received at Colander Associates' offices in London by:
12 noon on Friday 13th of January 2017
IMPACT Scotland : a new, world-class concert venue in the heart of Edinburgh's World Heritage Site.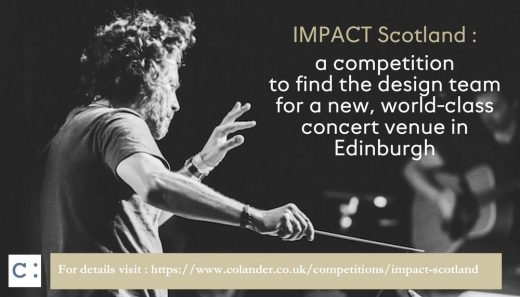 "We are delighted to announce the competition to find a design team for this fabulous project.
First and foremost, IMPACT Scotland will be home to the Scottish Chamber Orchestra, with an acoustic to rival any other classical venue in the world.
It must also be robust enough to adapt to and serve the many and assorted performers at the Edinburgh International Festival.
Alongside the main hall, a smaller studio will offer multiplicity for public performances, education programmes and rehearsals.
At its heart will be an open, public lobby, which will be a destination in its own right : with places to meet, think, eat and drink.
This is a very special project that needs an exceptional team both to design it, and deliver it. The client is keen to consider emerging designers as well as those that are more established and experienced, and for this reason, submissions are invited from teams that recognise the importance of nurturing and delivering exceptional creativity.
As well ass design talent, the team will be required to demonstrate that it is able to inspire and convince diverse stakeholders; that it can work collaboratively with a world-class acoustician; that it has the expertise to work in a World Heritage Site; and that it can steer a path through hugely complex and possibly conflicting functional and technical requirements."
To find out more, visit the competition webpage:
http://www.colander.co.uk/competitions/impact-scotland
The Masterplan report concluded that at today's prices the Concert Hall could be built for a project cost of around £40 million, excluding VAT. This equates to a project cost per square metre rate of around £6,000.
http://www.colander.co.uk/journal/2016/impact-scotland-a-new-world-class-concert-venue
Folly 2017 Architecture Competition
Submission Deadline: Monday, January 9, 2017 11:59 p.m. EST
Call for Proposals: Folly/Function 2017
A design/build competition organized by The Architectural League and Socrates Sculpture Park
Jury
Tatiana Bilbao, Principal, Tatiana Bilbao ESTUDIO
Eric Bunge, Principal, nARCHITECTS
John Hatfield, Executive Director, Socrates Sculpture Park
Mary Miss, Artist and Artistic Director, City as Living Laboratory
Craig Schwitter, Partner, BuroHappold Engineering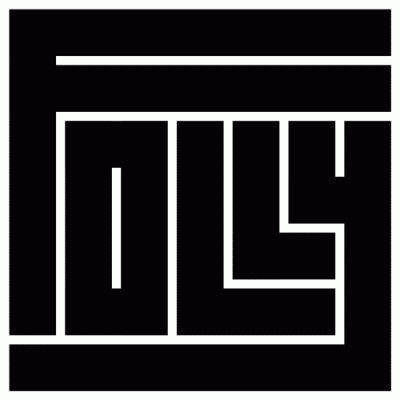 Description
Socrates Sculpture Park and The Architectural League invite designers and architects to help shape the physical setting in which the park fulfills its mission as a venue for art, creative expression, public programming, and education.
Socrates Sculpture Park, located in Long Island City, Queens, is one of the most distinctive cultural organizations in the country with its combination of waterfront setting, accessibility, and community-based programming. As a venue for the presentation of public art, a New York City park, and an active social space, Socrates has for 30 years harnessed the power of creative minds to transform the urban landscape.
In previous years the Folly program investigated the intersection between sculpture and architecture with temporary structures that intentionally served no utilitarian purpose. More recently the competition has shifted emphasis, asking entrants to fuse form with utility, creating designs that explore the intersection of art and architecture while addressing and improving the conditions of the Park. Continuing this trend, the 2017 competition asks architects and designers to design and fabricate four portable, demountable structures to replace four standard tent structures that are deployed, as needed, throughout the Park.
The structure should provide shelter from rain, shade from sun, and be secure enough to withstand wind in a waterfront environment. The structure must be able to be assembled in no more than 10–15 minutes by two people, preferably one person, and disassembled in the same amount of time. These criteria will be strictly applied when reviewing submissions. A submission will not be selected if this project, in the judgment of the jury, does not convincingly demonstrate this capability.
Site
This year, for the first time, the project is not confined to a single site within the Park. Instead, entrants should design an easily portable, demountable system measuring approximately 8′ x 8′ in plan with a minimum height of 7′ to allow for standing and suitable for a variety of uses. It should be adaptable for multiple locations, which will include areas adjacent to the Park entrance, to its education area, and throughout the landscape.
Eligibility
Architects and designers are invited to apply. Applications will be accepted from individuals and firms; entrants need not be licensed. Architects and designers outside of New York City are eligible to apply, but housing and transportation are not provided as part of the award. If selected, non-residents will have to make their own living and travel arrangements. Students are not eligible to apply.
For full architecture competition brief visit: archleague.org/folly17
Design Corps/SEED Network Competition, NC, USA

Submission deadline: Jan 6, 2017
The Design Corps/SEED Network annual competition is now open.
SCHEDULE
Deadline for each application on all three network platforms is Friday, January 6, 2017, 11:59 pm EST.
Award Winners will be announced on the networks' websites Thursday, January 26, 2017.
Awards Presented: Structures for Inclusion Conference, April 7 and 8, 2017.
Design Corps, the Social Economic Environmental Design (SEED), dbXchange, and Live Projects Network in collaboration with the Center for Public Interest Design, run the 2017 Awards competition to recognize excellence in public interest design.
For the first time, these three international networks are combining efforts to support and promote systemic change in the practices of design with the intent of building on the common ground they share. Recognizing design projects with exceptional social, economic, environmental, and pedagogic impact, this year the SEED + dbXchange + Live Projects Network Awards will represent the greater scale and growing relationships needed to create truly sustainable projects and positive change in all communities globally. While each network has a unique focus, sharing the awards acknowledges their common ground: supporting the growth of excellence in public interest design.
A total of six projects will be selected for awards through a competitive juried process. Two winners will be selected from each of the three networks that represent their public interest design principles and selection criteria.
Winning projects receive a $2,000 honorarium for a trip for one team representative to present their work at an international conference, taking place at Portland State University in Portland, Oregon in April 2017. Built on the framework of the annual Structures for Inclusion Conference, this joint conference will focus on sharing built works, research, and discussions which can inform the future collaborations and efforts by these networks, and others, to promote access to design as a basic human right.
WSBE17 Hong Kong International Architecture Competition
WSBE17 Hong Kong is the world conference of the 2015-2017 cycle of the renowned SBE Conference Series, it is the most influential and well-attended Sustainable Built Conference held every 3 years. With the theme of 'Transforming Our Built Environment through Innovation and Integration: Putting Ideas into Action', it is expected to attract over 1800 policy makers, industry practitioners and green-building advocates from over 50 countries.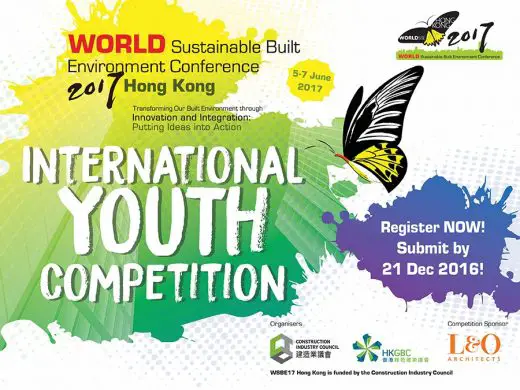 It is the best platform to be seen and to be recognised
The Challenge/The Competition:
WSBE17 Hong Kong – International Youth Competition invites imaginative ideas, projects and action plans that best demonstrate an innovative interpretation of the Conference theme and the key discussion areas: Deep Building Renovation, High-performance Building, Sustainable Neighbourhood, and Community Empowerment.
Prizes:
Shortlisted teams will have the chance to:
• Display your innovative ideas at WSBE17 Hong Kong Exhibition
• Present yourself and network with over 1,800 industry experts from over 50 countries
• Present your brilliant ideas in front of a panel of internationally acclaimed judges
• Win a cash prize of HK$10,000 and 2x Conference Ticket
Eligibility:
Age: 30 or below
Team size: Max 8 members
Team formation: Must consist of min. 2 sustainable-built environment-related disciplines students AND min. 2 students from other subjects in each team
Submission:
Size: 1 x A1 pdf (300dpi) digitally submitted using the given template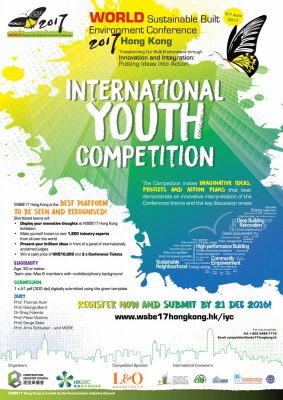 Jury:
Prof. Thomas Auer
Managing Director, Transsolar
Chair of Building Technology and Climate Responsive Design, Technical University of Munich
Prof. George Baird
Emeritus Professor of Building Science, School of Architecture, Victoria University of Wellington
Dr Greg Foliente
Senior Science Leader, Commonwealth Scientific and Industrial Research Organisation Professorial Fellow, The University of Melbourne
Prof. Peter Guthrie
Director, Centre for Sustainable Development, University of Cambridge
Prof. Serge Salat
President, Urban Morphology & Complex Systems Institute
Prof. Arno Schlueter
Professor, Architecture and Building Systems ETH Zurich
Principal Investigator, Future Cities Laboratory, Singapore ETH Centre
…and MORE
Registration is free! Register today and submit by 21 Dec 2016 at www.wsbe17hongkong.hk/iyc
24H Competition 2016
The 24h competition 14th edition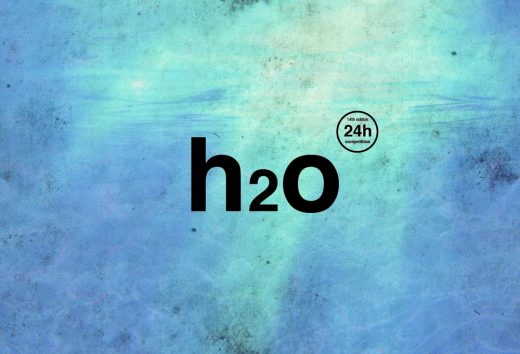 Design contest date // December 03 and December 04 //
SPONTANEOUS call for drawings about architectural elements of spontaneous construction
Deadline was 21 Dec 2016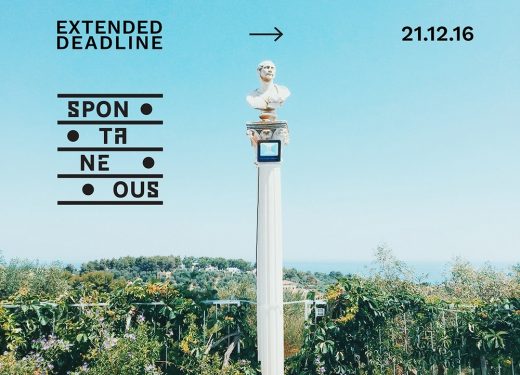 Brief:
In those areas in which spontaneous and unauthorized construction is widespread, overwhelming good architecture, one should consider that informal phenomena are a tangible manifestation of the social relationship with built environment. Structural or decorative elements are figured out and crafted to quickly respond to two important needs: spatial appropriation and self-representation of the builder. Often lying in the grey area of building regulations. Those elements adapt their form to any concrete frame construction and the modus operandi of the builders; absorb imperfections of the self-made building; speed up work; reuse or recycle existing materials.
SPONTANEOUS's survey aims at raising the following operative questions: can an illegal/informal architectural element, which is widely employed in a community, become a subject of design interest? How does architecture practice anticipate and re-elaborate an established way of transforming the built environment driven by immediate needs? How can these elements be officially produced to meet a higher aesthetic and safety standard?
In 2017, selected submissions will be published in a collective atlas that will gather the above-mentioned surveying activity. It is intended to provide a partial list of architectural clichés, built for immediate needs. Each drawing will be credited to the author, who will participate to a collective system of knowledge exploring the self-made constructions' spread over our territories. The atlas will be divided into four categories: enclosure, decoration, structure, technological system.
Training – Alternative designs for Sport Facilities Competition
The aim of the "Training" competition is to develop a design proposal for the sport facility typology, intended as a place where physical activity and/or sports entertainment can occur. It is asked to the participants to create innovative and unconventional projects on this theme, questioning the very basis of the notion of sport facility.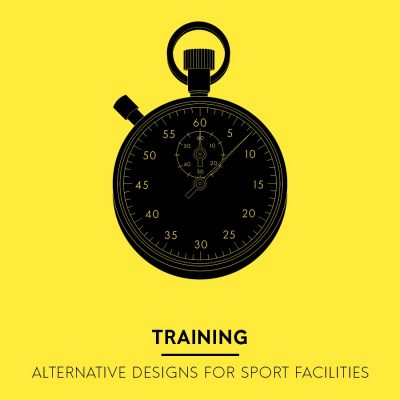 After the recent closure of the European football cup and the Olympic games, you are asked to reinvent the way sports can be practiced, and how they can be used to entertain. Many architecture and design projects have already proposed new ways to empower the social value of sports and innovative solutions to implement them in order to promote a healthy lifestyle.
Training Architecture Competition
e-architect offered a 10% discount on the subscription fee.
International design competition "Castelo de Abrantes", Portugal
The portuguese city of Abrantes and the national Association of Architects (OASRS) recently launched the International design competition "Castelo de Abrantes". The Competition aims to qualify and enrich the Abrantes Castle surroundings through leisure, cultural and touristic programs.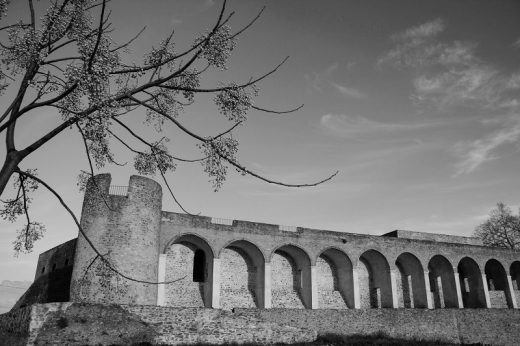 Architects and landscape architects are invited to interpret the historical center of Abrantes as a dynamic and articulated unit with its surroundings, establishing relations of reciprocity in order to ensure significant human flows.
Prizes
– 1st prize: €5.000
– 2nd prize: €1.500
– 3rd prize: €1.000
Schedule
– (Response to questions: was until 24 Oct 2016)
– Deadline for submission: 7 Nov 2016 (17:00 local time)
Castelo de Abrantes Architecture Competition
Laka Competition '16—Architecture that Reacts
Laka Architektura invites designers from around the world to submit their ideas of architecture that reacts. That means architecture which is able to respond and adjust dynamically to the current needs and circumstances. These circumstances are often unpredictable, but their consequences can be crucial. The architecture that reacts is the architecture that lives as a living organism, since it responds to the external stimuli and it develops because of it—to react is to live.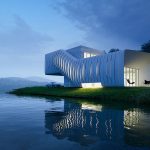 Design: "Wormhouse" http://www.wormhouse.pl by Peter Kuczia | Image: alekpluta.com
Can architecture react to social needs?
The subject of the competition is a conceptual project of architecture that is socially engaged and is capable of reacting to unpredictable conditions and environmental, natural and social risks. Proposed solutions should constitute an ideological interpre¬tation of modern technological solutions which take into consideration social and economic determinants. Architectural study should focus on architecture as a key field heading towards social revitalisation and increased safety and freedom of its users. Proposed solutions should involve a thorough analysis of the problem, for example, starting from outlining global factors and indicating key directions for modern ar¬chitectural solutions. Accuracy of this analysis and po¬tential of proposed solutions are going to be the main components of projects' assessment.
Jury 2016:
Qun Dang (Architect, Principal Partner at MAD Architects)
Ana María Gutiérrez (Architect, Co-founder of Fundación Organizmo, Ashoka Fellow)
Peter Kuczia (IARP and BAK Architect, author of CO2 Saver House)
Julien De Smedt (Architect, Founder of JDS Architects)
Arturo Vittori (Architect, Co-founder of Warka Water NGO, Director of A&V)
Nathalie de Vries (Architect, Urban Planner, Co-founder of MVRDV)
Tobias Wallisser (Architect, Co-Founder of LAVA Laboratory For Visionary Architecture)
Judging Criteria:
Participants are free to decide about the location of the project, its scale, size and the program.
Listed below are 3 highlighted issues that the jury will pay attention to during judging:
1) a properly indicated architectural, social or environmental issue to solve
2) an accurate analysis of the selected issue
3) a properly chosen architectural solution that "reacts" and solves the indicated issue
Listed below are some issues that explain the concept of "Architecture that Reacts":
an ability to response for social, economic, environmental changes |a level of social and environmental engagement of the design | a relation with a specific social, natural and built context | a level of flexibility and adaptability of the design |an innovative use of technology and sustainable systems |a level of self-sufficiency of the design.
Awards:
5000 USD will be distributed among winners:
1st PRIZE: 2500 USD
2nd PRIZE: 1500 USD
3rd PRIZE: 1000 USD
In addition: 10 honourable mentions will be selected. Winners and laureates of special mentions will be published in several international online magazines, and at the Laka Competitions website. The best proposals will be selected by the international panel of judges.
Selected designs will be considered to receive support of Acceleration Partners through a process of qualification which will be separate from the process of awarding the main prizes. Acceleration Program is an international network of Partners, whose role is to offer opportunities of investigation and implementation for the best designs submitted to Laka Competition by providing professional consulting, mentorship, international press coverage and support of sponsors and funders http://lakareacts.com/competition/partners/
Schedule:
Registration opened in April, 2016
(Early Registration: 50 USD was until June 1, 2016)
Regular Registration: 75 USD until October 1, 2016
Late Registration: 100 USD until November 1, 2016
Project submission deadline: November 1, 2016
Jury deliberation: November, 2016
Winners' announcement: December 1, 2016
UTC time zone for all dates
Website: Laka Architecture Competition
Orwell Crossings Project Architecture Competition, Ipswich, Suffolk, England, UK
The Royal Institute of British Architects' Competitions unit launch a design competition with associated tender process on behalf of Suffolk County Council for the Orwell Crossings Project in Ipswich.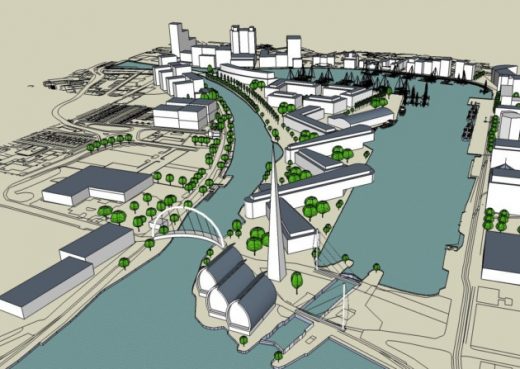 Orwell Crossings Architecture Competition
This £77 m project will see the proposed construction of two new crossings near the town's waterfront area, together with the refurbishment of an existing swing bridge across the lock which provides access to the 'Wet Dock' and its marina facilities.
IE Spaces for Innovation Prize
IE School of Architecture and Design announces its third IE SPACES FOR INNOVATION PRIZE for young architects and designers to attract and reward young talented professionals around the word.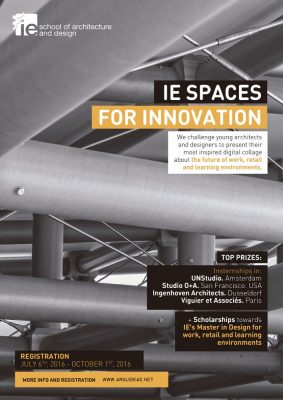 Objective:
Candidates have to present a digital collage where they will be showing their insights and reflections about the future of work, retail and learning environments.
Participants:
All young architects and designers worldwide who have finished their studies or graduate studies in 2012 or later.
Fee:
There are no registration fees.
Registration:
July 6, 2016 to October 1, 2016
Prizes:
Full-time, six month, paid professional internship in UNStudio, O+A Studio, Ingenhoven Architects and Viguier et Associes +
Free registration fees in the IE Master in Design for Work, Retail and Learning Environments +
Scholarships worth € 29.000 towards the program tuition fees.
IE Spaces for Innovation Prize Architecture Competition
International Architecture Student Competition from Austrian wood manufacture Admonter
Deadline 18 Nov 2016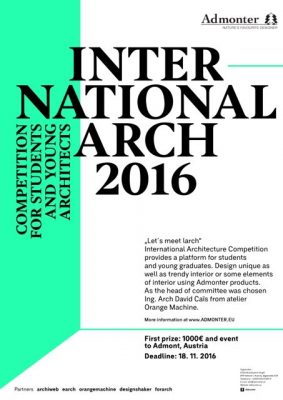 Title: International_arch_student_competition_2016
Theme: Let's meet Larch
Programme: Student and young architects have a free space to make an interior or interior furniture using larch.
previous design contest winners:
Michaela Foltýnová – 2012 (CZE)
"The prize and the contest itself meant to me a great resource of many unbelievable memories"
Andrea Pomykalova – 2013 (CZE)
"One more time thank you very much for a wonderful opportunity that was given to me"
Iveta Pavlíková – 2015 (CZE)
"The architecture is my passion. Believe me I didn´t think of participation in the contest at all"
International Architecture Student Competition by Admonter
University Island Architecture Competition, Italy
By YAC (Young Architects Competitions)
University Island, an architecture competition project in cooperation with the Italian Government we are promoting, from 7th March to 15th June, University Island, a projectural competition aiming at the urban renewal of Poveglia Island (Venice), Italy.
The architecture competition looks at offering a wide range of architectural proposals that might transform this uninhabited island into a campus of excellence open to citizens and tourists joining here several cultural, sport and leisure activities.
The jury of the competition gathers outstanding international personalities such as Andrea Boeri (Architecture Department UNIBO), Alberto Ferlenga (IUAV University), Francesco dal Co (director of Casabella magazine), Alessanddro Marata (C.N.A.P.P.C.), Peter Cook (CRAB studio), Iannis Kandyliaris (BJARKE INGELS group), Pierluigi Cervellati (Chief architect of Cervellati studio and associates), Patrick Luth (Snohetta studio) and Francesca Graziani (Real estate office).
Young Architects Competitions is an international network of professionals aiming at enhancing architecture research and young designers attitude.
A total of €20,000 in prize money will be awarded. The winner will receive €10,000, the runner-up gets €4,000 and the third prize is €2,000. Four gold honourable mentions will also receive €1,000 each. Ten other finalists will receive an honourable mention, and will also be published in various architectural publications, on the Young Architects Competitions website and all receive a one-year subscription to Casabella magazine.
The Wall of Answered Prayer Architecture Competition
international design contest launched by RIBA Competitions for a motorway landmark in the UK.
Called 'The Wall of Answered Prayer', it is set to be built beside a British motorway and to consist of a million bricks. Each brick is to represent an answered prayer.
The structure was the idea of a former Leicester City FC chaplain and over £47,000 has been raised through crowdfunding.
For each brick used another will also be donated for social housing. A million bricks is equivalent to about 62 houses.
Architect Renato Benedetti is the RIBA adviser on the competition; she said: "We are looking for very high quality, deliverable, innovative submissions which will inspire and intrigue."
This architecture competition is open internationally to architects, engineers, artists, sculptors, technologists and related design professionals ; collaborations are encouraged.
Phase 1 of the architecture competition will require teams to submit concept designs anonymously, in digital format, by the deadline of 7 November 2016. Up to five will be shortlisted.
Each shortlisted designer will receive an honorarium of £4,000 + VAT.
The competition is being managed on behalf of a charity called Network, The Evangelical Council for the Manchester Area Trust.
A shortlist of potential sites is currently being drafted, with the preferred site expected to be announced in summer 2017.
Further information: www.thewall.org.uk/riba-competition
New Taipei City New SkyRider International Competition
New Taipei City New SkyRider International Competition (Elevated Bike Path)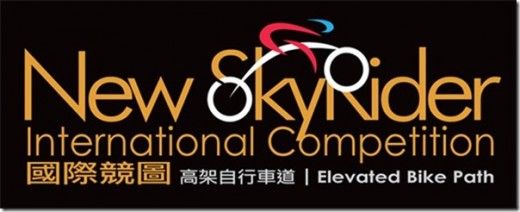 Invitation
The New SkyRider, a system of elevated bike paths, was proposed by the New Taipei City government in 2015 in response to the global trend towards low-carbon lifestyles. This major urban development plan will create a green network of bike paths in the heart of New Taipei City, linking the densely populated districts of Xinzhuang and Banqiao on the north and south sides of Dahan Creek, and expand outward to connect other areas. By promoting the development of low-carbon transport systems and industries, this project seeks to encourage people to commute by bicycle and provide a high efficient and convenient transportation choice. The route of New SkyRider starts from the intersection of Section 3, Zhonghuan Road and Section 4, New Taipei Boulevard in Xinzhuang District in the north, extends south along the 60-meter wide parkway of Section 3, Zhonghuan Road (Provincial Highway 65), and spans Dahan Creek to connect with existing riverside bike paths in Banqiao District.
The New Taipei City government cordially invites outstanding Taiwanese and international design teams to creatively combine urban design, smart and low-carbon systems, and urban ecology, and structure aesthetic and submit their innovative and visionary design proposals for the New SkyRider project. The design of the clean, safe, and convenient transport network should integrate the parkway, including the 10 meter-width pedestrian open space beneath the elevated New SkyRider, public area, and space beneath the elevated highway. New Taipei City looks forward to a revolutionary design for its newest landmark and new vision for sustainable and urban living.
Construction Expense
About NT$2,280,000,000. (Approximately US$ 70,150,000.)
Service Fee:
The planning and design service fee for this project is a fixed fee in the total amount of about NT$ 126,000,000. (Approximately US$ 3,880,000)
Tender Qualification: (Stage One)
Taiwanese tenderer:
A Taiwanese tenderer is either an engineering consultancy, licensed architect firm, licensed civil (structural) engineer firm, or company/firm registered in Taiwan, R.O.C. in accordance with Taiwanese's law.
International tenderer:
An International tenderer is either an a professional technical engineering consultancy or agency, licensed architect firm or licensed architect, licensed landscape architect firm or licensed landscape architect, licensed civil (structural) engineer firm or licensed civil (structural) engineer registered in foreign country in accordance with foreign country's law.
Timetable:
Stage One Tender Submission Deadline: 2016/05/24
Stage One Jury Session: 2016/05/26 – 2016/05/27
Stage Two Tender Submission Deadline: 2016/08/09
Stage Two Jury Session: 2016/08/11 – 2016/08/12
Tender Documentation Download:
www.NewSkyRider.com.tw or NewSkyRider.ntpc.net.tw
(official launch on March 8th, 2016)
University of Central Lancashire in Preston Design Competition, northwest England, UK
The Royal Institute of British Architects (RIBA) Competitions and the University of Central Lancashire launch of an international architecture competition for a new Student Support Centre and creation of a new Square at the heart of their campus in Preston, Lancashire:
University of Central Lancashire in Preston Architecture Competition
The City Above the City – international design competition
Deadline: September 30, 2016
€30k prize fund

Metsä Wood's next Plan B initiative to explore possibilities of wood in solving the problems of urbanization
Cities all over the world are in dire need of new ways to house a rapidly growing urban population. The City Above the City international wood design competition invites architects and students from all over the world to solve the challenges of urbanization in both sustainable and humane ways.
The world's increasing urbanization is one of the most significant issues facing humanity today. By 2050, 2/3 of the world's population will live in cities. Consequently, urban growth is fast outpacing the ability to build affordable and sustainable living space.
Winner chosen by an internationally accomplished jury
The City Above the City Architecture Competition
Alternatives to 'Paddington Place' Design Competition, London, England, UK
At the end of January, the proposal by Great Western Developments Ltd for the 'Paddington Pole' was withdrawn. This was a plan for a 72-storey skyscraper designed by Renzo Piano next door to Paddington rail station on 0.76 hectares of land on and around the old Royal Mail site. Westminster Council have said they will be working on the new scheme in the coming months.
Create Streets are running an architecture competition to suggest high-quality alternative schemes for Paddington. They are running this architectural competition in a positive spirit of assistance. They consider this site is worth thinking about strategically. Located close to a key train station it is in close proximity to housing, conservation areas, historic buildings and Royal Parks.
Paddington Place Alternative Architecture Competition
RIO OLYMPICS: Sustainable Fanbox Competition
The biggest sporting showdown of the world, Summer Olympic and Paralympic Games 2016, will commence in Rio De Janeiro, Brazil from August 5.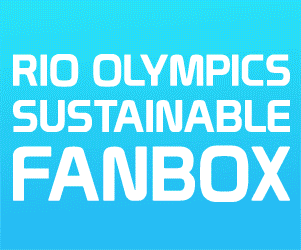 The aim of this competition is to design a 'SUSTAINABLE FANBOX', a new typological structure and mascot for the games that would be the prime interaction and gathering zone for the spectators during the Rio Olympics 2016. The competition seeks to recreate the atmosphere of a stadium in a temporary structure where fans who miss out on the live experience could connect with the Olympic games virtually. The FANBOX should communicate a sustainable and profound architectural statement being able to attract and converge visitors around it for an intense 24X7 experience of the Rio games.
RIO OLYMPICS: Sustainable Fanbox Architecture Competition
Dukla Sports Complex Competition for rehabilitation of the city athletics complex in Pardubice, Czech Republic
DUKLA OF SPORTS / DUKLA SPORTOVNÍ
Two-round, open, anonymous architectural-urban design competition
Prize money total: 2,200,000 CZK (ca 81,400 Euros)
First round – deadline was: 4 Jul 2016
Second round – deadline: 7 Oct 2016

Dukla Sports Complex Architecture Competition#
NYC Aquarium & Public Waterfront Design Competition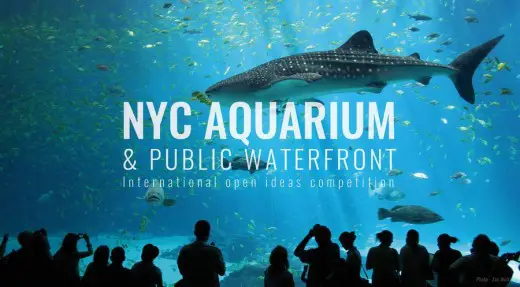 New York City has seen rapid redevelopment that has capitalized on previously undesirable locations. Sitting at the top of these locations are the sites that have access to waterfront. Most of the ventures in these areas are private economic interests that only address public value when there is a direct return on profit.
NYC Aquarium & Public Waterfront Architecture Competition
International Shopping Plaza Concept Competition



At the beginning of the 21st century there is a need to address contemporary social needs and desires and an emerging economic potential in order to create a new generation of shopping centers and leisure facilities. Architecture is no longer considered a footnote, but a fundamental means of engaging and extending the experience of the visitor toward new dynamic leisure horizons.
International Shopping Plaza Concept Architecture Competition
New Architecture Ideas Competition by AWR
International architecture ideas competition "MEHF – Milan Expo Horizontal Farm". This architecture competition involves the design of a horizontal farm with a green playground in outdoor spaces of the Expo area and the related reorganization of the environment. The site area covers 5.600 sqm. The site area is located near the Cardo in the Expo Area Milan 2015. This architectural competition is powered and patronized by EXPO Spa and Ferrara Univercity.
www.awrcompetitions.com
2016 SEGD Global Design Awards

Entries to the 2016 SEGD Global Design Awards for Experiential Graphic Design are now open!
Since 1987, the SEGD Global Design Awards have set the standard of excellence for environmental graphic design and experiential graphic design—honoring design work that connects people to place by providing direction, content, and compelling experiences in public spaces.
Winning projects have ranged from interactive multimedia environments to complex hospital wayfinding systems and from branded corporate environments to museum exhibitions. Retail and interior projects, architectural signing, public art, design research, and books have also won awards.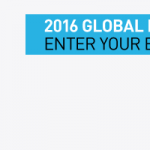 Awards are conferred by multi-disciplinary, international juries. Past jurors have included Henry Beer, Peter Dixon, Sue Gould, Graham Hanson, Lars Uwe Bleher, David Vanden-Eynden, Kelly Kolar, Ken Carbone, Mitchell Mauk, Ronald Shakespear, David Gibson, Paul Prejza, Lance Wyman, and Virginia Gehshan.
2016 SEGD Global Design Awards
Cool Gardens 2016 Design Competition
Presented by StorefrontMB and The Forks, Cool Gardens is an exhibit of contemporary garden and art installations that offers a shift of sensation for the summer—cooling—as a general theme for public projects in Winnipeg and Brandon. The 2016 Competition seeks creative proposals from designers, architects, landscape architects, and / or artists who are interested in challenging and celebrating the interface between urbanism, landscape, and design. Engage the urban design culture of Winnipeg or Brandon! Register today!
Architecture Competition page: http://www.coolgardens.ca/2016-COMPETITION
Jacques Rougerie Foundation Architecture Competition
Launch of the International Competition in Architecture 2016
Imagine your future. Make your dreams real.
Every year the Jacques Rougerie Foundation – Institut de France launches an International
Competition in Architecture. The three prizes of the 2016 edition of the contest are:
"Innovation and Architecture for the Sea" Award: € 10.000
"Innovation and Architecture for Space" Award: € 10.000
"Architecture and Sea Level Rise" Award: € 10.000
Architects, designers, engineers, artists, urban planners are given a unique opportunity to win one of the three prizes of the Jacques Rougerie Foundation – Institut de France by creating innovative and ambitious projects. These architectural projects based on emerging developments and a prospective vision should address some core issues of mankind: greater environmental, industrial and technical responsibilities, while taking sustainable development principles into account.
Encourage, stimulate and reward creativity and boldness, this is the Jacques Rougerie – Space and Sea Generation Foundation – Institut de France award's ambition.
Conditions of participation:
Students and professionals passionate about sea, space and major environmental challenges may register individually or as a team. Registration is only available online on the Foundation's website:
www.jacquesrougeriecompetition.com
Registration opens March 31, 2016 and projects can be submitted no later than October 31, 2016.
JURY
The Jacques Rougerie Foundation incorporates an international multidisciplinary professional network
of experts in each field of the three awards: the sea, the space and the sea level rise.
The Foundation and its network enhance opportunities and promote meetings and exchange
essential to support young architects, designers, engineers and shape their projects in detail.
The Prize and the Database:
Every prize consists of a financial reward of EUR 10 000 along with the support for the laureates in furthering their projects' development with the help of the professional network of the Jacques Rougerie Foundation – Institut de France.
Any project submitted has a chance to be included in the Jacques Rougerie's Foundation
Database: www.jacquesrougeriedatabase.com
Free and accessible to everyone, the Database lists a wide range of architectural projects related to the sea, the space and the sea level rise.
Key dates:
Thursday, March 31, 2016: Registration opening
Monday, October 3, 2016: Registration closing
Tuesday, October 4, 2016: Projects submission opening
Monday, October 31, 2016: Projects submission closing
Wednesday, December 7, 2016: Award Ceremony
Rising Stars 2016 Competition
Deadline 13 Sep
RIBAJ Rising Stars 2016, in association with Origin, aims to recognise the talents of design team members early in their careers.
Looking for brilliant architects, hot-shot engineers, creative planners, perceptive project managers, genius cost consultants and sustainability innovators who, though early in their career, are already making their mark.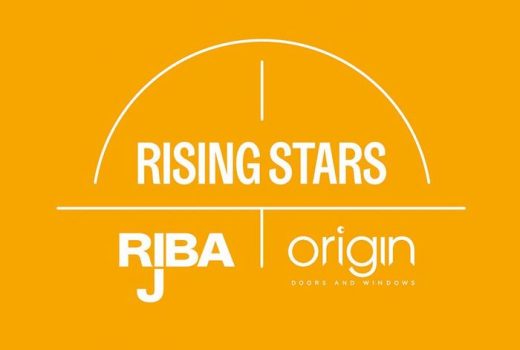 "The stars of the design team are at their most productive in the first 10 years of professional life, proving themselves with a combination of experience, energy and enthusiasm. Yet because they are often still young and working for others, they rarely gain recognition beyond their colleagues."
The RIBA Journal and Origin Doors and Windows launched Rising Stars to uncover and reward the new generation of professionals who will forge architecture's future path.
The winning individuals will feature in the RIBA Journal, on ribaj.com and will be invited to an exclusive event to celebrate and bring together the 2016 cohort.
www.ribaj.com/intelligence/risingstars2016
RIBA Competition : Great Ormond Street Hospital Phase 4 Redevelopment, London, UK
Selection of multi-disciplinary design team with prime contractor for Phase 4 of the Redevelopment Programme at Great Ormond Street Hospital for Children (GOSH)
RIBA Competitions announce the launch of a Competitive Dialogue process on behalf of Great Ormond Street Hospital NHS Foundation Trust (GOSH) that is seeking to select a multi-disciplinary design team with prime contractor for the fourth phase of its ongoing site redevelopment programme.
Phase 4 will replace outdated facilities on part of the Hospital's central London site, supporting its clinical teams in delivering world class paediatric care and research activities. The building will become the new 'front door' for the organisation and an architectural expression of its guiding principle: The Child First and Always. The client vision for the development was shaped by a comprehensive review of the GOSH masterplan and engagement with GOSH staff, patients and families. GOSH is one of the world's leading children's hospitals with the broadest range of dedicated, children's healthcare specialists under one roof in the UK. The hospital sees more than 268,000 patients every year from across the UK and around the world.
Peter Steer, Chief Executive of Great Ormond Street Hospital for Children NHS Foundation Trust, said: "We are excited to see how the world's best design and construction experts can reflect our vision to create a building that supports our staff in their important work and nurtures our patients and their families through some of the most testing times of their lives. We're also looking forward to seeing how the designs can express the things that are special about GOSH, including our focus on carrying out world-leading research to find new treatments and cures that transform young lives."
"Our guiding principle at GOSH is The Child First and Always, so it goes without saying that the design of the building must prioritise their needs. It should also celebrate the children and young people who are at the heart of everything we do."
Between three and six bid teams will be short-listed and invited to participate in a three-month competitive dialogue programme starting in late October 2016. This dialogue will include workshop sessions on design, cost and contractual issues leading to the submission of final tenders in February 2017. The submitted design proposals will be exhibited to allow feedback on the designs from staff, patients, families, partner organisations and the local community.
An equal honorarium of GBP £20,000 (+VAT) will be paid to each of the bid teams who submits a compliant final tender and gives a clarification interview presentation. Honorarium payments will be paid to the Lead Architect/Designer from each multi-disciplinary design team with prime contractor.
In the first instance, Expressions of Interest for the GOSH Phase 4 Redevelopment are invited in accordance with the requirements set out in a Pre-Qualification Questionnaire. Details of how to obtain the PQQ together with supporting information are contained with a Memorandum of Information available from:
www.architecture.com/RIBA/Competitions/Enteracompetition/LiveCompetitions.aspx
The Memorandum of Information provides further details about the scope of the GOSH Phase 4 Redevelopment project, its procurement and programme. The deadline for receipt of PQQ returns is 14.00hrs (BST) on Friday 07 October 2016.
Iceland Trekking Cabins Architecture Competition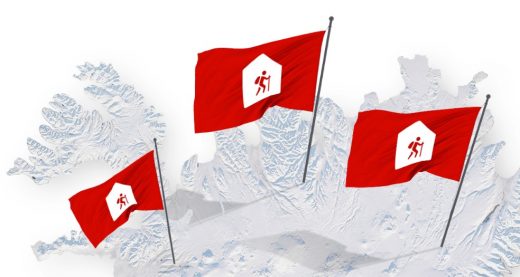 The Advance registration deadline for the Iceland Trekking Cabins architecture competition was June 29, 2016
Closing date for registration was: Jul 27, 2016
Closing date for submission was: Aug 17, 2016 (11.59pm GMT)
3 winning proposals and 6 honourable mentions will be selected.
Bee Breeders architecture competition organisers will award a total of US $5,000 in prize money to competition winners as follows:
1st prize winner – US $3,000
2nd prize winner – US $1,500
3rd prize winner – US $500
CDS NORD Property Developers have committed to construct the first Iceland Trekking Cabin during 2017 with all winning designs to be put forward for consideration for the final design of the trekking cabin.
Details at: icelandtrekkingcabins.beebreeders.com
24H+24H Architecture Competition
the competition date: July 23 + July 24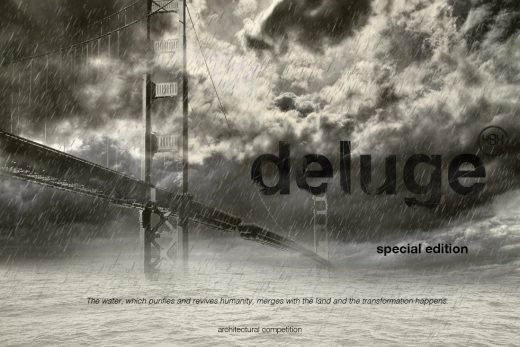 The architecture competition begins at 00:01 of the first day and ends at 24:00 of the second day.
In the first 24 hours you will receive an half of the brief, the second half you only will receive in the second 24H.
www.if-ideasforward.com/#!24h/h7wvo
International Tropical Architecture Design Competition 2016
ITAD Competition 2016 – The Future of Green Tropical Living
Registration was open until 10 Jun
Submissions due 8 Jul
In recent years, there has been greater frequency of extreme and erratic weather patterns across the globe, with rising sea and rainfall levels, fluctuations in temperatures indicative of climate change, which is now a global concern. The conclusion of COP21 and the adoption of Paris Agreement saw countries pledging their support to mitigate climate issues. Many also agree that on top of mitigation, countries will also have to adapt to the changing climate in order for them to be more resilient.
According to United Nations Environment Programme (UNEP), buildings use about 40% of global energy, 25% of global water, 40% of global resources, and they emit approximately 1/3 of Green House Gases (GHG) emissions. Through effective planning and incorporation of technology, there is great potential to be harnessed in the building and the construction sector to reduce its carbon footprint for greater climate resilience.
itadcompetition.sg/competition/
Futuwawa Architecture Competition
Call for projects for the 4th International FUTUWAWA Competition – "Look at the Square" has just started.
July 8, 2016: Deadline for submission of projects
This year's competition concerns the vision of Parade Square in Warsaw and it is aimed at both professionals and amateurs. The full anouncement of the Competition and its rules can be found in the attachment, as well as on the placdefilad.futuwawa.pl website.
As every year, the initiative is supported by a group of experts of the Competition Jury. Financial awards have been founded by Plac Defilad/Teatr Studio, and in-kind prizes have been sponsored by VALEVSKY home&deco.
Winning projects will be selected by 1) Competition Jury and 2) the public vote, with the most interesting proposals being presented in Virtual Reality.
Twin Creeks Linear Park Design Competition
8 Jul 2016 submission deadline
About the Competition:
The City of Kansas City is sponsoring a design competition to bring in new ideas, energy, and visions to the development of Twin Creeks, a 15,000 acre predominantly rural area in the Northland of Kansas City that is projected to house up to 75,000 people over the next 20+ years.
The focus of this competition is developing an inspiring vision for a potential new linear park that could stretch over 7 miles and up to 1,000 acres and serve as a backbone of the area. Individuals and multi-disciplinary design teams from across the United States and beyond with expertise in architecture, landscape architecture, urban planning, engineering, economic analysis, transportation, sustainability, community development, and public art, amongst other fields are invited to submit design proposals for the competition.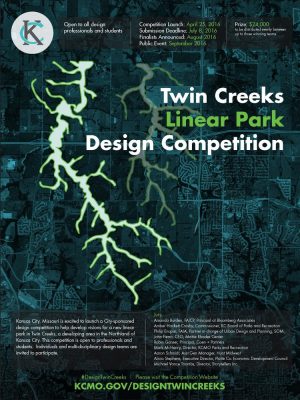 Entries must include an overall linear park conceptual design and illustrations of the four different design scenario conditions, as described within the competition briefing book. Up to three teams will be selected as winning teams and will present their proposals at a public event in Kansas City with the City, stakeholders and general public. The City will offer $24,000 in total prize awards, to be distributed evenly between the selected winning teams. One student submission will also be selected for Honorary Mention. Design proposals will be used to shape and inspire a new linear park and development in Twin Creeks.
Submit your entries at RFP365Competition Timeline:
Participants shall submit proposals to the City using the RFP365 portal by no later than 11:59 p.m. (CST) on July 8, 2016.
Winning teams will be announced in August 2016 and a public event to present the winning proposals will take place in September 2016.
Design teams are invited to submit questions through the RFP365 portal. Responses will be posted in early June through the RFP365 portal. Additional details on the question and answer process will be posted on this website as they are confirmed.
About Twin Creeks:
Twin Creeks is a predominantly rural area encompassing 15,000 acres in the Northland of Kansas City, Missouri. In 2015, the City completed over $43.5 million of infrastructure improvements in the area, enabling future development. Full build out of the area, which is expected to occur over the next 20+ years, could accommodate up to 75,000 people and 20,000 units of housing.
Competition Jury:
Amanda Burden, Principal, Bloomberg Associates
Amber Hackett Crosby, Commissioner, KCMO Parks Board
Philip Enquist, Partner, Skidmore Owings and Merrill
John Fierro, CEO, Mattie Rhodes Center
Robin Ganser, Principal, Coen + Partners
Mark McHenry, Director, KCMO Parks and Recreation Department
Aaron Schmidt, Asst Gen Manager of Planning and Construction, Hunt Midwest
Alicia Stephens, Executive Director, Platte County Economic Development Council
Michael Vance Toombs, Director, Storytellers Inc.
General questions or issues about any aspect of this competition should be directed to:
John DeBauche
City Planning and Development
City Hall, 15th Floor
816-513-2869
John.debauche@kcmo.org
PARIS PAVILION : The Art of Peace Design Competition
archasm invites architects, students, engineers, designers, artists and philosophers to send in their entries for their architecture competition
• Idea based competition
• Single stage competition
• Team of maximum three members
• No professional qualification necessary for eligibility
• Teams can be interdisciplinary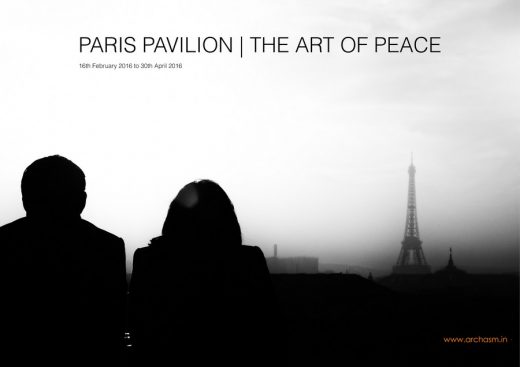 The city of Paris is rightfully termed as 'the cultural capital of the world' because of its rich and diverse ethos and character. Paris has been the artistic epicentre of the world since renaissance, inspiring many artists, philosophers, writers and architects to innovate and break the shackles of resistance.
e-architect editor Adrian Welch was a member of the three-person Jury for this design contest.
PARIS PAVILION : The Art of Peace Architecture Competition
Lighthouse Sea Hotel Architecture Competition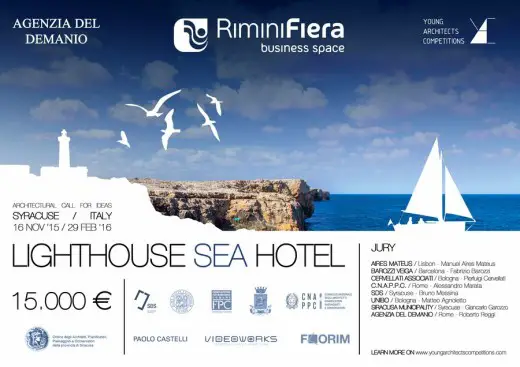 This architectural competition focuses on the transformation of a disused lighthouse into a hotel building.
15.000€ prize money + publications + exhibitions.
Early bird registrations: 19 Nov 2015 – 20 Dec 2015
Standard registrations: 21 Dec 2015 – 24 Jan 2016
Late registrations: 25 Jan 2016 – 21 Feb 2016
Submission deadline: 29 Feb 2016
www.youngarchitectscompetitions.com/competition
Sequoia Climbing Space Architecture Competition
Rethinking Competitions' sixth competition for architects and students of architecture: "Sequoia Climbing Space".
This new architecture competition is different and special since the architect must think of an action not only in the ground but also in the air, between the trees, hung or buried. It is located in the great Giants forest of the Sequoias National Park in California.
The prize is 4500 euros and the jury is composed of the following architects:
– BakPak Architects
– Sara de Giles de MGM Arquitectos (Spanish National Prize)
– Sara Ferreras de Foster & Partners
– Gabriel Bascones, Architectural Projects proffesor at ETSA Seville
Architectural Design Competition for new museum in Beirut, Lebanon
STAGE 1 OF ARCHITECTURAL DESIGN COMPETITION FOR A NEW MODERN AND CONTEMPORARY ART MUSEUM IN BEIRUT, LEBANON CLOSES JANUARY 4, 2016
Open call for an innovative and contemporary architectural design to house the museum, which is set to open in 2020
The international design competition for Lebanese origin architects with a Jury headed by Lord Peter Palumbo, Chair of the Pritzker Architecture Prize
The Association for the Promotion and Exhibition of the Arts in Lebanon (APEAL) is currently accepting submissions for a design competition for a new modern and contemporary art museum in the heart of Beirut, Lebanon.
Situated on a historic and symbolic site across from the National Museum in the Achrafieh district of Beirut, the museum is one of the most significant developments for Lebanese art and culture in a generation. The yet-to-be-named museum is envisioned as a multidisciplinary hub of art and design dedicated to showcasing modern and contemporary Lebanese culture. Set to open in 2020, its collections and program are being developed with the aim of bringing together diverse populations and narratives from the region and beyond. While located on a site owned by Université Saint-Joseph in Beirut, the museum will retain an independent governance structure.
The finalist will be an exceptional architect who identifies with the project values and understands the significance of designing a cultural institution in the current urban, social, economic and political context of the country and region. The call to architects entails two stages:
Stage One: Request for Qualifications (RFQ), open to all Lebanese origin architects based in Lebanon or abroad. Based on the submissions to this RFQ, a short list of up to ten architects will be established. The online submission template can be found here: www.AMuseumInTheMaking.com/Apply
The closing date for Stage 1 submissions is 4 January 2016, at 6pm (Beirut standard time; GMT+2 hours).
Stage Two: Short listed architects will be invited to participate in a comprehensive Request for Proposals (RFP) to envision strategies for the site and develop a concept scheme design for the museum, along with technical and commercial elements.
The winning proposal will be selected in Fall 2016.
For further information on how to enter visit www.apeal-lb.org, or contact info@amuseuminthemaking.com.
Lamborghini Road Monument – Young Architects Competitions
submission deadline was 02/11/2016 (h 11.59 p.m. GMT)
Visionary, cutting-edge, pure: these are the values that currently characterize Automobili Lamborghini S.p.A. ("Automobili Lamborghini"). Since 1963 this company does not create cars but four-wheeled dreams, design and engineering masterpieces that reached every continent and became legendary in the world because of their visionary and pioneering features.
An international legend with an Italian heart. A legend that, starting from 2018, will be enriched by a further exciting chapter.
Made in Italy and known as the "Urus" project, the third model of the House of the Bull will soon be leading the market as the new Made in Italy luxury icon: a supersport car among the SUVs.
In order to celebrate this event, along with a new enlargement of its base, Automobili Lamborghini intends to innovate the places of the legend inviting all the designers to imagine two monumental landmarks at the entrance of its historic plants.
www.youngarchitectscompetitions.com/competition
#007 RETHINKING Competitions: Carrara Thermal Baths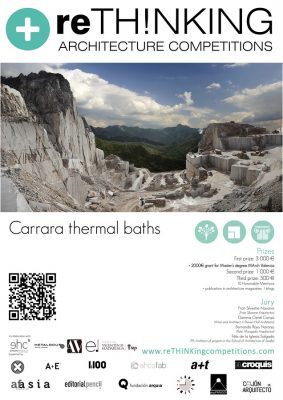 We are glad to inform you that reTHINKING architecture competitions, platform of ideas competitions for students and young architects, has published a new competition called "Carrara Thermal Baths". We start from the need of rethink those spaces deteriorated by the human intervention, where we try to promote new ways of interventions where a new vision is taken, sustainable, ecological and transforming.
May 8th 2016 Late registration and FAQ ends
May 8th 2016 20:00 h GMT + 1:00 Submission deadline
May 15th – May 25th 2016 Proposal evaluation
May 25th – May 29th 2016 Winners announcements
Carrara Thermal Baths Architecture Competition
This is why "Carrara Thermal Baths" is a great oportunity for the rehabilitation of unconnected spaces or apparently destroyed that we have in our planet.
This time, in addition to 4500€ in prizes,we will also give a grant for the Master in Advanced Architecture (MArch) in Valencia with architects like Álvaro Siza, Souto de Moura, Juan Domingo Santos and Fran Silvestre.
PRIZES
A total prize of 4.500 € will be distributed as follows:
First prize 3.000 €
+ 2000€ grant for Master's degree MArch Valencia
Second prize 1.000 €
Third prize 500 €
Dencity Competition 2016

Shelter Global, an architecture and design non-profit, are pleased to invite architects and students from all over the world to enter the second annual Dencity Competition. Last year the inaugural Dencity Competition had over 350 registrations from 50 different countries and the winners were highlighted in a number of publications.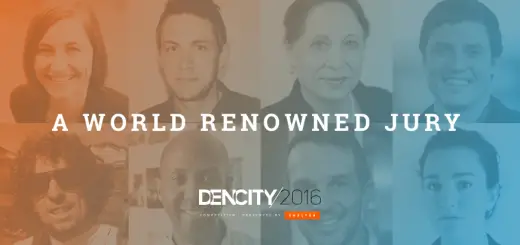 The intent of this architectural competition is to foster new ideas on how to better handle the growing density of unplanned cities. Rapid world growth and urbanization is causing some of the densest places in the world to be comprised of makeshift homes, otherwise referred to as slums. Now, more than ever, architects and designers need to play a central role in the development of substandard neighborhoods.

Dencity has a prestigious jury of architects, professors, and thinkers from around the world. All competition submissions are due by April 25, 2016. Registration can be done online at:
Dencity Competition 2016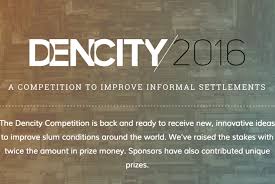 Shelter Global Dencity Competition 2016
AIT-Award 2016 – best in interior and architecture Competition
Registration deadline: 27 Jan 2016
Submission deadline: 3 Feb 2016
Award ceremony: 16 Mar 2016 in Frankfurt am Main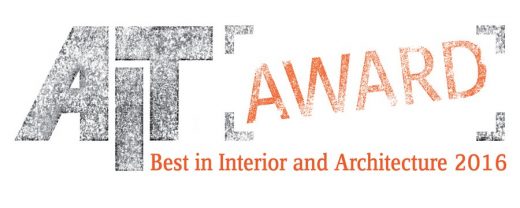 The international AIT Award – Best in Interior and Architecture 2016 – combines interior design and architecture in one price and has its focus in the architectural centres of the world (Europe, North America, Middle East and Far East) – but also includes newcomer and yet neglected regions. The AIT Award is divided in different categories: all types of architectural projects and interior spaces can be submitted. An international renowned jury of architects and interior designers will be awarding the best project in each of the categories. The competition is open to architects, interior designers and design professionals. There is no charge for entering the competition.
Superscape 2016 Architecture Competition
The architectural award Superscape 2016 is launched, now open for submissions until March 7, 2016.
The Superscape is awarded biennal to innovative and visionary architectural concepts. It focuses on the interaction of private living space with urban contexts, viewed from an interdisciplinary perspective. Superscape 2016 opens a field for visionary design suggestions and space concepts which focus on building the urban residential space of the future.
The goal is to formulate forward-thinking concepts, to question familiar residential patterns and to risk experiments in design, but also to consider their feasibility, and to check the possibility of realising them within existing building substance and existing urban structures. Supercape carries a cash value of € 20.000.
Read more about Superscape 2016 at www.superscape.at/eng
Flux Emerging Architects Design Competition
CHALLENGE
Today over 3 billion people live in urban areas, composing 50% of the world population. By 2050, it is estimated that the world population will grow to between 9 and 11 billion people, and over 70% will be living in urban areas. This means within 35 years, we will need to house an additional 3 billion people within cities by the most conservative estimates. Even if we could build large apartment complexes that house 500 people each, we would need to construct 500 buildings each day every day for the next 35 years to meet that demand.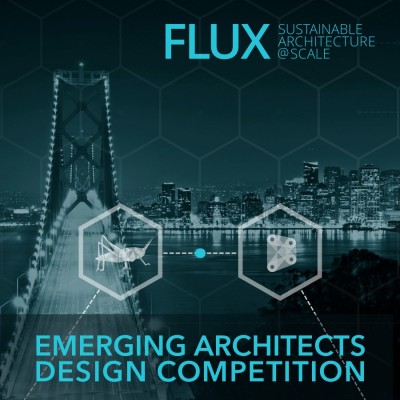 How will the architecture, engineering, construction (AEC) industry meet the demand for affordable and sustainable buildings in this rapidly urbanizing world? At Flux, we believe technology is the answer. Based out of San Francisco, Flux develops cloud-based collaboration tools that exchange data between existing design environments, allowing for automated and parametric workflows that extend across platforms. Our mission is to spread design knowledge and improve the accessibility of design tools, in order to help the AEC industry design buildings smarter, faster, and more sustainably.
In this competition, we ask students designing in Grasshopper, Dynamo, and Excel to think about the role technology solutions can play in accelerating the building design process and increasing the innovation capital of design teams. Each registered team will submit a short video explaining your project, along with relevant design files. Submissions will be judged based on creativity, simplicity, and transferability; prizes will be awarded for a variety of submission categories as detailed in the brief.
Read the full competition brief and register at Flux Emerging Architects Design Competition
SCHEDULE
November 2: Registration opens
November 15: Early bird registration closes
December 1: Competition brief released
December 31: Registration closes
January 31: Competition submissions due
February 29: Winners announced
AWARDS
Most innovative project: 5,000 USD
Best building performance: 5,000 USD
Best digital fabrication using Flux: 1,000 USD
Best use of data harvesting with Flux: 1,000 USD
Best multi-user collaboration using Flux: 1,000 USD
People's choice for best overall: 2,500 USD
Plus 10 Honorable Mentions: value TBD
QUESTIONS
Have a question? Send us an email at competition@flux.io.
Arquideas Central Park Summer Pavilion (CPSP) New York competition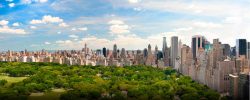 Central Park Summer Pavilion Architecture Competition
Participants: Architecture students and young architects
Registration: October 26, 2015 to January 22, 2016
A' Design Awards and Competition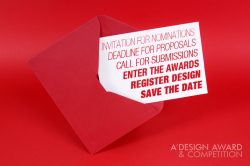 The International A' (A-Prime) Design Award is the world's largest event for design, innovation and creativity, bringing together the very best designers, architects, innovators, inventors, brands, design press and institutions from all countries across the globe under the same roof.
The international design award and competition is looking for new and original product and project submissions worldwide. Entries are open to both concept stage works as well as realized projects and products. The ultimate aim of the competition is to highlight and recognize good design works worldwide.
Architecture of Necessity Competition



Architecture of Necessity
This design contest is an international triennial for sustainable community building. Entries are accepted from professionally active individuals or legal persons such as building contractors, architectural bureaus, local government, construction firms or other companies.
[MOSCOW] Circus School Competition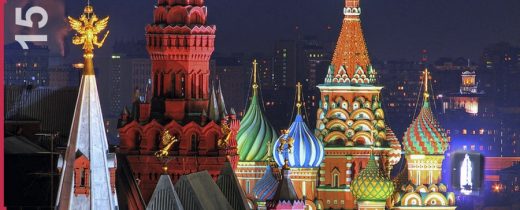 [MOSCOW] Circus School – Moscow is the capital and the largest city of Russia with 12.2 million residents within the city and 16.8 within its urban area. It is a major political, economic, cultural, and scientific centre in Russia and Eastern Europe, as well as the largest city in the entire European continent.
Moscow Circus School Architecture Competition
New Ideas Competition ARCHITECT'S STUDIO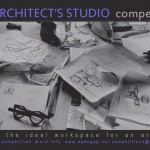 Opengap invites participants to submit innovative proposals to rethink the workspace of an architect. To propose projects that addresses the architect's vision of his ideal inspiration and working space. How do you imagine the place from which other spaces are to be designed? How to address a project in which you yourself are the client?
This architectural competition is open to all architects, designers, architecture students and to people around the world interested in the topic. Competitors could subscribe individually or as a team of maximum of 5 people.
Luxury Bleisure Hotel Competition
L'ARCA INTERNATIONAL, the Royal Monceau Raffles Paris and the Mondial du Batiment are thrilled to invite you to participate to their international architecture competition : LUXURY BLEISURE HOTEL COMPETITION.
More information here: http://we.tl/DPzkGO05wy
Contest rules: http://www.arcadata.com/concours/present.php
AGi architects Greeting Card Design Competition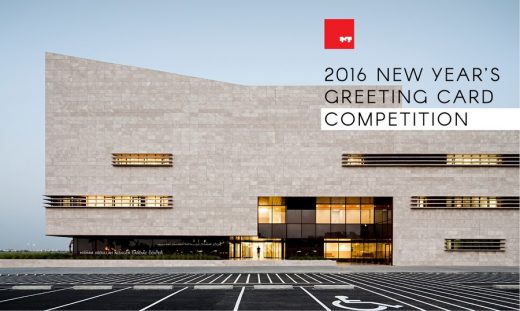 image from architects
AGi Architects Design Competition
This design competition consists of two categories, children up to 12 years of age and adults over 18 years old. In each category, there will be five finalists in order to select only one winning design in the junior category and another one in the adults section.
Elevating Erie Ideas Competition
The creation of the Erie Canal was a paradigm shift for American progress in the 19th century, leveraging hundreds of miles of canal networks capable of generating cities out of swamps and ushering in a new era of exchange. Over a century later, what was the Erie Canal in the city has been capped over with urban development and sprawl.
We are now presented with the opportunity to reposition Erie as the vehicle for a globally relevant, ecologically turbocharged urban corridor. The Elevating Erie ideas competition seeks proposals that consider our current global biodiversity challenges in urbanized regions by developing solutions specific to the Erie Canalway Trail along Erie Boulevard East in Syracuse NY.
Website: http://www.elevatingerie.com/
6th Advanced Architecture Contest
The Institute for Advanced Architecture of Catalonia and the FabLab Barcelona are pleased to announce the 6th Advanced Architecture Contest, on the theme of PRODUCTIVE CITY.
The aim of the competition is to promote discussion and research through which to generate insights and visions, ideas and proposals that help us envisage what the city and the habitat of the 21st century will be like.
The competition is open to architects, engineers, planners and designers who want to contribute to progress in making the world more habitable by developing a proposal capable of responding to emerging challenges in areas such as ecology, information technology, architecture, and productive cities.
Prize (Total value: 60.000, 00 EUR) will be distributed at the discretion of the Juries following the bases scheme. The competition jury, which is composed of architects, professionals in a wide range of fields and directors of some of the world's foremost architecture schools, is looking for outstanding proposals at any scale, for any city in the world on Smart Cities, Eco neighborhoods, Self-sufficient buildings, Intelligent homes, FabLabs, Urban farming or any other proposal that analyzes the phenomena of the Productive City.
The Registration is FREE, and the competition entries should be submitted digitally in PDF files via the Internet.
6th Advanced Architecture Contest:
contact@advancedarchitecturecontest.org
www.advancedarchitecturecontest.org/
OPENGAP Architecture Competition
OPENGAP organizes the third edition of this open ideas competition seeking for innovative, cutting-edge, contemporary, proposals regarding a new concept for artistic inspiration spaces.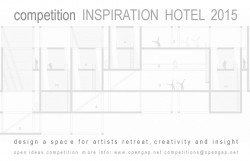 Participants are invited to design a place focused on the rental of spaces that motivate creativity and concentration, allowing users to focus, inspire and develop their artistic ideas.
Each participant or team will define the location of their project, however, the proposal must justify the choice of the location.
The competition is open to all architects, designers, architecture students and to people around the world interested in the topic. Competitors can subscribe individually or as a team of maximum of 5 people.
The proposal submission will consist of two digital images in .jpg format, not bigger than 5MB each.
International Architecture Prize | IE SPACES FOR INNOVATION
IE School of Architecture and Design announces IE SPACES FOR INNOVATION PRIZE for young architects and designers to attract and reward young talented professionals around the word.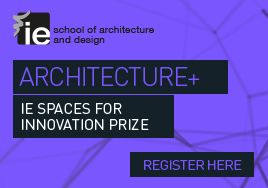 Participants: All young architects and designers who have finished their studies or graduate studies in 2010 or later.
Fee: There are no registration fees.
Registration: September 14, 2015 to October 30, 2015
Prizes:
– Full-time, six month, paid professional internship in Inditex, Legorreta + Legorreta or Idom UK +
– Free registration fees in the IE Master in Design for Work, Retail and Learning Environments +
– Scholarships worth € 21.750 towards the program tuition fees.
Jury:
– Martha Thorne (Executive Director of the Pritzker Architecture Prize)
– Guzmán de Yarza (Director of the Master in Design for Work, Retail and Learning Environments)
– Inditex (Global fashion retail group)
– Legorreta + Legorreta (Architecture firm)
– Idom UK (Group for Engineering, Architecture and Consultancy)
Shivaji Competition: Islands, Deltas and Rising Seas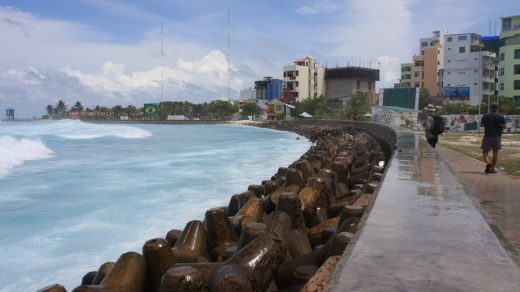 Shivaji Architecture Competition
In GIF format, the Shivaji Competition seeks actual and impossible ideas to maintain human habitation on islands and deltas doomed by the predicted sea level rise of at least one meter in the 21st century. All entries will be submitted as animated GIFs for social media broadcast and museum exhibition. One finalist will be selected to participate in the Rising Waters Confab 2016 to be held on Captiva Island, Florida, USA in May, 2016.
AIA North Carolina Urban Housing Design Competition, Charlotte, North Carolina, USA
The competition winners are to be announced in May 2016.
AIA North Carolina Housing Design Competition
Tapio Wirkkala Rut Bryk Foundation International Idea Challenge
The Tapio Wirkkala – Rut Bryk Foundation is pleased to announce an open international concept competition for the future Foundation archive. The aim is to create a new type of conversational, international design center.
The idea challenge is organized by the Tapio Wirkkala – Rut Bryk Foundation in cooperation with the Finnish Association of Architects and EMMA – Espoo Museum of Modern Art.
More information at http://wirkkalabryk.fi/juhlavuosi/ideas-competition/.
28 March 2016: registration deadline
The material deadline is 4 April 2016, and the winners will be announced in June 2016. The prize of the idea challenge is 20 000 €, which the jury will distribute as they see best. There will be at least two prize recipients, and a maximum of five.
Suncheon International Competition for Architectural Ideas, South Jeolla Province, South Korea
DACC advise the revision of the competition brief resulted from the consultations with UIA and the client, the City of Suncheon. This revised architecture competition brief has been officially approved by UIA and can be downloaded on the competition website.
■ Revised Eligibility
▪ Registered and non-registered architects who are allowed to practice in their home countries.
▪ Students majoring in architecture or related fields as a team advised by an architecture professor or a practicing architect.
▪ Although there is no limit to the number of members in a team, duplicate registration is prohibited.
▪ Multidisciplinary teams are encouraged The leader of the team must be an architect.
▪ If participants choose to submit as a team, each team must appoint a representative.
※ In order to ensure fairness in the competition, anyone who is a member or is directly in association to the competition, the organizer, the jury, the organization committee, or the technical committee, is not eligible to participate.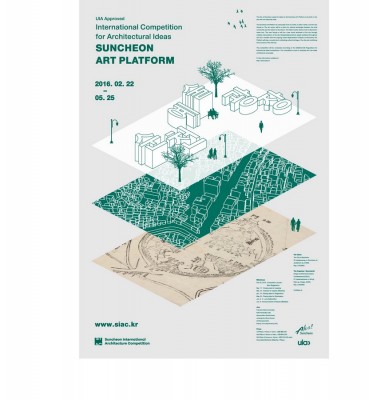 ■ Revised Timetable
Feb 29, 2016: Competition launch
Mar 23, 2016: Closing date for inquiries
Mar 25, 2016: Answers to inquires (to be notified on the competition website)
Apr 15, 2016: Closing date for Registration
May 25, 2016: Closing date for Submissions
Jun 3 – 5, 2016: Jury Deliberation
Jun 6, 2016: Announcement of results on the competition website
Mid-July, 2016: Award Ceremony and Exhibition
Architecture Competition Website: http://www.siac.kr
Interior Scholarship Student Competition
Submission deadline: May 13th, 2016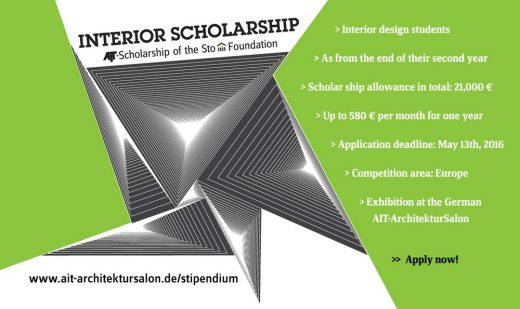 For the sixth time AIT together with Sto Foundation initiate the Interior Scholarship. All students in the discipline of interior architecture who are enrolled at a European university and are at least approaching the end of their second year may apply. The total scholarship fund amounts to 21,000€. Each of the scholars will receive up to 580 € per month for a period of one year.
Further information available at www.ait-architektursalon.de/stipendium
AIT ArchitekturSalon|Stipendium
Vogelsanger Straße 70, 50823 Köln
Fon: +49 – (0)221 – 299 41 50 1 / stipendium@ait-architektursalon.de / koeln.ait-architektursalon.de
Interior Scholarship Student Architecture Competition
Nodeul Island International Design Competition, Seoul, Korea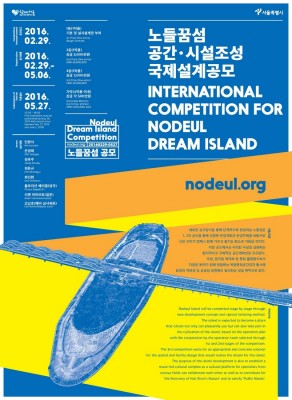 Competition title : The International Competition of Masterplan and Space/Facility Design for Nodeul Dream Island
Seoul Metropolitan Government holds an international competition in order to establish a Music-led cultural complex until 2018, in which domestic and oversea specialists from various fields of architecture, landscape architecture, urban design, etc. can participate.
Seoul Metropolitan Government established a program for present including necessary facilities and the scale considering citizen participation and publicity for the realization of proposed operation program. Additional program would be prepared for the future.
It is expected that creative and various design would be proposed through this competition.
Eligibility : All professionals in architecture, landscape, and urban design can enter in this competition. In the case of joint application, a team can have up to five(5) members at maximum.
Registration : 2016. 02. 29. ~ 05. 06. 17:00
Questions Posted by Entrant : 2016. 03. 14. ~ 18. 17:00
Answers Posted by PA : 2016. 03. 25.
Briefing Session on Site : 2016. 03. 31.
Submission of Entries : 2016. 05. 27. 10:00 ~ 18:00
Technical Evaluation : 2016. 06. 14.
Main Evaluation and Selection : 2016. 06. 15. ~ 17.
Announcement of Winners : 2016. 06. 20.
Award Ceremony : 2016. 07. 07
Exhibition : 2016.07.04.~17.
Client : Seoul Metropolitan Government
(The times are based on Korean Mean Time and the schedule is subject to change.)
Website : http://nodeul.org
MAKE BUILDINGS BETTER, London, UK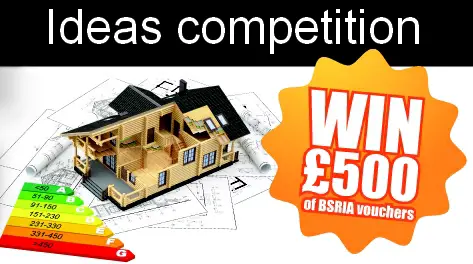 If we are to prevent catastrophic global warming, buildings need to perform better.
BSRIA and Designing Buildings Wiki are running an ideas competition to improve the performance of buildings in use.
The architecture competition is very simple to enter. You don't need to write an essay, we are just looking for ideas, which might only take a paragraph, or even a sentence to explain. The more innovative and far-reaching the idea the better.
The winner will receive £500 worth of BSRIA membership, training or publications, and along with 4 runners-up, will be featured in the July edition of BSRIA's Delta T magazine and on Designing Buildings Wiki.
This architecture competition closes on Wednesday 18 May.
To enter, go to the Make Buildings Better page on Designing Buildings Wiki (www.designingbuildings.co.uk/make_buildings_better)
London Internet Museum Design Competition
Registration deadline: was May 4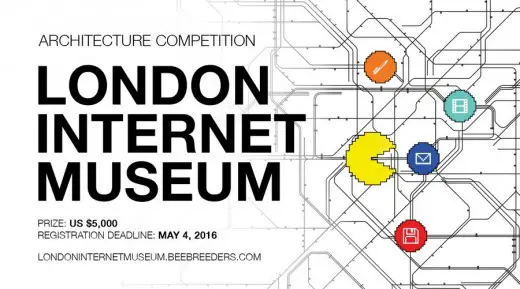 Bee Breeders architecture competition organisers are running the London Internet Museum architecture competition; it is a chance for architecture enthusiasts to use creative designs to connect current generations with both the past and the future. Participants are tasked with submitting ideas for an internet museum which shows both the history of the internet, as well as acting as a platform to discuss and workshop its future.
The internet has made connecting with others around the world infinitely easier, and it was this concept of connection that drew us to select the now-closed North Woolwich Old Station Museum in east London as the proposed competition site. What was once a hub for the city's North London line, the Old Station Museum has been abandoned and fallen into disrepair.
Registration for the London Internet Museum architecture competition is open now until the May 4.
More information can be found on http://londoninternetmuseum.beebreeders.com/
Secret Life Design Competition, School of Architecture, The University of Texas, Austin, TX, USA
The Secret Life of Buildings: A Call for Objects – architecture competition open to architects + designers
Registration Deadline: May 2, 2016
Submission Deadline: extended to May 20, 2016
This is a call for works of art or design that (i) might fairly be called 'objects' by the nascent philosophies of Speculative Realism and Object Oriented Ontology, and that (ii) will throw light on architecture as a peculiar set of objects, phenomena, ideas, relations, connections, skills, materials, obligations, and operations.
The Secret Life of Buildings Architecture Competition
Venice Re-Creation Centre Competition
Ctrl+Space – Architectural Competitions are organizing and hosting:



Venice Re-Creation Centre Competition
This is a single stage Ideas Competition with the aim of identifying the best proposal for a Cultural Building Refurbishment in Lido Island – Venice, Italy.
A total fund of 5000€ in prize money will be awarded to winning entries and awards of merit. To all the awarded proposals, online promotion will be made through specialized websites and blogs.
Feb 19 – First Stage Registration deadline – 40€
Apr 9 – Second Stage Registration deadline – 60€
Apr 30 – Final Stage Registration deadline – 90€
Apr 30 – Final Project Submission deadline
Bangkok Artists Retreat Design Competition
BANGKOK ARTISTS RETREAT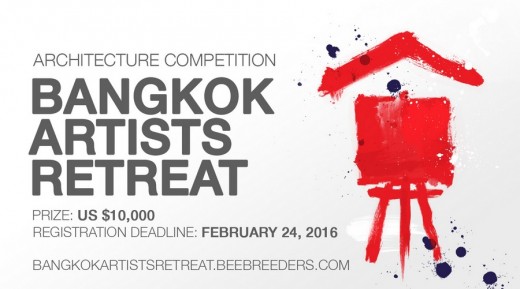 THE VIDEO: http://vimeo.com/154247045
Bee Breeders architecture competition organisers have launched their latest architecture
competition for the Bangkok Artists Retreat. This competition looks to revitalise an area of
Bangkok's Old Town and repurpose one of the city's notable landmarks -the Nightingale
shopping mall – as an artists retreat.
Bangkok has long been a haven for artists, with a unique vibe and culture, and a low cost of living,
it's a popular location for artists to travel to in order to get inspired. A new artists retreat could
reinvigorate some of the city's tourism that has been lost due to recent political and social unrest.
Registration for the Bangkok Artists Retreat architecture competition is open now until the 24th
February 2016.
Winners will be announced on the 23rd March 2016, in the meantime more information can be
found on http://bangkokartistsretreat.beebreeders.com
Bangkok Artists Retreat Architecture Competition
Ugandan LGBT Youth Asylum Design Competition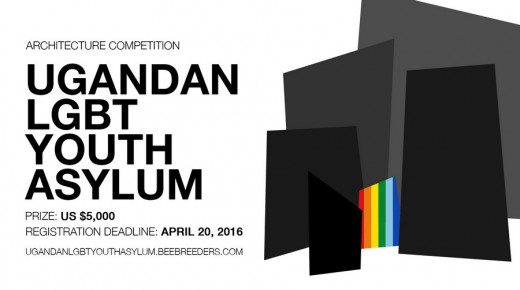 For the Ugandan LGBT Youth Asylum architecture competition, Bee Breeders architecture
competition organisers were inspired by the work of multi award-winning filmmaker, and Ugandan
LGBT activist, Kamoga Hassan. This competition seeks to generate ideas for a youth centre that
can support the local LGBT population in what is a strict and dangerous society for LGBT
individuals.
The Ugandan LGBT Youth Asylum should offer practical and psychological support for those youth
most affected by the country's strict anti-gay laws. The work of the brave filmmaker Kamoga
Hassan, whose projects highlight just how dangerous it can be for LGBT individuals living in this
East African country, highlights why an LGBT youth centre is so important.
April 20: final deadline for registration
The announcement of the winning designs, and the recipients of the $5,000 prize fund, will be announced on May 18, 2016.
More information can be found on http://ugandanlgbtyouthasylum.beebreeders.com/
Non Architecture Competition
Organization: Non Architecture Competitions
Title: Sleeping – Alternative designs for hotels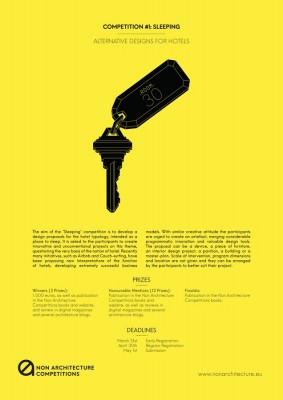 Registration Deadlines: 31 March, Early registration (45 euros). 30 April, Regular registration (60 euros).
Submission Deadline: 1 May
Prizes:
3 winners (1000 euros prize), 14 honourable mentions, 50 Finalists. All selected projects will be published in the Non Architecture competition book.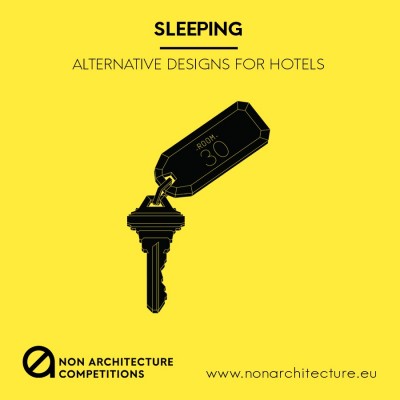 Fee: 45,00€
e-architect offer a 10% discount on the subscription fee when you enter.
Click on the link below and hit the 'Have a Discount Code?' button and type 'earchitect':
Sleeping – Alternative designs for hotels : Non Architecture Competition registration
Konstrukt : Design and Innovation Awards 2016
Registration Starts from: February 06, 2016
Submission Deadline: March 16, 2016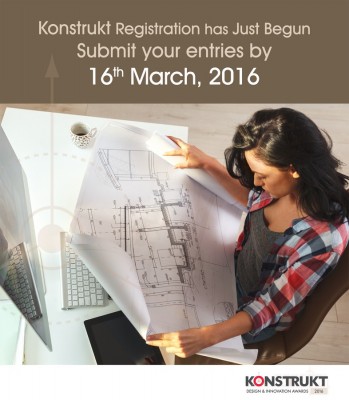 KONSTRUKT is a competitive assembly that endeavours to recognize and honour niche aesthetic design to simple functional innovation, from Student to Architect or Civil engineer. It is their first ever chance in Eastern India to showcase their skills and get accolades from the stalwarts.
For more details, visit: www.konstrukt.con.in
AA Architecture Competition
Design Competition for the new central academic facility at Hooke Park. Open to AA Community.
11 Dec 2015 Registration deadline
An Ideas Competition The AA community is invited to take part in an ideas competition for the new central academic facility at Hooke Park. A design and learning strategy is sought that will inform the design development and construction of Wakeford Hall:
AA Hooke Park Architecture Competition
University of St Andrews Music Centre Architecture Contest
The University of St Andrews has announced a design competition for a new music centre
Practical and cost-effective proposals demonstrating both 'flair and innovation' are sought for the new facility which will be located on historic Queen's Terrace.
The project will create a new home for the university's music centre which is currently based inside the iconic 1828 Younger Hall on North Street.
The Music Centre provides facilities for enjoying music in all its forms to all sections of the St Andrews community. Situated in the Younger Hall, the largest public auditorium in the area, we offer facilities and opportunities for individual and group practice, tuition and performance, concert-going and formal academic training.
University of St Andrews Music Centre Architecture Competition
NOA South America 2014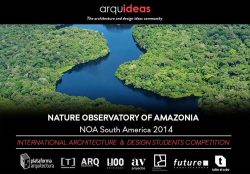 Nature Observatory of Amazonia Contest
Contestants: Architecture students and young architects
Register: April 11, 2014 to June 13, 2014
Prizes: € 6,375 + Free digital subscription to AV Proyectos and Tectonica-online + Publication in
Plataforma Arquitectura, Future Arquitecturas, ARQ ediciones, Pedacicos Arquitectonicos and Taller al Cubo.
City-County Building Plaza Design Competition
Submission: May 28, 2014
Registration: May 28, 2014
Language: English
Location: Indianapolis, USA
Prizes: 1st Prize $ 15.000 ; 2nd Prize $ 7.500 ; 3rd Prize $ 2.500
Type: Open competition for architects in two stages.
International architecture competition seeking a final conceptual design that would be implemented on an existing 1.94 acre open space on the City-County Building Property also known as the City-County Building Plaza (CCB Plaza).
Where is Indianapolis' Millennium Park experience? Downtown Indianapolis features several unique public spaces, but none of these spaces offer a full interactive experience.
The new CCB Plaza should serve the residents, employees, and visitors from Market East and downtown Indianapolis. The space should be flexible enough to draw in a young family as well as a retiree. This space should be mentioned in the same breath as other popular urban parks including Millennium Park (Chicago, IL), Jamison Square (Portland, OR), The Yards (Washington D.C), and City Garden (St. Louis, MO). More specific goals and recommendations will be featured in the Design Submittal Document that will be released in accordance with the Timeline.
The design team whose winning design is selected will receive $15,000 (2nd Place – $7,500; 3rd Place – $2,500) and will then be the preferred professional services provider for a full engineering/design contract (upon obtaining available funding) with the Indianapolis-Marion County Building Authority (IMCBA)
This competition is a two-stage competition. During the first stage, minimum qualifications from design teams will be requested. The second stage is the design submittal.
Kinmen Passenger Service Center International Competition, Taiwan



picture from architect
Kinmen Passenger Service Center Architecture Competition
Architecture Competition – archive
Comments for the Architectural Competitions page welcome
Website: Architecture