School without classrooms Berlin Competition, German Design Contest, Building News, Architecture
School without classrooms Berlin Competition, Germany
Winners of archasm Architecture Contest in Germany – Education Design News
18 + 17 Sep 2017
Location: Berlin, Germany
Winners of School without classrooms Berlin Competition
WINNERS
FIRST PRIZE:
SWC4661V: Carla Sentieri, Lucas Vidal, Alba Carinena (Spain)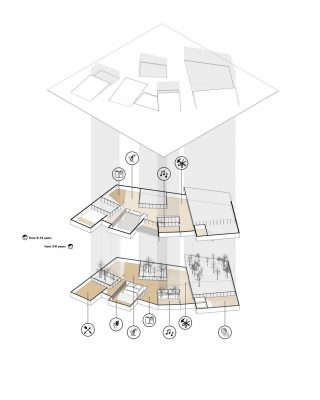 School without classrooms Berlin Competition Winners
TEMPELHOF: LEARNING THROUGH A PARK
Over time man is losing his relationship with nature, he is forgetting where he comes from and what the resources are. We need to re-learn important things in life.
What will the children of the future need? What should be your resources? What is fundamental to learn for the world of the future?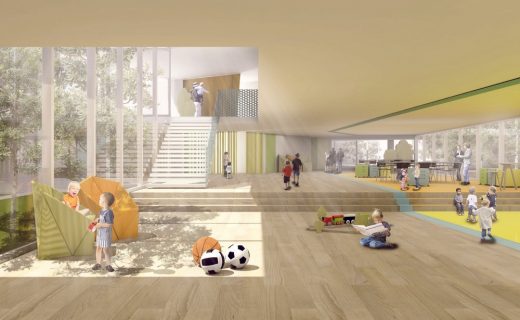 Hans Scharoun, in the 1960s, with his schools, proposed the idea of integrating children into society by giving them a spatial network in which the children learned to socialize with his peers with the construction of a school that reproduced a small town. Learning through a park wants to recover the values: Sense of identity and self-esteem, empathy, commitment to social justice and equity, respect for diversity, concern for the environment and commitment to sustainable development.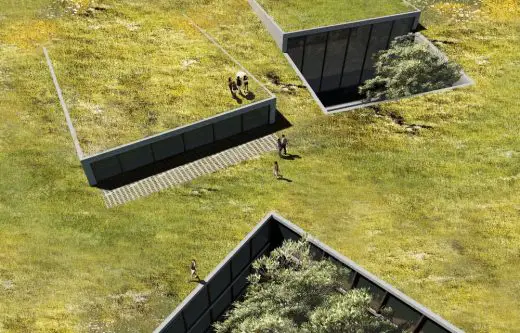 We propose understanding the world through the recognition of the landscape: trees, animals, vital cycles, natural materials will allow learning the emotional, verbal, mathematical and artistic / plastic languages with the principal goal of people can make the difference if they grew up with new values in new spaces.
The park becomes a college and the school becomes a park, there is no difference between them. The child learns and the citizens learn when their curiosity is motivated, when through play and experience they check and assimilate.

There are no classes, there are areas of experience, open areas and more limited areas, with fabrics, water, natural materials, the limits are blurred. Only the courtyards and the unevenness are establishing the learning areas.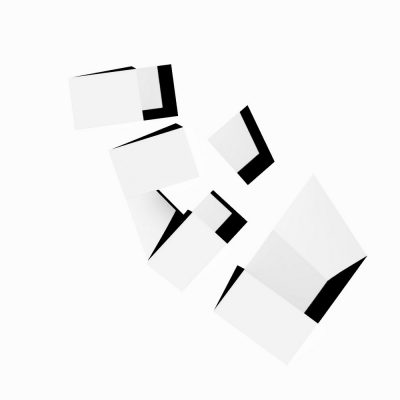 In Tempelhoff school, children are organized according to the criteria maturity allows, and only the attentive look of the parents or teachers, mark the limits and guide with prudence, wisdom and understanding in order to learn to live in community and return to describe the important values of life in a sustainable world.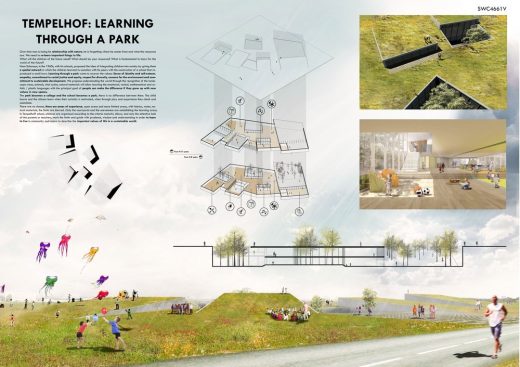 SECOND PRIZE
SWC1542F: Edouard Fizelier, Pedro Coello Behr, Benoist Rouel-Brax (France)
Learning Landscapes School without Classrooms
The design of a new school leads us to consider the design as an open environnement, an ecosystem where children are not divided in section according to their age, a more flexible organisation where children can learn according to their interest, talents et needs.
Therefore, the long corridor distributing rectangular classrooms explode to become a great platform, a landscape for teaching and learning, where circulation and teaching space are diffuse and flexible.Function are organised according to their affinities and the qualitiy of the space they can share allowing new opportunies to emerge from the meetings of two programms.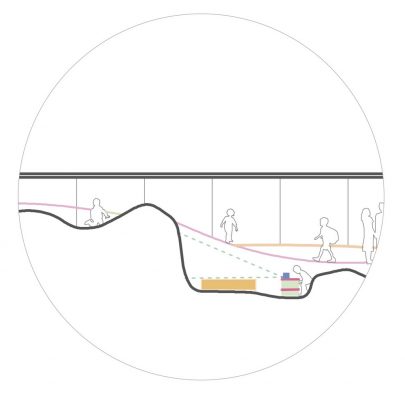 Topography, one of the three main architectural tool in the design process, frabrics hills and valleys offering spaces from the more public to the most intimate. While the lower grounds are favorable for meetings or more individualized class, the highest part of the school allows a wide view on the interior landscape, having visual connection. In-between, slopes offer multiple potentiality of function. Topography coordinate with the furniture creates intimate spaces, learning shelters, amphitheater, and projections or performing spaces.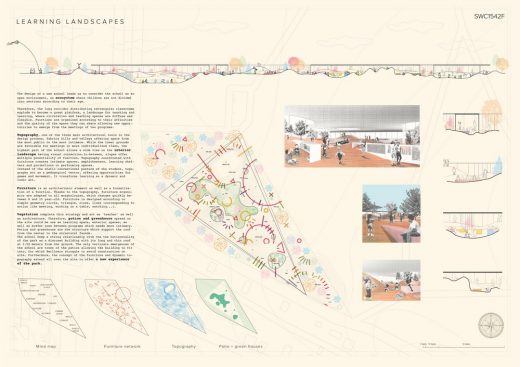 Instead of the static conventionnal posture of the student, topography act as a pedagogical vector, offering opportunities for games, and movement. It transform learning as a dynamic and ludic act.
Furniture is an architectonic element as well as a formalization of a function. Thanks to the topography, the ergonomy of the furniture is adapted to all morphologies (which changes quickly between 6 and 15 year old). Furniture are design arccording simple geometry circle, triangle, cross, lines (corresponding to action like meeting, designing on table, watching…). When this generic furniture meets topography it offer a much more complex scheme allowing new opportunities and use.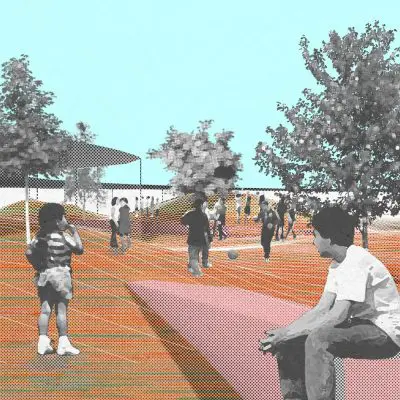 Vegetation complete this strategy and act as 'teacher' as well as architecture. Therefore patios and greenhouse spread on the site could be use as learning space, courtyard, as well as buffer zone between programs which needs more intimacy. Patios and greenhouse are the structure which support the roof from the center to the structural facade.
The concept try to incorporate one of the key issue of our time : ecology. This school should be a place where we can start to understand in a better way the place of human in the natural environemment. The greenhouse is a good example of this pedagogy in our ecosystem : pupils can understand how things growth and nature evolves. The understanding between environment, production and food is a major point of this strategy.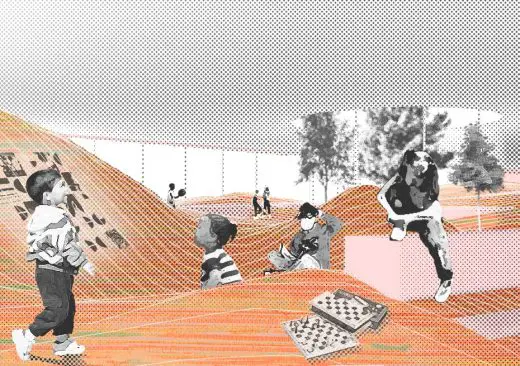 Finally the school keep a strong relationship with the horizontality of the park as a discret building with its long and thin roof, at only 2.50 meters from the ground. The only vertical emergences of the school are trees of the patios allowing the building to fit into the site, for which berliners struggle to avoid construction on site. Furthermore, the concept of the furniture and dynamic topography extend all over the site to offer a new experience of the park.
Pedro COELLO BEHR Edouard FIZELIER Benoist ROUEL-BRAX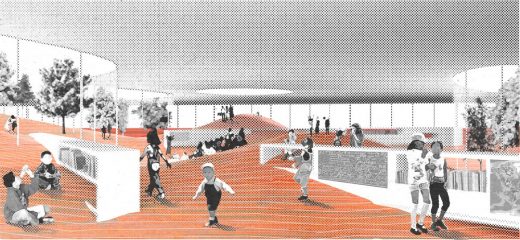 THIRD PRIZE
SWC4713B: Nathavat Kamronrittisorn, Wasin Hemachartwiroon (Thailand)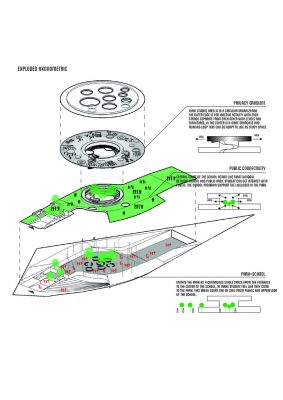 SINGLE CLASSROOM
Re-imagine boundary of learning space
What if we can blending activeness of each activities to creating a single lively atmosphere for learning?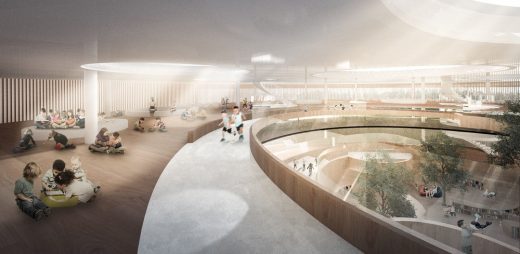 The challenge of this school design nowadays is to explore new type of learning spaces that have potential to break the boundary of the classroom merging with play area to create both new learning experience and new level of social interaction.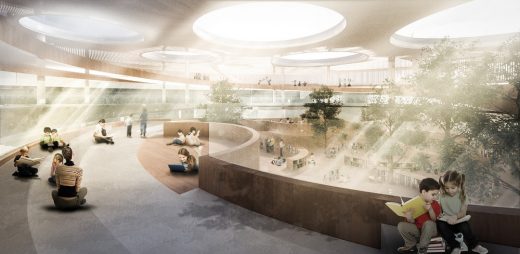 The project concentrate on the edge of inactive study area with and active study area that parallel to each other, in the middle between these 2 types of area can shape the various range of new activities that can be chosen by the students to use each space based on tension, privacy and activeness of activities they are in.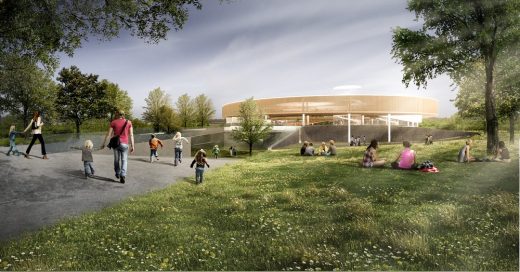 In every individual space they can absorb the social environment by dynamic and connectivity of space, both visual and physical, to make student feels like they are studying in the big public area that have ever changing state shaping by park users. every single day of study is a new journey for the students.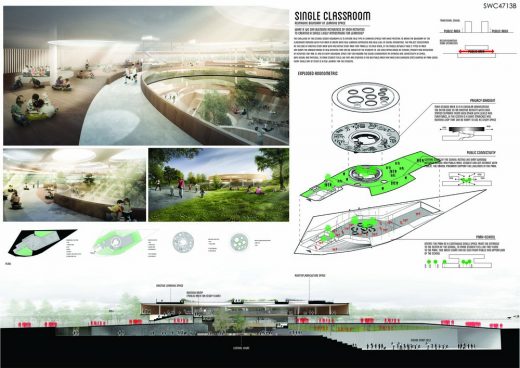 HONORABLE MENTIONS
SWC6382P
Quoc Huynh, Huy Pham (United States of America)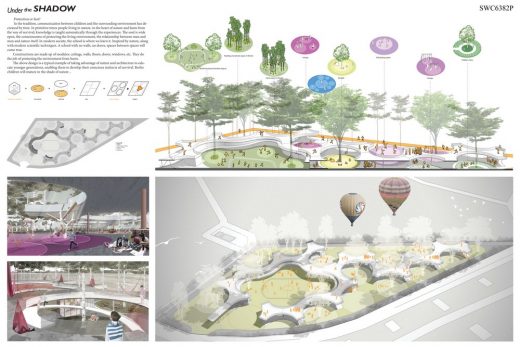 SWC09257
Andrey Hodkevich, Nedko Nedev, Alexander Iliev (Bulgaria)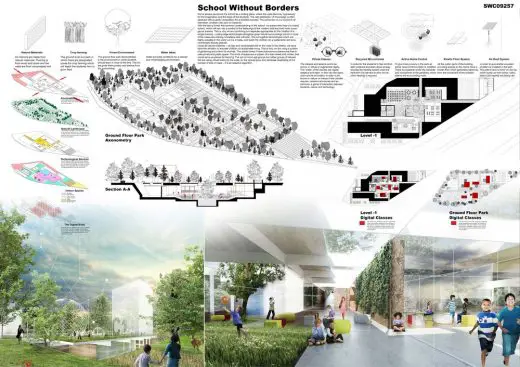 SWC9471B
Oscar Rodriguez, Gustavo Sosa, Karlys Pulido (Venezuela)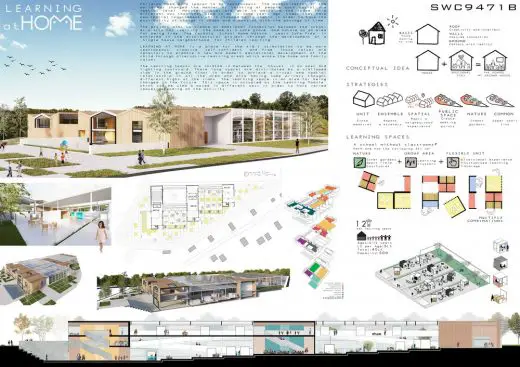 SWC72637
Zuzana Sojkova (Slovakia)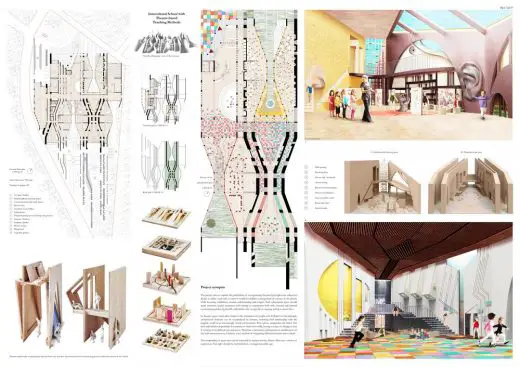 SWC85207
Pablo Sanchez Lopez (Spain)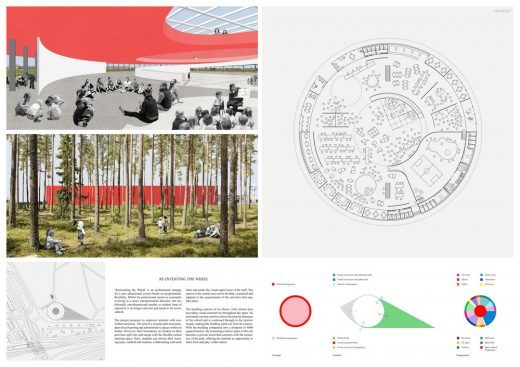 SWC4323N
Shiwoo Yu, Won Ryu (United States of America)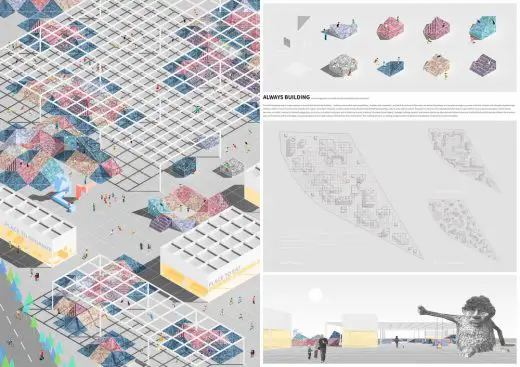 SWC6613S
Antoine Pruvost, Rafaela Monteiro (France)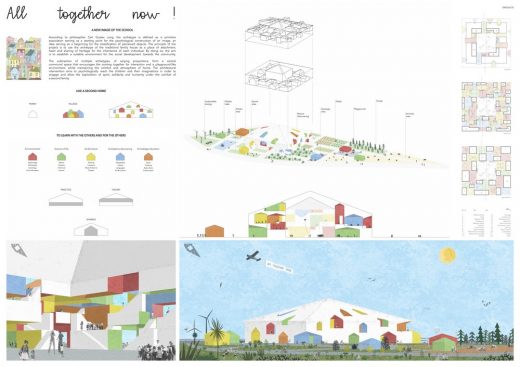 SWC75407
Aishwarya Gaitonde, Dhwani Mehta, Ashwini Gawli (India)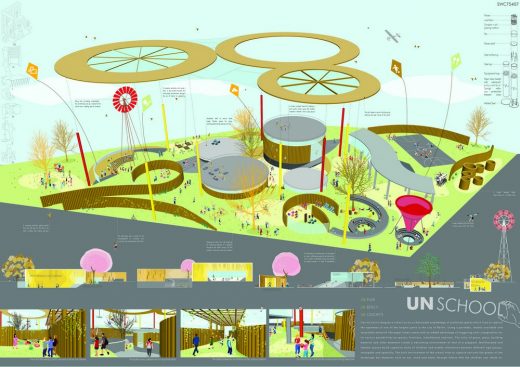 SWC43774
Abhishek Ajwani, Satyanarayan Venkatesh, Kunth Shah (India)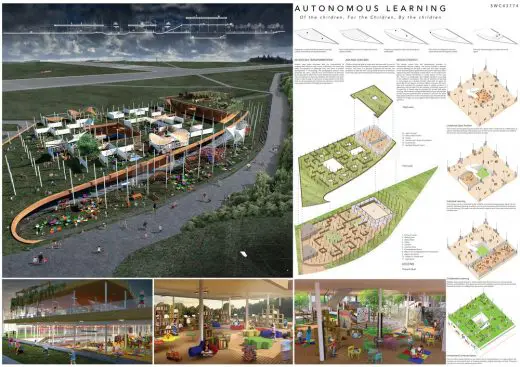 SWC5281R
Chun Fei Wong (Malaysia)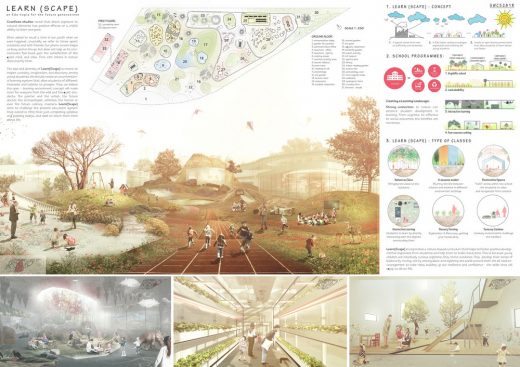 26 Mar 2017
School without classrooms Berlin Competition by archasm
Location: Berlin, Germany
School without classrooms Berlin Competition
What if we lived in an age where school and learning was not systemized but optimized?
What if the school had no grades, subjects and books?
What if the classrooms did not mean a four-walled cubicle?
What if the process and hierarchy of the schooling-setup was never there?
What if there was more to the static architecture style of a schooling environment?
We seem to have forgotten that schools are the real 'Temples of Innovation' that shape children of the future. Schools are supposed to be 'fun' places that inspire wonder, creativity and innovation through the teaching and learning. Schools should offer welcoming environments that instil in us confidence to pursue our dreams and interests.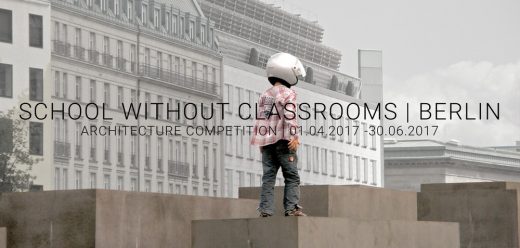 Pedagogy i.e. the art of teaching faces a real test in today's times for it has remained very stagnant and rigid in its discourse. Innovation in methods and practices of education has been slow and very limited. In most of the countries, schools have adopted a very general, mechanical and theoretical system of education that minutely focuses on problem solving, practical and experimental methods and most importantly, personal interests of children. Schooling environment, since the industrial revolution has done very less to revamp their gloomy, colourless, isolating and lifeless spaces.
Brain development between ages 5 and 12 is significant and understood. Cognitive psychologists and neuroscientists are intrigued with how cognitive capacities are affected by the architectural attributes and spatiality of a school environment. Architecture affects our intellect and emotions, influences our performance and motivates achievement — mostly on a subliminal basis. Classrooms are also called 'third teachers' for their impact on the learning process just in terms of spatiality.
This Berlin architecture competition seeks the creation of a middle school (age group 5-12) that completely negates the present day 'bench-table-chalkboard' idea of a classroom and a regularized building typology of a school. The design competition seeks to radicalize the school system through architecture not only in terms of improving the quality of study environment but revamping the system and breaking all the physical and metaphorical class divisions into an entirely new school system.
The architectural competition seeks ideas from participants to create a fun built environment for a middle school that understands the individual needs of each child yet being very collaborative in nature. The school should strive to create a new pedagogical space that emphasizes on people-oriented design in behavioral terms as they interact and use spaces.
Berlin is the 21st century contemporary world's ideal capital. The city left its torrid history behind to quickly grow and cement itself into the intellectual and cultural core of the world. Berlin is the epicenter of any new movement that starts to demolish the old world order. The site for the competition is located in Templehof, Berlin and aims to create an exemplary prototype for all the new world schooling systems to follow.
Schedule
• Start of Competition and Early Registration: 1st April 2016
• Early Registration ends: 31st May 2017
• Standard Registration starts: 1st June 2017
• Deadline for Questions: 10th June 2017
• Standard Registration ends: 29th June 2017
• Closing day for Submissions 30th June 2017
• Announcement of Winners: 24th July 2017
*Note: All deadlines are 11:59 pm – 00:00 IST (India).
Awards
Winning participants will receive prizes totaling INR 2,00,000 with the distribution as follows:
First prize- INR 1,00,000/- + Certificate
Second prize- INR 60,000/- + Certificate
Third prize- INR 40,000/- + Certificate
10 Honorable mentions
Winners and honorable mentions will be published on archasm's website and several international architecture magazines and websites partnered by us.
Registration
Early Registration:
From 1st April 2017 to 31st May 2017
• For Indian nationals- INR 1500 (per team)
• For Foreign nationals- EUR 60 (per team)
Standard Registration:
From 1st June 2017 to 29th June 2017
• For Indian nationals- INR 1800 (per team)
• For Foreign nationals- EUR 80 (per team)
Entrants may register by filling the registration form and submitting it with the appropriate payment through our secure gateway on our website www.archasm.in
Discount
Group discounts apply for a minimum of 5 teams from one particular architecture school/university as our initiative to promote more participation from students.
Send us the following details at [email protected] to avail the offer.
• Names of all the participating teams members and their respective team leaders.
• Name of the university.
• School ID proofs of the team leaders.
Note:
It will not be possible to amend or update any information relating to your registration including the names of team members once validated.
Regulations
• Participant teams will be disqualified if any of the competition rules or submission requirements are not considered. Participation assumes acceptance of the regulations.
• Team code is the only means of identification of a team as it is an anonymous competition.
• The official language of the competition is English.
• The registration fee is non-refundable.
• Contacting the Jury is prohibited.
• archasm as the competition organizer, reserves the right to modify the competition schedule if deemed necessary.
Terms and Conditions
Please see the terms and conditions section on www.archasm.in.
Competition project disclaimer
This is an open international competition hosted by archasm to generate progressive design ideas. There are no plans for the middle school to be built. The competition is organized for education purpose only.
Other details
Website: rel="noopener noreferrer">www.archasm.in
Facebook: www.facebook.com/atarchasm
Instagram: www.instagram.com/archasm_competitions/
School without classrooms Berlin Competition images / information from archasm
Location: Berlin, Germany
Architecture in Berlin
Berlin Architecture Designs – chronological list
Berlin Architecture Walking Tours by e-architect
New Media Campus for Axel Springer in Berlin
Design: BIG + Bollinger+Grohmann + Man Made Land +Topotek 1 + Kardoff Ingenieure + Wenzel+Wenzel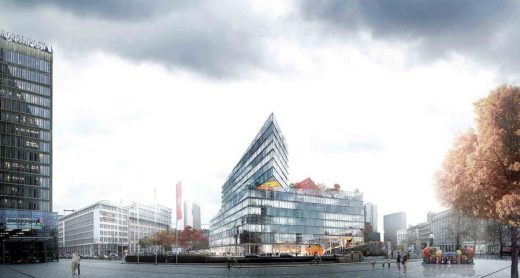 image by architects
Media Campus Axel Springer
Design Competitions by archasm
Liberty Museum New York Competition Winners – First prize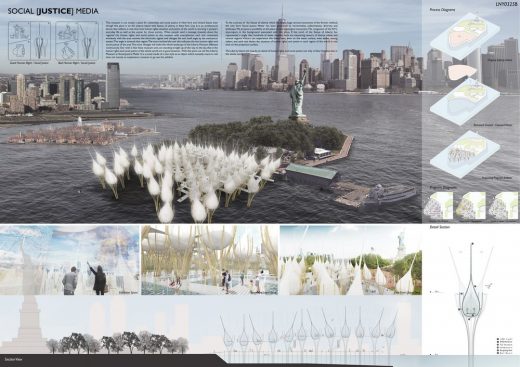 image courtesy of winning designers
archasm New York Competition
Paris Pavilion: The Art of Peace Competition Winners – First prize: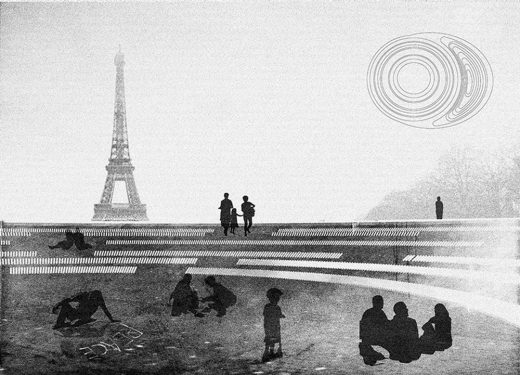 image from archasm
archasm Paris Competition
Liberty Museum New York Competition by archasm
Paris Pavilion: The Art of Peace Competition by archasm
Comments / photos for the School without classrooms Berlin Competition Architecture page welcome