Museum Buildings, Architects, Photos, Interiors, International Designs, News, Images
Museum Buildings : Architecture
Major Architecture Projects – designs from around the world
post updated 23 Feb 2020
Museum Buildings
We've selected key examples of Museum Buildings. We try to include buildings and new building designs that have a strong design intent. The focus is on contemporary buildings from across the world.
We have 6 pages of Museum Buildings selections.
Museum Buildings : news + key projects (this page)
Museum Architecture : A-F
Contemporary Museum Buildings : G-L
Museum Designs : N-R
Museum Architecture Designs : S-Z
Latest Museum Building Designs
Architecture Designs – latest additions to this page, arranged chronologically:
Musée d'art de Joliette, southwest Quebec, Canada
Design: Les architectes FABG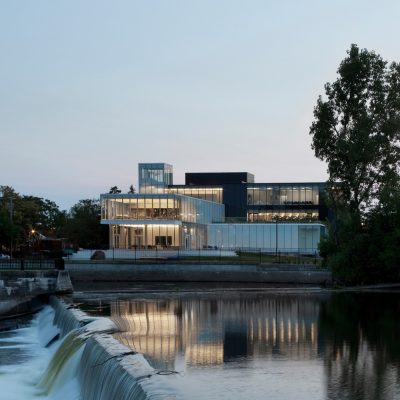 photograph : Steve Montpetit
Art Museum in Joliette – 22 Jul 2016
The Musée d'art de Joliette is recognized as Quebec's most important regional art museum. While pursuing the objectives of conservation, dissemination and research established over half a century ago by its founders, the Musée continues to expand its permanent collection, which currently comprises some 8,500 works held in four collections.
Marubi National Museum of Photography, Shkodër, Albania
Design: casanova+hernandez architecten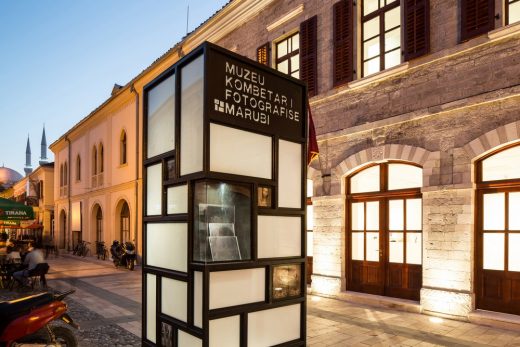 photograph : Christian Richters
Marubi National Museum of Photography Building in Shkodër – 17 Jul 2016
The new building and its museographic project open a new generation of contemporary museums in Albania, which not only aims to restore and protect the Albanian cultural heritage.
Museum of the History of the Polish Jews, Warsaw, Poland – 8 Oct 2013
Design: Lahdelma & Mahlamäki Architects



photo : Juha Salminent
The origins of the Museum of the History of the Polish Jews go back to the mid-1990s, when the founding director of Tel Aviv's Diaspora Museum and the Holocaust Museum in Washington DC, Yeshayahu Weinberg, convened an international working group to plan a new museum dedicated to the history of the Polish Jews.
Pingtan Art Museum, China – 15 Jul 2013
Design: MAD architects



image from architect
Pingtan is the largest island in the Fujian province. It is expected to become the primary location for trade and cultural communication between Taiwan and the Chinese mainland in the foreseeable future.
Sorø Art Museum, Sjælland, east Denmark
Design: Lundgaard & Tranberg Architects



photo : Jens Lindhe
Sorø Kunstmuseum – 14 Jun 2013
Yad Va'Shem Holocaust Museum, Jerusalem, Israel – new photos
Design: Safdie Architects



photograph © Adrian Welch
Yad Va'Shem Holocaust Museum – 13 May 2013
The rebuilding of this museum includes a new visitors' center, a new history museum replacing the existing museum constructed in 1953, a Hall of Names, a synagogue, galleries for Holocaust art, an exhibitions pavilion and a learning and visual center. The program quadruples the permanent exhibition space.
Museum of Handcraft Paper, Gaoligong, China
Design: Trace Architecture Office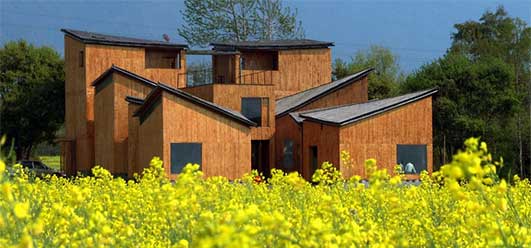 photo : AKAA
Museum of Handcraft Paper – 1 May 2013
The museum building is located close to a village at the foot of Gaoligong Mountain, in the province of Yunnan, an area of significant Muslim presence. It provides exhibition space for ancient paper craft and artefacts produced locally.
Design Museum Holon, Tel Aviv, Israel – review + photos by e-architect editor Adrian Welch
Design: Ron Arad



image © DMH
Design Museum Holon – 13 May 2013
The building shows exhibitions about Israeli design, and on our visit was showing bathing suits and related designs. The structure is located on the edge of the traditional city centre, in a cultural quarter which is yet to complete. The building appears as an organic form, but within it is essentially formed by a large upper and a small lower gallery, both rectilinear. As a group we discussed the anomaly of billowing coloured swirls outside and the restrained white spaces within. The spaces might allow curatorial flexibility but the fact that their perimeter wasn't reflected externally concerned us architect visitors as we have all been taught that form should be 'honest' and reflect the form of the space held within.
Israel Museum, Jerusalem, Israel
Design: various architects



photo : Cecilia Koren
Israel Museum – 13 May 2013
The Israel Museum opened in 1965, in a Modernist complex nestled on the Judean Hills near The Knesset – the national parliament building – and the Hebrew University. Since that time, it has become the most eminent cultural institution in the region and one of the leading art and archaeology museums in the world, with collections growing exponentially over the past four decades. Now 45 years later, the museum has reopened after a $100 million expansion and renovation.
UC Davis Art Museum, California, USA
Design: SO – IL



image from architect
UC Davis Art Museum – 2 May 2013
The new Jan Shrem and Maria Manetti Shrem Museum of Art at the University of California, Davis, will be created by a team intent on redefining the university museum and fostering a new conversation in the arts.
National Maritime Museum Tianjin, north east China
Design: HAO + AI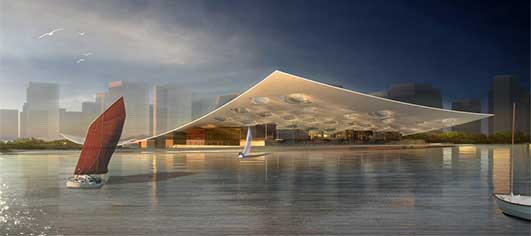 image from architect
National Maritime Museum Tianjin – 19 Apr 2013
The proposal for the new National Maritime Museum is situated in Northern China, outside the city of Tianjin. The museum is designed to house both new and old maritime items with a focus on celebrating the historical achievements of Chinese naval exploration through out time. HAO and AI, along with three other teams, have been invited to participate in the National Maritime Museum competition, situated outside the city of Tianjin in Northern China.
China Wood Sculpture Museum, Harbin, northern China
Design: MAD Architects



photo : Iwan Baan
China Wood Sculpture Museum Building – 10 Apr 2013
MAD Architects unveiled the completed China Wood Sculpture Museum located in Harbin, China. The 200-meter long building, sheathed in metal, sits nestled in a densely residential area, adding a cultural and surreal essence to the surrounding urban context. Appearing so evident amidst a thriving metropolitan district of Harbin, the China Wood Sculpture Museum sits as a locational anomaly, seemingly out of place, surrounded by a densely populated Chinese-style neighborhood and residential complexes.
Sogn & Fjordane Art Museum, Førde, Norway
C. F. Møller



picture : Oddleiv Apneseth
Sogn & Fjordane Art Museum – 19 Sep 2012
The small Norwegian town of Førde draws its qualities from its interaction with the surrounding mountains, which are visible everywhere, and from Jostedalsbreen, the largest glacier on the European mainland, which lies in close proximity to the town. The town's new museum, Sogn & Fjordane Kunstmuseum also draws upon the distinctive landscape for its architectural expression: the museum building lies like a crystal-clear block of ice that has slid down from the surrounding mountains.
Žanis Lipke Memorial Museum, Latvia
Design: ZAIGAS GAILES BIROJS



picture : Ansis Starks
Žanis Lipke Memorial Museum – 13 Aug 2012
During the occupation of Latvia by Nazi Germany (1941–1945) more than 60 000 Jews were murdered in concentration camps. Despite some odious figures of Latvian antisemites, other Latvians stood against the Nazi antisemitic policies and tried to save local Jews from execution. The most prominent Latvian saviors of Jews were Mr. Žanis and Mrs. Johanna Lipke – a poor working class couple who hid away more than 50 Jews that Žanis had managed to cheat out of the Riga Ghetto.
Samaranch Memorial Museum, Tianjin, China
Architect: HAO – Holm Architecture Office



image from architects
Samaranch Memorial Museum Building – 13 Aug 2012
The HAO / Holm Architecture Office + Archiland Beijing design for the Samaranch Memorial Museum in Tianjin, China is under construction. After adjusting the design of the competition scheme, the building construction is well under way. The museum building is expected to be completed by the end of 2013.
Maritime Xperiential Museum, Resorts World Sentosa, Singapore
Michael Graves & Associates



photo Courtesy of Michael Graves Associates
Maritime Xperiential Museum – 10 Jul 2012
International architects and designers, Michael Graves & Associates (MGA) announce the completion of the Maritime Xperiential Museum (MXM) at Resorts World Sentosa (RWS) in Singapore. The project, lead by MGA Studio head Patrick Burke, marks another phase in RWS's development. MGA completed Phase 1 in February of 2011, a $4 billion project, which included top-flight hotels, family entertainment, fine dining, and world-class gaming on 121 acres just across Keppel Harbor from downtown Singapore.
Recent Museum Building Designs
Easter Sculpture Museum, Albacete, Spain
Exit Architects



photograph : Fernando Guerra
Easter Sculpture Museum – added 29 Apr 2012
This building project was the result of an ideas competition organized by the Hellín Municipality. The competition rules considered the refurbishment of the Casa del Conde as well as the construction of an extension on the plot area former occupied by some small service buildings of the house.
Contemporary Art Museum, Raleigh, North Carolina, USA
Brooks + Scarpa



picture from architects
Contemporary Art Museum Raleigh – 1 Oct 2011
The Depot District contains Raleigh's only significant collection of buildings related to the heyday of railroad transportation and shipping in the Capital City. By recycling this important building, CAM preserves an important part of Raleigh's history and demonstrates its commitment to sustainability and leadership in historic preservation.
Museo de al Memoria de Andalucía, Granada, southern Spain
Alberto Campo Baeza



photo : Javier Callejas
Andalucía Museum of Memory
Museum Architecture – Major Buildings Selection
Museum Building Designs, alphabetical:
Abu Dhabi Louvre Museum, UAE
Jean Nouvel



image from architect
Abu Dhabi Louvre Museum
Ara Pacis Museum, Rome, Italy
Richard Meier Architects



photograph © Adrian Welch
Ara Pacis Augustae
Bilbao Guggenheim Museum, Spain
Frank Gehry



image from architect
Guggenheim Museum Bilbao
Chengdu Museum, China
Sutherland Hussey



image from architect
Chengdu Museum building
The Getty Center, Los Angeles, USA
Richard Meier & Partners



photo © Alice McRae
Getty Center Building
Glasgow Transport Museum, Scotland
Zaha Hadid Architects



photo © Alice McRae
Glasgow Transport Museum Building
GRAM – Art Museum, USA
Design: wHY architecture



photo : Chris Barrett@Hedrich Blessing
GRAM Michigan
Imperial War Museum North, England
Daniel Libeskind Architects



photo © Adrian Welch
Imperial War Museum Manchester
Jeongok Prehistory Museum, Korea
X-TU


photo from architect
Jeongok Prehistory Museum
Jewish Museum building, Berlin, Germany
Daniel Libeskind Architect



photograph © Bitter Bredt
Jewish Museum Berlin
Liangzhu Culture Museum, China
David Chipperfield Architects



photo © Christian Richters
Liangzhu Culture Museum
Literaturmuseum der Moderne, Germany
David Chipperfield Architects



photograph © Christian Richters
Museum of Modern Literature, Marbach
Mercedes-Benz Museum, Germany
UN Studio Architects



photo : Christian Richters
Mercedes-Benz Museum Stuttgart
Museo Soumaya, Mexico
FREE | Fernando Romero EnterprisE



image from architect
Museo Soumaya
Museum für Kunsthandwerk, Germany
Architect: Richard Meier



photo © Adrian Welch
Frankfurt Museum Building
Museum of Contemporary Art, China
Coop Himmelb(l)au



picture : SILKROAD Digital Technology Co. LTD
Museum of Contemporary Art Shenzhen
Museum of Islamic Art, Qatar
I M Pei



photo Courtesy of the Museum of Islamic Art
Museum of Islamic Art Building
Museum of Modern Art – MoMA, NY, USA
Yoshio Taniguchi with KPF Architecture



photo : Andrew McRae
MoMA New York + MoMA Extension
Nanjing Museum, China
Design: Steven Holl Architects



picture from architect
Nanjing Museum of Art & Architecture
Nelson Atkins Museum of Art, USA
Design: Steven Holl Architects



image : Andy Ryan
Nelson Atkins Museum of Art Building Extension
Neues Museum Redevelopment, Germany
David Chipperfield Architects



image : David Chipperfield Architects
Neues Museum Building, Berlin
New Acropolis Museum, Athens, Greece
Design: Bernard Tschumi Architect



image : Bernard Tschumi Architects
Acropolis Museum Athens
New Museum of Contemporary Art, USA
SANAA architects



image from architects
New Museum of Contemporary Art, N.Y.
Porsche Museum, Stuttgart, Germany
Delugan Meissl



picture © Delugan Meissl Associated Architects
Porsche Museum Building
San Francisco Museum of Modern Art, US
Mario Botta / HOK



picture © Andrew McRae
San Francisco Museum of Modern Art
Smithsonian Museum – Courtyard, USA
Foster & Partners



picture : Nigel Young / Foster + Partners
Smithsonian Institute Building
More Museum Architecture projects online soon
Museums in the 21st Century Exhibition Munich – museum designs by key architects



BMW Museum – photo : Marcus Buck, Munich
Whitney Museum Building
Porsche Museum Stuttgart building
Comments / photos for the Contemporary Museum Architecture page welcome