Toronto houses, New residences in Ontario, Canada real estate, Canadian property photos, CA buildings
Toronto Houses: Ontario Property
Key Contemporary Residential Architecture Developments in Ontario: New Canada Properties
post updated 17 August 2023
We've selected what we feel are the key examples of Toronto Houses. e-architect cover completed Ontario residential buildings, new building designs, architectural exhibitions and architecture competitions across Ontario, Canada. Our focus is on contemporary Toronto residences:
e-architect's featured contemporary home in Ontario:
Petaluma House, Whitby, Toronto GTA
Design: Trevor McIvor Architect Inc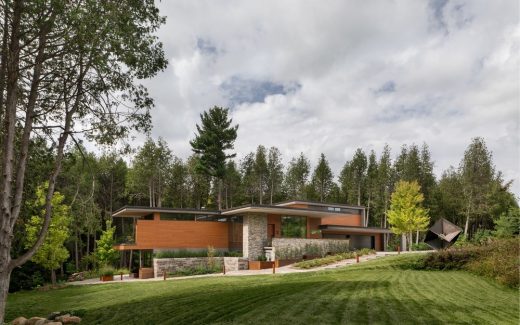 image from architects studio
Petaluma House
This split-level, open plan contemporary dwelling is located in a rural subdivision near Whitby, surrounded by very traditional custom homes.
Houses in Toronto
Contemporary Toronto Homes
13 Apr 2023
South Hill House, north of downtown
Design: StudioAC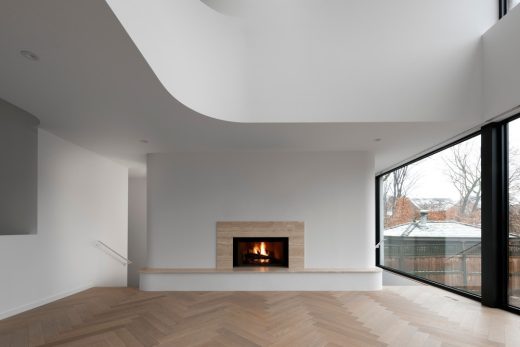 photo : Jeremie Warshafsky
South Hill House
Located north of downtown Toronto, near Casa Loma, South Hill House is a renovation, restoration, and addition to an older brick home. When altering both the interior and exterior, a sensitivity to the existing structure was observed.
11 Apr 2023
Craven Road Cottage
Design: AMA (Anya Moryoussef Architect)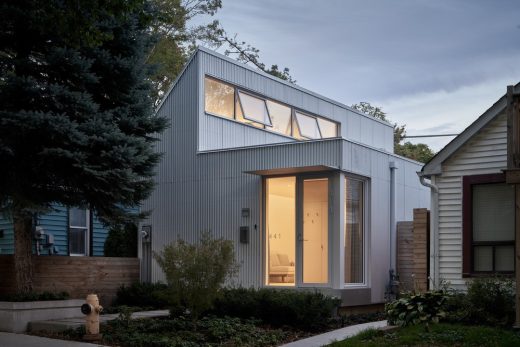 photo © Doublespace Photography
photos by Doublespace Photography, Anya Moryoussef and Scott Norsworthy
Craven Road Cottage
The inventive reconstruction of Craven Road Cottage, a tiny home into an ethereal urban refuge was built sustainably and economically to allow a longtime resident to remain in her tight-knit community.
23 Mar 2023
Don Mills House
Design: Altius Group of Companies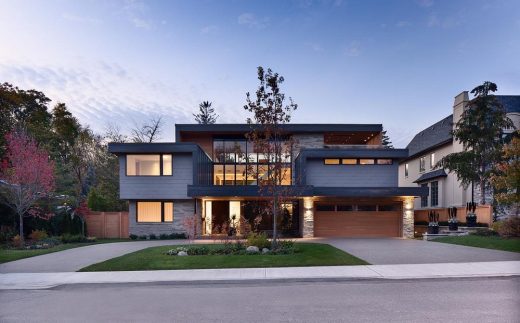 photo : John Doe
Don Mills House
Don Mills House serves as a "cottage in the city" for a couple that loves to host and entertain. The generous lot falls away to a forested ravine, and the design takes full advantage of the private 5,000 sqft urban oasis.
14 Jul 2022
Stack House, Hill Toronto, ON, Canada
Design: Atelier RZLBD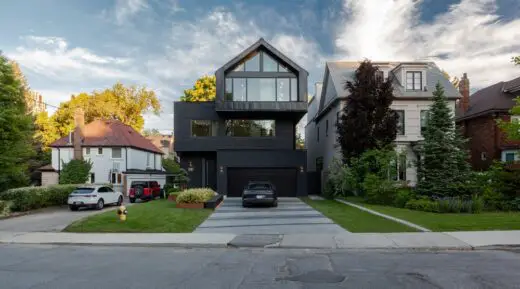 photo : Borzu Talaie
Stack House, Forest Hill
A building is like a pile of books, which, being scaled and sized to our human body, is composed of horizontal platforms with consistent ceiling heights. A tall structure of three stories plus basement, Stack House is a playful expression of horizontal volumes, which are stacked on top of and cantilevered from each other.
4 Jun 2022
Forest Hill Garden & Pavilion, Forest Hill neighbourhood
Design: Amantea Architects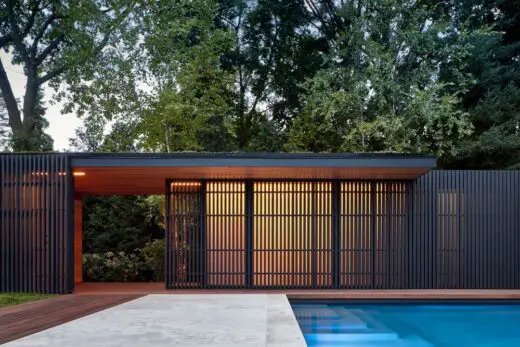 photo : Doublespace Photography
Forest Hill Garden and Pavilion
Toronto's Amantea Architects has transformed the landscape of a single-family home in the city's Forest Hill neighbourhood, clarifying its program while maintaining its lush, layered character. The Forest Hill Garden & Pavilion project comprises a fully redesigned backyard including dining terrace, patio, sports lawn, swimming pool and pavilion—all efficiently programmed within a 560-square-metre space—as well as a new front garden and entryway.
2 May 2022
August House
Design: Giaimo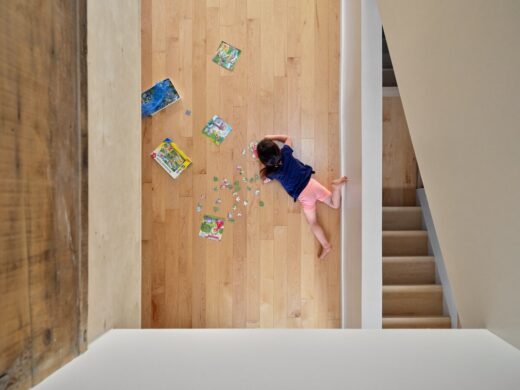 photo : Doublespace Photography
August Toronto House Extension
August is a humble residential project that integrates a new addition and renovation as an extension of the existing vernacular. The design extends the style of the adjacent houses on the wide but shallow lot, atypical of a conventional Toronto footprint.
6 Mar 2022
Modern Victorian House
Design: Frank Franco Architects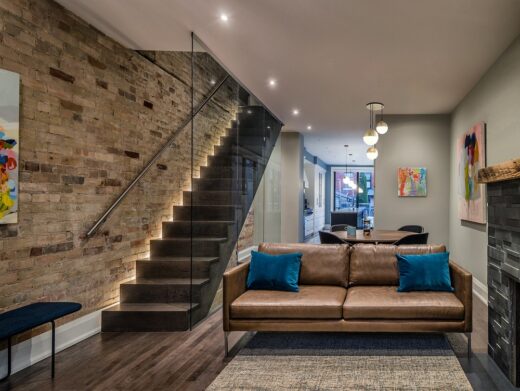 photo : Bob Gundu
Modern Victorian, Toronto House
The design objective with the Modern Victorian House was to bring the 110-year-old dwelling up to contemporary standards by adding a three-story rear addition, improving the overall layout, and updating the interior finishes. While one partner felt strongly about maintaining the traditional character of the home, the other hoped to achieve a boldly modern aesthetic.
11 Feb 2022
Robert Street Residences
Design: Taylor Smyth Architects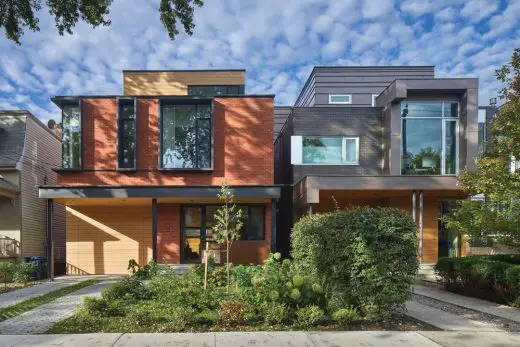 photo : Tom Arban Photography Inc.
Robert Street Residences
Two adjacent contemporary houses in a Victorian Toronto neighbourhood, designed by the same architect and for the same client, subtly respond to the local vernacular and to each other, while expressing their own unique characters. Designed and constructed over a span of 10 years, the first house was completed in 2011, and the second house in 2021.
18 Jan 2022
Albers House, Scarborough, Greater Toronto Area
Architects: Atelier RZLBD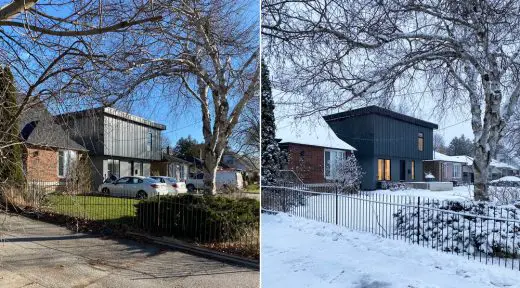 photo : Borzu Talaie
House in Scarborough, Toronto
Serene yet outrageous is the presence of Albers House in a typical residential street of Scarborough, Ontario. In its paradoxical behaviour, it both adapts to and resists against the existing conditions, performing very restricted yet radical transformation on the existing space and the neighbourhood.
26 Aug 2021
Botfield House, Etobicoke, Toronto
Design: Ancerl Studio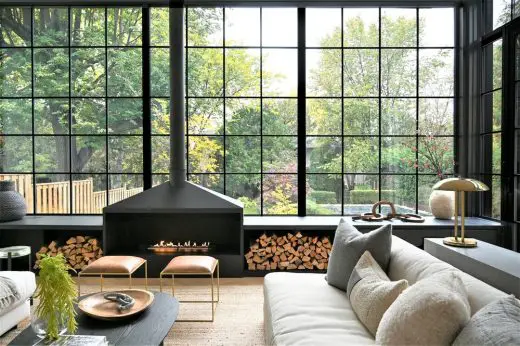 photo : Kimberly Czornodolskyj
Botfield House, Etobicoke
Located on a large lot situated on a quiet tree lined street in Etobicoke, Toronto, sits what once was a tired bungalow, turned 2-storey contemporary single family dwelling. The exterior facade, defined by a pair of symmetrical 2-storey peak additions, frame out the central grand entryway to the home.
23 Apr 2021
Mackay Laneway House
Design: Gabriel Fain Architects in collaboration with Globizen Studio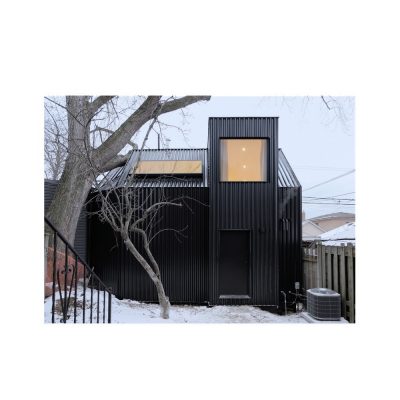 photo : Gabriel Fain Architects
Mackay Laneway House
This new two-storey laneway house at 95 Mackay is a study in compact living. This laneway rental unit squeezes all the functions of a downtown Toronto condo onto two 450 square-foot floorplates.
6 Mar 2021
High Park Residence
Design: Batay-Csorba Architects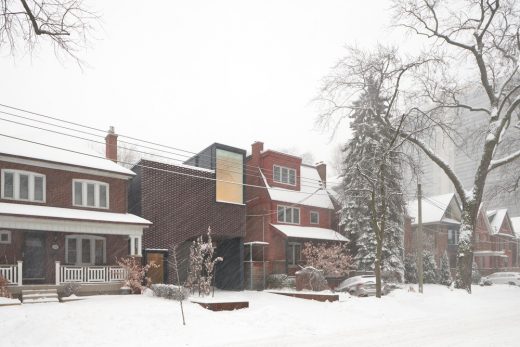 photo : Doublespace Photography
High Park Residence in Ontario
In the chaos of life today a home needs to be a place of refuge, a solitude for the homeowners to retreat to. High Park Residence was built for an Italian couple, the design pays homage both to the clients' Italian heritage and that of the Toronto residential building fabric, while ensuring a sensitivity towards wellbeing, mobility, and convenience.
9 Feb 2021
The Brother's Residence, Lippincott Street
Design: Alva Roy Architects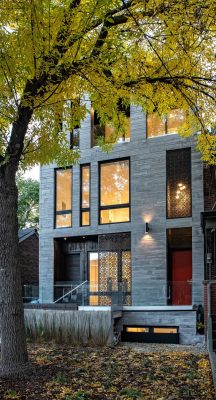 photo : Greg Van Riel
The Brother's Residence
Situated on a long and narrow midtown lot backing onto a laneway, in Bloor West neighborhood of Toronto, The Brother's Residence is an integrated piece of architecture that provides 3,600 square feet of living space for three families on Lippincott Street.
2 Feb 2021
Emily's House, North York
Design: Studio JCI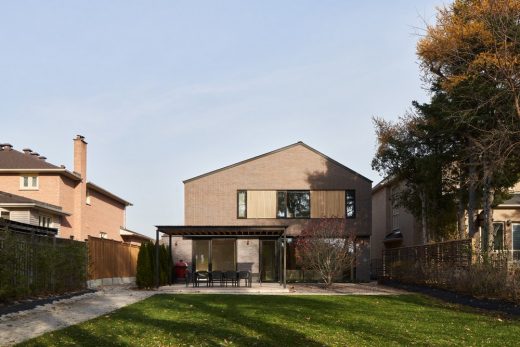 photo : Michael Muraz
Emily's House, North York
Nestled within the residential neighbourhood of North York, this 3,500 square foot multi-generational home exemplifies harmonious co-living design. The house seamlessly integrates a diverse set of individual and collective desires in support of three generations at different stages of their lives, including a retired couple, their adult children, and parents.
15 Jan 2021
Annex Coach House
Architecture: Taylor Smyth Architects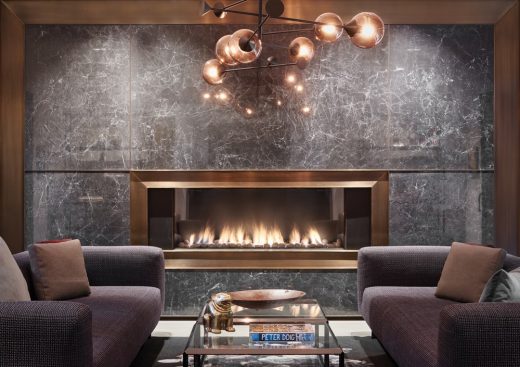 photography : Doublespace Photography Inc.
Annex Coach House
The Annex Coach House is tucked discretely down a quiet urban laneway, the original building was part of Moore's Hearse Livery and used as a vehicle depot. Altered and added to overtime, it was converted into a residence in the 1980s. The only thing left from the livery is the brick walls in the courtyards.
More contemporary Toronto Houses online soon
Toronto Houses 2020
11 Dec 2020
Fun House, East York
Architects: Atelier RZLBD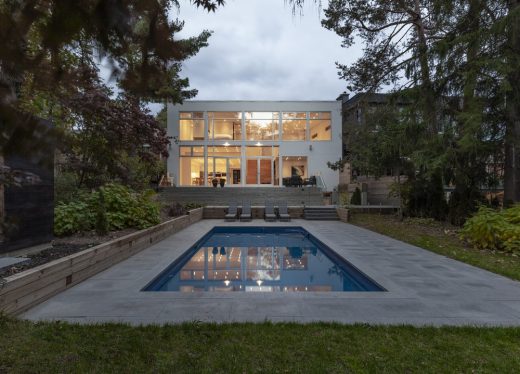 photography : Borzu Talaie
Fun House Toronto
The Fun House, despite being so distinguished from its neighbors, blends into its surrounding so harmoniously. Its simple, rectangular façade with a long horizontal strip of windows on the second floor only mimics the gentle curve of the street in the front and remains crude and frugal in the rest of its details.
2 Nov 2020
The Farm – Vacation Home
Architect: Scott Posno Design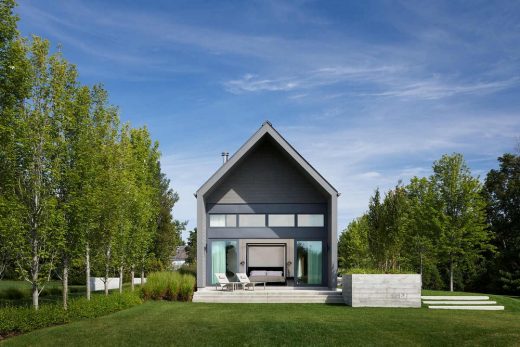 photography : Younes Bounhar
The Farm Vacation Home
Located an hour east of Toronto, The Farm occupies a 65-acre site amidst the peaceful green fields of this Southwestern Ontario agricultural regiont. It serves as a weekend and vacation home for the client, his grown children, and a variety of friends and family who frequent the tranquil property for relaxation and enjoyment year-round.
22 Oct 2020
Wychwood Residence
22 Oct 2020
Fishleigh Drive Residence, Scarborough
20 Oct 2020
Concert House
13 Oct 2020
ShadowBox
10 Oct 2020
Yorkville Condo
3 Oct 2020
Contrast House
29 Sep 2020
Crestwood Residence, Barrie, Ontario
12 Sep 2020
Garden Circle House
9 Sep 2020
Skygarden House
10 June 2020
Grove House
Design: Joanne Myers Architect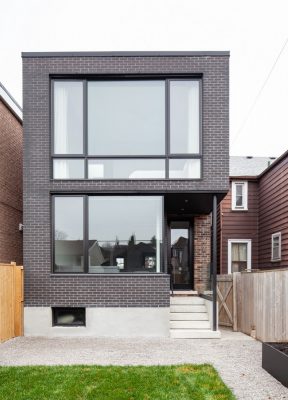 photography : Scott Norsworthy
Grove House
This residential property project began with a classic Toronto problem: A young couple outgrows their condo and needs a house. The couple bought a small home in Dufferin Grove, a leafy downtown enclave.
27 May 2020
Family Pied-à-terre, west end of Toronto
Architect: Weiss Architecture & Urbanism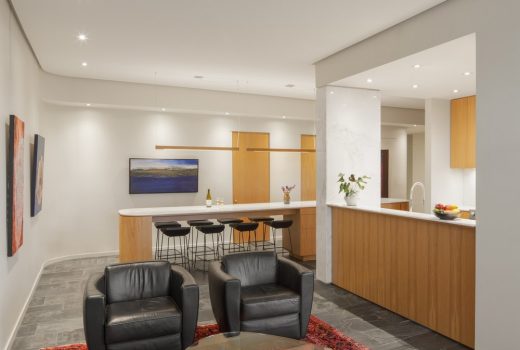 photography : Arnaud Marthouret -Revelateur Studio
Family Pied-à-terre in Toronto
This renovation of a 1990s penthouse condo that serves as a 'pied-à-terre' for a close-knit family.
3 Apr 2020
Baby Point Residence
Architecture: Batay-Csorba Architects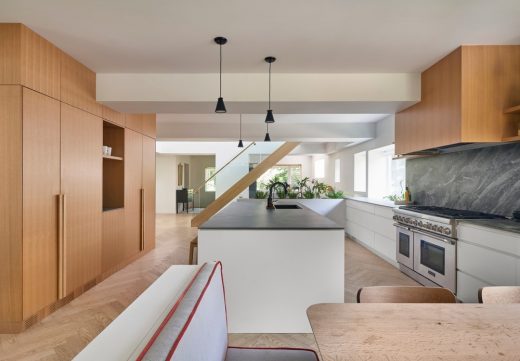 photograph : Doublespace Photography
Baby Point Residence in Toronto
A renovation/addition project in Toronto's Baby Point neighbourhood, consisting of structural renewal, re-organization, opening up of the existing layout, and the addition of a kitchen and master bedroom suite.
21 Mar 2020
Sorauren 118, Roncesvalles, Ontario, Canada
Architecture: Ancerl Studio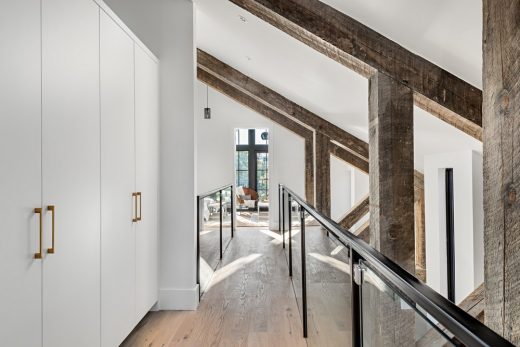 photography : Maxime Bocken, Gillian Jackson and Ancerl Studio
Sorauren 118 in Roncesvalles
Located in the heart of flourishing Roncesvalles in Toronto's beloved West End, this property is one half of a residential development pair for Seventy Seven Park. The new residential property replaces a pair of dilapidated semi-detached houses.
17 Mar 2020
Rosedale House
Architecture: Odami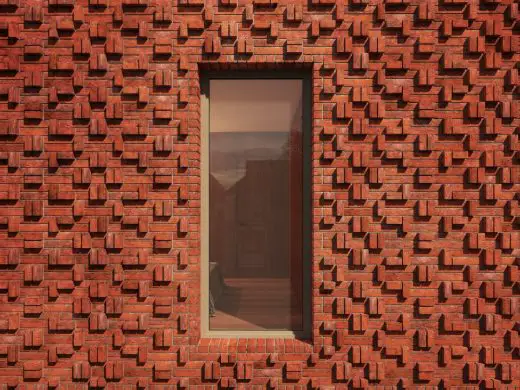 photography : Odami
Rosedale House in Toronto
A speculative semi-detached duplex in Toronto, with three above-ground storeys dedicated to the primary owners, and a generous basement apartment below.
12 Mar 2020
Hibou House
Architecture: Barbora Vokac Taylor Architect Inc.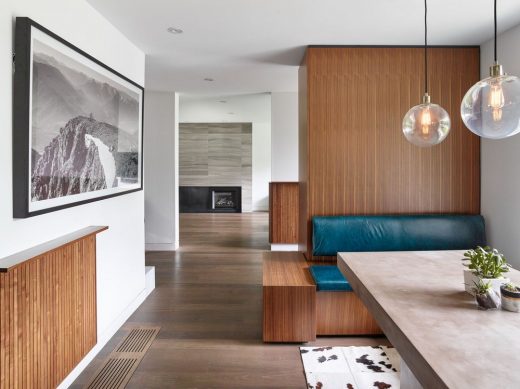 photograph : Scott Norsworthy
Hibou House
This new Ontario home is designed for a young family that values connection – both with one another and with their friends and neighbours.
10 Mar 2020
Valley Edge House
Architecture: Drew Mandel Architects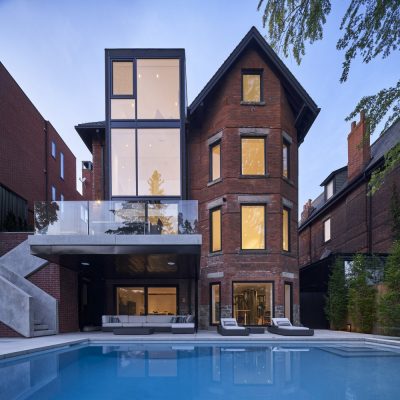 photograph : Doublespace Photography
Valley Edge HouseThis property is an old red brick house sits perched atop a steep natural valley. The Ravine and Natural Feature Protection by-law governs the Lake Iroquois shoreline feature where the property sits.
23 Feb 2020
A House Undivided
Architecture: Ja Architecture Studio


photograph : Ja Architecture Studio
A House Undivided
A simple infill dwelling between an expressway and a lake, this residence tries to find a direct reciprocity between the conceptual ideals of modest expression with a straight forward system of construction.
18 Feb 2020
Forest Hill Garden & Pavilion
Architecture: Amantea Architects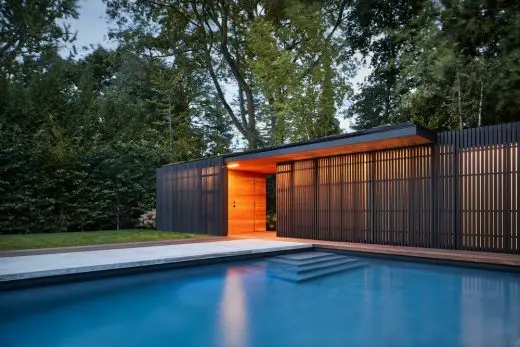 photo : Doublespace Photography
Forest Hill Garden & Pavilion in Toronto
Transformed single-family home in the city's Forest Hill neighbourhood, clarifying its program while maintaining its lush, layered character. The residential property comprises a fully redesigned backyard including dining terrace, patio, sports lawn, swimming pool and pavilion, as well as a new front garden and entryway.
13 Feb 2020
Cedarvale Ravine House
Architect: Drew Mandel Architects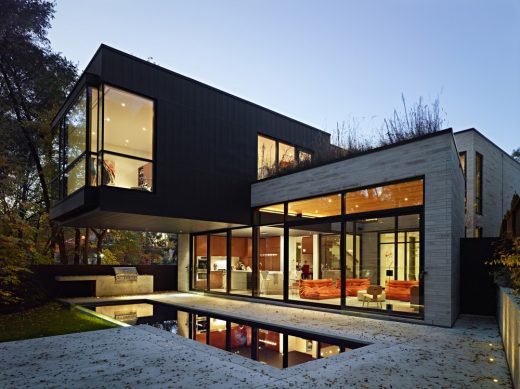 photography : Tom Arban and Shai Gily
Cedarvale Ravine House Toronto Mid-town
The ravine system, the most distinctive feature of Toronto's geography, comprises of extraordinary arteries that flow through the city giving unique access to the wilderness. This property is sited on a typical mid-town residential neighborhood street, but to the rear opens to the protected woodlands of the Cedarvale Ravine.
10 Feb 2020
Twosome House, Etobicoke, Toronto, Ontario, Canada
Architect: Atelier RZLBD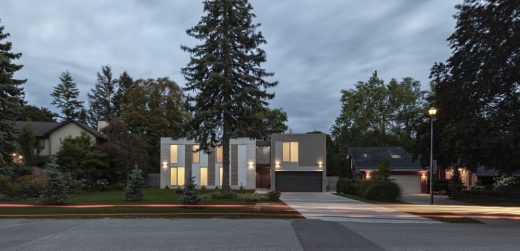 photo : Borzu Talaie
Twosome House in the Etobicoke Suburb
This residential property is designed for a family of five. Following in the tradition of Louis I. Kahn, floor plans are defined by precise regulating lines. Two axes divide the property into distinct zones, with rooms plotted according to their program.
More contemporary Toronto houses designs online soon
Ontario Homes in 2019
Toronto Houses from 2019
21 Oct 2019
Heath House
Architects: Sixteen Degree Studio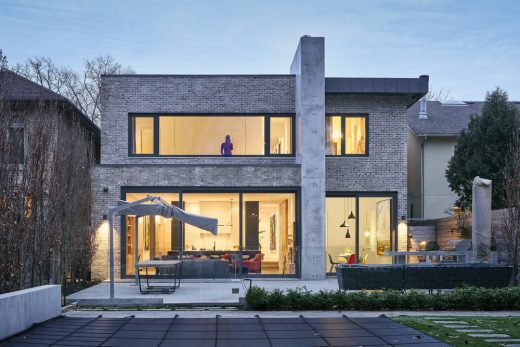 photo : Younes Bounhar – Doublespace Photography
Heath House in Toronto
This home is situated on a uniquely long lot for the city of Toronto. The new property is designed for generous indoor and outdoor living for a busy family of five.
10 Oct 2019
Bellwoods Lodge, Downtown Toronto
Architects: GREAT LAKE STUDIO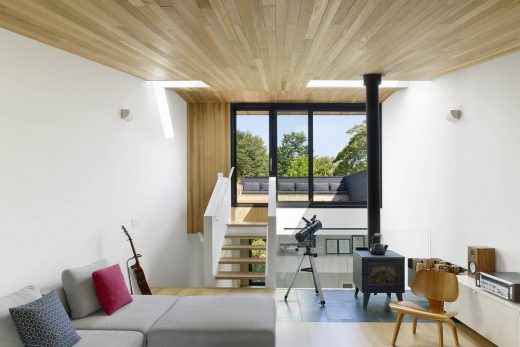 photograph : Tom Arban
Bellwoods Lodge in Downtown Toronto
The owners of this new three storey residence desired a peaceful urban retreat, purposefully tailored to nurture and enhance a close communal family life and their enjoyment of the outdoors.
8 Aug 2019
Triple Duplex
Design: Batay-Csorba Architects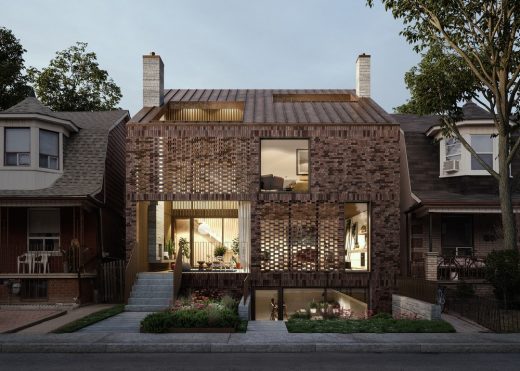 image : Norm Li Architectural Rendering
Triple Duplex Housing
This property is a low-rise housing model developed as part of a series curated by Globe and Mail architecture critic Alex Boziilovic. Four international firms were invited to propose architectural interventions to address the issue of housing in the city of Toronto.
6 Apr 2019
Abacus Lofts, 1239 Dundas Street West, Little Portugal
Design: Quadrangle Architects Limited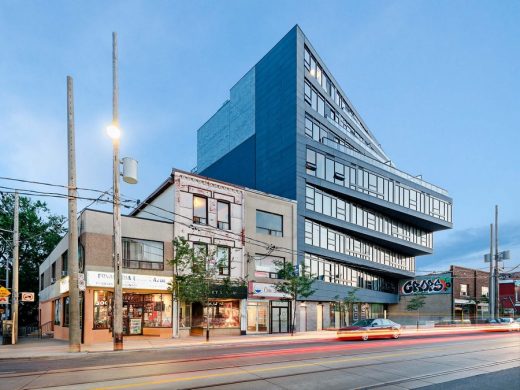 image : Michael Muraz
Abacus Lofts
This property sensitively responds to its diverse context, setting a strong precedent for midrise, mixed-use intensification in the City of Toronto. The home is located just east of bustling Ossington Avenue on Dundas Street West.
5 Mar 2019
West Don Lands Housing, Toronto Downtown East
Architects: COBE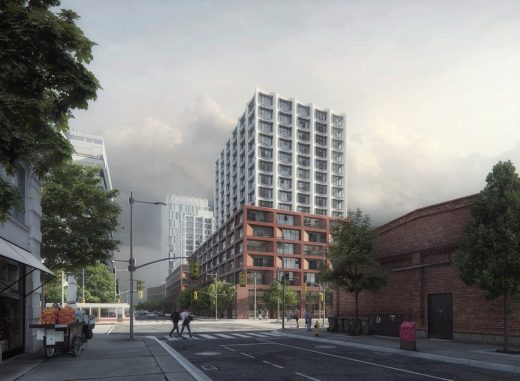 image courtesy of architects studio
West Don Lands Housing
Danish architectural studio COBE designs historic yet modern rental building that will provoke a lasting impression in downtown Toronto.
Contemporary Toronto Houses
Toronto Residences – latest additions to this page, arranged chronologically:
4 Feb 2019
Echo House, Bridle Path neighbourhood
Design: Paul Raff Studio Architects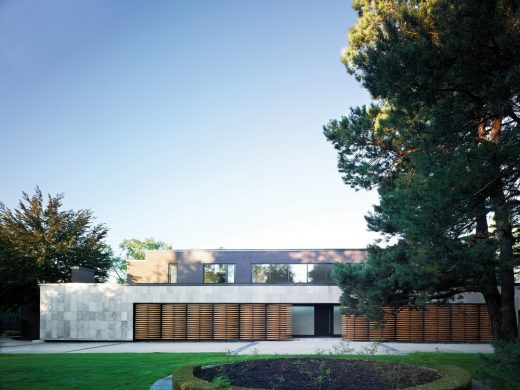 photograph © Ben Rahn
House in Bridle Path
Set on an expansive two acre plot, this new property is a renovation and addition to an existing residence, designed to suit the lifestyle of a cosmopolitan family and reflecting their Asian Canadian background.
Toronto Houses 2018
New Toronto Houses from 2018
11 Dec 2018
Madrigal House, Annex, Downtown Toronto, Ontario, Canada
Design: Paul Raff Studio Architects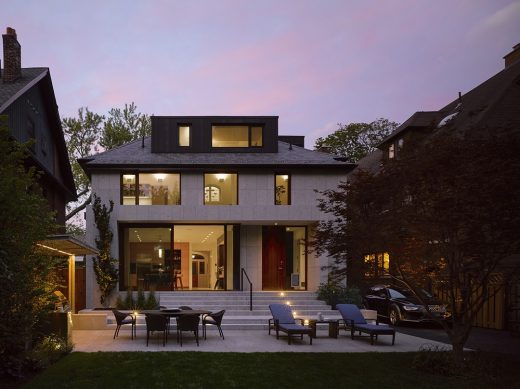 photograph : Ben Rahn / A-Frame Inc.
New House in Annex, Downtown Toronto
A carefully restored and improved façade respects the characteristically high Victorian and Edwardian neighbourhood: a sensitive property renovation and addition.
3 Sep 2018
Stouffville Residence
Design: Trevor McIvor Architect Inc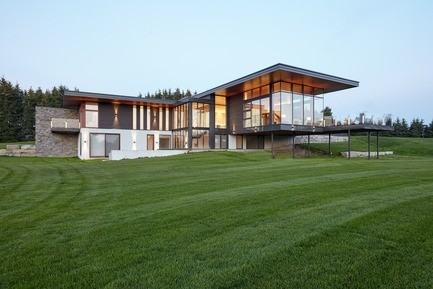 photograph : Maciek Linowski
Stouffville Residence
The orientation of the project intends to minimize the building's impact on the area while maximizing site lines and access to natural daylight. The roof seemingly floats above the stone entry wall suggesting a more gestural and dynamic roof on the dwelling's other face.
23 Aug 2018
Bianca Condos, 420 Dupont St
Design: Teeple Architects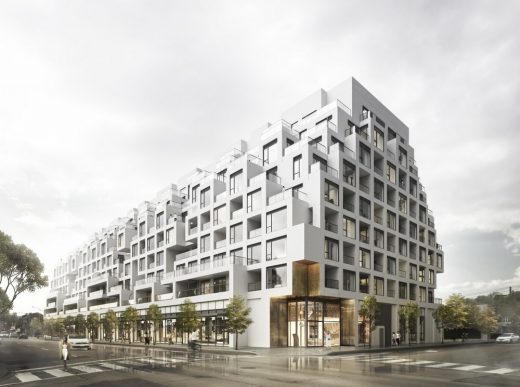 image : Pureblink
Bianca Condos Toronto
This new nine-storey boutique mid-rise condominium features a contemporary, all-white façade and terraces that provide sweeping views of the neighbourhood. An artificial hillside is created by sloping the south side of the building facing Dupont St.
2 Aug 2018
Magnolia House, Rosedale
Design: William Dewson Architects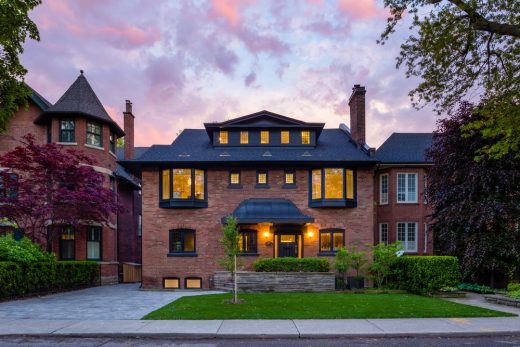 photograph : Arnaud Marthouret and rvltr
House in Rosedale
A century old home by early twentieth century architect Hamilton Townsend in the characteristic Rosedale neighbourhood.
24 Jul 2018
Bedford Park-Nortown House
Design: Mehdi Marzyari Architects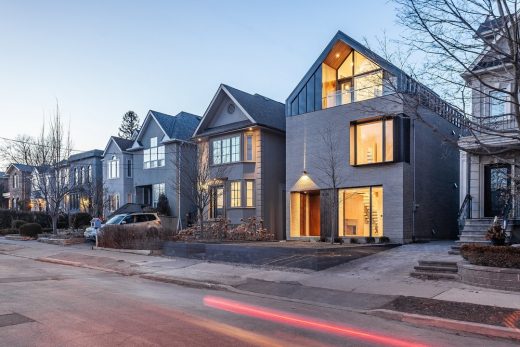 photography : Sam Javanrouh, Mehdi Marzyari
Bedford Park-Nortown House
An infill single family dwelling, the project is a new addition to the Bedford Park-Nortown neighbourhood in uptown Toronto.
22 Jun 2018
50 Scollard Apartments, Downtown
Architects: Foster + Partners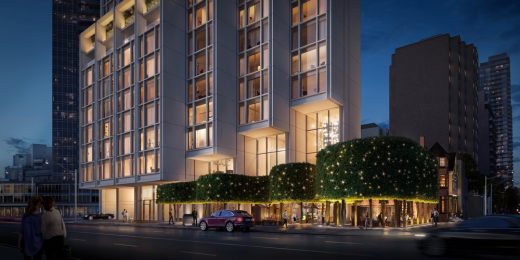 image from architects
50 Scollard Apartments in Downtown
Foster + Partners newest residential project in Canada: a unique amalgam of community-based amenities, heritage restoration, high-end luxury residences, and public green space.
9 Feb 2018
Sky House, Stoney Lake, Ontario
Design: Julia Jamrozik and Coryn Kempster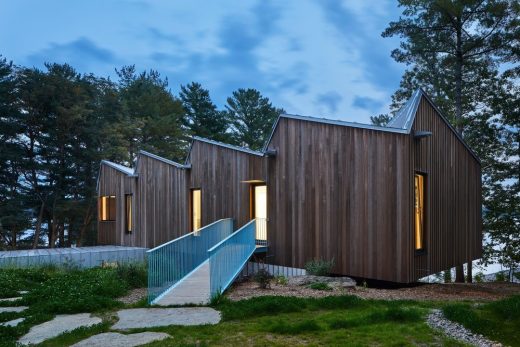 photograph : Doublespace Photography
New House on Stoney Lake
Negotiating the steep topography of a lake-side site, this holiday house consists of two volumes stacked on one another. The lower volume nestles into the landscape so that it is barely visible as one first approaches the house.
New Toronto Houses in 2017
11 Dec 2017
Summerhill House, Midtown
Architects: AKB, Atelier Kastelic Buffey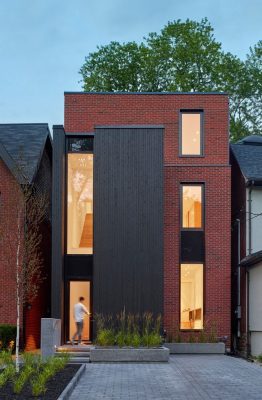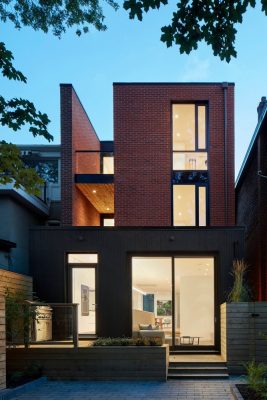 photograph : Shai Gil
New House in midtown Toronto
In the leafy residential enclave of Summerhill in midtown Toronto, AKB have designed an unabashedly contemporary and exceedingly functional home for a professional couple with a young child. The new 3,900-square-foot home utilizes the foundation and side walls of a previous house on site, and occupies the footprint of the original building with only a modest expansion at the rear. The three-storey datum of the neighbouring homes is maintained.
23 Nov 2017
Flipped House
Design: Atelier RZLBD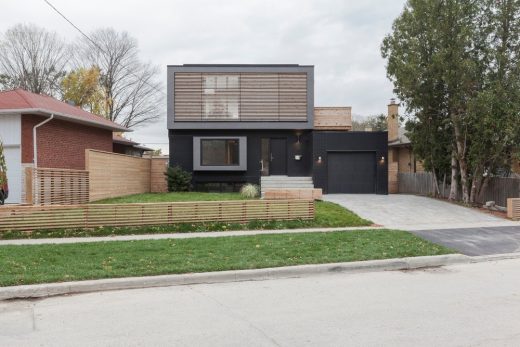 photo : Borxu
The product of a gut renovation and second-storey addition to an existing brick bungalow on the south-west edge of the Knob-Hill Park in a residential neighbourhood in Eglinton East on the border between Toronto and Scarborough, Flipped House is a two-storey property designed for a developer looking to offer real estate buyers a modern, turnkey home in a neighbourhood dominated by more traditional architecture.
20 Nov 2017
Millgrove House, Hamilton, Ontario, Canada
Architects: Toms + McNally



image from architects
Millgrove House in Hamilton
For Toms + McNally Design, Architecture is a response to context. Millgrove House, located in rural Hamilton, sits on a property that contained an abandoned apple orchard, and a hay-growing farm for local use.
1 Nov 2017
Waves at Bayside Apartments
Architects: 3XN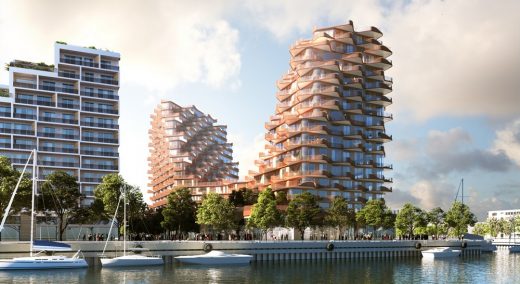 image from architecture studio
Waves at Bayside Apartments
3XN wins competition to design waterfront condo that honours the waves. Tridel and Hines have commissioned a building on the formerly industrial East Bayfront area. The residential project is due to start construction by the end of 2018.
27 Aug 2017
CORE Modern Homes
Design: Batay-Csorba Architects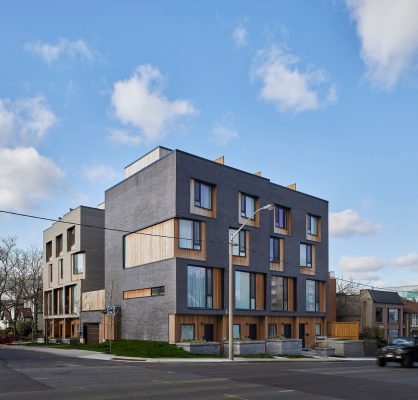 photograph : Doublespace Photography
CORE Modern Homes in Toronto
This is a 16,000 sqft seven-unit townhouse development. It explores the potential of spatially oriented apertures that work to induce movement and visual interest within an efficient volume which maximizes programmatic potential. The development occupies a prime site along Eglinton Avenue, within Toronto's Leaside neighbourhood.
19 Apr 2017
Double Duplex
Design: Batay-Csorba Architects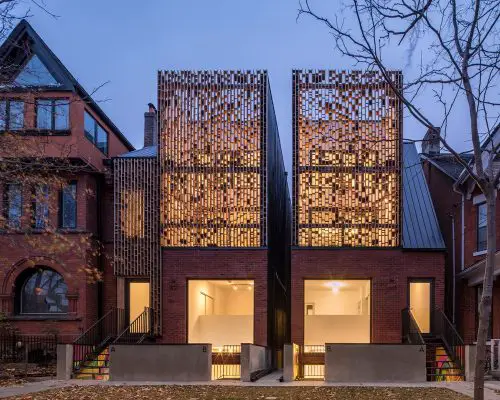 photograph : Doublespace Photography
Double Duplex in Toronto
The Double Duplex infill project is located on Melbourne Avenue in Parkdale, one of Toronto's most notable historic neighbourhoods for their century old Victorian and Bay and Gable mansions.
7 Feb 2017
House 46H
Architects: baukultur/ca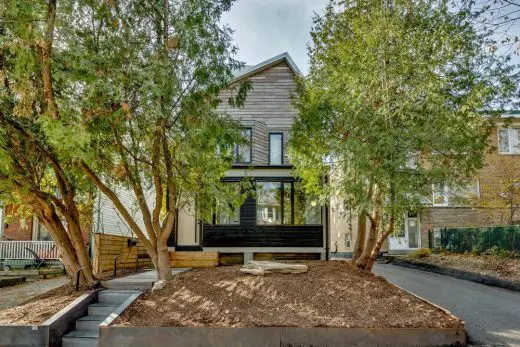 image : SilverHouse
House 46H
Transformation of a 110-year-old house by Toronto-based development company baukultur/ca into a contemporary, highly sustainable home. Even though the property is very modern, its exterior complements the traditional Beaches neighbourhood.
New Toronto Homes in 2015 – 2016
28 Dec 2016
Hazelton Residence 1
Design: Batay-Csorba Architects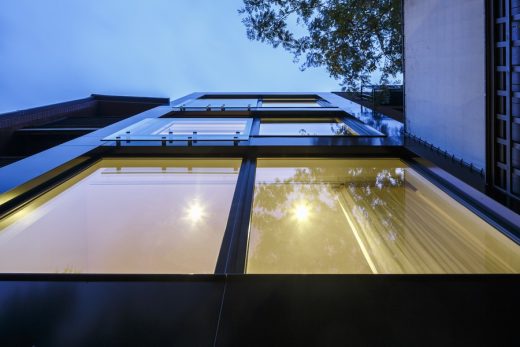 photography : Doublespace Photography, Batay-Csorba Architects
Hazelton Residence 1
The property is an addition and full interior renovation to an existing four-storey duplex originally designed by Barton Myers, in 1983.
5 Jan 2016
Heathdale Residence in Toronto
Architects: TACT Design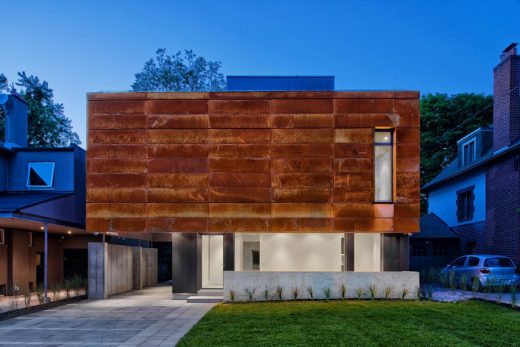 photograph : David Giral
Heathdale Residence in Toronto
66 Heathdale is a 3,200 sqft custom single-family residence located on the ravine of Cedarvale Park in Mid-town Toronto.
1 Dec 2015
Annex House in Toronto
Design: Dubbeldam Architecture + Design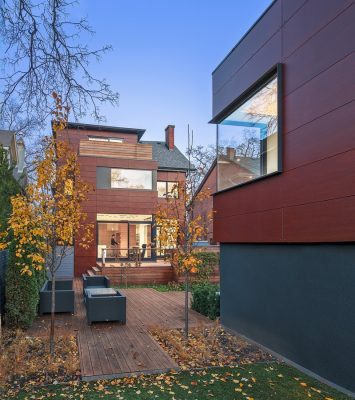 photograph : Tom Arban and Bob Gundu
Annex House in Toronto
The client wished to convert the fragmented property back into a single family residence, suitable for their expanding family and optimized for entertaining, while taking advantage of the two buildings on the site.
Architecture Toronto – chronological list
Recent Ontario Properties
Toronto Homes up to 2013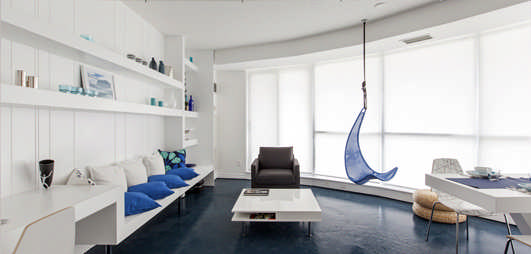 photograph : borXu Design
More Toronto Real Estate online soon
Location: Toronto, Ontario, Canada
Architectural Designs in Canada
Canadian Architecture by City
Toronto Architecture – key buildings + designs
Montreal Architecture – key buildings + designs
Calgary Buildings – key buildings + designs
Canadian Architecture : news + key projects
Vancouver Architecture Walking Tours, BC
Comments / photos for the Toronto Houses – New Residence in Ontario page welcome
Website: Visit Toronto