Swiss house photos, Switzerland residential architecture, Property architects, Alpine homes
Swiss Houses – New Properties
Key Residential Buildings in Switzerland, Central European Property Design
post updated post updated 22 August 2023
Swiss Architecture Designs – chronological list
e-architect select what we feel are the key examples of Swiss Houses. We aim to include houses in Switzerland that are either of top quality or interesting, or ideally both. We cover completed houses and new property designs across Switzerland.
Swiss House Designs
Swiss Residential Architecture – latest properties added to this page, arranged chronologically:
24 Feb 2023
Lausen House, Lausen, Basel-Landschaft
Architects: KOHLERSTRAUMANN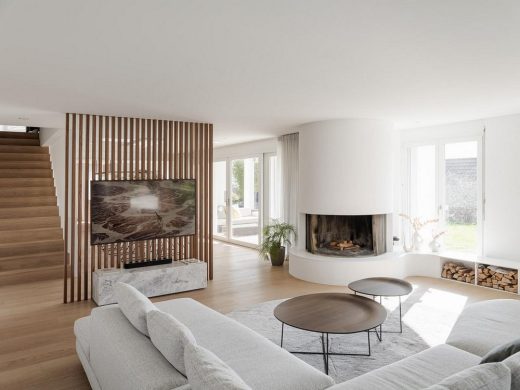 photography : Maris Mezulis
Lausen House Renovation, Basel-Landschaft
Renovating a family home in Switzerland can be a significant undertaking, and this bold property renovation project was no exception. The design team completely transformed this Swiss home by changing the floors, renovating all bathrooms and the kitchen, adjusting the room layout, and even adding a wine cellar.
24 Jan 2021
Pyramid House, Tegna
Architecture: DF_DC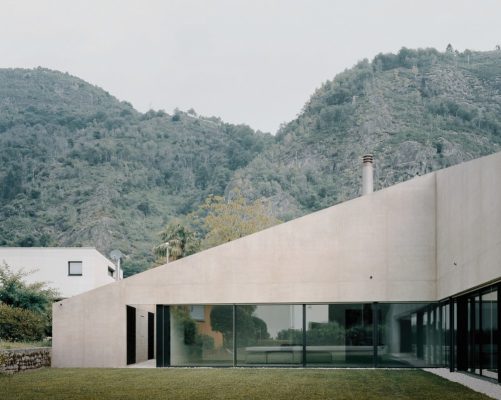 photography : Simone Bossi
Pyramid House, Tegna
In its suburban context, this Swiss property appears as an extraneous object of a scale difficult to gauge and of intriguing character. Standing at the end of a cul-de-sac between detached houses and vineyards, the pitched volume in concrete rises devoid of any symbol of domesticity, carved by the cut of the garage and a folded roof, reading as a monumental, introverted form. A mineral garden path leads into a door, mimetised within the concrete frontage.
28 May 2020
Concrete Villa, Comano, Lugano, Ticino
Architects: DF_DC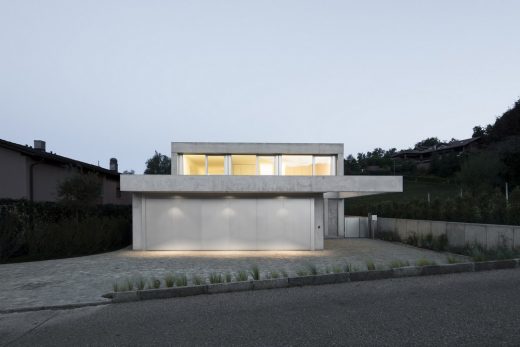 photography : Giorgio Marafioti and Simone Bossi
Concrete Villa in Comano
This new house in the Comano hills, a small village north of Lugano in Switzerland. The plot was previously occupied by vineyards and characterised by an elongated trapezoid form, which determines the volume.
26 Feb 2020
Villa Courbe
Design: SAOTA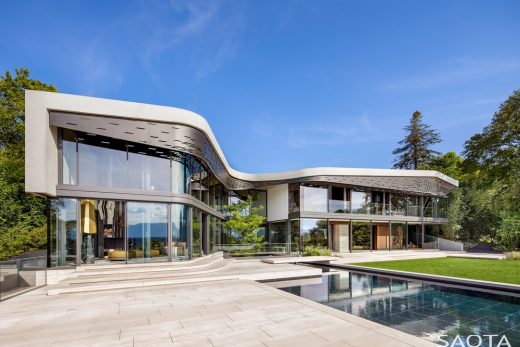 photograph : Adam Letch
Villa Courbe on Lac Léman
Just as its alpine setting has been formed by many forces over time, this contemporary luxury Swiss residence shaped intuitively and iteratively by many hands – from sun and topography to brief and local zoning regulations.
More contemporary Swiss Houses on e-architect soon
Swiss Houses 2019
19 Aug 2019
House in Lumino, Ticino
Design: Davide Macullo Architects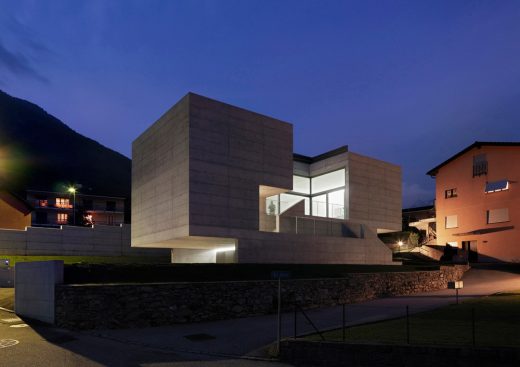 photo : Enrico Cano
New House in Ticino
Located in the Swiss Alpine village of Lumino, just north of Bellinzona, this house stands as a monolithic element, quietly complementing and echoing its context. The surrounding area is characterised by traditional stone-built houses, many of which date back centuries and are marked by their use of this single construction material.
2 Jul 2018
Swiss House XXXII, Rossa
Design: Davide Macullo Architects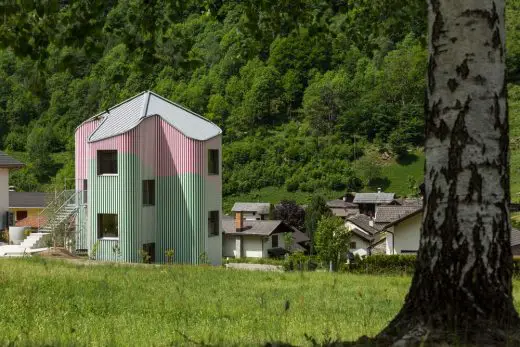 photograph : Alexandre Zveiger, Lugano, TI
Swiss House Rossa
This building represents the constant commitment to build with respect for the places we inhabit and to make every effort in helping our understanding of civilisation.
26 Jul 2017
Swiss House XXII, Preonz
Design: Davide Macullo Architects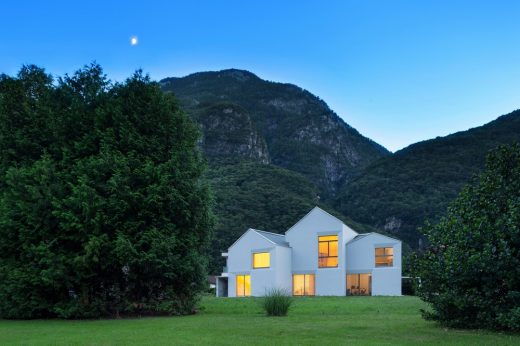 photograph : Alexandre Zveiger, Lugano, CH
Swiss House XXII in Preonz
The project site lies in the area of urban expansion at the limit of the countryside, north of the historical centre of the village of Preonzo in the Italian speaking part of Switzerland.
24 Jul 2017
Swiss House XXXIV, Galbisio
Design: Davide Macullo Architects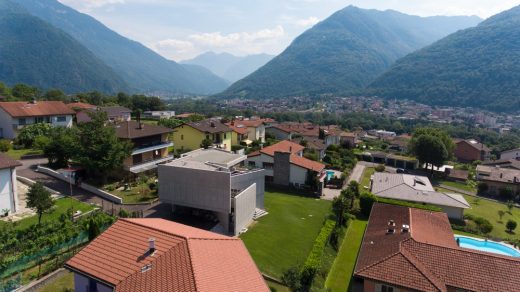 photograph : Alexandre Zveiger, Lugano, CH
New Swiss house in Galbisio
The design is an articulated construction meant for the enjoyment of the spaces for many years to come.
Swiss House Designs 2012-2016
Swiss Properties posted between 2012 and 2016
22 Oct 2016
Villa G in Sorengo, Lake Lugano
Design: SCAPE, architects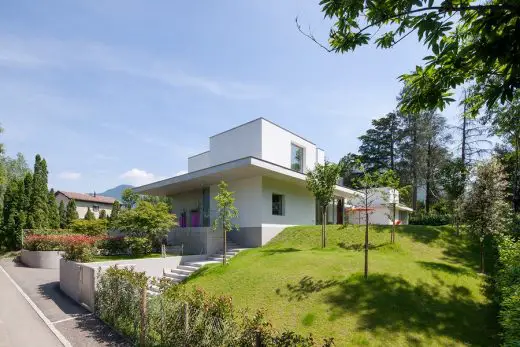 photograph : Francesco Mattuzzi
Villa G in Sorengo: Lugano House
Located in the residential area of Lugano, the house is surrounded by a garden on the edge of the alpine forest.
6 Oct 2016
Villas Jonc, Le Grand-Saconnex, Geneva
Design: Christian von Düring architecte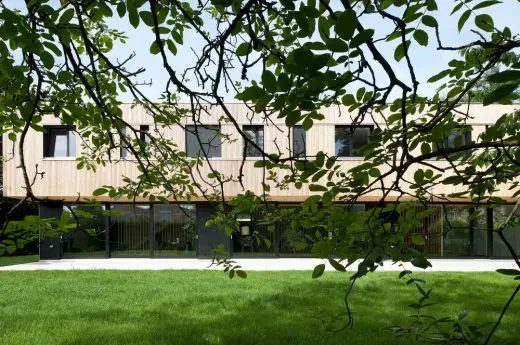 photograph : Thomas Jantscher – Architectural Photography
Villas Jonc in Le Grand-Saconnex
This project of 3 attached houses follows the principals of sustainable development.
5 Oct 2016
Bridge House, Tannay, Vaud
Design: Christian von Düring architecte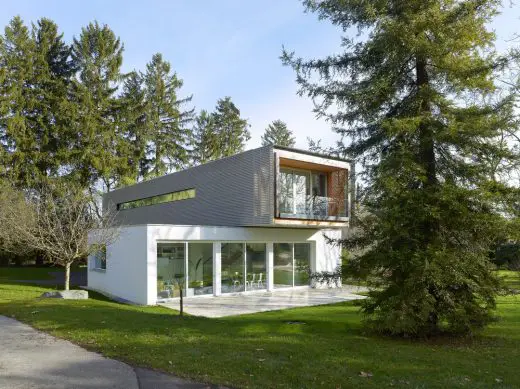 photograph : Thomas Jantscher – Architectural Photography
Bridge House in Tannay
The challenge of this residential project was to integrate a large program on a relatively narrow plot while maintaining usable outdoor surfaces.
1 Jun 2016
Flexhouse, Lake Zurich
Architect: Evolution Design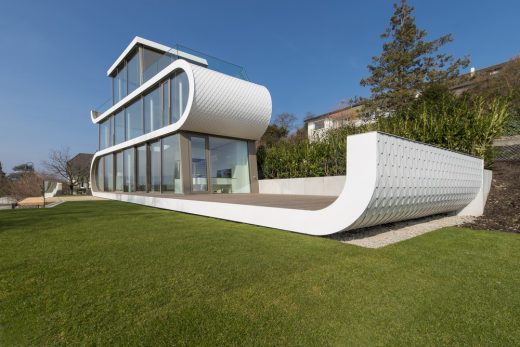 photograph © Peter Wuermli
Flexhouse on Lake Zurich
With its wide walls of glass and a ribbon-like white façade that winds its way around the building, this home on the banks of Lake Zurich feels so light and mobile.
11 Sep 2013
House D, Nuglar, Solothurn, northern Switzerland
Design: HHF


photo : Tom Bisig
House in Nuglar,
House D is oriented parallel to the landscape, thereby making the view a matter of prime importance. Across more than 180 degrees, you gaze over unbuilt, verdant land with mature fruit trees. HHF radically exploits this situation, thematizes it, and accentuates it even more with a few simple moves.
23 Jan 2013
Schaerer Residential Building, Erlenbach, northeast Switzerland
Design: Christ & Gantenbein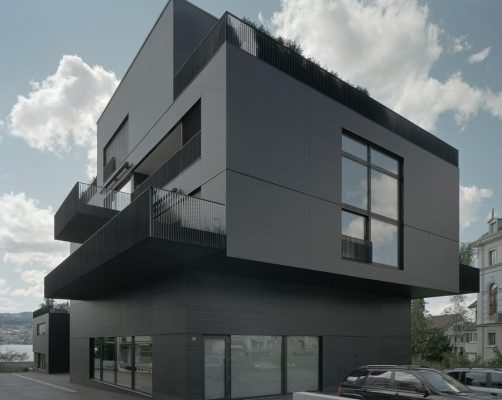 photo : Walter Mair
Schaerer Residential Building
In the centre of Erlenbach, a town on the edge of Lake Zurich, a new housing building has been constructed on the premises of the Schärer Erlenbach company. The former factory, where machines for the textile industry were produced and which used to be so important for the region, has also received a new front building.
10 Feb 2012
House at Zimmerberg, Lake Zurich
Design: Rossetti + Wyss Architekten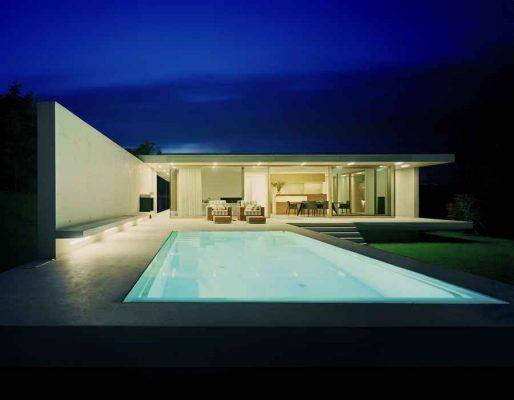 photo © Juerg Zimmermann, Zurich
House at Zimmerberg
The one-story house, which has impressive diagonal views of Lake Zurich and the Alps, is situated on the upper edge of the village, on a longish, slightly sloping site. The construction is defined by a guide wall and angular concrete wall establishing the diagonal panorama towards the lake.
10 Feb 2012
Trublerhütte Schlieren, Zurich
Design: Rossetti + Wyss Architekten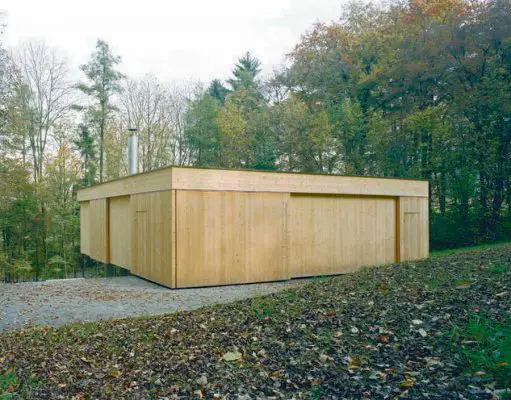 photo © Juerg Zimmermann, Zurich
Trublerhütte Schlieren
10 Feb 2012
House at Küsnacht, Lake Zurich
Design: Rossetti + Wyss Architekten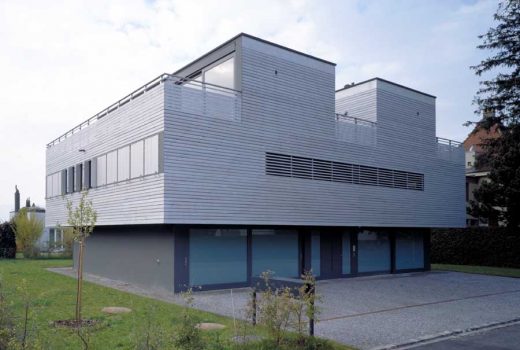 photo © Juerg Zimmermann, Zurich
House at Küsnacht
Contemporary Swiss Houses
Swiss Residential Buildings archive, alphabetical:
Canobbio House, Lugano, Ticino
Design: Davide Macullo Architects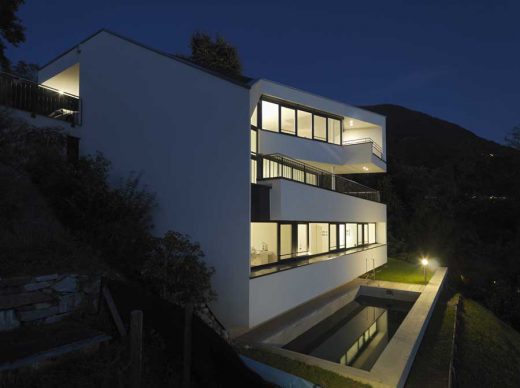 photo : Enrico Cano
Canobbio House
Carabbia House, Ticino
Design: Davide Macullo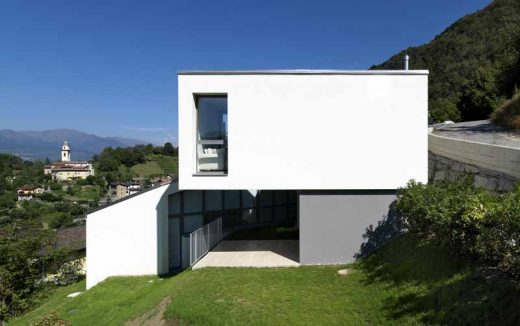 photo : Pino Musi
Swiss house
Casa Larga, Incella, Lago Maggiore
Architect: Daniele Claudio Taddei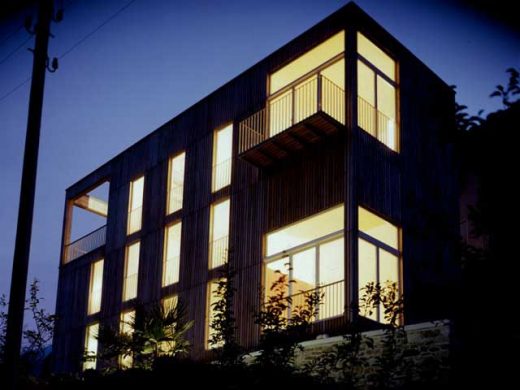 photo : Bruno Helbling, www.helblingfotografie.ch
Casa Larga
Comano House, Ticino
Design: Davide Macullo Architects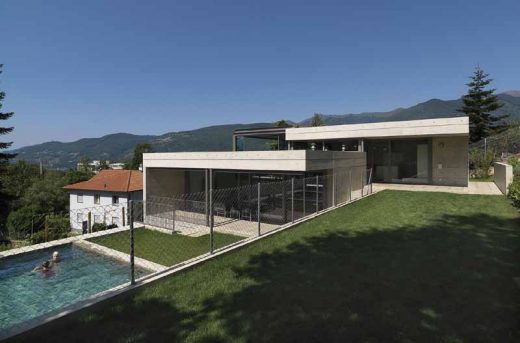 photo : Enrico Cano
Swiss home
Erlenbach House
Burkhalter Sumi Architekten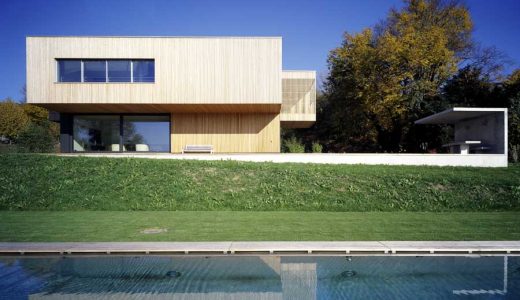 photograph : Heinrich Helfenstein
Erlenbach House
Flumserberg Holiday Cottage, Swiss Alps
EM2N Architects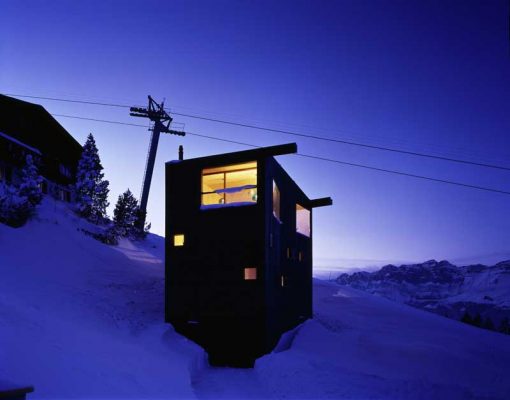 picture © Hannes Henz
Swiss holiday house
Gross House, Greifensee, north of Zurich
EM2N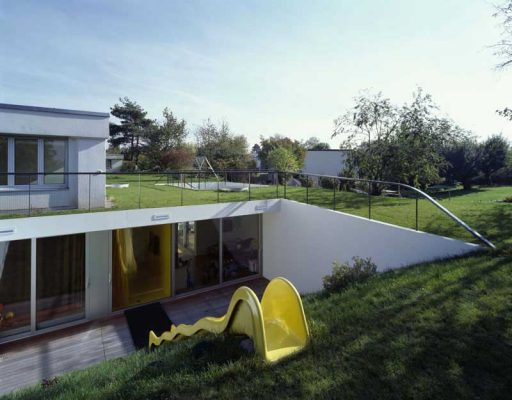 photo © Hannes Henz
Gross House Greifensee
House in Arosio, near Lugano
LANDSarchitetture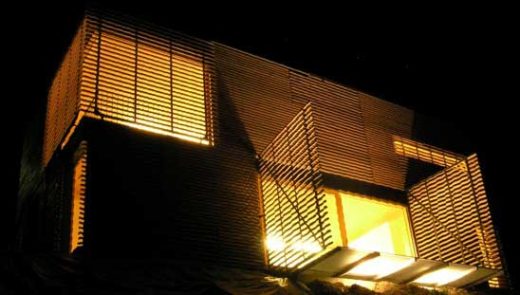 image from architects
Arosio House
House in Ticino
Davide Macullo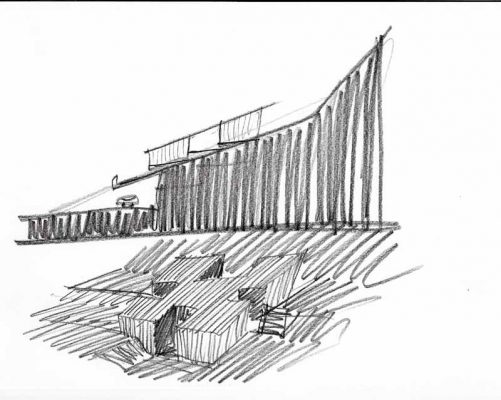 photo : Enrico Cano
Ticino house
Rossinelli House, Lugano
Architect: Nicola Probst, Lugano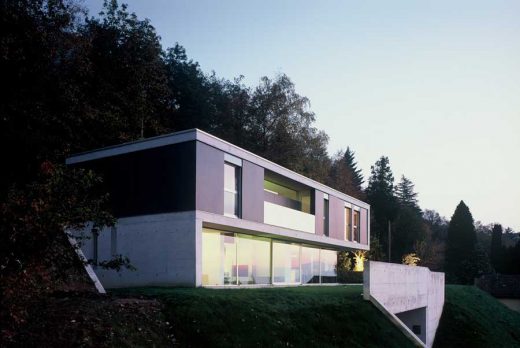 photo : Lorenzo Mussi, Milan
Rossinelli House
Villa Chabrey, Lake Neuchâtel
GeninascaDelefortrie SA Architectes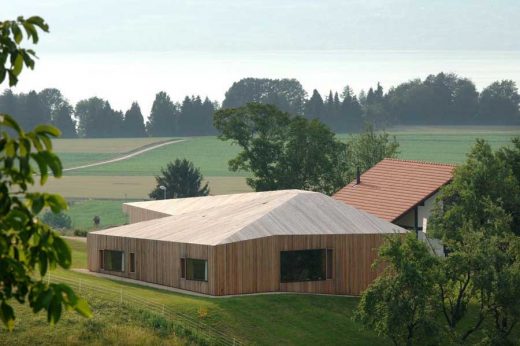 photo : Thomas Jantscher
Villa Chabrey
More contemporary Swiss houses online soon
Swiss Housing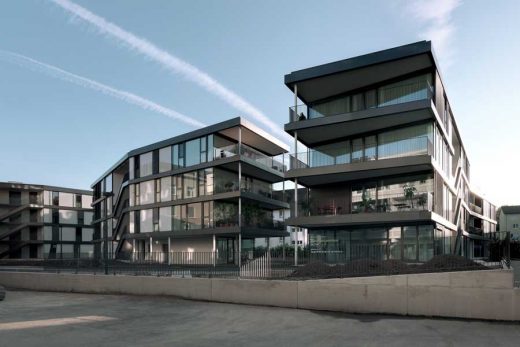 image Jan Bitter © Holzer Kobler Architekturen
Location: Switzerland, central Europe
Architecture in Switzerland
Swiss Architecture Designs – chronological list
Modern Swiss Houses
Maison Clarté, Geneva
1932
Le Corbusier
Koerfer House
–
Marcel Breuer Architect
Swiss Architecture : buildings in main cities
Swiss Buildings : buildings outwith main cities
Swiss Building Designs – no images
Swiss Architect : Peter Zumthor
Architecture in Countries adjacent to Switzerland
Comments / photos for the Swiss Residential Architecture page welcome