Küsnacht Property, New Swiss House, Lake Zurich Home, Building Photo, Design
House at Küsnacht, Switzerland : Lake Zürich Residence
Küsnacht Residence, Lake Zurich – design by Rossetti + Wyss Architekten
10 Feb 2012
House in Küsnacht
Location: just south of Zürich, east side of Lake Zurich
Architect: Rossetti + Wyss Architekten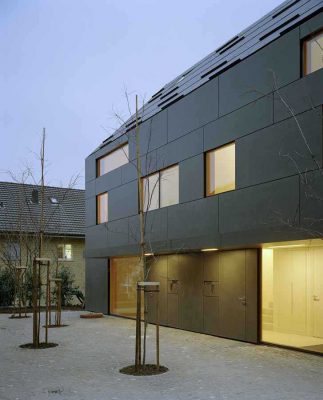 English text (scroll down for German):
Duplex house in Küsnacht
The site of the new building is located offset of the street in the backyard, on a lot of minimum surface, in the old center of the town. The building area of 430sqm generates living space for two units. Due to the small available space, the levels are arranged vertically. The new building reacts with the exterior to its surroundings: the structure, the gable, the position and the outer surface are in harmony with the environment.
The resulting spaces inbetween the buildings, give rise to unique courtyards on all sides. Most of the exterior area is public and accessible, and promotes neighborly friendship.
The 'vertical villa' is entirely connected by its structure and visual sightlines. A structural void on the North side, three stories tall, enables space for light and communication transmittance.
The house responds with its interior to the requirements of its inhabitants. The sheltering outer skin provides interesting perspectives in regard to space and daylight.
Portions of the closer surroundings get into the visual focal plane, due to the specific arrangement of the windows. The multiple levels and the different layers of space, create attractive connections and various ambient light conditions in the living area.
German text:
Doppelhaus in Küsnacht
Der Neubau entsteht auf kleinster Fläche auf einer Gartenhofparzelle in der Kernzone im städtischen Kontext. Auf einer Fläche von nur 430m2 wird ebensoviel neue Wohnfläche in zwei Einheiten geschaffen. Aufgrund der engen Platzverhältnisse werden die Geschosse übereinander gestapelt.
Nach Außen reagiert der Neubau auf die verdichtete Umgebung der Kernzone: Baukörper, Giebel, Position und die Außenflächen werden im Einklang mit den umliegenden Gebäuden gestaltet.
Der homogene, präzise Baukörper integriert sich zurückhaltend in die bestehende Bausubstanz. Durch die räumliche Nähe zu den umliegenden Nachbarsgebäuden entstehen spannende Hofräume zu allen Seiten. Der Außenraum bleibt zum größten Teil zugänglich und vermittelt eine nachbarschaftliche Bereitschaft.
Die 'vertikale Villa' wird durch Sichtverbindungen und Wegverbindungen zu einem Ganzen verbunden. Der dreigeschossige Hohlraum auf der Nordseite ist ein Raum für Licht und Kommunikation.
Nach Innen reagiert das Gebäude auf die Bedürfnisse der Bewohner. Innerhalb der schützenden Hülle entstehen vielfältige Tageslicht und Raumsituationen und ermöglichen unterschiedliche Ein- und Ausblicke. Durch eine differenzierte Setzung der Fenster werden unterschiedliche Teile der nahen Umgebung in Szene gesetzt.
Mehrgeschossigkeiten und räumliche Verschränkungen schaffen attraktive Verbindungen und Lichtstimmungen innerhalb der Wohneinheit.
House in Küsnacht – Building Information
Completion: 2009
Building area: 430 sqm
Photographer: © Juerg Zimmermann, Zurich, Switzerland
Text © Rossetti + Wyss Architekten
House in Küsnacht images / information from Rossetti + Wyss Architekten
Location: Küsnacht, Switzerland
Another house in Switzerland by Rossetti + Wyss Architekten on e-architect:
House at Zimmerberg, Lake Zurich



photo © Juerg Zimmermann, Zurich
Zimmerberg House
Trublerhütte Schlieren, Zurich



photo © Juerg Zimmermann, Zurich
Schlieren House
Swiss residence located close to Küsnacht:
Erlenbach House
Burkhalter Sumi Architekten



photograph : Heinrich Helfenstein
Erlenbach House
Swiss Buildings – Residential Selection
Flumserberg – Holiday Cottage, Swiss Alps
EM2N Architects



picture © Hannes Henz
Swiss holiday house
House in Lumino, Swiss Alps, Ticino
Davide Macullo Architects



photo : Enrico Cano
Lumino House
More Swiss Houses on e-architect:
Rossinelli House



photo : Lorenzo Mussi, Milan
Rossinelli House
Carabbia House
Davide Macullo



photo : Pino Musi
Swiss house
Comments / photos for the House in Küsnacht – New Swiss Residence page welcome
Website: Architecture