Swiss House XXXIV, Galbisio Home, Building, Images, Swiss Architecture
Swiss House XXXIV in Galbisio
Contemporary Home in Switzerland – design by Davide Macullo Architects
24 Jul 2017
Swiss House XXXIV by Davide Macullo
Location: Galbisio, Switzerland
Design: Davide Macullo Architects
Swiss House XXXIV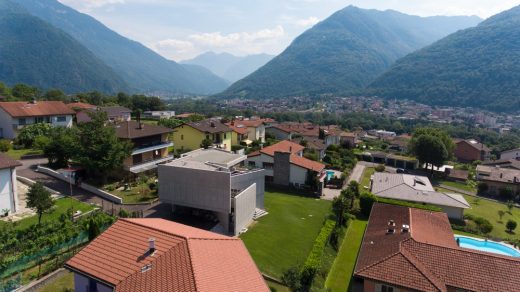 The design is an articulated construction meant for the enjoyment of the spaces for many years to come.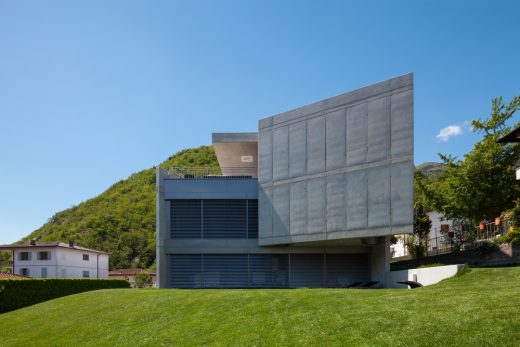 From afar the building is a marker in the landscape, it expresses a meaning already suggested by its context. From close up, it is a collection of many things and from within, a world, that changes with the passing of the hours of the day and the days of the year.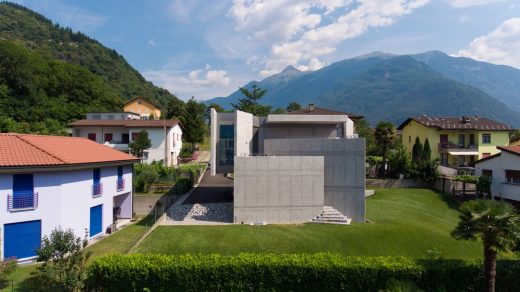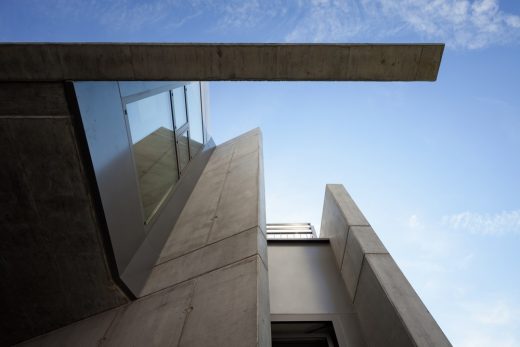 We have built a place for the present that projects back into memory and forward into the future: the memory of pristine landscapes where the buildings of local stone had to resist until eternity, protecting the inhabitants; when gestures were used sparingly in order to concentrate strength. Now, they respond to a different perception, perhaps more evolved, to adapt to the speed of life.

However, the ultimate goal of a space remains as giving comfort to its inhabitant. This for us represents the drive towards the future; working to improve the quality of life and creating a place of positive energy, where man is the protagonist in finding his way to become a better person.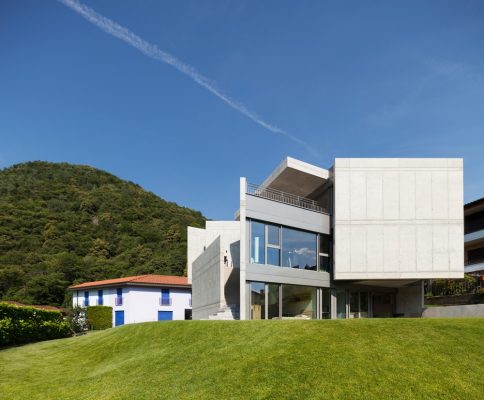 The cube, the primal element of this new organism in which to live, is the place of calm and the fulcrum of the hill. Its concrete blades are fragments, broken off from the medieval castle walls of Bellinzona. It is our ideal home, an enclosure that opens up to the context and breathes it in, making us part of these wonderful surroundings.
The space dilates across diverse horizons, in different directions, all intended by the design, and by the nearby details, like the tree or the vines of the neighbours' gardens.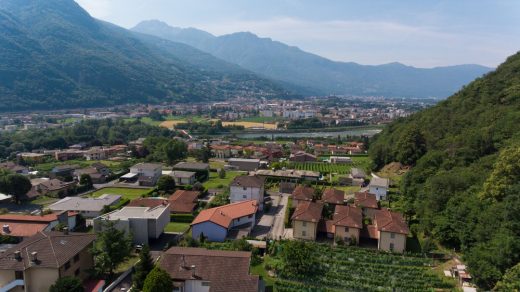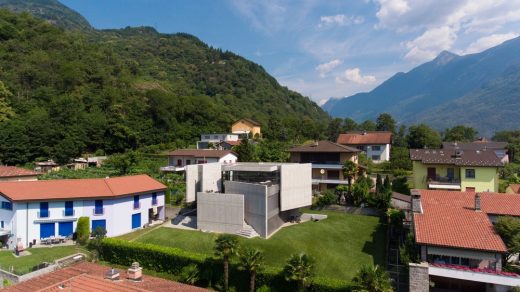 Architecture takes its roots from the place in which it is born and defines the time that runs in our senses. It changes and grows with us. It outlast us and we gift it to the future. Every house built with love will never stop surprising us, helping us and growing with us and those who will follow us.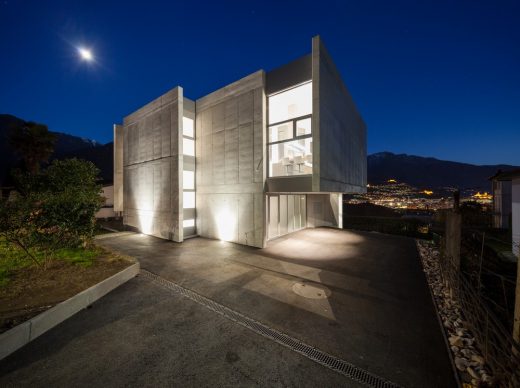 Swiss House XXXIV in Galbisio – Building Information
Location: Galbisio, Switzerland
Function: Private house
Project start date: June 2015
Construction start date: February 2016
Completion date: March 2017
Site area: 857 sqm
Building area: 135 sqm
Total floor area: 260 sqm
Basement floor area: 45 sqm
Above ground floor area: 215 sqm
Volume: 980 m3
Storeys: 1 level basement, 3 levels above ground
Materials: Main structure: reinforced concrete
Finish, exterior: Facade: reinforced concrete Finish, interior: Walls: Plaster Ceilings: Plaster Floors: Tiles Client: Renato Bison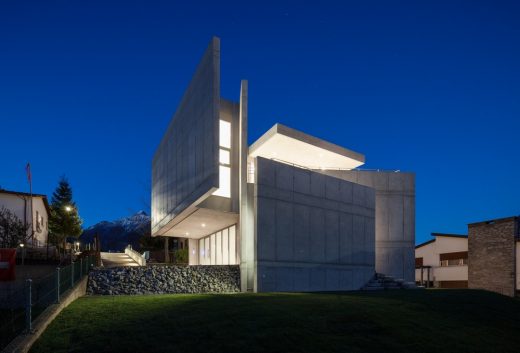 Architect: Principal:
Davide Macullo Architects – Lugano TI Davide Macullo
Project architect: Lorenza Tallarini
Design collaborators: Michele Alberio
Construction/Site Management: Edy Toscano SA, Mesocco, CH
Landscape architect: Davide Macullo Architects, Lugano , CH
Interior design: Davide Macullo Architects, Lugano , CH
Structural engineer: Edy Toscano SA, Rivera, CH
Building engineer, acoustics: EcoControl SA, Locarno, CH
Construction company: Censi & Ferrari SA, Grono, CH
Waterproofing: Donada SA, Lugano, CH
Window construction: Metalconstruction Sagl, Giubiasco, CH
Heating, plumbing: Di Santo, Gorduno, CH
Electrician Molteni SA, Castione, CH
Insulation, plasterer, painter: Matozzo SA, Osogna, CH
Metal construction: Curvotecnica SA, Castione, CH
Carpenter: Falegnameria Bosio Sagl, San Vittore, CH
Floor tiles construction: Bordogna S.r.l., Pellio Intelvi, I
Kitchen: 5 Stelle SA, Mezzovico, CH
Sanitaryware: Bordogna S.r.l., Pellio Intelvi, I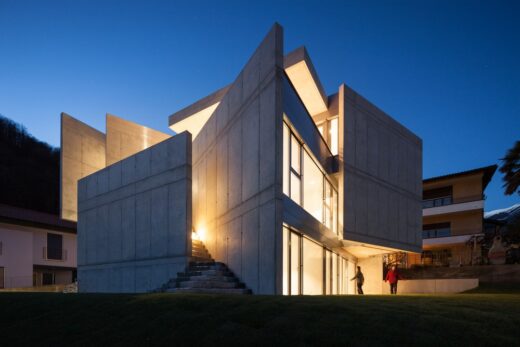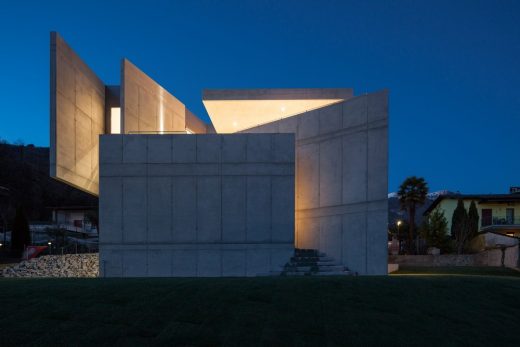 Photographer: Alexandre Zveiger, Lugano, CH
Swiss House XXXIV in Galbisio images / information received 240717
Location: Galbisio, Switzerland
Architecture in Switzerland
Swiss Architecture Designs – chronological list
House at Zimmerberg, Lake Zurich
Rossetti + Wyss Architekten
House at Zimmerberg
House at Küsnacht, Lake Zurich
Rossetti + Wyss Architekten
House at Küsnacht
Erlenbach House
Burkhalter Sumi Architekten
Erlenbach House
Swiss Buildings – Residential Selection
Flumserberg – Holiday Cottage, Swiss Alps
EM2N Architects
Swiss holiday house
House in Lumino, Swiss Alps, Ticino
Davide Macullo Architects
Lumino House
More Swiss Houses on e-architect:
Rossinelli House
Rossinelli House
Carabbia House
Davide Macullo
Swiss house
Website: Switzerland
Comments / photos for the Swiss House XXXIV in Galbisio page welcome
Website : Davide Macullo Architects