Spanish House, Residential Architecture Spain, Architects, Property Images, New Homes Designs
Spanish Houses : Architecture
Key Contemporary Residential Buildings in Spain: Luxury Homes Photos + Info
post updated 9 May 2023
Spanish Architecture Designs – chronological list
e-architect select what we feel are the key examples of new Spanish Houses. We aim to include contemporary houses in Spain that are either of top quality or interesting, or ideally both. We cover completed houses and new house designs across Spain.
Houses in Spain
Contemporary Spanish Property News – latest additions to this page, arranged chronologically:
8 May 2023
Alamo House, Las Herencias, province of Toledo, Castile-La Mancha
Architect: OOIIO Architecture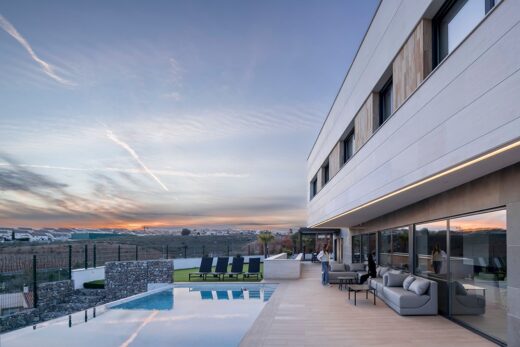 photo : Javier de Paz
Alamo House, Toledo
The shape and expressiveness of materials at the service of domestic residential architecture. Three stacked prisms, a house like a large container that treasures the day to day of a family that lives and works in it. A project tailored to its inhabitants, designed to enjoy wide views of the surroundings from its comfortable interior.
26 Apr 2023
B11 House, Son Vida, Palma
Design: Negre Studio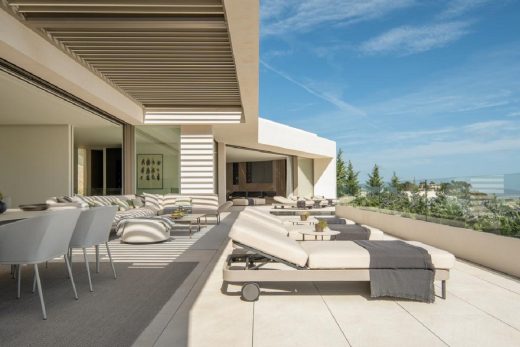 photo : Carlos Terra Photo
B11 House, Son Vida, Mallorca
26 Feb 2023
The Empty House, Valencia, eastern Spain
Design: Fran Silvestre Arquitectos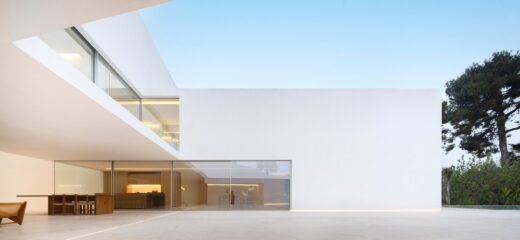 photo : Fernando Guerra
The Empty House
Located on the main street of a town near Valencia, the house is part of a fragment of 20th century history. The existing façade and building footprint are protected, but the volume exceeds the needs of the new Empty House project.
20 Jan 2023
The Parchis House, Valencia, eastern Spain
Design: Studio La Caseta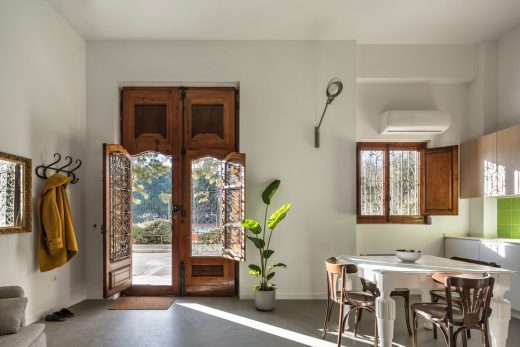 photo : German Cabo
The Parchis House, Valencia
More Spanish Houses News on e-architect soon
Spanish Houses in 2022, Autumn to Winter
19 Dec 2022
Villa 95, Sotogrande, Cádiz, southern Spain
Design: Fran Silvestre Arquitectos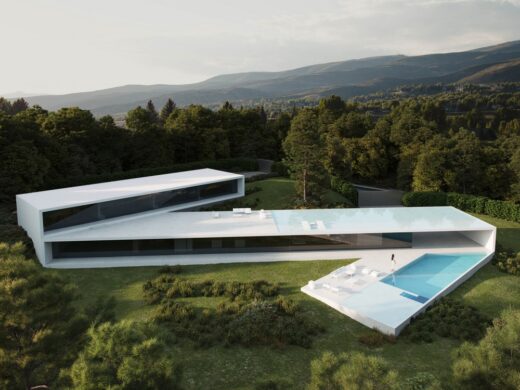 image courtesy of architects practice
Villa 95, Sotogrande, Cádiz property
30 Mar 2022
El Refugio, Cuatro Calzadas, Salamanca
Architect: Álvaro Sánchez de Miguel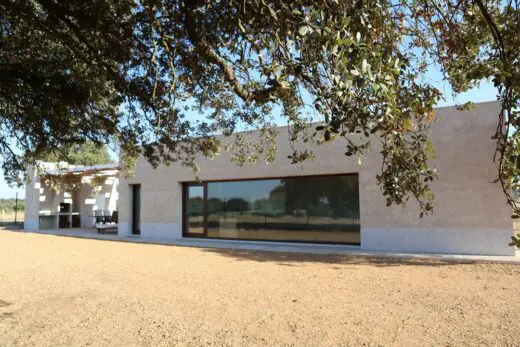 photo : álvaro sanchez de miguel arquitectos
The Cabin Home
El Refugio was conceived in response to new lifestyle trends and alternative housing as a project increasingly in demand. The project has been adapted to the new context of a new generation of inhabitants in society today, in which people are seeking simpler, more realistic alternatives to living in mortgage-laden micro-spaces (common in Spanish cities) in a big metropolis, surrounded by concrete and controversial gentrification.
29 Mar 2022
MRG Apartment, Valencia, eastern Spain
Design: Fran Silvestre Arquitectos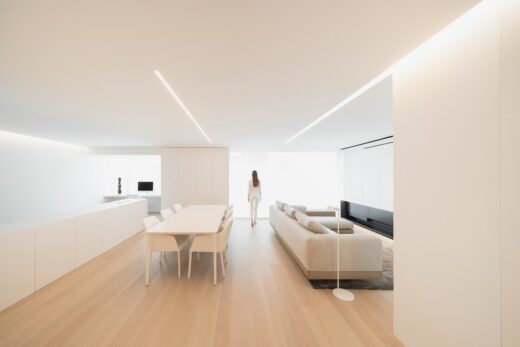 photograph : Jesús Orrico
MRG Apartment Valencia Property
The MRG Apartment project consists of the interior updating of an apartment in the center of the city of Valencia. Fran Silvestre Arquitectos ordered the space looking for the continuity of the rooms, integrating the structural elements of the existing building within the divisions and the carpentry.
29 Jan 2022
Loft A, Pamplona, Navarra
Architects: arrova | atelier . rojo-vergara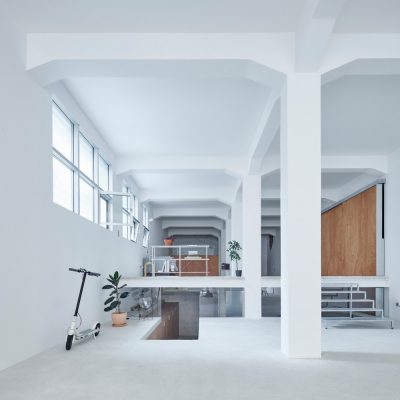 photograph : Iñaki Bergera
Loft A, Pamplona Navarra Interior
The new Loft A dwelling is the result of the transformation of an old motorbike repair shop in the Milagrosa district of Pamplona. The intention of the project is to be a kind of prototype for this form of reconversion in the neighbourhood, as it has a large number of industrial premises now in disuse and their transformation would greatly help to revitalise the area, a possibility that is however unknown in many cases to the local residents.
20 Jan 2022
Piera House, Burriana, Castellón, Valencia, eastern Spain
Design: Fran Silvestre Arquitectos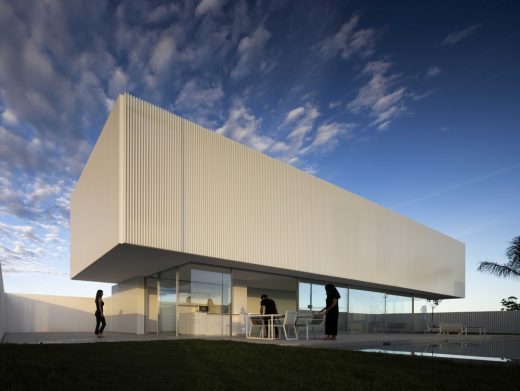 photo : Fernando Guerra
Piera House, Burriana
This modern residential project talks about setting limits and their permeability. The first border is established between the street and the free space of the house, in Burriana, as in many municipalities the regulations establish a maximum dimension for the opaque fence and the rest of the height with a permeable materiality.
More contemporary Spanish Houses online here e-architect soon
Spanish Houses in 2021
15 Nov 2021
Casa Fly, Mallorca, Balearic Islands, south eastern Spain
Architect: beef architekti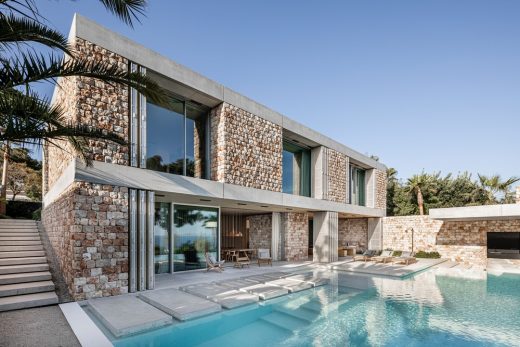 photo : Tomeu Canyellas
Casa Fly Mallorca
Mallorca is an island full of beautiful natural landscapes together with picturesque stone towns full of history and tradition. beef architekti came as unaware visitors, who learned step by step how to enter the mediterranean territory with respect to the vernacular architecture.
13 Nov 2021
Casa Travé, Solivella, Conca de Barberà, province of Tarragona, north east Spain
Architects: 2BMFG arquitectes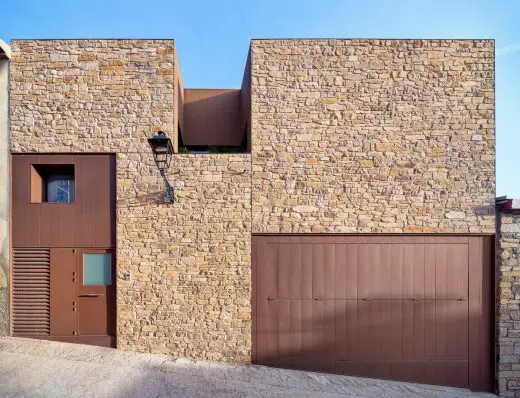 photo : Simón García
Solivella Townhouse Property
The townhouse is located in the outskirts of Solivella, a municipality in the Conca de Barberà region, which is in the province of Tarragona. The existing building, which only occupied one part of the plot, had to be demolished due to its poor condition. However, the stone from the original walls was salvaged and reused in the facades and the main wall of the new building.
27 Oct 2021
Gallery house in the woods, Baix Empordà
Architect: Bernat Llauradó Auquer – tallerdarquitectura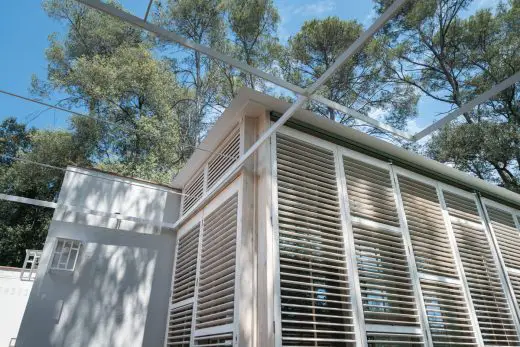 photo : Pere de Prada
Galeria Empordà, Girona Home
Galleria is a small house in the woods of Empordà, Girona, Catalonia, Spain, for a healthy retreat, adapts to its natural environment, sustainable and eco-efficient
22 Oct 2021
Roca Views, Ibiza
Design: Fran Silvestre Arquitectos; Interior Design: Alfaro Hofmann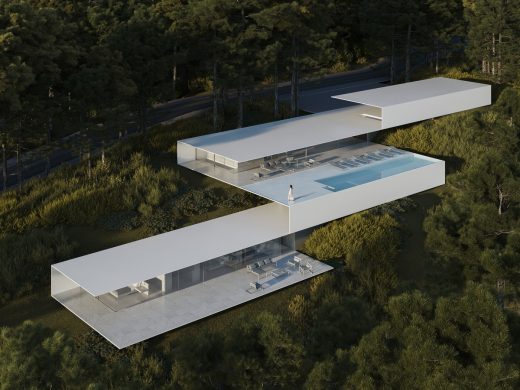 picture from architectural studio
Roca Views Ibiza
Can we build on this hillside by depositing a single piece? To answer this question, the project is drawn as a very thin plate, 9 centimeters thick, which is folded respecting the unevenness and the regulations.
22 Sep 2021
NIU N70
Design: Fran Silvestre Arquitectos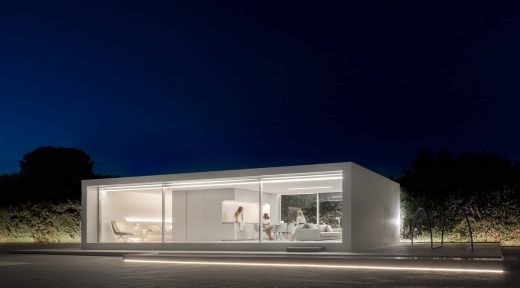 photo : Fernando Guerra
NIU N70 Spain
The NIU project arises with the purpose of innovating construction systems to increase precision in the materialization of architecture. Deadlines and certain costs that improve the quality of human environments, making them more sustainable and healthy.
10 Mar 2021
Villa SRT, Roses, Alt Empordà, Catalonia, North east Spain
Architects: icarquitectura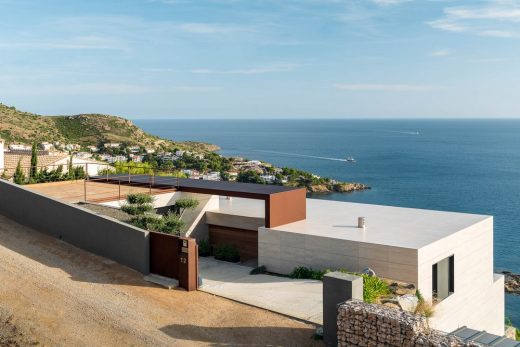 photo © Simón García | arqfoto
Villa SRT, Catalonia Property
Villa SRT is an isolated single-family house with two floors, with an outdoor pool, oriented to the south and full view of the Bay of Roses. To try to adapt to the topography as much as possible, the upper floor, where the main access to the house takes place, is developed on two levels.
9 Apr 2021
House Catorce Valencia
12 Feb 2021
House of Sand, Valencia
Spanish Houses in 2020
6 Nov 2020
House Of The Silence, Valencia, eastern Spain
Design: Fran Silvestre Arquitectos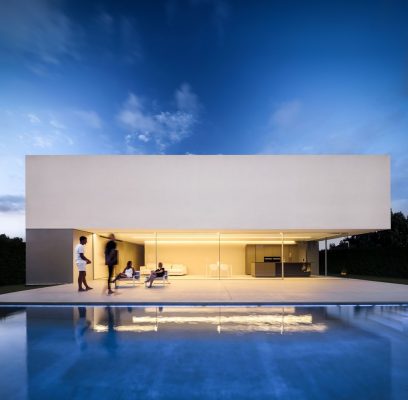 photo : Fernando Guerra, FG + SG
House Of The Silence, Valencia
The House Of The Silence project consists of making a musician's studio coexist with his home. It is located in a residential area near Valencia, where neighboring houses are very close to each other.
27 Oct 2020
Villa K, Mijas, Malaga, southern Spain
Design: Marion Regitko Architects + Igloo Design



photo : Fernando Alda
Mijas Property
The design of Villa K has been a collaboration between Marion Regitko Architects and UK based designers Soo Wilkinson & John Grant of Igloo Design. Their holistic approach to the interior and exterior spaces of the villa, along with the continuity of materials and finishes has resulted in a seamless flow throughout.
25 July 2020
House Of The Sun, Marbella, Costa del Sol, Andalucia, Southern Spain
Design: Fran Silvestre Arquitectos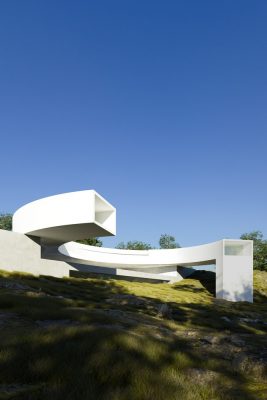 picture from architects office
House of the Sun in Marbella
Fran Silvestre Arquitectos have always been fascinated by the work of Andreu Alfaro "The door of the Universe" made in 1983. A circle rotated and suspended over a square.
2 Apr 2020
Güemes House Conversion, Cantabria
Architects: Zooco Estudio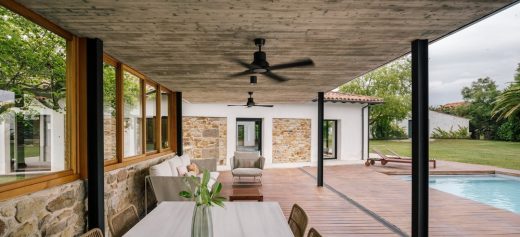 photo : Imagen Subliminal
Güemes House Conversion
This Spanish home conversion project consisted of the renovation and extension of a former stable located in Güemes —a small town, east of Santander, in Spain— to be converted into a seasonal home. The existing building faithfully reproduces the local, simple and unpretentious building system, consisting of stone walls supporting a wooden-structure gable roof with tiles.
21 Jan 2020
Casa Unifamiliar MJ, La Cerdera, Lleida, Catalonia, Northern Spain – near Andorra
Design: Alventosa Morell Arquitectes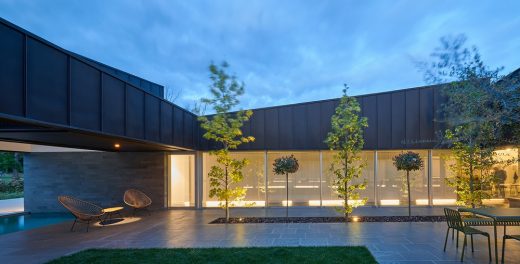 photo © Eugeni Pons
MJ House in La Cerdera, Province of Lleida
The order of the project is based on the construction of a single family house in a residential area, with typically large surface plots (minimum 2000 sqm) and Ground Floor+1 massing.
8 Oct 2019
La Cañada House, Valencian Community
Design: Ramón Esteve Estudio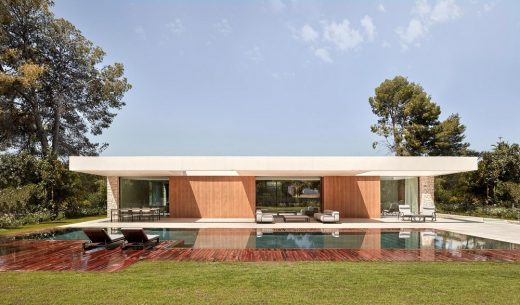 photo : Mariela Apollonio
La Cañada House in Valencia
This new Spanish property is in a residential area very close to Valencia, on a plot surrounded by existing vegetation and opened to its immediate surroundings. A large number of pine trees and palm trees forms the background of the house.
26 Sep 2019
House in Santa Pola, Valencia
House in Santa Pola
23 Sep 2019
New House in Santa Pola, Baix Vinalopó, Valencian Community, eastern Spain
Design: Fran Silvestre Arquitectos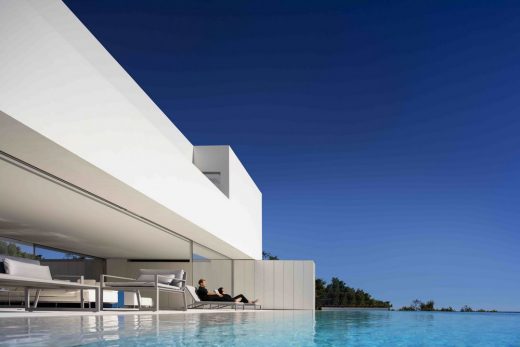 photo : Fernando Guerra, FG + SG
New Property in Santa Pola
The house, located in front of the island of Tabarca, makes sense understanding the place in which is set.
27 Sep 2018
Cerdanyavn Family House, Bellver de Cerdanya, Lleida, Catalonia, Northeast Spain
Design: Dom Arquitectura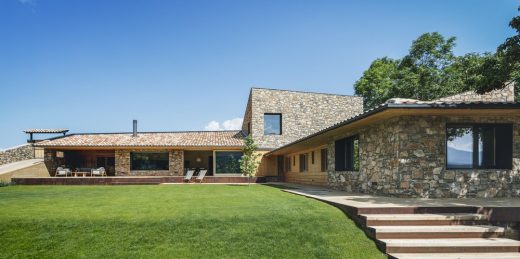 photo : Fotografía de Arquitectura Jordi Anguera
Family House in La Cerdanyav
5 Sep 2018
Oslo Residence, Alicante, Costa Blanca, southeastern Spain
Architects: Ramón Esteve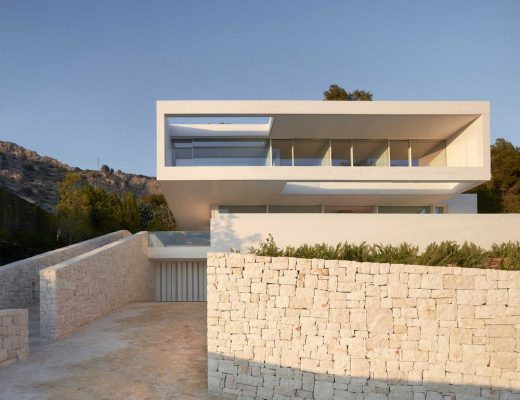 photography : Mariela Apollonio
New House in Alicante
18 Mar 2018
Casa Patio, Loriguilla, Valencia, southeastern Spain
Architects: Alberto Facundo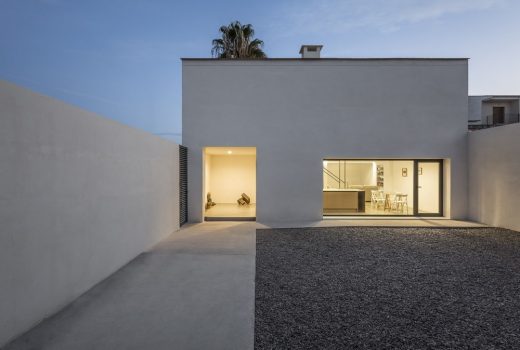 photo : German Cabo
Casa Patio in Loriguilla, Valencia
The yard house born of the place, the reflection and the search of a typological purification. The form is the result of these premises, the creation of two volumes that respond to the simplification of the original home of the village.
28 Feb 2018
The Desert House, Guadix, Granada, Andalusia, southern Spain
Design: OFIS arhitekti and AKT II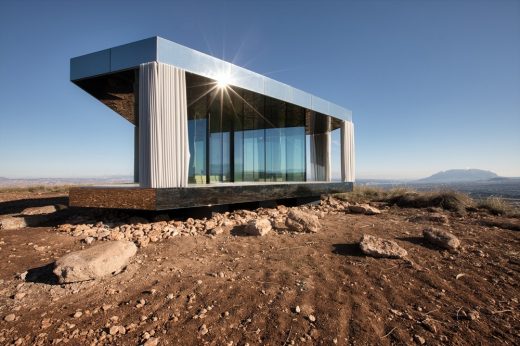 photo © Gonzalo Botet
La Casa del Desierto in Granada
10 Jul 2017
Casa del Acantilado, Calpe, Alicante
Design: Fran Silvestre Arquitectos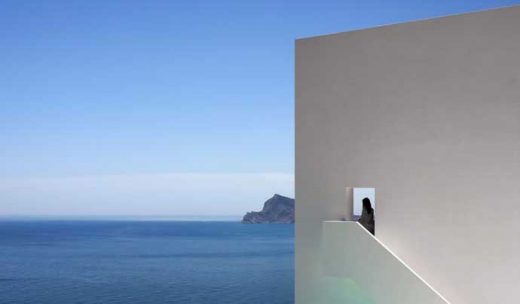 photograph : Diego Opazo
House on the Cliff
27 Mar 2017
Benicassim House, Chiva, Valencia, southeastern Spain
Architects: Egue y Seta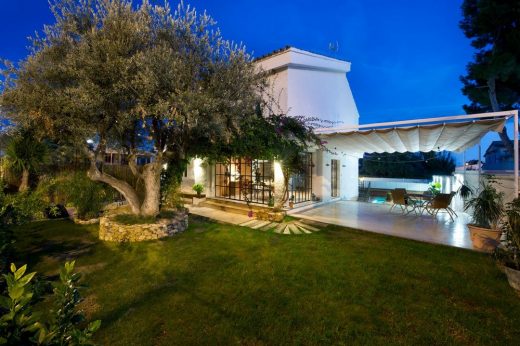 photograph : VICUGO FOTO www.vicugo.com
Contemporary House in Chiva
A comprehensive renovation project by Spanish interior design studio Egue y Seta of a 300 sqm property in the town of Benicassim on the coast in the province of Valencia.
15 Sep 2017
Cottage in the Vineyard, Fontanars dels Aforins, Valencia, eastern Spain
Architects: Ramón Esteve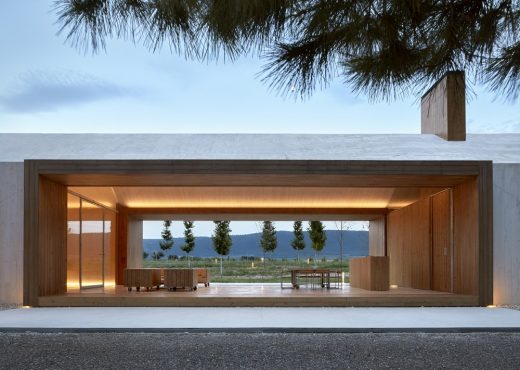 photo : Mariela Apollonio
Cottage in the Vineyard, Valencia
22 Sep 2016
'Casa Los Limoneros' Home in, San Pedro de Alcántara, Marbella
Design: Gus Wüstemann Architects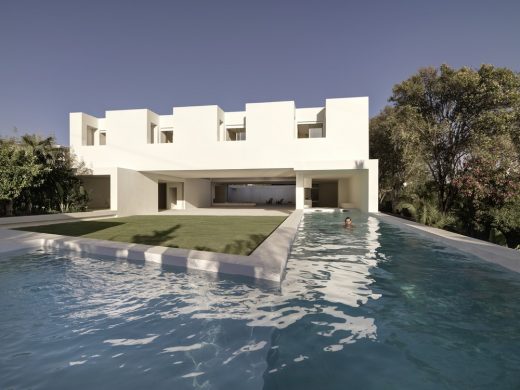 photo by gus wustemann architects
Luxury Spanish House near Marbella
updated 11 May 2019 – 21 Aug 2013
Casa Bauzà, Mallorca, south east Spain
Design: Miquel Àngel Lacomba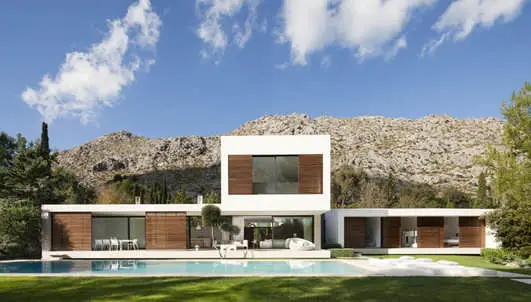 photo : Miquel Lacomba
Casa Bauzà
The project is located at the urban complex "La Font" in Pollença at the base of an impressive limestone mountain. The project was commissioned by the Bauzà family, thanks to whom I have been able to explore further possibilities on my work field, looking for naked and simple lines, seeking wider perspectives.
23 May 2013
Moka House, Pozuelo de Alarcón, Madrid, central Spain
Design: A-cero Architects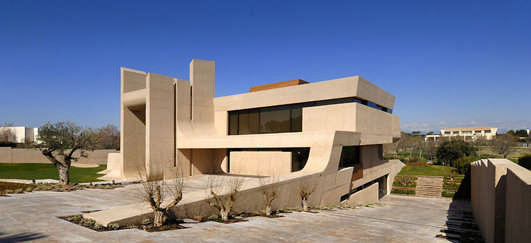 photo : Luis H. Segovia
Moka House Madrid
Access to basement, can be done either from the main area of the house or from the garage directly. We can see two areas, the swimming pool, sports facilities, relax and movies, area of service work; be resolved by giving direct access from the garage and connecting it to the ground floor with a staircase landing in the dealer's work area.
21 May 2013
B&N House, Madrid, central Spain
Design: A-cero Architects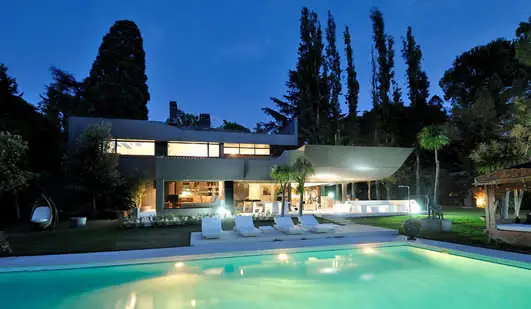 photo from architects
B&N House Madrid
A-cero presents one of its latest projects of single – family detached house. It is a comprehensive reform of existing home whose owners found the need to reform both externally and internally to update its image. This is a magnificent home originally, but had charged over time both aesthetically and functionally needed a change.
20 May 2013
Villa in Sa Rapita, Mallorca, Balearic Islands
Architect: CMV architects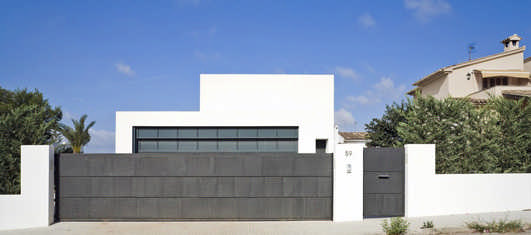 photograph from architects
Villa Sa Rapita
The project involves the construction of a detached house with two floors, garage and swimming pool. The living area is located on the ground floor. The main facade has the garage, the entrance and the kitchen area, which includes a laundry room, a pantry and a toilet.
20 May 2013
Villa Bellavista, Llucmajor, Mallorca, Balearic Islands
Architect: CMV architects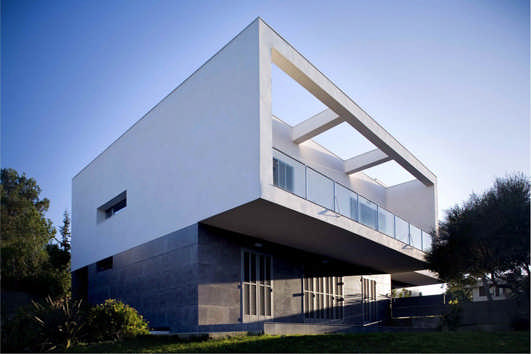 photograph from architects
Villa Bellavista
Both houses are placed in the highest part of the plot, with a small setback from one to the other and with one meter of vertical level difference between the two. Two independent accesses are considered because of the difference of level.
13 Feb 2013
Lude House, Murcia, south east Spain
Architects: Grupo Aranea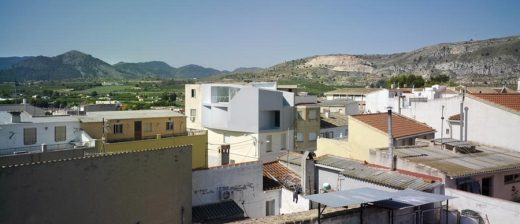 photograph : Jesus Granada
New House in Murcia
Making the most of its privileged situation, Casa Lude is related to its environment in a particular way. Due to the density of the area it doesn't open directly to the nearby facades but looks along the narrow streets to see the landscape, the Burete mountains and the San Agustin Hill.
Spanish Houses Archive:
Spanish Homes – Spain property posts up to 2012
More Spanish Houses welcome
Location: Spain
Spanish Buildings
Spanish Building Developments : L-Z
Housing 137, Granollers, Catalonia
Design: H ARQUITECTES
Housing 137
Mallorca House
Spanish Villa
Key Spanish Architects
Antoni Gaudi Architecture
Spanish houses info & photos for the Spanish Residential Architecture – Modern Residences in Spain page welcome