Barcelona Architects Studios, Buildings, Catalan Design Offices, Spanish Architecture Practices
Barcelona Architects, Catalunya
Arquitectos Catalonia – Major Contemporary Spanish Architecture Studios
post updated 7 September 2021
Arquitecte Catalonia
Key Barcelona Architects
The most famous Catalonian architect has to be Antoni Gaudí. His buildings have become synonymous with Barcelona and a major element in Catalan tourism.
Barcelona Architecture Studio – Architects Listings
Barcelona Architecture – search by Building
Barcelona Architects, alphabetical by surname:
AULENTI
Catalonia National Art Museum / Museum Nacional d'Art de Catalunya – Palau Montjuic: refurbishment
Gae Aulenti, Architect
BATTLE & ROIG
Escola Bressol Jardins Malaga – Barcelona Nursery Building
Batlle i Roig, arquitectes
Can Bisa, Vilassar de Mar, Catalonia
Design: Batlle i Roig, arquitectes
Waste Treatment Facility Vacarisses, Catalonia
Batlle & Roig Architects
Hotel for Telefónica Company, La Roca del Vallès, near Sabadell, north of Barcelona
Architect: Batlle & Roig Architects, Esplugues de LLobregat, Spain
BOFILL
Barcelona Airport / Barcelona Aeroport
Ricardo Bofill Architect
CADAFALCH
Amatller House / Casa Amatller
Puig i Cadafalch, Architect
CALATRAVA
Communications Tower, Montjuic
Santiago Calatrava, Architect
Bac de Roda Felipe II Bridge
Santiago Calatrava Architects
CATALA & CENDOYA
Catalonia National Art Museum / Museum Nacional d'Art de Catalunya – Palau Montjuic:
Enric Català & Pedro Cendoya, with Pere Domènech i Roure, Architect
CHIPPERFIELD
Barcelona & Hospitalet del Llobregat Law Courts
David Chipperfield Architects
DOMENECH
Hospital de Sant Pau
Lluís Domènech i Montaner
Lleo Morera House / Casa Lleó Morera
Lluís Domènech i Montaner, Architect
Montaner i Simon Publishing House / Editorial Montaner i Simón
Lluís Domènech i Montaner
Catalan Music Palace / Palau de la Música Catalana
Lluís Domènech i Montaner; also – Oscar Tusquets, Architect
ESTAPA
Domenech Estapa House / Casa Domènech Estapà
Josep Domènech Estapa Architect
FOREIGN OFFICE ARCHITECTURE
Auditoria Park, Forum / Parc dels Auditoris
Foreign Office Architecture : Alejandro Zaera-Polo + Farshid Moussavi, Architects
FOSTER
Barcelona Telecommunications Tower / Torre de Collserola
Foster & Partners
Nou Camp stadium redevelopment
Foster & Partners
FREIXAS
Blanquerna Url, Faculty of Information Science / Blanquerna Url, Facultat de
Freixas, Miranda, Bou, Gonzalez / Various Architects
GALI
Forum Bathing Zone / Zona de Banys
Beth Gali, Architect
GAUDI
Sagrada Familia
Antoni Gaudí Architect
Casa Batllo
Antoni Gaudi
Casa Mila – La Pedrera
Antoni Gaudi
Park Guell
Antoni Gaudi
Calvet House / Casa Calvet
Antoni Gaudi
Bellesguard House / Casa Bellesguard
Antoni Gaudi
Guell Estate / Finca Güell
Antoni Gaudi
Guell Palace / Palau Güell
Antoni Gaudi
Teresian School / Col-legi de les Tersianes
Antoni Gaudi
Vicens House / Casa Vicens
Antoni Gaudi
GEHRY
Frank Gehry Building – Fish Sculpture / Pesque Escultura
Frank Gehry Architect
GREGOTTI
Olympic Stadium Barcelona / Estadi Olímpic Lluís Companys
Vittorio Gregotti Architect
HERZOG DE MEURON
Forum Building
Herzog & de Meuron Architects
ISOZAKI
St Jordi Sports Pavilion / Palau Sant Jordi
Arata Isozaki & Associates, Architects
LLINAS
Lesseps Library / Biblioteca a la placa Lesseps
Josep Llinás, Architect
MATEO
Free Zone Consortium Office Building / Edifici d'oficines pel Consorci de la Zone France
Josep Lluís Mateo Architect
MEIER
Barcelona Museum of Contemporary Art
Richard Meier & Partners, Architects
MIRALLES
Santa Caterina Market
Enric Miralles / Benedetta Tagliabue: EMBT Architects
Gas Natural Company Tower / Torre de Gas Natural
Enric Miralles / Benedetta Tagliabue
Park at Diagonal Mar / Parc de Diagonal Mar
Enric Miralles / Benedetta Tagliabue
La Clota House / Casa La Clota
Enric Miralles / Benedetta Tagliabue
Archery Facilities / Instal-lacios de Tir amb Arc
Enric Miralles / Carme Pinos, Architects
MIRO, MAURI
Nou Camp Stadium – FC Barcelona Stadium / Camp Nou Estadi
Francesc Mitjans Miró, Josep Soteras Mauri, with Lorenzo García Barbón,
Architects
MONEO
L`Auditori Concert Building
Rafael Moneo Architects
Diagonales Haus L'Illa
Rafael Moneo Architects
Galería Theo
Rafael Moneo Architects
Olympic Stadium – Project only
Rafael Moneo Architects
NOUVEL
Agbar Tower
Jean Nouvel Architects
ORTIZ & LEON
Mapfre Tower / Edifici Mapfre
Ortiz & Leon, Architects
PINON
Barcelona Centre of Contemporary Culture / Centre de Cultura Contemporania de Barcelona (CCCB)
Pinon, Viaplana, Mercade, Architects
Santa Monica Art Centre / Centre d`Art Santa Monica
Pinon, Viaplana, Architects
ROGENT
Palace of the Sea, Catalan History Museum / Palau de Mar, Museu d'Historia de Catalunya
Rogent, Architect
RTA-OFFICE
Casa M
RTA-Office
SERT
Joan Miro Foundation / La Fundació Joan Miró
Josep Lluís Sert, Architect
Josep Lluís Sert
SIZA
Meteorology Service Building / Servei de Meteorologica
Alvaro Siza, Joan Falgueras, Architects
SOM
Arts Hotel, Barcelona / Hotel Arts Barcelona
Bruce Graham of Skidmore Owings Merrill (SOM Architects)
TORRES & LAPENA
Forum Esplanade with Solar Panels / Esplanada Forum i Pergola Fotovoltaica
Torres & Lapena, Architects
Corte Inglese Barcelona Department Store / Almacén El Corte Inglese
Lapeña y Torres Arquitectos – Lapena & Torres Architects
TUSQUETS
Princess Hotel, Barcelona / Hotel Princess Barcelona
Oscar Tusquets Architect
Catalan Music Palace / Palau de la Música Catalana
Oscar Tusquets; also – Lluís Domènech i Montaner
VAN DER ROHE
Mies van der Rohe, Architect
Barcelona Pavilion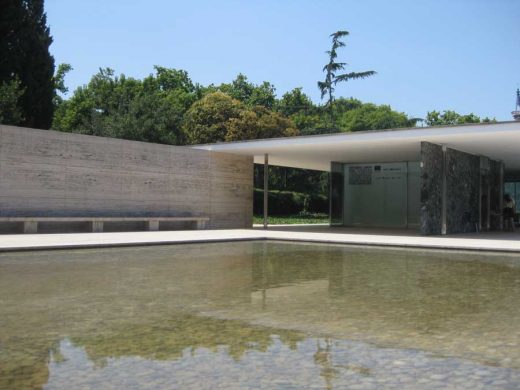 photo © Adrian Welch
Location: Barcelona, Catalonia, Spain, western Europe
Architecture in Barcelona
Barcelona Architecture Designs – chronological list
Barcelona Architecture Walking Tours
Links to architects with work featured (above) in Barcelona
Architect Studios
World Architects – by City
Barcelona Architects (this page)
Col.legi d'Arquitectes de Catalunya: www.coac.net
Catalonian Architects' Website with links to Barcelona Architecture + Architects
The e-architect website has been online since 2000, and many of the first pages were from this city. We were fortunate to do a house swap with a lovely member of Col.legi d'Arquitectes de Catalunya, for whom we had arranged some architectural tours in Scotland (Edinburgh and Glasgow) over a number of days.
Naturally amongst the first set of projects featured were buildings by Antoni Gaudi, Mies van Der Rohe, Norman Foster and Frank Gehry. Later this humble offering was augmented with works designed by lesser known architects.
I have been lucky to visit the city four times and on each visit find a few more architectural projects to visit, study and record. Like many others I find this major Catalan city to be one of my favourites in the world, and I hope to be able to return soon.
As well as offering architect office listings for the city we also offer architecture tours. These city walks are bespoke and cannot be joined – they have to be booked well in advance to allow our guides to prepare a suitable itinerary.
Additions / photos for the Barcelona Architects page welcome