Singapore house images, Southeast Asia residential architecture, Architects, Luxury property designs
Singapore Houses : Properties
Key Residential Buildings in Singapore, Contemporary Southeast Asia Homes
post updated 23 August 2023
Singapore Architectural Designs – chronological list
New Houses in Singapore
e-architect cover interesting and high quality completed Singapore Houses and proposed new residential properties across Singapore. Our focus is on contemporary Southeast Asian residences.
Singapore Residences
Southeast Asia Residential Architecture News
26 Sep 2022
Green Wall House
Design: ADX Architects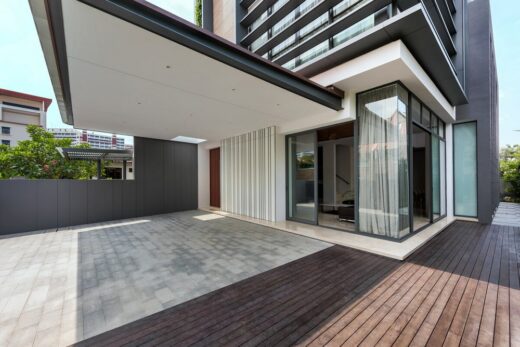 photo : CI&A Photography
Green Wall House
This modern Singapore property was a response to a request for an abode that would be balanced with nature, enhanced with sustainable strategies and aesthetic in appeal. ADX Architects worked in close collaboration with their Clients to bring sufficient light and ventilation into the living spaces, with a vertical green wall contributing to a distinct expression for the house.
9 Sep 2022
TRIO STACK
Design: Studio Wills + Architects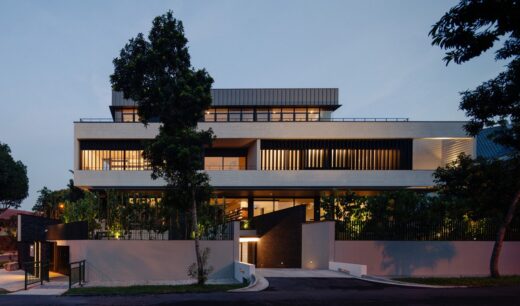 photo courtesy of architects office
Trio Stack Singapore Luxury Home
Aka Project #10 by this Singapore-based architectural studio with a focus on residential architecture and interiors.
6 Jan 2022
67EM-House, East Coast of Singapore
Architecture: ONG&ONG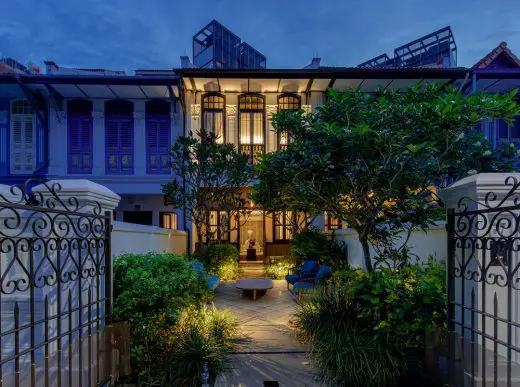 photo courtesy of architects office
67EM-House
Nestled at the heart of Singapore's first conservation area, 67EM-House is a Straits Chinese terraced house built in the 1920s. In the tradition of such homes, the front door is usually kept open for ventilation, but privacy is ensured with a full-height screen and a sculpture placed as a visual focal point just inside the doorway.
2 Jan 2022
11CK-House, Katong district
Architecture: ONG&ONG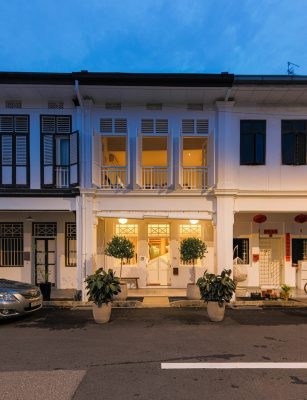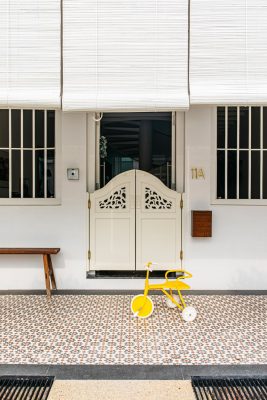 photo courtesy of architecture office
11CK-House
This modern property represents a home restoration project befitting the area's architectural heritage along Singapore's East Coast. The clients were particularly enamoured with the shophouse typology due to its multiple levels and highly adaptive spaces.
31 Dec 2021
Free Fun Feline apartment
Interior Designer: ASOLIDPLAN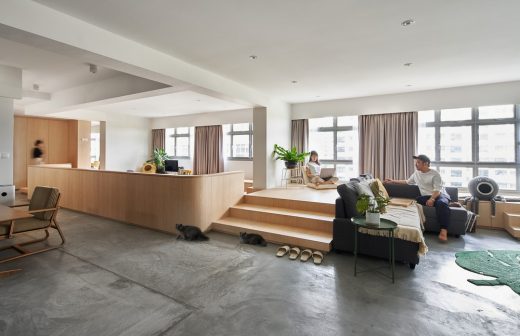 photo : Benny Loh
Free Fun Feline
In this light-washed wall-less Free Fun Feline apartment, ASOLIDPLAN used contours in a terraneous landscape to sculpt and define spaces – a raised lounge, a sunken bedroom, an elevated study – making movement free-flowing, fun, and feline-friendly. For their first home together, a young couple wanted big spaces with abundant daylight for their pets to roam about.
30 Dec 2021
105DW-House
Architecture: ONG&ONG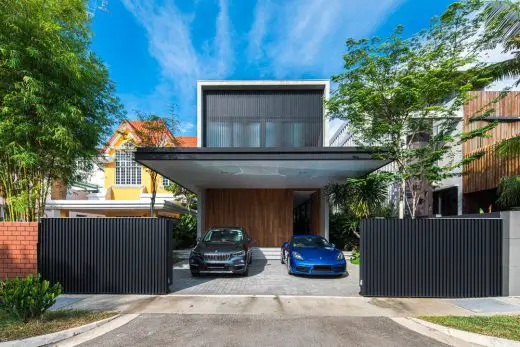 photo courtesy of architects office
105DW-House
Built on a level but long plot of land in the East Coast area of Singapore, 105DW-House presented a few challenges to the architecture team. A southwest-facing frontage meant that any windows on its facade would require some form of brise soleil to deflect the harsh afternoon sunlight.
17 Dec 2021
Envelope House
Architecture: ASOLIDPLAN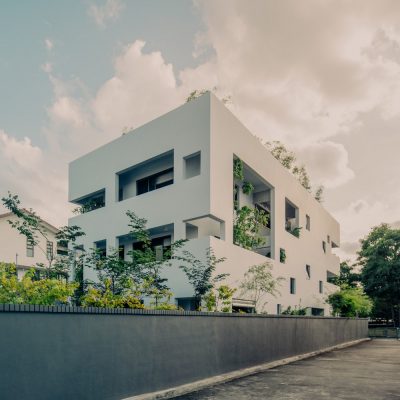 photo : Khoo Guojie
Envelope House
The Envelope House brief was for a multi-generational home for three households – the client's young family with a child, their parents, and their aunt – with private spaces, common spaces and generous greenery. ASOLIDPLAN formulated the parti as a landscape double skin enveloping three levels of habitable spaces and punctured by a vertical landscaped courtyard.
29 Nov 2021
An Ample House
Architecture: Metre Architects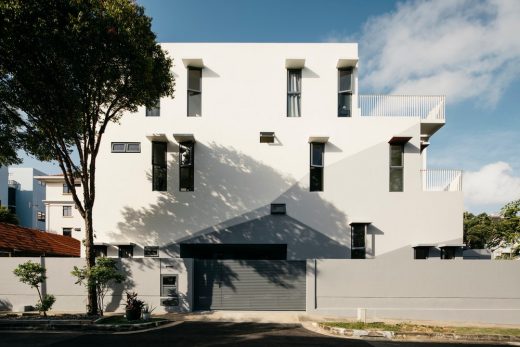 photo : Studio Periphery
An Ample House
Seldom does one come across an owner who elects to have what is enough, as opposed to 'maximising' to the available envelope. The reconstruction of this semi-detached house is designed to address three requirements: privacy, adequacy, and permanence.
11 Nov 2021
Martin Modern Apartments
Architects: ADDP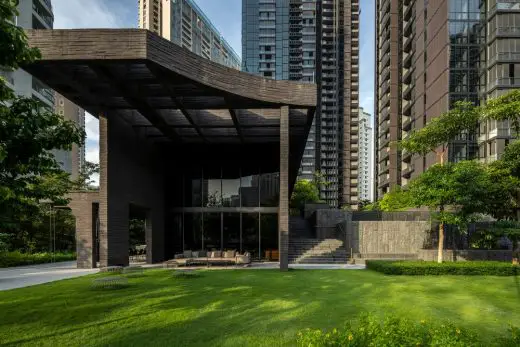 photo courtesy of architects office
Martin Modern, Singapore Apartments
In today's evolving global residential landscape, the dire issues of attention to sustainability, access to open green space where social-distancing is possible, and a need for a more eco-conscious living are the newest trends that influence where and how we live. Now more than ever, the world needs to cut back on carbon emissions, waste and the creation of unnatural materials that damage the environment.
6 July 2021
Kandis Residence, northern Singapore
Design: ONG&ONG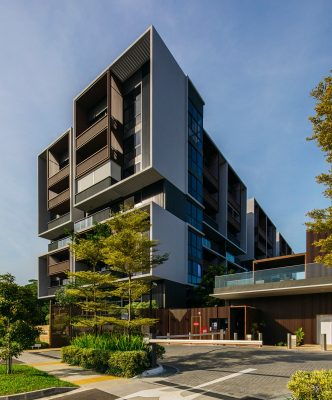 photo courtesy of architects office
Kandis Residences
Set within an idyllic location, this contemporary residence contains 130 condominium units housed within four residential blocks – one three-storey block, along with three seven-storey blocks. The project design was predicated on the concept of "homes in the woods", envisioned as a green, immaculately landscaped sanctuary that accommodates the modern urban lifestyle.
1 May 2021
Perfect Feng Shui
Design: Aamer Architects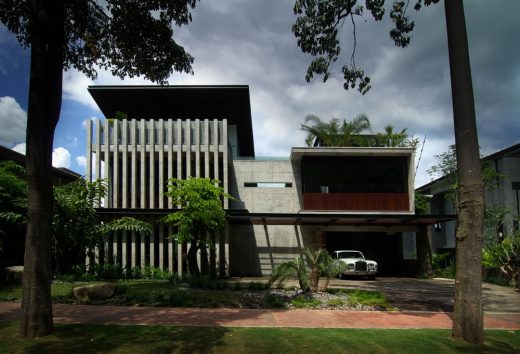 photo : Amir Sultan
Perfect Feng Shui House
According to the clients, the site for this house epitomises the Perfect Feng Shui. Like other houses designed by Aamer, this house was also designed to capitalise on what the site offers while maximising the landscaping and other means of passive cooling to create experientially delightful spaces in the tropics.
30 Apr 2021
San House
Design: Aamer Architects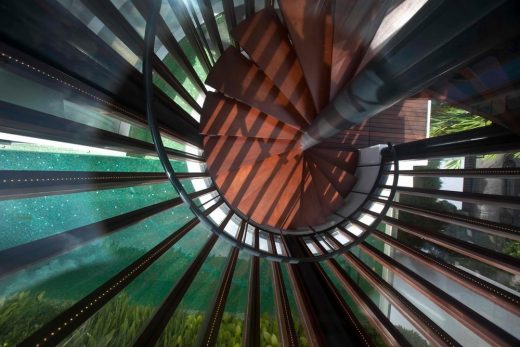 photo : Albert K S Lim
San House
In Chinese calligraphy the word san which means 3, is written in three strokes over three levels. It perfectly describes this three storey terrace house in an urban area just off the central shopping district of Orchard Road in Singapore.
27 Apr 2021
Boomerang House
Design: Aamer Architects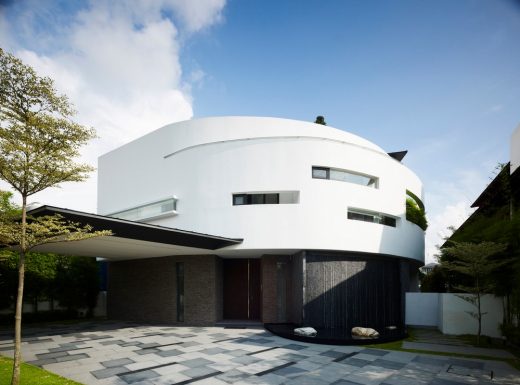 photo : Derek Swalwell
Boomerang House
The site of Boomerang House is narrow and long, with a small frontage to the waterfront. To maximise the view to the waterfront, Aamer designed the house to curve like a boomerang so that all the bedrooms could have views of the waterfront.
28 Apr 2021
Railway House
Design: Aamer Architects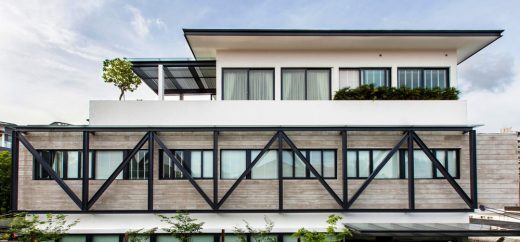 photo : Skewedeye Pte Ltd
Railway House
As a typology, the semi-detached house is often perceived as a Siamese twin, reluctantly conjoined to its symmetrical other via a single party wall. The desire to challenge such a notion drives the parti of the Railway House, a single-family house. By separating and pulling the main building block away from the party wall, a semi-detached house breaks free.
22 Apr 2021
Park Nova
Design: PLP Architecture
Park Nova Luxurious Green Tower
24 Apr 2021
Tan's Garden Villa
Design: Aamer Architects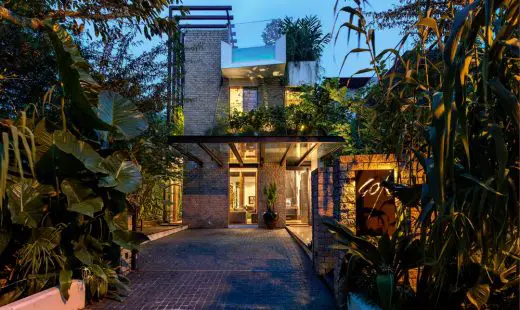 photograph : Sanjay Kewlani
Tan's Garden Villa
Back in 2001, the Owner, Mr Adrian Tan, commissioned Aamer to design his house(s) at No 42. There a large bungalow plot was divided into two to accommodate separate but identical houses which won the prestigious Singapore Institute of Architects' Design Award in 2004.
28 Sep 2020
Fluidity on the Hill
Design: Aamer Architects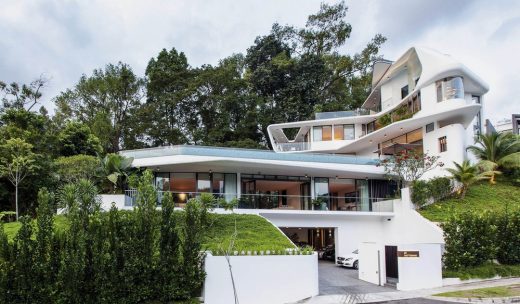 photograph : Skewedeye Pte Ltd
Fluidity on the Hill
Fluidity on the Hill sits on a steep odd-shaped hill with existing large trees, this seven bedrooms multi-generational house meanders fluidly upwards over five floors diverting around the very mature trees. Broken down into parts, the massing reduces as it goes higher. The house is intended to stand out whilst not overpowering the context.
13 Mar 2020
Canvas House, Blair Road
Design: Ministry of Design Architects (MOD)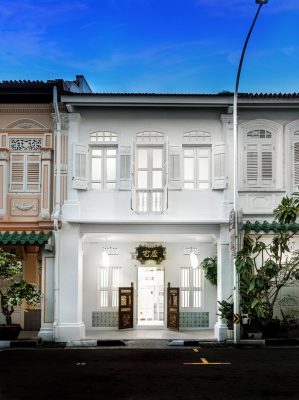 image courtesy of architects studio
Canvas House Blair Road: Heritage Shophouse
MOD has newly completed an all-white Canvas House for co-living, set in a heritage shophouse in Singapore along Blair Road.
4 Mar 2020
Raw & Refine House
Design: Aamer Architects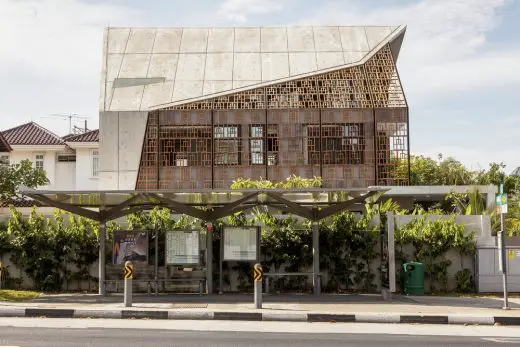 photo : Sanjay Kewlani
Raw & Refine House
This new property is a reconstruction of a small bungalow house. The design is attracting attention from the community for its dynamic form and interesting use of materials.
1 Mar 2020
Seductive Simplicity House
Design: Aamer Architects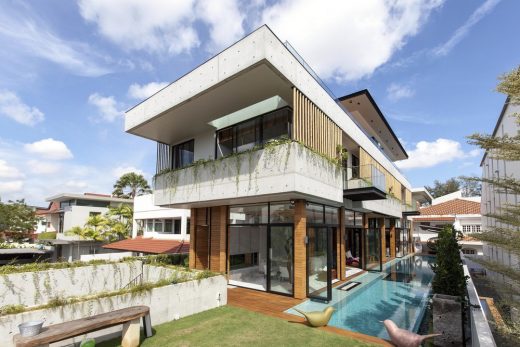 photograph : Skewedeye Pte Ltd
Seductive Simplicity House
Designed to fit snugly into a tight bungalow plot in the East of Singapore, this residential project stands out for its austere simplicity and unpretentious timelessness.
28 Feb 2020
Ninety 7 House, Siglap Hill
Design: Aamer Architects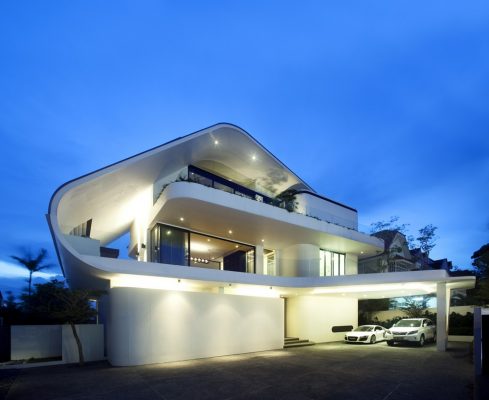 photograph : Patrick Bingham-Hall
Ninety 7 House
One of those stimulating occasions where owner and architect are effectively collaborating, in sync, resulting in a pleasant process & cool project. The Ninety 7 House sits on Siglap Hill, the highest point in a residential suburb in Singapore, the site is breezy and enjoys spectacular views of the city skyline and the surrounding low-rise neighbourhood.
More contemporary Singapore Houses online soon
Singapore Houses 2019
30 May 2019
The Forever House, Serangoon
Architects: Wallflower Architecture + Design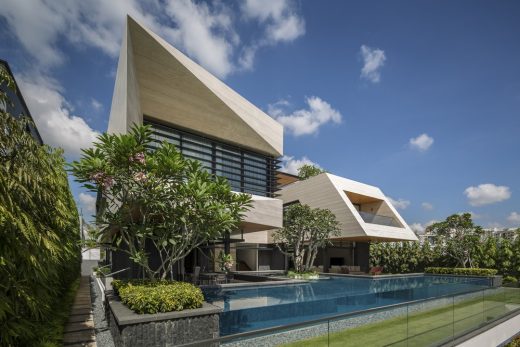 photo : Marc Tey Photography
The Forever House in Serangoon
For the client, their dream residence would also be their definiteive family home. It had to have an urban presence, while having an open yet secure exterior space with sufficient privacy from the street.
29 May 2019
Lambda Residential Villa
Architect: Mercurio Design Lab, Italy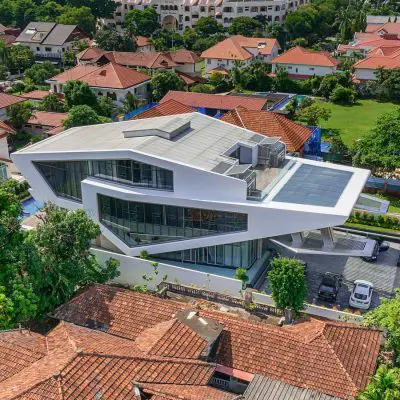 image courtesy of architecture studio
Lambda Residential Villa
The inspiration behind the radical shape of Lambda originated from a scale model of a Lamborghini Gallardo.
29 May 2019
59B House, Bukit Timah
Architect: ONG&ONG Pte Ltd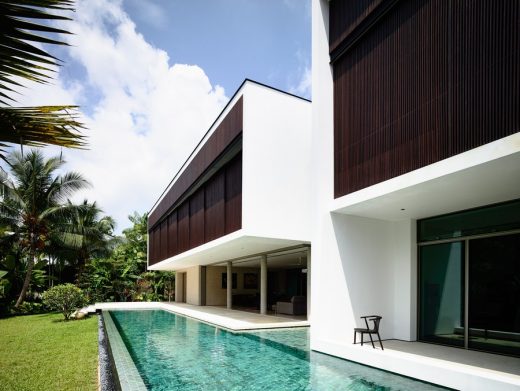 photo : Photographer: Derek Swalwell
F59B House
This was an additions and alterations property project on an existing house in Bukit Timah. The owner's father built the original house and the building was in an awkward position on the plot.
18 May 2019
Fish House
Design: Guz Architects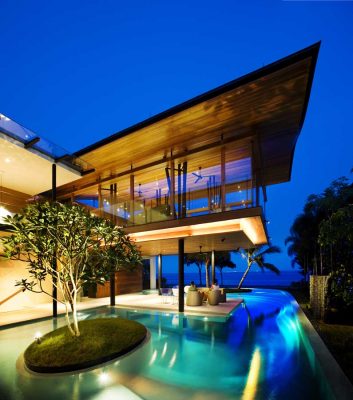 photo : Patrick Bingham Hall
Fish House
A modern tropical bungalow encapsulating the essence of living in the hot and humid climate of Singapore by creating open spaces which encourage natural ventilation and offer residents views to the ocean.
More new Singapore Houses welcome for consideration on e-architect
Singapore Houses 2018
13 Feb 2018
Pearl Bank Apartments, Pearl's Hill, Chinatown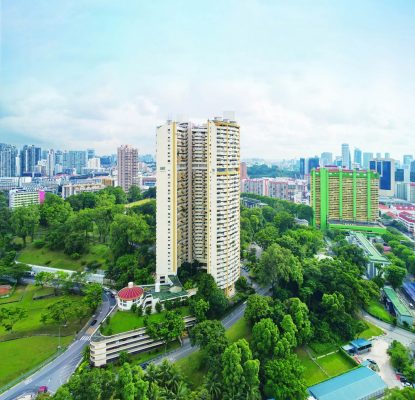 photo courtesy of CapitaLand
Pearl Bank Apartments, Chinatown
Prime site atop Pearl's Hill to be rejuvenated with an iconic high-rise residential development, by CapitaLand Limited.
15 Jul 2017
House 24
Design: Park + Associates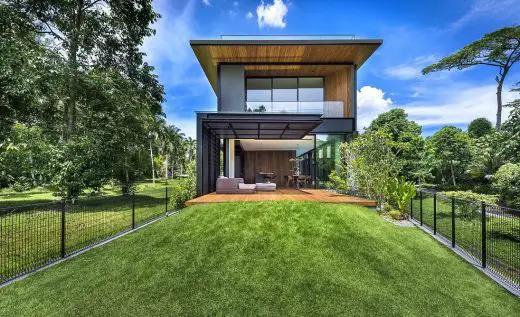 photo : Edward Hendricks © Park + Associates Pte Ltd
House 24
The courtyard screen fronting the street was an opportunity to explore what timber craftsmanship might mean in contemporary architecture, and Park + Associates envisioned the screen to be a well-crafted element with modern aesthetic and detailing.
1 Nov 2016
Secret Garden House, Bukit Timah
Design: Wallflower Architecture + Design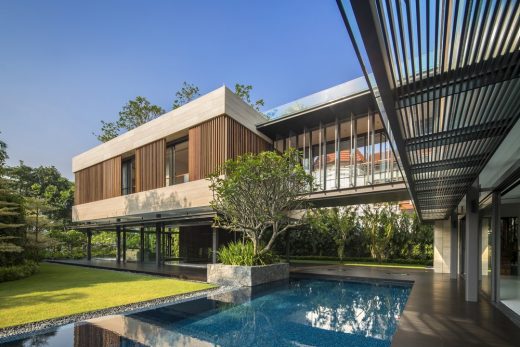 photo : Marc Tey Photos
Secret Garden House Singapore
The Secret Garden House, designed by Singapore based Wallflower Architecture + Design, is situated in the good class bungalow area of Bukit Timah. The owner's brief was to have a luxurious, tropical, contemporary family home. Being the owners of a construction company and by building it themselves, it would also showcase their professional capabilities.
13 Oct 2016
65BTP Residence
Design: ONG&ONG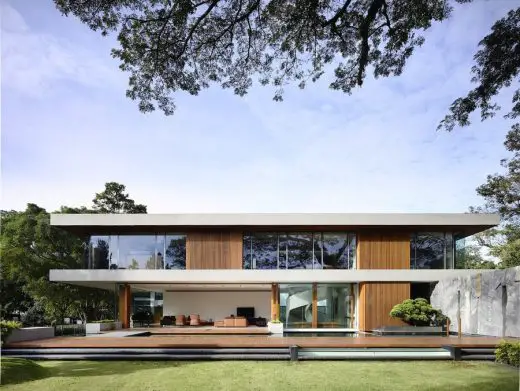 photo : Derek Swalwell
65BTP House
This is a home surrounded by a vast garden that converges at a colossal pre-war rain tree with such magnificence that its presence is ingrained within the very architecture of the house itself.
Recent Singapore House Designs
19 May 2014
Bukit Timah House in Singapore
Design: Wallflower Architecture + Design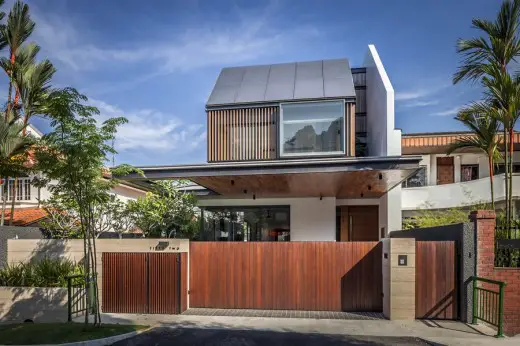 photograph : Marc Tey Ge Wai
Bukit Timah House in Singapore
This house sits on high ground, and the rear of the site has wonderful views overlooking the greener and more affluent residential addresses in Singapore. Our client's brief was to design a home of two stories, with an attic, and importantly a roof terrace facing the rear and overlooking the valley.
11 Dec 2013
One Tree Hill House
Design: ONG&ONG Architects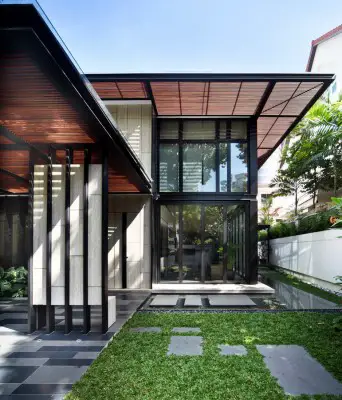 photograph : See Chee Keong
One Tree Hill House
This house at One Tree Hill is designed to cater to the homeowner's unique needs. The architectural layout includes a double volume space in the living area that opens out into a beautiful garden and water feature.
20 Aug 2013
Wind Vault House
Design: Wallflower Architecture + Design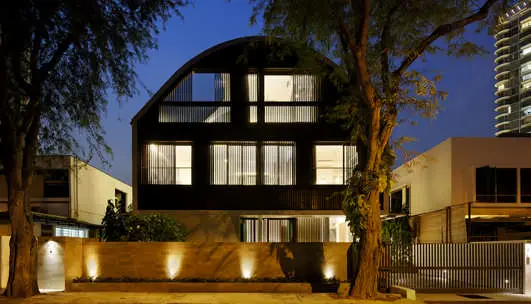 photo : Jeremy San
Wind Vault House
As the brief was substantial, the overall form of the house needed to be pushed to the envelope limits. Naturally, there are also other considerations; the context and proximity of neighbouring homes, the daily sun path and the prevailing winds. Conceptually, the house is a raised reinforced concrete tube whose open ends are oriented in a general north-south direction.
20 Aug 2013
The Wall House
Design: FARM, Architects


photo : Bryan van der Beek and Edward Hendricks
The Wall House
This is a tale of two houses – similar looking, yet independent and coming together to form a coherent whole. The two blocks sit on a sprawling piece of land, belonging respectively to the retired parents and one of their children.
25 Jul 2013
Nest House
Design: WOHA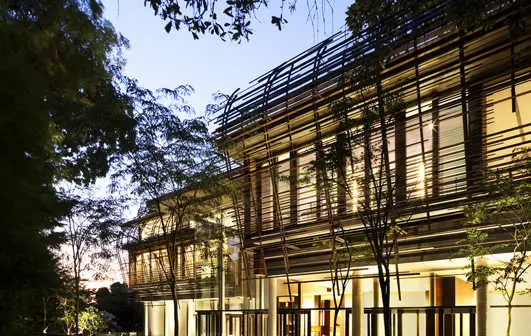 photo : Patrick Bingham-Hall
Nest House Singapore
Another delightfully sensitive and articulate design from this world-famous Singapore architects studio. This house is part of a family compound, and expresses the owner's close relationship with her grandfather who has his own house within the compound. The design reflects the close bond between the grandfather and granddaughter by orientating the main spaces towards his house and gardens.
10 Oct 2012
The Winged House
Architect: K2LD Architects Pte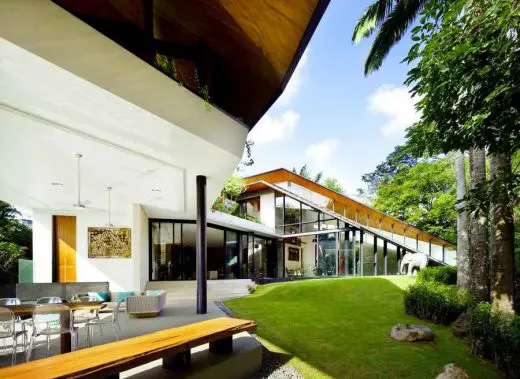 photo : Patrick Bingham Hall
Winged House
A private family residence situated on a uniquely shaped triangular plot, the Winged House frames the site with two prominent forms – the trapeziums. These forms open towards the main view at the back of the site where 3 existing majestic palms are, and of lush greenery.
9 Oct 2012
JKC1 Singapore
Architect: ONG&ONG Pte Ltd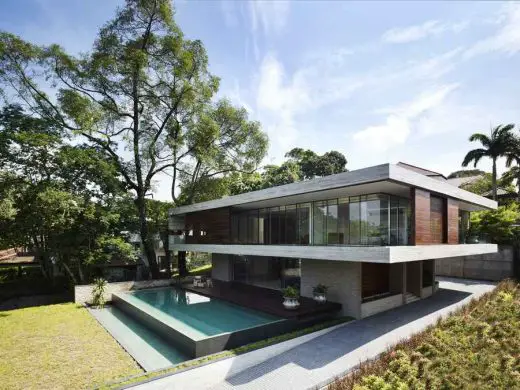 photo from architects
JKC1 Singapore
This is one of three 'good class bungalow' plots carved from a larger plot developed by the Keck Seng Group. The house sits on a slight incline and overlooks a pool in the front yard, following the feng shui belief of balancing the "mountain" and "water" elements.
Nassim Villas
Design: Zaha Hadid Architects


picture from architects
Nassim Villas
Flanked by huge luscious tropical hardwood trees on either sides and diagonally facing the Singapore Botanical gardens sits one of the most breathtaking and desirable sites in Singapore. The intention of this design is to mimic the landscape, allow the architecture to be part of it, thereby accentuating the locale and its prominence.
Botannia
Design: MKPL Architects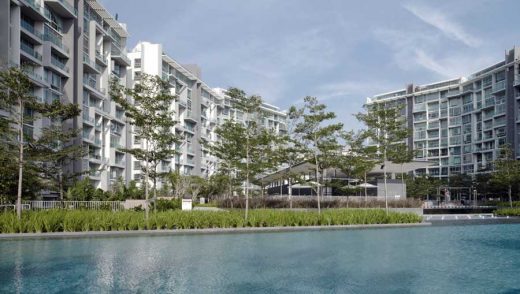 picture from FD
Botannia Singapore
Singapore—an island of just 710 square kilometres with a growing 4.9 million population— projects herself as city in a garden, no mean feat, since most Singaporeans live in high-rise public housing while others live in low-rise enclaves or condominiums where ratios of total floor area to site area range from 1.4 to 2.8.
Singapore Properties
Major Singapore Residential Architecture, alphabetical:
Beach Road – New mixed-use district
Foster + Partners
Beach Road Singapore : Design Contest
Farrer Court – residential development
Zaha Hadid Architects
Farrer Court Singapore
The Interlace Singapore Development
Design: Ole Scheeren of OMA
The Interlace Singapore Complex
Moulmein residential tower
WOHA Architects
Moulmein Rise Singapore
Newton Suites
WOHA Architects
Newton Suites
Pinnacle @ Duxton
Design: ARC Studio Architecture + Urbanism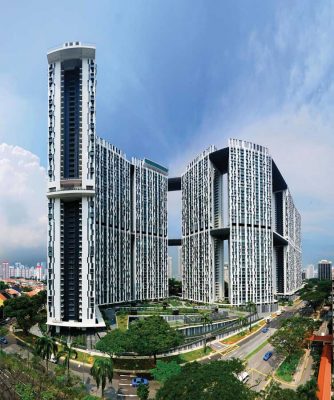 image © C)ARCStudio
Pinnacle @ Duxton
Residential Complex, Alexandra Road
OMA
Singapore Residential Complex
Scotts Tower – Residential tower building
Rem Koolhaas Architects / OMA
Singapore Tower : iconic architecture
Tangga House
Design: Guz Architects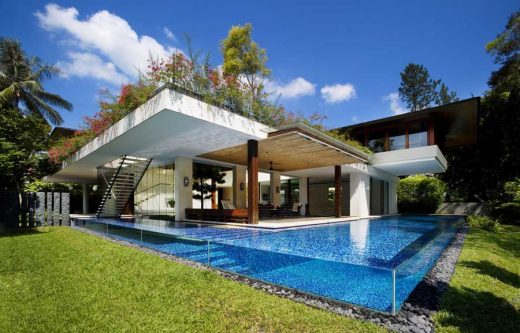 picture : Patrick Bingham Hall
Tangga House
More Singapore Houses online soon
New Architecture in this Southeast Asian City
Singapore Architectural Designs – chronological list
Singapore Building Photos : images of recent buildings
Singapore Buildings – no images
Capella Singapore – luxury hotel, Sentosa Island
Foster + Partners
Capella Singapore
Buildings in East Asian Countries
Houses / photos for the Singapore Residential Architecture page welcome