Shanghai Architecture News 2021, Chinese Building Design Guide, Pudong Images, Architects
Shanghai Building News
Chinese Property + Architecture Design Developments: Built Environment Updates
post updated 9 October 2021
Building News Shanghai
Shanghai Building News, chronological:
Shanghai Architecture Designs – chronological list
9 Oct 2021
Bamboo Pavilion
Architects: LIN architecture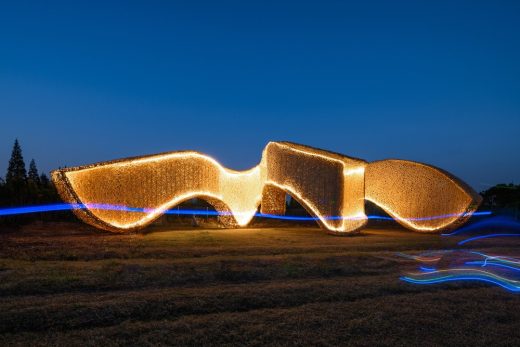 photo © Sunkai LIU
Bamboo Pavilion
The activation of rural field public space has always been an important part of rural construction projects. The participation of the designers and students in the rural space experimental Bamboo Pavilion project provides another possibility for the issue of rural construction space, focusing on joint participation, ecological construction, sustainable operation, teaching within research, etc.
30 Sep 2021
Harmay Fang
Architects: AIM Architecture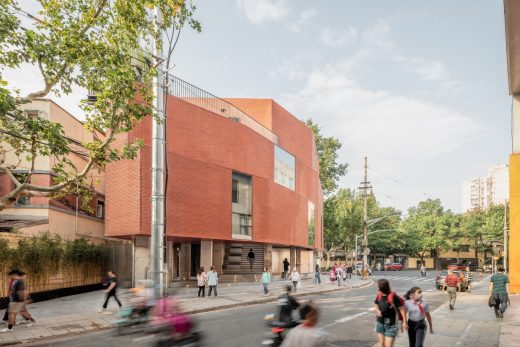 photograph : Dirk Weiblen
Harmay Fang Store in Shanghai
In AIM Architecture's ongoing collaboration with HARMAY, they have taken our community-centric design to the street with this new store typology. This building is a love letter to the community that surrounds it.
27 Sep 2021
BAN Villa, Jijiadun, near Shanghai, Jiangsu province
Architects: B.L.U.E. Architecture Studio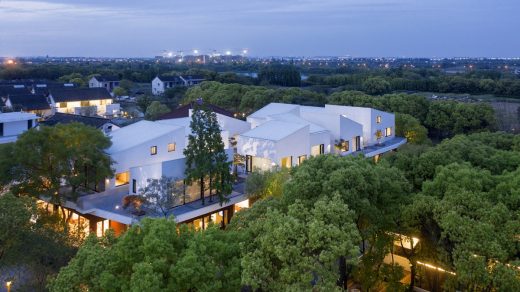 photo courtesy of architects office
BAN Villa in Jiangsu
As a typical picturesque Chinese Jiangnan town, the village of Jijiadun locates about 1.5-hour drive from the central city of Shanghai. With the rapid development of urbanization in China, the problem of rural hollowing-out is becoming increasingly serious.
Sep 22, 2021
Qiantan Center – Emporis Skyscraper Award
Design: Kohn Pedersen Fox Associates; Tongji Architectural Design (Group) Co., Ltd.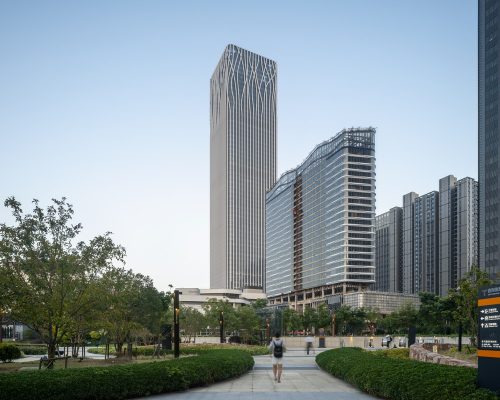 photo © Rex Zou
This tower is one of the winners of a Emporis Skyscraper Award 2020
30 Aug 2021
Kailong Jiajie Plaza Transformation, Hongkou District
Architects: AIM Architecture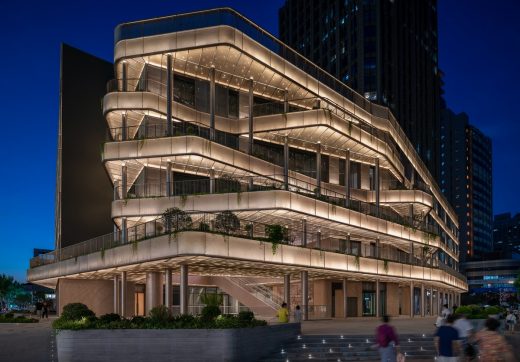 photo : Dirk Weiblen
Kailong Jiajie Plaza Transformation
Kailong Jiajie Plaza Transformation is part of AIM's ongoing exploration of what it means to activate cities, buildings, and society by creating inspiring spaces. With this project, AIM Architecture look at regeneration with fresh eyes.
30 Aug 2021
Luneurs Garde-Manger ITC Shanghai, Xuhui district
Architects: hcreates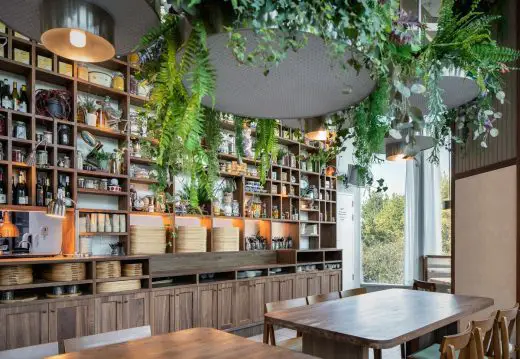 photo courtesy of architects office
Luneurs Garde-Manger ITC Shanghai
Tucked up on the second floor of the recently opened ITC in Shanghai's Xuhui district , sits Luneurs French-inspired, all-day brunch concept. As an extension of their successful bakery and ice-cream stores, hcreates sort to create a destination venue.
25 Aug 2021
ECCO Global flagship Store, Huaihai Road
Architects: HONG Designworks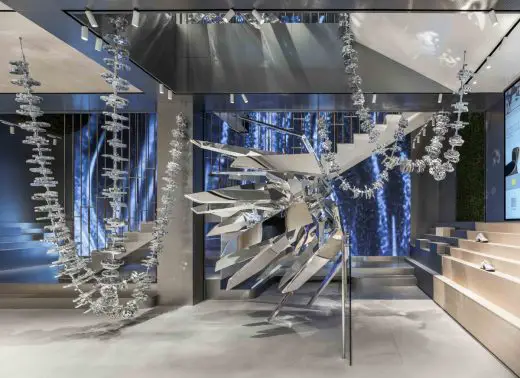 photo : Tan, Xiao – Shi Photography Studio
ECCO Global flagship Store Shanghai
Ecco flagship store locates on Huaihai Rd —— the interaction of eastern and western culture by many international brands. Ecco, a Danish brand of shoes and leather goods, with its design purpose "Making walk be a joy."
10 Aug 2021
Grand Banks
Architects: Chris Shao Studio LLC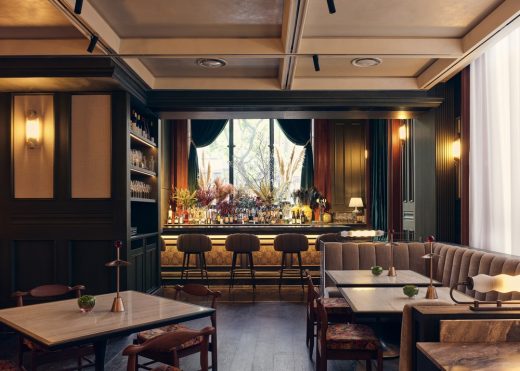 photo : Zhu Hai
Grand Banks Boutique Restaurant
Standing in front of the restored Brunner Mond Building, the ethereal and distant vision of transitioning away from the abstract became concrete. This is our stage, where a prologue to the new story of Grand Banks is presented.
4 Aug 2021
Green SPA, Pudong
3 Aug 2021
The Park Yanping Road
12 July 2021
Raffles City The Bund Buildings, Shanghai
Raffles City The Bund Buildings
6 July 2021
ZHA Close Up
ZHA Close Up, MAM Shanghai
5 July 2021
Huangpu Qu Showroom Complex
Architecture: Studio DOTCOF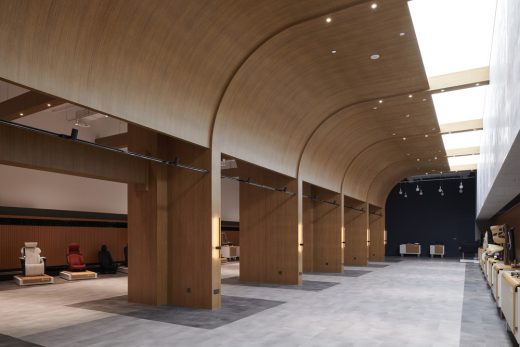 photograph : Chen Hao
Huangpu Qu Showroom Complex
A corporate showroom that is unlike spaces such as art galleries or museums that are directly open to the public, and is mainly used for receiving clients or partners related to the enterprise's business. A showroom is often relatively big and isolated. At times when no reception is happening it often lays vacant, and its use efficiency is fairly low.
4 July 2021
KWG BIOVALLEY Offices, Qingpu
23 Jun 2021
Toyou Bookstore
15 Jun 2021
GEMDALE UP VIEW
Interior Design: DOME&ASSOCIATES ; Architectural Design: Lacime architects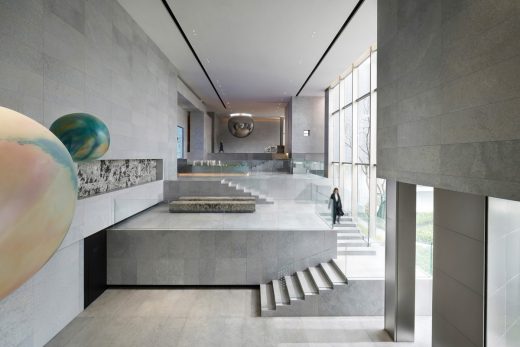 photography : Aguang, Zhuji images
Gemdale Up View Shanghai
The area where the project is located in has a high degree of urbanization. The purpose of this design is to explore the unique Genius loci in the urban environment, and realize the combined design by considering the three architectural elements of modulus, details and place, so as to elevate the design to the height of living art.
11 Jun 2021
The Roof, Shanghai, Yongjia Road, Xuhui District
Architects: Ateliers Jean Nouvel with ASPECT Studios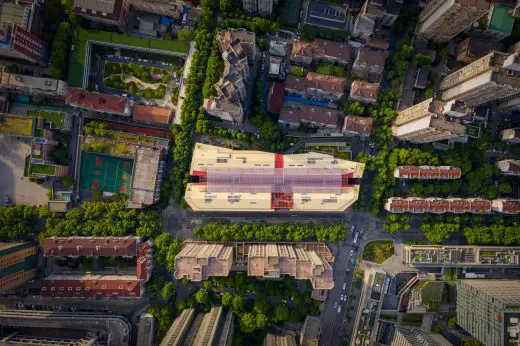 image : RAW Vision Studio/ASPECT Studios
The Roof, Shanghai
ASPECT Studios is part of a collaborative team behind an exciting new lifestyle and retail destination, The Roof in Shanghai, which offers a unique design infused with the characteristics of its traditional context.
2 May 2021
Shanghai Xintiandi atrium renovation
26 Mar 2021
IM Shanghai, Kaixuan Road / Huaihai West Road, Changning District
Architects: Aedas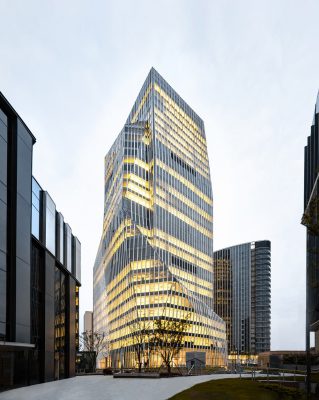 image courtesy of architects office
IM Shanghai Building News
The development, located at the intersection of Kaixuan Road and Huaihai West Road of Changning District and conveniently accessible via MTR Line 10 at Hongqiao Road Station, is adjacent to the Shanghai City Sculpture Art Centre, and Redtown Art District. The site is not among any of the CBDs in Shanghai.
25 Jan 2021
Pinghe Bibliotheater
14 Jan 2021
Wu Duo Menswear Shop, Wuxi
more Shanghai Building News on e-architect soon
Shanghai Building News 2020
11 Dec 2020
Century Square
27 Nov 2020
Shanghai Yangtze 3MAP Elevator Factory
Designers: ATAH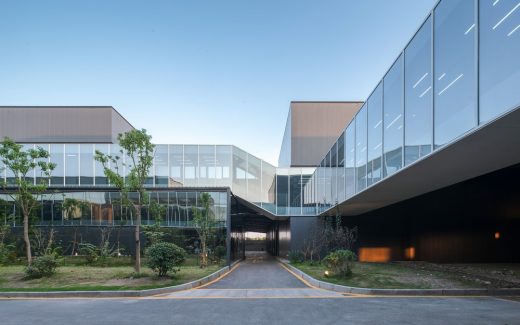 photograph : Yilong Zhao
Shanghai Yangtze 3MAP Elevator Factory
Under the national trend of the industry 4.0 era, China's domestic manufacturing industry is fully facing the transformation from intensive manufacturing to intelligent manufacturing and system services to achieve large-scale intelligent customization.
30 Nov 2020
Co-Working Space, Pudong District
27 Nov 2020
Shanghai Yangtze 3MAP Elevator Factory
27 Nov 2020
Oneswear Shanghai Shop, ChangNing District
13 Sep 2020
House G
11 Sep 2020
Ship Smoke, Lujiazui Harbor City
10 Sep 2020
Cadillac House in Pu Dong
2 Sep 2020
The Zentral Kitchen in Huangpu Qu
10 Aug 2020
Green Massage Healthcare Center, INFINITUS Mall, Shanghai, China
Architecture: Vermilion Zhou Design Group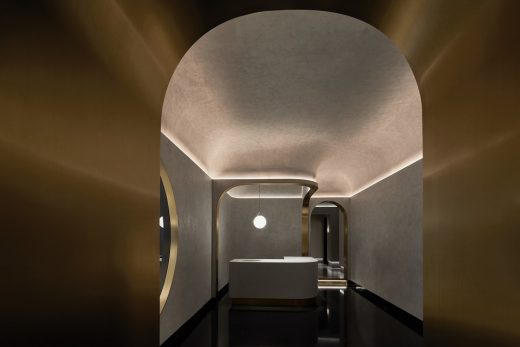 photograph : Shengliang Su
Green Massage Healthcare Center
Green Massage aims at providing soothing professional healthcare to busy people with fast-paced urban life in a private and elegant environment. It leads to the modern concept of health and healthcare, integrating modern scientific techniques on the basis of the theory of traditional Chinese medicine.
5 Aug 2020
Hidden House
Interior Design: Wutopia Lab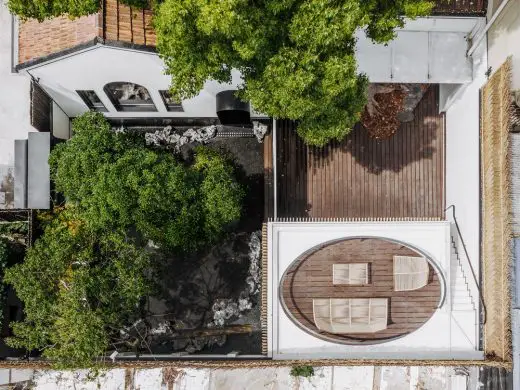 photograph : CreatAR Images
Hidden House
Wutopia Lab finished a house with a black courtyard called the Hidden House. It took six years to finish the project. It was a small museum, a library, a showroom, a clubhouse, or a home.
6 July 2020
Cloud Bistro in Shanghai
2 July 2020
Tianhui Todtown in Minhang
28 June 2020
One Person's Gallery in the Gap
Architects: Wutopia Lab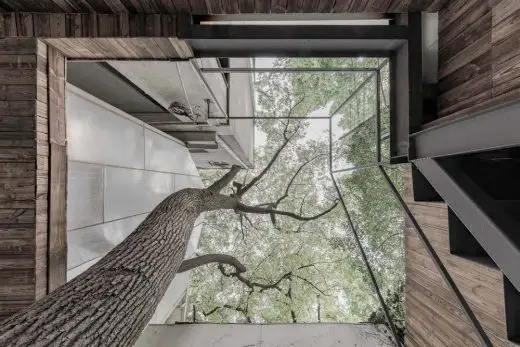 photographs : SHAO Feng, CreatAR Image (AI Qing)
Shanghai Kingboard Centre
One Person's Gallery used to be a storage structure which was filled with used materials (we called them 'old things') of a bankrupt company, that looked like disaster site. The architectural project started without any original blueprints.
25 June 2020
Huaxin Tiandi Office Campus
22 June 2020
Grand Gateway 66 Retail Complex
9 June 2020
Mirror, Xintiandi Style, Huangpu
26 May 2020
SCE Sky Horizon Building
8 May 2020
CANAL ST. Selected Store
6 May 2020
Suzhou Financial Center Exhibition Hall
Architects: Shanghai Riqing Architectural Design Co., Ltd.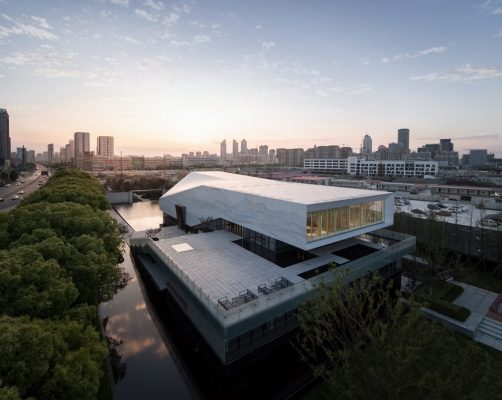 photograph : Schran Images
Suzhou Financial Center Exhibition Hall
This architectural project is located in the central section next to Suzhou Canal, where there is a grand canal view in the distance and urban trunk road in close proximity. The architects explore inherent logic of local cultural form and language and apply them to the design to stimulate the vitality of surrounding open space and make it the city parlor for residents.
30 Apr 2020
CECEP Headquarters
8 Apr 2020
The Agile Whale
3 Apr 2020
Tank Shanghai on the Huangpu River
27 Mar 2020
Porsche Headquarter
4 Mar 2020
Kingboard Centre, Hongqiao District
Architects: Aedas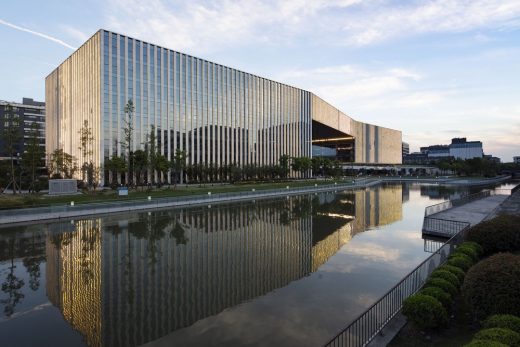 photograph : Shengliang Su
Shanghai Kingboard Centre
The design is a grand 'Gate' in a staid yet dynamic form responding to the brief of a prestigious commercial complex. The from the sky business centre and roof garden have panoramic views over the entire Hongqiao District.
17 Feb 2020
Ports 1961
Architects: UUfie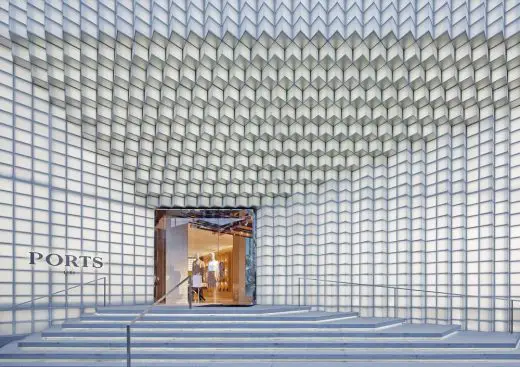 photo : Shengliang Su
Ports 1961 Flagship Store
Located at a major high-end commercial district at the intersection of Changde Road and Nanjing West Road, a new façade is created for the flagship store of fashion house Ports 1961.
8 Jan 2020
Alibaba's new HQ in Shanghai
Design: Foster + Partners, Architects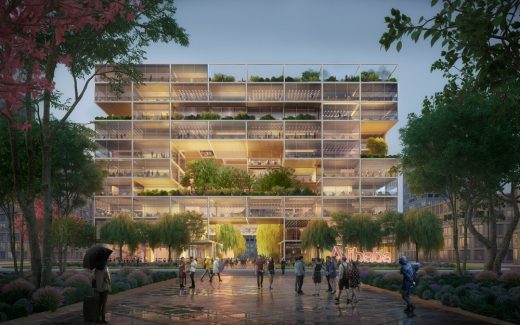 image © Foster + Partners
Alibaba Shanghai HQ Building
Foster + Partners has won the competition to design the new headquarters for Alibaba – the Chinese ecommerce giant – in Shanghai. As a new signature building for the company, it is set to showcase their unique working culture to the public.
4 Nov 2019
The West Bund Museum
Design: David Chipperfield Architects Ltd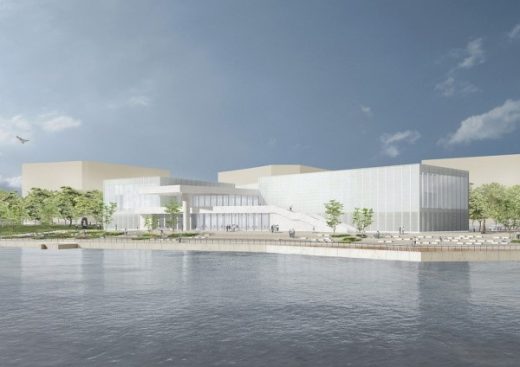 image © David Chipperfield Architects/Hayes Davidson
The West Bund Museum
The West Bund Museum is a new art gallery on the Shanghai Corniche, an 8.5 kilometre frontage on the northern bank of the Huangpu River.
9 Oct 2019
Hypocam House – Chinese Residence and Office
Architects: Wutopia Lab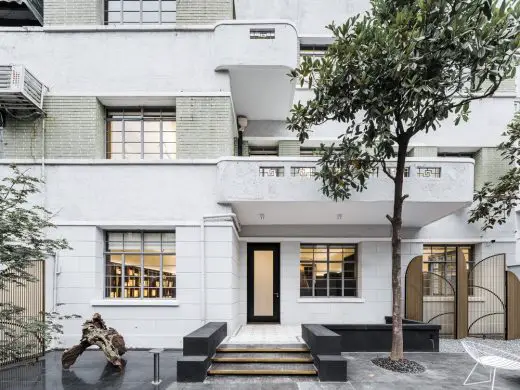 photograph : CreatAR Images
Hypocam House in Shanghai by Wutopia Lab
Wutopia Lab was commissioned by the client to reconstruct an old house located in the heart of Shanghai into a secret place including a courtyard, a miniature private gallery, home office and residence, given the fact that no structure was allowed to be modified.
17 Aug 2019
Avenue Green Sheshan, Chenfangqiao, Sheshan Town, Songjiang District
Interior design: ELTO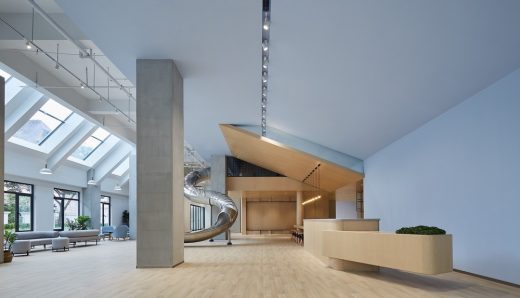 photography : Threeimages / Zhang Jing
Avenue Green Sheshan
Design vision and objective for this kindergarten is to create a place just like a home and a small communal place for kids. Therefore, we try to establish a social interactive environment.
16 Aug 2019
Moody Mooncake Pavilion
Interior & Installation Design: WAY Studio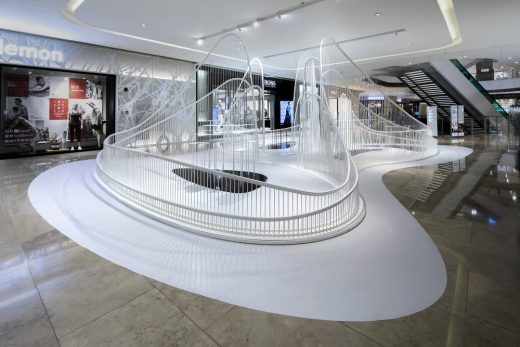 photography : Tian FangFang
Moody Mooncake Pavilion
An undulating pop-up installation for moody MOONCAKE, exhibiting their newest collection of mooncakes from this year and last.
13 Aug 2019
Pierre Cardin Home Showroom
28 Jul 2019
Cyrus Tang Foundation Center, Suzhou
26 Jul 2019
HEYTEA Store at Hongqiao Xintiandi
5 May 2019
Shimao Festival City
Architects: Kokaistudios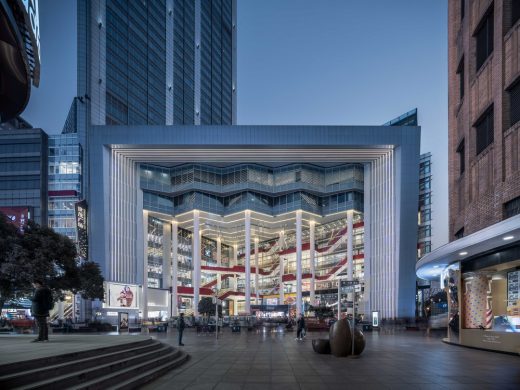 photograph : Wu Qingshan
Shimao Festival City
Shopping mall renovation to cater for China's increasingly lifestyle-driven retail scene. This retail building renewal demonstrates how by expanding malls' functionality and reconsidering circulation, these sizeable structures can be reabsorbed by the city as useful public spaces of engagement and exchange.
7 Apr 2019
Nyx Rooftop Bar
Architects: Alberto Caiola Studio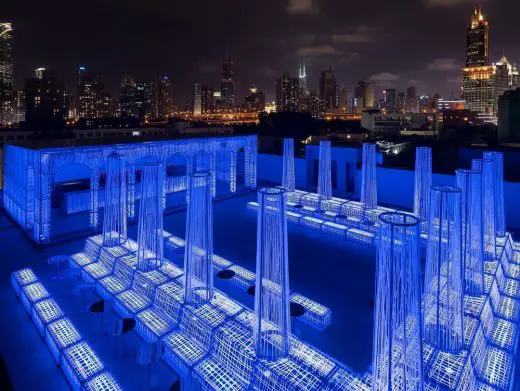 photograph : Dirk Weiblen
Nyx Rooftop Bar in Central Shanghai
Commanding, convivial and named after the Greek goddess of the night, this new city space inspired by classical architectural ruins affords spectacular city views.
3 Apr 2019
Shanghai Grand Opera House
Architects: Snøhetta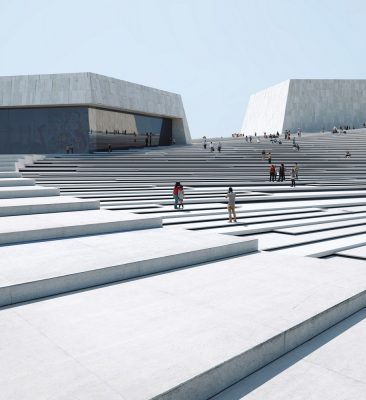 images © Mir and Snøhetta
Shanghai Grand Opera House
The project aims to attract a broad audience through offering both traditional and Chinese opera performances, classical concerts and more experimental performances that will attract a younger audience.
15 Mar 2019
Spatial Renovation of M.Y.Lab Wood Workshop, 1205 Kaixuan Road, Changning District
Design: Continuation Studio Architects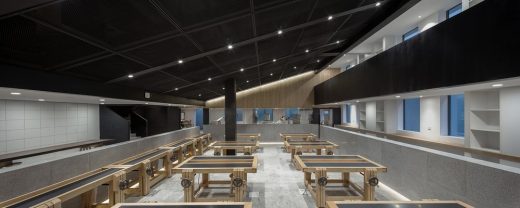 photo : SHIROMIO Studio
Spatial Renovation of M.Y.Lab Wood Workshop
Located on the first floor of a warehouse, which used to be the Dongfeng Sofa Factory in Changning District.
7 Mar 2019
Shanghai Yangtze River Estuary Sturgeon Nature Preserve – Design Competition Winners
Design: Ennead Architects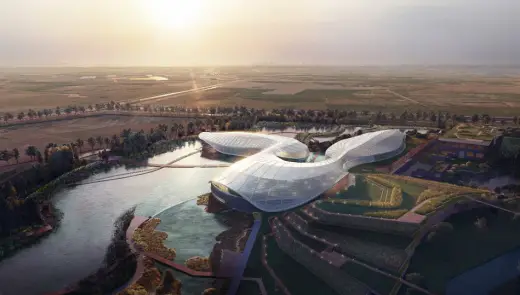 rendering courtesy of Ennead Architects
Shanghai Yangtze River Estuary Sturgeon Nature Preserve
6 Mar 2019
Zaha Hadid Design at Shanghai Exhibition Centre
22 Feb 2019
InterContinental Shanghai Wonderland Hotel
13 Feb 2019
Moonstruck Maison
3 Feb 2019
Kunchi Office
Shanghai Building News 2018
21 Sep 2018
Carlowitz & CO Co-Working Space
13 Sep 2018
The Springs, Minfu Rd, Jiangwan New Town
Architects: Henning Larsen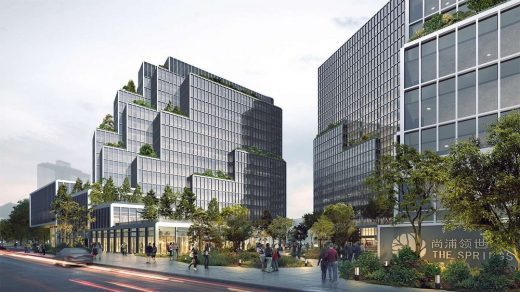 Henning Larsen's design for Tishman Speyer's The Springs started construction on July 12th, 2018.
The Springs in Shanghai
Danish architecture office Henning Larsen's design evokes the dramatic mountain landscapes found throughout rural China, mirroring the mountain landscape with tall, terraced towers shel-tering a green public square.
3 Sep 2018
Benoy Shanghai 10th Anniversary News
24 Aug 2018
Space Slice Renovation Project, 567 Maotai Road, Changning District
Design: DYN Architecture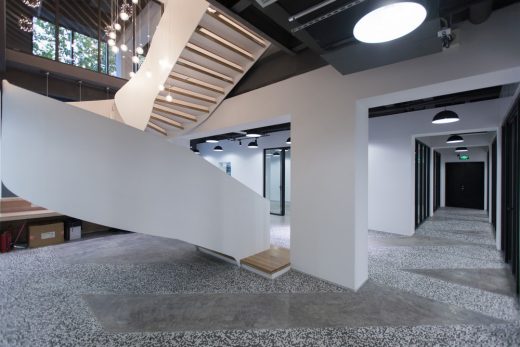 photograph : UnitU
Maotai Road Building Redevelopment
Fashionco-working space in the headquarters of Shanghai Garment Group on Maotai Road, Changning District – a minimalistic office redevelopment.
17 Jun 2018
Historic Colombia Circle Shanghai Revitalization
Design: West 8 Urban Design & Landscape Architecture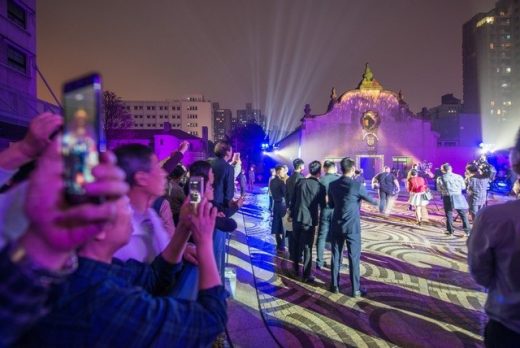 image courtesy of architects
Colombia Circle Shanghai
The first phase of the Colombia Circle project in Shanghai has opened. West 8 was responsible for the landscape architecture and public space scope of the 4.7 ha site which has a strong architectural legacy and is poised to again become one of Shanghai's most prominent public spaces.
31 May 2018
Shanghai Sanctum
Architects: Wutopia Lab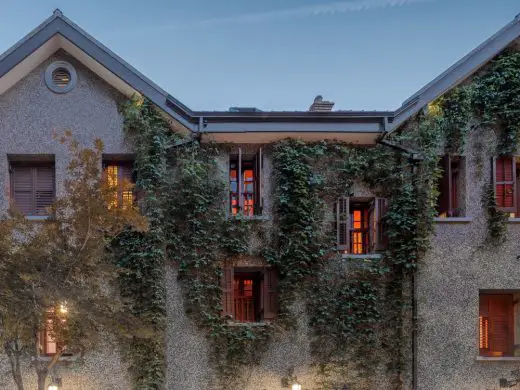 photo : CreatAR Images
Sinan Bookshop in Shanghai
At the invitation of Shanghai Century Publishing Group and Yongye Group, Wutopia Lab transformed Building 25 of the Sinan Mansion into a new bookstore. The goal was to provide a space for learning and thinking for the general public living in the city.
16 May 2018
Fengpu Avenue Master Plan, Fengxian New City
Architects: Woods Bagot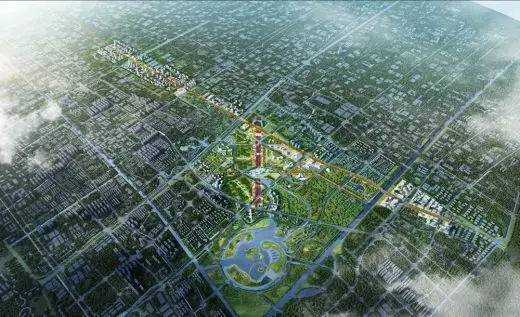 picture © Woods Bagot
Fengpu Avenue Master Plan in Shanghai
Integration, health, wellness and sustainability are the key elements guiding Woods Bagot's concept master plan for an 8.62-kilometre stretch of Fengpu Avenue – an important pioneer development axis in Shanghai's Fengxian New City.
12 Mar 2018
Jian Li Ju Theatre, B1 No. 301 East Hongsong Road, Minhang District
Architects: More Design Office (MDO)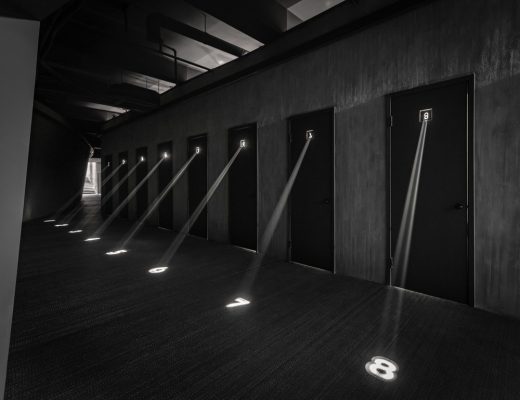 photograph : Dirk Weiblen
Jian Li Ju Theatre Building
The Jianliju theatre company, in an interesting examination of typology, offers a unique spectator experience.
27 Feb 2018
NIO House
Design: Schmidt Hammer Lassen Architects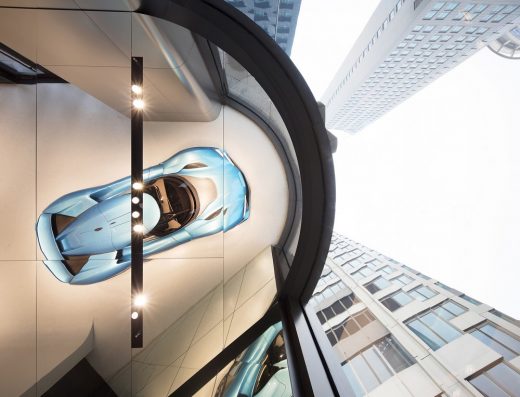 photograph : Raw Vision Studio
NIO House
Danish architectural firm Schmidt Hammer Lassen Architects has completed the first phase of NIO House, an unconventional showroom for electric car company NIO in Shanghai. Through simple use of tactile materials such as Douglas fir, satin stainless steel, terrazzo and fabrics, the space intends to pose a question to the user: Can we make the car an extension of the home?
24 Feb 2018
Flowing in the Hair Salon, XianYang South Road
Design: AaaM Architects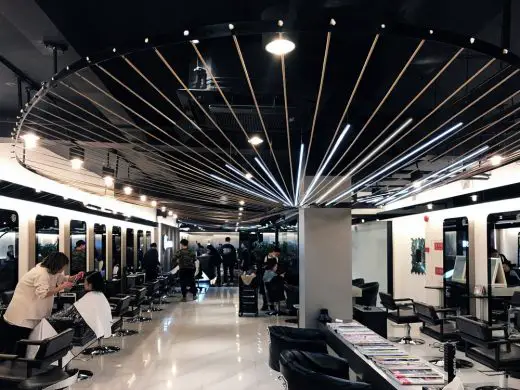 image courtesy of architects
Shanghai Hair Salon Interior
This interior design is for an established Hong Kong hair salon. Currently having 20+ branches in the city of Shanghai, the salon is urgently in need for a precise rebranding exercise to align the ever-changing and growing retail market in mainland.
6 Feb 2018
Huayue Court
Design: Golucci Interior Architects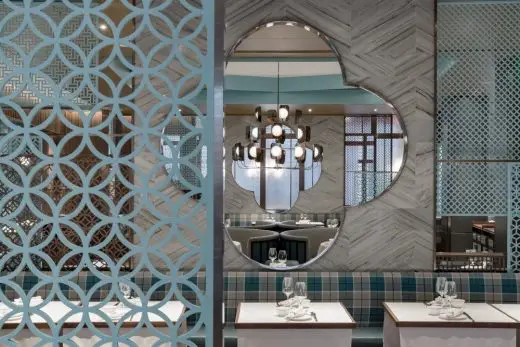 image courtesy of architects
Huayue Court Restaurant
"Fine Chinese Cuisine" – Interpreting a Different Taste of Chinoiserie: fresh and pure blue interior. From ingredients to dishes, from the design to decoration, Huayue Court always interprets a new Chinoiserie restaurant.
10 Jan 2018
Palace Cinema, CapitaLand Raffles City, Changning District
Architects: 4N design architects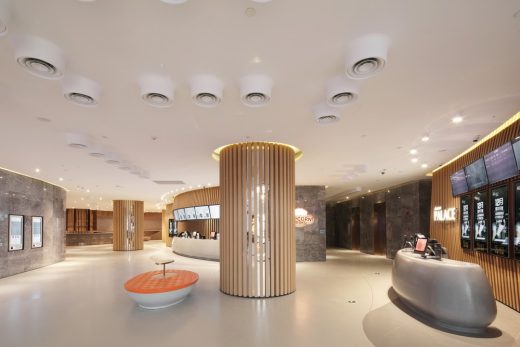 image courtesy of architects
Palace Cinema in Raffles City
Located in a long-developed commercial and residential neighborhood of Puxi Shanghai, the site is only 20 minutes away from Hongqiao airport or popular traveler-spot the Bund. Occupying the top level of this brand new shopping mall developed by the Singapore developer giant CapitaLand, the site has an sun-filled opened atrium that connects the public areas to nine distinct theatre houses.
Shanghai Architecture News – archive up to and including 2017
Shanghai Architecture Design – chronological list
More Shanghai Architecture News online soon
Location: Shanghai, China
New Chinese Architecture
Shanghai Architecture Tours
Shanghai Architecture Tours
Shanghai Architect offices – architectural practice contact details
Shanghai Building : news + key projects
Buildings / photos for the Shanghai Architecture Designs page welcome