Shanghai architecture news 2023, Chinese building design guide, Pudong property images, China architects
Shanghai Building News
Chinese Property + Architecture Design Developments: Built Environment Updates
post updated 27 August 2023
Shanghai Architecture Designs – chronological list
Building News Shanghai
Shanghai Building News, chronological:
24 August 2023
Tough Planet Coffee and Market, Huangpu District
Design: ATAH Architecture Office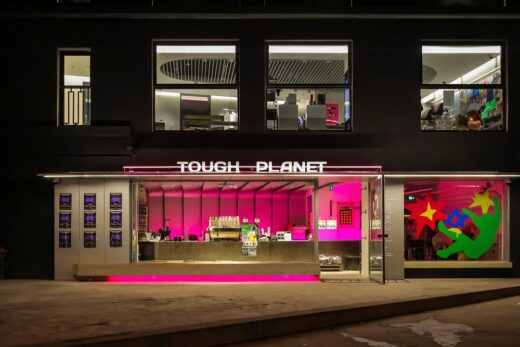 photo © Zhi Xia
Tough Planet Coffee and Market
The first store of Tough Planet Coffee and Market in the Hengfu Historic District, where the red rooftops of the old lanes stand out against the green cluster of the public space. Strolling under the shading of French parasol trees, pedestrians won't miss the strong sense of Shanghai Culture with a mixture of international vigor and local spirit along the street.
24 August 2023
EHB Restaurant, French Concession district
Design: Chris Shao Studio LLC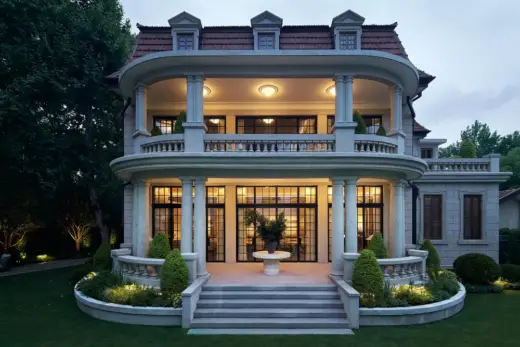 photo : Zhu Hai
EHB Restaurant
Upon entering EHB the references to nature, organic form and botanicals are instantly apparent. Drawing from Holmboe-Bang's culinary philosophy, the first floor's design pays homage to Norway, the chef's use of organic, biodynamic and wild produce.
14 July 2023
BABAMA Concept Store, Huangpu District
Design: ATMOSPHERE Architects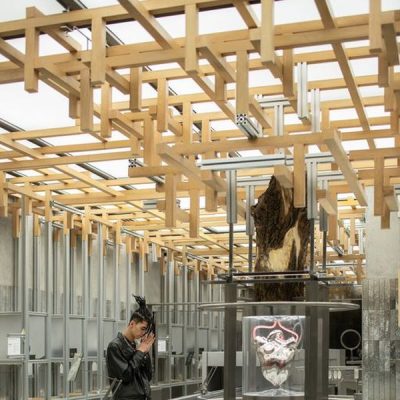 photo © Chuan He from Here Space
BABAMA Concept Store
Close to two subway exits, the project stands out with abundant customer flow and advocates individuality and self-expression in the second phase of the Xintiandi fashion business district in Huangpu District, Shanghai.
13 July 2023
Jeep Adventure, Crystal Galleria, Jing'an Distrtict
Design: INGROUP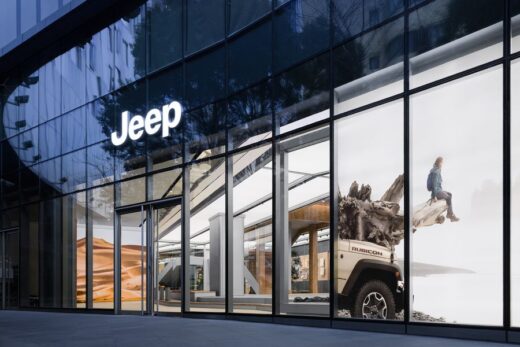 photo © SFAP Photography
Jeep Adventure, Crystal Galleria
Designed by INGROUP in June 2022, the first global Jeep® Adventure was launched in Crystal Galleria in the Jing'an District of Shanghai. Open and modern, the avant-garde international city of Shanghai is the origin of endless creativity, technology, and renovation.
16 June 2023
Qing Dynasty Post Office
Design Team: MDO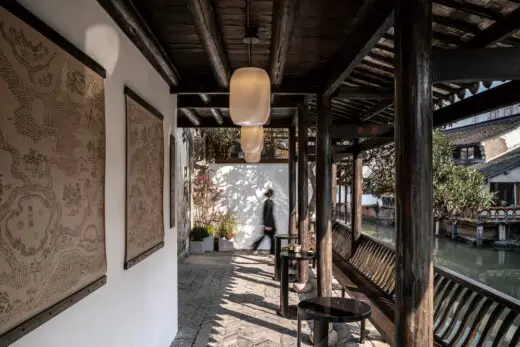 photo : Pianfang Studio
Qing Dynasty Post Office
MDO's project is the transformation of a canal side Qing Dynasty Post Office into a dynamic community social hub. The approach combines sensitive renovation techniques with modern upgrades to create a space that celebrates the tradition of information sharing and brings the history of the postal service to life for a new generation.
10 Apr 2023
Laizhou Bar, Fumin Road
Design Team: RooMoo Practice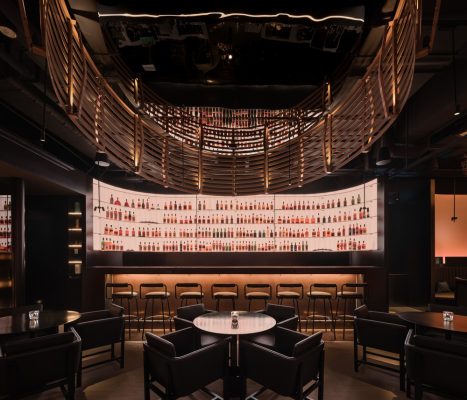 photo : Wen Studio
Laizhou Bar, Shanghai interior design
Behind every beautiful product, there is always an aesthetically pleasing production process. The aesthetic trend in production extends not only to the beauty of products but also to the beauty of the production environment and the products themself.
13 Apr 2023
Scenery in Motion, Moyu Road, Jiading District
Design Team: Studio DOTCOF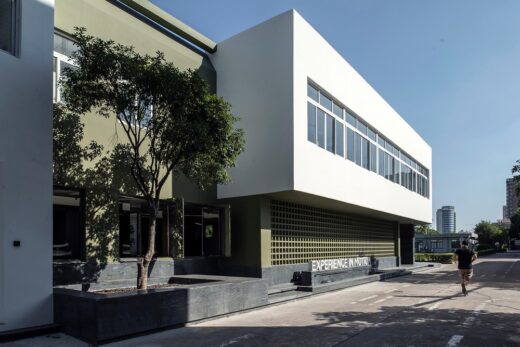 photo : LEIDU
Scenery in Motion
This showroom is in a three-story brick building built in 1992 within Yanfeng Auto Trim System Company's Anting plant in Shanghai. The client wanted to add a showroom on the ground floor to display its automotive interior and exterior products to customers; the second and third floors were reserved for office functions.
Suhe Centre for China Resources Land
NIO Delivery Center Shanghai Jiading Nanxiang
23 Feb 2023
SOM LAND, Chongming
Design: RooMoo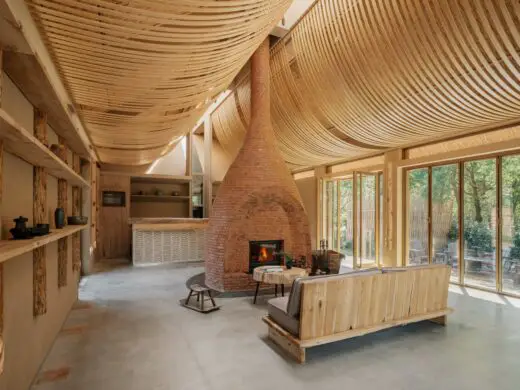 photo : Wen Studio
SOM LAND Hostel Chongming
The Resort's name 'SOM LAND' comes from the traditional Chinese color, warm green between the mottled gaps in the tree shadows, representing a state of relaxation and slow-paced life.
15 Feb 2023
Shanghai Jiading Financial Center Project, Jiading district
Design: Aedas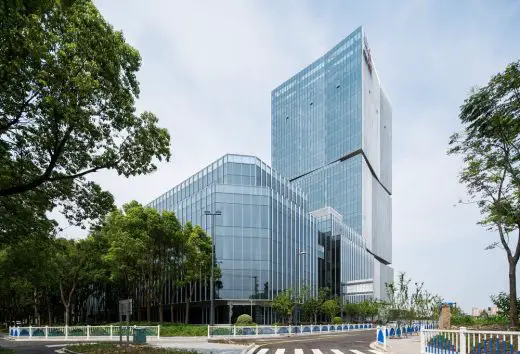 image courtesy of architects practice
Shanghai Jiading Financial Center Project
This new Chinese building design is a community hub in Shanghai Jiading New Town – a nature-integrating business complex. As the main carrier of the urbanisation process in the suburbs of Shanghai, Jiading New City is an important hub for Shanghai's development in science and technology, and a recently-established sub-centre for the future city.
10 Feb 2023
NIO Delivery Center, Jiading district
Design: Kokaistudios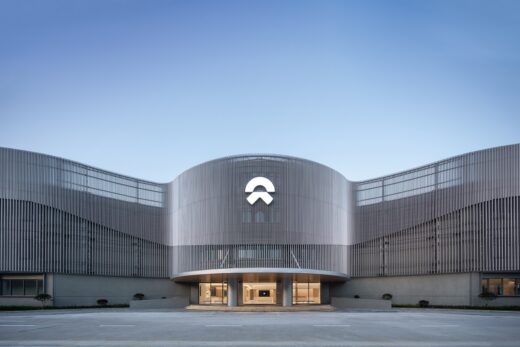 photo : RAWVISION studio
NIO Delivery Center Shanghai Jiading Nanxiang
NIO's largest delivery center to date follows a lifestyle-oriented interior design template created by Kokaistudios for the electric car brand. Housed inside a former factory, the building is newly renovated to become a local landmark thanks to a striking louvered facade.
17 Jan 2023
Commercial Podium, Suhewan
Design: Kokaistudios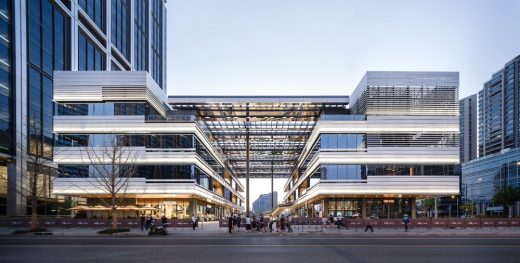 photo © Terrence Zhang
Commercial Podium Shanghai
Rounding out Kokaistudios' recent Suhe MixC World in Shanghai which comprises a commercial space within a new green land, this mixed-use building contextualizes the project into its urban and green surroundings and elevates its presence in the city, all the while complementing and echoing neighboring architecture of the landmark tower.
17 Jan 2023
Office tower in Suhewan
Design: Foster + Partners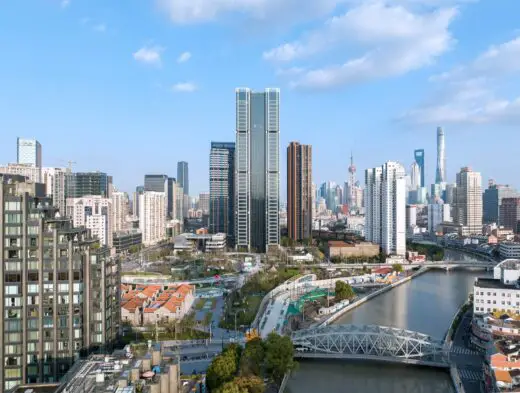 photos © Zhurunzi
Suhe Centre for China Resources Land
Foster + Partners completes the first office tower in the newly regenerated Suhewan area of Shanghai. The Suhe Centre for China Resources Land forms the centrepiece of the Suhewan East Urban Complex, which introduces a rich mix of functions to the predominantly residential area. The 42-storey signature tower is part of the city's vision to draw development towards the eastern quarter.
4 Jan 2023
Design Shanghai @ Xin Tiandi Design Festival, No.150, Hubin Road, Huangpu District
Design: RooMoo design studio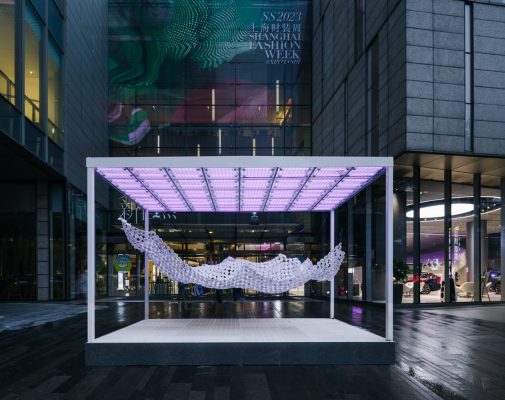 photos : Wen Studio、RooMoo、Yizhu Construction
Windbreak Xintiandi Design Festival 2022
Flâneur is a French term meaning "stroller" or "loafer" used by nineteenth-century French poet Charles Baudelaire to identify an observer of modern urban life. They are no purpose, no need, well-educated and well-fed, wearing high hats and trench coats, wandering and observing and experiencing, becoming a perceiver and witnessing urban change.
More Shanghai Building News on e-architect soon
Shanghai Building News 2022
28 Dec 2022
ASSEMBLE by Réel retail design
Interior Design: Kokaistudios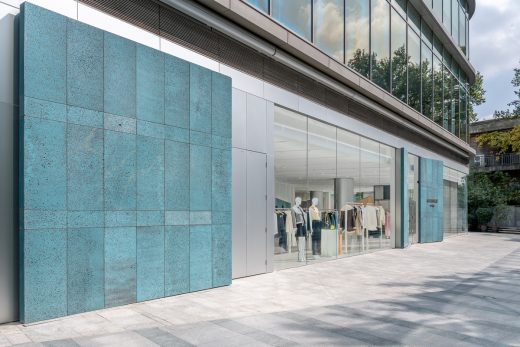 photo : Dirk Weiblen
ASSEMBLE by Réel
For the most recent expansion of multi-brand store Kokaistudios applied a minimalist approach of angled partitions and contrasting materials. The resulting interiors suggest pathways through three distinct areas, each characterized by a subtle architectural style.
12 Dec 2022
PARKLIFE | Spatial Installation In The Downtown, Middle Huaihai Road, Xintiandi shopping area
Design: TEAM_BLDG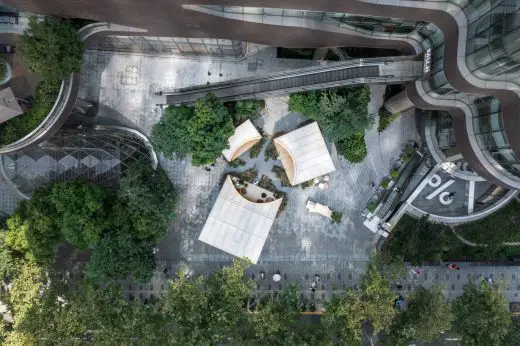 photo : Studio FF
PARKLIFE Spatial Installation Shanghai Downtown
People and cars are in a hurry on the busy Middle Huaihai Road. The site of the project is located on the south side of the tallest building in the Xintiandi shopping area. In contrast to previous projects of actual architecture, this time it is about the design of a spatial installation – PARKLIFE. "Home" and "micro park" are two important themes to be followed in the creation.
9 Dec 2022
Crystal Orange Hotel, Lujiazui District
Architecture: Vermilion Zhou Design Group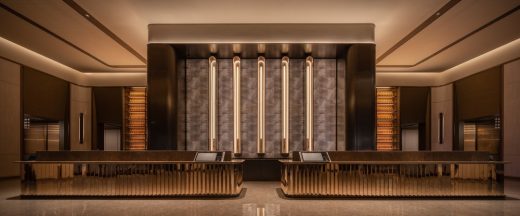 photo © Jian Quan Wu
Crystal Orange Hotel, Lujiazui
The texture of crystal comes from purity and penetration, without impurities. Under solid light, a crystal reflect the colors of a rainbow, with a gradually refined texture over its life that, when polished, is brilliant and lustrous.
28 Nov 2022
Suhe MixC World, Suzhou Creek
Design: Kokaistudios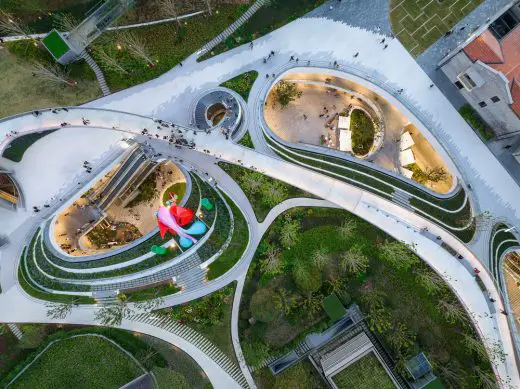 photo © Terrence Zhang
Shanghai Suhe MixC World
In 2016, Kokaistudios was invited to participate in a competition for an underground shopping mall in Suhe Creek Green land. Instead, the design opted to present a brand-new public space in the city: a riverside green land with cultural and leisure facilities, incorporating a subterranean commercial area.
28 Nov 2022
Le Coq Wine & Bistro, Qiantan, Taikooli, Pudong
Interior Design: RooMoo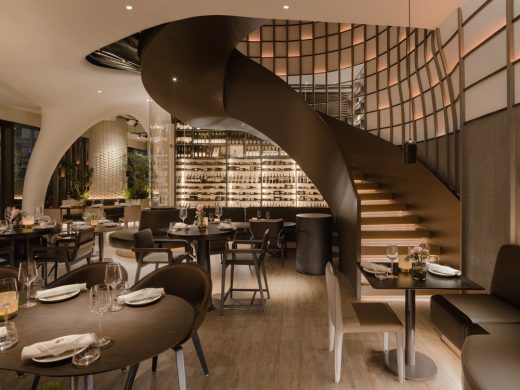 photo : Wen Studio
Le Coq Wine and Bistro, Taikooli
The Le Coq Wine & Bistro is in Taikooli Qiantan, Pudong, Shanghai. The design concept for this project was to create a "walk-in vineyard", bringing a new immersive dining and wine-tasting experience.
7 Nov 2022
KWAfood Fried Chuan Group – KFCG Space Station
Architecture: Topos Design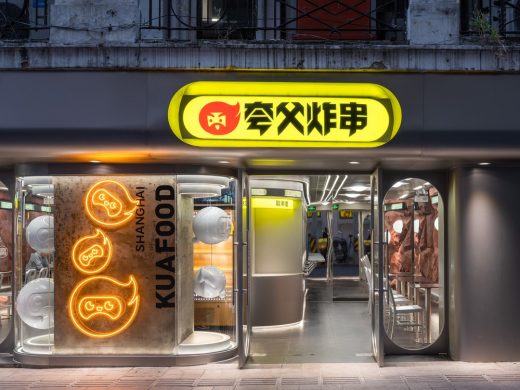 photo : Zhu Runzi
KFCG Space Station
The space station is surrounding the capsule on the central island, where all equipment and staff are placed. The interface of the capsule with oval shaped glass windows creates a transparent and bright scene.
28 Oct 2022
Guangxi China Resources Tower, Minzu Avenue, Fengling District, Nanning, Guangxi Province
Design: Goettsch Partners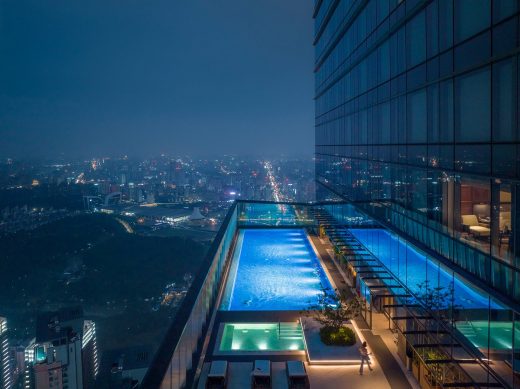 image © Arch-Exist
Guangxi China Resources Tower Nanning
Global architecture firm Goettsch Partners complete the Guangxi China Resources Tower, a new 403-meter-tall (1,322-foot-tall) skyscraper building in Nanning, China, that is also the city's tallest building. Developed by CR Land, the 86-story landmark tower totals 272,260 square meters, composed of the 336-key Shangri-La Nanning hotel, 172,740 square meters of office space and 5,930 square meters of retail.
13 Sep 2022
Lingang Science and Technology City Innovation Crystal Project, Lingang Special Area
Architecture: Ennead Architects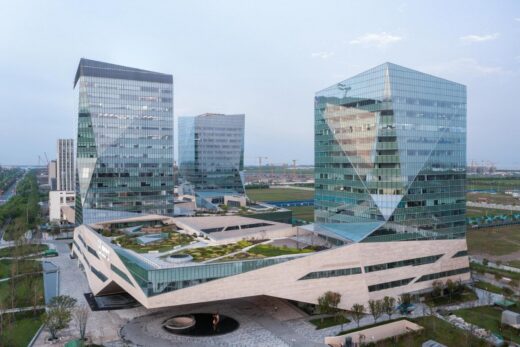 image © Ennead Architects
Lingang Science and Technology City Innovation Crystal
2022 marks the third anniversary and the final year of the development plan for the Lingang Special Area, a world-class pioneering scientific community in Shanghai. Designed by Ennead Architects, the Lingang Science and Technology City "Innovation Crystal" project serves as an anchor and a catalyst for this district and continues to promote additional development in the area since opening to the public.
29 Aug 2022
CITIC SQUARE Renovation –
Design: Kokaistudios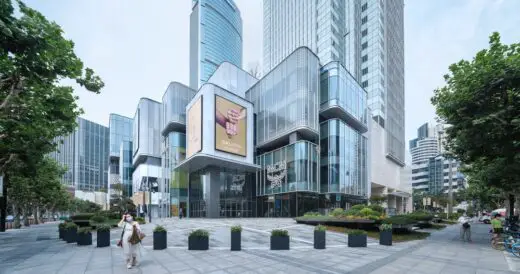 photo : Terrence Zhang
CITIC SQUARE Renovation
Dynamic and futuristic, Kokaistudios' latest renovation transforms a twenty-year old shopping mall into a modern lifestyle destination. By breaking up the mall's boxy silhouette through seemingly floating pixels, the new architecture complements its historic surroundings, opening new vistas and possibilities.
6 Aug 2022
Super Gameland WAT, Changsha
17 June 2022
Shanghai Zi Fu Hui Restaurant
Design: LDH DESIGN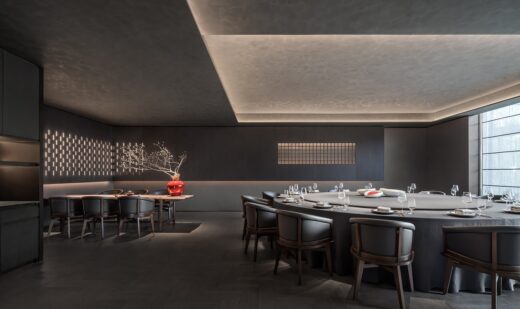 photo : Wang Ting
Shanghai Zi Fu Hui Restaurant
Designer Liu Daohua often applies "architectural thinking" in interior design, combining shape and color to build space art with strong visual impact and unique personal temperament. This kind of temperament can best reflect the designer's design philosophy, which requires the designer to have good foresight, managing ability, and a firm "challenger" mentality towards the project.
31 May 2022
Shanghai Yangtze River Delta G60 Innovation Center, Shanghai, People's Republic of China
Design: Aedas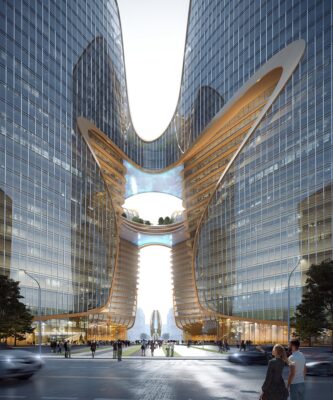 image courtesy of architects practice
Shanghai Yangtze River Delta G60 Innovation Center
Led by the goal of accelerating regional integration in the Yangtze River Delta, the G60 Science and Technology Innovation Corridor linking Shanghai and its neighbouring cities is designed to be an important engine. Aedas has recently won the conceptual design competition for the adjacent G60 Innovation Center, situated at the starting point of the corridor, as a gateway landmark.
31 May 2022
Introlemons
Design: AIM Architecture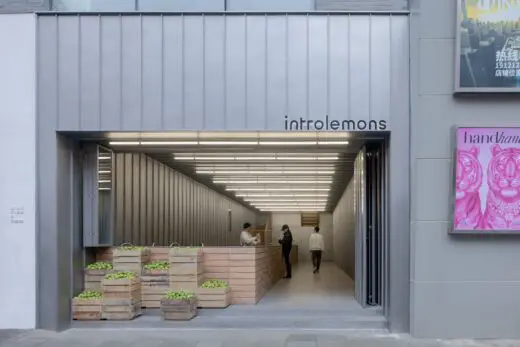 photo : Wen Studio
Introlemons Shanghai, Lemon Tea Store
Within our continuous exploration of how interior can be a vital component in activating and regenerating neighborhoods, this small store is a story about sweet and sour, a melancholic memory of sorrow and love. Introlemons combines the passion for fresh lemon tea and the melancholic love story of a father for his daughter.
18 May 2022
Shanghai Lingang Special Area, Dishui Lake District
Architecture: Ennead Architects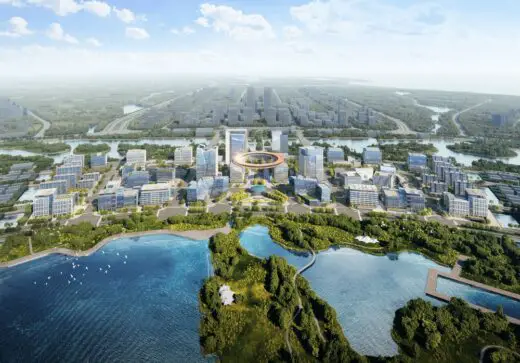 image © Ennead Architects
Shanghai Lingang Special Area, Dishui Lake District
Ennead Architects, the internationally renowned architecture firm, unveiled the masterplan for the Shanghai Lingang Special Area, a new hub for global commerce. Designed around the central axis that joins the Dishui Lake district in the core of Shanghai, the masterplan establishes an iconic identity for a free trade zone and business district that will attract some of the world's most prominent companies as it facilitates global trade.
7 Apr 2022
FLORA&aiLEY, Dingyuan Road
Architecture: JYDP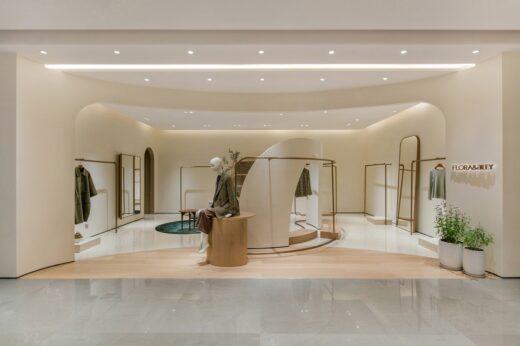 photo : Raitt Liu
FLORA&aiLEY Shop, Shanghai Interior
More and more retail spaces are tending to be like "photography studios", providing an intriguing setting that attracts people to visit and take photos. However, it seems to be forgotten that the original intention of retail stores is to present brands and commodities.
19 Mar 2022
Shanghai Shipyard Masterplan, Lujiazui District
16 Mar 2022
Black Rock Whisky Bar
14 Mar 2022
Northern Gateway Masterplan Design, Lujiazui District
Architecture: Farrells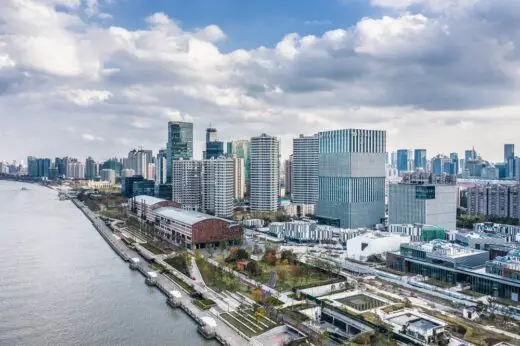 photo © Terrence Zhang and Farrells
Shanghai Shipyard Masterplan, Lujiazui District
The notion of how people work and play has changed due to the Covid 19 pandemic. Benjamin Lau from Farrells discusses the new Shanghai Shipyard venue in the Lujiazui district which gives a new future vision for urban life. Shanghai Shipyard is a new mixed-use development in the Lujiazui district, which has remained active and vibrant, at times when many leading global cities have struggled to keep their streets alive.
2 Mar 2022
Shanghai West Bund Vision
Architecture: 10 Design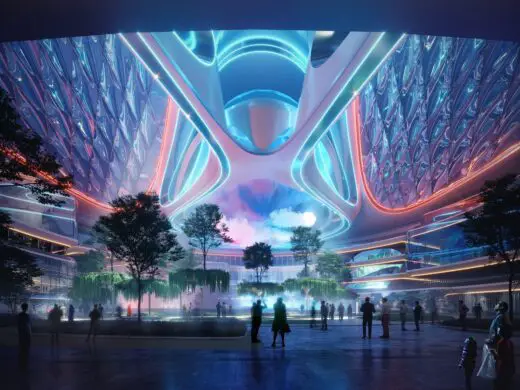 image courtesy of architects practice
Shanghai West Bund Parcels C&D Vision by 10 Design
10 Design (part of Egis Group) reveals the shortlisted design vision for Shanghai West Bund in China. 10 Design has been appointed to develop further two parcels (E&F) within the site that include a series of retail components, an office campus, cultural and sports facilities.
21 Feb 2022
T0 Japanese, South Suzhou Road
Architecture: Nong Studio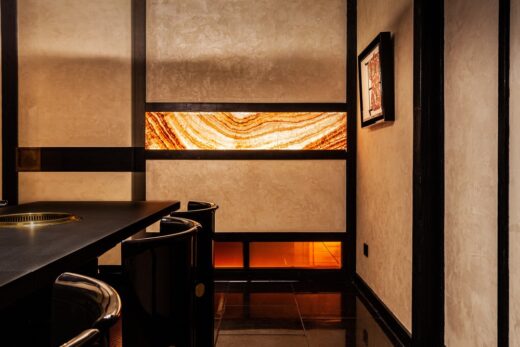 photo : Hei Nong
T0 Sumibi Yakiniku, Huang Pu Qu
The overall design for T0 Japanese cuisine brand is inspired by five Chinese elements – namely metal, wood, water, fire, and earth – which coincide with their different series of products. Through one entrance, there are two dining zones, and the water and fire concept is respectively adopted in this restaurant, an establishment combining OMAKASE sushi and charcoal fire roasts.
10 Feb 2022
Shanghai Yunjian Granary LILITH House, Songjiang
Design: DCDSAA Architecture Office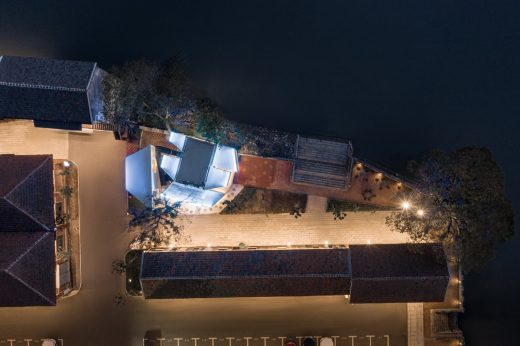 photo : Wu Qingshan
Shanghai Yunjian Granary LILITH House
DCDSAA Architectural Design Office has completed a very important architectural planning and design project in Shanghai this year-Lilith House (Cat House Garden); Architects hope to build a harmonious relationship among architecture, courtyard and nature through minimalist geometric deconstruction and calm symmetry.
28 Jan 2022
Green Massage, Madang Road
Architecture: Vermilion Zhou Design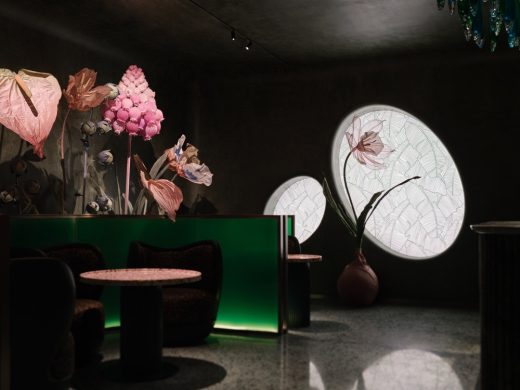 photo : Zhu Runzi
Green Massage, Madang Road
'Green massage' Madang Road, is in the comprehensive commercial property of a prominent big red building in the center of Shanghai, designed by Jean Nouvel. When you enter the building from the street, you are instantly immersed in this special environment. But the massage space is devoid of the type of bright lights or large open windows of surrounding restaurants.
15 Jan 2022
Yuandang Bridge , Qingpu, Shanghai, Suzhou Jiangsu
Architecture: Brearley Architects+Urbanists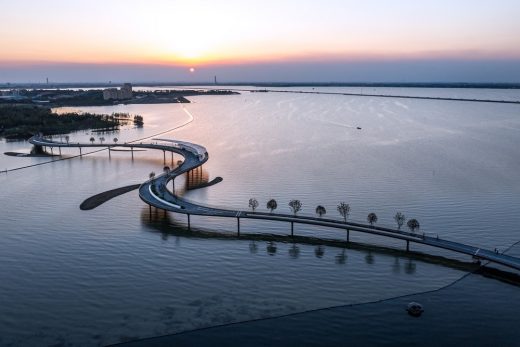 photo : Zhu Runzi
Yuandang Pedestrian Bridge
The Yuandang Pedestrian Bridge celebrates the coming together of Jiangsu Province and Shanghai. The 586m bridge is a hybrid structure incorporating landscape, infrastructure, and architecture. It is located in a key location where the two jurisdictions meet.
19 Jan 2022
New Pujiang Centre
Architects: BDP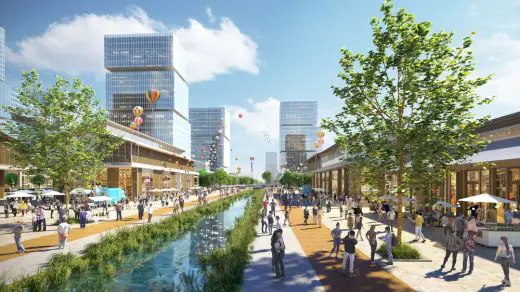 image courtesy of architects practice
New Pujiang Centre
Global, interdisciplinary design consultancy, BDP has won an international competition to complete the urban design of the New Pujiang Centre in Shanghai, China. Launched by the People's Government of Pujiang Town and the Minhang District Planning and Natural Resources Bureau in July 2021, a combined consortium of BDP and JAE came away with the top prize and the contract for the project.
24 Jan 2022
Haiweiguan Restaurant, Fuxing Road, Shanghai, Suzhou Jiangsu
Architecture: S5 DESIGN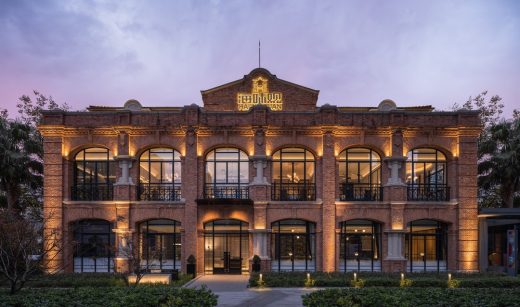 photo : Zhu Runzi
Haiweiguan Restaurant, Huangpu District
By the design of Daniel Qiao, Haiweiguan Restaurant located on Fuxing Road in Shanghai has integrated the ancient and the modern with innovative interior design. It has become a moving work of both inside and outside, reflecting the innovative future from the Shanghai heritage.
5 Jan 2022
Youtha International APT Community, Songjiang
Interior: Lacime Architects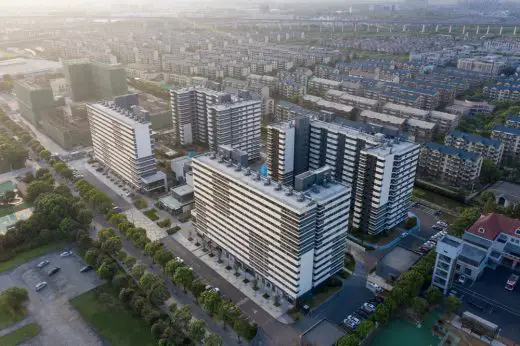 photo : Schran Images
Youtha International APT Community
In the past decade, from "both housing purchase and renting" to encouraging the development of affordable rental housing, the government has given multi-dimensional support to the development of the housing rental industry. From development, leasing to operation and service, real estate development enterprises have been deeply involved in the housing rental industry and formed a set of increasingly mature development system.
More Shanghai Building News on e-architect soon
Shanghai Building News 2021
15 Dec 2021
Shanghai Jiuguang Center, North Shanghai
Interior: UNStudio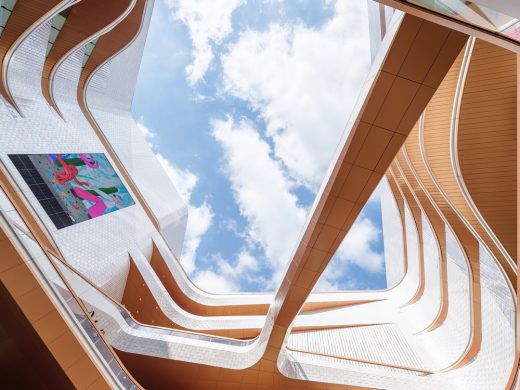 photo © Aaron&Rex
Jiuguang Shopping Center North Shanghai
UNStudio, in collaboration with Nihon Sekkei, recently completed the Shanghai Jiuguang Center. The design for this new retail destination, which sits in the middle of a bustling Shanghai neighbourhood merges an advanced commercial ecosystem with a human-centric, customer-friendly destination.
12 Dec 2021
Bulgari flagship store, Shanghai Plaza 66, Nanjing Road
Design: MVRDV, The Netherlands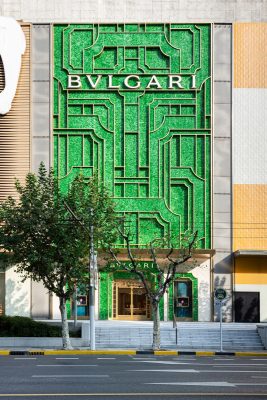 photograph © Bulgari
Bulgari Shanghai retail façade design by MVRDV
Shanghai Plaza 66 – one of the largest and most popular shopping malls in Shanghai – is now the home of a new Bulgari flagship store at Shanghai's Nanjing Road. The new store features a green, jade-like façade designed by MVRDV, made from brass and recycled champagne, beer, and other glass bottles.
12 Dec 2021
Tangzhuang Village Community Centre, Yunnan
19 Nov 2021
Minhang Riverfront Regeneration, Minhang district, Shanghai, China
Design: SPARK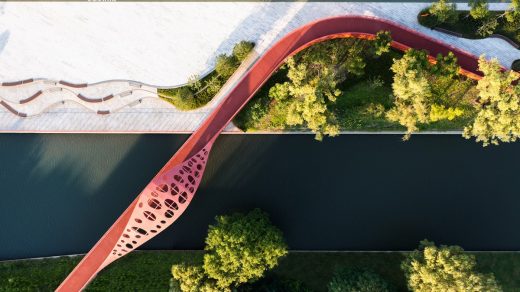 photo : Shine Lab
Minhang Riverfront Regeneration
SPARK is delighted to announce the completion of the Minhang Riverfront Regeneration, the initial phase of SPARK's much wider regeneration master plan of the public space of Shanghai's Minhang district.
5 Nov 2021
Opening of Lounge by Topgolf, 2F Central, 227 North Huangpi Road, Huangpu District
Interior: Hannah Churchill, hcreates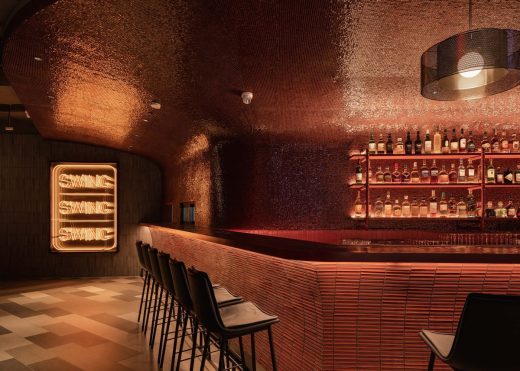 photo : Brian Chua
Lounge by Topgolf, Shanghai Design
Topgolf is one of the world's leading sports entertainment companies, famous for its fun and engaging venues combining active entertainment and good food. With an immense appetite for the new and exciting, Shanghai was the perfect location for the first international location.
5 Nov 2021
Shanghai Xu Ji Seafood Restaurant
Interior: Daxiang Design Studio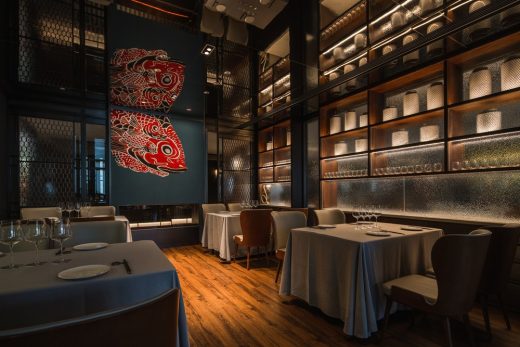 photo : Chuan He
Shanghai Xu Ji Seafood Restaurant
Nanjing East Road in Shanghai has transformed from a muddy, potholed "garden lane", to a "commercial giant". Over the course of the century, the block has been occupied by horse racing, singing and dancing, trading, and other commercial activities, while Xu Ji Restaurant, hidden away, seeks to become a bliss point of commerce and aesthetics in the homogenized environment.
2 Nov 2021
EP Yaying Store
EP Yaying Store
21 Oct 2021
Harbin Poly Moon Time, Heilongjiang
Harbin Poly Moon Time, Heilongjiang
21 Oct 2021
Fritz Hansen Experience Center
Fritz Hansen Experience Center
20 Oct 2021
Family Maison Sales Center
Family Maison Sales Center
9 Oct 2021
Bamboo Pavilion
Architects: LIN architecture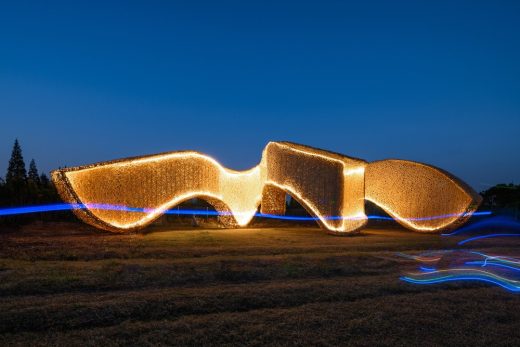 photo © Sunkai LIU
Bamboo Pavilion
The activation of rural field public space has always been an important part of rural construction projects. The participation of the designers and students in the rural space experimental Bamboo Pavilion project provides another possibility for the issue of rural construction space, focusing on joint participation, ecological construction, sustainable operation, teaching within research, etc.
30 Sep 2021
Harmay Fang
Architects: AIM Architecture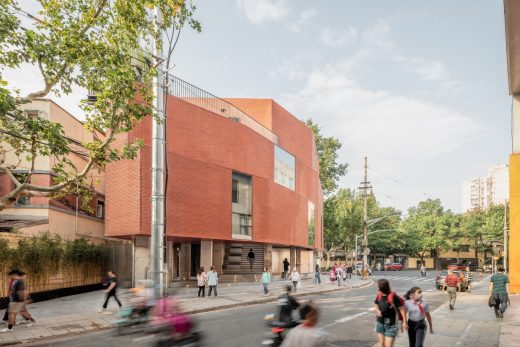 photograph : Dirk Weiblen
Harmay Fang Store in Shanghai
In AIM Architecture's ongoing collaboration with HARMAY, they have taken our community-centric design to the street with this new store typology. This building is a love letter to the community that surrounds it.
27 Sep 2021
BAN Villa, Jijiadun, near Shanghai, Jiangsu province
Architects: B.L.U.E. Architecture Studio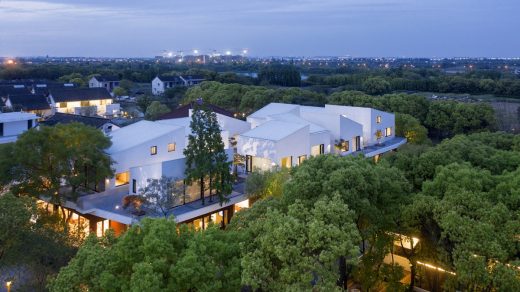 photo courtesy of architects office
BAN Villa in Jiangsu
As a typical picturesque Chinese Jiangnan town, the village of Jijiadun locates about 1.5-hour drive from the central city of Shanghai. With the rapid development of urbanization in China, the problem of rural hollowing-out is becoming increasingly serious.
Sep 22, 2021
Qiantan Center – Emporis Skyscraper Award
Design: Kohn Pedersen Fox Associates; Tongji Architectural Design (Group) Co., Ltd.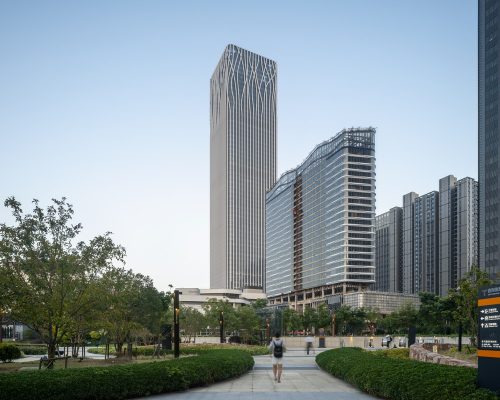 photo © Rex Zou
This tower is one of the winners of a Emporis Skyscraper Award 2020
30 Aug 2021
Kailong Jiajie Plaza Transformation, Hongkou District
Architects: AIM Architecture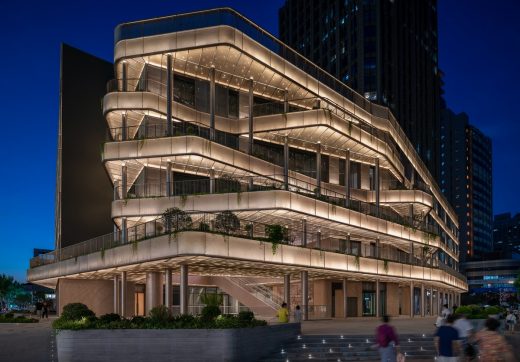 photo : Dirk Weiblen
Kailong Jiajie Plaza Transformation
Kailong Jiajie Plaza Transformation is part of AIM's ongoing exploration of what it means to activate cities, buildings, and society by creating inspiring spaces. With this project, AIM Architecture look at regeneration with fresh eyes.
30 Aug 2021
Luneurs Garde-Manger ITC Shanghai, Xuhui district
Architects: hcreates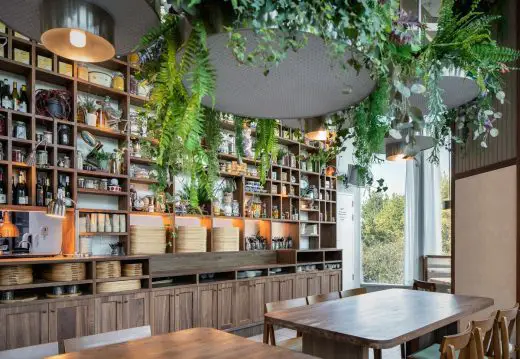 photo courtesy of architects office
Luneurs Garde-Manger ITC Shanghai
Tucked up on the second floor of the recently opened ITC in Shanghai's Xuhui district , sits Luneurs French-inspired, all-day brunch concept. As an extension of their successful bakery and ice-cream stores, hcreates sort to create a destination venue.
25 Aug 2021
ECCO Global flagship Store, Huaihai Road
Architects: HONG Designworks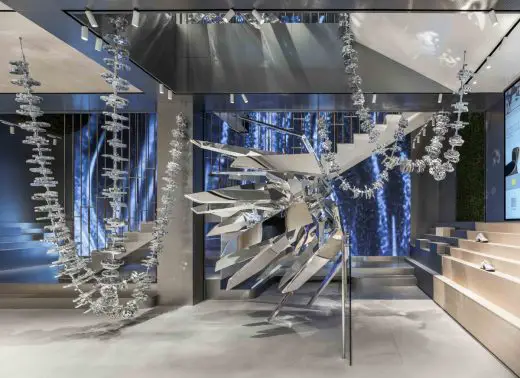 photo : Tan, Xiao – Shi Photography Studio
ECCO Global flagship Store Shanghai
Ecco flagship store locates on Huaihai Rd —— the interaction of eastern and western culture by many international brands. Ecco, a Danish brand of shoes and leather goods, with its design purpose "Making walk be a joy."
10 Aug 2021
Grand Banks
Architects: Chris Shao Studio LLC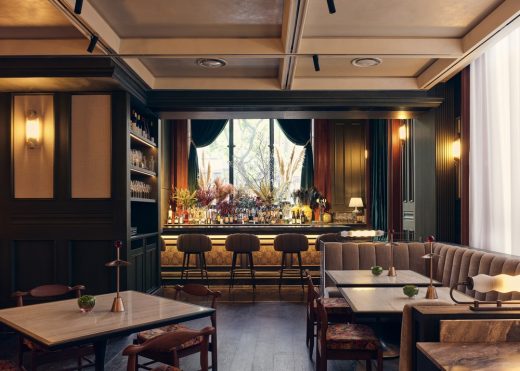 photo : Zhu Hai
Grand Banks Boutique Restaurant
Standing in front of the restored Brunner Mond Building, the ethereal and distant vision of transitioning away from the abstract became concrete. This is our stage, where a prologue to the new story of Grand Banks is presented.
4 Aug 2021
Green SPA, Pudong
Green SPA, Pudong
3 Aug 2021
The Park, Yanping Road
The Park Yanping Road
12 July 2021
Raffles City The Bund Buildings, Shanghai
Raffles City The Bund Buildings
6 July 2021
ZHA Close Up
ZHA Close Up, MAM Shanghai
5 July 2021
Huangpu Qu Showroom Complex
Architecture: Studio DOTCOF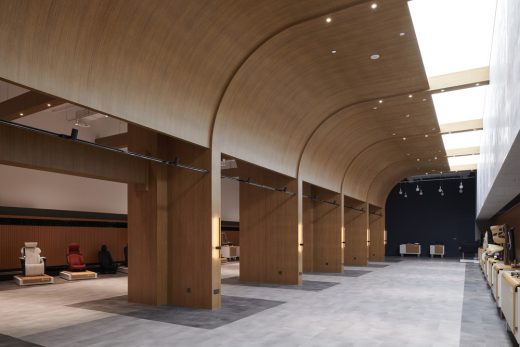 photograph : Chen Hao
Huangpu Qu Showroom Complex
A corporate showroom that is unlike spaces such as art galleries or museums that are directly open to the public, and is mainly used for receiving clients or partners related to the enterprise's business. A showroom is often relatively big and isolated. At times when no reception is happening it often lays vacant, and its use efficiency is fairly low.
4 July 2021
KWG BIOVALLEY Offices, Qingpu
23 Jun 2021
Toyou Bookstore
15 Jun 2021
GEMDALE UP VIEW
Interior Design: DOME&ASSOCIATES ; Architectural Design: Lacime architects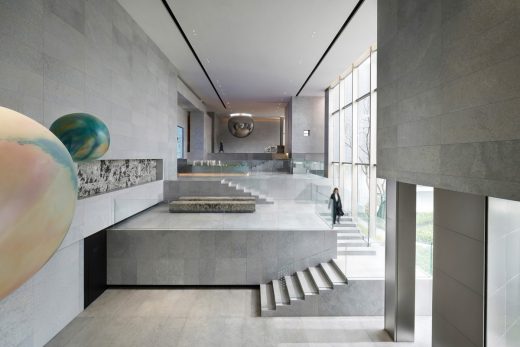 photography : Aguang, Zhuji images
Gemdale Up View Shanghai
The area where the project is located in has a high degree of urbanization. The purpose of this design is to explore the unique Genius loci in the urban environment, and realize the combined design by considering the three architectural elements of modulus, details and place, so as to elevate the design to the height of living art.
11 Jun 2021
The Roof, Shanghai, Yongjia Road, Xuhui District
Architects: Ateliers Jean Nouvel with ASPECT Studios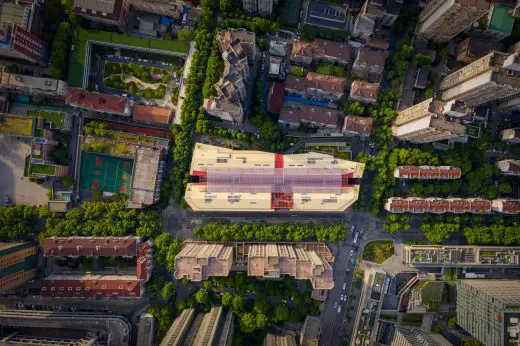 image : RAW Vision Studio/ASPECT Studios
The Roof, Shanghai
ASPECT Studios is part of a collaborative team behind an exciting new lifestyle and retail destination, The Roof in Shanghai, which offers a unique design infused with the characteristics of its traditional context.
2 May 2021
Shanghai Xintiandi atrium renovation
26 Mar 2021
IM Shanghai, Kaixuan Road / Huaihai West Road, Changning District
Architects: Aedas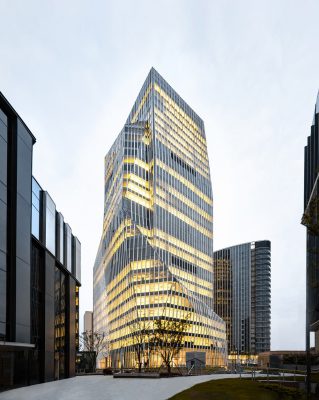 image courtesy of architects office
IM Shanghai Building News
The development, located at the intersection of Kaixuan Road and Huaihai West Road of Changning District and conveniently accessible via MTR Line 10 at Hongqiao Road Station, is adjacent to the Shanghai City Sculpture Art Centre, and Redtown Art District. The site is not among any of the CBDs in Shanghai.
25 Jan 2021
Pinghe Bibliotheater
14 Jan 2021
Wu Duo Menswear Shop, Wuxi
More current contemporary Shanghai Building News online here soon
Shanghai Building News 2020
11 Dec 2020
Century Square
27 Nov 2020
Shanghai Yangtze 3MAP Elevator Factory
Designers: ATAH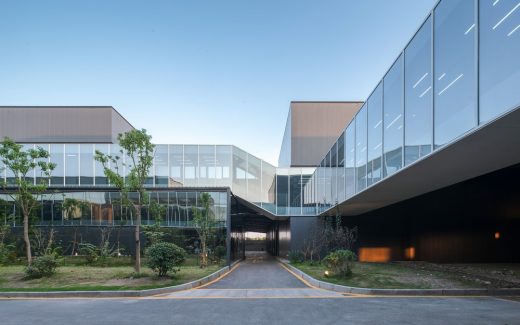 photograph : Yilong Zhao
Shanghai Yangtze 3MAP Elevator Factory
Under the national trend of the industry 4.0 era, China's domestic manufacturing industry is fully facing the transformation from intensive manufacturing to intelligent manufacturing and system services to achieve large-scale intelligent customization.
30 Nov 2020
Co-Working Space, Pudong District
27 Nov 2020
Shanghai Yangtze 3MAP Elevator Factory
27 Nov 2020
Oneswear Shanghai Shop, ChangNing District
13 Sep 2020
House G
11 Sep 2020
Ship Smoke, Lujiazui Harbor City
10 Sep 2020
Cadillac House in Pu Dong
2 Sep 2020
The Zentral Kitchen in Huangpu Qu
10 Aug 2020
Green Massage Healthcare Center, INFINITUS Mall, Shanghai, China
Architecture: Vermilion Zhou Design Group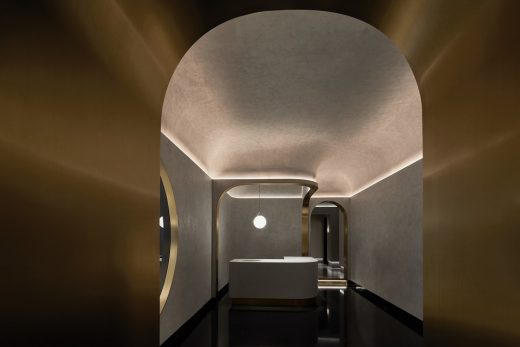 photograph : Shengliang Su
Green Massage Healthcare Center
Green Massage aims at providing soothing professional healthcare to busy people with fast-paced urban life in a private and elegant environment. It leads to the modern concept of health and healthcare, integrating modern scientific techniques on the basis of the theory of traditional Chinese medicine.
5 Aug 2020
Hidden House
Interior Design: Wutopia Lab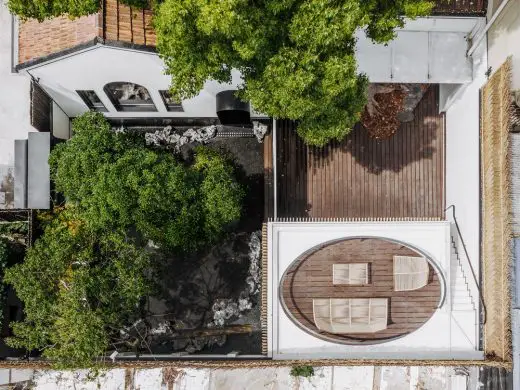 photograph : CreatAR Images
Hidden House
Wutopia Lab finished a house with a black courtyard called the Hidden House. It took six years to finish the project. It was a small museum, a library, a showroom, a clubhouse, or a home.
6 July 2020
Cloud Bistro in Shanghai
2 July 2020
Tianhui Todtown in Minhang
28 June 2020
One Person's Gallery in the Gap
Architects: Wutopia Lab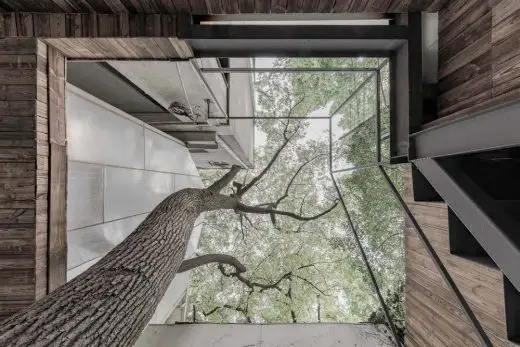 photographs : SHAO Feng, CreatAR Image (AI Qing)
Shanghai Kingboard Centre
One Person's Gallery used to be a storage structure which was filled with used materials (we called them 'old things') of a bankrupt company, that looked like disaster site. The architectural project started without any original blueprints.
25 June 2020
Huaxin Tiandi Office Campus
22 June 2020
Grand Gateway 66 Retail Complex
9 June 2020
Mirror, Xintiandi Style, Huangpu
26 May 2020
SCE Sky Horizon Building
8 May 2020
CANAL ST. Selected Store
6 May 2020
Suzhou Financial Center Exhibition Hall
Architects: Shanghai Riqing Architectural Design Co., Ltd.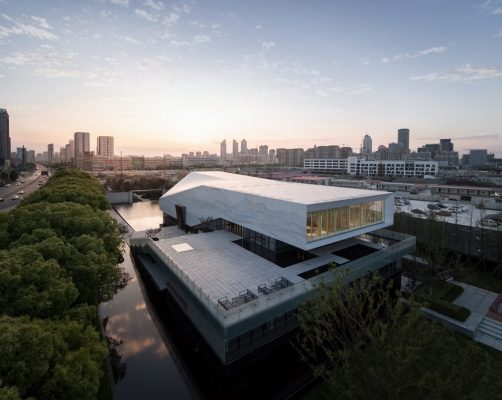 photograph : Schran Images
Suzhou Financial Center Exhibition Hall
This architectural project is located in the central section next to Suzhou Canal, where there is a grand canal view in the distance and urban trunk road in close proximity. The architects explore inherent logic of local cultural form and language and apply them to the design to stimulate the vitality of surrounding open space and make it the city parlor for residents.
30 Apr 2020
CECEP Headquarters
8 Apr 2020
The Agile Whale
3 Apr 2020
Tank Shanghai on the Huangpu River
27 Mar 2020
Porsche Headquarter
4 Mar 2020
Kingboard Centre, Hongqiao District
Architects: Aedas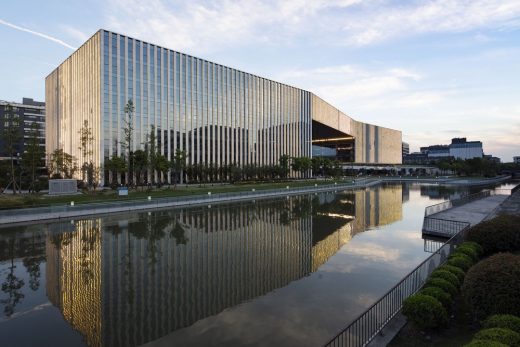 photograph : Shengliang Su
Shanghai Kingboard Centre
The design is a grand 'Gate' in a staid yet dynamic form responding to the brief of a prestigious commercial complex. The from the sky business centre and roof garden have panoramic views over the entire Hongqiao District.
17 Feb 2020
Ports 1961
Architects: UUfie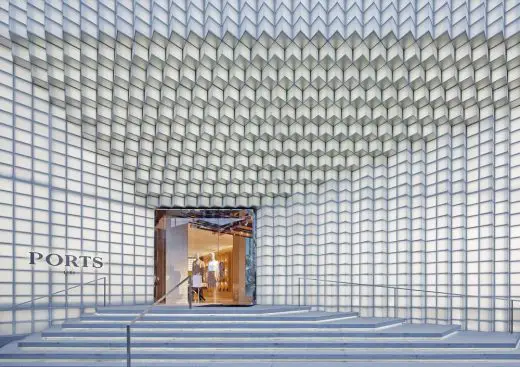 photo : Shengliang Su
Ports 1961 Flagship Store
Located at a major high-end commercial district at the intersection of Changde Road and Nanjing West Road, a new façade is created for the flagship store of fashion house Ports 1961.
8 Jan 2020
Alibaba's new HQ in Shanghai
Design: Foster + Partners, Architects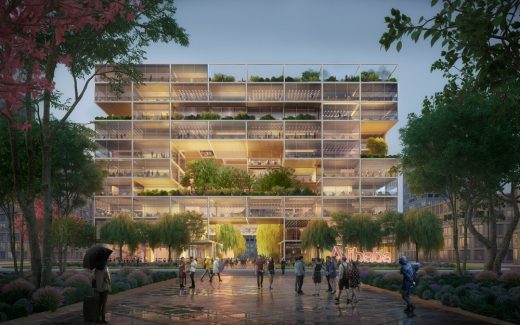 image © Foster + Partners
Alibaba Shanghai HQ Building
Foster + Partners has won the competition to design the new headquarters for Alibaba – the Chinese ecommerce giant – in Shanghai. As a new signature building for the company, it is set to showcase their unique working culture to the public.
More modern Shanghai Building News on e-architect soon
East China Architecture Updates 2021
4 Nov 2019
The West Bund Museum
Design: David Chipperfield Architects Ltd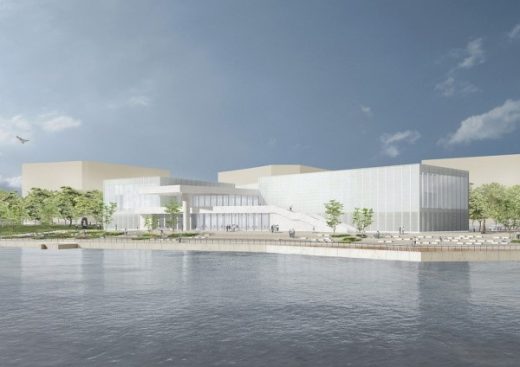 image © David Chipperfield Architects/Hayes Davidson
The West Bund Museum
The West Bund Museum is a new art gallery on the Shanghai Corniche, an 8.5 kilometre frontage on the northern bank of the Huangpu River.
9 Oct 2019
Hypocam House – Chinese Residence and Office
Architects: Wutopia Lab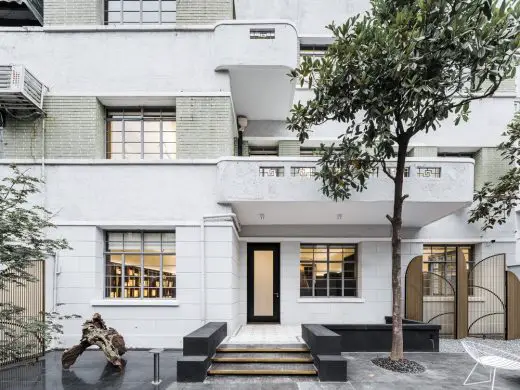 photograph : CreatAR Images
Hypocam House in Shanghai by Wutopia Lab
Wutopia Lab was commissioned by the client to reconstruct an old house located in the heart of Shanghai into a secret place including a courtyard, a miniature private gallery, home office and residence, given the fact that no structure was allowed to be modified.
17 Aug 2019
Avenue Green Sheshan, Chenfangqiao, Sheshan Town, Songjiang District
Interior design: ELTO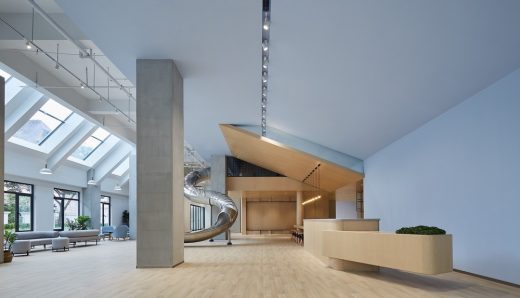 photography : Threeimages / Zhang Jing
Avenue Green Sheshan
Design vision and objective for this kindergarten is to create a place just like a home and a small communal place for kids. Therefore, we try to establish a social interactive environment.
16 Aug 2019
Moody Mooncake Pavilion
Interior & Installation Design: WAY Studio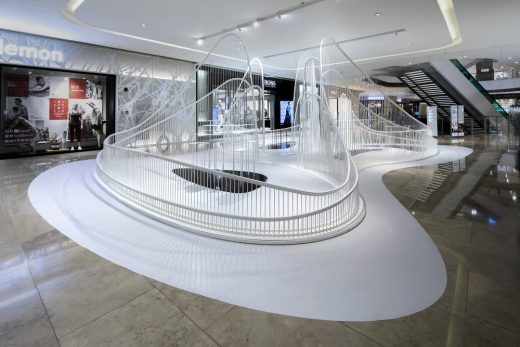 photography : Tian FangFang
Moody Mooncake Pavilion
An undulating pop-up installation for moody MOONCAKE, exhibiting their newest collection of mooncakes from this year and last.
13 Aug 2019
Pierre Cardin Home Showroom
28 Jul 2019
Cyrus Tang Foundation Center, Suzhou
26 Jul 2019
HEYTEA Store at Hongqiao Xintiandi
5 May 2019
Shimao Festival City
Architects: Kokaistudios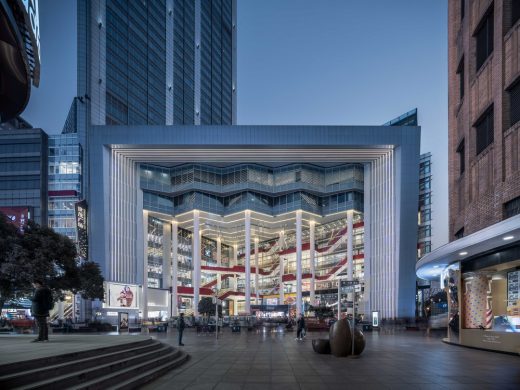 photograph : Wu Qingshan
Shimao Festival City
Shopping mall renovation to cater for China's increasingly lifestyle-driven retail scene. This retail building renewal demonstrates how by expanding malls' functionality and reconsidering circulation, these sizeable structures can be reabsorbed by the city as useful public spaces of engagement and exchange.
7 Apr 2019
Nyx Rooftop Bar
Architects: Alberto Caiola Studio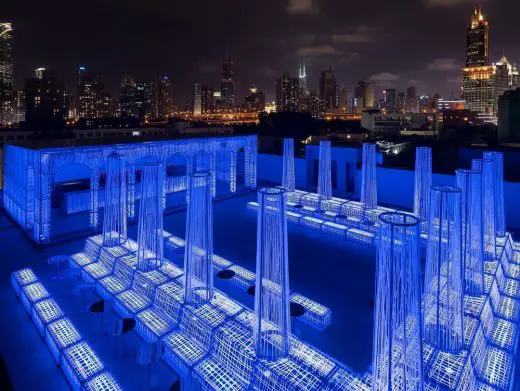 photograph : Dirk Weiblen
Nyx Rooftop Bar in Central Shanghai
Commanding, convivial and named after the Greek goddess of the night, this new city space inspired by classical architectural ruins affords spectacular city views.
3 Apr 2019
Shanghai Grand Opera House
Architects: Snøhetta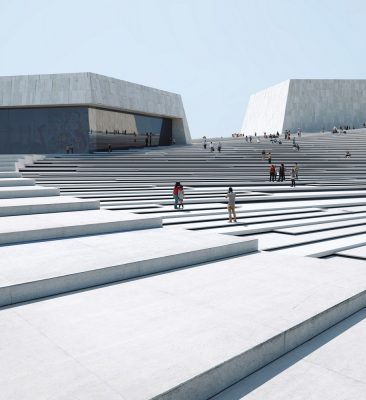 images © Mir and Snøhetta
Shanghai Grand Opera House
The project aims to attract a broad audience through offering both traditional and Chinese opera performances, classical concerts and more experimental performances that will attract a younger audience.
15 Mar 2019
Spatial Renovation of M.Y.Lab Wood Workshop, 1205 Kaixuan Road, Changning District
Design: Continuation Studio Architects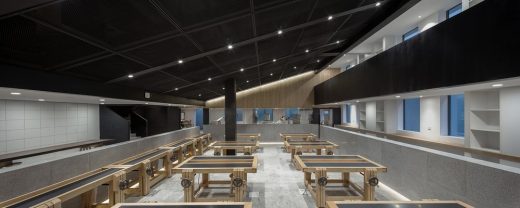 photo : SHIROMIO Studio
Spatial Renovation of M.Y.Lab Wood Workshop
Located on the first floor of a warehouse, which used to be the Dongfeng Sofa Factory in Changning District.
7 Mar 2019
Shanghai Yangtze River Estuary Sturgeon Nature Preserve – Design Competition Winners
Design: Ennead Architects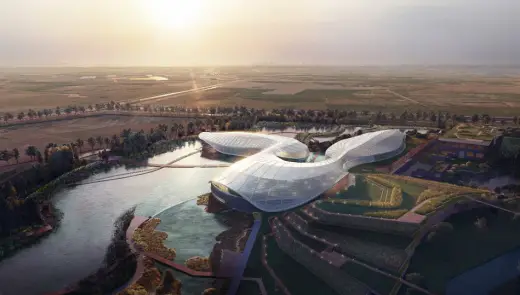 rendering courtesy of Ennead Architects
Shanghai Yangtze River Estuary Sturgeon Nature Preserve
6 Mar 2019
Zaha Hadid Design at Shanghai Exhibition Centre
22 Feb 2019
InterContinental Shanghai Wonderland Hotel
13 Feb 2019
Moonstruck Maison
3 Feb 2019
Kunchi Office
More current Shanghai Building News on e-architect soon
Shanghai Building News 2018
21 Sep 2018
Carlowitz & CO Co-Working Space
13 Sep 2018
The Springs, Minfu Rd, Jiangwan New Town
Architects: Henning Larsen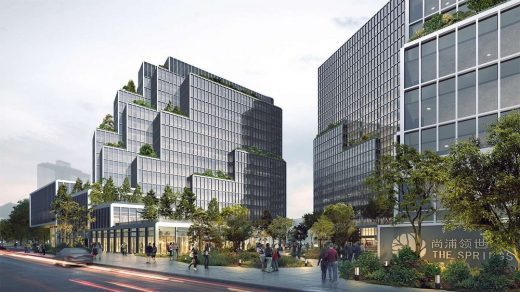 Henning Larsen's design for Tishman Speyer's The Springs started construction on July 12th, 2018.
The Springs in Shanghai
Danish architecture office Henning Larsen's design evokes the dramatic mountain landscapes found throughout rural China, mirroring the mountain landscape with tall, terraced towers shel-tering a green public square.
3 Sep 2018
Benoy Shanghai 10th Anniversary News
24 Aug 2018
Space Slice Renovation Project, 567 Maotai Road, Changning District
Design: DYN Architecture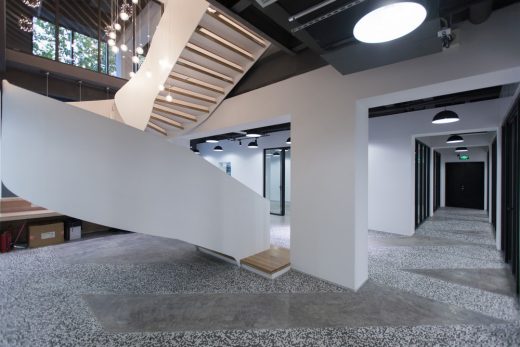 photograph : UnitU
Maotai Road Building Redevelopment
Fashionco-working space in the headquarters of Shanghai Garment Group on Maotai Road, Changning District – a minimalistic office redevelopment.
17 Jun 2018
Historic Colombia Circle Shanghai Revitalization
Design: West 8 Urban Design & Landscape Architecture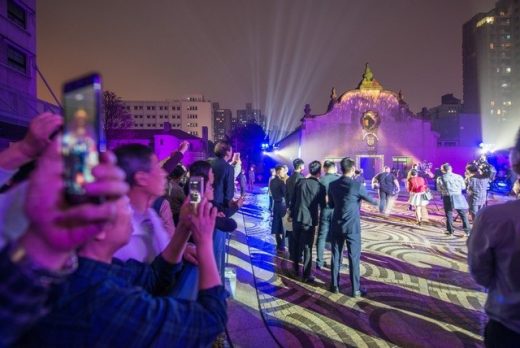 image courtesy of architects
Colombia Circle Shanghai
The first phase of the Colombia Circle project in Shanghai has opened. West 8 was responsible for the landscape architecture and public space scope of the 4.7 ha site which has a strong architectural legacy and is poised to again become one of Shanghai's most prominent public spaces.
31 May 2018
Shanghai Sanctum
Architects: Wutopia Lab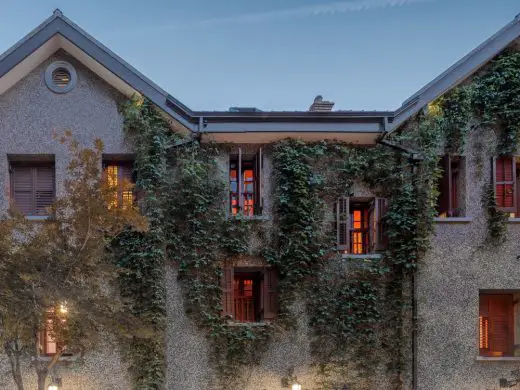 photo : CreatAR Images
Sinan Bookshop in Shanghai
At the invitation of Shanghai Century Publishing Group and Yongye Group, Wutopia Lab transformed Building 25 of the Sinan Mansion into a new bookstore. The goal was to provide a space for learning and thinking for the general public living in the city.
16 May 2018
Fengpu Avenue Master Plan, Fengxian New City
Architects: Woods Bagot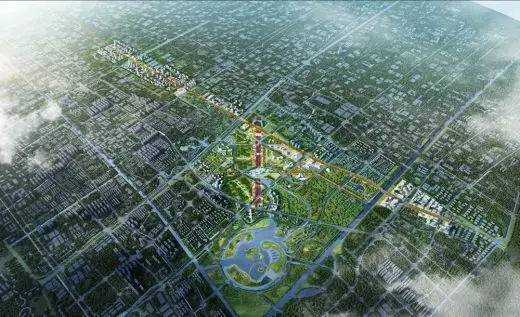 picture © Woods Bagot
Fengpu Avenue Master Plan in Shanghai
Integration, health, wellness and sustainability are the key elements guiding Woods Bagot's concept master plan for an 8.62-kilometre stretch of Fengpu Avenue – an important pioneer development axis in Shanghai's Fengxian New City.
12 Mar 2018
Jian Li Ju Theatre, B1 No. 301 East Hongsong Road, Minhang District
Architects: More Design Office (MDO)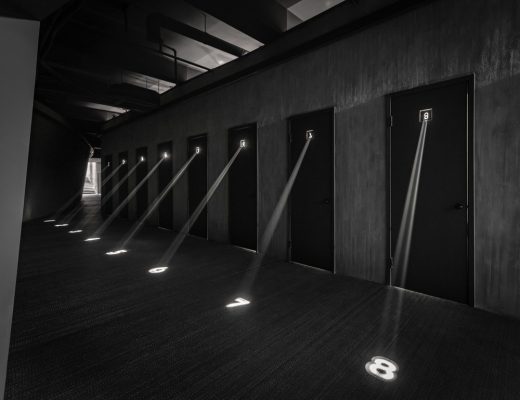 photograph : Dirk Weiblen
Jian Li Ju Theatre Building
The Jianliju theatre company, in an interesting examination of typology, offers a unique spectator experience.
27 Feb 2018
NIO House
Design: Schmidt Hammer Lassen Architects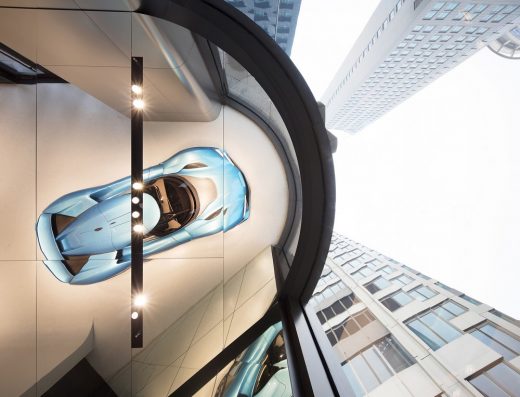 photograph : Raw Vision Studio
NIO House
Danish architectural firm Schmidt Hammer Lassen Architects has completed the first phase of NIO House, an unconventional showroom for electric car company NIO in Shanghai. Through simple use of tactile materials such as Douglas fir, satin stainless steel, terrazzo and fabrics, the space intends to pose a question to the user: Can we make the car an extension of the home?
24 Feb 2018
Flowing in the Hair Salon, XianYang South Road
Design: AaaM Architects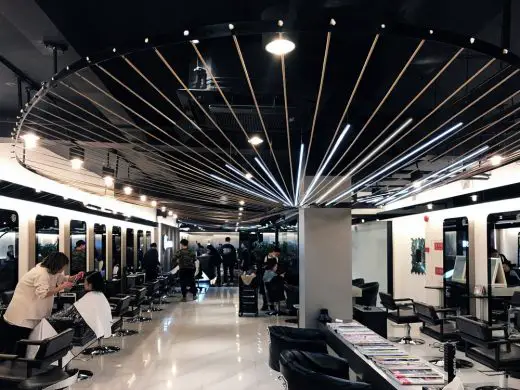 image courtesy of architects
Shanghai Hair Salon Interior
This interior design is for an established Hong Kong hair salon. Currently having 20+ branches in the city of Shanghai, the salon is urgently in need for a precise rebranding exercise to align the ever-changing and growing retail market in mainland.
6 Feb 2018
Huayue Court
Design: Golucci Interior Architects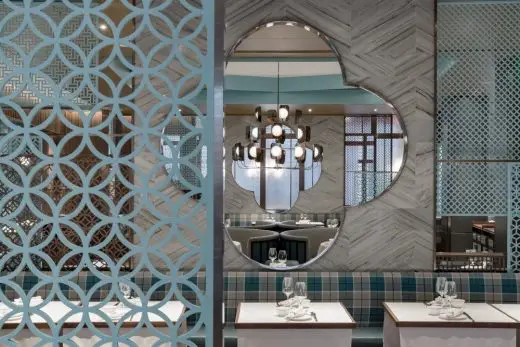 image courtesy of architects
Huayue Court Restaurant
"Fine Chinese Cuisine" – Interpreting a Different Taste of Chinoiserie: fresh and pure blue interior. From ingredients to dishes, from the design to decoration, Huayue Court always interprets a new Chinoiserie restaurant.
10 Jan 2018
Palace Cinema, CapitaLand Raffles City, Changning District
Architects: 4N design architects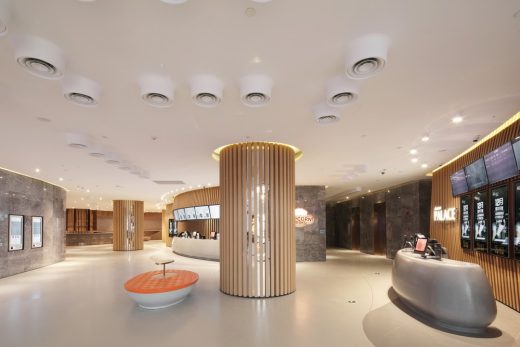 image courtesy of architects
Palace Cinema in Raffles City
Located in a long-developed commercial and residential neighborhood of Puxi Shanghai, the site is only 20 minutes away from Hongqiao airport or popular traveler-spot the Bund. Occupying the top level of this brand new shopping mall developed by the Singapore developer giant CapitaLand, the site has an sun-filled opened atrium that connects the public areas to nine distinct theatre houses.
Shanghai Architecture News – archive up to and including 2017
Shanghai Architecture Design – chronological list
More Shanghai Architecture News online soon
Location: Shanghai, China
New Chinese Architecture
Shanghai Architecture Tours
Shanghai Architecture Tours
Shanghai Architect offices – architectural practice contact details
Shanghai Building : news + key projects
Buildings / photos for the Shanghai Architecture Designs page welcome