Abu Dhabi Buildings News, UAE Real Estate, Persian Gulf Property Images, Architects, Towers Projects
Abu Dhabi Building News
Architecture Developments in UAE: United Arab Emirates Built Environment Updates
post updated 16 October 2022
Abu Dhabi Building Design News
Abu Dhabi Architecture News – latest additions to this page, arranged chronologically:
Abu Dhabi Architecture News – latest building updates
31 Aug 2022
Mangrove Place, Al Reem Island
Design: UPAItalia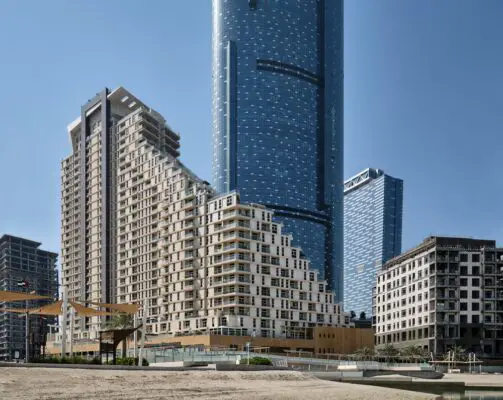 photos : Jon Wallis and Paolo Lettieri
Mangrove Place Apartments
The residential building, in one of the most rapidly developing neighbourhoods in this UAE city, is characterized by staggered terraces and balconies that offer a panoramic sea view. The distinctive form visually contrasts with the glass skyscrapers that surround the area, breaking the rhythm of vertical blocks.
8 Jun 2022
Al Hosn masterplan
Architects: CEBRA
Al Hosn Masterplan, Abu Dhabi UAE
Entries from more than 80 countries were in the run for this year's prestigious Architizer A+ Awards 2022 and yesterday the winners were revealed with the Al Hosn masterplan project in Abu Dhabi – designed by Danish CEBRA – as the Popular Choice Winner in the 'Urban and Masterplan' category.
8 May 2022
Ladies Club
Design: UPAItalia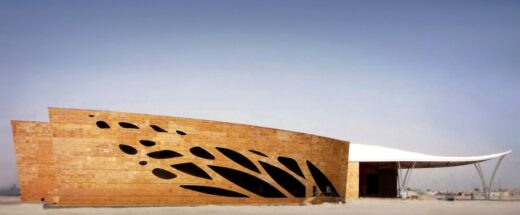 photos : Paolo Lettieri, Lucia Pizzinato and Celso Creer II
Abu Dhabi Ladies Club, UAE
The first club dedicated exclusively to women was built in the splendid setting of Abu Dhabi, overlooking a lagoon in the crystal clear sea of the Persian Gulf. The Ladies Club, luxury and comfort bear the signature of Urbanism Planining Architecture, an international architecture firm with offices in Milan and Abu Dhabi.
31 Mar 2022
Natural History Museum Abu Dhabi
Design: Mecanoo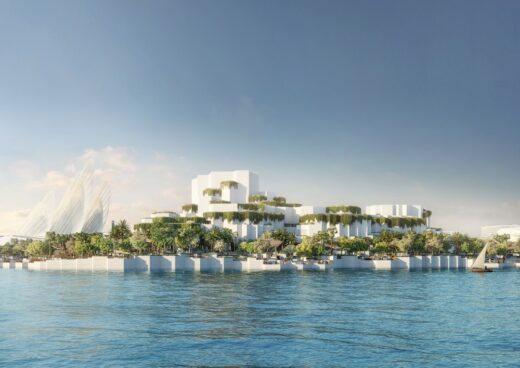 image courtesy of architects practice
Natural History Museum Abu Dhabi
Covering an area of more than 35,000 sqm, lead architects Mecanoo designed the Natural History Museum Abu Dhabi to resonate with natural rock formations, reflecting the museum's goal of improving understanding of and engagement with the natural world. Every element of the design uses geometry as an overriding theme, with pentagonal shapes resembling cellular structures.
3 Jan 2022
Al Hosn masterplan project, Qasr al Hosn Fort
Design: CEBRA, Denmark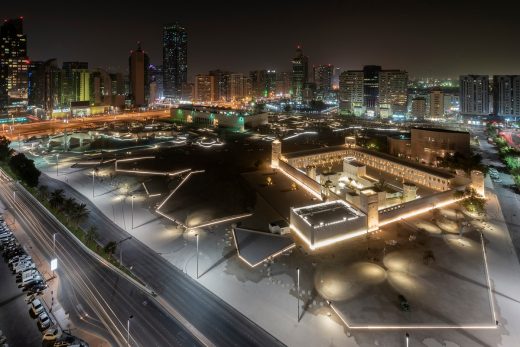 photo : Mikkel Frost
Al Hosn Masterplan And Landscape in Abu Dhabi
Al Hosn masterplan project in Abu Dhabi, designed and developed by Danish CEBRA, has received several international architecture awards over the last few years – most recently the project has been awarded both WAN Award 2021 and WAF Award 2021 for its overall masterplan design and landscape architecture.
More Abu Dhabi Building News on e-architect soon
Abu Dhabi Building News 2020 – 2021
14 Jul 2021
New Miral Headquarters
Design: Godwin Austen Johnson Architects (GAJ)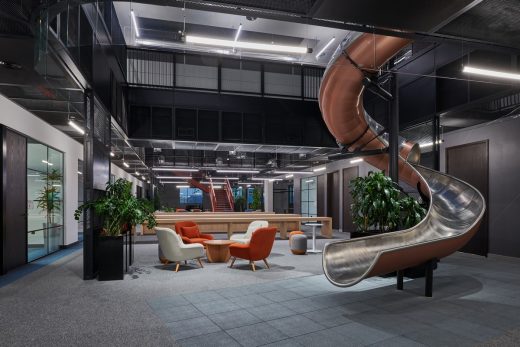 photo courtesy of architects office
New Miral Abu Dhabi Headquarters
Godwin Austen Johnson have handed over their latest project – the new Miral Headquarters in Abu Dhabi. The new office explores a progressive work environment with unconventional spaces that create an inspiring and efficient environment where employees enjoy the space they are in which in turn leads to greater productivity.
13 Jan 2021
Green Plaza, Cool Abu Dhabi Competition
13 Oct 2020
Cool Abu Dhabi design competition
7 Sep 2020
Al Wathba Wetland Reserve visitor center in Abu Dhabi
Architects: Almena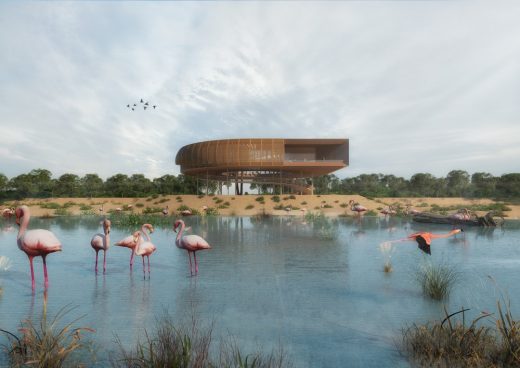 image courtesy of architectural studio
Al Wathba Wetland Reserve visitor center
The design concept for Al Wathba Wetland Reserve visitor center aims to enhance and demonstrate the reserve's unique environment, create an adaptable building, and allow the visitor to get a unique experience and interact with nature without any disturbance to the animal and plant life.
7 Aug 2020
Oculus in The Rub' al Khali
More contemporary Abu Dhabi Building News online here on e-architect soon
Abu Dhabi Building News 2016 – 2019
22 Sep 2019
Abrahamic Family House Abu Dhabi, Saadiyat Island
Design: Sir David Adjaye Architect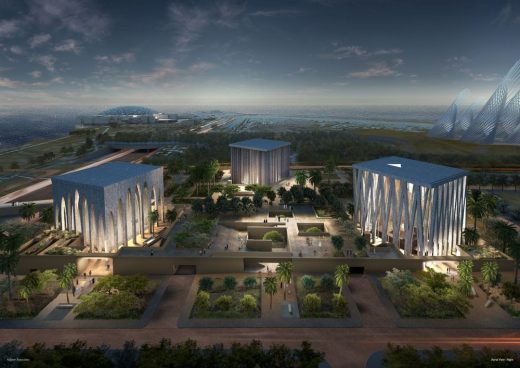 image courtesy of architects
Abrahamic Family House in Abu Dhabi
The Higher Committee of Human Fraternity has come together for a global gathering at the New York Public Library in which they shared with stakeholders their mission to progress a culture of mutual respect and dialogue across all backgrounds, beliefs and nationalities.
23 Oct 2018
Getty Conservation Institute And Department Of Culture And Tourism – Abu Dhabi Begin Month-long Course On The Conservation Of Earthen Architecture
International Course on the Conservation of Earthen Architecture
October 28 – November 22, 2018
Al Ain, Abu Dhabi, United Arab Emirates
LOS ANGELES – On October 28, the Getty Conservation Institute (GCI), in partnership with the Department of Culture and Tourism – Abu Dhabi (DCT Abu Dhabi), will begin a month-long course on the conservation of earthen architecture in the World Heritage City of Al Ain in the Emirate of Abu Dhabi. The course will be attended by 20 mid-career conservation professionals working with earthen architecture from the North Africa, Middle East and South Asia regions.
This area of the world is known for its exceptional earthen heritage sites, many of which face the threat of deterioration and abandonment without proper conservation efforts in place. The course will train architects, engineers, conservators, and archaeologists to develop sustainable conservation methods for these important sites, as well as provide the technical skills necessary to conserve similar building types in their home countries.
Al Ain is home to hundreds of earthen buildings and archaeological sites, many of which form part of a UNESCO World Heritage Site. The tradition of earthen building in the region can be traced as far back as the Bronze Age, and sites of note include the Hili Archaeological Park, Jahili Fort, and Muwaiji Fort, among others. Several of these buildings have been conserved through adaptive reuse, and there is an active team of experts at DCT Abu Dhabi working to protect them.
"The GCI works to bring courses like this to the region and to provide participants with a toolkit of resources for preserving earthen architecture. This is a rare opportunity for professionals to spend four weeks immersed in this subject," says Benjamin Marcus, project specialist at the GCI and a course manager. "As part of its continued mission to advance conservation practice around the world, the GCI has partnered with DCT Abu Dhabi to offer this course in a region known for the pride it takes in its built heritage, and which has the expertise and local support required to make this event a reality."
Throughout the four week course, participants will use Al Ain as an open-air laboratory to learn practical, hands-on methods for preserving earthen buildings and archaeological sites. Participants will be led by local and international experts who specialize in conservation strategies for earthen sites and will work both in the laboratory and field learning critical assessment, analysis and intervention methods.
The course will also include site visits and field work case-studies that provide hands-on conservation experience for participants. A number of case studies will be used to demonstrate the conservation process, including a one-week visit to the ancient city of Manah, Oman, to study conservation and management planning for earthen architecture in an urban context.
In 2017, representatives from DCT Abu Dhabi and the GCI signed a Memorandum of Understanding acknowledging common goals and areas of common interest for joint collaboration in the fields of preservation and conservation, and specifically for offering training in the conservation of earthen architecture. This course is an outgrowth of the initial agreement.
"We are delighted that the GCI chose our emirate for the location of this globally important course, as this supports DCT Abu Dhabi's efforts for building capacity in heritage conservation for the region," said Amel Chabbi, conservation section manager at DCT Abu Dhabi. "Several of our local experts will be involved in teaching the course which demonstrates the expertise and reputation that Abu Dhabi has built up over the years in this field."
The GCI brings to the course more than three decades of work with earthen architecture, a summary of which can be found here:
http://www.getty.edu/conservation/publications_resources/newsletters/30_2/earthen_architecture.html.
For more information about the course and a list of current GCI projects in Earthen Architecture, visit: http://www.getty.edu/conservation/our_projects/field_projects/earthen/index.html
The course is also generously supported by the Oman Ministry of Heritage and Culture, the Oman Ministry of Tourism, and the International Alliance for the Protection of Heritage in Conflict Areas (ALIPH).
The Getty Conservation Institute (GCI) works internationally to advance conservation practice in the visual arts—broadly interpreted to include objects, collections, architecture, and sites. The Institute serves the conservation community through scientific research, education and training, field projects, and the dissemination of information. In all its endeavors, the GCI creates and delivers knowledge that contributes to the conservation of the world's cultural heritage.
About The Department of Culture and Tourism – Abu Dhabi
The Department of Culture and Tourism conserves and promotes the heritage and culture of Abu Dhabi emirate and leverages them in the development of a world-class, sustainable destination of distinction that enriches the lives of visitors and residents alike. The Department manages the emirate's tourism sector and markets the destination internationally through a wide range of activities aimed at attracting visitors and investment.
Its policies, plans and programmes relate to the preservation of heritage and culture, including protecting archaeological and historical sites and to developing museums, including the Louvre Abu Dhabi, the Zayed National Museum and the Guggenheim Abu Dhabi. The Department of Culture and Tourism supports intellectual and artistic activities and cultural events to nurture a rich cultural environment and honour the emirate's heritage. A key role played by the Department is to create synergy in the destination's development through close co-ordination with its wide-ranging stakeholder base.
24 Sep 2018
Tamouh Reem Island Abu Dhabi
Recent Work Done By Team Avenir For Tamouh Reem Island Abu Dhabi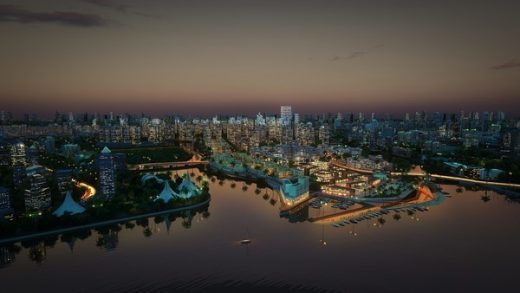 image courtesy of architects
7 Nov 2017
Louvre Abu Dhabi Museum Building
Louvre Abu Dhabi, a new cultural landmark for the 21st century, opens to the public on 11 November
Germination by Giuseppe Penone: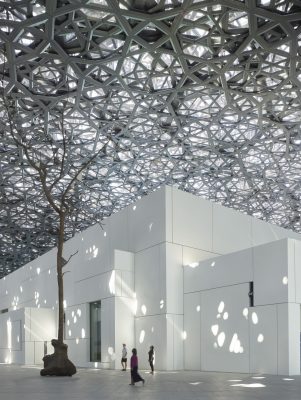 photo © Louvre Abu Dhabi – Photography Roland Halbe
Louvre Abu Dhabi Museum Building
13 Jun 2017
Yas Arena in Abu Dhabi
More Abu Dhabi Architecture News online soon
Abu Dhabi Architecture News – former page
Location: Abu Dhabi, UAE
Abu Dhabi Architecture
Abu Dhabi Architecture Designs – chronological list
Zayed Military Hospital Abu Dhabi
Architecture in the Abu Dhabi area
Buildings / photos for the Abu Dhabi Building – United Arab Emirates Property Developments page welcome