Scottish Building News 2017 Winter, Architecture, Property Scotland, Construction, Architects
Scottish Architecture News Winter 2017
New Architecture Developments + Buildings in Scotland – Built Environment + Architects Updates
Scottish Buildings News Archive for Winter 2017
This archive page contains a selection of major Scottish Architecture News in Winter 2017
Scottish Architecture News – current page
Ross Pavilion Competition Shortlist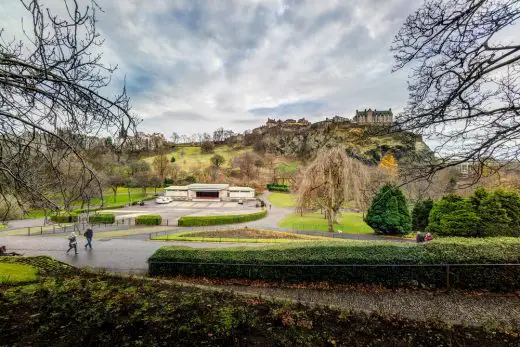 photo © Malcolm Reading Consultants / David Springford
28 Mar 2017
Seven finalist teams selected to proceed to the second stage of the Ross Pavilion International Design Competition over in Edinburgh:
• Adjaye Associates (UK)
• BIG Bjarke Ingels Group (Denmark)
• Flanagan Lawrence (UK)
• Page \ Park Architects (UK)
• Reiulf Ramstad Arkitekter (Norway)
• wHY (USA)
• William Matthews Associates (UK) and Sou Fujimoto Architects (Japan)
Ross Pavilion International Design Competition
hub Southwest News
27 Mar – hub Southwest zones into new Girvan leisure centre
hub Southwest, the construction and infrastructure-focused partnership, has handed over a purpose built Community Leisure Centre to South Carrick Community Leisure (SCCL), in Girvan, South Ayrshire.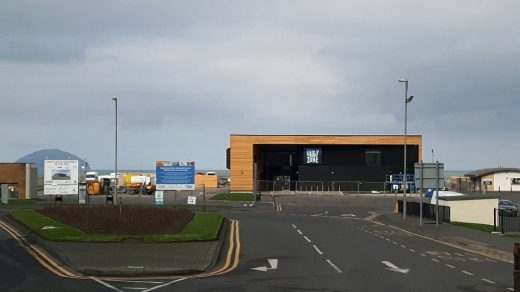 The Quay Zone, a £5.4 million sports and leisure facility looking out over the much-loved Girvan seafront, was completed ahead of schedule, and is to be operated by SCCL on behalf of South Ayrshire Council. SCCL is currently recruiting and training staff for an anticipated April opening.
The new facility will provide much-needed leisure and community facilities across the area, including a gym, flexible multipurpose studio spaces, a 25m swimming pool, soft play area, community space and a café.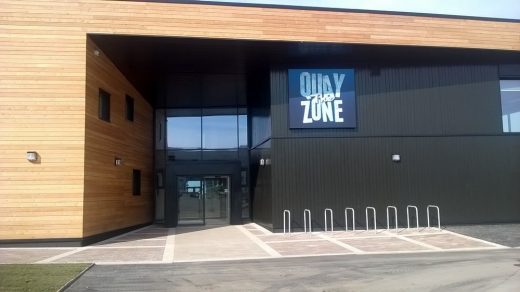 The Quay Zone's name and logo were chosen by way of competition, which was won by Ballantrae resident, Robert Whittington (35). Robert, a gardener at Glennapp Castle Hotel, won a free year's membership at the flagship facility.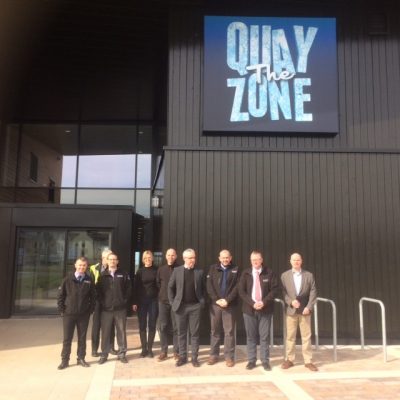 Michael McBrearty, Chief Executive of hub Southwest said: "The handover of this long-awaited leisure centre is a momentous occasion for the communities of Girvan and South Carrick.
"As a multi-purpose development, enhanced wonderfully by stunning views of the Ailsa Craig, the Quay Zone will offer members and families a warm and welcoming atmosphere as well as access to the very best leisure facilities.
"It will be fantastic to see local residents enjoying all the Quay Zone has to offer once it opens its doors this spring."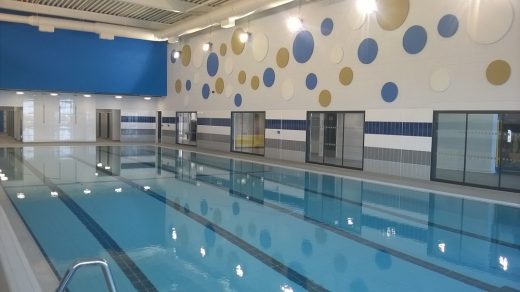 Ken Johnstone, Chair of SCCL said; "We are very excited about taking on our new role as the operators of the Quay Zone and are gearing up to get everything going now we have the keys.
"We've come this far together and I know we can really make this work, so be sure to get on board and help us put Girvan, South Carrick and the Quay Zone well and truly on the map."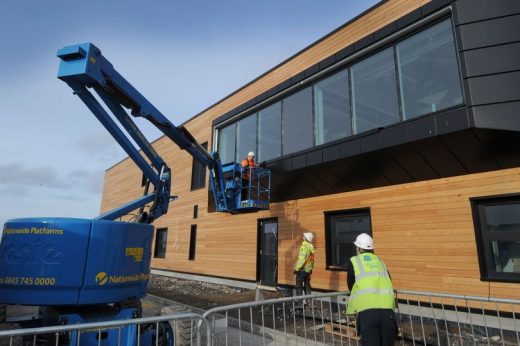 Additional funding for the facility has come from a variety of sources, including SportScotland and the Scottish Government's Regeneration Capital Grant Fund, the William Grant Foundation and the Hadyard Hill Community Benefit Fund.
W: hubsouthwestscotland.co.uk
Climate Change Hat Trick for HES
24 Mar – WWF recognises Scotland's lead public body for the historic environment for the third year in a row
Historic Environment Scotland (HES) has been awarded the World Wildlife Fund (WWF) Scotland Public Body Champion Award for the third year in a row in recognition of its work to tackle climate change, it was announced today (24th March).
The award was presented prior to the WWF's annual 'Earth Hour' initiative, which takes place tomorrow (Saturday 25th March). This event sees people across the globe switch off their lights for an hour between 8.30pm – 9.30 pm, raising awareness of the need to lower carbon emissions.
HES is working with partners across Scotland to switch off the lights at 15 historic castles and abbeys in recognition of Earth Hour tomorrow. The organisation's Climate Change team have also been working hard to create real change across the organisation, cutting emissions and creating a greener workplace by supporting events like Pass it On Week and The Scottish Workplace Journey Challenge as well as carrying out research into the impact of climate change on historic buildings in an effort to combat it.
WWF Scotland Director, Lang Banks, said: "I'm delighted to announce Historic Environment Scotland as our Public Body Champion for all their efforts in support of our annual Earth Hour initiative. This award clearly demonstrates the commitment of the organisation to tackling climate change.
23 Mar 2017
Homes for Scotland Awards
20 Feb 2017
Interactive Hub for RIAS in Dundee
31 Jan 2017
Knockroon School in East Ayrshire
Edinburgh Arts Complex Shortlist
30 Jan 2017
The shortlist of architect-led teams will compete for the contract to design a new multi-purpose arts centre at 36 St Andrew Square in the centre of Edinburgh's New Town.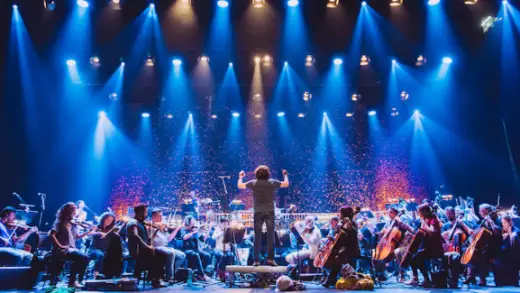 Colander announce the shortlist for this competition, six architectural teams:
Adjaye Associates (London) with Sandy Brown, Buro Happold and DHA Designs
Allies & Morrison (London) with Charcoalblue, Speirs & Major, Harrison Stevens and Buro Happold
Barozzi Veiga (Switzerland) with Alan Baxter, Max Fordham, KahleAcoustics, 3DReid and Ian White Associates
David Chipperfield Architects (London) with Arup, Whitby Mohajer Engineers, GROSS MAX and Theatre Projects
KPMB Architects (Toronto) with Simpson & Brown Architects, David Narro Associates, Arup, Sound Space Vision, rankinfraser landscape architecture and Transsolar Energietechnik
Richard Murphy Architects (Edinburgh) with Arup, Graven Images, GROSS MAX and Montagu Evans
This design competition aims to find a design-led team that can conceive and deliver a stunning design for a new, world-class concert venue in the heart of Edinburgh's World Heritage Site. The aspiration is acoustic perfection and an open, inclusive welcome that focuses on people.
IMPACT Scotland is delighted to announce the shortlist of architect-led teams that will compete for the contract to design a new multi-purpose arts centre behind Dundas House at 36 St Andrew Square, Edinburgh. The centrepiece will be a 1,000 seat auditorium, as well as a studio providing rehearsal, recital and recording space to rival the best in Europe. The auditorium will meet the long-recognised need for a purpose-built, mid-sized performance venue, combining excellent acoustics with access for all forms of popular music, jazz, folk, chamber and other small classical music groups as well as solo and song recitals and small dance ensembles.
The open competition announced in December 2016, attracted 69 expressions of interest from all round the world, confirming the importance attached to such an exciting project on a sensitive heritage site.
The six teams to be taken forward are led by architects from Edinburgh, London, Switzerland and Canada. They were selected using the OJEU scoring system.
Sir Ewan Brown, who is the Chair of IMPACT Scotland's judging panel said, "We have an extremely strong shortlist to choose from. The submissions we received show that this project will transform the resource available to Edinburgh's Festivals and provide new opportunities for music groups across Scotland by building for greater inclusivity and access."
A decision on the winning team is expected to be taken in early April 2017.
Released on IMPACT Scotland's behalf by the Scottish Chamber Orchestra which, along with RBS, Dunard Fund and the Edinburgh International Festival, are represented on the IMPACT Scotland project board.
The proposed new complex will:
• provide an excellent opportunity to build new audiences across the age groups by programming a wide range of music as well as other art-forms;
• provide community arts companies from across Scotland and further afield with improved performance space;
It is being located, conceived and designed so as to complement, rather than compete with, the city-owned and operated Usher Hall; to provide Edinburgh with additional possibilities for cultural expansion; and to launch the next stage in the city's artistic growth.
Together with the Usher Hall and Edinburgh's other range of venues, Edinburgh will be in a much stronger position to retain its position as a leading international city of music and performing arts. Its Festivals generate £313m for the Scottish economy and create the equivalent of over 5,000 full-time jobs;
There will be major benefits to the wider community of Edinburgh and the surrounding regions by providing access for all forms of popular music, jazz, folk, chamber and other small classical music and dance groups as well as solo and song recitals, traditional and Celtic music, and high-end experimental rock, pop and electronica.
IMPACT Scotland Architecture Competition
23 Jan 2017
Rockvilla in Glasgow
Perth College UHI Project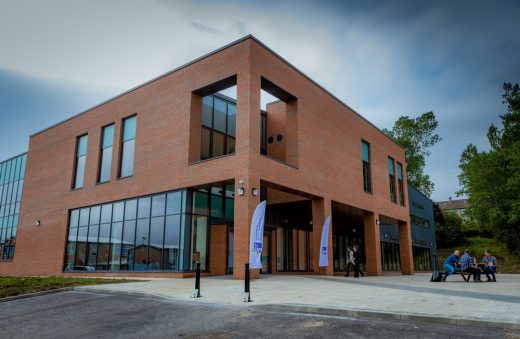 picture from architects
Perth College UHI Project
10 Jan 2017 – Scotland-based design and architecture firm, Keppie Design worked in partnership with leading construction company, Dixons Contractors, to complete the multi-million pound Academy of Sport and Wellbeing at Perth College, part of the University of the Highlands and Islands, Scotland, in time for the 2016/2017 academic year.
7 Jan 2017
Academy of Sport and Wellbeing, Perth College UHI Building
Scotland Built Environment Updates Archive
Archive for 2017:
Scottish Architecture News Autumn 2017 Archive
Scottish Architecture News Summer 2017 Archive
Scottish Architecture News Spring 2017 Archive
Archive for 2016:
Scottish Architecture News 2016
Location: Scotland
Scottish Buildings News Archive
Scottish Architectural News 2010
Best Building in Scotland Award
Architecture Design Scotland News
Buildings / photos for the Scottish Architecture News Winter 2017 Archive Page welcome