Aberdeen Building News, Construction Developments Photos, Scottish Property Project Design Images
Aberdeen Architecture News
New Aberdeenshire Architectural Developments 2023 – Northeast Scotland Architecture
post updated 21 June 2023
Aberdeen Building News
This page carries key building and property development information for the Northeast of Scotland. It is arranged in a chronological order with links lower down the page to Aberdeen Building News from previous years.
3 June 2023
The Arbor House
Design: Brown & Brown Architects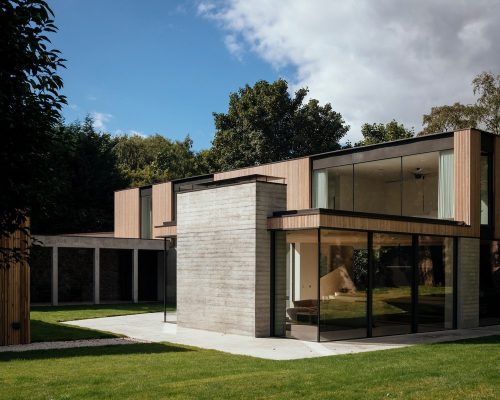 photo © Jim Stephenson
The Arbor House
Brown & Brown has completed a new low energy home in a conservation area of Aberdeen, Scotland, turning an open plot into a private, leafy retreat that foregrounds craftsmanship and design.
29 May 2023
ONE BioHub, Foresterhill Health Campus
Design: BDP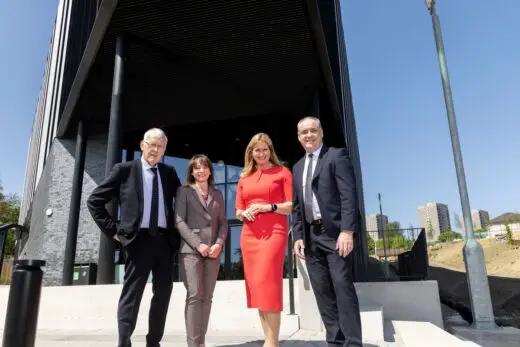 image courtesy of architects practice
ONE BioHub Aberdeen life sciences building
The £40 million ONE BioHub is the iconic new location for life sciences in Aberdeen. Inspiring ambition, giving scientists and innovators skills and knowledge to turn research and innovation into businesses, and supporting them on the entrepreneurial journey.
ONE BioHub will provide start-up, spinout and scaling life sciences businesses, tackling modern health challenges with incubator laboratories and offices, fully customisable grow-on space, commercialisation and growth programmes, and access to mentors, expert networks and investors.
25 April 2023
New Dean appointed at RGU's Scott Sutherland School of Architecture & Built Environment
A former President of the American Institute of Architects, (AIA), has been appointed as the new Dean for The Scott Sutherland School of Architecture & Built Environment at Robert Gordon University (RGU).
Professor Peter Exley FAIA RIBA NOMA is currently Professor of the School of the Art Institute of Chicago and will join RGU at the end of May.
A strategic and innovative leader, Mr Exley, is founder of the internationally recognised practice, 'Architecture is Fun', a Chicago-based architecture and design firm. His practice was awarded the AIA Chicago Firm of the Year in 2017 and prides itself on designing and advocating public spaces, learning and play environments for children, families and communities.
As Professor at the School of Art Institute of Chicago, Professor Exley has taught a wide range of cross-disciplinary subjects, drawing on his experience of community engagement to foster a climate and equity-based curriculum. He received the Nathan Clifford Ricker award for Teaching in Excellence Award in 2017 and has extensive research publications on urban issues such as public spaces, pocket parks and micro-city environments.
He has also written two books including 'Design For Kids' (2006) and the eponymous, 'Architecture Is Fun', which he co-authored with his partner Sharon Exley in 2021.
In his role as the President of the American Institute of Architects (AIA) in 2021, Professor Exley successfully led this globally recognized professional society, that includes 95,000 members and over 200 national and international components, through the disruption of the global pandemic. He also represented a delegation of the AIA at the 2021 United Nations Climate Change Conference (COP26) in Glasgow and oversaw the renewal of the AIA Headquarters, as a net-zero, 2030 compliant, future workplace.
During his tenure at the AIA, Professor Exley led a public outreach team, including a partnership with the US Conference of Mayors, instigating the 'Blueprint for Better' campaign to bring to life the role of architects as leaders in the fight against climate change.
Professor Exley received his Master of Architecture at the University of Pennsylvania, Philadelphia in 1990 and studied a Bachelor of Arts, gaining First Class Honours in Architectural Studies from the University of Newcastle Upon Tyne (UK), in 1985.
Other accolades include the Contribution to Art Education Award from the Illinois Alliance for Art Education (2002), a Distinguished Service Award from the National Art Education Association (2020) and the Young Architect Award from the AIA Chicago (1996).
In addition to his membership of the AIA, Professor Exley is a member of several professional organisations including the National Organization of Minority Architects and the Royal Institute of British Architects.
Professor Peter Exley said: "I am excited to lead The Scott Sutherland's School's vision to solidify our position as a leader in research, and to be launching a community of confident and capable students with the capacity, and expertise to literally build a resilient future. This is only possible with an outlook that is interdisciplinary, collaborative, and public minded at local, regional, and global scales.
"We should expect to engage an even broader network of community, civic, institutional, and business partnerships to collective benefit, with visible outcomes that are fair, and equitable for all. It's a pivotal time in this industry, and for our community; I'm proud to be part of this RGU team leading change with vision, and purpose."
RGU's Principal and Vice-Chancellor Professor Steve Olivier has welcomed Professor Peter Exley's appointment to lead The Scott Sutherland School of Architecture and Built Environment.
He said: "We are delighted to be appointing Professor Exley as Dean for The Scott Sutherland School of Architecture and Built Environment. He brings a wealth of knowledge and expertise, not only in education but also as founder of an internationally recognized practice of award-winning architecture and through his role as President of the American Institute of Architects.
"The Scott Sutherland School of Architecture and Built Environment has a strong social ethos that underpins all its teaching and research. We work closely with industry to ensure our courses are up to date and to equip our students with relevant skills to design and build sustainable and well-considered structures and spaces that reflect society's aspirations. Professor Exley has a demonstrable track-record, and I am confident that under his leadership, the Scott Sutherland School can continue to build on its success as one of the country's leading architectural schools."
The Scott Sutherland School of Architecture and Built Environment is one of the three oldest of its kind in the UK, with a heritage that extends back to the 19th Century.
The school offers a unique undergraduate and postgraduate course portfolio that is highly regarded by professionals. Learn more about The Scott Sutherland School of Architecture and Built Environment.
6 Oct 2022
Residential building plot of 0.69 Acres in Huntly is brought to market by DM Hall at offer over £90,000
A 0.69 Acre residential building plot with full planning permission and building warrant for the erection of a one and a half-storey 4-bedroom home at The Old Mill, Bleachfield, Huntly AB54 4QX, is being marketed by Baird Lumsden, the rural property arm of DM Hall at offers over £90,000.
The plot is accessed via a publicly adopted road over The River Bogie and sits in an elevated position with a neighbouring newbuild home, Plot 1, The Old Mill. There is easy access directly onto the A96 and a short, walking distance from Huntly town centre. The site has been recently cleared and is now ready for construction and service connections.
Huntly is a prosperous market town on the A96 approximately 38 miles west from Aberdeen and 61 miles southeast from Inverness. It is within easy commuting distance of Aberdeen, Inverness and Elgin and has a mainline train station. The thriving and long-established town boasts a community hospital, a choice of major supermarkets and sports and leisure facilities.
Primary and secondary education is provided for at the well-regarded Gordon Schools in Huntly. The area is well regarded for golf, fishing on the rivers Deveron and Bogie (administered by the River Deveron Salmon Fisheries Board), bowling, cricket, football, swimming, skiing at the Nordic Ski Centre and an annual calendar of events and social clubs.
Kirstie McLachlan of Baird Lumsden DM Hall, who is overseeing the marketing process, said: "This is a unique opportunity to acquire a generous sized plot with full planning permission and building warrant for the erection of a one and a half-storey 4-bedroom home in a fantastic location.
"As well as outstanding views overlooking the river and surrounding countryside the plot is highly accessible and within walking distance of Huntly town centre. Altogether this represents a great opportunity to live in a highly desirable location and offers over £90,000 are invited to purchase the plot.
"Anyone interested in learning more should contact me, Kirstie McLachlan of Baird Lumsden DM Hall on 01786 833 800 or 07786 260 212, or by email at [email protected]."
With 24 offices and over 250 members of staff including 24 Partners, DM Hall this year celebrates 125 years since its foundation in 1897.
More cureent Aberdeen Architecture News online at e-architect soon
Aberdeen Architecture News 2021
24 Aug 2021
St.Clements, Castlegate / Footdee area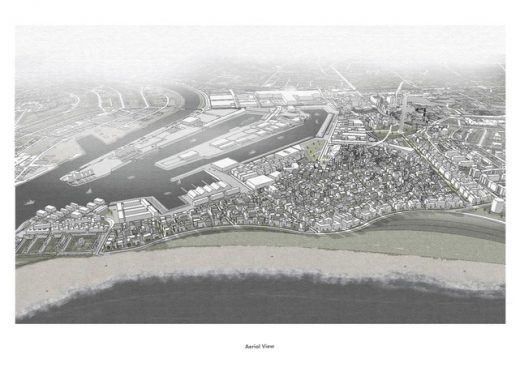 St.Clements Aberdeen urban village
A new urban village called St.Clements' could be created in the historic heart of Aberdeen under plans being proposed by final year architect students at The Scott Sutherland School of Architecture and Built Environment at Robert Gordon University.
21 Jun 2021
Cornival
Design: Brown & Brown Architects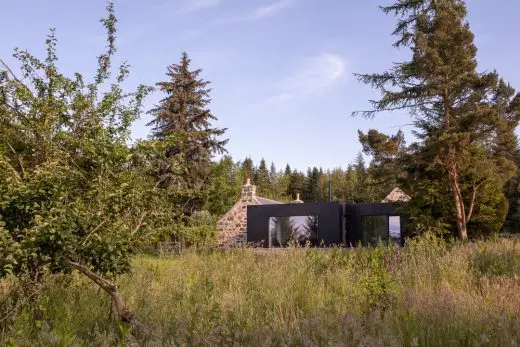 photo : Gillian Hayes
Cornival Cottage
This property project is the renovation and extension of a traditional Scottish cottage and byre, in the Aberdeenshire countryside. The brief was to create a home for a growing young family, recently returned to the UK after working abroad, and who fell in love with the site and surrounding woodland on their first visit.
More contemporary Aberdeen Architecture News online soon
Aberdeen Architecture News 2020
13 Oct 2020
Grandhome Community – Landscape, Bridge of Don
Design: Reiach and Hall Architects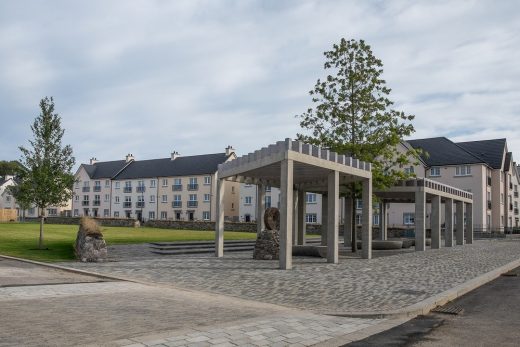 photo © broad daylight
Grandhome Community in Bridge of Don
The highlight and main feature of the square is Davidston Pavilion, an open geometric building which is contemporary in design and references both Northern and classical Greek architecture. The pavilion is surrounded by landscaped space including open lawn, long grass and a variety of trees.
17 Aug 2020
Architecture students design affordable housing for Grampian residents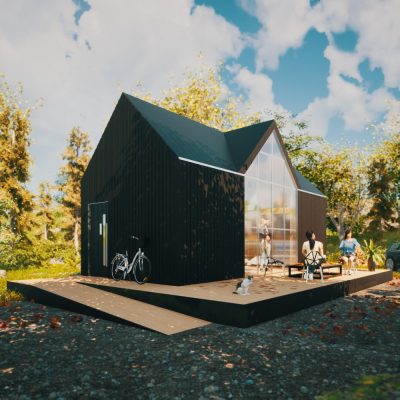 image courtesy of designers
Robert Gordon University Aberdeen
Architecture students from Robert Gordon University's Scott Sutherland School of Architecture design small affordable houses for Grampian Housing Association in Northeast Scotland.
7 July 2020
Robert Gordon University Virtual Architecture Exhibition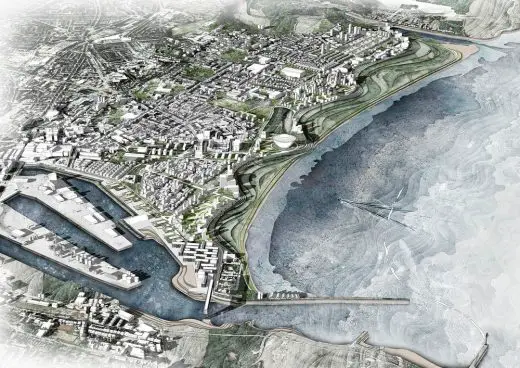 image courtesy of architects
Robert Gordon University Architecture Exhibition
The culmination of three years' work by talented Architecture students at Robert Gordon University (RGU) to reimagine waterfront areas in Aberdeen and Orkney will be virtually exhibited in a collaboration with Aberdeen Art Gallery and Museums (AAGM) and Pier Arts Centre in Orkney.
24 Apr 2020
The Event Complex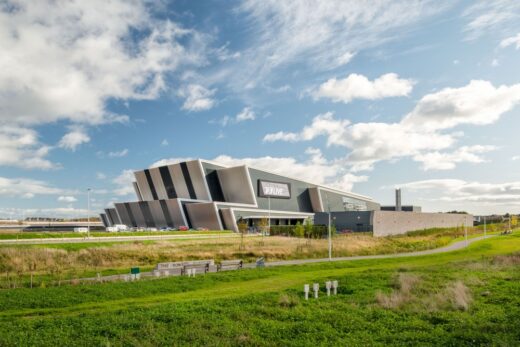 image courtesy of article provider
The Event Complex Aberdeen, TECA
The Event Complex Aberdeen (TECA) has been lauded for its social impact at a prestigious awards ceremony. Comprising the P&J Live arena and two on-site hotels, the £333m events campus officially opened its doors to the public in September 2019 following a three-year build.
7 Apr 2020
Digital Collaboration – Turns out that Aristotle Knew Best
By David Halliday, managing director, architectural, urban design and masterplanning architectural practice Halliday Fraser Munro:
Homeworking During COVID-19 Pandemic
More Aberdeen Architecture News is welcome
Aberdeen Architecture News 2019
16 Nov 2019
Architects and designers to discuss sustainable renovation at RGU event
An event, co-hosted by RGU and The Pebble Trust, is set to discuss the major issues of climate change and fuel poverty, and the role architecture and innovative design can play in providing solutions.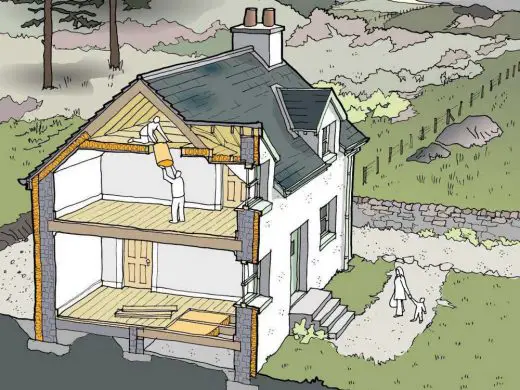 image courtesy of article provider
'Sustainable Renovation', which takes place at RGU on Tuesday, November 19, will feature presentations from local architects and academics which focus on their work on renovation projects and present case studies on successful work carried out.
The event is aimed at everybody in the retrofit sector from private and public-sector landlords to architects, builders, surveyors and those interested in upgrading their own homes.
Dr Amar Bennadji, lecturer at the Scott Sutherland School of Architecture and Built Environment, will talk about his retrofitting of an 18th century listed building, in which he managed to reduce heating energy by 56%.
He commented: "At a conservative estimate, £10 – £12 billion is to be spent improving the energy performance of Scottish homes to meet climate change and fuel poverty objectives.
"We are therefore entering a critical time for this topic and it is essential to ensure we make the most of this investment and that work is done efficiently and effectively."
One of the speakers, Bob Pringle, will detail a private project to upgrade his own home, built in 1897, to reduce energy waste.
Bob commented: "With the need to stop using fossil fuel heating to safeguard our planet and to go instead for renewable electricity based and biomass heating systems, the need to minimise energy wastage is paramount. Reduced energy use in buildings has three benefits. It reduces the owner's bills, it reduces the UK's CO2 emissions and it reduces the need for the government to build electricity generating capacity.
"Architects and building surveyors have a role in both systemising the refurbishment of these old buildings and helping government introduce sensible measures that will encourage homeowners to refurbish their properties and reduce their energy usage."
David Chouman, a chartered architect with Conservation Accreditation at Advanced Level, will present on his work on Haddo House and a private 16th Century home in Old Aberdeen.
"Renovating our built heritage is more important than ever now. Conservation architecture aims to retain existing buildings for cultural, social economic and environmental reasons, making them sound and useful while retaining their historical qualities in the long-term interests of society.
"Architects are ideally placed to be at the forefront of such a movement as a result of our training in the design, construction and adaptation of buildings, and with the support of professional membership organisations such as the Royal Incorporation of Architects in Scotland."
For more information and to book tickets please visit the website.
1 July 2019
Student Roost: Pittodrie Street Student Accommodation in Aberdeen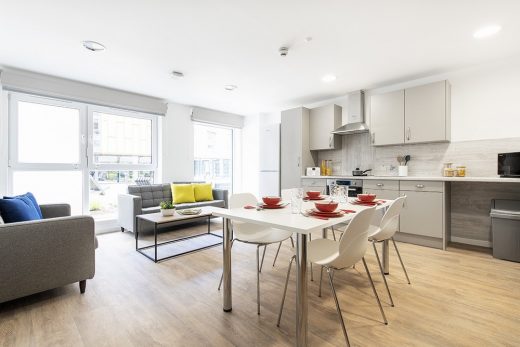 image courtesy of architects
Student Roost Pittodrie Street
Pittodrie Street, Aberdeen's most stylish student accommodation and the second phase of a new development, has opened its doors. The property is highly anticipated by students from both the University of Aberdeen and Robert Gordon University, with 90% of rooms already sold out.
21 June 2019
Royal Institute of British Architects (RIBA) Conservation Accreditation for Debbie Anderson of Lippe Architects + Planners
Chartered Architect, Debbie Anderson of Aberdeenshire based Lippe Architects + Planners Ltd has just been awarded the status of Conservation Architect (CA281) by the Royal Institute of British Architects (RIBA) following several months of preparation, before submitting her Historic Building Portfolio to the RIBA in March 2019.
Debbie is one of only a handful of architects registered in the northeast of Scotland with the recognised expertise to work alongside Historic Environment Scotland and The National Trust on some of their grant-funded restoration projects.
This prestigious accreditation enables Debbie to join an elite list of conservation architects on the RIBA Conservation Register, which enable individuals and organisations looking to commission work on historic buildings UK wide, to find architects with the specific skills and experience they require for their restoration project, encompassing all aspects of historic building conservation, repair and maintenance.
The assessors were impressed by both the range of projects and the knowledge evidenced, and have encouraged Debbie to now work towards Level Three as a Specialist Conservation Architect (SCA).
Debbie has over 17 years' experience; joining Lippe Architects + Planners based in Inverurie, in 2007 and promoted to Associate Architect and Team Leader in 2016. During this time, Debbie has worked closely with company founder, William Lippe, gaining expertise on a range of historical and restoration projects, including the Grade A Listed Tivoli Theatre, Aberdeen and the restoration of the Earl of Kintore's Keithhall Estate, a 'designed landscape' in Inverurie, which has included a development within a B Listed wall garden setting, as well as leading her team on more mainstream projects in the practice.
Commenting on her success, Debbie noted that "this has been the culmination of a life-long fascination with historic buildings, and I would like to recognise this endorsement as recognition of the guidance and knowledge gained while working at Lippe Architects and also the support of my family while working towards the submission." A keen cyclist and mother of two, Debbie also sits on the Inverurie Business Association and is currently helping organise a number of community initiatives.
The RIBA Conservation Register has three levels of membership, which provides an incremental process of accreditation for those who are in the early phases of establishing their careers in building conservation. These levels are:
– Specialist Conservation Architect (SCA)
A Specialist Conservation Architect has authoritative knowledge of conservation practice and extensive experience of working with historic buildings.
– Conservation Architect (CA)
A Conservation Architect has in-depth knowledge and experience of working with historic buildings.
– Conservation Registrant (CR)
A Conservation Registrant has an awareness of the issues involved in working with historic buildings and has attended a conservation course approved by the RIBA.
Re Debbie Anderson – see www.lippe-architects.co.uk
Founded by Managing Director, William Lippe in 1985, the Practice was first based in St James's Place, Inverurie, Aberdeenshire from where it has provided a growing range of professional and architectural services with a diverse Portfolio covering all sectors, to include residential, commercial, leisure and tourism, education and historic and restoration projects in the Northeast and throughout Scotland. Lippe Architects & Planners employ 12 staff at their current Practice in Inverurie and all Lippe's Architects are Members of the Royal Incorporation of Architects in Scotland and the Aberdeen Society of Architects.
Debbie Anderson https://www.lippe-architects.co.uk/
28 Mar 2019
Union Street CARS – Built Heritage Conservation & Community Engagement Workshop
Date: 20 May 2019, 18:30
Venue: The Music Hall, Union St, Aberdeen AB10 1QS
Cost: Free
Union Street CARS invites you to attend an introduction to building conservation and regeneration, with lectures from a selection of highly experienced conservation professionals.
Traditional Buildings Maintenance Course
21 May 2019, 10:00 – 15:00
Venue: Dalrymple Hall, 11 Seaforth Street, Fraserburgh, AB43 9BD
Cost: Free
As part of Fraserburgh 2021 Heritage Scheme (TH/CARS), Aberdeenshire Council are delivering a series of training opportunities for those with an interest in traditional buildings.
It is free to participants and open to all who have a professional interest in old buildings, whether in the design or construction phase and want to learn more about the particularities of working with traditional materials and techniques.
10 Feb 2019
Vision 2030: Delivering on Built Environment Sustainability: Issues for Education, Practice and Procurement
Date: 13 February 2019 ; Time: 10:00 – 17:00
Venue: Sir Ian Wood Building Amphitheatre, Robert Gordon University, Aberdeen
This conference looks at a range of considerations with respect to achieving sustainability in the built environment, and our professional and societal responsibilities with regard to climate change.
To register please email Helen Aggasild on h.aggasild(at)rgu.ac.uk
10 Feb 2019
ASA Annual Dinner and Design Awards 2019
Date: 1 March 2019 ; Time: 18:45
Venue: Elphinstone Hall, Old Aberdeen, University of Aberdeen, 21 High St, Aberdeen AB24 3EE
You are cordially invited to join ASA for an evening of good food, good company and a celebration of excellence in architectural design.
The keynote speaker this year will be acclaimed architect, Rab Bennetts OBE RIBA FRIAS, co-founder of the multi-award-winning and three-time shortlisted RIBA Stirling Prize practice, Bennetts Associates.
Aberdeen Society of Architects Design Awards 2019
More Aberdeen Architecture News is welcome.
Northeast Scotland Building Updates 2018
6 Nov 2018
Opening date announced for TECA
An opening date of summer 2019 was today announced by the partners involved in building the exciting new multi-million-pound The Event Complex Aberdeen (TECA).
The milestone follows on from last week's announcement of stand-up comedian Russell Howard as the first entertainment act to book a show at the world-class venue.
TECA arena, conference centre and exhibition building is part of the new AECC project which includes two on-site hotels, an energy centre, extensive landscaping and parking. The entire site is being built by Aberdeen City Council along with development partner Henry Boot Developments (HBD), and main contractor Robertson Group.
TECA will provide a new world-class facility for Scotland beside Aberdeen International Airport. The 12,500-capacity main arena will host conferences, exhibitions and music concerts, and is expected to attract major artists and events to the city. The facility will also boast three further conference/exhibition halls, four multi-purpose conference suites, and 9 meeting rooms.
The interiors of the facility are being fitted out with progress on internal blockwork, metal stud partitions, and mechanical, electrical and plumbing installations continuing, and rooms taking shape include the main area, exhibition halls and conference rooms.
The facility is expected to contribute an additional 4.5 million visitors, £113 million of visitor spend and £63 million net Gross Value Added to the Scottish economy. It will also result in the creation of 352 full-time-equivalent permanent positions by year 10 of operations.
Aberdeen City Council Co-Leader Councillor Jenny Laing said: "We are delighted that summer 2019 is to be the opening date for TECA and we look forward to making many more exciting announcements about acts, exhibitions and conferences.
"We want to attract major artists and new events to the north-east to ensure the area competes on a global scale and TECA plays a major part of that, as part of our Regional Economic Strategy which has internationalisation at its heart."
Aberdeen City Council Co-Leader Councillor Douglas Lumsden said: "It is fantastic to watch the building progressing so quickly and it's very exciting to see the work on the interior fit-out, and with rooms now being clearly defined so you get an idea of the sheer size and scale of the building.
"TECA is one of the projects in our £1billion of capital investment in the city which includes major infrastructure improvements for the city including new roads, bridges, schools and cultural assets."
Nigel Munro, Regional Project Manager for HBD in Scotland said: "Work on the internal fit-out is progressing quickly, so what has for a long time felt like a huge engineering project is now really starting to come to life as TECA.
"The build programme remains on schedule and the finish line is now in sight for this flagship project for Aberdeen and the north east."
Robertson Chief Executive Officer Derek Shewan said: "TECA will provide a huge boost to the Northeast, and we at Robertson are immensely proud to be the primary contractor on this iconic build. TECA, and its two on site hotels, constitute our largest major project to date, and seeing it take shape is hugely satisfying for everyone involved."
AECC and TECA Managing Director Nick Waight said: "It's great we're able to announce more details on the opening of TECA. We're really happy with how our event pipeline is coming on and look forward to bringing some exciting shows, conferences and exhibitions to the northeast from next summer."
More information about TECA can be found at www.teca.co.uk along with the project build website at www.aeccevolves.co.uk.
3 Oct 2018
Broadford Works Residential Development
Design: Sheppard Robson Architects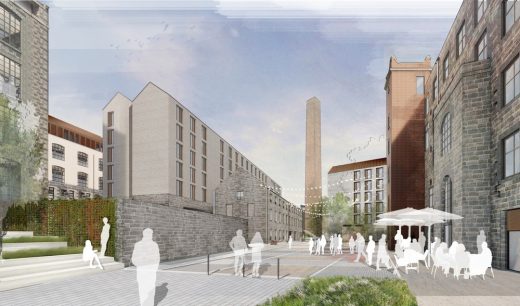 image courtesy of architects
Broadford Works Residential Development News
Comprising 460 Private Rented Sector (PRS), predominantly one- and two-bedroom homes, the development will also offer 430 student rooms on the site of the disused Richard's textile factory, which has lain empty since 2004.
18 Jul 2018
Robertson wins community engagement award for the new Aberdeen Exhibition and Conference Centre
Robertson is celebrating after winning a Community Engagement award at the Considerate Constructor's Scheme's (CCS) inaugural National Ultra Site Awards Ceremony.
The award, presented at a special event held in London, recognises the measures taken by Robertson to engage with the local community during the construction of the new Aberdeen Exhibition and Conference Centre (AECC), which includes The Event Complex Aberdeen (TECA) and one of two on-site hotels.
These measures include circulating regular bulletins to keep the local community up-to-date as the project progresses, and the 'good neighbour' questionnaire, which encourages community feedback.
Robertson has also supported local charity Charlie House, raising £8,000 for them in 2017 to help the charity continue its work with children with complex disabilities and life-limiting conditions.
The Robertson AECC team has forged close relationships with local schools, colleagues and universities throughout the project. Local employment has also been boosted, with Robertson working closely with the Department for Work and Pensions, Skills Development Scotland and other local employability providers to provide work placements to job seekers. These efforts have resulted in a number of unemployed people achieving full time employment on the project.
Robertson is also providing support to a number of local community projects, including providing disabled ramp access for the Stoneywood Scout Hut, creating a 'Friendship Garden' for Dyce Primary School and decorating key areas of the Dyce Community Centre.
Derek Shewan, chief executive for Robertson, said: "We take our responsibilities to the community very seriously and we're immensely proud to be recognised by the CCS as a positive role model for the construction industry.
"The team at the AECC has worked hard to develop and maintain good relationships with the local community, keeping them informed and involved, while giving back to that community with their fundraising efforts and by volunteering for local projects."
The multi-million-pound AECC project – a joint venture between Aberdeen City Council and Henry Boot Developments – will deliver a new world-class facility for Scotland. The 12,500-seat arena will host major events including, conferences, exhibitions and music concerts.
As well as building the new arena and conference centre and one of two on-site hotels, Robertson is also undertaking site preparatory works including ground and infrastructure works.
Robertson achieved the highly prestigious 'Ultra Site' status for the AECC in 2017, by taking considerate construction to the highest level by spearheading increased collaboration and raising industry standards within the project's supply chain.
The CCS National Ultra Site Awards have been developed specifically to recognise and reward the highest performing contractors, sites, subcontractors, suppliers and clients that represent the absolute pinnacle of considerate construction as part of the Ultra Site initiative. The Awards were presented at a special ceremony in central London on 12 July 2018.
15 Jun 2018
Look Again Visual Art & Design Festival 2018
Date: 14 – 17 June 2018
The programme of events for the 2018 Look Again Visual Art and Design Festival, a key cultural initiative of Robert Gordon University (RGU), was launched on Tuesday 15th May.
Look Again invites the public to discover high-quality contemporary art and design in familiar civic spaces. The festival creates an opportunity for residents to see Aberdeen through fresh eyes and 'become a tourist in their own city'.
http://www.lookagainfestival.co.uk/
4 May 2018
The BIG CRIT
Date: 18 May 2018
Time: 9:30 – 17:30
Venue: Scott Sutherland School of Architecture and Built Environment, Sir Ian Wood building, Robert Gordon University, AB10 7GJ
The BIG CRIT is the most anticipated event in The Scott Sutherland School of Architecture and Built Environment calendar and this year it takes place on Friday the 18th of May.
The event marks the end of the academic year by celebrating some of the best work produced by students from 1st year to Final year and uses the work as a vehicle for broader discussion around the theory and practice of Architecture. The BIG CRIT is open to staff, students and members of the public and is free of charge.
More details here: Aberdeen Architecture Event – 57'10 Lecture Series
21 Apr 2018
Piranesi Exhibition
Exhibition of Architectural Prints From the 18th Century by the Architect Giovanni Battista Piranesi
Date: April – September 2018
Venue: Blairs Museum, South Deeside Road, Aberdeen, AB12 5YQ
Time: Saturday 10am – 5pm (last entry 4.30)
Sunday 12 noon – 5pm (last entry 4.30)
Cost: Various, please visit website
Website: www.blairsmuseum.com
28 Mar 2018
Unanimous approval for LDA Design's revamp of Aberdeen's Union Terrace Gardens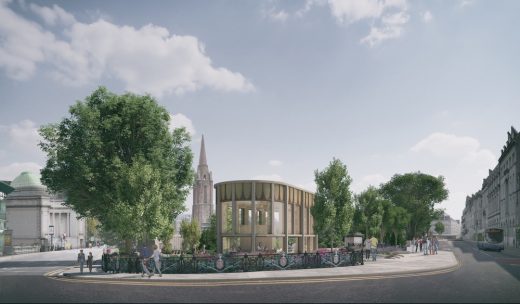 image Courtesy LDA
Aberdeen Union Terrace Gardens Renewal Approval News
The transformation of Union Terrace Gardens is to start later in 2018 after the detailed planning application was unanimously approved today by Aberdeen City Council's Planning Development Management Committee.
1 Mar 2018
The Secret to Cleaning Up Aberdeen's Union Street Starts with a Sponge
Where once the main thoroughfares of Scotland's cities stood proudly amongst the best shopping streets in the world, they are now the domain of the fast-food restaurant, pound shop and bookie.
27 Feb 2018
Built Environment Lessons
A professor at an Aberdeen university has said schools should be teaching pupils about the built environment from a young age to encourage more people to take up architecture, reports the Evening Express.
Gokay Deveci, a professor of architecture at the Scott Sutherland School of Architecture at Robert Gordon University (RGU), said adding the subject to the curriculum would inspire students from different backgrounds to take up the profession, and go on to shape "cities of the future".
source: Aberdeen Built Environment Lessons article
16 Feb 2018
Aberdeen Society of Architects Annual Dinner & Design Awards 2018
Date: 23 February 2018
Venue: Elphinstone Hall, Old Aberdeen, University of Aberdeen King's College AB24
Time: 18:45
You are cordially invited to join us for an evening of good food, good company and a celebration of excellence in architectural design. This year's keynote speaker will be 2017 Doolan Award winner, 2016 RIBA House of the Year winner, renowned Scottish architect Richard Murphy FRIAS RIBA OBE.
Website: Aberdeen Society of Architects Annual Dinner & Design Awards 2018
5 Feb 2018
Aberdeen City Centre Lighting Masterplan
Aberdeen City Council has approved a lighting strategy – Aberdeen in Colour, A City Centre Masterplan – developed by creative lighting consultancy Steensen Varming with urban designers McGregor Coxall.
The £6.5m proposals include twelve creative lighting projects at various central landmarks, streets, waterfront and civic spaces. The programme is set to last for five years.
Union Street, St Nicholas Kirk and the banks of the River Dee are just some of the areas to be lit up.
23 Jan 2018
Aloft Hotel at Aberdeen Exhibition and Conference Centre
Design: Cooper Cromar Architects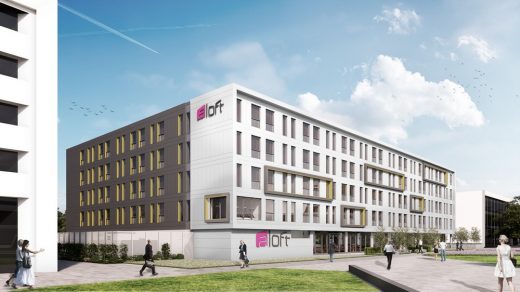 image courtesy of architects
Aloft Hotel Aberdeen AECC
Construction of a 150-bedroom Aloft Hotel on the site of the new Aberdeen Exhibition and Conference Centre ('AECC') has commenced.
The hotel will be the first building in phase 2 of the AECC masterplan at Bucksburn, and will be located just north of the Hilton Hotel that adjoins the new AECC, which is currently under construction.
More Aberdeen Architecture News online here soon!
Aberdeen Architecture Tours by e-architect – tailored city walks
Aberdeenshire Buildings Archive
Aberdeen Architectural News 2014 to 2017
Aberdeen Building News up to 2013
Aberdeen Architectural News – 2008
Aberdeen Building News – 2006
Location: Aberdeen, Northeast Scotland, UK
Aberdeen Architects – Listings
Key Buildings in this Northeast Scotland City
Buildings / photos for the Aberdeen Architecture News page welcome