Scottish Building News Spring 2017, Property Scotland, Architectural Images, Architects
Scottish Architecture News Spring 2017
New Architecture Developments + Buildings in Scotland – Built Environment + Architects Updates
Scottish Buildings News Spring 2017 Archive
This archive page contains a selection of major Scottish Architecture News in Spring 2017
Scottish Architecture News – current page
University of Edinburgh Student Centre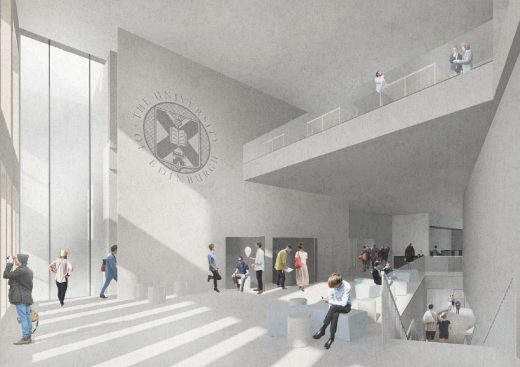 image courtesy of architects
27 Jun – Edinburgh University has unveiled plans designed by Glasgow's Page\Park Architects for a radical extension to Teviot Row House, billed as the world's oldest purpose-built student union, under a £75m modernization plan, report urban realm.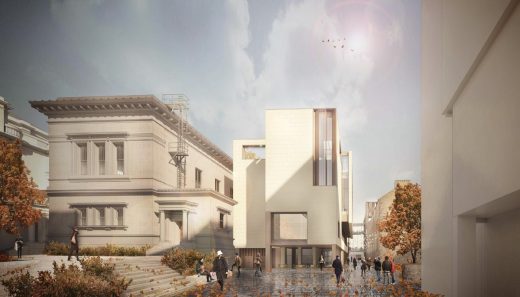 University of St Andrews Music Centre Building News
27 Jun – The University of St Andrews has finalised plans for an £8m music centre designed by architects Flanagan Lawrence. It is located at Queen's Terrace and work could begin by the end of the year.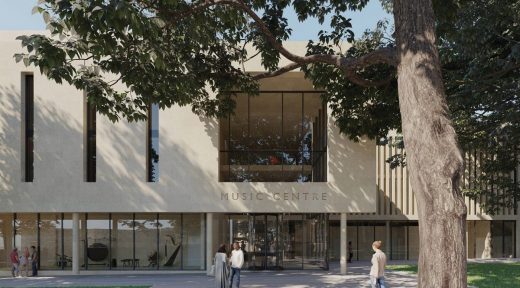 images courtesy of architects
Conceived to complete the historic St Mary's Quadrangle, replacing an area given over to temporary buildings and a car park, the new school will include rehearsal and teaching spaces as well as a studio, recording suite and library.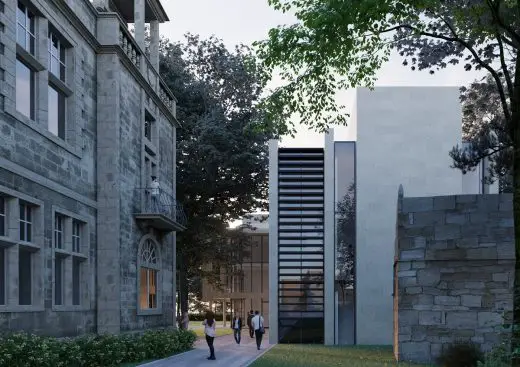 Edinburgh School Building Investigation
22 + 21 Jun – CIOB announces Commission of Past Presidents to investigate build quality
The Chartered Institute of Building (CIOB), in light of the report into the defects that led to the closure of 17 schools in Edinburgh earlier this year and subsequent events, announced the formation of a Commission of Past Presidents to investigate the issue of build quality in the construction industry, and what needs to be done to address it.
The Commission will consider what steps the CIOB needs to take to address the already identified issues around management and supervision, the importance for our education framework, and whether there are further steps the industry can take to contribute to improving build quality.
Inverness Justice Centre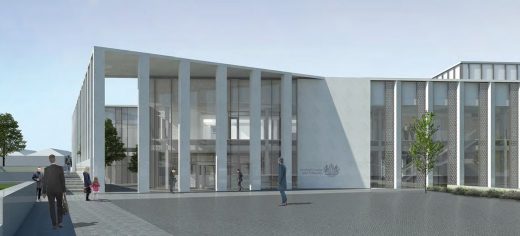 image courtesy of architects
19 Jun – The Scottish Courts and Tribunals Service have brought forward revised plans for a new Inverness Justice Centre, building upon the initial concept conceived by Reiach and Hall Architects, Edinburgh.
The updated design rationalizes accommodation and provides a new public space as well as improving access by car and will be placed on public display in the magnus Room of the Royal Highland Hotel between 15:00 and 19:00 on 22 June.
RIAS Awards 2017 Winners
16 Jun – At its Awards Dinner in Edinburgh, The Royal Incorporation of Architects in Scotland (RIAS) announced 12 winners for its 2017 Awards, representing the very best of current Scottish architecture. The judging panel was Ole Wiig FRIAS, Lorraine Landels Hon FRIAS, Stuart McKnight RIAS RIBA (representing the Royal Institute of British Architects) andKaren Anderson FRIAS (Timber Award).
Read more at RIAS Awards 2017 News
Perth City Hall Building Designs
15 Jun – Architects shortlisted designs exhibition for Perth City Hall redevelopment as cultural attraction: Mecanoo, Richard Murphy Architects, Hoskins Architects, Austin Smith Lord and LDN. enabling the public to have their say on initial concept designs.
Read more at Perth City Hall Shortlisted Design News
The Engine Shed Announces New Building Conservation Diploma
9 Jun – Historic Environment Scotland's Engine Shed has launched its Advanced Diploma Course in Technical Building Conservation, the first of its kind.
Aimed at those with experience in the built heritage sector and interested in developing their career within building conservation, the new postgraduate course will be taught at the Engine Shed by in-house experts from Historic Environment Scotland and other leading professionals from around the UK and abroad.
The 10-month programme will begin in August 2017 and offers a unique proposition to students due to the high number of teaching hours they will receive from course leaders and lecturers. This will be enhanced with hands-on craft demonstrations, laboratory work, studio exercises in 3D digital documentation techniques and regular field trips to active projects around the HES estate.
The course seeks to raise standards in the sector by focusing on technical aspects of traditional materials which has become less of a focus in other training programmes and combining this with learning around conservation science and the latest digital documentation techniques and technologies.
Postgraduate Course Manager for Historic Environment Scotland, Gordon Urquhart, said: "The introduction of this course marks a significant new chapter for Scotland and the international conservation sector. We want to raise standards in caring for our built heritage and demonstrate the continuing cultural and economic relevance of traditional buildings, materials and skills. Scotland has world class expertise in many of these topics and we will provide unique access to them. This course sits at the heart of the Engine Shed offer."
The postgraduate level qualification is designed to provide comprehensive training for a new generation of heritage professionals, as well as enhancing expertise and skills of experienced conversation practitioners.
Deadline for applications to the course is 31st July 2017 with only 15 places available in its first-year applicants are encouraged to apply early. On completion of the four Units, students will receive a diploma certified by the Scottish Qualifications Authority and issued by Forth Valley College. The course is designed to allow practising professionals to attend classes on a part-time basis and / or select modules they wish to complete as part of their continuing professional development.
In addition to the new Advanced Diploma, the Engine Shed will also run a week-long Conservation Summer School beginning Monday 12th June. The course will provide an introduction to building conservation and traditional building materials and skills through a mix of talks, workshops, field trips and hands-on activities. Targeted at home owners and professionals seeking to broaden their knowledge, tickets are priced at £150 for the day or £550 for the full week of tuition.
Opening in 2017, the Engine Shed will create and deliver educational resources and training on traditional building skills and materials for those in the industry as well as a fun and inspiring space for schools, local people, and visitors to get involved with building conservation through activities, exhibitions, and a jam-packed events programme.
For more information on the summer school, please visit www.engineshed.org or to register your interest in the advanced diploma contact Gordon Urquhart at [email protected] or visit the Engine Shed website.
Scottish Design Awards Winners
28 + 26 May – e-architect attended this event.
Key winners on the night were:
Grand Prix:
ORIAM – Scotland's Performance Centre by Reiach and Hall Architects
Chairman's Award:
Culardoch Shieling by Moxon Architects Ltd
Practice of the Year:
Reiach and Hall Architects
See the full list at Scottish Design Awards News
The price of not buying new? It could be as much as £50,000!
15 May 2017 – New research carried out by the home building industry has found that the cost of upgrading an older property to the same standard as a new build home could be as much as £50,000. The publication of the data comes at the start of this year's New Homes Week (15-21 May) which aims to highlight the many benefits for consumers of buying a new build home.
From living in an energy efficient home that could save you hundreds of pounds on your utility bills each year, to the brand-new fixtures and fittings that come as standard, buying a new build home offers many advantages when compared to buying an older property.
The research looked at the work that might have to be carried out when people move into an older home, and what would have to be done to a home to bring it up to the standards of a new property which also comes with a warranty protecting the buyer from liability on structural problems within the first 10 years. Whether it's the price of buying and fitting a new kitchen (£7,900) or having a house rewired (£8,850), the costs for people moving into an older home can quickly mount up.
For a homeowner who wants to get the same standard of finish and functionality they could expect from a new build home, the cost could be up to £51,643. This includes paying out for:
Kitchen – £7,900
Bathroom – £3,800
Central heating – £6,185
Wiring – £8,850
Plastering – £5,240
Decorating – £2,500
Flooring – £2,628
Insulation – £775
Windows and doors – £4,900
Roofing – £4,000
Guttering – £690
External rendering – £4,175
And the savings continue: while just 26% of second hand homes achieve an energy efficiency rating of A to C, 94% of homes built in 2016 could boast such standards.
Commenting on the figures, Nicola Barclay, Chief Executive of Homes for Scotland, said:
"Whether you are starting out on the housing ladder, upgrading with a growing family or downsizing after children have left the nest, the new build market offers the widest possible range of options to suit every stage of your housing journey.
"New homes also offer important benefits second-hand homes simply can't match. As well as being built to suit modern lifestyle requirements and providing the peace of mind of a ten year warranty and protection of the Consumer Code for Home Builders, they can also help save buyers a lot of money and stressful upgrading as today's report shows."
Download report "Avoid the Money pit – the cost of upgrading old to new"
31 May
Culardoch Shieling in the Cairngorms National Park
30 May
Wavegarden Scotland
Orkney Research + Innovation Campus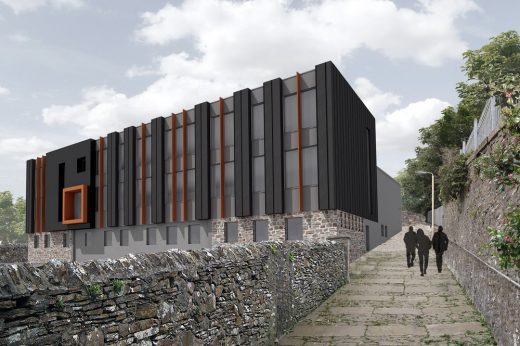 image courtesy of architects
Orkney Research + Innovation Campus Building
5 May – Threesixty Architecture have been appointed for the redevelopment of the old Academy and former Primary School of Stromness.
Scottish Home Improvement figures fall further behind the rest of Great Britain
25 Apr – As many households undertook a spring clean over Easter, home improvement figures within Scotland however still decreased in popularity across 2016, the only region or country to do so in Great Britain, falling by 4 per cent.
Published today, the 'Home Improvers of Great Britain 2017' report, compiled by construction industry analysts Barbour ABI in collaboration with the Federation of Master Builders, shows that for every one-hundred private homes, Scotland had on average 1.1 home improvement applications in 2016. East Lothian was the leading district in the region with 2.0, resulting in a 6 per cent increase.
East Lothian, even as the leading district for home improvement in Scotland, is only just on par with the proportion of homeowners submitting planning applications for home improvements in Great Britain. There are of course bright spots in the figures, with solid rises in home improvement applications for Fife and Perth & Kinross, both now in the top five of the 2016 league table.
At the other end of the spectrum of the Barbour ABI league table, Glasgow and West Dunbartonshire remaining stuck at the bottom of the home improvement table in Scotland, despite a moderately strong rise in applications in Glasgow over the past two years.
However the Office of National Statistics Family Spending survey does suggest that overall spending on home improvements in Scotland is improving. Households spent on average about £920 annually across 2015 and 2016. The means the total annual spend across the nation on home improvements comes in at £1.9 billion, suggesting there may be fewer but more ambitious home improvement projects.
Gordon Nelson, Director of the Federation of Master Builders (FMB) Scotland, said: "The report shows that demand for home improvement work contracted by 4% in Scotland in 2016 compared with 2015 and the country sits at the very bottom of the league table of home improvers. However, not all home improvement projects need planning permission – the figures may be masking the many smaller refurbishment projects being delivered in Scotland that do not require this.
That said, the larger projects provide a significant wider economic kick and as such, these results do not paint a very rosy picture for Scotland. In more positive news, Fife enjoyed a significant 14% increase compared with the previous year and East Lothian topped the table for a second year in a row in terms of overall number of planning permissions for home improvement. However, looking at the broader picture and comparing these results to that of Wales, it's clear that Scotland is lagging behind."
Michael Dall, Lead Economist at Barbour ABI, said: "The overall number of home improvement applications in Scotland was more than 21,000 in 2016, still below the 22,000 level in 2014. However, over the past year the fall can be more than accounted for in the decline in applications within Aberdeen City and Aberdeenshire and the continued fall away in applications in Dumfries and Galloway. Subtract these three local authorities and the picture of Scottish home improvement is one of a very gentle rise over the past five years."
About Barbour ABI:
Barbour ABI is a leading provider of construction intelligence services. With a team of in-house research specialists and a dedicated economics team, it provides commercially relevant insight and unique analysis of trends and developments within the building and construction industry.
Perth City Hall Building News
18 Apr – Five of the biggest names in UK architecture are vying for the right to redesign Perth City Hall with the building's re-opening scheduled for 2021, reports The Courier.
Each has a grand vision for redeveloping the building into a cultural attraction capable of bringing visitors to the city from around the world. Shortlisted architects, alphabetical order:
– Austin Smith Lord
– Hoskins Architects
– LDN
– Mecanoo
– Richard Murphy Architects
Perth City Hall Building Renewal
19 Apr
Carnegie Museum and Arts Centre Dunfermline Building
The Bridge, Dumfries
7 Apr – First turf cut at The Bridge as hub Southwest's latest initiative gets under way
The evolution of Dumfries as a Learning Town took another step forward this week with a ground breaking ceremony for The Bridge, an innovative educational building which will bring new opportunities and benefits for the entire community. The architects are Holmes Miller.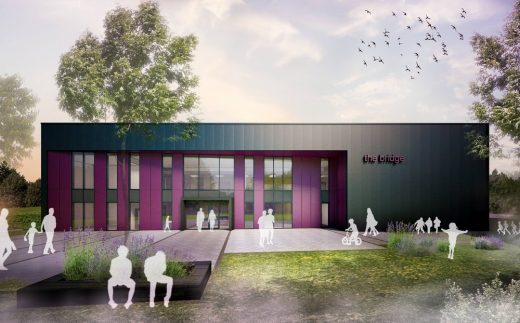 The Bridge, a stylish and modern facility, will be built next to the King George V Sports Complex on Glasgow Road and will help people develop specialist skills and knowledge that they need for further education and work.
It is the latest initiative to be facilitated by hub Southwest, the construction and infrastructure-focused partnership which works with forward-looking companies in Lanarkshire, Ayrshire and Dumfries and Galloway.
And it is the newest project for Dumfries Learning Town which aims to deliver education on a "whole town" basis, to ensure education of the highest quality with students benefitting from common timetables, shared resources, improved facilities and increased aspiration.
The Bridge ceremony was attended by key officials from Dumfries and Galloway Council, hub Southwest and Graham Construction, which will build The Bridge with an expected completion date of winter next year.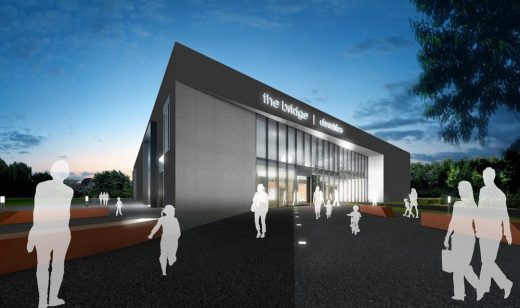 Jeff Leaver, chair of Dumfries and Galloway Council's Education Committee, said: "Dumfries Learning Town is vital to the future of children in and around the Dumfries area as we strive to deliver first class educational facilities which are fit for the future.
"We are making excellent progress on all our projects, but The Bridge is a key component of the DLT development. This ground breaking ceremony marks the start something special. The young people of tomorrow will be able to take advantage of this fabulous undertaking."
Michael McBrearty, hub Southwest Chief Executive, said: "Dumfries Learning Town an exciting and ambitious project of which hub Southwest is thrilled to be a part. With work on the St. Joseph's modernisation and development of the new NorthWest Campus well underway, Phase 1 of the whole-town learning initiative is progressing well.
"The Bridge will be a modern and innovative approach to supporting the additional learning and further education of youngsters in the Dumfries area so it is fantastic that plans have now moved forward. We will be on site in the coming weeks."
hub Southwest partnership enables cost-efficient design and construction of community facilities within Southwest Scotland. It aims to provide value for money and generate growth in the local economy through a new method of partnership working and procurement.
Drum Completes Sale at Prime Four
7 Apr – Lloyd's Register Office sold for £43.2 million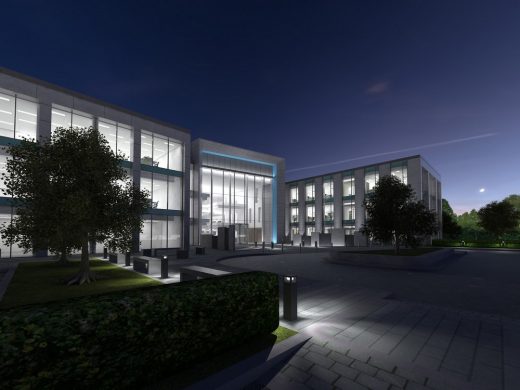 Drum Property Group has completed the construction of a 102,000 square foot office at Prime Four Business Park, Kingswells, Aberdeen which LCN Capital Partners has acquired as part of a build-to-suit transaction for £43.2m.
More at Aberdeen Architecture News
3 Apr 2017
Major Film and TV Studio for Scotland
pentastyle comes to Inverness
Frankfurt am Main, 29 March 2017 – Inverness, capital of the Highlands of Scotland, now has a fully refurbished pentahotel, bringing the penta group's innovative "neighbourhood-lifestyle" approach to four-star hospitality to the heart of this strikingly beautiful city.
The 90 rooms, arranged on five floors, have undergone a complete makeover in the fresh and engaging pentastyle, where mattresses specially made for penta offer an exceptional standard of sleep. Its trademark pentalounge – combining reception, 24/7 bar and lounge, with pool table, game consoles and delicious food – is designed as a gathering place where visitors, locals and the business community can relax and mingle.
Set on Academy Street, just 100 yards from the station and 8 miles from the international airport, pentahotel Inverness is perfectly placed to serve all participants in the life of this city. Inverness is the fourth most popular tourist destination in the UK: gateway to the Highlands, close to Loch Ness and Culloden, and with plenty to see in the city itself. It is also a burgeoning centre for academic and medical research and education, and associated businesses and start-ups.
Scotland Built Environment Updates Archive
Archive for 2017:
Scottish Architecture News Summer 2017 Archive
Scottish Architecture News Winter 2017 Archive
Scottish Architecture News Autumn 2017 Archive
Archive for 2016:
Scottish Architecture News 2016
Location: Scotland
Scottish Buildings News Archive
Scottish Architectural News 2010
Historic Scottish Architects Practices
Architecture Design Scotland News
Buildings / photos for the Scottish Building News Spring 2017 Archive Page welcome