Scottish Building News Summer 2017, Architecture, Property Scotland, Architects, Photos
Scottish Architecture News Summer 2017
New Architectural Developments + Buildings in Scotland – Built Environment Updates
Scottish Buildings News Summer 2017 Archive
This archive page contains a selection of major Scottish Architecture News in Summer 2017
Scottish Architecture News – current page
30 Aug 2017
Arisaig House by Philip Webb in Scotland
Doors Open Days in Scotland – Favourite Buildings
29 Aug 2017 – To celebrate the launch of Doors Open Days 2017 and its own 50th anniversary, the Scottish Civic Trust has invited writers, artists, architects, academics and members of the public to nominate their favourite Scottish door:
Doors Open Days in Scotland
The Mill Quarter, Perth
29 Aug 2017 – Expresso Property Ltd has announced that it has concluded missives on The Mill Quarter site, a brand new landmark mixed leisure scheme with residential apartments. The scheme will be a catalyst for economic change in Perth and will significantly transform the City's visitor destination offer on completion. Construction works are due to commence in 2018 with works due for completion in summer 2019.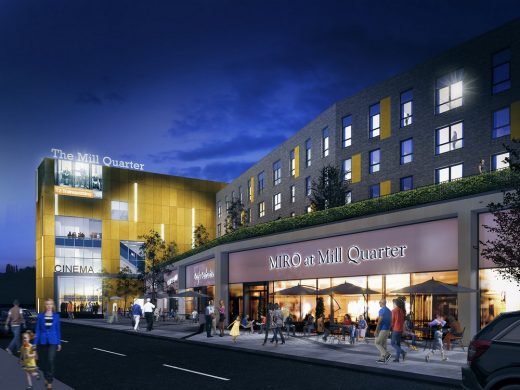 image from architect
Mill Quarter is a new leisure hub at the heart of the City, comprising a state-of-the-art multi-screen cinema: a mix of bars; restaurants and speciality shops, a 205 space multi-storey car park and 58 new apartments.
During the construction phase, the scheme will support 200 jobs, (107 direct construction jobs and 93 indirect supplier jobs), and will have an end investment value of £30m, creating around 126 new jobs in Perth on completion. The scheme has been designed by Holmes Miller Architects.
Nick Robinson of Expresso Property the developer of The Mill Quarter commented, "We are delighted to announce we have concluded missives for The Mill Quarter site from Perth and Kinross Council. The next stage is to obtain planning and we hope to apply shortly in the hope that construction works will begin in the first half of 2018."
Stephen Hampshire of Expresso Property said, "With the support of Perth and Kinross Council, Invest in Perth and designers of the scheme Holmes Miller Architects, we are pleased to be providing this new landmark leisure hub and also to play our part in creating over 300 jobs. The Mill Quarter development is a catalyst for change that will drive Perth's economic growth and give the City's residents a brand new leisure destination to be proud of".
Councillor Ian Campbell, Leader of Perth & Kinross Council, said: "The Mill Quarter development is an exciting opportunity to develop and enhance Perth's leisure offering for residents and visitors, and I'm pleased to see the project reach this milestone. Expresso Property has identified the city as a positive location for growth and investment, and this sends out an important signal to existing and potential investors that Perth is the place to be."
For more information on developments by Expresso Property, please visit www.expressoproperty.co.uk
Mosaic Architecture + Design News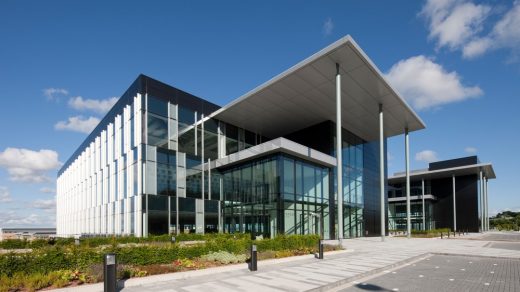 photo from architects office
28 Aug 2017 – Mosaic Architecture + Design, one of Scotland's most experienced practices, has acquired Burnet Bell (Glasgow's second oldest architectural practice, dating back to 1878) for an undisclosed sum, boosting its staff numbers to 20.
The acquisition adds Glasgow School of Art, St. Aloysius' College and St. Columba's School amongst others to Mosaic's burgeoning client portfolio and enhances its offering of consultancy services, which includes architecture, interior design, masterplanning, to a range of sectors, such as education, residential care and hospitality.
Perth City Hall Building Renovation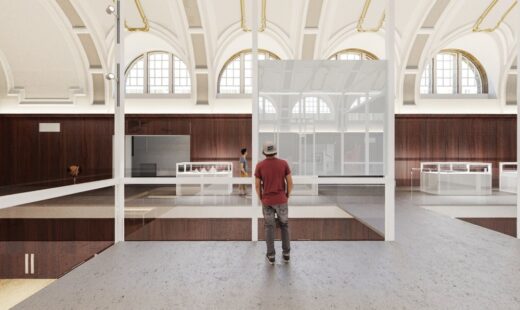 image courtesy of architects office
Perth City Hall Building Renovation
27 Aug 2017 – The category B-listed building will be transformed into a cultural facility with exhibition spaces, learning suite, café and retail space.
Springfield Properties News
22 Aug 2017 – Springfield Properties, a leading housebuilder focused on Scotland offering private and affordable housing, announces its full year results for the year ended 31 May 2017.
Affordable Housing
Springfield has achieved a solid track record since entering the affordable housing market in 2002. This part of the Group's business has contracted revenues and low capital exposure.
Over the years the group have increasingly become a trusted partner of local authorities as they steadily increase the number of affordable homes built and handed over. One of the main aims of the company over the past two years has been to increase the size of the affordable housing business. This year the group have built 183 affordable homes, up 91% from 2015/2016. This brings the number of affordable homes built to date to over 1,500 homes, and gives the firm approximately 4% share of the affordable housing market in Scotland.
The Scottish Government has allocated £3.2 billion to build 50,000 affordable homes over the course of this parliament. This is a massive increase from the 30,000 target of the last five years. The firm's land buying and planning team have been busy securing land to help meet this target and expect to see positive results from this activity start to feed through into the accounts next year. The company have strong relationships with 12 local authorities and housing associations and are negotiating with seven more. These relationships will be instrumental in reaching the firm's target to double turnover in affordable housing over the next two years.
In the 2017/2018 year, the focus will continue to be to progress five villages and bring those most advanced towards completion.
Perth City Hall Competition
13 + 10 Aug 2017 – Mecanoo Architects become Perth & Kinross Council's preferred partner to bring forward a transformation of the historic Perth City Hall following an international design competition after winning the most support during a public engagement exercise.
Seeing off four other shortlisted teams Mecanoo will now be tasked with overhauling the current attraction and surrounding public realm to create a £20m museum.
Perth City Hall Competition Winner
Buildings to Help Power Offishore Wind Faerm for SSE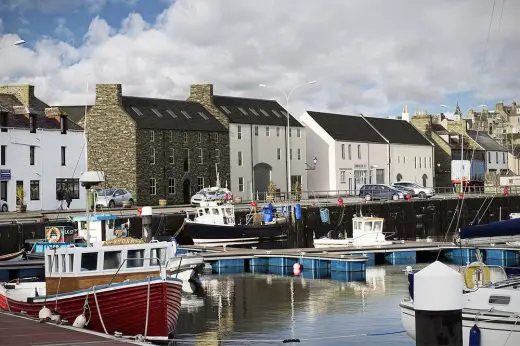 image courtesy of architects
7 Aug 2017 – Historical maritime buildings in the harbour of Wick in Caithness, Scotland, will be brought back into operation when renovated to act as the hub for one of the largest new offshore wind farms in the UK.
Work is well underway to build the £2.6 billion, 84 turbine offshore wind farm in the outer Moray Firth. Designed by world famous Scottish engineer Thomas Telford in 1807, the conservation of the onshore maritime buildings will play a key part in generating 588MW of sustainable energy from the wind farm to go into the grid.
More info at Pick Everard Architects
Ayr Academy Building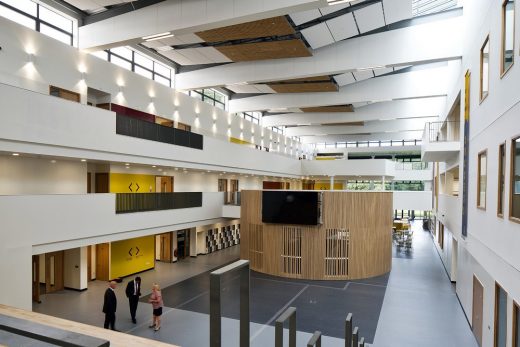 photo courtesy of developer
7 Aug – The new £25m Ayr Academy secondary school, built by Keir Construction and delivered by construction and infrastructure-focused partnership hub Southwest on behalf of South Ayrshire Council, is set to open when the school summer holidays end later in August.
Edinburgh's Ross Pavilion Competition Winner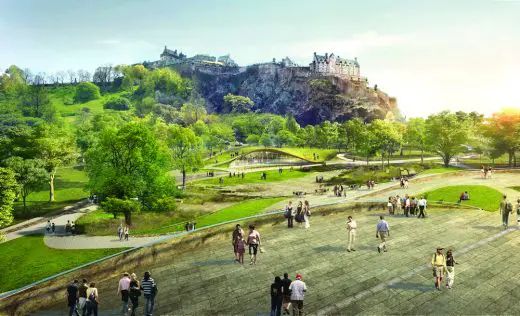 image courtesy of architects
2 Aug – An architects office based in Los Angeles wins this important international architecture competition in the heart of the Scottish capital city.
The L.A. architecture studio beat off competition from 125 teams from 22 countries to design the £25m project to revitalise West Princes Street Gardens.
Full design team: wHY, GRAS, Groves-Raines Architects, Arup, Studio Yann Kersalé, O Street, Stuco, Creative Concern, Noel Kingsbury, Atelier Ten and Lawrence Barth with Alan Cumming, Aaron Hicklin, Beatrice Colin, Peter Ross, Alison Watson and Adrian Turpin:
wHY architecture – Ross Pavilion Competition Winner
Rest and Be Thankful Motorsport Centre
22 Jul – 17 Sep 2017 Level Two, The Lighthouse, Glasgow
The Rest and be Thankful is known throughout the motorsport world as a venue of international significance. This famous road in the south of Argyll and Bute, connecting the western shore of Loch Lomond to the Kintyre peninsula.
KennedyTwaddle Architects has designed a multi-purpose building that will celebrate Scottish motorsports heritage: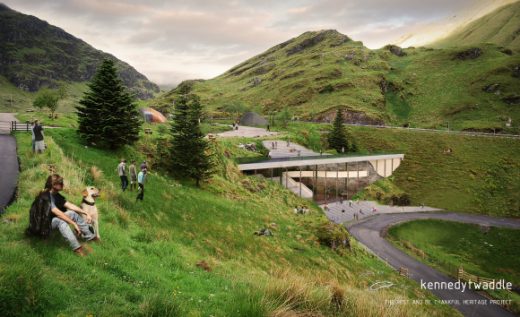 image courtesy of architects
Pair of Glasgow's iconic buildings to get new uses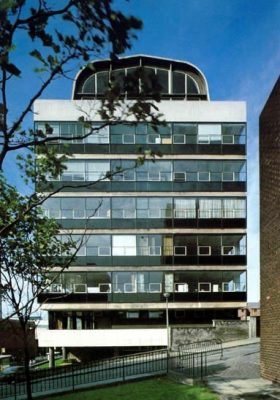 photo from wylie shanks architects
26 Jul – Plans for the Metropolitan Tower, known to generations as the College of Building and Printing and which can been seen from all of the city, will be on public display on Saturday 29 July. The exhibition will be open between 10.30am and 4pm that day in the foyer of the Metropolitan Tower.
Also on display at that exhibition will be the plans for the sister building on Cathedral Street – the Charles Oakley Building.
Ripple Retreat Building
22 Jul – Ripple Retreat designed by Edinburgh architects Kettle Collective has recently opened. The respite house located in The Trossachs is for young people with cancer and their families.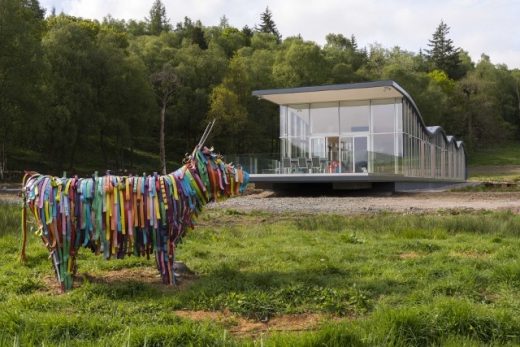 The serene £1million retreat is placed on the southern bank of Loch Venachar, Callander.
Engineers Cundall undertook dynamic thermal modelling of the building to ascertain the potential thermal comfort performance of the spaces using natural ventilation via external window openings.
Ayr Riverside Development, Southwest Scotland
Architects: Keppie Design ; Masterplan by Niall McLaughlin Architects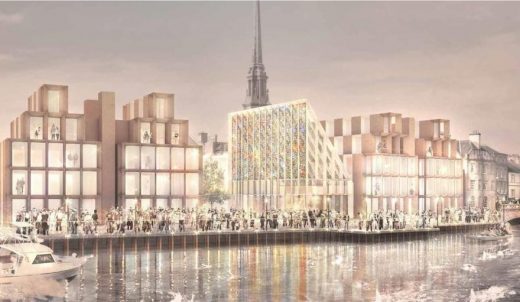 image courtesy of architects
Ayr Riverside Office Buildings
21 Jul – Construction work is due to start early in 2018 on a new £10m Ayr Riverside Office Development following an agreement to award the construction contract to Tier 1 contractor, Morgan Sindall.
RIAS/Saint-Gobain Emerging Architect Award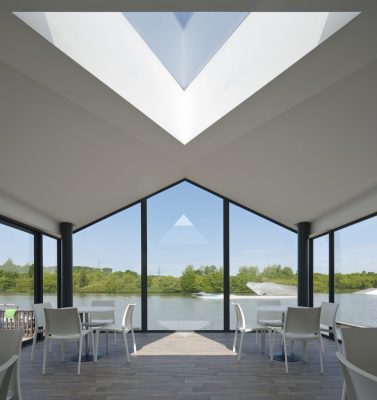 photos © David Barbour
24 + 18 Jul – The inaugural RIAS/Saint-Gobain Emerging Architect Award recognises the crucial role architects play in delivering a better world and encourages the great architects of the future at the outset of their careers.
This year, the award went to TAP Architecture, recognising two innovative and technically challenging projects: the Aerial Adventures, East Kilbride, and the Scottish National Waterski Centre, Dunfermline.
21 Jul
Engine Shed Project Forthside, Stirling
A&DS and RIAS Scottish Student Awards 2017
18 Jul – Fifteen student projects were presented at a special event held in Edinburgh on Thursday 13 July.
The Royal Incorporation of Architects in Scotland Rowand Anderson Silver Medal for best 5th year student:
Paschalis Kyrtsopoulis, University of Strathclyde
Architecture and Design Scotland Award for Best 3rd Year Student:
Naomi Rubbra, Edinburgh School of Architecture and Landscape Architecture
Architecture and Design Scotland Urban Design Award:
Hannah Cattanach, Robert Gordon University, Aberdeen
Architecture and Design Scotland Sustainable Design Award:
Naomi Rubbra, Edinburgh School of Architecture and Landscape Architecture
The Royal Incorporation of Architects in Scotland Andy MacMillan Drawing Award:
Robert Wightman, Robert Gordon University, Aberdeen
A&DS and RIAS Scottish Student Awards 2017
Cumbernauld Community Campus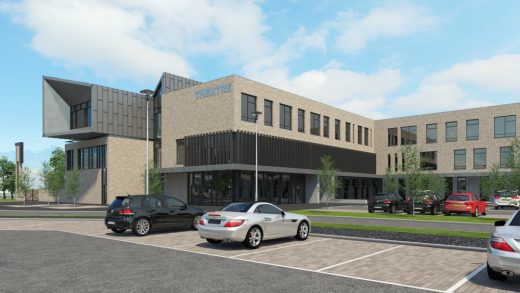 image courtesy of developers
Cumbernauld Community Campus Building
12 Jul – An agreement to build a new £34.5m Cumbernauld Community Campus which will bring together a purpose-built high school and a new theatre and arts venue was reached on Thursday 29th June.
The camous will be home to a purpose-built secondary education facility accommodating 950 students following the amalgamation during the 2014/15 school session of Cumbernauld and Abronhill High Schools.
HM The Queen Visits Kelpie Sculptures at Helix Falkirk
8 Jul – The Queen has unveiled a plaque officially naming Scotland's newest section of canal after her. The canal was built as part of the £43m Helix project near Falkirk, which includes the famous Kelpies sculptures:
The Queen Visits Kelpie Sculptures at Helix Falkirk
The Custom House, Greenock's Jewel in the Crown, opens its doors to global business
7 Jul – A Georgian architectural masterpiece in one of the most dramatic locations in Scotland has been restored to its former glory. The building was originally designed by celebrated Scottish architect William Burns.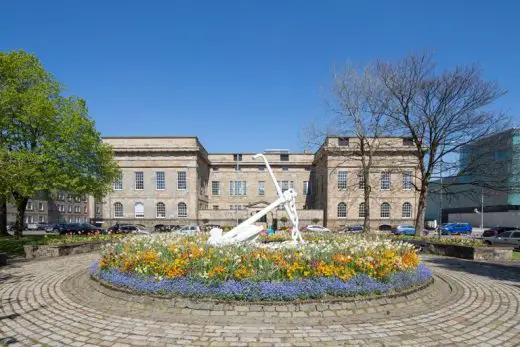 photo © mcateer photograph
Custom House Greenock Building
A&DS and RIAS Scottish Student Awards 2017
4 Jul 2017 – The Architecture and Design Scotland (A&DS) and the Royal Incorporation of Architects in Scotland (RIAS) Scottish Student Awards for Architecture showcase and celebrate the best of Scotland's emerging talent. This event takes place on 13th July at Cafe Camino in Edinburgh to see presentations from this years nominated students.
In 2017, for the first time, judging will take place at a public event which has been coined 'Chiff-Chaff' after the little bird whose song is a short series of repeated notes. During the Chiff-Chaff each of the 15 students will have 5 minutes to present their own work to the judging panel and audience. Awards will be given for the following categories:
RIAS Rowand Anderson Silver Medal for Best 5th Year Student
A&DS Award for Best 3rd Year Student
A&DS Urban Design Award
A&DS Sustainable Design Award
RIAS Andy MacMillan Drawing Award
The awards give an opportunity to see the creativity and vision of Scotland's future architects and emphasises current trends in architectural education. If you are looking for a Part I or Part II graduate to join your office this is an ideal opportunity to see some of the best graduates from all 5 Scottish schools of architecture in one place.
The 2017 Andy MacMillan Memorial Lecture will be given by our guest judge Sunand Prasad of Penoyre Prasad Architects and will focus on his recent work and architectural philosophy.
The Prize Giving Ceremony will follow the lecture and conclude the evening at 7.30pm.
For more information and booking:
A&DS and RIAS Scottish Student Awards 2017
Help to Buy provides £1bn economic boost as 10,000 households purchase a new home
2 July 2017 – The number of households that have purchased a new home through the Scottish Government's Help to Buy shared equity scheme has topped ten thousand, according to latest figures.
The scheme, which means buyers can purchase a new home with only a five per cent deposit, saw a total of 2,370 sales during 2016/17. This takes the overall number of transactions since the introduction of Help to Buy (Scotland) in 2013 over the ten thousand mark – supporting thousands of jobs and contributing £1bn in Gross Value Added to the economy.
Nicola Barclay, Chief Executive of trade body Homes for Scotland, said:
"The fact that over 10,000 households have benefited from Help to Buy is a clear demonstration of both the scheme's success and the aspiration of Scots to own their own home. The scheme is also helping to relieve pressure on the public sector with around five per cent of purchasers having moved from social rented housing and five per cent having been on a social housing waiting list.
"With current housing completions still over 36 per cent down on pre-recession levels, Help to Buy (Scotland) has been absolutely crucial in providing confidence and certainty for customers as well as builders in terms of planning and investment decisions.
"Above all, however, these figures illustrate the vital role home building has to play not only in terms of Scotland's social wellbeing but also its economic success."
Housing and Local Government Minister Kevin Stewart said:
"I am pleased that, along with our scheme partners, the Scottish Government has so far been able to help over 10,000 households to access an affordable new build home through Help to Buy (Scotland).
"This has helped boost the economy and it's great to see that we've managed to help younger people, with half of purchasers under aged 30 or under, to support so many first time buyers and enable people to move from social housing and from waiting lists into sustainable home ownership."
Scotland Built Environment Updates Archive
Archive for 2017:
Scottish Architecture News Autumn 2017 Archive
Scottish Architecture News Spring 2017 Archive
Scottish Architecture News Winter 2017 Archive
Archive for 2016:
Scottish Architecture News 2016
Location: Scotland
Scottish Buildings News Archive
Scottish Architectural News 2010
Best Building in Scotland Award
Architecture Design Scotland News
Buildings / photos for the Scottish Building News Summer 2017 Archive Page welcome