A New Chapter Scottish Architects, RIAS Scotland News, Governance Review
A New Chapter – Scottish Architects, 2018
Scottish Architecture Professional Body News: RIAS Review
26 Jan 2018
A New Chapter Position Statement on RIAS
A New Chapter Position Statement on Royal Incorporation of Architects in Scotland (RIAS)
A New Chapter's Position Statement in relation to ongoing RIAS matters. This covers a range of issues relating to Police/OSCR investigations, proposals to form new Governance/Finance Committees and the current Council/Presidents' position.
The Position Statement by aNC sits alongside an developing 5-point plan.
A New Chapter Position Statement on RIAS
18 + 17 Nov 2017
RIAS Secretary News
Royal Incorporation of Architects in Scotland (RIAS) – Special Notice
The Royal Incorporation has agreed to the request from our Secretary, Neil Baxter Hon FRIAS Hon FRIBA, to leave the organisation after ten years of service.
Neil will be standing down as of today and the senior management team at the RIAS will continue to deal with all matters relating to the business of the Incorporation.
Alan Dunlop, architect and professor at the University of Liverpool, described Baxter's exit as 'deeply concerning given all that has happened in the last few weeks, particularly the call for an independent investigation into the workings of the RIAS and an end to secrecy' He added: 'There have been many and various rumours reported to me about the difficulties at the RIAS for several years [but] no one has felt able to come forward and speak openly on the record. I hope very much that there will be open and honest discussion and that the RIAS can sort itself out for the benefit of Scottish architects.'
Professor Alan Dunlop
www.alandunloparchitects.com
10 Nov 2017
A New Chapter – Scottish Architects, 2017
A New Chapter – Scottish Architects
Open letter, from A New Chapter to President Stewart Henderson of the RIAS,
7 November 2017
(RIAS response below)
A New Chapter is a loose (and growing) association of over 150 Scottish architects:
many RIAS members, but all concerned at what they see as a lack of effectiveness,
poor governance and insufficient financial accountability in Scottish
architecture's professional body.
We've tried to engage. We have tried raising questions directly with our President,
Stewart Henderson, in our letters of 12 September and 20 October, only
to receive either no answer or a brush-off. By way of reassurance Mr Henderson
did disclose that formal reviews were being conducted by external consultants.
Apart from a Governance Review we were advised there were other enquires
in to staff salaries and "probity". Having since then asked our Council
Representatives to share the findings of these reviews we are advised these
are confidential and that they are not at liberty to share any of these findings
with ordinary members.
As government regulation and best practice makes transparency and accountability
essential across the Charities Sector, the RIAS appears to have become increasing
secretive and autocratic. We have a President who is not elected by
any of us, the general membership, someone who has not even served on
Council who along with our Secretary appears to dictate proceedings.
We understand that a Special Meeting of Council was called on 7 November.
Such meetings are highly unusual, if not unprecedented, and while the purpose
has not been revealed it is no stretch of imagination to think that such
unprecedented investigations into Probity, Governance and Staff Pay may have
been on the agenda, to discuss the findings of all these Reviews. However,
none of our elected members are willing to talk and it would appear all those
who attended have been sworn to absolute secrecy.
First: this is not acceptable. RIAS Council are the legal Trustees of the RIAS – a
charitable body – and have direct responsibilities to both the members whose
financial contributions fund it and the Charity Commission whose regulations
govern it.
Second: we are not daft. Why would anyone instruct expensive consultants to
carry out a Probity Review if there had not been grounds for concern? If the
RIAS had been given a clean bill of health as the President implied in the current
edition of the RIAS Quarterly, why the big secret?
Following a year when
the RIAS appears to have had a significant over spend, and had to pass a cap
around asking practices to make significant one-off donations, are we to think
that a review of staff pay and benefits is just a coincidence?
There is now
growing concern that these Reviews have uncovered serious failures of governance
and serious financial mismanagement; and that, faced with this, the
small, self -perpetuating, male fiefdom that controls the organisation, appears
to be acting to protect itself from the results of its failings.
Our polite requests having been ignored we now publicly demand that we, as
members, whose organisation this is, have the following revealed to us, via our
representatives on Council and local Chapter Presidents:
. A breakdown of pay received by the Incorporations' most senior employees,
including recent wage rises, bonus payments and other financial benefits;
. How exactly does Council exercise its responsibility to set staff remuneration
as stated in the Annual Accounts;
. A copy of the independent salaries benchmarking Review, with personal details
removed as may be required by data protection law, but otherwise un-redacted.
. A copy of the independent Probity Review, again with personal details removed
as may be required by data protection law, but otherwise un-redacted.
. A copy of the independent Governance Review into existing management
practices, not just what new policies and procedures are being proposed.
Finally, and in general, we deplore the general self-satisfied torpor and bunkered
closed-up-ness that afflicts the RIAS, and demand that a culture of openness
and inclusivity is now embraced. We would like to see much of the old
establishment finally give way to a more representative group, with a better
balance of younger and female members.
We want an organisation to better champion the profession and provide more meaningful support in the many crises which have afflicted us for too long; from the institutionalised contempt for our professional skills represented by the ongoing PFI scandals and the procurement cesspool we have to wade through; to the housing crisis we should be engaged in averting, and to those of inclusivity, sustainability and wellbeing that we should be leading.
RIAS Review information received Nov 2017 and approved for publication 10th November 2017
Comments welcoem at info(at)e-architect.com
"As a Fellow of the RIAS and someone regarded as having access to a number of media contacts, I've been approached in the past for advice and been given information about the inner workings of the RIAS, where apparently various alarming things appear to have been going on for a while, particularly regarding finances and accountability.
No-one however was willing to go on record and as the RIAS is governed by a confidentiality clause for its council members, nothing further could be done. I don't know if these approaches have had truth to them but if this open letter opens up the organisation to scrutiny and we find everything has been carried out with diligence and is all above board, I think that will be a very good thing and in my view about time."
Professor Alan Dunlop
www.alandunloparchitects.com
RIAS RESPONSE TO OPEN LETTER FROM 'A NEW CHAPTER' TO STEWART HENDERSON PRIAS
10 November 2017
As a member-led organisation, member interest and involvement in the issues facing the
profession can only strengthen the Incorporation.
We are already progressing a full review of both the governance and the future direction of
the Incorporation. The Incorporation appreciates that the Trustees, who make up Council,
must look forward to embrace a governance and operating system that brings the openness
that is right for a member led organisation. The RIAS staff are here to respond to and
support members' priorities.
The Incorporation is committed to seeking wider involvement from members in responding
to and shaping corporate strategy. The recent chapter-led consultations will help to shape
the next 5 year plan. Chapter involvement is central to feedback of information to Council.
Considerable on-going work has already focussed on responding to those areas highlighted
in the open letters. The Incorporation is clear that more could be done and with further
support more can happen to inform and influence these future agendas.
There has been no attempt to cover up investigations, however there are legal reasons why
information has not yet been shared in full. The Governance Group appointed by Council
have instructed investigations of a number of issues. These have included probity reviews,
salary benchmarking and a review of governance policies. Where legally possible trustees
can share details, to which they have been party. The Incorporation is happy that they share
details with members. The review has identified a lack of structured governance and this
needs to be addressed with improved management organisation and accountability
measures put in place.
The RIAS must look forwards to determine the aims and future of the organisation. The
Incorporation recognises that diversity is one of those aims. Election of the president is as
currently set out in our Charter.
Once legal impediments are behind us, there will be an opportunity to harness the creative
energy symbolic of our membership and respond appropriately.
Stewart Henderson PRIAS
Location: Scotland, UK
Architecture in Scotland
Contemporary Architecture in Scotland – architectural selection below:
Scottish Architecture Designs – chronological list
RIAS Awards Winners in 2017
• City of Glasgow College by Reiach and Hall Architects and Michael Laird Architects – Cathedral Street, Glasgow, Scotland – Further education college
City of Glasgow College Building + City of Glasgow College – City Campus
Dunfermline Carnegie Library & Galleries, Dunfermline (contract value: £9.1m)
Richard Murphy Architects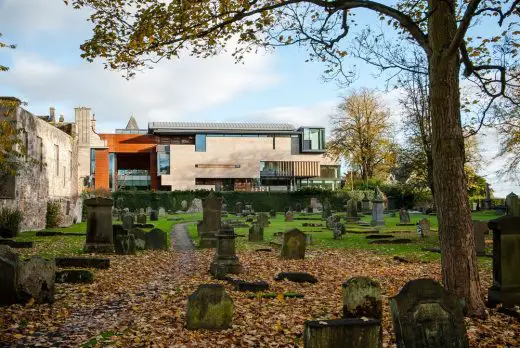 image courtesy of architects
Dunfermline Carnegie Library & Galleries Building
RIAS Awards 2016 Winners
RIAS Special Category Awards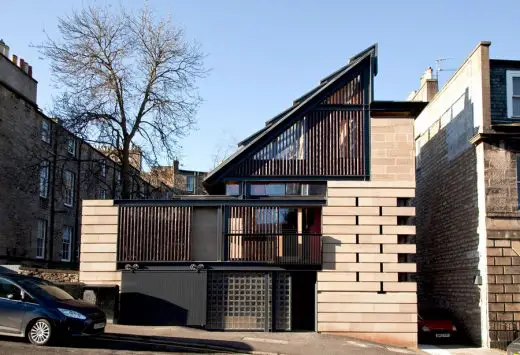 photograph from architect
Murphy House, Hart Street
RIAS Scottish Shortlist for RIAS/RIBA Awards 2016
The shortlist for Scotland included these selected buildings:
The Pyramid Viewpoint, Dunbartonshire
BTE Architecture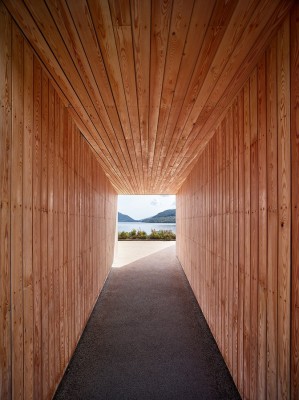 photo @ Andrew Lee
The Pyramid Viewpoint on Loch Lomond
The British Golf Museum and Café, St Andrews
Design: Richard Murphy Architects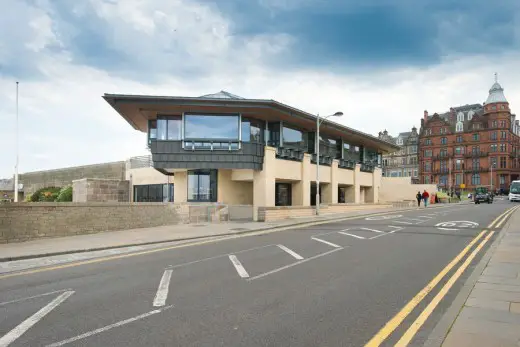 image from architect
British Golf Museum and Café
City of Glasgow College, Riverside Campus, Glasgow
Design: Michael Laird Architects / Reiach and Hall Architects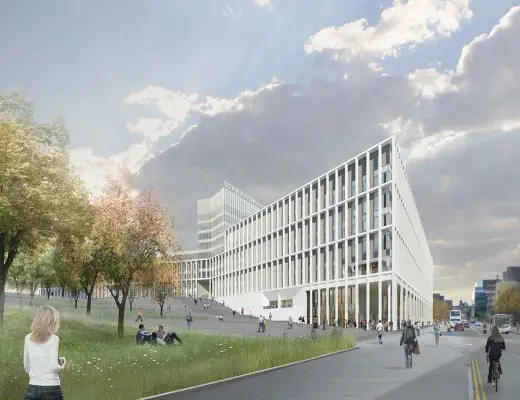 image from architect
New Glasgow City College
Tigh-Na-Cladach (House by the Shore) Innellan, Dunoon
Design: Gokay Deveci, Chartered Architect
Tigh-Na-Cladach
White House, Griffipol, Isle of Coll
Design: W T Architecture
Coll house
RIAS Andrew Doolan Best Building in Scotland Award Winner
West Burn Lane, St Andrews
Design: Sutherland Hussey Harris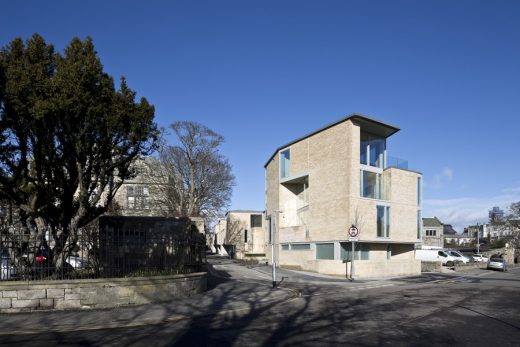 photo © Keith Hunter
West Burn Lane
Scottish Architecture – Selection
RIAS Festival of Architecture 2016
Comments / photos for the A New Chapter – Scottish Architects page welcome