Saudi Arabia Architecture News 2023, KSA Building Projects, Construction Design, Property Images
Saudi Arabia Architecture News
Architectural Developments in the Middle East – KSA Built Environment Updates
post updated 31 January 2023
Saudi Arabia Architecture Designs – chronological list
26 January 2023
Islamic Biennale, Jeddah, western Saudi Arabia
Design: OMA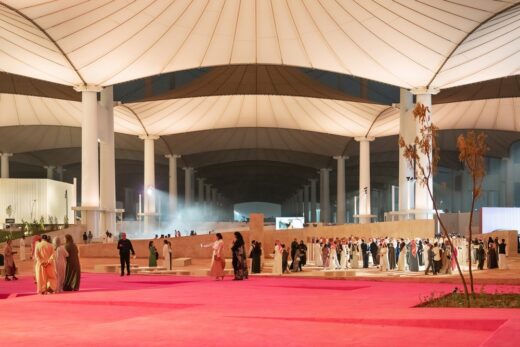 photograph by Marco Cappelletti, Courtesy of OMA
Islamic Arts Biennale in Jeddah
With a scenography designed by OMA / Iyad Alsaka and Kaveh Dabiri, the first edition of the Islamic Biennale has opened in Jeddah, hosted by the Diriyah Biennale Foundation. Artworks are displayed over 120,000 square meters of exhibition spaces, taking over the Western Hajj Terminal, designed by Skidmore, Owings & Merrill (SOM) and winner of the Aga Khan Award in 1983.
24 Jan 2023
Layali Diriyah, Riyadh
Design: Designlab Experience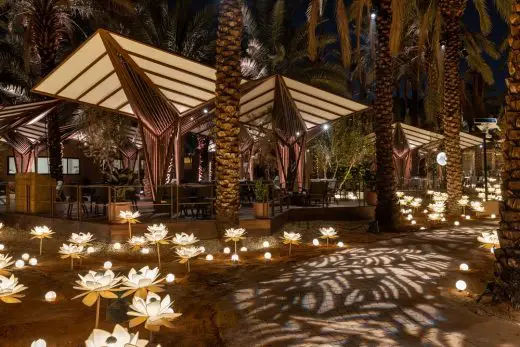 photo : Roberto Conte
Layali Diriyah, Riyadh
Designlab Experience's latest architecture project Layali Diriyah, lights up the Saudi Nights with an eclectic fusion of design, contemporary art and cuisine nestled in a palm grove on the outskirts of Riyadh, a multisensory world of wonder celebrates the Diriyah Season January 1st- February 22nd.
Saudi Arabia Building News
KSA Architectural News + Key New Middle East Property Designs, chronological:
4 Dec 2022
Jeddah Rose, Jeddah
Design: PARALX, Los Angeles / Beirut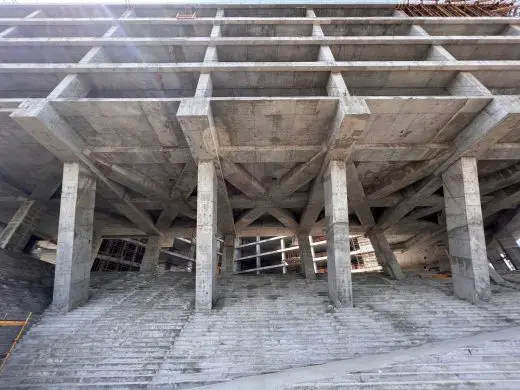 image courtesy of PARALX
Jeddah Rose Building
The Los Angeles and Beirut-based architecture firm PARALX announced that Jeddah Rose, a ten-story mixed-use commercial and hospitality building, has topped out. Located along the edge of the future New Jeddah Downtown, the building plays a critical role in connecting the historic city with the 570 ha (1,409 ac) urban growth plan overlooking the Red Sea in a strategic area near Al Salam Palace.
30 Nov 2022
King Salman International Airport, Riyadh
Design: Foster + Partners, architects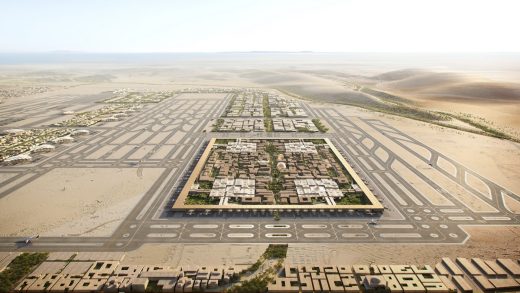 images courtesy of architects practice
King Salman International Airport, Riyadh
Foster + Partners has won a competition to design the masterplan for King Salman International Airport which will boost Riyadh's position as a global logistics hub, stimulate transport, trade and tourism, and act as a bridge linking the East with the West.
25 Oct 2022
Red Sea Global sets sights on becoming world's most responsible developer
• Saudi developer behind some of the world's most ambitious projects evolves into Red Sea Global, with ambition to set new global standards in responsible development and lead the category globally
• Group reveals multiple new projects underway in the Kingdom and subsidiary brands set to be launched.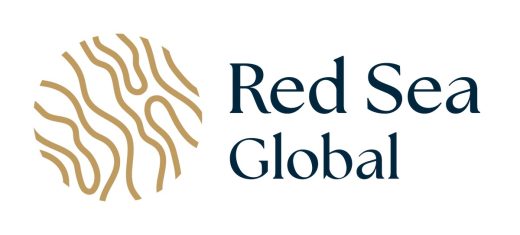 (Riyadh, 25 October 2022): The developer behind two of the world's most ambitious regenerative tourism projects has confirmed its transformation into Red Sea Global (RSG) on the sidelines of the sixth Future Investment Initiative in Riyadh.
The responsible developer, formerly known as The Red Sea Development Company, is currently overseeing the creation of two luxury tourism destinations in the Kingdom. THE RED SEA and AMAALA prioritize delivering a positive impact for people and planet and are on track to place Saudi Arabia firmly on the global tourism map.
Following the successful delivery of critical milestones, and with THE RED SEA destination on track to welcome first visitors in 2023, RSG's mandate has expanded to oversee upwards of a dozen projects stretching the length of the Red Sea coast of Saudi Arabia, with the potential to expand beyond the Kingdom in the future.
"With THE RED SEA and AMAALA we've proven our ability to realize mega-scale responsible developments that positively shape the futures of both the people who we welcome and employ, and the places in which we operate," said John Pagano, Group CEO of Red Sea Global.
"The announcement today marks the start of our evolution into a truly global developer that can lead the category towards a new archetype for development. We are powered by extraordinary people from the Kingdom and beyond, and have the skills, knowledge, and experience required to succeed on the world stage.
"We are not only expanding our footprint to help create massive economic opportunities – valued at hundreds of billions worth of riyals – for the people of Saudi Arabia. We also want to set new global standards in development and inspire the industry to do better."
RSG has a growing portfolio of projects stretching along the Red Sea coast of Saudi Arabia, with more than five additional projects already under feasibility study, entering masterplan competition phase, or at which construction has already started.
The expanded mandate also includes the establishment of a series of subsidiary businesses to drive an uplift in the Saudi tourism sector and associated industries. Such RSG-owned businesses allow the organization to maintain its stringent sustainability standards in development and operational phases, and span the creation of a seaplane company, through to hospitality and guest experience brands.
The global multi-project developer's existing two giga projects under delivery are projected to contribute some 33 billion riyals annually to the Kingdom's economy on completion, evidencing the economic boon that RSG can deliver as it expands. RSG's projects also focus on enhancing the wellbeing of communities, including comprehensive training programs for the next generation of Saudi talent.
To date, across the two live projects, the company has awarded more than 1300 contracts worth nearly 32 billion riyals ($8.5 bn), with some 70 percent of the total value awarded to Saudi companies reflective of the organization's ambition to positively impact the local economy.
Over the last five years, the company has successfully launched programs geared towards the upskilling and training of young Saudis. Such efforts support the creation of a pool of talent, which will power the delivery of the Group's portfolio of projects and the wider growth of the tourism sector in the Kingdom.
Initiatives include the Elite Graduate Program, which has brought in more than 120 fresh graduates to the organization for on-the-job training over the last four years, with the next batch of graduates set to join in early 2023. An additional 1,500 vocational training places have also been provided and students who successfully complete the program will be employed by RSG or one of its partners.
A partnership with the University of Prince Mugrin provided 220 scholarships so far with 50 more set to be provided in 2023. The undergraduate studies, leading to a Bachelor of Science Degree in International Hospitality Management, is accredited by the prestigious Ecole hôtelière de Lausanne (EHL).
RSG's groundbreaking approach toward responsible development has seen the company explore and, in some cases, implement experimental technologies and pilot programs to help solve some of the world's most complex and pressing challenges, such as off-site manufacturing and modular construction methods at scale, green concrete to limit emissions, destination-wide clean mobility strategies, and even sustainable food production through new farming approaches.
The announcement today also revealed a stunning new logo concept and brand, inspired by the Red Sea, home of the organization's flagship projects, and the global aspirations of the company to have a positive impact on development worldwide.
About Red Sea Global
Red Sea Global (RSG – www.redseaglobal.com) is a closed joint-stock company wholly owned by the Public Investment Fund (PIF) of Saudi Arabia.
RSG is a global multi-project developer, seeking to lead the world towards a more sustainable future, showing how responsible and regenerative development can uplift communities, drive economies, and enhance the environment. The protection of natural capital is central to all development decisions, as the organization seeks to create a better future for all.
A cornerstone of Saudi Arabia's Vision 2030 ambition to diversify its economy, RSG is playing a key role in transforming the nation, by creating exciting opportunities for young Saudi talent and the private sector, as it develops built assets and destinations across multiple sectors that make a positive impact for people and planet.
RSG is the visionary company behind some of the world's most ambitious development ventures, including luxury regenerative tourism destinations such as The Red Sea and AMAALA.
Across its portfolio, RSG leverages the most innovative concepts, strategies, and technologies to deliver projects that actively enhance the wellbeing of customers, communities, and environments.
6 Oct 2022
Safar art collection at AlUla's International Airport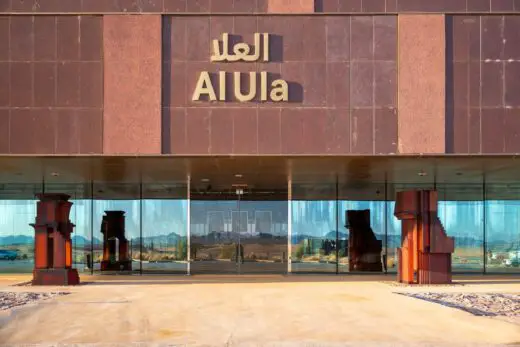 image courtesy of Arts AlUla
Safar art collection at AlUla International Airport
Safar is a major new collection of over 64 artworks by 24 Saudi and international artists at AlUla's International Airport. Spanning both the Executive Terminal and the Commercial Terminal, Safar highlights and celebrates AlUla's cultural legacy, natural wonders and community and includes works by artisans of AlUla's Madrasat Addeera Art and Design Centre, opened by Royal Commission for AlUla (RCU) to train and upskill the next generation of creatives.
26 Sep 2022
Marine Life Institute, AMAALA Triple Bay, western Saudi Arabia
Design: Foster + Partners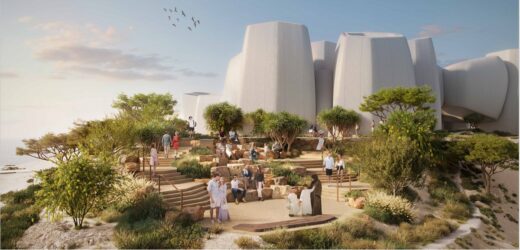 image courtesy of architects practice
Marine Life Institute AMAALA Triple Bay
Designed by leading architect Foster + Partners, the marine life institute on the Red Sea coast combines futuristic lab spaces with unmatched underwater expeditions. The Red Sea Development Company (TRSDC), the developer behind the world's most ambitious regenerative tourism projects, The Red Sea and AMAALA, has revealed design plans for its state-of-the-art marine life institute.
6 Sep 2022
MO, a bakehouse / espresso bar, Khobar, Eastern Province
Design Architects: Masquespacio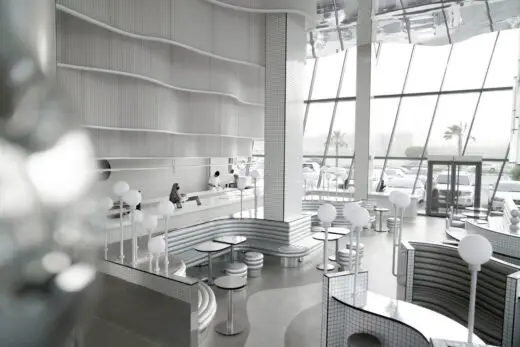 image Courtesy architecture office
Bakehouse Espresso Bar MO, Khobar
When RightGrain, an experience-based company, contacted this architects office it was immediately clear that they were looking to get away from the traditional and create a project that would stand-out from the product and the communication, till the interior design representing the concept of the project, a community driven, highly engaging brand and elevating the overall experience.
23 Aug 2022
KAPSARC Sets New Record in Saudi Arabia With Five LEED EBOM Platinum Certifications
Design: Zaha Hadid Architects – ZHA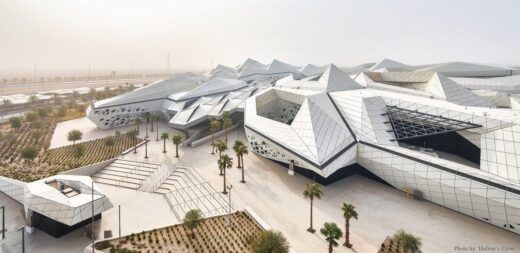 photo : Hufton+Crow
KAPSARC King Abdullah Petroleum Studies & Research Centre
The U.S. Green Building Council (USGBC) awarded King Abdullah Petroleum Studies and Research Center (KAPSARC) in Saudi Arabia five Leadership in Energy and Environmental Design (LEED) Platinum certificates under the Existing Building: Operation and Maintenance (EBOM) rating system with a rating of over 80 points. KAPSARC's facilities are the only buildings in the Kingdom to have achieved LEED-EBOM Platinum certification.
10 Aug 2022
B_FIT, Jeddah
Design: SHED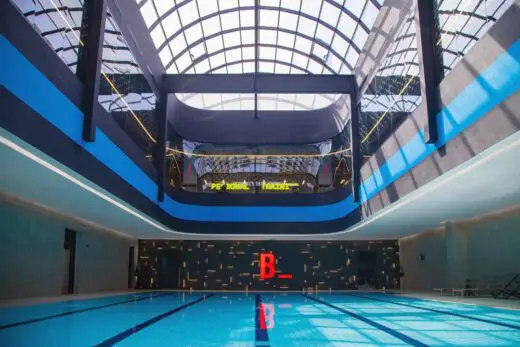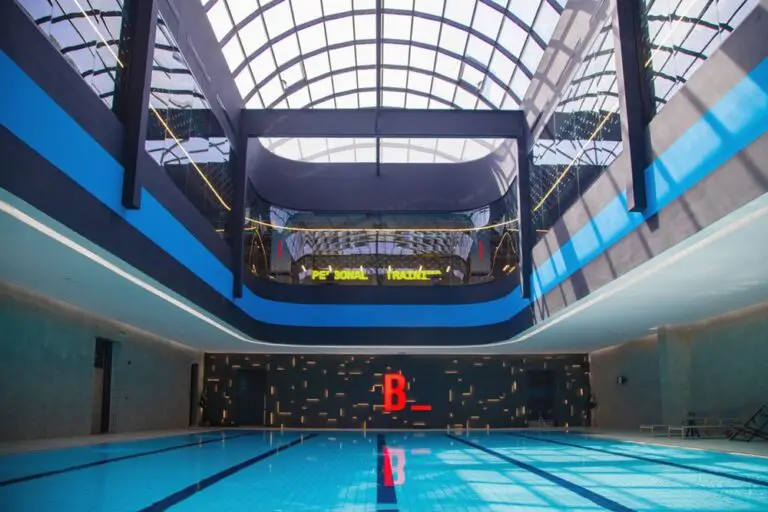 Photos: SHED
B FIT smart gym, Jeddah
B_FIT is a new standard of smart gym in Saudi Arabia, designed by London-based Shed. Opening its first site in Jeddah, this is the first of many B_FIT gyms planned in KSA and nearby GCC territories bringing a premium yet accessible smart gym experience to the masses using artificial intelligence, virtual reality, Amazon Alexa and IoT innovations.
21 Jun 2022
Misk Foundation Headquarters
Architects: Conrad Gargett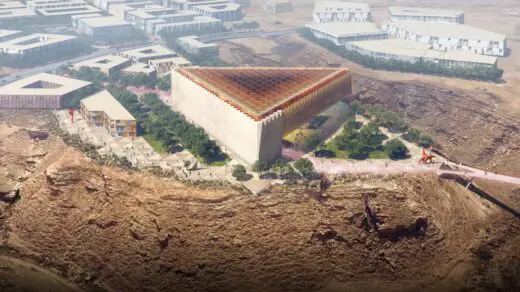 render : Doug & Wolf
Misk Foundation Headquarters
Conrad Gargett wins international competition to design Misk Foundation Headquarters for the world's first non-profit city. The Australian architecture firm, has won an international competition to design the Misk Foundation Headquarters in Saudi Arabia, which is set to become an iconic centrepiece for the world's first non-profit city.
20 Apr 2022
Meydan office park, Riyadh
Design: RMJM architects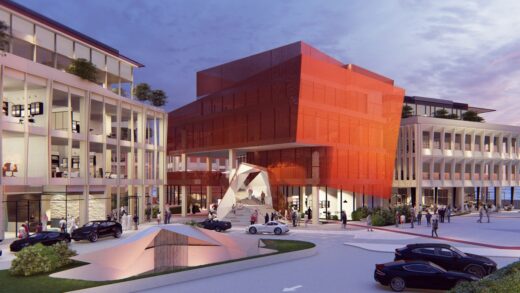 image courtesy of architects practice
Meydan office park Riyadh
RMJM Dubai was appointed as a lead architect for the Meydan project – an interconnected office park located in an upcoming area of Riyadh, Saudi Arabia. Following the client's directions and ambitious vision, RMJM focused on creating a venue to attract top talent and become a popular entrepreneurial hub.
7 Apr 2022
Kingdom Centre – new photos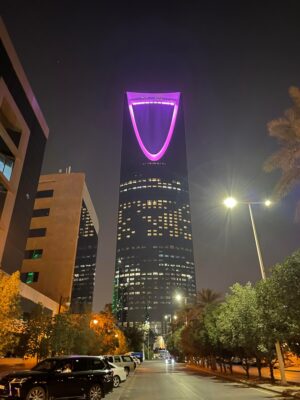 photo © Alex Balasa
Kingdom Centre s a 41-story, 302.3 m (992 ft) skyscraper in Riyadh. When completed in 2002, it overtook the 267-meter (876 ft) Faisaliyah Tower as the tallest tower in Saudi Arabia.
It has since been surpassed and, as of 2021, is the fifth-tallest skyscraper in the country, whose tallest two buildings are the Abraj Al Bait Towers and the Capital Market Authority Tower. It is the world's third-tallest building with a hole after the Shanghai World Financial Center and the 85 Sky Tower in Taiwan.
The tower was developed by Prince Al-Waleed bin Talal. The iconic building is designed by the team of Ellerbe Becket and Omrania, who were selected through an international design competition.
13 January 2022
Life Lines, Khobar, Eastern Province of KSA
Design Architects: Veronika Supruniuk, Denis Shulginov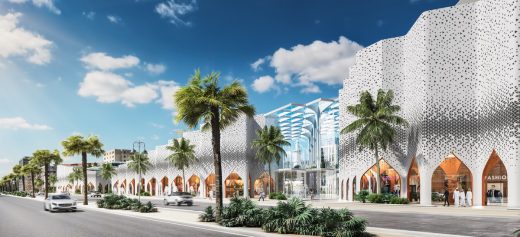 image courtesy of architects practice
Alsahil Buildings in Khobar, KSA
Alsahil Buildings in Khobar, Saudi Arabia: old buildings are located at an angle of 45, so the architects preserve this feature by placing an angled grid of columns, thereby linking history and the future through lines.
More contemporary Saudi Arabia Architecture News on e-architect soon
Saudi Arabia Architecture News 2021
23 Dec 2021
Dayira, Riyadh
Design: KOHLERSTRAUMANN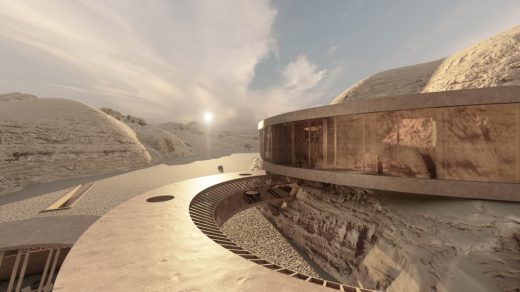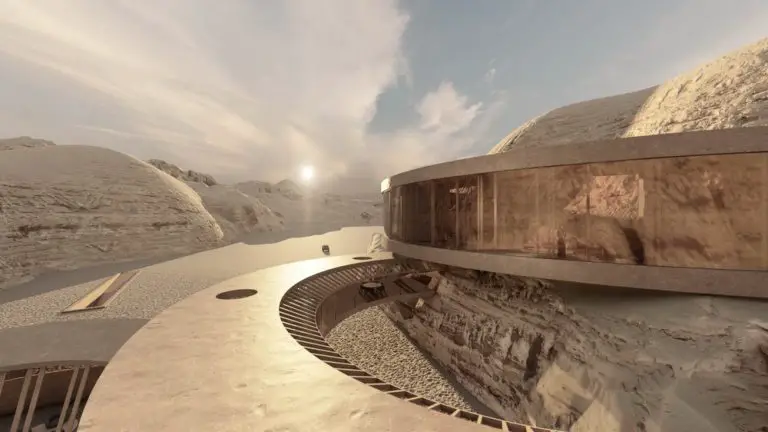 image courtesy of architects practice
Dayira, Riyadh Province
A round plane figure whose boundary (the circumference) consists of points equidistant from a fixed point in the centre. The design by KOHLERSTRAUMANN features elements that are suitable to the desert climate and lifestyle, including large walls of concrete and glass that showcase views of the natural landscape and open up to outdoor living spaces and materials that hold up well in the harsh heat and insulate the interiors from warm outdoor temperatures.
22 Dec 2021
JAX 01, Al Diriyah Al Jadidah, Riyadh
Architect: HWKN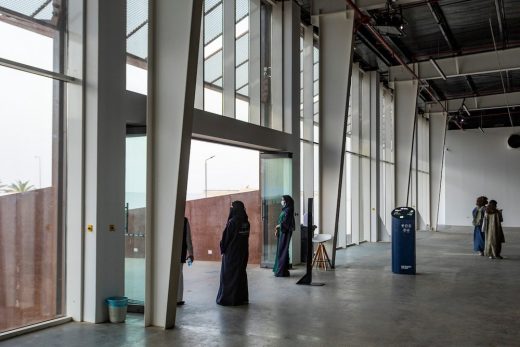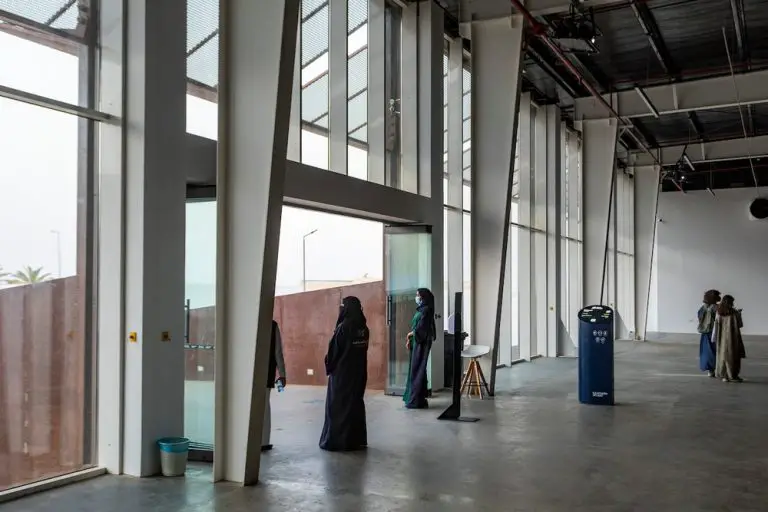 image courtesy of architects practice
JAX 01 Exhibition Space, Saudi Arabia
JAX 01, the innovative exhibition space anchoring Saudi Arabia's debut art biennial featuring works by 60+ participating artists, through March 11, 2022. Designed by New York-based global architecture firm HWKN with Q Design and Craft as the executive architect, the 7,000-square-meter warehouse-turned-exhibition space of free-flowing interiors and exteriors behind a dynamic facade, promises to become a showpiece of its own.
Riyadh Dream Villas Competition, Saudi Arabia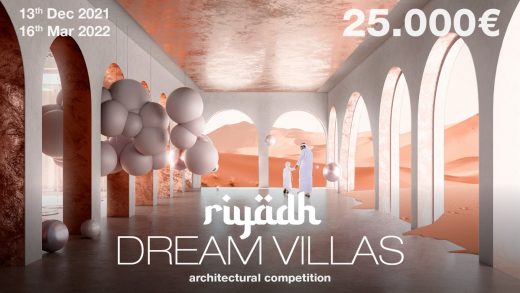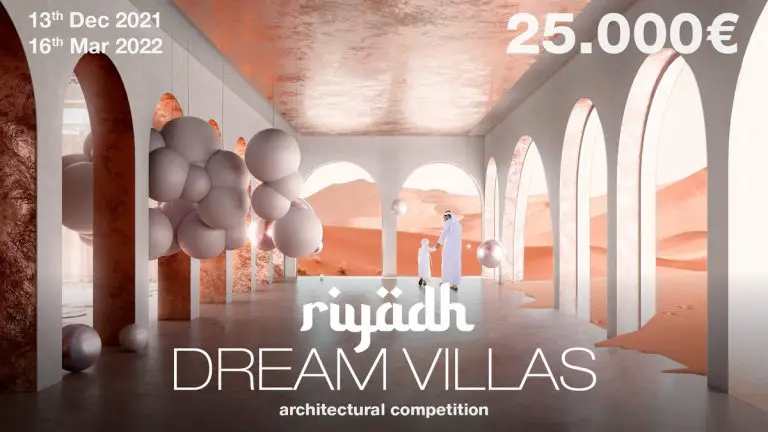 Riyadh Dream Villas Competition
YAC – Young Architects Competitions launch a new competition inviting architects to write a new chapter of living at the edge of Riyadh's desert by designing two immeasurably valuable architectural interventions. The cash prize of € 25, 000 will be distributed to the winning proposals selected by an international jury panel composed of some of the most world-renowned architects: Sou Fujimoto, Ben Van Berkel and Benedetta Tagliabue.
3 Nov 2021
Thakher Gardens, Thakher city, Mecca, Saudi Arabia
Design: RMJM Architects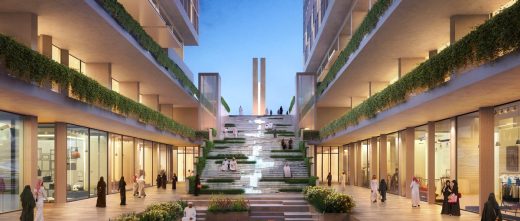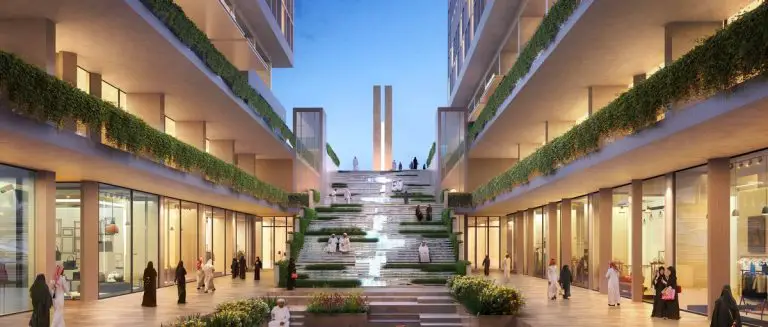 image courtesy of architects office
Thakher Gardens Makkah Buildings
RMJM Dubai's Thakher Gardens won the Best Future Project of the Year by Design Middle East Awards 2021. The Design Middle East Awards aim at recognising the creative excellence of both individuals and companies, and their core strengths.
26 Oct 2021
Sipside Café, Jeddah Flagship Store
9 June 2021
Shurayrah Bridge, KSA
Design: Archirodon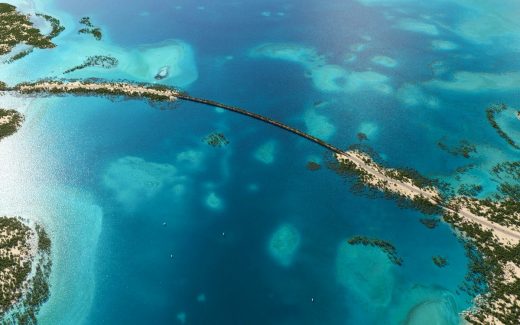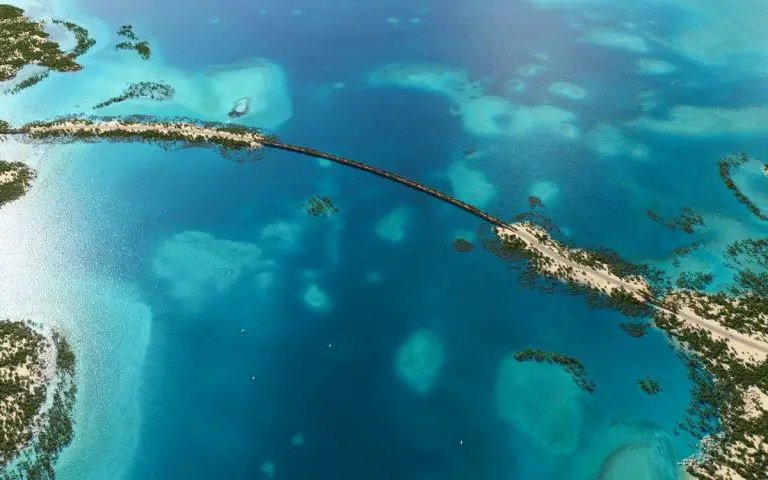 image courtesy of architects practice
Shurayrah Bridge, Red Sea Development
The Red Sea Development Company appoints ARCHIRODON to design and build bridge to main hub island Shurayrah. Shurayrah bridge will act as a gateway between the mainland and the luxury tourism destination's picturesque archipelago
9 May 2021
S Squares, Dammam City
Design: O Cifra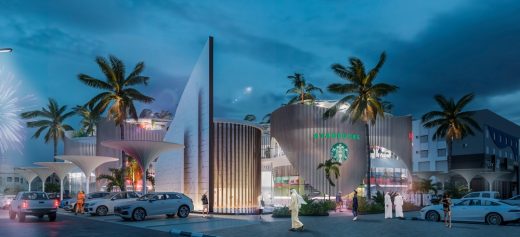 image courtesy of architects practice
S Squares Dammam City
O Cifra's concept for S Squares is based on a circle as an ideal shape that forms the number 7 (like 7 wonders of the world) and S the name of showrooms.
17 Feb 2021
Ummahat Al Shayk Island Resort
Design: Kengo Kuma and Associates
Ummahat Al Shayk Island Resort
More current Saudi Arabia Architecture News online here at e-architect soon
Saudi Arabia Architecture News 2020
5 Dec 2020
KAPSARC, Riyadh, Saudi Arabia
Design: Zaha Hadid Architects – ZHA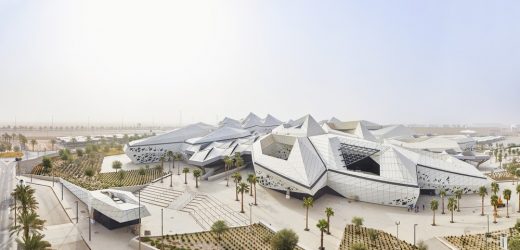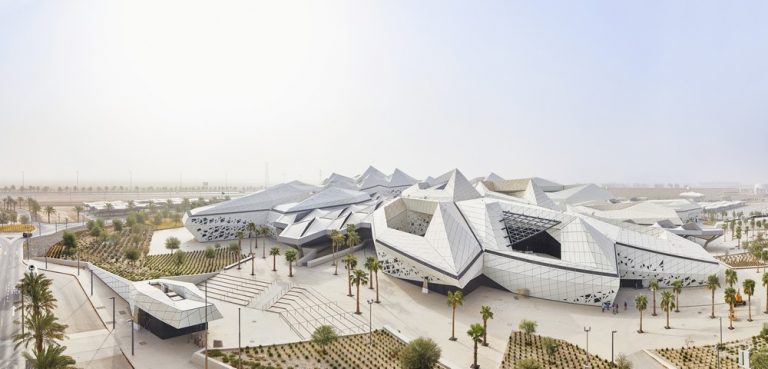 photo : Hufton+Crow
King Abdullah Petroleum Studies & Research Centre
King Abdullah Petroleum Studies and Research Centre is a non-profit institution for independent research into policies that contribute to the most effective use of energy to provide social wellbeing across the globe.
5 Nov 2020
Prototype X Villa
Architect: Aala Qahtani Architects
Prototype X Villa
The Ministry of Housing in Saudi Arabia launched an initiative to support the design dreamers in the industry. They were offering high-quality designs and architecture prototypes by well-known architectural local firms, some valued at almost 10,000 Riyals, to introduce innovation in the sector.
3 Nov 2020
AlUla Resort
Architect: Jean Nouvel



image courtesy of architecture office
AlUla Resort, Sharaan Nature Reserve
Located deep within the Sharaan Nature Reserve, the designs draw on the nearby Nabataean wonders of Hegra, Saudi Arabia's first UNESCO World Heritage Site. In a world-first, this 2,000-year-old architectural legacy is being revived by Jean Nouvel for potentially the first time since the Nabataeans carved into the region's millions-of-years-old sandstone rock.
26 Oct 2020
King Fahad National Library, Riyadh
Design: Professor Eckhard Gerber – Gerber Architekten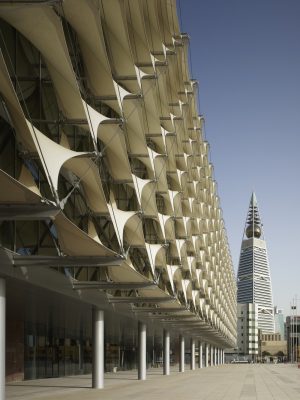 photograph : Christian Richter
King Fahad National Library Riyadh
The King Fahad National Library, one of the most important cultural buildings in the Kingdom of Saudi Arabia, was completed and went into use for its intended purpose in 2015. This project sees Professor Eckhard Gerber and his Gerber Architekten team accomplishing one of the most important urban development and cultural projects in the capital, Riyadh.
10 Aug 2020
Maraya AlUla concert venue, north west Saudi Arabia – 'The largest mirrored building in the world'
Design: Florian Boje of Gio Forma, Milan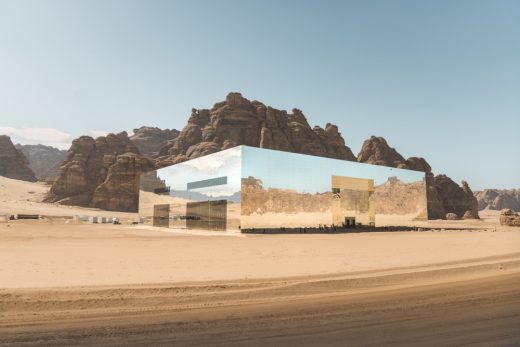 image courtesy of architects
Maraya AlUla concert venue
Maraya, a multi-purpose concert and entertainment venue in AlUla, North West Saudi Arabia, has been named a winner in one of the world's biggest architecture awards.
6 July 2020
Riyadh Architecture Office News
LWK + PARTNERS opens 12th studio in Riyadh
17 Mar 2020
Triple Bay and The Coastal Development, Prince Mohammed bin Salman Nature Reserve, north west Saudi Arabia, the Middle East
Master Planners: HKS Architects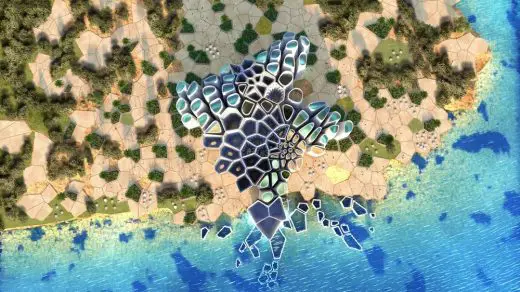 Triple Bay at AMAALA
Triple Bay & Coastal Development
AMAALA, the ultra-luxury destination located along Saudi Arabia's northwestern coastline, has announced the appointment of international design firm HKS Architects as Master Planner for Triple Bay and The Coastal Development.
More new Saudi Arabia Architecture News online soon
KSA Architectural Updates 2019
16 Dec 2019
Home of Innovation, HOI, Riyadh Techno Valley, King Saud University, Riyadh
Design: Zuhair Fayez Partnership Consultants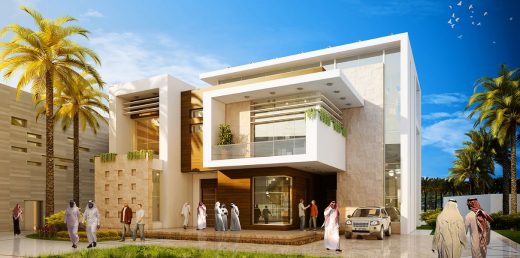 image courtesy of SABIC Home of Innovation
SABIC Home of Innovation Riyadh
This green building project is the design of SABIC's Home of Innovation in Riyadh.
10 Dec 2019
Gharfa at Diriyah Oasis, Diriyah Oasis, Riyadh
Design: Studio Studio Studio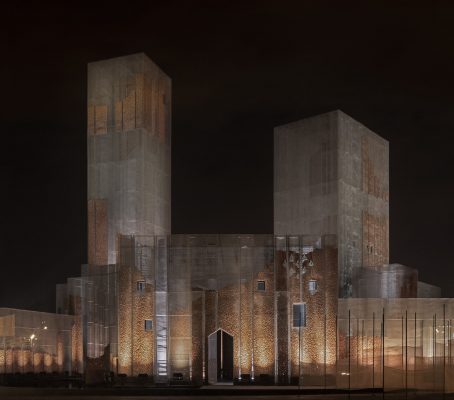 photograph : Roberto Conte
Gharfa Pavilion Installation Riyadh
The new interdisciplinary lab founded by Edoardo Tresoldi, presents Gharfa: an experiential pavilion installation within the temporary creative project "Diriyah Oasis", designed and curated by Dubai-based studio Designlab Experience, and located in the Saudi Arabian capital of Riyadh.
2 Dec 2019
Fogon Riyadh
Design: Hitzig Militello Architects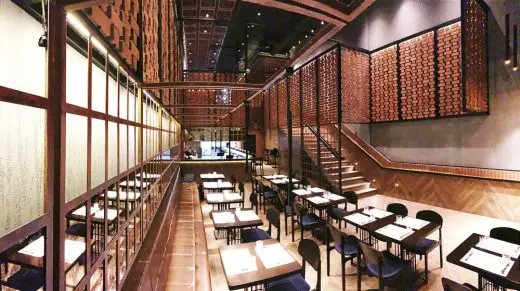 photography : Esteban Lobo
Fogon European Restaurant Riyadh
The idea for Fogon was a typical traditional London tavern, pub aesthetics was the premise of the client.
3 July 2019
Saudi Arabian Architecture Competition, Madinah
Design: Rafael de La-Hoz, Spain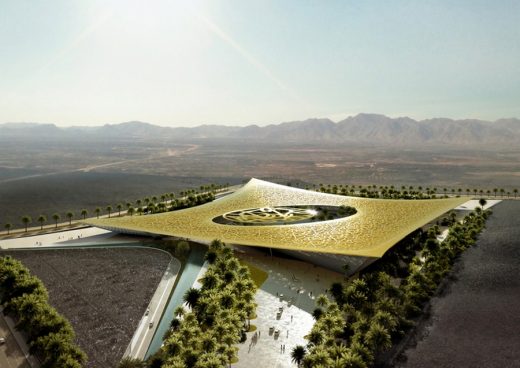 image courtesy of architects office
The Noble Quran Oasis in Madinah, Landmark in KSA
The proposal is to highlight a striking Islamic Landmark to remain in the memory of the city's visitors.
23 Feb 2019
The vision of Al-Ula:

The Royal Commission for Al Ula announced its vision to responsibly develop Al Ula as a world heritage destination centered around conservation and collaboration with the local community.
The Royal Commission broke ground on the site for the just-announced Sharaan Resort, a responsibly-designed development and summit center designed by iconic French architect Jean Nouvel.
More contemporary Saudi Arabia Architecture News on e-architect soon
Saudi Arabia Architecture News 2017
1 Sep + 9 Jun 2017
AlJabri Mosque Building, Ha'il – Iconic Awards 2017 – Winner
Design: Schiattarella Associati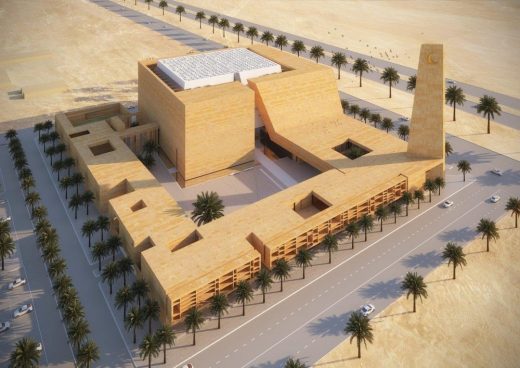 image courtesy of architects
AlJabri Mosque in Ha'il
The European competition of the Iconic Awards under the aegis of the German Design Council, is the first neutral international competition embracing the whole world of architecture and design, including communication, construction sector and industry. Well known are the Media Partners of the 2017 edition: Atrium, Dezeen, World-architects.com.
31 Jan 2017
Jabal Omar Hotel Development, Mecca
Architects: Foster + Partners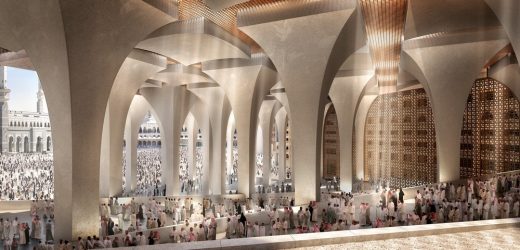 image courtesy of architects
Jabal Omar Hotel Development in Mecca
Foster + Partners' competition winning scheme for a new luxury hotel and serviced apartments in the heart of Makkah has been revealed. Inspired by traditional Arab architecture, it's design reinterprets the traditional dense building clusters, creating a new contemporary vernacular that respects its sacred location.
More new Saudi Arabia Architecture News welcome for submission on e-architect
KSA Building Construction Updates 2016
16 Dec 2016
King Fahd International Stadium, Riyadh, KSA
Design: Schiattarella Associati, Architects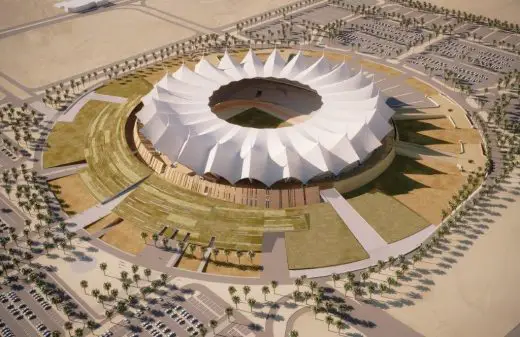 image courtesy of architects
King Fahd International Stadium in Riyadh
Schiattarella Associati, in competition with other 5 internationally known architectural firms, prevailed for the planning quality of its proposal. The Rome-based architecture firm will sign the project for the modification of King Fahd International Stadium in Riyadh commissioned by the General Sport Authority (GSA) and consisting of refurbishing most part of the Stadium able to guest almost 50,000 spectators.
page updated 28 Oct 2016 ; 26 Jan 2016
Jeddah Tower, Kingdom City, Jeddah
Date built: 2013-19
Architect: Adrian Smith + Gordon Gill Architecture with SWA, landscape architecture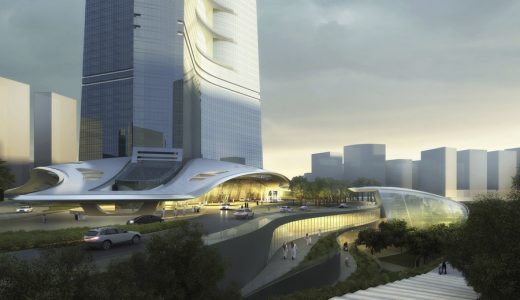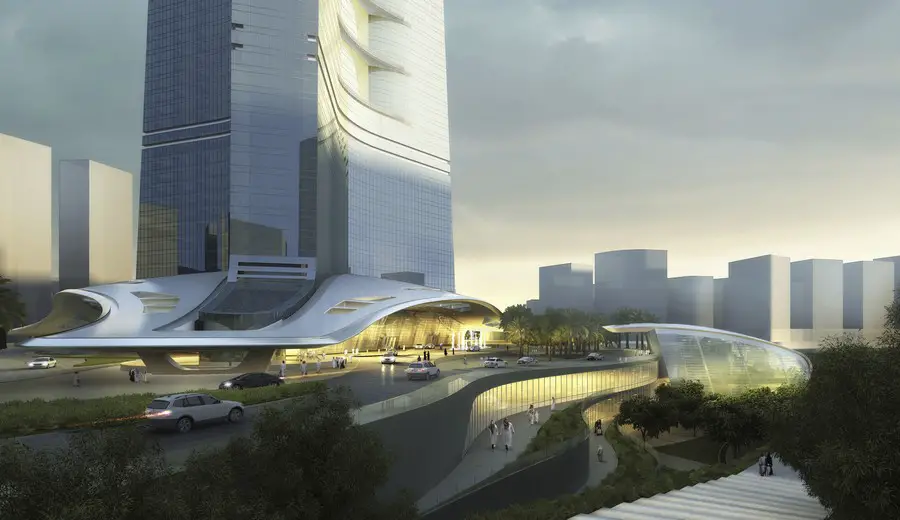 image courtesy of architects
Jeddah Tower Saudi Arabia Skyscraper
At 1,000+ meters the Kingdom Tower to be the world's tallest building, with a planned height of 1,008m / 3,307 ft and 167 floors. This new Saudi Arabian skyscraper appears in the CTBUH Top Company Rankings: The World's 100 Tallest Buildings released today, October 28th, 2016.
24 Oct 2016
Urban Heritage Administration Centre, Diriyah, Addirriyah, north-western outskirts of the Saudi capital, Riyadh
Design: Zaha Hadid Architects, London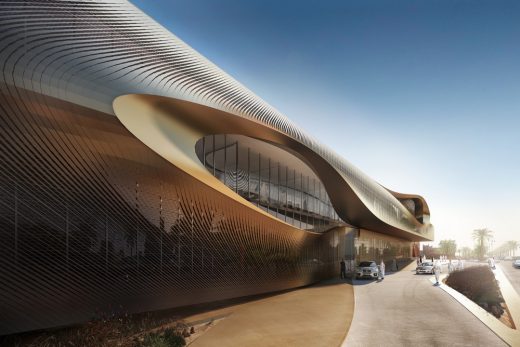 render : Methanoia
Urban Heritage Administration Centre in Diriyah
Zaha Hadid Architects has been awarded first prize in the design competition for the Urban Heritage Administration Centre in Diriyah, Saudi Arabia. The 8,780m² head office of the Heritage Museum is integral to the on-going works to preserve Diriyah's historic UNESCO world heritage listed site, continuing the restoration programmes throughout the 120km Wadi Hanifah valley that also includes the re-establishment of its natural environments.
19 + 18 Oct 2016
Addiriyah Contemporary Art Center
Design: Schiattarella Associati, Architects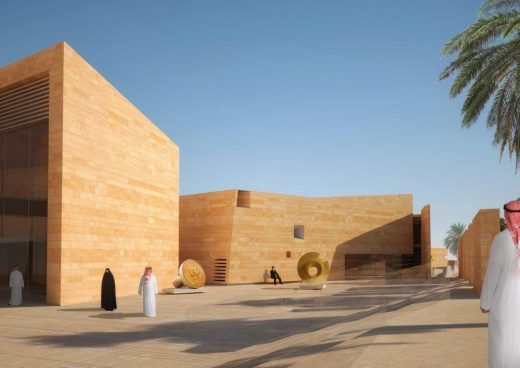 image courtesy of architects practice
Addiriyah Contemporary Art Center KSA
Schiattarella Associati awarded twice for Addiriyah Contemporary Art Center project in Saudi Arabia: 'Concept Winner' at this year's ICONIC AWARDS and Honorable Mention at the American Architecture Prize 2016.
16 Sep 2016
The Piazza Multiple Residence, Jeddah
Design: Badih and Kantar Architects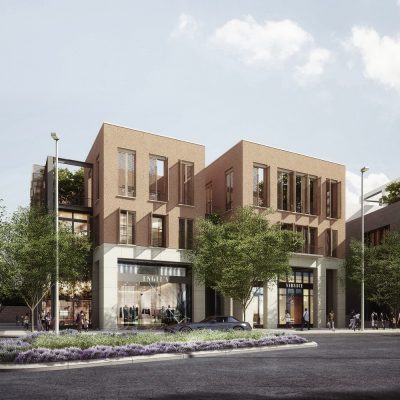 image courtesy of architecture office
The Piazza Residence Jeddah
The Piazza is an intimate residential area. It draws its inspiration from the way Mediterranean cities have evolved over time to become places of character, and reinterprets the resulting communal feeling into a modern neighborhood.
13 Sep 2016
Al Zahraa Multiple Residence, Jeddah
Design: Badih and Kantar Architects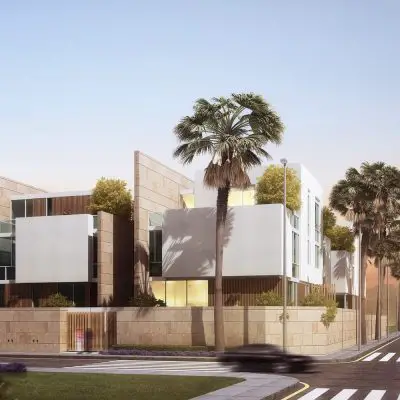 image courtesy of architect firm
Al Zahraa Residence in Jeddah, KSA
Divided into two main plots, long strips of narrowly attached residential units create a non-repetitive composition of positive and negative blocks of solid sheets providing privacy and front buffering gardens, thus protecting the houses from being exposed to the main traffic.
5 Aug 2016
Abraj Kudai Hotel, Mecca
Design: Dar Al Handasah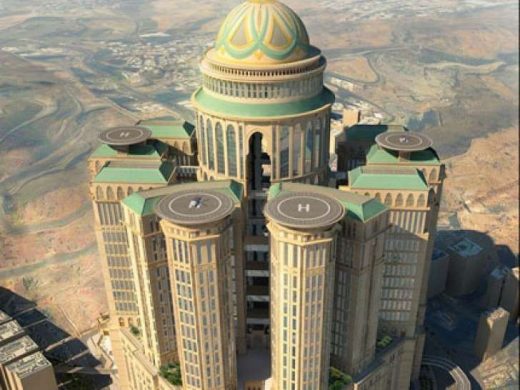 image courtesy of architects office
Abraj Kudai Hotel in Mecca
Abraj Kudai is to become the world's largest hotel located in Makkah, KSA and upon completion, will offer 10,000 rooms in 12 separate towers.
12 May 2016
Abdul Latif Jameel's Corporate Headquarters Jeddah
Design: Andrew Bromberg of Aedas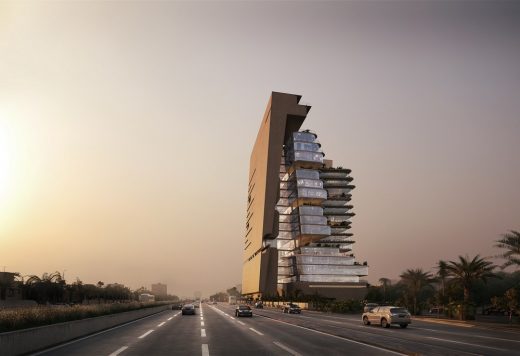 image © AsymmetricA
Abdul Latif Jameel's Corporate Headquarters, Jeddah
Currently in construction, this building will provide a centralised facility for 2,500 associates. This regional diversified business interests encompass automotive distribution, auto parts manufacturing, financial services, renewable energy, environmental services, land and real estate development, logistics, electronics retailing and media services.
28 Mar 2016
Ring House & Atelier, Riyadh
Design: Marwan Zgheib, MZ Architects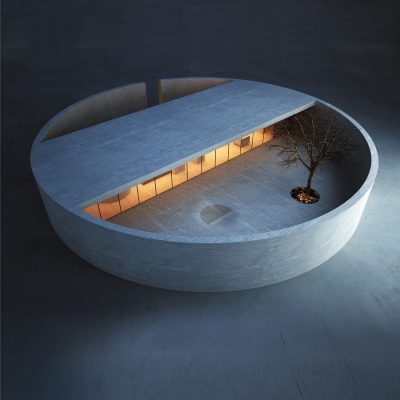 image from architect practice
The Ring House & Atelier in Riyadh, KSA
More Saudi Arabia Architecture News online soon
Location: Saudi Arabia (KSA), Middle East
Architecture in Saudi Arabia
KSA Architectural Projects
Saudi Arabian Office Buildings
Al Birr Foundation Office Tower
Capital Market Authority Tower in Riyadh
Makkah Museum in Mecca KSA by Mossessian Architecture
Middle East Buildings
Middle East Architectural Designs
Comments / photos for the Saudi Arabia Architecture News page welcome