Kingdom Tower Jeddah, Saudi Arabian Skyscraper Building, KSA High-Rise Project Design
Kingdom Tower Jeddah Building
Saudi Arabia Skyscraper, Middle East – design by Adrian Smith + Gordon Gill Architecture
2 Jun 2014 – new larger images addd to this page
Kingdom Tower Jeddah Skyscraper Building
Location: Jeddah, Saudi Arabia (KSA)
Architect: Adrian Smith + Gordon Gill Architecture
Kingdom Tower to be the world's tallest building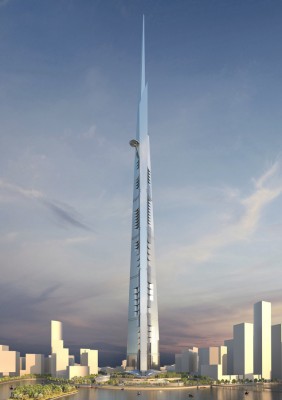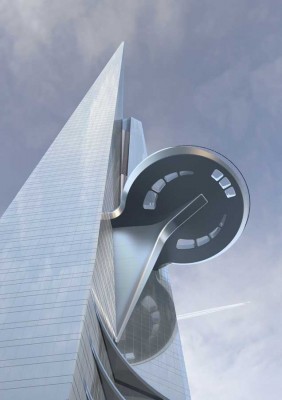 27 Mar 2014
Building of Kingdom Tower to start on April 27th 2014
After several months of testing and preparation work a date was announced for the start of the building: April 27th.
After this date there will hopefully be more updates regarding the construction and later this year pictures of the rising building.
No new estimates about the ending of the construction were given, but a 2017 or 2018 deadline is highly unlikely at this point.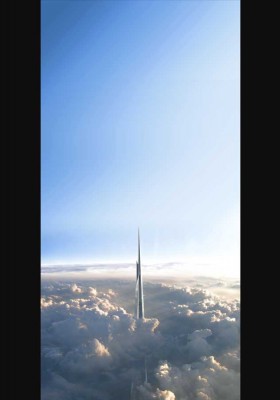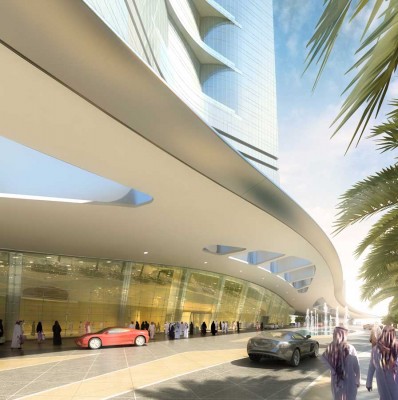 12 Feb 2014
Foundation works complete on this Saudi Arabian Skyscraper
Recently the German company Bauer contracted to lay the foundation for the Kingdom Tower finished its work the company reports.
Kingdom Tower
ADRIAN SMITH + GORDON GILL ARCHITECTURE DESIGNS KINGDOM TOWER, TO BE THE WORLD'S TALLEST BUILDING
CHICAGO, Aug. 2, 2011—Adrian Smith + Gordon Gill Architecture is pleased to announce that it is designing Kingdom Tower, to be the world's tallest building, in Jeddah, Saudi Arabia, near the Red Sea.
At over 1,000 meters (3,280 feet) and a total construction area of 530,000 square meters (5.7 million square feet), Kingdom Tower will be the centerpiece and first construction phase of the Kingdom City development on a 5.3 million-square-meter site in north Jeddah. The tower's height will be at least 173 meters (568 feet) taller than the world's current tallest building, Dubai's 828-meter-tall Burj Khalifa, which was designed by Adrian Smith while at Skidmore, Owings & Merrill. Kingdom Tower will feature a Four Seasons hotel, Four Seasons serviced apartments, Class A office space, luxury condominiums and the world's highest observatory.





images © Adrian Smith + Gordon Gill Architecture
Design development of the tower is under way, with construction to begin imminently. Foundation drawings are complete and the piling for the tower is currently being tendered. Kingdom Tower will cost approximately $1.2 billion to construct, while the cost of the entire Kingdom City project is anticipated to be $20 billion.
AS+GG is leading an interdisciplinary design team that also includes building services engineering consultants Environmental Systems Design, Inc. (ESD) and structural engineering consultants Thornton Tomasetti. The developer of Kingdom City, Jeddah Economic Company (JEC), selected the AS+GG scheme after a lengthy competition process in which SOM, Pickard Chilton, Kohn Pedersen Fox, Pelli Clarke Pelli and Foster + Partners also participated.
"Our vision for Kingdom Tower is one that represents the new spirit of Saudi Arabia," said Smith, whose experience in supertall tower design at SOM also includes Jin Mao Tower in Shanghai, Nanjing Greenland Financial Center in Nanjing, China, the Trump International Hotel & Tower in Chicago and Pearl River Tower, now in the late stages of construction in Guangzhou, China. "This tower symbolizes the Kingdom as an important global business and cultural leader, and demonstrates the strength and creative vision of its people. It represents new growth and high-performance technology fused into one powerful iconic form."
The project was announced today by His Royal Highness Prince Alwaleed Bin Talal Bin Abdulaziz Alsaud, nephew of Saudi Arabia's King Abdullah and chairman of Kingdom Holding Company, which is a partner in Jeddah Economic Company along with prominent Jeddah businessmen Samaual Bakhsh and Abdulrahman Hassan Sharbatly and Saudi Binladin Group (SBG). SBG is also the contractor for Kingdom Tower.
"Prince Alwaleed, Mr. Bakhsh, Mr. Sharbatly and I were impressed by the boldness and simplicity of the AS+GG design," said Talal Al Maiman, Executive Director, Development and Domestic Investments, a Board member of Kingdom Holding Company and a board member of JEC. "Kingdom Tower's height is remarkable, obviously, but the building's iconic status will not depend solely on that aspect. Its form is brilliantly sculpted, making it quite simply one of the most beautiful buildings in the world of any height."
In addition to its status as an architectural landmark and economic symbol, Kingdom Tower will enjoy great cultural significance. "We envision Kingdom Tower as an iconic new marker of Jeddah's historic importance as the traditional gateway to the holy city of Mecca," Al Maiman said. He noted that the southeast leg of Kingdom Tower's tripedal base is on a direct line with the Ka'ba in Mecca, Islam's holiest site. AS+GG's design for Kingdom Tower is both highly technological and distinctly organic. "With its slender, subtly asymmetrical massing, the tower evokes a bundle of leaves shooting up from the ground—a burst of new life that heralds more growth all around it," Smith said.




images © Adrian Smith + Gordon Gill Architecture
The sleek, streamlined form of the tower was inspired by the folded fronds of young desert plant growth, Gordon Gill added. "The way the fronds sprout upward from the ground as a single form, then start separating from each other at the top, is an analogy of new growth fused with technology," he said. "We're thrilled to be working with His Highness and Jeddah Economic Company to help define this path for the Kingdom."
While the design is contextual to Saudi Arabia, it also represents an evolution and a refinement of an architectural continuum of skyscraper design. The three-petal footprint is ideal for residential units, and the tapering wings produce an aerodynamic shape that helps reduce structural loading due to wind vortex shedding. The Kingdom Tower design embraces its architectural pedigree, taking full advantage of the proven design strategies and technological strategies of its lineage, refining and advancing them to achieve new heights.
The result is an elegant, cost-efficient and highly constructible design that is at once grounded in built tradition and aggressively forward-looking, taking advantage of new and innovative thinking about technology, building materials, life-cycle considerations and energy conservation. For example, the project will feature a high-performance exterior wall system that will minimize energy consumption by reducing thermal loads. In addition, each of Kingdom Tower's three sides features a series of notches that create pockets of shadow that shield areas of the building from the sun and provide outdoor terraces with stunning views of Jeddah and the Red Sea.
The great height of Kingdom Tower necessitates one of the world's most sophisticated elevator systems. The Kingdom Tower complex will contain 59 elevators, including 54 single-deck and five double-deck elevators, along with 12 escalators. Elevators serving the observatory will travel at a rate of 10 meters per second in both directions.
Another unique feature of the design is a sky terrace, roughly 30 meters (98 feet) in diameter, at level 157. It is an outdoor amenity space intended for use by the penthouse floor.
AS+GG also designed the master plan for the 23-hectare Kingdom Tower Waterfront District, which surrounds the tower and which will include residential and commercial buildings, a shopping mall, high-quality outdoor spaces and other amenities. The Waterfront District provides a cohesive and pedestrian-friendly setting for Kingdom Tower while creating a pleasant neighborhood experience along the Kingdom City lakefront.
The district encompasses a high-end shopping mall designed by AS+GG, plus additional development parcels that accommodate commercial and high-density residential uses, offices, two luxury hotels and high-quality open spaces, including the central Tower Plaza. A serene waterfront promenade connects Kingdom Tower, the various development parcels, the open space areas and the mall together. The result is an exciting mixed-use area that offers a concentrated and comprehensive experience including vibrant shopping, entertainment and open-space amenities. The Waterfront District also provides an array of connections to other areas within Kingdom City's overall master plan, designed by HOK Architects.



images © Adrian Smith + Gordon Gill Architecture
About Adrian Smith + Gordon Gill Architecture
Adrian Smith + Gordon Gill Architecture is dedicated to the design of high-performance architecture in a wide range of typology and scale, from low- and mid-rise residential, commercial and cultural buildings to mixed-use supertall towers and new cities. The office uses a holistic, integrated design approach that explores symbiotic relationships with the natural environment. AS+GG is currently working on projects for clients in the United Arab Emirates, Saudi Arabia, China, India, South Korea, Malaysia, Canada and the United States. The partnership was founded in 2006 by Adrian Smith, Gordon Gill and Robert Forest. For more information, please visit www.smithgill.com.
About Thornton Tomasetti
Thornton Tomasetti provides engineering services to clients worldwide on projects of all sizes and complexity. Thornton Tomasetti is responsible for the structural design of some of the world's tallest buildings, including the Petronas Towers, Taipei 101, Ping An International Finance Center in China and Federation Tower in Russia. The firm is committed to creating the best structural solutions through technical ingenuity, pursuit of excellence and responsiveness to client needs. Thornton Tomasetti has offices across the United States and in Asia, Europe and the Middle East. For more information, please visit www.ThorntonTomasetti.com.
About Environmental Systems Design, Inc.
Environmental Systems Design, Inc. (ESD) has provided engineering design solutions on thousands of buildings in the United States and throughout the world. With over 220 engineering and design professionals, ESD is one of the largest consulting engineering firms in the Midwest. ESD offers consulting engineering design services in mechanical, electrical, plumbing, fire protection, LEED, sustainable design, commissioning, and technology. ESD supports a diverse range of markets including commercial, health and science, education, mission critical, residential, assembly, cultural, theaters, energy plants, transportation and international. For more information, please visit www.esdesign.com.
Kingdom Tower Jeddah images / information from Adrian Smith + Gordon Gill Architecture, 2 Aug 2011
Adrian Smith + Gordon Gill Architecture
Location: Jeddah, Saudi Arabia
Architecture in KSA
Contemporary KSA Architecture
Saudi Arabia Architecture Designs – chronological list
Saudi Arabia Architecture News
King Fahd International Stadium, Riyadh, KSA
Design: Schiattarella Associati, Architects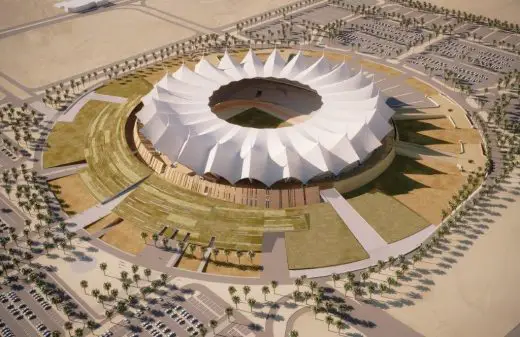 image courtesy of architects
King Fahd International Stadium in Riyadh
Al-Birr Foundation Office Tower, Riyadh
Perkins+Will
Saudi Arabian Tower Building
Al Faisaliah Complex, Riyadh
Foster + Partners
Al Faisaliah Complex
Alrriyadh Ritz Carlton Tower, Riyadh
ECHO Architecture
Alrriyadh Ritz Carlton Tower Building
Comments / photos for the Kingdom Tower Saudi Arabia – Jeddah Skyscraper page welcome