Haiti Earthquake Buildings, Project, Photo, News, Design, Disaster, Structure, Property, Image
Design in Earthquake Zones : Haiti, Caribbean
Safer Buildings for Communities Across the Globe
'Article 25: the built environment's charity'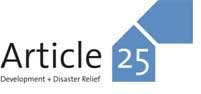 Monthly Report by Robin Cross, Director of Projects for Article 25
Design in Earthquake Zones advice arcticle written for www.e-architect.com
2 Feb 2010
It's Not Earthquakes that Kill People, It's Buildings That Kill People
It has only been three weeks since a devastating earthquake hit Haiti, three weeks in which one of the poorest countries in the world received worldwide attention. Help came in from neighbouring countries like the United States and more unusual places such as the Democratic Republic of Congo. Huge amounts of money were donated and heartbreaking stories made daily headlines. Medical teams, NGOs, military, shelter, food and financial aid has been pouring into the country and critically injured victims have been airlifted to the United States.
It is only three weeks on and, as with all disasters, the stories about survivors have become fewer and fewer, rescue teams are leaving Port-au-Prince and the search for survivors under the collapsed buildings has officially ended. Donations are becoming smaller, and the headlines are back to tennis matches and Grammys.
For the people in Haiti the earthquake is far from over. Their lives have been turned upside down in an instant and it is hard to see where to begin the task to rebuild all that's gone. NGOs were not the first to respond after the disaster; it was the Haitians themselves, searching through their crumbled homes looking for lost family members and helping injured neighbours. It is also the Haitians who now face the tough task of rebuilding their country.
Haiti was a struggling country before the earthquake, and dealing with more than 170,000 people killed, many more injured and homeless, government buildings destroyed and infrastructure barely functioning, it may seem hard to know where to start. Where do you pick up the pieces if you have lost everything, how do you rebuild your lives and your home, schools, infrastructure and public buildings? This massive undertaking is not only about the bricks and mortar, it is about rebuilding the places where your family can sleep peacefully, where you don't have to worry about sending your children to school and where the government can run the country accountably.
Images from the Pakistan Earthquake Zone reconstruction assisted by Article 25:
Buildings were constructed with entirely locally sourced materials, including multi coated layers of local mud render


Many sites are in very remote and mountainous areas


It's Not Earthquakes that Kill People, It's Buildings That Kill People
In Haiti 2010, just as in previous earthquakes, it was often not the earthquake that killed, but the buildings which were unable to withstand the forces and collapsed on their inhabitants.
A shocking comparison of the effects of earthquakes around the globe demonstrates how the death toll is a measure of the standard of buildings and the level of preparedness, as much as the force of the earthquake.
In the 1994 Los Angeles earthquake (6.7 magnitude) there were 72 deaths and 9,000 injured, while in the 2005 Kashmir Earthquake (7.6 magnitude) there were 79,000 deaths, 106,000 injured. In Haiti in 2010 (7.0 magnitude) there were an estimated 170,000 deaths, 250,000 injured. This puts the Haiti earthquake at 8th on the list of natural disasters by death toll.
Collapsed concrete structure of a former school




Lightweight timber frame provides structural earthquake resistance



Lightweight timber frame with lighter roofs provides a much safer home


If any good can come from this disaster it should be the opportunity that we can build back better, with better buildings, and stronger livelihoods. Reconstruction should be an improvement on the past, an improvement of the homes that provided little shelter, the fragile public buildings and the poor living conditions in Haiti.
Reconstruction should be done with future, inevitable earthquakes in mind. Homes and schools can be built seismically resistant so that in future earthquakes the death rate will be much lower. Correct use of appropriate materials and research of vernacular buildings that have proven their better response to natural disasters in the past are relatively easy design decisions but have large consequences in saving lives.
The huge task of reconstruction currently facing Haiti has the enormous economic potential of creating jobs, and providing people with skills for the future.
All international attempts to assist Haiti in this task of reconstruction should focus on supporting local contractors, using local skills and labour and providing the tools to construct seismic resistant building.
Robin Cross, Director of Projects for Article 25:


In the earthquake of 2005 in Pakistan 79,000 people were killed and 8 million directly affected. Poor construction contributed largely to this high amount of deaths when concrete buildings collapsed, trapping people under heavy slabs. After the earthquake the rebuilding efforts focussed on self build in which Pakistanis were given materials or financial help to rebuild their own homes.
While this approach is good in empowering people, it can't help the most vulnerable people in society such as widows, the elderly or those who are physically unable to rebuild their homes. It also decreases opportunities to make improvements to prevent the fatal effect of falling concrete and increases the risk of using materials of poor quality, such as concrete with too little cement as a way to save money.
Article 25 was involved in the reconstruction of homes in Pakistan for those vulnerable groups in society, working in close collaboration with community members to provide 80 homes for typical Pakistani family sizes and domestic requirements. A contemporary design based on the vernacular architecture of the Dhajji Da resulted in a lightweight timber structure with stone infill.
Many small bracing members spread seismic energy and reduce the risk and effect of collapse. Local contractors and labourers received training through workshops, so that construction based on local skills continued once Article 25 left site. In 100 days they were able to rebuild their home. This sustainable approach empowered local Pakistani and improved the local economy.
Mud and stone infill ; Dhaji-dewari technology



Layers of local mud render to waterproof the building


Architects are not the first to rush to a disaster hit area, but their skills are vital in the long-term development. After emergency aid has been provided architects can carry out pre-planning assessments and damage analysis, establish community partnerships and sort out land tenure and building ownership. Initially there is a need for transitional shelters, health clinics and community structures such as schools, hospitals and civic structure. After a few months the focus will shift to providing permanent housing and infrastructure.
When Haiti is ready to rebuild, architects and engineers should be there to assist them wherever they can with experience and expertise in designing seismic resistant buildings. Together we can work towards an appropriate, local design adapted to Haitian culture, family and requirements and most importantly we can prevent future buildings from killing people in the next earthquake.
When the news broke of the Haiti disaster, Article 25 was launching the third phase of the practice's earthquake reconstruction work in Pakistan, a country still recovering from its earthquake of four years ago.
Interpretative models of structural components:
Dassa column ; Kashmiri Half Lap ; Roof Truss Ridge




More than four years on from that earthquake, Pakistan is still rebuilding. And it is being there still, after more than four years that counts. It's the long-term the really counts in the field; long-term planning and long-term partnerships with the local teams on the ground; long-term collaboration with community groups that helps build a country's capacity to resist disaster.
So, long after the earthquake in Haiti has been knocked off the headlines, Article 25 and its collaborators plan to be working in the field building the schools, clinics, institutions and homes of Haiti's future.
If you wish to help us please make a donation at www.justgiving.com/rebuildinghaiti
Barbara Paagman, Article 25
Location: Haiti
Architecture in the Caribbean
Contemporary Caribbean Architectural Projects
Music Studio Design Competition
Yingxiu Memorial Museum, China



image from architect
Chinese Earthquake Memorial designed by Sutherland Hussey Architects
Haiti Earthquake Architecture Design
Haiti Architecture Competition
Chile Earthquake Rebuilding
Article 25 for e-architect.com



photo from Article 25
Haiti Design Competition, Caribbean
Haiti Design Contest
Monthly Reports by Article 25
Democratic Republic of Congo Schools
Comments / photos for the Haiti Earthquake Architecture Design page welcome
Website: Visit Haiti