Knowledge Communities, Article 25, RIBA, Maseru Building Project Photo, News, Lesotho Design Image
Knowledge Communities : Article 25 + RIBA
Safer Buildings Across the Globe – Built Environment Development
23 Feb 2010
A problem shared is a problem halved: joint initiative between the RIBA and Article 25 to encourage knowledge sharing.
'Article 25: the built environment's charity'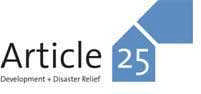 Monthly Report by Article 25
Written for www.e-architect.com
Knowledge Communities – The Lesotho Child Counselling Unit (LCCU), Mazenod, near Maseru, Lesotho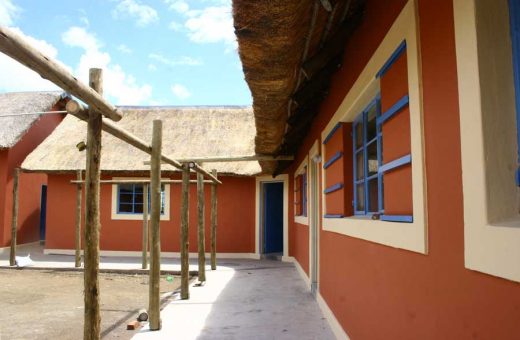 Knowledge Communities Africa
Built environment charity Article 25 is joining forces with the Royal Institute of British Architects (RIBA) to develop a new way for professionals from the built environment and the world of international development to engage with each other through an online networking tool: the new "RIBA Knowledge Community for Development and Disaster Relief" due to be launched on March 31st.
Having so recently witnessed the devastating effects of poor construction methods in the event of a disaster, the importance of this addition to the RIBA's already thriving initiative seems all the more opportune. The RIBA Knowledge Communities are a professional networking resource with a membership of over 1000 professionals and are organised as collections of architects and other professionals who are committed to collaborations within specialist areas of design, management and construction.
The Knowledge Community for Development and Disaster Relief is being stewarded by the humanitarian architecture NGO, Article 25. Through rallying the support of both the built environment and international development industries, Article 25 intend to cultivate a forum for interested parties to converse and pool resources to develop the positive role that built environment skills can play in some of the most vulnerable places and communities on earth. Fostering collaboration and active conversation across different industries, Article 25 and the RIBA see this initiative as an opportunity to build on and improve UK built environment practice, as well as provide a reference point for policy makers.
The Lesotho Child Counselling Unit (LCCU), Mazenod, near Maseru, Lesotho:



Child care and counseling unit for abused and maltreated children
Article 25 in collaboration with Sentebale
Approx. 40 children
Completed April 2008
The value of online communication comes into its own when considering how the website might be used: in the first instance, a knowledge library of resources which any member can contribute to means that a commercial practice in the UK will be able to quickly source international precedents of building with a particular material, from bamboo to mud bricks, thereby putting research into practice. In addition, the website would allow an immediacy of communication through discussion topics and notice boards, which would enable someone working on a construction project in the less developed world to have immediate access to technical advice.
This speed of collaboration between the built environment and international development communities could potentially be incredibly empowering for both: "by narrowing the gap between construction expertise and those who have most need of these skills, a real possibility exists to begin to solve some of the design and technical challenges which have long since plagued humanitarian efforts in developing countries" Emily Reilly, Education and Communication Manager, Article 25.
In addition to its immediate problem-solving appeal, the new community will also offer an opportunity to increase institutional learning, allowing members to learn from other's experiences and avoid repeating often hard-learned mistakes. In the context of international development this principle is vital to ensure the success of a project on many fronts: budget, cultural suitability, delivery time, material appropriateness. In the context of UK commercial practice, there is much that can be learned from the high degree of efficiency and effectiveness necessary when working in the developing world and post-disaster. On an individual basis, the community provides a vehicle for professionals to become directly involved in construction projects worldwide.
Article 25 are a UK registered charity who are committed to applying built environment expertise to provide innovative and sensitively designed construction to international development challenges. Their team of specialists offer expertise to aid agencies, charities, NGOs and grass roots community organisations in order to successfully execute their built projects on the ground. In the last 4 years, Article 25 has undertaken around 40 projects in 15 different countries, providing buildings to thousands of people. They have made steady progress in 2009 and are shaping up for an even more successful 2010, including plans to contribute to the reconstruction effort in Haiti.
The RIBA Knowledge Community for Development and Disaster Relief will be officially launched on the 31st of March 2010 at a drinks reception in London, from 7.00pm to 9.00pm. The reception will include information about the online resource, as well as guest speakers from both the built environment and international development industries. At the time of going to press the exact venue has yet to be confirmed, but Article 25 and the RIBA invite those interested in attending to register with Stephanie Johnston: [email protected], +44 (0)20 7375 0144.
RIBA Knowledge Community for Development and Disaster Relief information / images from Article 25
Comments on this African Knowledge Communities article are welcome.
Location: Africa
Sierra Leone School – involvement of Article 25
Monthly Reports by Article 25
Democratic Republic of Congo Schools
African Architectural Designs
African Architecture Designs – chronological list
Contemporary Africa Architectural Designs – recent selection from e-architect:
Pure Power/Daily Combat Strategy for Water Collection, Rujewa, Tanzania, eastern Africa
Design: Hong-En,Lin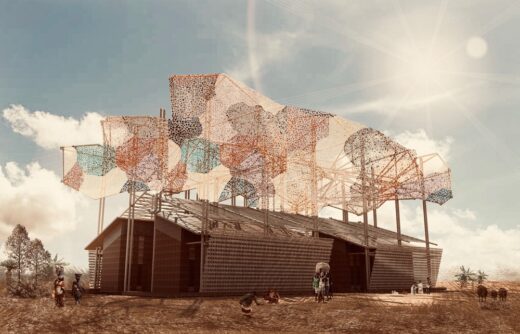 render : Hong-En,Lin
Pure Power, Tanzania, Eastern Africa
National Teachers Colleges, near the towns of Kaliro and Mubende, Uganda
Design: Oubuntu-DASUDA & BKVV Architects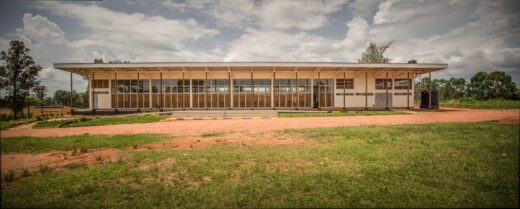 Eppo Karsijn
photos : Eppo Karsijns and Nambasa Sabrina – Frame Media
National Teachers Colleges, Mubende Uganda
Comments / photos for the Knowledge Communities Architecture page welcome