Haiti Earthquake Architecture, Article 25, Project, Photo, News, Design, Disaster, Structure, Image
Article 25 in Haiti – Design in Caribbean Earthquake Zone
Safer Buildings for Communities Across the Globe
'Article 25: the built environment's charity'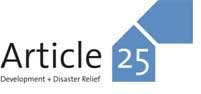 Monthly Report by Article 25 written for www.e-architect.com
20 Apr 2010
Article 25 in Haiti
More than two months after the January earthquake, Haiti is still very much in emergency mode. First responders with food, water, tents, sanitation and medical supplies are vital on the ground. However, there is also a crucial role for built environment professionals. Development and disaster relief charity Article 25 visited Haiti in mid-March to assess sites and structures in the interest of public safety, and with a view to setting up temporary schools while permanent reconstruction efforts are mobilised.
Collège Boisrond-Tonnerre, Pétionville – Haiti building pre-Earthquake: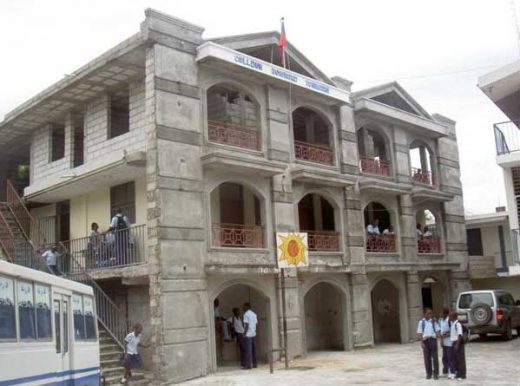 photo © outreach-international.org
Article 25 partnered with humanitarian organisation Outreach International and their local Haitian affiliate Organisation for the Social Development of the Masses (ODSM) to support their long-established education programme with construction expertise. The assessment team was composed of Director of Projects Robin Cross and Project Coordinator Melissa Arcand of Article 25, and Structural Engineer Franck Robert of Buro Happold.
Collège Boisrond-Tonnerre, Pétionville: Post-Earthquake:



photo © Article 25
On this initial visit, ten sites were surveyed. As many others have already observed, the unfortunate verdict for Haiti is that poor construction was largely responsible for the extensive loss of life. Inferior design, deficient materials, unskilled labour and insufficient regulations all contributed to building failures. Of the ten sites surveyed, two schools suffered complete collapse, three are now slated for demolition and three can be saved, at least for the time being, with repairs; the two remaining sites were assessed as locations for temporary schools.
Collège Boisrond-Tonnerre, Pétionville: Local teacher sits amidst the rubble. At the time of the earthquake, he rushed to help students leave the building and then helped with rescue efforts after the collapse. Sadly, a few students lost their lives:



photo by Wayne Rowe, © outreach-international.org
At a large displacement camp in Léogâne, a concrete structural frame is all that remains of a church. This site was identified as a prime location for a temporary school for the group of 277 students currently meeting in the shade of a nearby mango tree.
Franck Robert spent an evening designing and sketching a roof structure resistant to hurricane force winds and stabilised against earthquakes to shelter this space. The following day, he worked with a local carpenter and members of the community to explain the safety advantages of this design and to help get the construction started. This was the first built intervention in a long-term reconstruction programme to which Article 25 has committed for at least the next three years.
Collège Boisrond-Tonnerre, Pétionville: Classes resume under a tarp in the courtyard:



photo by Wayne Rowe, © outreach-international.org
Once the debris has been cleared, reconstruction in Haiti will have its own unique challenges. The devastation caused by the earthquake emphasised more deeply rooted problems. Overcoming poverty, unemployment, lack of education, poor nutrition, inadequate infrastructure and pervasive corruption necessarily becomes a larger part of the reconstruction effort. Reconstruction must go beyond restoring what was lost to leave a community more resilient in the face of future natural hazards.
Nan Mapou, Léogâne: The concrete frame of a church is all that remains after the earthquake. Article 25 designed a roof structure to shelter this space for use as a temporary school:



photo by Wayne Rowe, © outreach-international.org
Article 25 is now exploring design strategies for school reconstruction that are regionally and culturally appropriate. The team will draw on lessons learned from their earthquake resistant housing programme in Pakistan, but will tailor solutions to the particular materials and building methods of the country. The best built responses are often those that improve upon techniques already in use rather than imposing entirely foreign technologies.
Nan Mapou, Léogâne: Article 25 explains the safety advantages of their roof design to members of the community.



photo by Wayne Rowe, © outreach-international.org
In the next few weeks, Article 25 will return for a second visit to Haiti. The rains have started and this will add yet another challenge in already difficult conditions. Hopefully, the resilience that Haitians have demonstrated thus far will endure. Article 25 will be there with technical expertise seeking to build upon this resilience to empower local communities.
For further information, please contact Article 25 at [email protected]
Author: Melissa Arcand, Haiti Project Coordinator, Article 25
Nan Mapou, Léogâne: One of Article 25's drawings of the roof structure for the temporary school.



photo © Article 25
It's Not Earthquakes that Kill People, It's Buildings That Kill People
Haiti Earthquake Buildings – previous text by Article 25
Haiti School Building Design
Haiti Earthquake School Building Design : Article 25 Report for e-architect in 2011
Location: Haiti, the Caribbean
Architecture in America
Contemporary Caribbean Architectural Projects
Music Studio Design Competition
Debris Design Competition Haiti
Yingxiu Memorial Museum, China



image from architects
Chinese Earthquake Memorial designed by Sutherland Hussey Architects
Chile Earthquake Rebuilding Design
Article 25 for e-architect.com



photo from Article 25
Monthly Reports by Article 25
Democratic Republic of Congo Schools
Haiti Design Competition, Caribbean
Haiti Design Contest
Comments / photos for the Haiti Earthquake Architecture Design page welcome
Website: Visit Haiti