MAD Architects China, Building Images, Chinese Design Studio, Architecture Practice, Towers
MAD Architects : Beijing Architecture Studio
Ma Yansong – Contemporary Chinese Architectural Practice, Beijing Design Office News
post updated 13 August 2021
MAD Architects News
MAD Architects News
13 Aug 2021
Hainan Science and Technology Museum, Haikou, Hainan, southern China
Design: MAD Architects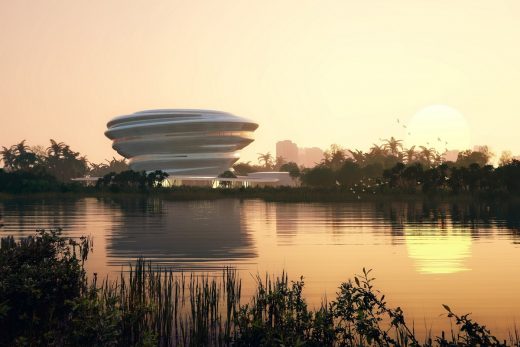 image courtesy of architecture office
Hainan Science and Technology Museum
MAD Architects, led by Ma Yansong, unveils their design for the Hainan Science and Technology Museum in Haikou City, Hainan. Located on Haikou's west coast, surrounded by sports stadiums and a National Wetland Park, the museum is MAD's second major public project in Hainan following the Cloudscape of Haikou, which opened in April 2021.
20 May 2021
A Village under the Dome, Jiuzhou Port, Zhuhai City, Guangdong Province, China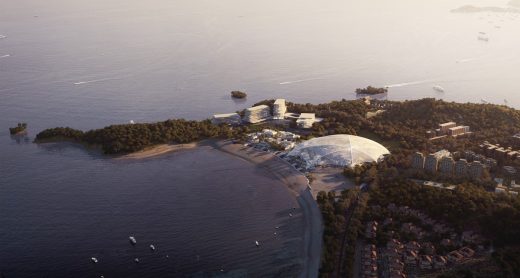 image courtesy of architects studio
Zhuhai Cultural Arts Center
Over the past 30 years, cities in China have experienced rapid urbanization and growth. As a result, entirely new cities, districts, and public buildings have emerged, often emphasizing a large scale, and become homogenized.
11 May 2021
Jiaxing Civic Center, Jiaxing, northern Zhejiang province, China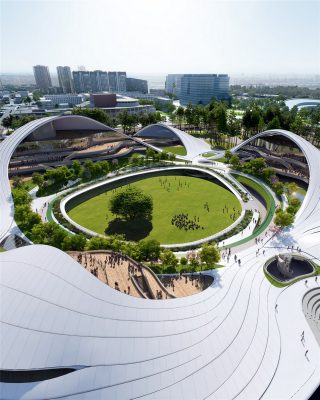 image courtesy of architects
Jiaxing Civic Center
MAD Architects, led by Ma Yansong, has released their design for the Jiaxing Civic Center. The scheme marks the latest important public project in Jiaxing City designed by MAD, after their design for the Jiaxing Train Station was unveiled earlier this year.
16 Dec 2020
Yabuli Entrepreneurs' Congress Center, Northeastern China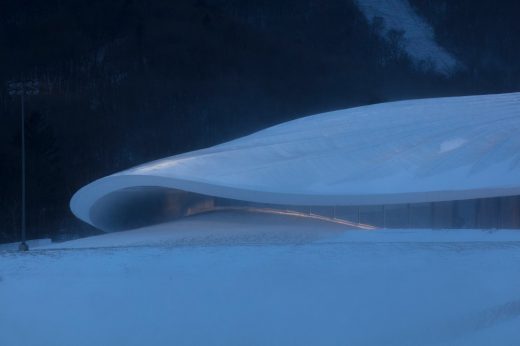 photo © ArchExist
Yabuli Entrepreneurs' Congress Center
The Yabuli Entrepreneurs' Congress Center Building is nestled in snow-covered mountains. The project was commissioned by the Yabuli China Entrepreneurs Forum (Yabuli CEF), one of China's most influential business organizations.
Nov 13, 2020
FENIX Museum of Migration in Rotterdam, Rotterdam, Holland
Panoramic Viewpoint for the Fenix Warehouse
MAD Architects' first cultural project in Europe, the FENIX Museum of Migration, has broken ground in Rotterdam. The project was commissioned by the Droom en Daad Foundation.
Aug 26, 2020
Gardenhouse, 8600 Wilshire Boulevard, Wilshire Boulevard, Beverly Hills, Los Angeles, CA, USA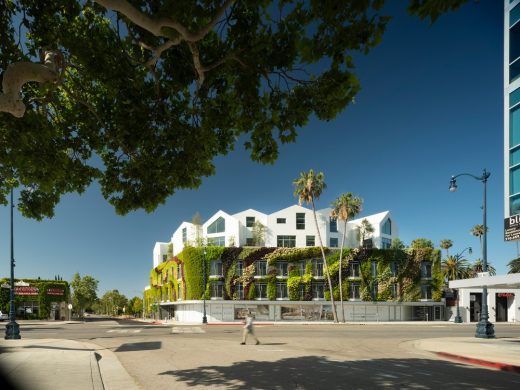 photo : Nic Lehoux
Gardenhouse Beverly Hills
MAD Architects, led by Ma Yansong, has completed "Gardenhouse," the first project completed by MAD in the USA.
10 Aug 2020
Wormhole Library, Haikou, Hainan Province, China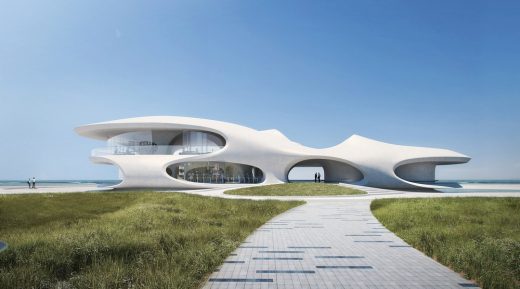 image courtesy of architects
Wormhole Library
This Chinese library building serves as a multi-functional building that allows visitors to read, enjoy views of the sea, and attend open-air performances, temporarily removing themselves from the hustle and bustle of everyday life. The building is now under construction and will be completed in 2021.
25 June 2020
Shenzhen Bay Culture Park, Shenzhen, China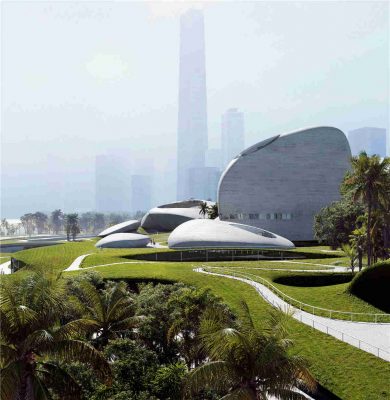 image courtesy of architecture office
Shenzhen Bay Culture Park
"When building a cultural landmark on a site positioned between the dynamic energy of a modern city and quiet timelessness of nature, it should be imagined as a free civic space – at first a land art park, with its functions complementing its aesthetics." – Ma Yansong
23 Apr 2020
Quzhou Sports Campus, Shaoxing, Zhejiang Province, China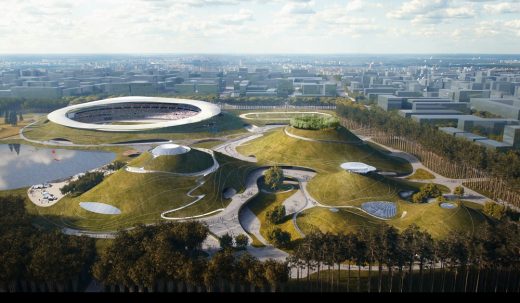 image courtesy of architecture office
Quzhou Sports Campus Stadium, Zhejiang Province
Competitive sports has a history that is practically as old as human civilization. Born from humanity being faced with the great unknown, brought on by physical nature, it became a means for one to reflect on their own existence and cognition of function, proving their physical capabilities and striving to explore and further push one's limits.
10 Sep 2019
MAD Partners with HyperloopTT on Sustainable Transportation Infrastructure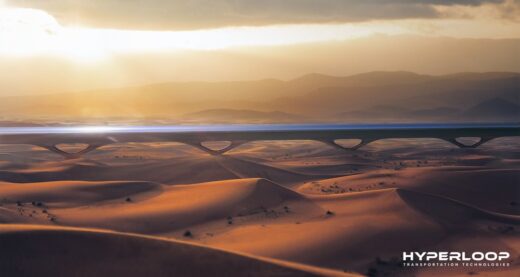 image : MIR
HyperloopTT Sustainable Transportation Infrastructure
MAD Architects, led by Ma Yansong, has collaborated with Hyperloop Transportation Technologies (HyperloopTT) on the development of an elevated, rapid transport system.
27 June 2019
Yiwu Grand Theater, Yiwu City, Zhejiang Province, China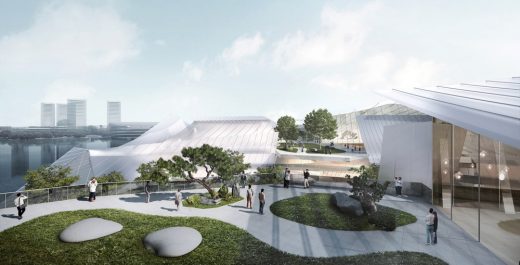 image courtesy of architecture office
Yiwu Grand Theater
24 May 2019
Harbin Taiping International Airport Terminal 3, Harbin, Haxi District, China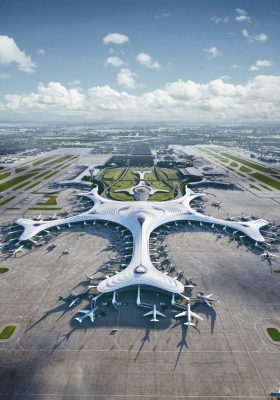 image courtesy of architects
Harbin Taiping International Airport Terminal 3
Like a snowflake that has gently fallen onto the earth, it creates an architectural poetry that settles into its locale, while simultaneously expressing itself as a surreal, interstellar space of future air travel.
24 Nov 2018
Panoramic Viewpoint for the Fenix Warehouse, Rotterdam, Holland
Design: MAD Architects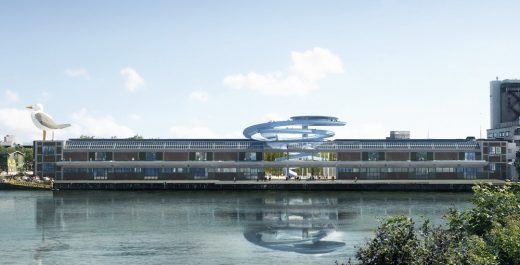 image courtesy of architects
Panoramic Viewpoint for the Fenix Warehouse
Commissioned by the Droom en Daad Foundation to design a panoramic viewpoint on top of the historic Fenix warehouse, with Bureau Polderman responsible for the historic warehouse building restoration.
19 Nov 2018
Courtyard Kindergarten, Beijing, China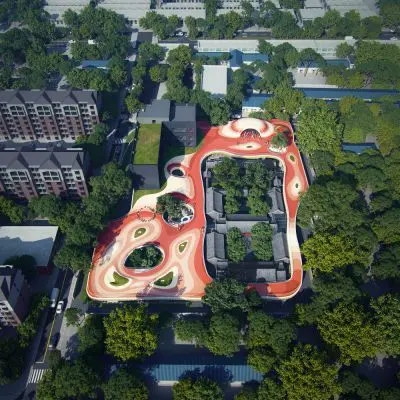 visualizations: SAN ; model photography: CreatAR Images
Courtyard Kindergarten Beijing
Located on the site of a traditional siheyuan courtyard dating from 1725, the design inserts a new building that protects the existing buildings, and also restores them for use.
30 Sep 2018
Quzhou Sports Campus, Shaoxing, Zhejiang Province, China
Design: MAD Architects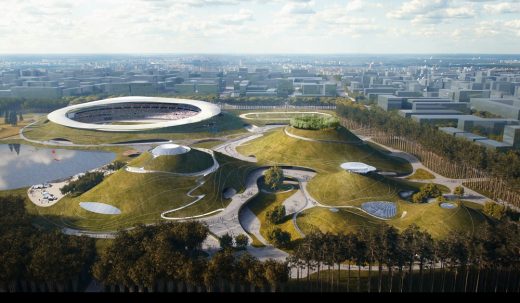 image courtesy of architects
Quzhou Sports Campus
Spanning almost 700,000 sqm, the two first phases have a total construction area of approximately 340,000 sqm, and include a stadium (30,000 seats), gymnasium (10,000 seats), natatorium (2,000 seats), national sports complex, outdoor sports venue, science & technology museum, hotel accommodations, youth centre and retail programs.
11 Aug 2018
Kiyotsu Gorge Tunnel Restoration, Niigata Prefecture, Japan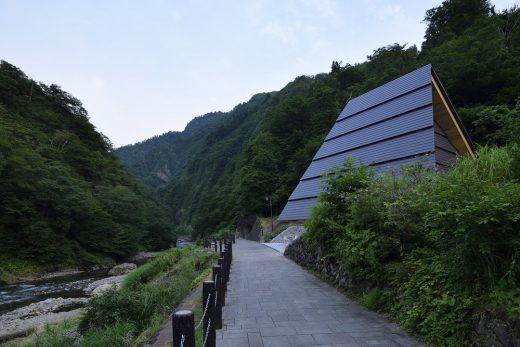 photo : Nacasa & Partners Inc.
Kiyotsu Gorge Tunnel Building Restoration
MAD Architects, led by Ma Yansong, has completed the restoration of the Kiyotsu Gorge Tunnel in Japan's Niigata prefecture. The revitalization project sees the installation of several permanent artistic spaces along the historic lookout tunnel, with the intention of bringing back the cultural energy that once empowered the region.
11 Aug 2018
Shenzhen Bay Square Waterfront, China
Design: MAD Architects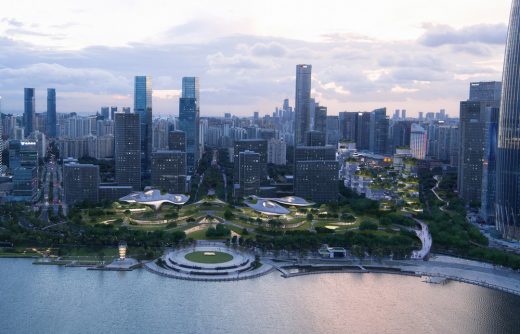 image courtesy of architects
Shenzhen Bay Square Waterfront
MAD Architects, led by Ma Yansong, has won two international competitions to develop Shenzhen Bay Square. The firm's winning masterplan (36 hectares), and architectural design (15 hectares), will see an ambitious urban development project bring a vibrant cultural complex to the area that connects Shenzhen city to the waterfront, surrounding ecological corridor, and nearby mountain ranges – creating a harmony between humans and nature.
29 Jul 2018
Southbank by Beulah, Melbourne, Victoria, Australia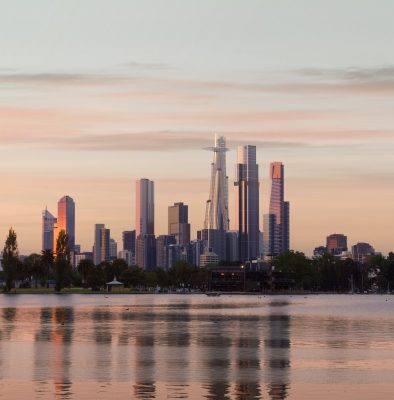 image by MIR
Southbank by Beulah in Melbourne
MAD reveals its proposal for the "Southbank by Beulah" tower competition. Defying the typical glass, box-like buildings of Melbourne that appear detached from the city's historic parks and natural local terrain, MAD's organic design introduces a silhouette of natural forms.
Jul 4, 2018
Gardenhouse, Wilshire Boulevard, Beverley Hills, Los Angeles, California, USA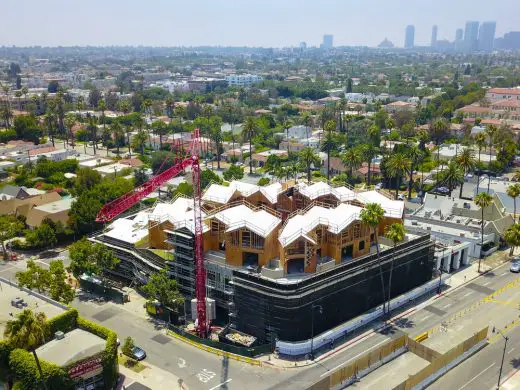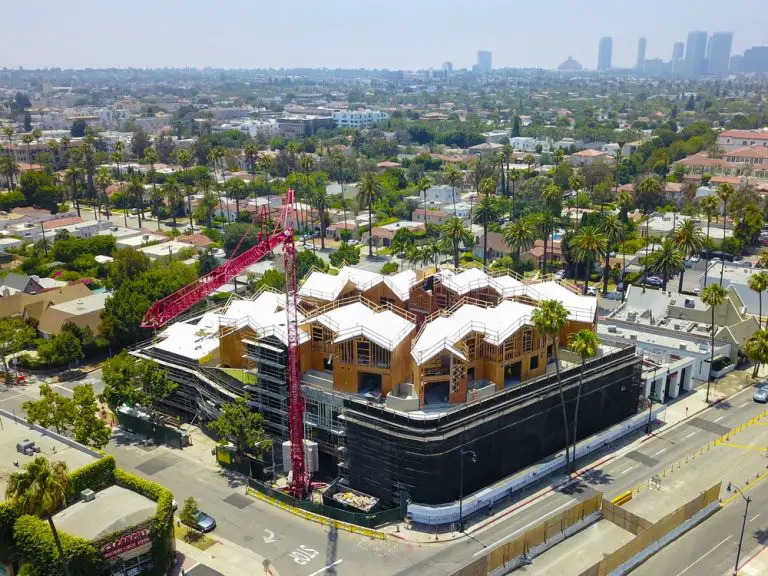 image Courtesy architecture office
Gardenhouse Wilshire Boulevard
Current housing in our congested urban centers has come to prioritize function over consideration for a human's emotional relationship with the living and natural environment. This innovative residential project demonstrates the core design philosophy of this up-and-coming Chinese architecture studio: to harmoniously interweave nature, humanity and the built environment in our high-density cities.
18 Apr 2018
New Chair @ Milan Design Week 2018
MAD Architects Presents "Gu" Chair – Collaboration with Sawaya & Moroni During Milan Design Week
"Gu" is Ma Yansong's contemporary interpretation of the traditional wooden armchair. Drawing reference from skeletal structures ("gu" translates to "bones" in Chinese), the design's joints create a network of sinuous forms – similar to that of connective fibrous tissue.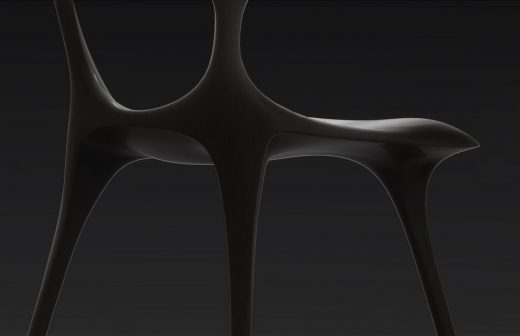 photo © MAD Architects
Thus, each surface of the chair fuses into one another, forming elegant seams that mutate from something natural into something more futuristic, making it seem more like a growing organism than a chair.
The strong directionality of the chair's heavy wood grain follows its smooth curves, further emphasizing its sculptural and organic silhouette that forms the most original contours of the human body.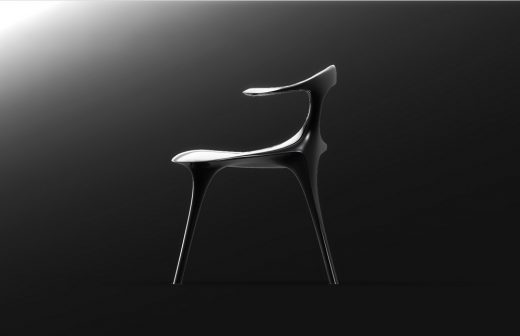 photo © MAD Architects
Time: 2018/4/17-22
Location: Via Alessandro Manzoni, 11, 20121 Milano MI, Italy
Design Team: Ma Yansong, Dang Qun, Yosuke Hayano, Andrea D'Antrassi, Casey Kell, Matthew Pugh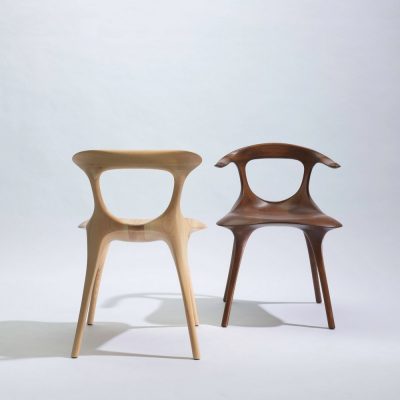 photo © Sawaya & Moroni
8 Dec 2017
Gallery ALL presents MAD Martian Collection by Ma Yansong at DesignMiami/ 2017
MAD Martian Collection by Ma Yansong
4 Dec 2017
MAD Completes "Chaoyang Park Plaza" Leaving the Impression of an Ink Landscape on Beijing's Skyline
13 Nov 2017
Huangshan Mountain Village, Republic of China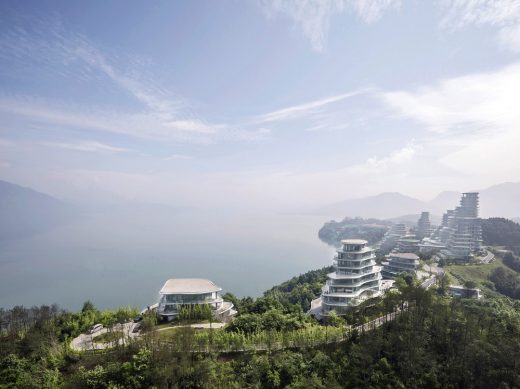 image form architects office
Huangshan Mountain Village Buildings
MAD's scheme is part of a larger tourism masterplan for Huangshan Taiping Lake. While providing the conveniences of modern living, the design affirms the significance of this culturally important mountain range.
21 Sep 2017
Mirage – Montparnasse Tower Renovation, Pairs, France
Design: MAD Architects / Executive Architect: DGLa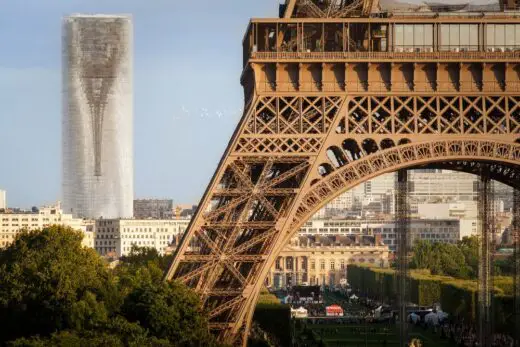 image form architects office
Mirage – Montparnasse Tower design by MAD Architects
A renovation proposal for Montparnasse Tower transforming the high-rise building into an artistic lighting installation that reflects the city upside down.
Aug 2, 2017
FF Zeus Campus, Mare Island, Northern California, USA
Campus design for Faraday Future (FF) on Mare Island, which recently announced its production of "the world's fastest-accelerating electric car."
The project site is a former navy base in Northern California. Located adjacent to the Napa River the city recently positioned the area as a "zero-emission base in California." The site will support not only FF's research, development, and manufacture, but also is re-designed to support ongoing public programming and ecological restoration along the Napa's banks.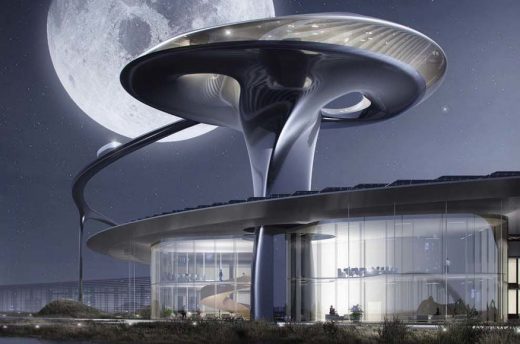 photo courtesy Courtesy of MAD Architects
The campus covers an area of approximately 130,000 sqm, of which 20,000 sqm as building area. The dramatic proposal consists of two low, metallic structures embedded within the site's prairie landscape, suggesting extraterrestrial objects capable of de-familiarizing employees and prospective clients with the status quo of the contemporary automotive market.
The highlight of the project is the user experience center rising into a sculptural, reflective tower. The ceremonious design allows clients to watch as their car is transported from the warehouse along the elevated light rail into the exhibition hall, to right in front of them. The experience center is open to the public and the visitors can observe the whole campus.
In addition, MAD hopes to provide a flexible and ductile working environment for the growth of its employees and the advancement of the company's high-tech innovations. The double-height facility is punctured by a series of internal courtyards, allowing for plenty of natural light and social spaces.
The building design targets "zero-emission, low energy":-
– roofs entirely surfaced with modulated solar power panels, with enough production capacity to support the entire campus' daily operational demands.
– experience tower equipped with wind power generators
– large roof overhangs for shading
– internal courtyards, and operable glass façade systems to passively reduce solar gains and allow for natural ventilation and climate modification.
Size: 225,000 sqft
Client/Owner: Faraday Future
Team: Ma Yansong, Dang Qun, Yosuke Hayano, ZENG Hao, Jacob Hu, ZHANG Tingfu, LI Yuanhao, YAN Ran, HE Xiaokang, Kin Li, LI Guangchong, Brecht Van Acker, Yukan Yanagawa, WANG Yiming, Marco Gastoldi
28 May 2017
MAD Completes Beijing Roca Gallery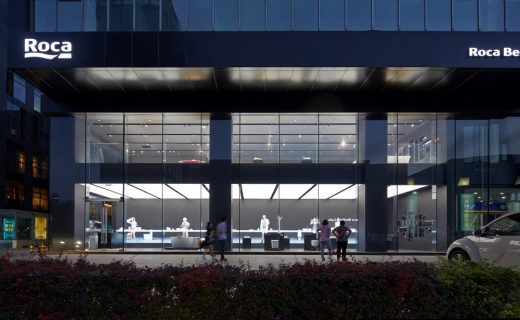 photograph : Shu He, Action Media
Beijing Roca Gallery
MAD Architects has completed Roca's Beijing Gallery in Dongzhimen, near the Beijing East Second Ring Road. The project consists of an unobstructed gallery space that opens up to its urban environment; behind double-height glazing, the interior walls of both of the gallery's floors, finished with a screen of LEDs, become a new façade for the city.
8 Apr 2017
Historical Future: Milan Reborn for the Scali Milano Masterplan
MAD Presents Historical Future: Milan Reborn for the Scali Milano Masterplan, During Milan Design Week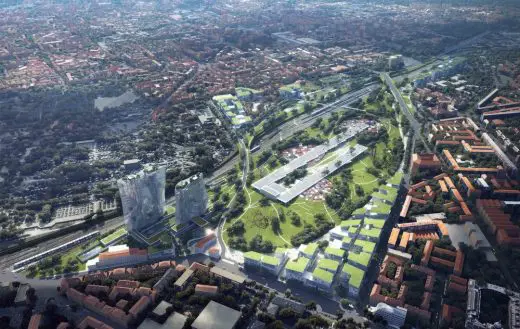 Historical Future: Milan Reborn, Scalo Farini and Valtellina
MAD Architects presents their research proposal Historical Future: Milan Reborn for the Scali Milano project, community-reactivation masterplan research headed by FS Sistemi Urbani (FS Urban Systems) and Comune di Milano (the Municipality of Milan) with the support of Regione Lombardia (Lombardy Region).
Historical Future: Milan Reborn for the Scali Milano Masterplan
5 Apr + 22 Mar 2017
2017 MAD Architecture Travel Fellowship
This Beijing-based global architecture firm announce their annual student sponsorship program, the MAD Travel Fellowship.
This program provides design students an opportunity to travel to China for a sponsored research-based trip, an intimate exploration of MAD's iconic projects, and a chance to meet and speak with MAD's founding principal Ma Yansong.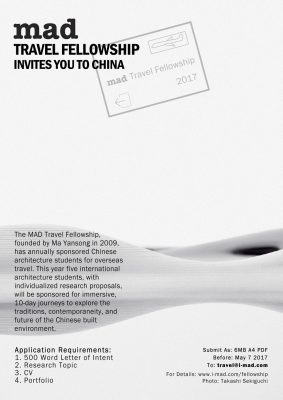 This year the MAD Travel Fellowship will be open to all international students.
This unique educational program is open to every interested design student. It provides the opportunity to experience a hands-on, individualized study abroad experience.
2017 MAD Architecture Travel Fellowship
MAD Architects initiated the MAD Travel Fellowship in 2009, and they believe it is only through traveling – the visceral experience of interacting with, and being influenced by, different spaces – that one can begin to understand ideas of context and thereby gain a deeper insight into the practice of architecture.
During the past 7 years, the program has sponsored 35 students from universities across mainland China for their international architecture travels to Africa, Asia, Europe, and North America.
Website: http://www.i-mad.com/press/the-7th-mad-travel-fellowship-presentation/
18 Oct 2016
MAD Architects Building News in 2015 – 2016
China Philharmonic Hall Building, Beijing, China
Design: Ma Yansong of MAD architects with Yasuhisa Toyota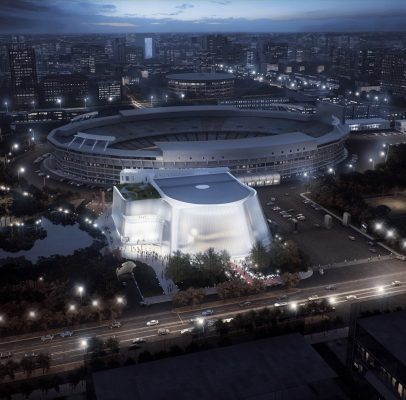 image courtesy MAD
China Philharmonic Hall Building
The concert hall building was designed in collaboration with renowned acoustic expert Yasuhisa Toyota, and will be the orchestra's first permanent residency.
11 Aug 2016
Xinhee Design Center Offices, Xiamen, China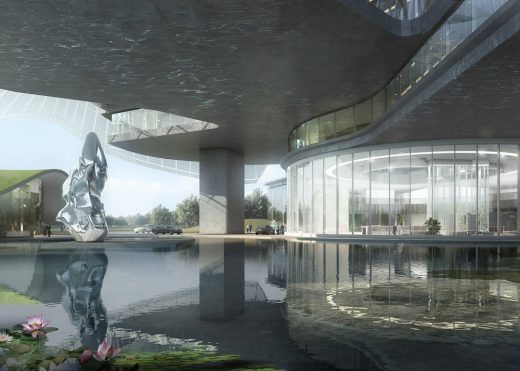 image courtesy MAD
Xinhee Design Center Building by MAD
Construction has started on a new PTFE-clad headquarters for Chinese fashion group Xinhee and its six subsidiary brands in the coastal Chinese city Xiamen. Six petals representing the six brands are located around an atrium.
20 May 2016
UNIC Housing, Clichy-Batignolles, Paris, France
Design: MAD with Accueil-Biecher Architectes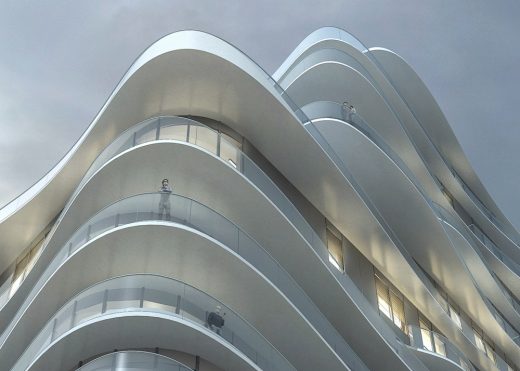 image courtesy MAD Architects
UNIC Housing in Paris by MAD
17 Dec 2015
Harbin Opera House, Harbin, Haxi District, China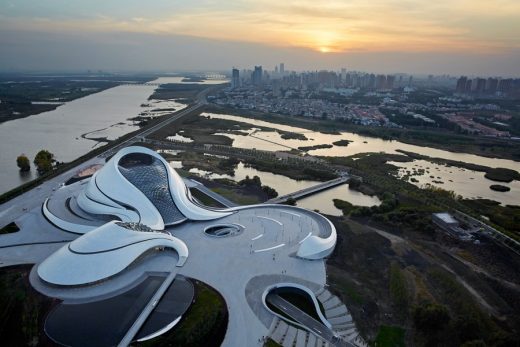 photograph © Hufton+Crow
Harbin Opera House Building
In 2010, MAD won the international open competition for Harbin Cultural Island, a master plan for an opera house, a cultural center, and the surrounding wetland landscape along Harbin's Songhua River. The sinuous opera house is the focal point of the Cultural Island, occupying a building area of approximately 850,000 square feet of the site's 444 acres total area.
19 Sep 2015
Ma Yansong Delivers Lecture at LACMA
Los Angeles, Sep.17th, 2015 – On Tuesday, September 15th, Los Angeles County Museum of Art (LACMA) hosted the "Distinguished Lecture Series" featuring Ma Yansong to a full house.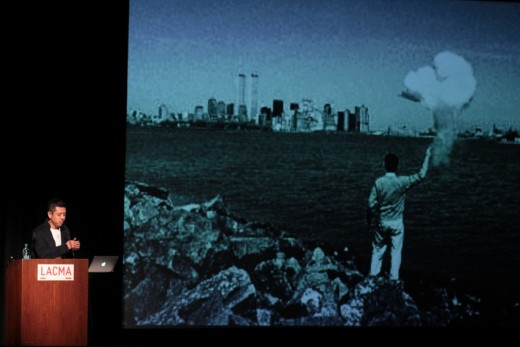 MAD Architects
The presentation emphasized Nature as the driving force in contemporary architecture with well-known MAD projects, such as Ordos Museum and Absolute Towers, in addition to forthcoming work.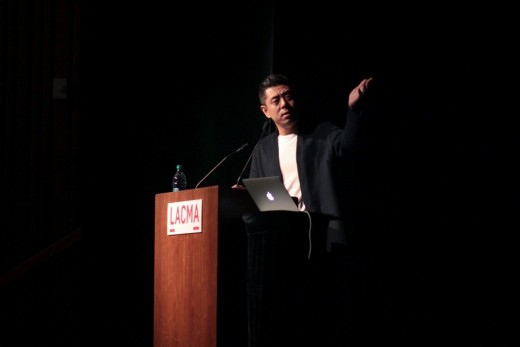 MAD Architects
Ma introduced the soon-to-be inaugurated Harbin Opera House – a project that embraces local context to join culture, art and nature in an integrated environment – with updated construction images and an exclusive peek at the finished building.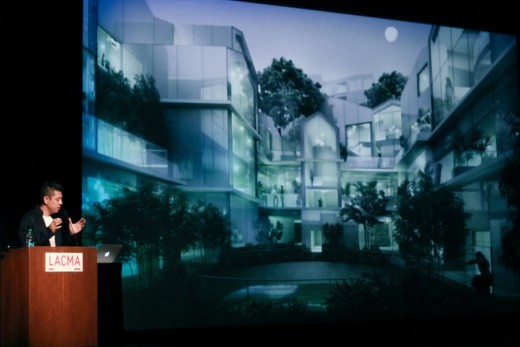 MAD Architects
The lecture embodied MAD's vision for a future city and an architecture that manifests a deep connection between humans and nature.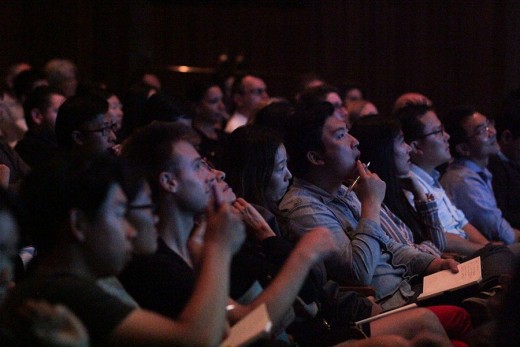 MAD Architects
Special thanks to LACMA and Francesca Garcia-Marques, along with event sponsor by Bulthaup Los Angeles.
Architecture Designs from 2013
Architecture Designs in China – latest additions to this page, arranged chronologically:
15 Jul 2013
Pingtan Art Museum, China



image from architect
Being the largest island in the Fujian province, Pingtan is also the Chinese island nearest to Taiwan. In 2010, the 'Comprehensive Experimental Zone' project in Pingtan was officially launched; the island is expected to become the primary location for trade and cultural communication between Taiwan and the mainland in the foreseeable future.
10 Apr 2013
China Wood Sculpture Museum, Harbin, China



photo : Iwan Baan
China Wood Sculpture Museum
MAD Architects unveiled the completed China Wood Sculpture Museum located in Harbin, China. The 200-meter long building, sheathed in metal, sits nestled in a densely residential area, adding a cultural and surreal essence to the surrounding urban context.
4 Mar 2013
Audi City, Beijing, China
Architect: Ma Yansong
Audi City Beijing
This project is the first collaboration between Audi and architect Ma Yansong and Audi's second concept store after London last summer. The installation at 'Oriental Plaza' in the city center of Beijing is a fusion between Audi's sophisticated vehicles built around the latest technologies.
Major Building Design by this Beijing studio
Absolute Tower, Mississauga, Canada
2008-
Absolute Tower – 'Marilyn Monroe Skyscraper'
Design of the Absolute Towers, a 95.000m2 development, nicknamed the Marilyn Monroe towers, started in 2006. The topping out of the second 50 storey tower is expected next spring while completion for both towers is scheduled for fall 2011.
MAD Architects – Key Projects
Featured Buildings by MAD Architects, alphabetical:
Beihai Fake Hills, China
2009-
Beihai Fake Hills
This development is located in the coastal city of Beihai, on a long, narrow waterfront site. The design concept combines the two typologies that usually define residential developments (high rise towers or long, low rise blocks) to create a bold new structure in the form of a long slab.
Erdos Museum, Gobi Desert, Mongolia
2008-
Erdos Museum
Hutong Bubble 32, Beijing, China
2008
Hutong Bubble 32
Sinosteel International Plaza, Tianjin, China
2008-
Sinosteel International Plaza
Phoenix Island – master planning & architecture design
2008-
More designs by MAD Architects online soon
Address: MAD Architects · No.7 Banqiaonanxiang, Beixinqiao · Dongcheng District · Beijing, BJ 100007 · China
Location: Beixinqiao, Beijing, China
MAD Architects Beijing Practice Information
Beijing-based architectural design studio, China
Beijing Architect : studio contact details
Chinese Architect – Architect Listings
Comments / photos for the MAD Architects – Architect Studio Beijing page welcome
Website: www.i-mad.com