Darwin Bucky Building Ahmedabad, Gujarat Gallery Exhibition Project, Indian Pop-Up Architecture Photos
Darwin Bucky Building in Ahmedabad
21 June 2023
Architecture: andblack design studio
Location: Ahmedabad, Gujarat, Northwestern India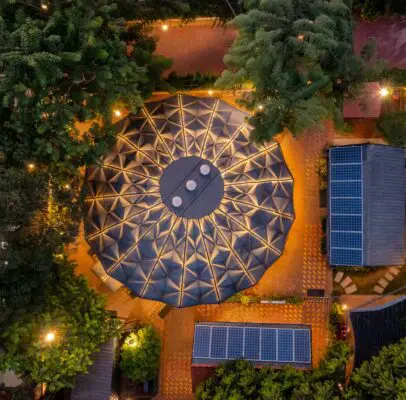 Photos by Vinay Panjwani
Darwin Bucky Building, India
andblack design studio unveils Darwin Bucky, a black box that can be used as an exhibition gallery, a town hall, an expo center, a performance arena, or even serve as a bar or a nightclub. It is designed to be placed in public gardens, exhibition grounds, or even in a city center.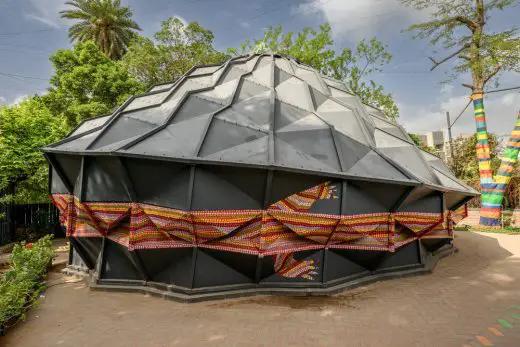 The city of Ahmedabad was chosen as the cultural context, with similar performance theaters scattered around the city. A prototype, 12 meters in diameter, was engaged through multiple cultural events to investigate user demand for an architectural product occupied as a functional black box theatre and an exhibition gallery; with a maximum occupancy of 100 people.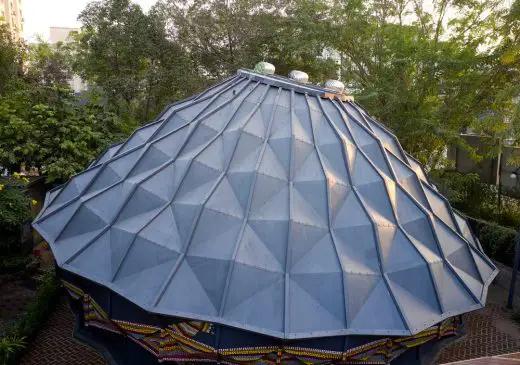 Concept & Form
As temporary visitors to this planet, it is important that we leave minimal footprints behind that may impact our future generations. Therefore, it is important to cohabit with nature, rather than 'inhabiting' it. Therefore, permanently impermanent buildings are the future.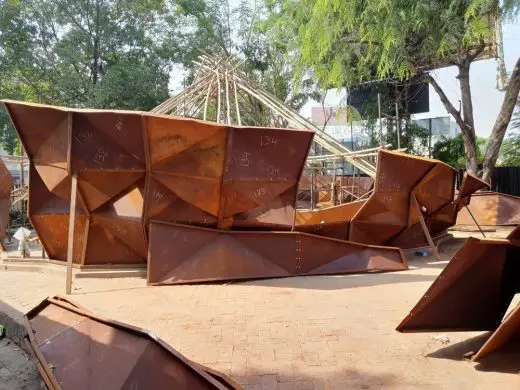 Darwin Bucky aims to strike a balance between materiality and technological advancements in the field of design, and to engage the craft knowledge of metal as a material. The design process involves highly efficient parametric models which allow customization of several variables to achieve the specified volume. The computational model can adapt to the base diameter and dynamic heights to achieve material efficiency through optimized tessellation.
Materials and Assembly
Darwin Bucky is designed as a prefabricated kit of parts that can be dry-assembled on-site and disassembled when required. It is made of legacy materials like steel, wood, aluminum, and glass, and the durability and cost of Bucky are comparable to that of a conventional building. It does not require a plinth or a foundation to build on, nor does it require heavy equipment for transportation and erection. These unique factors make the Darwin product ideal for locations where road access is difficult, electricity is scarce, and excavation is undesirable.
The form ideation is guided by its structural performance. The aesthetics are thus a derivative of a performative design approach. Darwin Bucky is designed to encapsulate a space with half the material required by conventional structures, thus optimizing the use of steel to achieve material efficiency.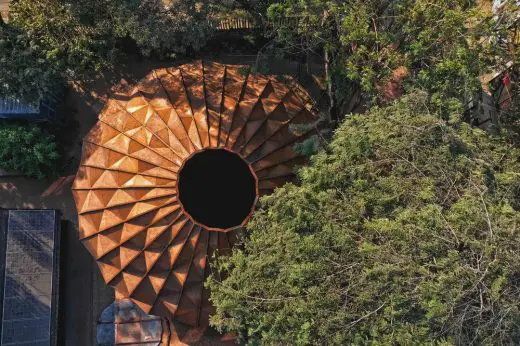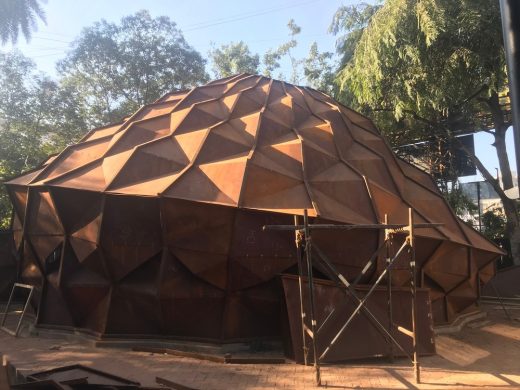 Lightweight, insulated modular panels are prefabricated and flat-packed for efficient transportation. In addition to skeletal stability, the conical shape and triangulated planes on the fascia respond well to the desired acoustics.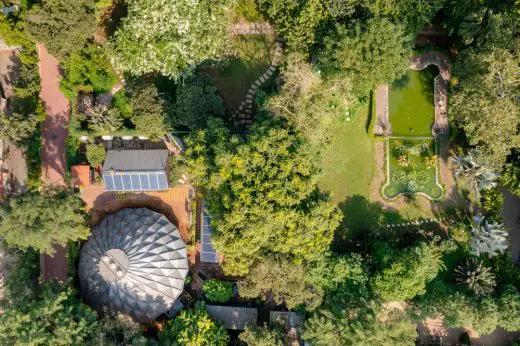 Structure
The unique aesthetic language is achieved with an intention of structural honesty. The spacious volume of 520m³ is achieved through a unique shell structure that is assembled on-site. A flat-pack system of 1mm thick folded metal insulated panels can be transported in a shipping container. Ridges mapped throughout the form anchor the structure to the base pedestal. The tectonics allows for an open floor plan of 116m²,
while the dynamic silhouette of the space breaks monotony. This further contributes to a unique spatial experience for its occupants. The ridges of the structure are designed for load distribution, electrical conduits, and ambient lighting, with unique joinery for waterproofing.
The doorway is placed at the highest point on the intermediate ridge, extending outwards to form a threshold. A brick base binds the staggering edge and compliments the stark nature of the metal structure. Windows are provided on the bottom half of the form for air circulation, and a unique window panel is designed to pivot along its central axis; aligning seamlessly with the tessellated structure.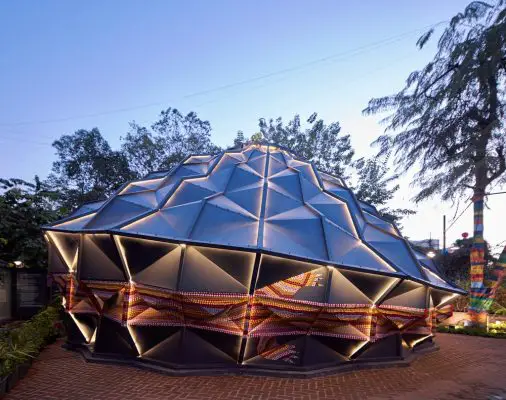 Services
To support a multi-functional space, Darwin Bucky is accompanied by an in-built lighting system, audio-visual set-up, exhibition framework, and air-conditioning system. All services are integrated to develop a unique structure, adaptive to any climatic condition.
Impact
Darwin Bucky redefines the practice of architecture as a product. It enables the investor to capitalize on today's expensive real estate by organizing a variety of events at the same space, or reusing the same enclosure at multiple locations. The system's adaptability allows the designer to develop multiple iterations by adjusting the size of 12 meters or 18 meters, and by forming a single unit or multiple interconnected units.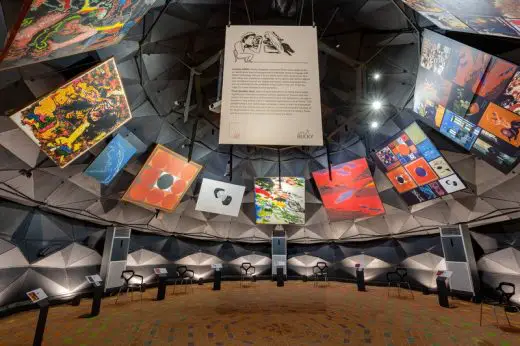 During the process of constructing this unusual form, fabricators and installers acquired new skills and expanded their expertise. Furthermore, while using Darwin, an artist can create a variety of configurations of the display, stage, and audience interactions, and let the audience experience a new sight in every visit from this versatile space. The project thus becomes a positive activity generator where the community can come together, interact, and revive the connection lost during the pandemic.
Although a diverse team of amalgamated designers, digital fabricators, and local craftsmen brought the project together, it became truly interactive when artists painted "Gond" on the outer surface, a traditional painting technique from a remote village in India, with mythological characters as a commentary on today's society.
Darwin Bucky Building in Ahmedabad, India – Building Information
Architecture Firm: andblack design studio – https://www.darwinlivelight.com/
Client: Abhay Mangaldas, Founder, Darwin
Principal Architect: Jwalant Mahadevwala
Structural Consultant: Schafbock design+workshop
Lighting and Interior Design: Abhay Mangaldas
*Product sold by Darwin Projects
Silver Award, Design Intelligence Award (DIA) 2022
Bronze Prize, Universal Design, Design Educates Awards 2023
About andblack design studio
andblack design studio is an interdisciplinary design studio working in the field of architecture, interiors, art installations, and furniture design to deliver solutions at all scales. The studio focuses on the use of parametric tools and physical modeling as the primary way to evolve design.
andblack's philosophy lies in designing the process that leads to the 'solution'. It is their utmost belief that the design process should be robust enough to inform all stages of design; from concept to detail design.
The architecture practice strives to constantly challenge itself to rethink these processes to suit each unique project. andblack's core beliefs guide the team to achieve efficient buildings that deploy intelligent systems. For Jwalant and Kanika, everything that moves them emotionally, inspires them. From complex interactions present in nature, to simple everyday concepts of life, andblack prides itself in conceiving and delivering projects that can be both iconic and meaningful.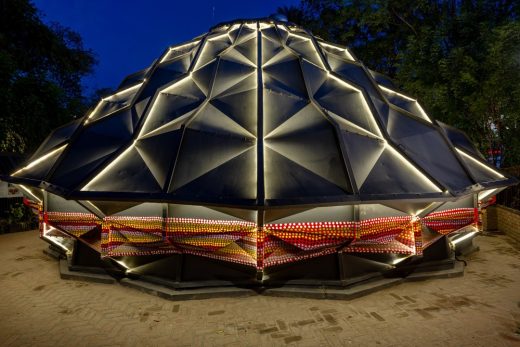 Photography: Vinay Panjwani
Darwin Bucky Building in Ahmedabad images / information received 210623 from v2com newswire
Location: Ahmedabad, Gujarat, northwestern India, South Asia
Gujarat Properties
Gujarat Buildings – Selection
Interstellar, Ahmedabad
Architecture: Sanjay Puri Architects


photo : Abhishek Shah
Interstellar, Ahmedabad, Gujarat
Narmada Bio Chem HQ, Ahmedabad
Architecture: Openideas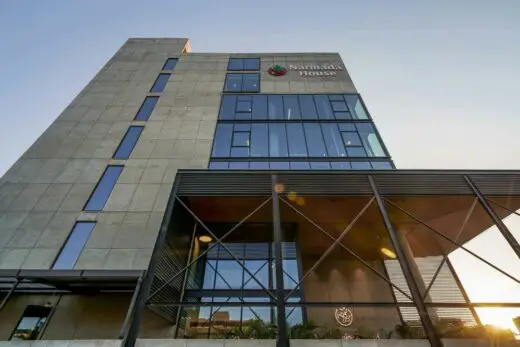 photos : Sebastian Zachariah-Photographix and Panchkon- Harsh pandya
Narmada BioChem HQ, Ahmedabad, Gujarat
Bavlu Weekend House, Ahmedabad
Architecture: UJJVAL FADIA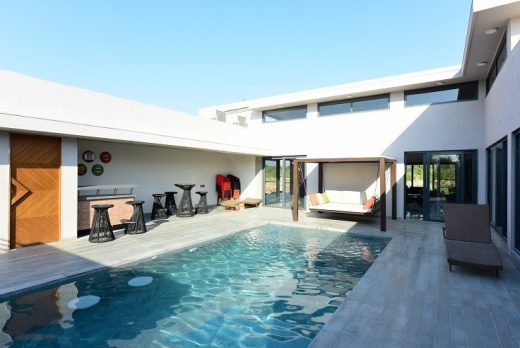 photograph : Subhash Patil
Bavlu Weekend House in Ahmedabad, Gujarat
Verandah House in Ranchodpura, outskirts of Ahmedabad
Architects: Arpan Shah Architect, Modo Design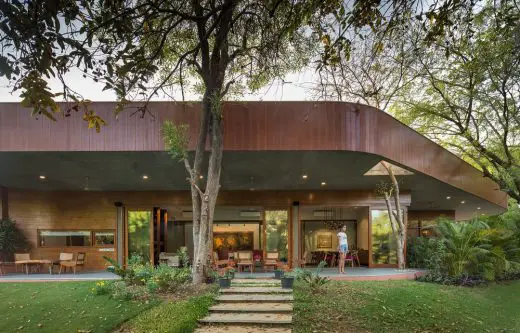 photo : Bharat Aggarwal
Verandah House in Ranchodpura, Ahmedabad
The House Of Secret Gardens
Architecture: SPASM Design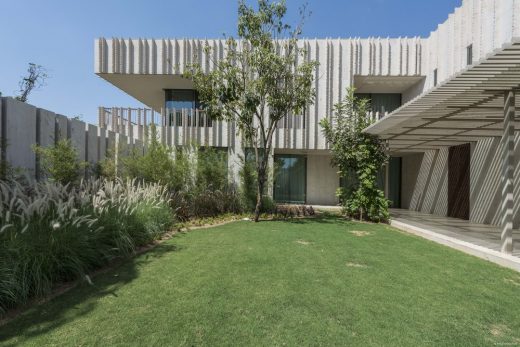 photography : Edmund Sumner, Umang Shah and Photographix – Sebastian Zachariah & Ira Gosalia
The House Of Secret Gardens in Ahmedabad
Indian Architecture
India Architecture Designs – chronological list
Hexalace, Mohali, Punjab, Northwest India
Architects: Studio Ardete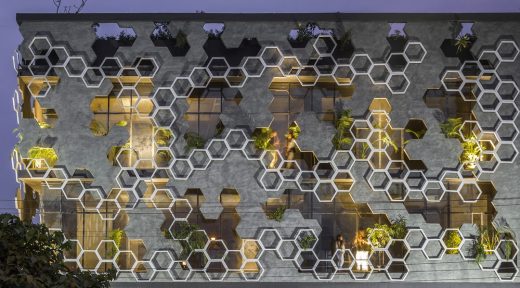 photograph : Ar.Purnesh Dev Nikhanj
New Building in Punjab
The Street, Mathura, Uttar Pradesh, North India
Design: Sanjay Puri Architects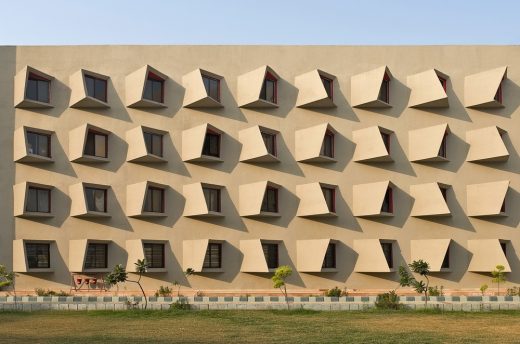 photo : Dinesh Mehta
The Street in Mathura
Indian Architect : architectural office contact details on e-architect
Comments / photos for the Darwin Bucky Building, Ahmedabad, India designed by andblack design studio page welcome