Dutch Architecture News 2023, New Buildings in Holland, Construction Design, NL Property Images
Dutch Architecture News
Contemporary Netherlands Building Links: Holland Built Environment Updates
post updated 20 February 2023
Netherlands Architecture Designs – chronological list
Amsterdam Building Developments – chronological list
Rotterdam Building Developments – chronological list
Dutch Architectural News in 2023
19 Feb 2023
M&T, Diemen, Amsterdam
Design: M3H Architects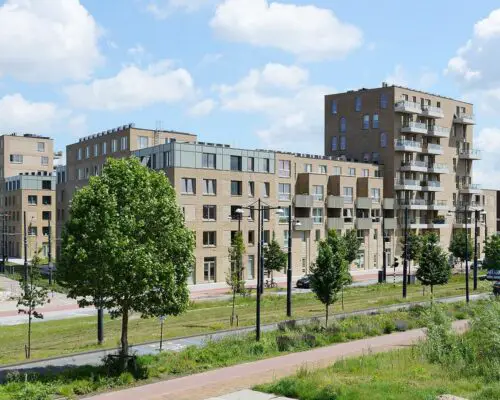 photo : M3H Architects
M and T Social Houses Diemen, Holland
29 Jan 2023
Stationspostgebouw, Den Haag
Design: KCAP and Kraaijvanger Architects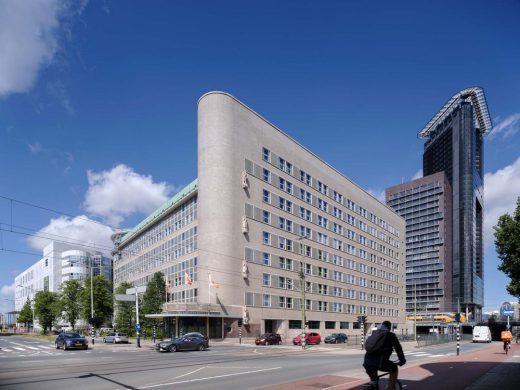 photo © Ossip van Duivenbode
Stationspostgebouw, The Hague
KCAP and Kraaijvanger Architects transformed the Stationspostgebouw, a former postal sorting centre next to the Hollands Spoor train station in The Hague, into a sustainable and social work environment for the 21st century while respecting the original architecture. Renovation of the national monument was commissioned by LIFE, SENS real estate and PostNL, the national postal service and former occupant.
24 Jan 2023
Villa BW, Schoorl
Design: Mecanoo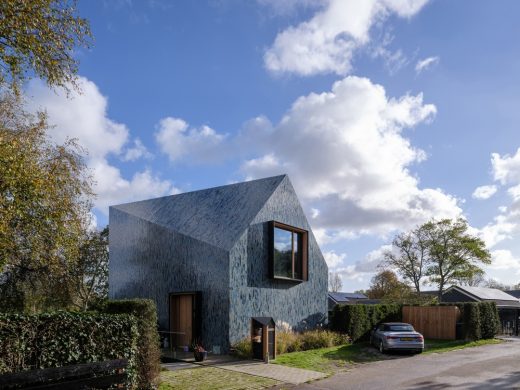 photo : Ossip Architectuurfotografie
Villa BW, Schoorl
Where the rolling dune landscape flows into the lower-lying polder terrain of the hinterland. The naturally sloping landscape embraces Villa BW, with a building volume characterised by a double-curved roof coupled with an unmistakable expression of the facade.
20 Jan 2023
Reviving the Bunker, Eindhoven, North Brabant
Design: Powerhouse Company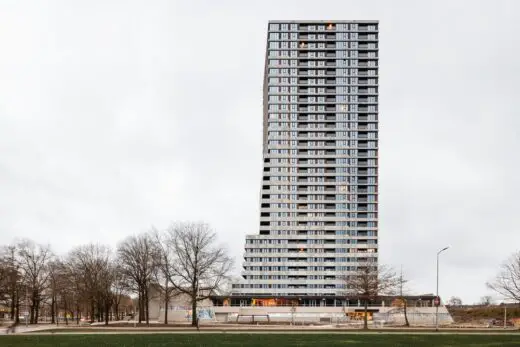 photo : Sebastian van Damme
The Bunker Tower Eindhoven
Hugh Maaskant's 1970s classic was the original mensa and fraternity building of TU Eindhoven. The students nicknamed it the Bunker given to its brutalist structure, and n recent years it has fallen into disrepair, and only narrowly escaped demolition.
9 Jan 2023
Panorama Penthouse
Design: Bureau Fraai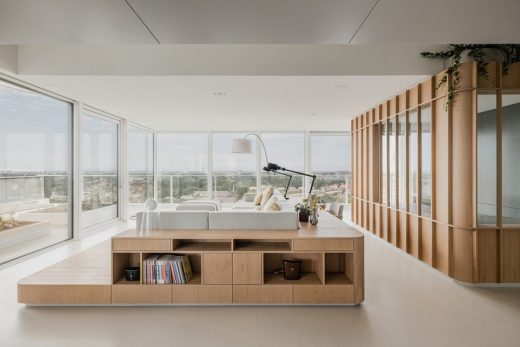 photo : Flare Department
Panorama Penthouse
Bureau Fraai designed Panorama Penthouse, a luxurious penthouse with panoramic views towards both the seaside and the city centre in a former office building, that had been transformed into a high-end residential building. To maintain the 180-degree views from every spot in the penthouse Bureau Fraai decided to introduce free-standing oak volumes creating an open floor concept instead of a traditional layout with walls blocking the view.
2 Jan 2023
New Brooklyn, Almere, Holland
Design: M3H Architects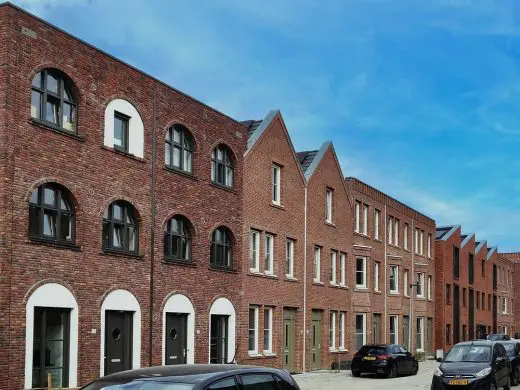 photo : M3H Architects
New Brooklyn Apartments, Almere
The first phase of New Brooklyn is complete! The new city district is taking shape now that the first 235 homes have been built. Together with INBO, we made the design for the construction fields A1, A3 and A5. Commissioned by Heijmans and de Alliantie.
Dutch Architecture News in 2022
Contemporary Dutch Architectural News, chronological:
7 Dec 2022
Schoenenkwartier Museum, Waalwijk, North Brabant, Holland
Design: CIVIC Architects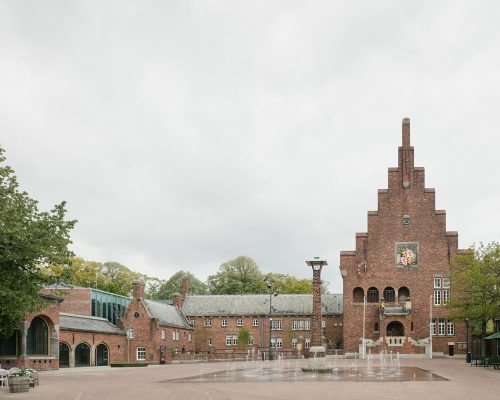 photo : Stijn Bollaert
Schoenkwartier Shoe Museum, Waalwijk NL
This is a new and innovative knowledge centre for shoe design, shoe production and shoe fashion in Waalwijk, the Dutch leather and shoe city. It is housed in a listed building complex from the 1930s, by architect Alexander Kropholler, which has been partly renovated, transformed and expanded.
13 Nov 2022
Amare, Spuiplein, Den Haag
Design: NOAHH | Network Oriented Architecture with JCAU and NL Architects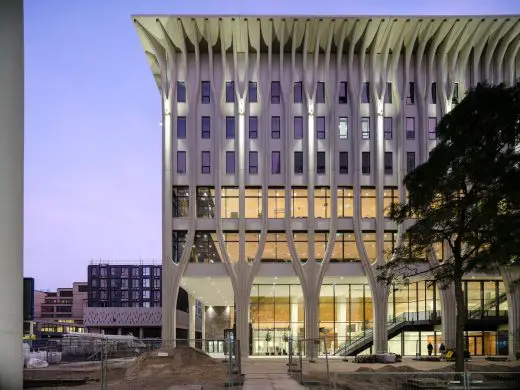 photograph © Ossip
Amare Den Haag Building
11 Nov 2022
SuperHub Meerstad, Groningen
Architects: De Zwarte Hond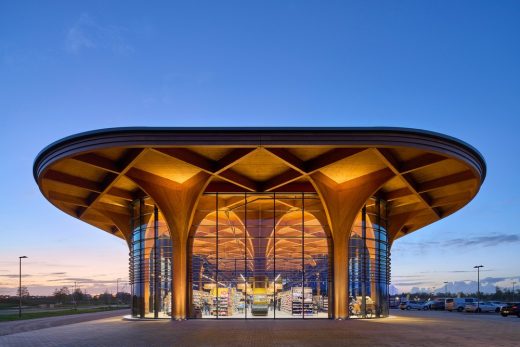 photographs : Ronald Tilleman, Ronald Zijlstra / De Zwarte Hond
SuperHub Meerstad, Groningen
Inspired by the mission to better connect the burgeoning Groningen district, and to transform it into an interactive social space, De Zwarte Hond was commissioned by real estate developer MWPO to design a multifunctional and adaptive central building for the neighbourhood. The SuperHub Meerstad was inaugurated on November 2nd.
20 Oct 2022
Freedom Museum, Groesbeek, Gelderland Province
Design: architectural studio ZJA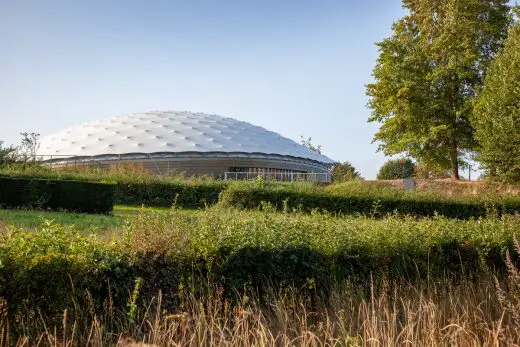 photograph © ZJA
Freedom Museum Groesbeek
The Freedom Museum in Groesbeek the Netherlands has been awarded the prestigious Architecture MasterPrize for 2022. The museum is housed in a Shaded Dome, an innovation of Shaded Dome Technologies, a company founded by architectural studio ZJA, Royal HaskoningDHV and Polyned.
13 Sep 2022
WAF 2022 Finalists for the Special Prizes News
World Architecture Festival (WAF) has announced the 2022 Special Prize shortlist ahead of this year's festival. The projects shortlisted for the Special Prizes have been selected from across the greater WAF Awards shortlist.
The esteemed Engineering Prize is awarded by a specialist jury to a project that marries great architecture and engineering to push the envelope in building design. The nine finalist projects showcase the most striking, unique, and sophisticated structures, whose complex engineering enhance the user experience and provide sustainable solutions in an ambitious way, and this large Dutch building is shortlisted:
Westfield Mall of the Netherlands in Leidschendam, The Netherlands, by MVSA BV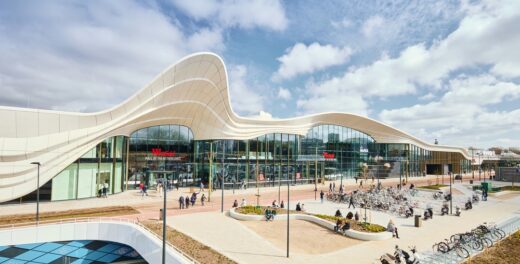 photograph © Jon IIsraeli
17 July 2022
Dutch Mining Museum, Heerlen, Limburg, North Brabant
Design: Tinker imagineers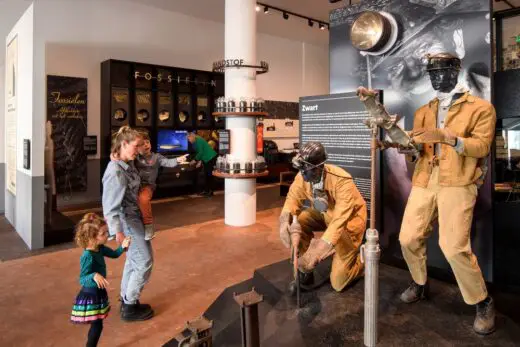 photo : Mike Bink
Dutch Mining Museum, Heerlen Limburg
A department store disguised as a museum, or a museum disguised as a department store? The building of the once-famous Kneepkens department store in Heerlen, in the south of the Netherlands, accommodates the new Dutch Mining Museum.
14 July 2022
Koekamp Visitor Center, Den Haag
Design: Powerhouse Company and DELVA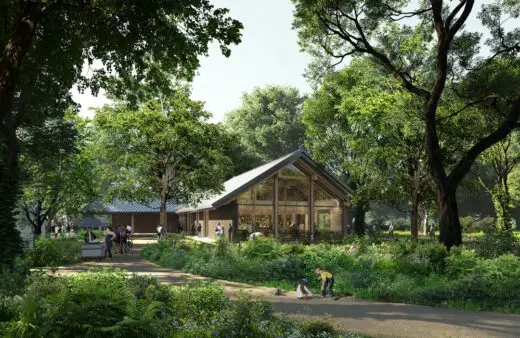 photo : Adrià Goula
Koekamp Visitor Center, The Hague
Rotterdam-based architects Powerhouse Company and Amsterdam-based DELVA combine architecture and nature in their seamless design for the new Koekamp Visitor Center, which will play an important role as a gateway to the new Hollandse Duinen national park. It opens part of Koekamp to the public, a green expanse that reaches into the heart of The Hague and is home to deer and storks.
30 June 2022
Floating Museum Pavilion, Almere
Design: Studio Ossidiana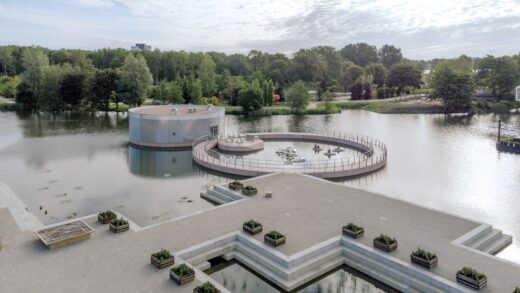 photo : Riccardo de Vecchi for M
Floating Museum Pavilion, Almere
The Dutch city of Almere was built on reclaimed land where once was the Zuiderzee: a shallow sea bay in the Netherlands. The first house in this planned New Town was completed in 1976.
4 July 2022
Valkenhorst New Town, Katwijk
Design: KCAP Architects&Planners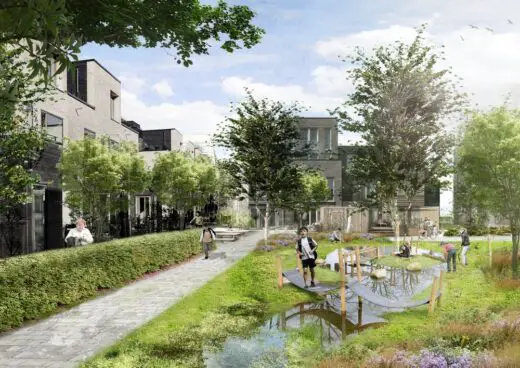 renders and drawings © KCAP + Felixx Landscape Architects & Planners
Valkenhorst New Town, Katwijk
The Katwijk City Council has approved the zoning plan for Valkenhorst, a new town on the site of the Marine Vliegkamp Valkenburg in Katwijk, the Netherlands. The transformation of the former military airfield is one of the largest residential developments in the Randstad, and makes an important contribution to the demand for housing in the Netherlands.
23 Jun 2022
Julianaplein Vaals, Limburg, North Brabant
Design: Martens Willems & Humblé Architecten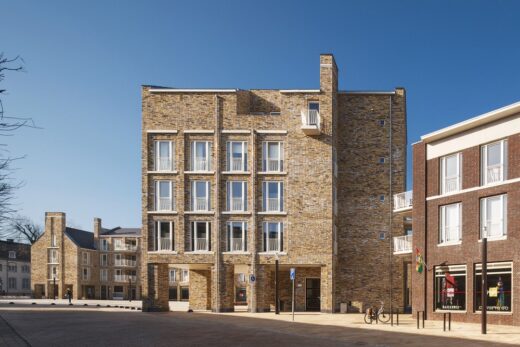 photo : Arjen Schmitz
Julianaplein Vaals, Limburg, North Brabant
How can a store and residential block in the social housing sector, which will partly determine the image of the new Koningin Julianaplein, become a natural part of the protected villagescape of Vaals? Because if buildings could speak, our block will have to enter into a strong dialogue with its surroundings.
16 Jun 2022
Centraal Beheer, Apeldoorn
Design: MVRDV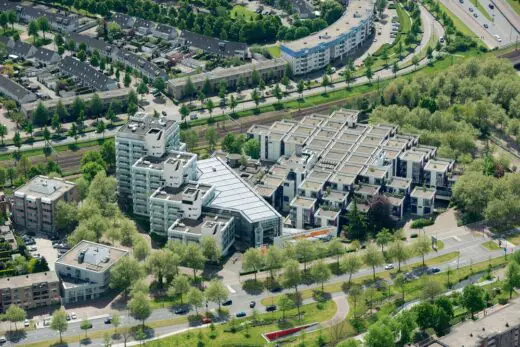 photo courtesy of Certitudo Capital – aerial view of the Centraal Beheer building and the Pakhoedtorens taken in 2015
Centraal Beheer Building, Apeldoorn NL
The Centraal Beheer building by Herman Hertzberger in Apeldoorn is a well-known project among architects worldwide. Designed for an insurance company, the office is widely seen as one of the high points of the structuralist movement.
15 Jun 2022
Les Mouleurs, Maastricht, province of Limburg
Design: Martens Willems & Humblé Architecten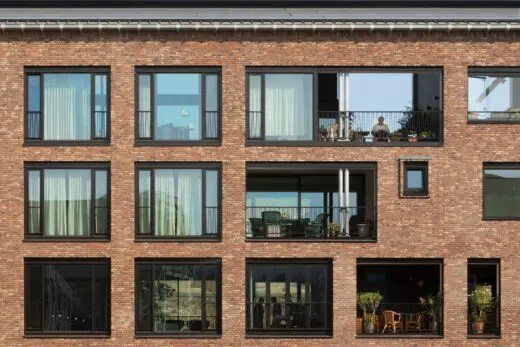 photo : Arjen Schmitz
Les Mouleurs, Maastricht Housing
21 Apr 2022
Strijp-S, Eindhoven, Nederland, Torenallee – Ir. Kalffstraat, Eindhoven, North Brabant
Design: Orange Architects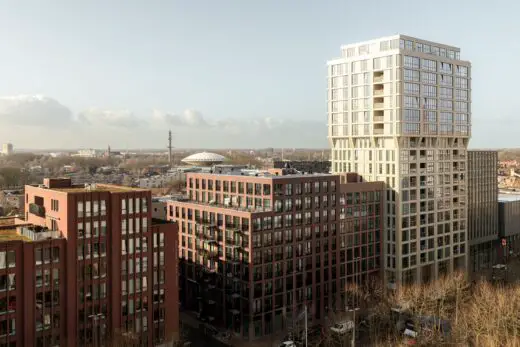 photo : Sebastian van Dammee
S-West Eindhoven Strijp-S
S-West is located in the heart of the former Philips site known as Strijp-S, just to the north of the centre of Eindhoven. Thanks to initiatives by Sint Trudo housing association, and on the basis of a master plan by West 8, the area has in recent years been transformed into a new urban district, which is increasingly becoming a vibrant and trendy part of Eindhoven, the 'city of light'.
13 Apr 2022
Floriade Expo 2022
Design: MVRDV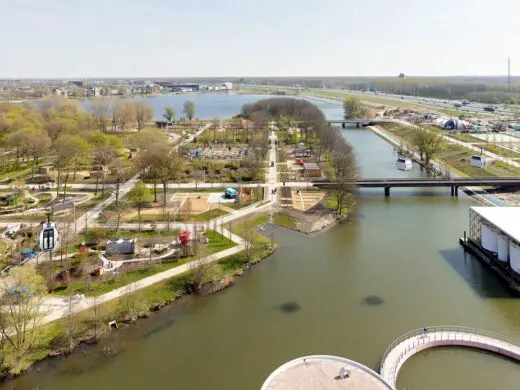 photo © Walter Herfst
Floriade-2022 Expo Almere masterplan
On April 14th the Floriade Expo 2022, the International Horticultural Exhibition held in the Netherlands once every 10 years, opens in Almere. King Willem-Alexander of the Netherlands opened the site today, as final additions were being made to the pavilions and planting. For six months, the 60-hectare Floriade park on the Weerwater will showcase the latest horticultural developments from around the world.
1 March 2022
Westfield Mall of the Netherlands, Weigelia 48, 2262 AB Leidschendam
Design: MVSA Architects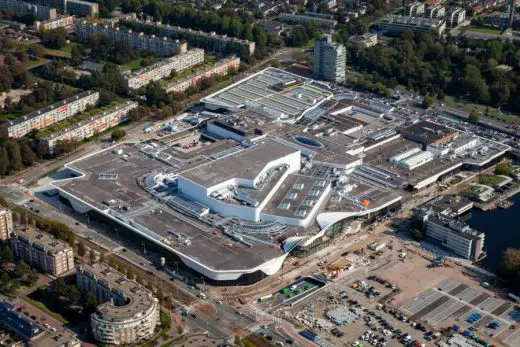 aerial photo courtesy of architects office
Mall of the Netherlands in Leidschendam, NL
MVSA Architects twice awarded with the highest honour in the category Retail and Leisure architecture, for the design of the Westfield Mall of the Netherlands, at the International Property Awards 2021-2022.
1 March 2022
Westfield Mall of the Netherlands – Awards News, Weigelia 48, 2262 AB Leidschendam
Design: MVSA Architects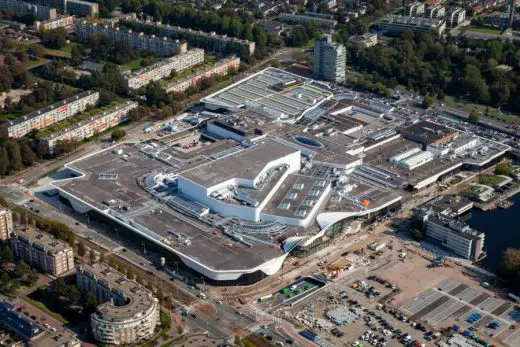 aerial photo courtesy of architects office
Mall of the Netherlands in Leidschendam, NL
MVSA Architects twice awarded with the highest honour in the category Retail and Leisure architecture, for the design of the Westfield Mall of the Netherlands, at the International Property Awards 2021-2022.
20 Feb 2022
Canon Production Printing HQ, Venlo, Limburg
Design: BroekBakema architects and M+R interior architecture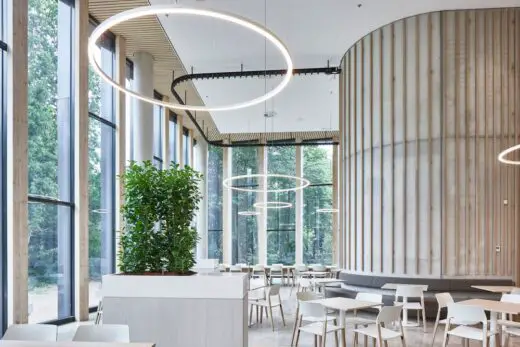 photo : Herman de Winter
Canon Production Printing HQ, Venlo, NL
The building for the new CANON Production Printing Netherlands headquarters Green Landmark, designed by BroekBakema architects and M+R interior architecture, is based on Canon's Kyosei philosophy: living and working together for the common good.
15 Feb 2022
Polyphemos, Klevarie, Maastricht, province of Limburg
Design: Martens Willems & Humblé Architecten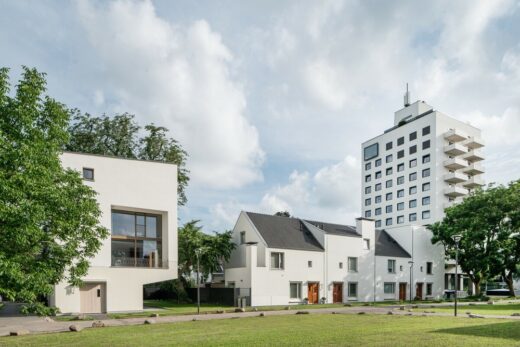 photo : Philip Driessen
Polyphemos House, Klevarie Maastricht
3 Feb 2022
Gymnasium Beekvliet, Sint-Michielsgestel, North Brabant
Design: MVRDV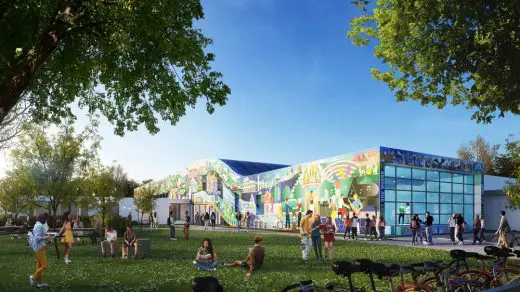 visualisations : Antonio Luca Coco, Angelo La Delfa, Luana La Martina, Gianlorenzo Petrini
Gymnasium Beekvliet, North Brabant
Two alumni of the Gymnasium Beekvliet – MVRDV founding partner Winy Maas and Theobert van Boven of Van Boven Architecten – are leading the transformation of their old secondary school in the Dutch village of Sint-Michielsgestel. The main element of the design by 'Team Old Beekvliet' is a colourful, flowing addition that reaches out into the school's plaza and considerably improves circulation, creating a new focal point at the heart of the building.
19 Jan 2022
A Circular Cube, Tilburg
Architect: Powerhouse Company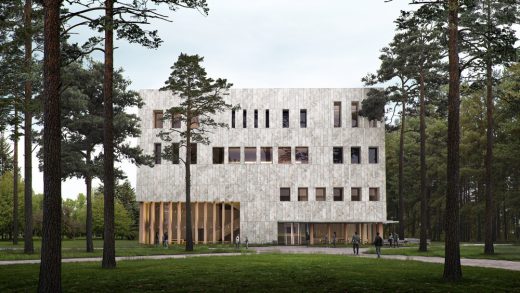 image Courtesy architecture office
Circular Cube, Tilburg University Lecture Hall
Powerhouse Company has completed its design for A Circular Cube, the Netherlands' first mass timber university building. The new energy-neutral building for Tilburg University sits on a small footprint, and contains fourteen lecture rooms, self-study areas and a foyer, set within a wooded landscape.
19 Jan 2022
3D Concrete Printed, Den Helder
Architects: Kokon Architecture & Urban Design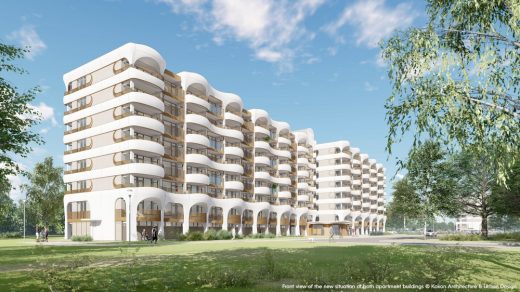 picture © Kokon Architecture & Urban Design
3D Concrete Printed Building, Den Helder, NL
A world premiere for Kokon Architecture & Urban Design, Helder Vastgoed and Bruil: this month, the upgrading of two dated apartment buildings in Den Helder, the Netherlands, will start by means of 3D printed concrete balconies and widened galleries. The project will be carried out while apartments remain inhabited.
More Dutch Architecture News on e-architect soon
Dutch Architecture News 2021
23 Dec 2021
Oikoa, Spinhuisbredehoek 10, Zwolle, eastern Netherlands
Architects: concrete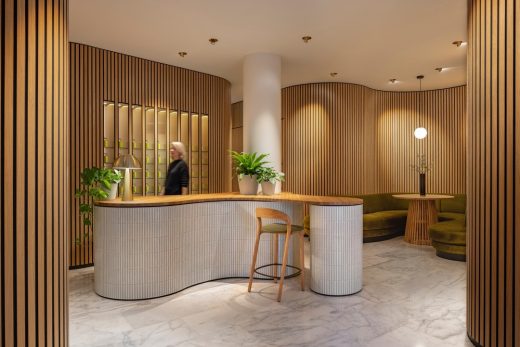 photo : concrete – wouter van der sar
CitizenM Shoreditch
concrete designed the interior and the graphic identity, and the name Oikoa is all about inner self and wellbeing. Oikoa, the Finnish word for 'smooth correction, provides an introverted realm of calm. A place that invites you to leave the outer world behind, and to recharge in a natural and harmonious environment.
15 Dec 2021
Westergouwe Community Centre, Gouda, South Holland
Architects: BDP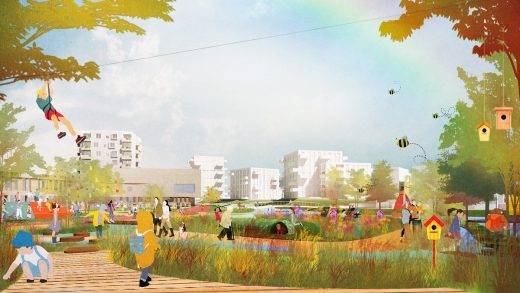 image courtesy of architects practice
Westergouwe Community Centre Gouda
The Westergouwe Community Centre will provide one of the largest child centres in the Netherlands including a primary school for 1,200 children with additional daycare services. The development will also provide a modern sports hall, community program and 40 affordable apartments.
8 Dec 2021
Holland Casino, Floralaan, Venlo
Design: MVSA Architects ; Concept Design Interior: Gensler, Las Vegas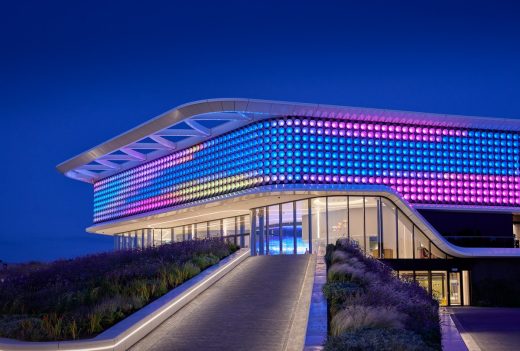 photo © Corné Clemens
Holland Casino, Floralaan, Venlo
Shaped like a giant stylized flower, with its grounds forming the outer petals and the building itself the inner corolla, the new casino references the famous Dutch flower industry and acts as an architectural 'welcome to the Netherlands' sign – Venlo is located close to the German border. The building is easily visible from the road, and when dark its colour-changing interactive LED façade is a spectacular eyecatcher.
25 Nov 2021
Ronald McDonald Family Room
Design: EGM architects
Ronald McDonald Family Room Nijmegen
2 November 2021
Kade Noord, Zutphen, near Arnhem, The Netherlands
Design: KCAP, Zecc Architecten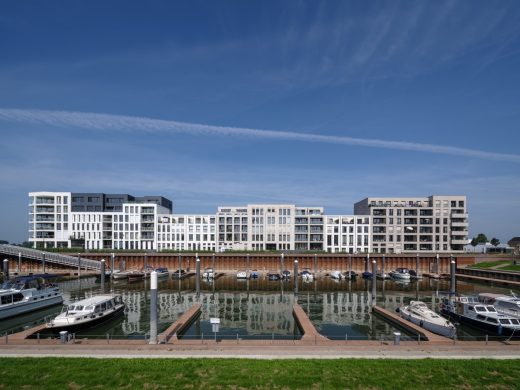 photo © Ossip van Duivenbode
Kade Noord Noorderhaven Zutphen
The residential urban block Kade Noord in Noorderhaven Zutphen development area is completed. KCAP and Zecc Architecten have designed the closed building block with 134 dwellings around a communal courtyard and half-sunken parking facilities in commission of developer Heijmans Vastgoed. Zecc Architecten is the author of 81 dwellings and was responsible for the technical elaboration of the entire project; KCAP designed the corner block with 53 apartments and the landscaped courtyard.
29 Oct 2021
Gemeenteflat Housing, Maastricht, province of Limburg
Design: Humblé Martens & Willems Architecten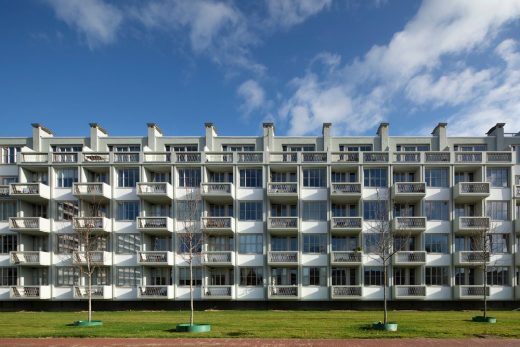 photo : Arjen Schmitz
Gemeenteflat Housing Maastricht
22 Oct 2021
Appartmentvilla Parklaan, Sittard
Design: Humblé Martens & Willems Architecten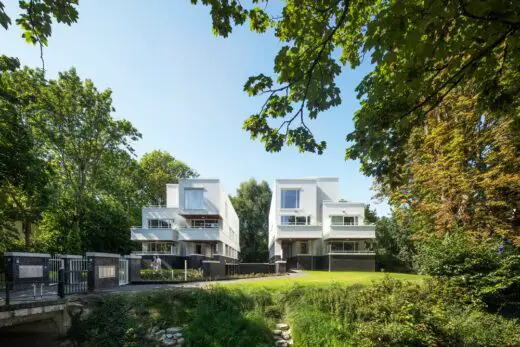 photograph : Arjen Schmitz
Appartmentvilla Parklaan, Sittard
The Parklaan is considered by many Sittard residents to be the most beautiful or the most chic residential street in Sittard. Located close to the city center and built with stately villas in the 1920s, three of which have been designated national monuments and 5 other buildings are municipal monuments.
28 May 2021
The Bunker, Eindhoven, North Brabant
Architecture: Powerhouse Company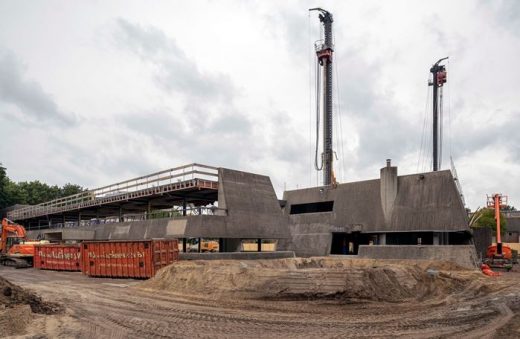 photos by Marcel IJzerman & Christian van der Kooy
The Bunker Apartment Tower Eindhoven
'As part of the University of Technology, the Bunker is essential to Eindhoven's heritage and the city's growth into a center of technology, design, and knowledge.' Restoring and retaining Hugh Maaskant's Bunker, a former student center, was a huge priority for us. Through reuse and retrofit we rescued the Brutalist icon from the brink of ruin, and extended its life for many decades to come.
17 September 2021
CollectionCentre Netherlands, Vathorst district, Amersfoort
Architect: cepezed, NL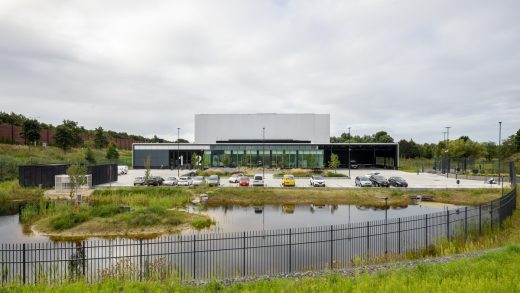 photo : Lucas van der Wee
CollectionCentre, CC NL Amersfoort Building
The non-permanently exhibited art and heritage pieces of the Rijksmuseum, the Netherlands Open Air Museum, Paleis Het Loo and the Cultural Heritage Agency of the Netherlands are brought together in the CC NL. cepezed and cepezed interior designed the building, in close collaboration with ABT for the stability, Valstar Simonis for the installations and Peutz for building physics and sustainability.
post updated 17 September 2021 ; 6 July 2020
Assen Station
Design: Powerhouse Company + De Zwarte Hond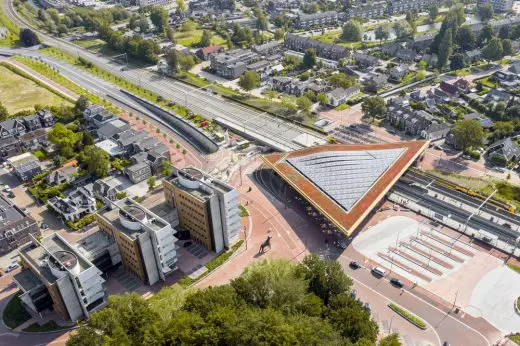 photo : Egbert de Boer
Assen Station Building
Assen Station has been completely transformed thanks to an extraordinary wooden structure. The new station is defined by a triangular wooden roof that appears to float above the several buildings below.
25 May 2021
Tiny Holiday Home, Vinkeveen
Architects: i29 interior architects & chris collaris
Tiny Holiday Home in Vinkeveen Property
12 May 2021
Congress and Conference Centre
Design: UNStudio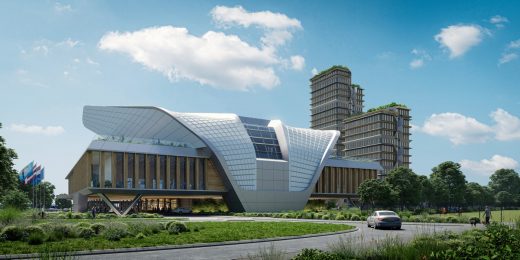 visualisations : Flying architecture
Elysion Congress Centre Eindhoven Brainport
Brainport Eindhoven is currently one of the leading innovative technology regions in Europe. To enhance its international positioning as an inspiring region of technology, design and knowledge, the Dutch city of Eindhoven has the ambition to realise a clearly identifiable, new, state of the art congress and conference centre.
6 May 2021
Inntel Hotels Den Haag Marina Beach, The Hague
Architects: KCAP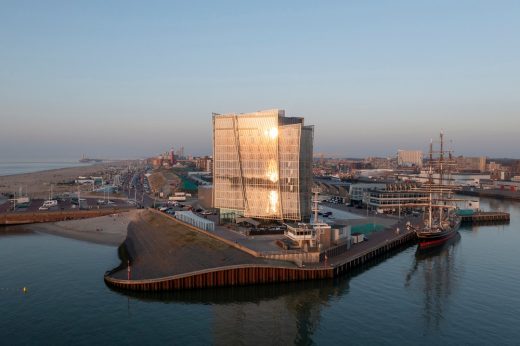 photo © Ossip van Duivenbode
Inntel Hotels Den Haag Marina Beach
The 4-star Inntel Hotels Den Haag Marina Beach building located at the tip of the boulevard of Scheveningen, the famous seaside district of The Hague in The Netherlands, is a beautiful landmark on the harbourside of the boulevard. The project is a development of VolkerWessels Vastgoed in cooperation with the municipality of The Hague and is part of the redevelopment of the Noordelijk Havenhoofd in Scheveningen.
4 May 2021
Kavel 5 Gouda Building
10 Apr 2021
HOLT Nature Inclusive Living, Groningen
12 Mar 2021
Villa JM, North Brabant
10 Mar 2021
Villa CG, New Enschede House
15 Feb 2021
Loenen National War Cemetery Exhibition, Utrecht
10 Feb 2021
Brabantbad Apartments, Prins Hendrikpark
27 Jan 2021
Spoorzone Masterplan, Dordrecht
More contemporary Dutch Architecture News online here at e-architect soon
Dutch Architecture News 2020
4 Dec 2020
Waterfall of Light, Assen
3 Dec 2020
Villa Fifty-Fifty, Strijp-R, Eindhoven
Architects: Studioninedots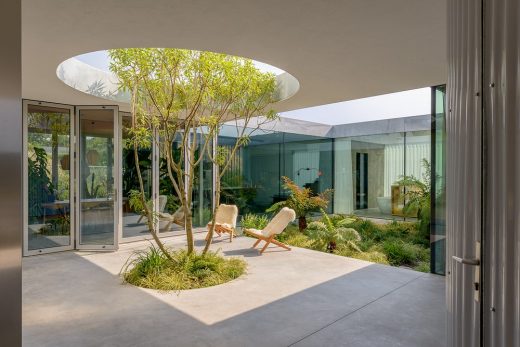 photo : Frans Parthesius
New Villa in Eindhoven
Located on the green edge of Strijp-R in Eindhoven, Studioninedots designed family home Villa Fifty-Fifty as a pavilion where volumes alternate between open and closed, and where life happens just as much outdoors as indoors: a new typology for maximising visual and family interaction.
25 Oct 2020
KeenSystems HQ, Gemert
Architects: Denkkamer architectuur & onderzoek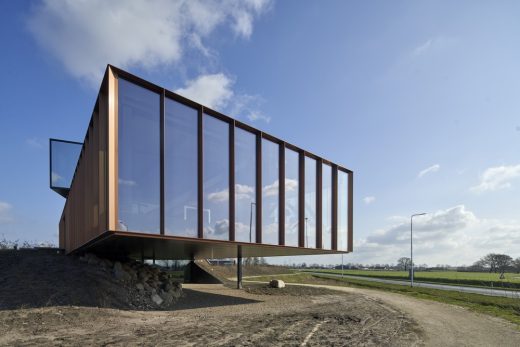 photograph : René de Wit
KeenSystems HQ
KeenSystems headquarters is situated along the ring road around the village of Gemert. The decision to not establish their new office building for the rapidly expanding telecom provider in the city of Eindhoven comes from the desire to operate from a very much green and inspiring environment.
21 Oct 2020
Outside In, Hilvarenbeek
Architects: i29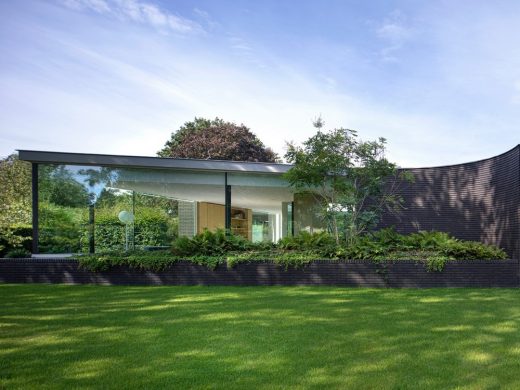 photograph : Ewout Huibers
House in Hilvarenbeek
This is a generous villa is made for a family of four, allowing for all rooms to be horizontally connected. A sustainable and spacious home that blurs the lines between interior and exterior space.
11 Oct 2020
Student Hotel Delft Building
30 Sep 2020
KB building Industriepark Kleefse Waard, Arnhem
11 Sep 2020
Tiny Holiday Home in Vinkeveen Property
20 Aug 2020
Office Brabant, Oostzaan, Zaanstreek, province of North Holland
Architects: Studio Piet Boon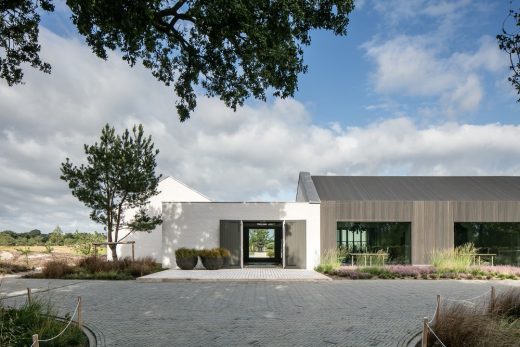 photography : Thomas de Bruyne
Office Brabant in Oostzaan
Studio Piet Boon was commissioned to create, Office Brabant – a timeless and functional total concept for a Dutch office space. The design intent for this barn-like structure was inspired by farms in the surrounding area.
3 July 2020
Het Platform Community Building, Utrecht
Architects: VenhoevenCS architecture+urbanism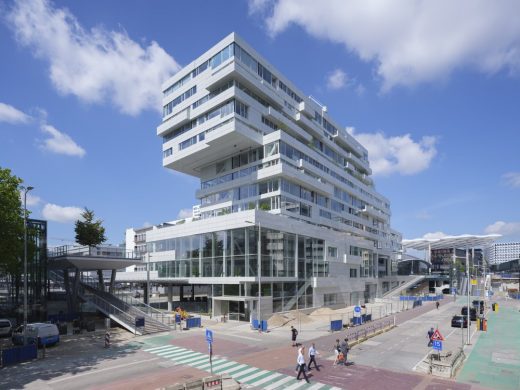 photo : Ossip van Duivenbode
Het Platform Community Building
A mixed-use community building right next to Utrecht Central station, was recently completed and all new residents have moved in. The building combines 201 rental apartments with a large number of collective facilities, including a bike parking, commercial spaces for fitness and a restaurant, and many "sticky spaces" for social encounters.
1 July 2020
Villa Tonden
18 June 2020
Echo, TU Delft, Delft
Architects: UNStudio with Arup and BBN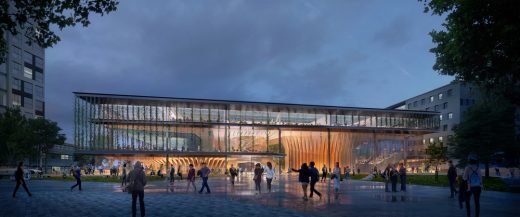 visualisation : Plompmozes
Echo TU Delft Building by UNStudio
A new multifunctional and flexible education building for TU Delft.
3 Apr 2020
18 Septemberplein C&A Building, Eindhoven
Architects: UNStudio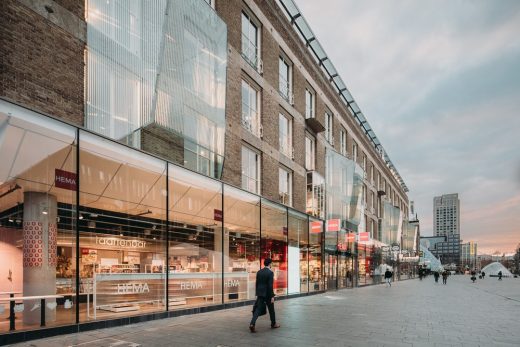 photo © Evabloem
18 Septemberplein Renovation in Eindhoven
As part of Pan-European retail real estate investment manager Redevco's redevelopment of the 9,000 sqm, four storey 18 Septemberplein C&A Building (a significant piece of protected post-war architecture) – intervention by Dutch architects UNStudio
3 Apr 2020
School 't Hofke, Eindhoven
Design: UArchitects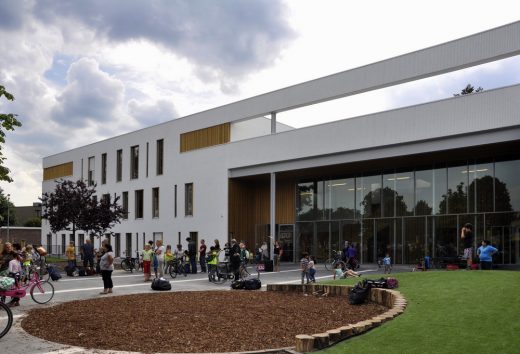 photo : Daan Dijkmeijer
School 't Hofke Building in Eindhoven
A special primary school because there are 5 different groups of users who work together in one building, and use the facilities together for education, care, sports and neighborhood facilities.
25 Mar 2020
Building d(emountable), Nieuwelaan, Delft
Architects: cepezed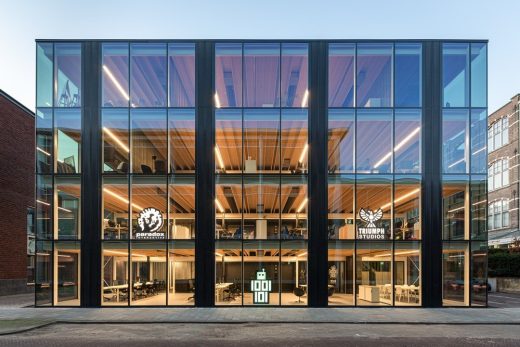 photography : Lucas van der Wee | cepezed
Building d(emountable) in Delft
A modern, sustainable and fully demountable structure on the site of a historic, monumental building complex in the center of Dutch city Delft.
16 Mar 2020
Zaanstad Sports Centre, Zaanstad
Design: UArchitects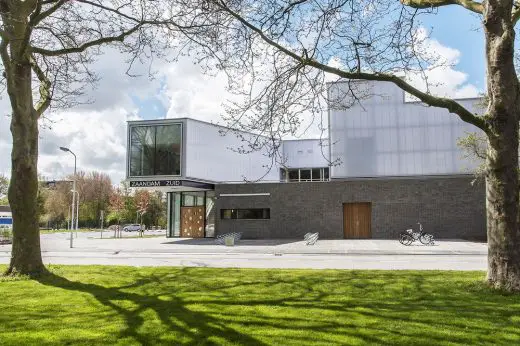 image : Daan Dijkmeijer
Sports Centre Building in Zaanstad Zuid
The city of Zaanstad in The Netherlands does have high ambitions in the field of sports. Playing sports should be possible for people of all ages, cultures and religions.
14 Mar 2020
Crazy Pianos, Strandweg, Den Haag
Interior Design by EL EQUIPO CREATIVO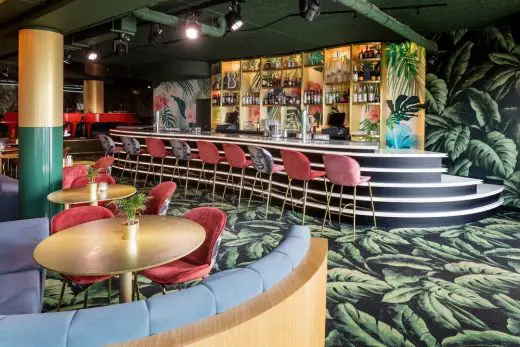 image courtesy of architects office
Crazy Pianos Club in the Hague
Instead of a DJ, two red pianos entertain dinner and drinks, until they get the public dancing around them.
11 Feb 2020
IKC de Geluksvogel, Maastricht, province of Limburg
Designed by UArchitects/Misak Terzibasiyan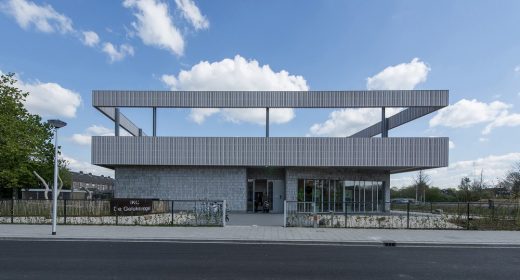 image courtesy of architects office
IKC de Geluksvogel School, Maastricht Sustainable Building
This new building is a sustainable and digital school in the Netherlands. Two existing schools in two neighbouring locations in Maastricht are merging into a new school on a new location in that city.
post updated 31 Jan 2020
Education Executive Agency and Tax Offices, Groningen
Design: UNStudio, Architects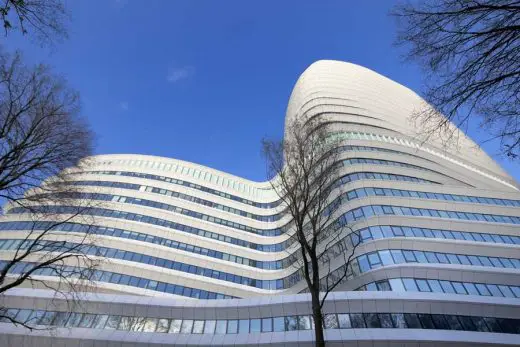 photo : Ronald Tilleman
EEA and Tax Offices Groningen Building
One of the most sustainable large office buildings in Europe for two governmental offices.
9 Jan 2020
Switching Prisons, The Hague
Architects: NBRS ARCHITECTURE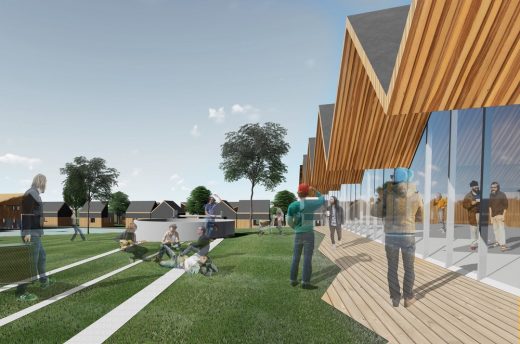 image courtesy of architecture office
Switching Prisons International Design Competition
This Dutch architectural competition brief called for a new age architecture to address crimes of tomorrow. As a practice we are focused on improving the built environment to affect social connectivity.
Contemporary Dutch Architecture Offices
Dutch Architect – design firm listings
More contemporary Dutch Architecture News online soon
Dutch Architecture News 2019
29 Nov 2019
Fontys University of Applied Sciences Building Eindhoven
22 Nov 2019
Villa Vught in The Netherlands
2 Sep 2019
Naturalis, Dutch National Biodiversity Center, Leiden
25 Jun 2019
De Braak Sports and Education Campus in Helmond
1 May 2019
Tilburg Bus Station in Holland
30 Apr 2019
Sculptural Staircase, Rotterdam
29 Apr 2019
Dow Benelux Headquarters in Terneuzen
18 Apr 2019
Tij Bird Observatory, Scheelhoek
Architects: RO&AD Architecten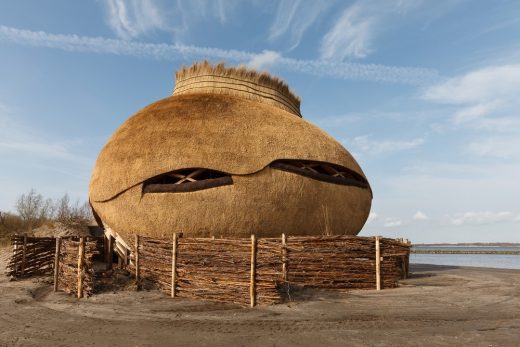 photography : Katja Effting
Tij Bird Observatory in Scheelhoek
Tij is the biggest and most striking of a series of objects designed to celebrate the opening of the Haringvliet sluices in November 2018.
16 Apr 2019
The Grace Towers, The Hague, Holland
Architects: Mecanoo architecten, Delft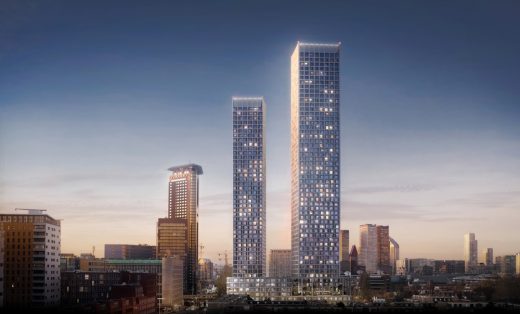 image Courtesy architecture office
The Grace Towers in the Hague
The population of The Hague will grow considerably in the next twenty years from 525,000 residents to over 625,000. To meet this challenge, the municipality is encouraging inner-city densification within the Central Innovation District (CID), a triangular area bound by the city's three train stations.
More current Dutch Architecture News online here soon
The Netherlands Architectural Updates 2018
7 Sep 2018
New Erasmus MC Building, Rotterdam
In the presence of His Majesty King Willem-Alexander, the new Erasmus Medical Center in Rotterdam (The Netherlands) was officially opened.
22 Aug 2018
EeStairs Headquarters Building, Barneveld, Gelderland
Design: Bronsvoort Blaak architecten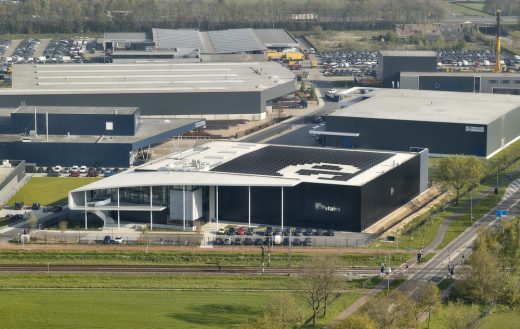 image Courtesy architecture office
EeStairs Headquarters Building
This 4800 sqm building over three floors for an International staircase manufacturer has an 'Outstanding' BREEAM rating, making it one of the most sustainable production sites in The Netherlands.
10 May 2018
Museum Voorlinden in Wassenaar – RIBA Awards for International Excellence 2018



photo © Ronald Tilleman
Museum Voorlinden in Wassenaar Building
The Royal Institute of British Architects (RIBA) has announced the winners of the RIBA Awards for International Excellence and the 2018 RIBA International Emerging Architect, including this new 7,000m² museum for contemporary art, sitting within the grounds of an early twentieth century, 'Dutch Arts & Crafts' countryhouse.
3 May 2018
Duivenvoordes Courtyard Visitors Center, Voorschoten
Design: 70F architecture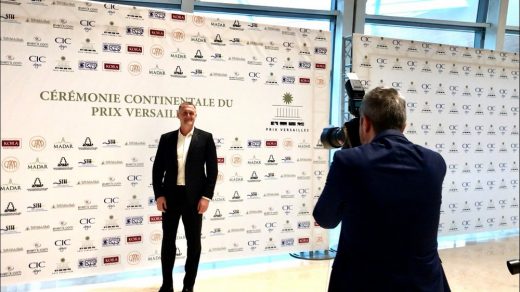 image Courtesy architecture office
New Visitors Center in Voorschoten
Dutch architecture studio 70F architecture won the Prix Versailles 2018. Hof van Duivenvoorde was selected as best project in the restaurant 'exterior' category in Europe. On the 15th of May will be revealed if the project wins the world price in this category.
9 Apr 2018
People's Pavilion – 100% Borrowed
Architects: bureau SLA & OvertredersW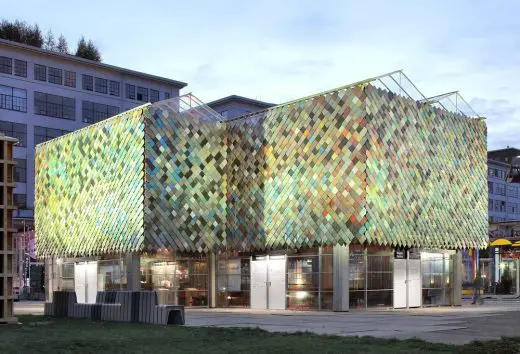 photo © Filip Dujardin
People's Pavilion – 100% Borrowed in Eindhoven
The pavilion is a design statement of the new circular economy, a 100% circular building where no building materials are lost in construction.
31 Mar 2018
National Museum of Ceramics Princessehof, Grote Kerkstraat, Leeuwarden
Design: i29 interior architects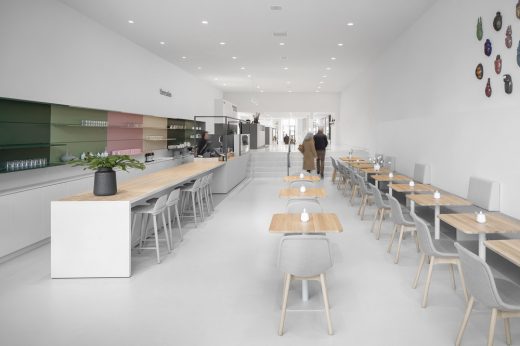 photography : Ewout Huibers
National Museum of Ceramics Princessehof
Leeuwarden is the European Capital of Culture 2018, and museum Princessehof celebrates its 100th birthday.
29 Mar 2020 & 19 Feb 2018
Pompejus Theater, Halsteren
Design: RO&AD Architecten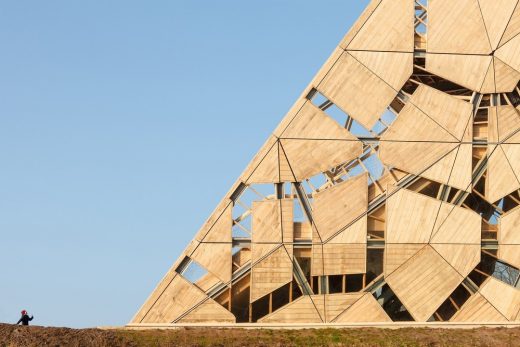 photography : Katja Effting
Pompejus Theater Building
The edge of the fortress on which Pompejus stands is directed at the enemy. The tower is positioned exactly on that corner. By mirroring up the sides of the fort, a sharp shape is created which leans forward over the moat. As a result, it is closed on the outside, and open at the fort side.
12 Feb 2018
Van der Valk Hotel, Amsterdam
Design: Wiel Arets Architects (WAA)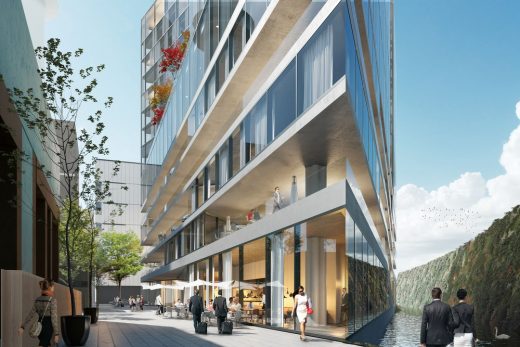 image from architecture studio
Van der Valk Hotel Building
Dutch Building News – archive for 2016 & 2017
More Dutch Architecture News online soon
Location: The Netherlands, northern Europe
Amsterdam Architecture Walking Tours by e-architect
New Architecture in The Netherlands
Contemporary Dutch Architecture
New Dutch Buildings by City
Contemporary Dutch Architecture by City
Comments / photos for the Dutch Architecture News & Information page welcome