Dutch house photos, Holland residential developments, Netherlands homes images, NL architects news
Dutch Houses: Properties
Residential Buildings in Holland – New Properties in The Netherlands
post updated 19 September 2023
e-architect pick out the best and most interesting Dutch Properties. We cover completed Dutch residential buildings and also new home designs across The Netherlands. The focus is on contemporary houses in Holland but we do occasionally post key traditional Dutch residences, especially if they have been converted.
We have 3 pages of Dutch house selections:
Dutch Houses : news (this page)
Dutch Properties : key projects A-G
Dutch Homes : key projects H-Z
Houses in The Netherlands
24 Jan 2023
Villa BW, Schoorl
Design: Mecanoo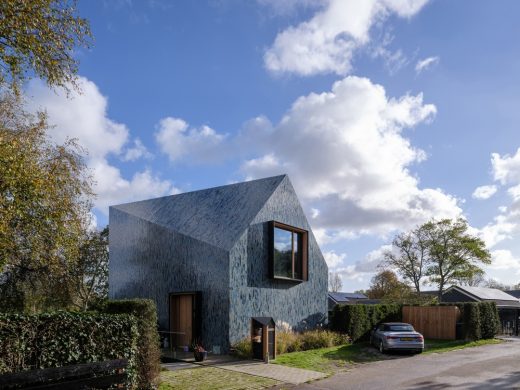 photo : Ossip Architectuurfotografie
Villa BW, Schoorl
Where the rolling dune landscape flows into the lower-lying polder terrain of the hinterland. The naturally sloping landscape embraces Villa BW, with a building volume characterised by a double-curved roof coupled with an unmistakable expression of the facade.
Dutch Houses – Residences in 2022
Residential Architecture Designs in Holland – latest additions, chronological:
15 Feb 2022
Polyphemos, Klevarie, Maastricht, province of Limburg
Design: Martens Willems & Humblé Architecten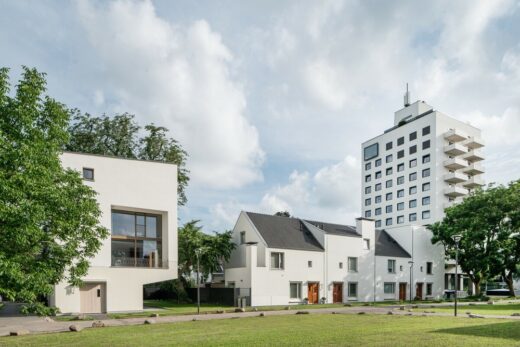 photo : Philip Driessen
Polyphemos House, Klevarie Maastricht
25 May 2021
Tiny Holiday Home, Vinkeveen
Architects: i29 interior architects & chris collaris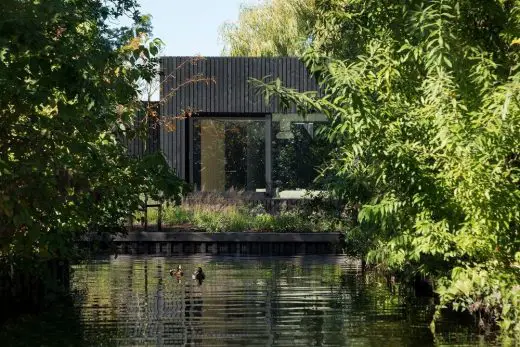 photograph : Ewout Huibers
Tiny Holiday Home in Vinkeveen Property
Tiny Holiday Home is nominated for Best Building 2020 by Dutch Association of Architects BNA. Every aspect of the architectural and interior design is approached to produce a pure and unified experience to leave a strong impression.
12 Mar 2021
Villa JM, North Brabant
Design: Powerhouse Company
Villa JM
11 Mar 2021
Villa CG
Design: Powerhouse Company
Villa CG
1 July 2020
Villa Tonden, Tonden, Gelderland
Architects: HofmanDujardin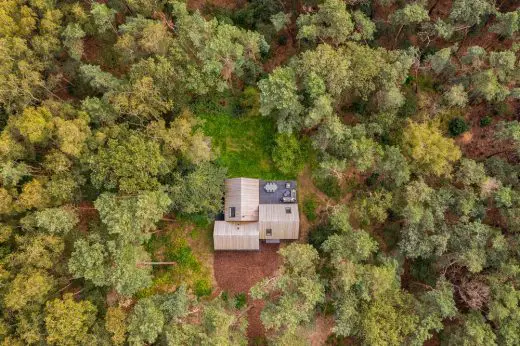 photo © HofmanDujardin, photographer Matthijs van Roon
Villa Tonden
This Dutch wood clad home is equipped with all amenities required to enjoy a laidback time with family and friends. All of the rooms offer a stunning view of surrounding nature.
12 May 2020
No.42 Hofje Mallemolen, The Hague
Architects: Bláha Architecture + Design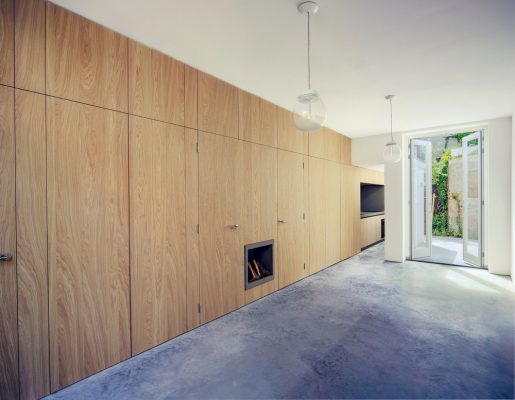 photo : Maurice Mikkers
No.42 Hofje Mallemolen in the Hague
New lease of life to a traditional working-class courtyard house in Den Haag.
22 Nov 2019
Villa Vught
Architects: Mecanoo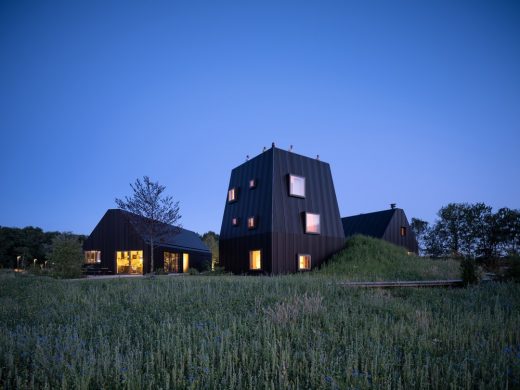 photo : Ossip Architectuur Fotografie
Villa Vught in The Netherlands
This new property in the Dutch countryside near Vught gives a contemporary twist to the local farmstead typology. Traditionally, the Dutch 'hoeve' is an ensemble of farmhouses and living quarters loosely clustered around a courtyard. The central open space is protected, yet open to the surrounding landscape. This spatial arrangement guided the design of the Villa.
14 Dec 2018
Villa Zeist 2
Design: HofmanDujardin Architects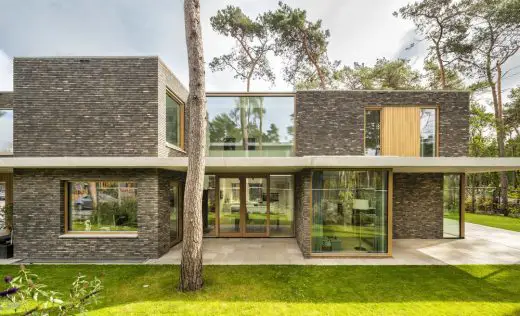 photograph : Matthijs van Roon Amsterdam
Villa Zeist 2
Situated in the pine woods, Villa Zeist 2 adds a strong horizontal line to the vertical nature of its surroundings.
2 May 2017
The Garden Studio, Bussum
Design: Serge Schoemaker Architects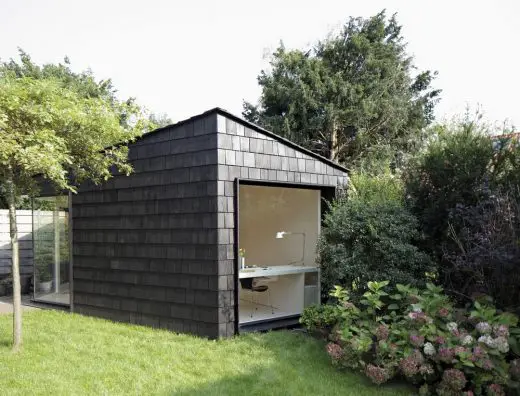 photograph : Raoul Kramer
The Garden Studio in Bussum
The Garden Studio in Bussum involves the design and construction of a freestanding shed in a private garden that functions as a study, guest accommodation and storage.
page updated with larger photos 27 Apr 2017
Villa 1, Veluwe Zoom
Design: Powerhouse Company, Architects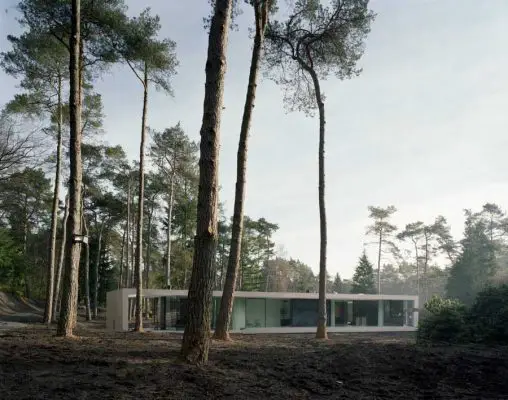 photograph : Bas Princen
Veluwe Zoom Villa – the first residence commissioned to this Dutch architecture studio
14 Mar 2017
360 Villa
Architects: 123DV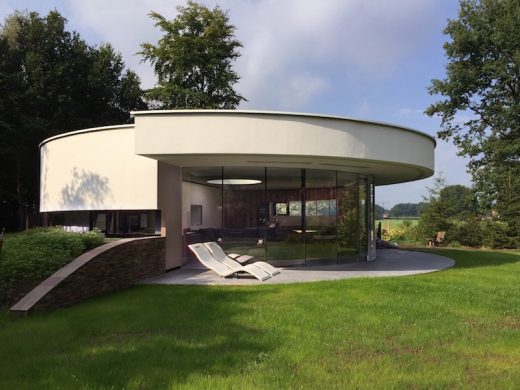 photograph : Hannah Anthonysz
360 Villa in Holland
The family consists of a couple and their beautiful Alaskan malamute dogs. This time, our slogan 'Living in a tailored suit' got a special dynamic: the tailoring of our design to the requirements of an ultimate personal experience of living also concerned the arctic dogs that are important in their lives.
15 Nov 2016
Villa Clessidra
Design: LAAV Architects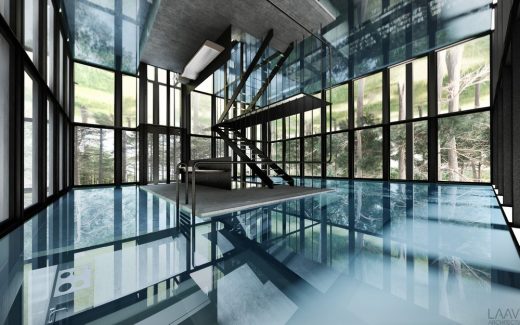 rendering : Lefteris Schetakis
Villa Clessidra in Holland
Villa Clessidra is a construction of much defined proportions. And as such it is also a bet. A bet in designing freedom within confinement.
page updated 12 Nov 2016 with new photos ; 19 Sep 2014
A Barn House in the Countryside nearby Donderen, province of Drenthe, municipality of Tynaarlo
Design: aatvos, architects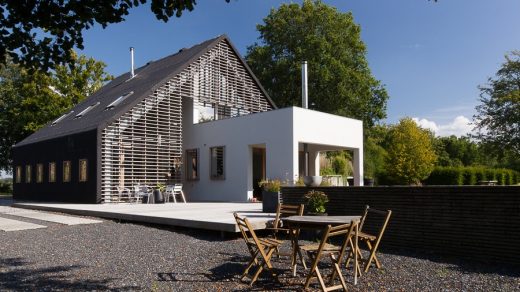 image courtesy of architects
Donderen Barnhouse in Holland
The task of conceiving a private home in the countryside south of Donderen in the North of the Netherlands raises the question as to how far the existing typology is suitable, without resorting to historicizing architecture.
page updated 6 Nov 2016
Island House, Loosdrechtse Plas, near Amsterdam
Design: 2by4-architects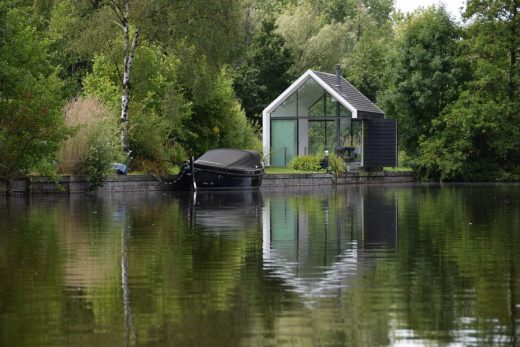 picture courtesy of architects
Island House near Amsterdam
2by4 is a socially-involved office that uses architecture as a tool to improve the quality of the existing built environment. The orientation of this small Dutch house is based on sunrise and sunset. In the morning cold light shines on the east facade, illuminating the white interior.
30 Oct 2016
Villa Spee, Haelen, Southeast Netherlands
Design: Lab32 architects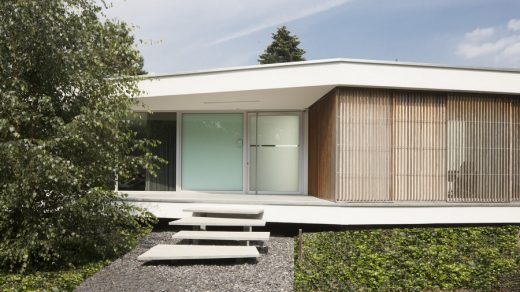 image courtesy of architects
Villa Spee in Haelen
This villa for a married couple with child is built on the original location of a dated bungalow from the 1960s in
page updated 14 Oct 2016
Holiday House on Vlieland Island
Design: Bloem en Lemstra Architecten


photograph : Chiel de Nooyer
Holiday House on Vlieland Island
Set on the Dutch island of Vlieland, this small holiday home features a fully retractable façade that allows it to open up to the outside environment. The house has been designed by architecture studio Bloem and Lemstra Architects on the behalf of a client.
13 Sep 2016
Villa CG, Enschede
Design: Powerhouse Company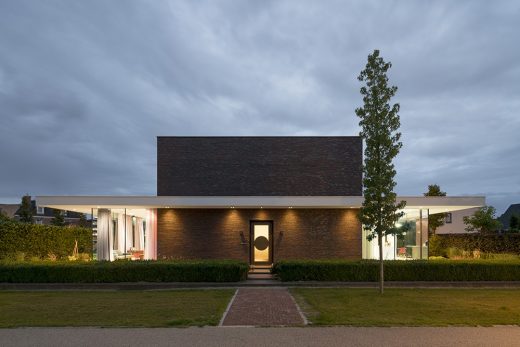 photo : Ossip van Duivenbode
Enschede Villa
This residence is located at the Museumlaan, reserved for designs by architects of national and international standing including SeARCH, Erick van Egeraat and Bolles+Wilson.
25 Jul 2016
New House in Roosendaal, province of North Brabant, southern Netherlands
Design: Zone Zuid Architecten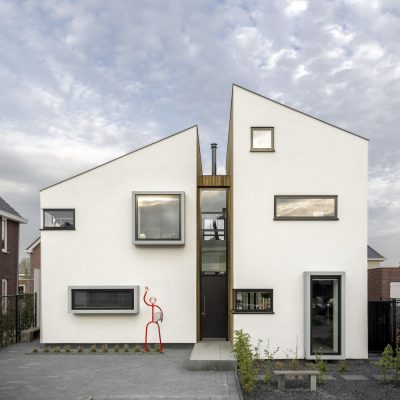 photograph : Gido van Zon
Daasdonklaan House in Roosendaal
Dutch design office zone zuid architecten recently completed a new home in one of the suburbs of Roosendaal. The 225 sqm house is designed as a deconstruction of a traditional Dutch house silhouette, several floors for living with a gable roof.
26 Apr 2016
Weekamp House, Dedemsvaart, Overijsse
Design: hamhuis architecten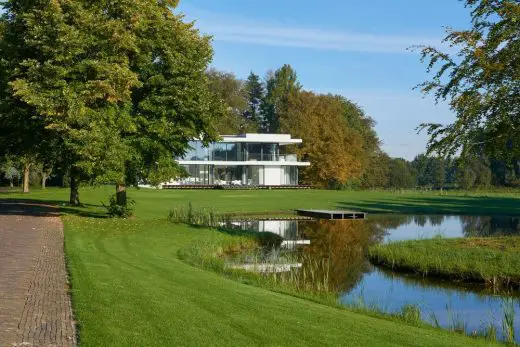 photo courtesy of architects studio
Weekamp House, Dedemsvaart
The team at hamhuis architecten has created a spectacular detached property that provides a modern twist on the design of the traditional colonial houses found in the peat cutting area of Dedemsvaart, the Netherlands.
30 Nov 2015
Villa Het Tolhuis, Zaltbommel
Design: Bekkering Adams Architects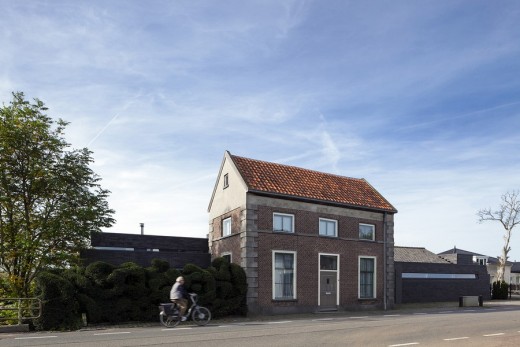 photo : Daria Scagliola
Villa Het Tolhuis, Zaltbommel
The design for this toll house is a conversion of an existing toll house with working and living areas. The design is fully built by the owners themselves and reflects their passion for exceptional materialization and building techniques.
19 Aug 2014
Villa Geldrop, province of North Brabant
Design: Hofman Dujardin Architects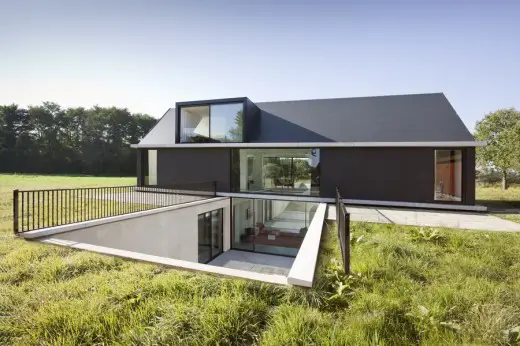 photograph : Matthijs van Roon Amsterdam
Villa Geldrop
This is no ordinary house: what appears at first sight to be a simple block with an angled roof turns out to be a complex composition of space and light as well as a study of the modern home's function.
13 Jun 2014
Huize Vreeburg, Rosmalen
Design: HILBERINKBOSCH architects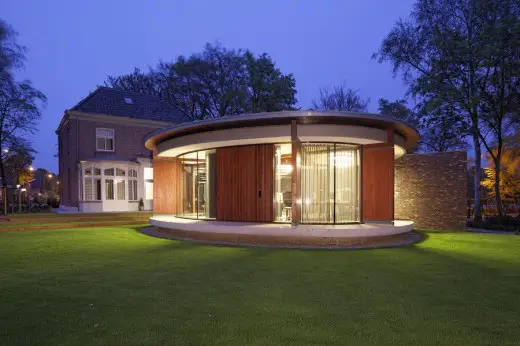 photograph : Rene de Wit / Rene van der Hulst
Huize Vreeburg, Rosmalen
Huize Vreeburg in Rosmalen is a building with a rich history and recognizable located on the corner of a major road through the village. It has in the past, among other things, served as a post office and in recent years was used as a residence.
29 + 28 May 2014
Heesch Villa
Design: HILBERINKBOSCH architects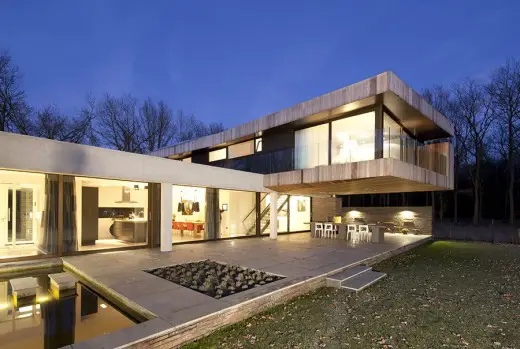 photographs : René de Wit, Breda, The Netherlands (RdW) Paul Kozlowski, Paris (PK)
Heesch Villa
The house, situated on a beautiful open lot at the edge of the forest, consists of two different volumes: an oblong volume balances on a L-shaped base. Together they form a sculpture which resembles a fallen tree on a pile of earth.
2 Apr 2014
Villa Kavel 01, island near Amsterdam
Design: Studioninedots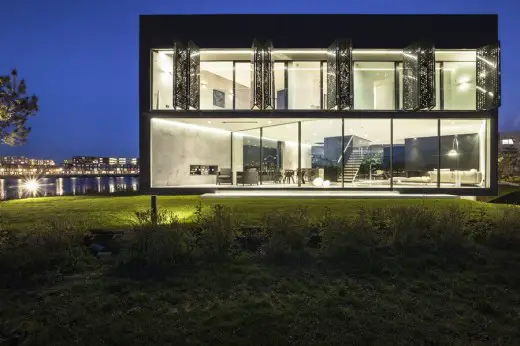 photograph : Peter Cuypers
Villa Kavel 01 near Amsterdam
This contemporary Dutch house is sited on the tip of an island near Amsterdam. The mysterious black box is a home built for a young family. The residence is full of surprises and contrasts, with dynamic spatial and material qualities.
New Amsterdam Homes
Amsterdam Houses
Dutch Houses 2008 – 2013
28 Oct 2013
House in Naarden
Design: Serge Schoemaker Architects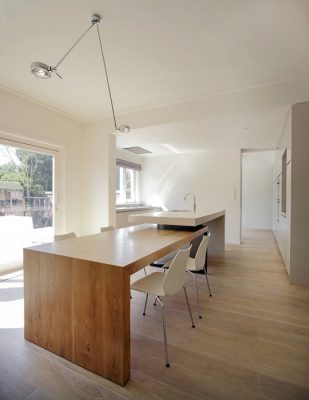 photograph : Serge Schoemaker Architects
House in Naarden
This is the renovation and modernisation of a semi-detached Dutch house from the thirties. The architectural office significantly improved the internal spatial quality of this traditional residence without altering its protected exterior.
30 Sep 2013
Wooden Houses on Wenslauerstraat, Amsterdam
Design: M3H architecten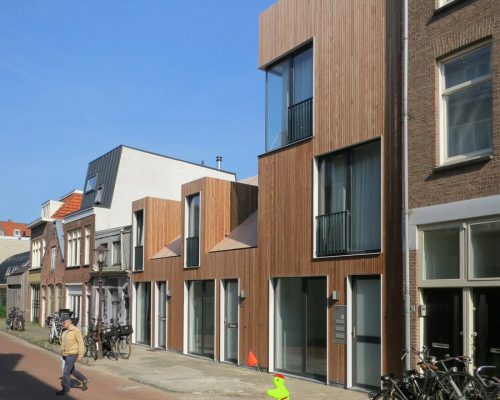 photo : Tobias Bader
Wooden Houses on Wenslauerstraat
In collaboration with the city council, the Stadgenoot housing corporation and various individuals, architects and small developers, a dozen dwellings have been renovated, and old houses demolished to be replaced by new buildings.
26 Sep 2013
House IV, Eindhoven
Design: De Bever Architecten


photo : Norbert van Onna
House IV
The house is situated on a corner lot in the typical 30's district 'de Elzent' against the natural landscape of the river Dommel valley, in the center of Eindhoven, The Netherlands. The existing main house is relatively small in structure, however the lot size is sufficient enough to resist an carefully threaded extension. An extension where extra comfort is added to the existing house.
27 Aug 2013
House L, southern Netherlands
Design: Grosfeld van der Velde architecten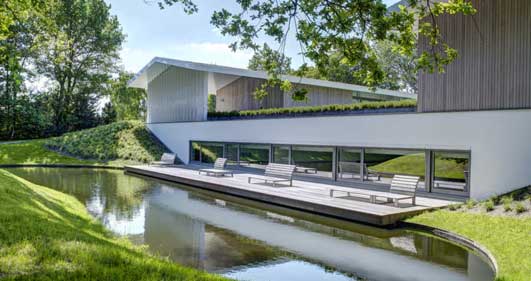 photo : Marcel Briaire
House L
The ground floor was raised with respect to the current ground level, with large glass surfaces positioned to look out over the rural landscape and terraces running the length of the building with an unbroken roof surface on corbelling, all of which allow the outer space to be experienced to the full.
28 Jun 2013
Landscape Villas, Ruurlo
Design: Uri Cohen Architects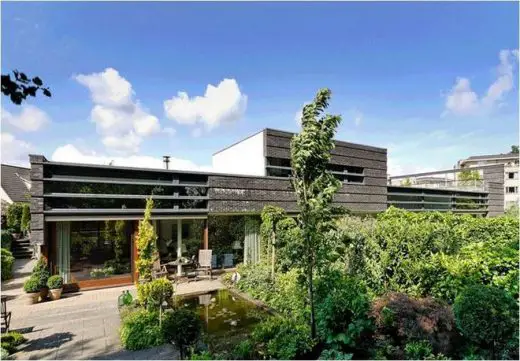 photo from architect
Landscape Villas
Due to the delicate location of the 2200 sqm yard in the entrance to the new neighborhood in Ruurlo and the historical monumental farm behind the location, the municipality has announced an architectural competition. This scheme is based on the ambiguity of the location; on one hand it is a sequence of large objects on the edge of the neighborhood and on the other hand it is a part of the neighborhood of one family house.
More New Dutch Houses online soon
Location: The Netherlands, western Europe
Architecture in The Netherlands
Contemporary Dutch Architecture
Netherlands Architecture Designs – chronological list
Amsterdam Architecture Walking Tours by e-architect
Dutch Architect – design firm listings
Comments / photos for this Dutch Houses page welcome