Centre Village Winnipeg, Manitoba Housing, New Canadian Homes, Building, Architect
Centre Village Winnipeg Housing
Centre Village Manitoba – design by 5468796 Architecture Inc, Canada
5 Jan 2016
Centre Village Winnipeg Social Housing
Design: 5468796 Architecture Inc with Cohlmeyer Architecture Ltd
Location: Manitoba, Canada
Winnipeg Social Housing
Crime in the community: when 'designer' social housing goes wrong
A report in The Guardian

How did innovative Winnipeg social housing, designed by one of Canada's most talked about architecture firms, become a haven for drink and drugs? The homes are apparently "cramped and unsuitable". However this is one of Canada's poorest and most densely populated urban areas so surely it is not too surprising problems have emerged?

"The window blinds, for example, are closed on the windows that face into the courtyard. Litter is scattered across the ground. Speak to residents, and a new picture emerges: of apartments poorly suited to family life, and a building structure that seems to act as a magnet for drinking and drug-taking at all hours."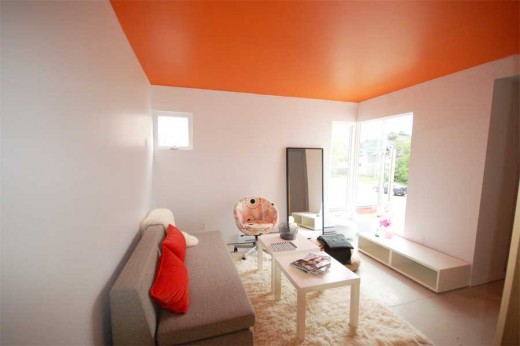 Website: Winnipeg Social Housing Crime Issues – The Guardian article, 4th January 2016
Centre Village Winnipeg
2011
Design: 5468796 Architecture Inc with Cohlmeyer Architecture Ltd
Manitoba, Canada
Centre Village
Centre Village is a 25-unit housing co-op located on a small infill lot in Winnipeg's Central Park neighbourhood. The project strives to create a true community – a housing village – within modest means. From its outset, the development faced a considerable list of mediating factors, including a compressed lot size, low budget, major vehicular adjacency and nearby derelict housing.
The final design is based on simple, 8' x 12' modules organized on a central spine or "bar". The sizes of all rooms are based on European standards, compressing the North American norm while still producing livable space and ultimately allowing the site density required by the business plan. Occasionally, the base module is replaced by a larger 14' x 12' unit that cantilevers off the main spine to expand the master bedroom and living room. All upper units have their own rooftop patio, and any second-storey units are accessed by exterior staircases.
While the housing units are small, the 8' band allows each unit to have views in multiple orientations, as well as cross-ventilation. A vibrant orange colour – used to define the ceiling plane and reflect light indoors – is punched out of the building through custom-welded aluminum window cowlings, which mark the transition between interior and exterior through the glazing threshold. A typical unit has eight or more windows, liberally scattered throughout to help mediate the smaller internal areas and extend the perceived living space outdoors.
The mixture of standardized modules creates richness and variability on the site, generating a seemingly unorganized, yet carefully considered composition of small one, two, three and even four bedroom homes that allow for families to transition from high-rise apartments into the development. These bars of housing are arranged around two inner collective spaces – a landscaped courtyard and an internal streetscape. Every unit has a private entrance from one of these shared spaces, provided to foster individuality as well as connectivity to the larger community of occupants. The common spaces are then connected to the broader neighborhood, plugging into the existing pedestrian culture to encourage interaction and dialogue.
Centre Village – Building Information
Architect: 5468796 Architecture Inc. [with Cohlmeyer Architecture Ltd.] Client: CentreVenture Development Corporation
Location: Winnipeg, Manitoba, Canada
Project Area: 15,000 sqft (25 units)
Project Year: 2010
Budget: $2.5M
Photographs: 5468796 Architecture Inc.
Consultants:
Project Manager: Hold Zone Inc.
Structural Engineer: Lavergne Draward & Associates
Civil Engineer: MEC Consulting
Landscape Design: Cynthia Cohlmeyer
Centre Village Winnipeg information from 5468796 Architecture Inc
Centre Village Winnipeg images from FD
Location:Winnipeg, Manitoba
A Winnipeg building recently added on e-architect:
Innovation Centre at Red River College Exchange District Campus
Design: Diamond Schmitt Architects with Number TEN Architectural Group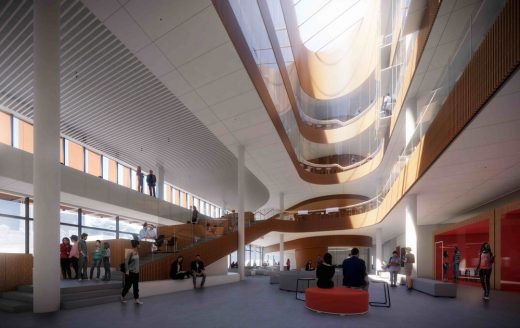 picture courtesy of architects office
Innovation Centre at Red River College in Winnipeg
Bloc_10
Design: 5468796 Architecture Inc



photo : James Brittain Photography
Winnipeg Housing
Another recent Winnipeg building by 5468796 Architecture Inc on e-architect:
OMS Stage



image from architect
OMS Stage Winnipeg
Another recent Winnipeg design on e-architect:
Winnipeg Skating Shelters
2010-11
Design: Patkau Architects



image : James Dow
Winnipeg Skating Shelters
Winnipeg is a city of 600,000 residents located on the Canadian prairie. It is the coldest city of its size outside of Siberia. Winter can last six months. So learning to celebrate winter – learning to take advantage of the opportunities that winter provides – makes sense.
Canadian Buildings recently added on e-architect:
Linear House, Salt Spring Island, Canada
Patkau Architects



photograph : James Dow
British Columbia House
Nk'Mip Desert Cultural Centre, South Okanagan Valley, Osoyoos
Hotson Baker Boniface Haden Architects



image : Nic Lehoux
British Columbia Building
Canadian Architecture
Vancouver CC West



picture : VCCEP
Sauder School of Business Vancouver



picture from architect
Comments / photos for the Centre Village Winnipeg Central Park page welcome
Centre Village Winnipeg
Website: Winnipeg