Architecture Identity, Architectural Meaning, Karolina Szynalska, Opinion, Building Design
Architectural Identity
Architecture Meaning, Discussion – article by Karolina Szynalska
3 Jul 2012
Sugar-coated medicines
If architecture can have a meaning, we should recognise that what it says is not independent of what it is.
A building speaks for what it is, and for what it stands for. It has a function/purpose, it can represent an idea thought how it looks and works; and it can represent its function. The correlation between these can make buildings very special or… gimmicky – particularly when their purpose prompts existential questions, like in a case of medical facilities.
Conventionally hospital buildings focus (theoretically) on patients and efficiency of services provided. They have to negotiate the difficult matrix of programmatic requirements and avoid the formal and impersonal character of large existing medical institutions.
New Aalborg University Hospital, Denmark
Schmidt Hammer Lassen Architects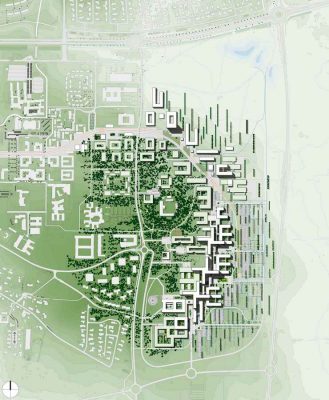 picture from architects
The new Aalborg University Hospital design, Denmark, for a 330,000 sqm masterplan by Schmidt Hammer Lassen Architects seems convincing. One of Scandinavia's most recognised architectural practices proposed an arrangement, that in spite of an enormous size and corporate appearance, it can relate to the human scale. It consists of sequences of transparent, well lit, and spatially diverse spaces built within a flexible modular structural system.
The new-build facilities can successfully negotiate the industrialized nature of care, but most currently functioning hospitals can be stress-inducing. The Maggie's charity has recognised that. Located on the grounds of existing medical facilities, Maggie's Cancer Caring Centres provide professional help with a community of support. This combination proves highly effective in alleviating the emotional distress. The buildings are domestic in scale and architecturally idiosyncratic.
Maggie's Barts, London, England – news
Design: Steven Holl Architects



image from Maggie's Centre
Steven Holl's proposal for the new Maggie's in London is to be like a vessel – 'like a vessel within a vessel within a vessel'. It will complement the oldest hospital in the UK (founded in 1123). It will be inspired by the rich history of the site, particularly its musical tradition. 'In the spirit of music, architecture can be a vessel of transcendence' – Holl states.
Maggie's Southwest Wales, Wales
Kisho Kurokawa Architect & Associates



photograph : Thore Garbers
The newly completed Maggie's in Swansea offers a different representation of a human life. It focuses on the universe, and contacts between East and West (Asian and Western European cultures). The pavilion 'comes out of earth and swings around', like a vortex. In the centre of the swirl there is a table. It celebrates the motifs dear to the late author of the building concept – Kisho Kurokawa – and Maggie Keswick Jencks, the founder of the charity.
The presented buildings say eloquently what they are. Their aesthetics emphasise their purpose. Their poetry translates into a form. The metaphors work both, linguistically and formally.
But translating the typology of the building to a metaphor can also be problematic.
Biomedical Research Centre Pamplona, Spain
Vaillo & Irigaray + Galar



photo © Ruben P. Bescós, rubenbescos(at)gmail.com
Biomedical Research Centre in Pamplona, Spain, claims it uses bio-mimicry inspired by a polar bear, a camel and a leaf in order to 'propose an image inherent in its intrinsic functionality'. Bio-mimicry means taking inspiration from nature to improve the design; it is practical biology. It improves (theoretically) buildings' structural efficiency and their energy consumption. Bio-mimetic buildings can be more sustainable.
But the research building in Pamplona does not look as if it uses the bio-inspiration to improve, but to ornament or to justify. The building shows an illustration, and not an application of science. Its sophisticated multilayered building envelope does not seem to respond to the orientation; and it celebrates the established technology. The very expressive impenetrable front reminds one more of the Seagram building, than of mammals and plant parts. There is an inconsistency in what the architects (or their PR departments) claim and what we see.
Biologically inspired architecture is not a novelty. Kurokawa himself was one of the founders of Metabolism Movement; he wrote 'The Philosophy of Symbiosis'. Holl's porosity paradigm is a concept directly transferred from biology, medicine and organic chemistry.
Architects do not need to be qualified biologist to design biology-related facilities. But if they want to reinforce these buildings' functional agendas through the expression of form and space, they need to get smarter with it.
The buildings they create are not stand-alone machines, but environments. If successful, they can encourage human flourishing and induce positive chemistry in our brains.
Karolina Szynalska Architect
Karolina Szynalska


picture from Karolina Szynalska
Karolina Szynalska is an architect and a lecturer in architecture at both the University of Lincoln and Hull School of Art & Design. Her main research interest is discourse analysis in context of sustainability, provincial architects and ethical architecture.
Since completing her Masters in architectural history at the Bartlett School of Architecture UCL, Szynalska has continued to develop her interdisciplinary approach to architectural practice, scholarship and teaching. Recent activities include leading RIBA projects in primary schools, MLA Renaissance projects in galleries, and creating academic and professional practice collaborations across the businesses and institutions in which she works.
Comments for the Architectural Identity article by architect Karolina Szynalska page welcome
Location: University of Lincoln, Brayford Pool, Lincoln LN6 7TS, UK
Recent articles for e-architect by Karolina Szynalska
Bubbletecture – 12 Jun 2012
Architecture Economics – 31 Jan 2012
City Analysis – 6 Dec 2011
Public Architecture in London – 25 Oct 2011
Placebo Architecture – 27 Sep 2011
International Architectural Designs
Architectural Articles on e-architect : Selection
Contextual Architecture : article by Roland Wahlroos-Ritter. Sep 2011
Cultural and Contextual Identity : article by Nigel Henbury. Aug 2011
Comments / photos for the Architecture Identity – Sugar-coated medicines Article page welcome