Bubble Architecture, New Architectural Movement, Organic Building Design, Opinion
Bubbletecture – Organic Buildings
Global Built Environment Discussion – article by Karolina Szynalska
12 Jun 2012
Bubble Architecture
As we observe the Spanish bank deal this week, a new architectural movement seem to emerge – bubbletecture. Not to be mistaken with blobitecture, bubbletecture does not refer to bulbous bulges and organic shapes. In fact it does not prescribe the appearance at all; this week bubbletecture is quite angular – edge cutting. It is modern, elegant, costly, and now… synonymous with overspending.
Many regions in Spain owe billions of euros, partially because of ill conceived ambitious projects, and partially due to financial bubble burst. During the thirty years of democratic rule, Spain has been investing heavily in infrastructure, housing, and public architecture.
The inspired by the 'Bilbao effect' buildings were commissioned during the economic boom times, and they were generously supported by EU funding. They often cost more than planned. Peter Eisenman's City of Culture in Santiago de Compostela has cost four times more than estimated.
City of Culture of Galicia, Santiago
Eisenman Architects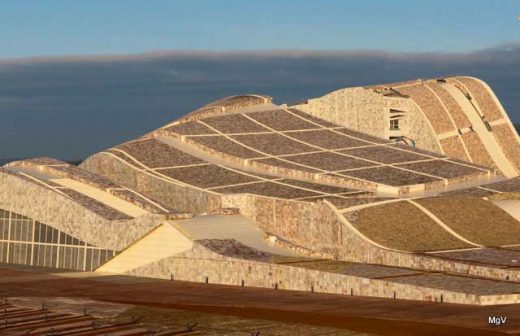 photo : Manuel Gonzalez Vicente
Centro Niemeyer, Avilés
Oscar Niemeyer architect



photo : Ángel Navarrete
Some of the projects are completed and running, but some are redundant. Oscar Niemeyer's cultural centre in Avilés closed after only six months. 150m euros airport in Valencia has never opened. Many buildings remain unfinished, or they were demolished; like half-finished at a cost of roughly 4m, and unlawfully sited library by Zaha Hadid in Seville.
Municipal Auditorium Teulada, Alicante, Spain
Francisco Mangado



photo : Juan Rodríguez
The auditorium in Teulada by Francisco Mangado would not manage without additional subsidies during the construction process. The 5,100sqm building is located in a city that has less than 15,000 inhabitants; many of them affluent European retirees. The population doubles in summer, but it seems that in the winter the building could accommodate the entire adult population of the coastal town.
The local newsletter reported that this 'magnificent infrastructure (…) will be a benchmark in the district and province' and it 'shows that the Regional Government has put us in a privileged position in terms of investment at district level and demonstrates that the (…) Auditorium is far more than a municipal auditorium and is a continuation of the Palau de les Arts Reina Sofía'.
City of Arts and Science Valencia
Santiago Calatrava Architects



image © Paul Zanre
The Reina Sofía Palace of the Arts is a part of Santiago Calatrava's City of Arts and Sciences in Valencia that left budget deficit of some 600m euros. The architect alone quite famously received more than 94m euros from the Valencian government for the project.
The elegant 'carefully sculpted like a diamond' Teulada auditorium building cost only 11m euros (or 733 euros per town's inhabitant). It sits on a prominent location. In metaphorical terms its facade supposedly is to evoke topography similar to a beach of stone that from a distance appears to merge into the sea.
The architect advises on his website that '[t]he building shall be seen from a distance'. Coincidentally the website of the Official Tourism Site of the Region of Valencia does not list any events in the auditorium this month.
Cala Mandia + Hospital, Mallorca, Spain
CMV architects



photograph from architects
In contrast, Cala Mandia by CMV located on Mallorca Island, is to be looked at from a close distance – close enough to avoid fitting an ordinary and slightly scruffy urban surrounding in a photo frame. Fenced off parcel contains thirteen well-proportioned neo-Corbusian flats. Modernist aesthetic prevails.
The prioritising of visual above practical aspects is apparent in most of the celebrated projects of today. It is promoted by trade press (often conduits for commercial PR departments) and it is instilled in the architectural schools (also increasingly more commercial).
According to Llatzer Moix, author of Miracle Architecture, the success of Bilbao's Guggenheim Museum, which attracts almost a million visitors every year, gave other Spanish cities 'cultural envy'. Local authorities bankrupted themselves to keep up with the Joneses; neither the clients nor the architects wanted to look like philistines. Many Bilbao-effect-like buildings have (following a novelty phase) fallen as quickly as they had increased; and they became white elephants.
Architects by accepting to work on such commissions prioritise short term profit of the practice over the (long-term) sustainability of the projects; and the benefit to the society – however unfashionable it may sound. Architects are often a bit flabby when it comes to exercising their capacity to say 'no'. Francisco Mangado writes that 'form in architecture, can only be understood as being subject to content; architecture has a civic dimension and is a social discipline'. That pro-social attitude should be taken into consideration before, not after signing the contract.
Karolina Szynalska Architect
Karolina Szynalska


picture from Karolina Szynalska
Karolina Szynalska's main research interest is discourse analysis in context of sustainability, provincial architects and ethical architecture. She is based in England, UK.
Comments for the Bubble Buildings page welcome
Location: University of Lincoln, Brayford Pool Lincoln LN6 7TS, England, UK
Comments on this Bubbletecture article by Karolina Szynalska architect are welcome.
Spanish Museum Architecture
San Telmo Museum, San Sebastián
Design: Nieto Sobejano Arquitectos
San Telmo Museum
Museum ABC
Design: Aranguren & Gallegos Arquitectos
Madrid Museum
Recent articles for e-architect by Karolina Szynalska
Architectural Identity – Jul 2012
Architecture Economics – Jan 2012
City Analysis – Dec 2011
Public Architecture in London – Oct 2011
Placebo Architecture – Sep 2011
Comments / photos for the Bubble Architecture Article page welcome