Paddington Pole Alternative Design Competition Winner, London Architecture Contest News, Images
Paddington Place Alternative Design Competition, London
Development Site in West London – Architectural Contest UK by Create Streets + local residents
24 May 2016
Paddington Place Alternative Competition Winners
JTP and AR Urbanism Win Paddington Place Alternative Competition
John Thompson & Partners and AR Urbanism have jointly won the unofficial design competition to find an alternative to Renzo Piano's Paddington Pole.
The Paddington Place Alternative Design Competition was organised by lobby group Create Streets to show the west London neighbourhood could be improved and densified without the need for a skyscraper.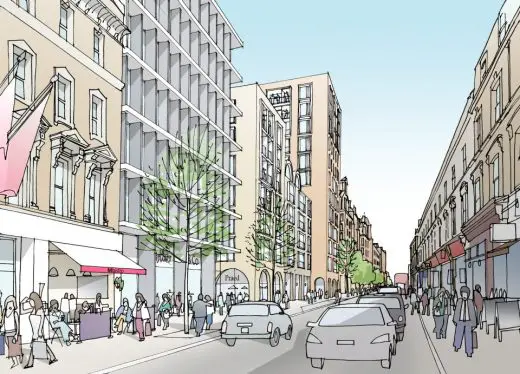 JTP, working with Civic Voice, and AR Urbanism, with landscape architect Greysmith Associates, were both awarded a "Streets Prize for great placemaking". JTP's team was praised for its community consultation, although a 20-storey tower that forms part of its proposal split the jury.
A joint entry by HLM and Spark Architects won the "Innovation Award" for individual ideas that went beyond the brief including urban farming and the inclusion of a primary school.
The judges also awarded a "Flourish Award" to Architettori for its work on the facades above Praed Street. More Design was commended for the urban form of its entry.
Nicholas Boys Smith, director of Create Streets, said the quality of the entries presented the judges with "an embarrassment of riches".
This architecture competition wasn't run to criticise those involved in the Sellar proposal, he said, but to demonstrate what could be done.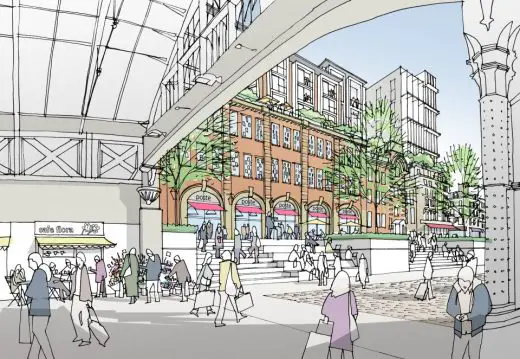 "Paddington can develop in a way which is beautiful, popular and locally supported if developers have the vision to propose it and Westminster council the intelligence to support it," he said. "We have to change the question from how do we build more homes to how do we make new homes more popular."
Amanda Reynolds, director of AR Urbanism, said she was thrilled to win: "Putting place-making at the heart of the design process will promote successful high-density regeneration in city communities," she said. "Good urban design results from active involvement of these communities in the design process. We look forward to seeing this vision become a reality."
15 Mar 2016
Paddington Place Alternative Competition
Paddington Place Alternative Competition News
Lobby group Create Streets has launched a design contest for the site of Renzo Piano's Paddington Pole tower, reports the Architect's Journal.
The group is seeking proposals for the wider area including where the 72-storey tower for developer Irvine Sellar was set to stand.
Paddington Place Alternative Design Competition
Information from Create Streets:
Alternatives to 'Paddington Place' (better known as the 'Paddington Pole')
At the end of January, the proposal by Great Western Developments Ltd for the 'Paddington
Pole' was withdrawn. This was a plan for a 72-storey skyscraper designed by Renzo Piano
next door to Paddington rail station on 0.76 hectares of land on and around the old Royal
Mail site. Westminster Council have said they will be working on the new scheme in the
coming months.
So Create Streets are running a competition to suggest high-quality alternative
schemes for Paddington.
We're running this competition in a positive spirit of assistance. We think that this site is
worth thinking about strategically. It is a crucial area of London next to one of the city's most
important train stations. It is in close proximity to housing, conservation areas, historic
buildings and Royal Parks.
Sir Terry Farrell's master plan for the site has already shown that streets can deliver
enhanced volume for the site and sufficient 'value' to improve the tube station. Now we want
to encourage everyone to think actively about how the site could be developed and
intensified in a popular way.
Many of our train stations have master plans which take into account the character of the
wider area and try to make new development sympathetic to it – the recent redevelopment of
Kings Cross, being just one example. So at Create Streets we believe we need to think
about the area around Paddington on a larger scale than merely the one site owned by the
developer behind Paddington Place. We believe this way we can come up with something
that really benefits everyone. The winning design (and we hope good runners up) will be
announced publicly and will be used to demonstrate the possibility for this site.
With that in mind, the site for which we are seeking ideas includes the same Royal Mail site
on which Irvine Sellar proposed the Paddington Pole, but also the Mercure Hotel building on
Praed Street, as well as the hospital buildings located within the brown area below.
We are not proposing the removal of the hospital from these sites. What we are proposing is
that either through replacement or through the addition of further floors, these buildings
could, if deemed appropriate in the proposals, be densified and improved, creating more
overall floorspace on the development as a whole.
Questions to consider include which buildings to keep, which to add to, which to remove,
how high to go and whether a public space should be created. The entire site is outlined
below.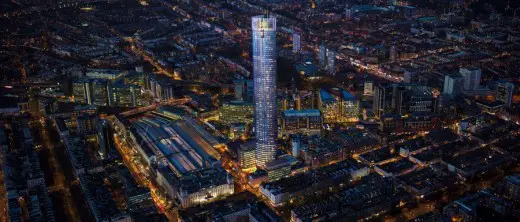 image of withdrawn Paddington Place tower proposal from architects
Paddington Place Alternative Design Competition Facts & Figures
Some key numbers (estimated)
– Total GIA in 'Paddington Place' proposal: 68,722 m2
– Total Area of Mercure Hotel Building (not part of 'Paddington Place' proposal – estimated): 3,240m²
– Total competition area: 1.86 hectares
– Homes in 'Paddington Place' proposal (total / per hectare): 329 / 432 per hectare
– Suggested minimum homes in competition (total / per hectare): 329 / 177 per hectare
– Minimum required ongoing hospital use (estimated): 15,600m2
– Suggested minimum GIA in competition proposal: 84,300m2
What will the judges be looking for?
In short – something that will be popular with residents whilst providing new homes. Judges
will be basing their decision on the following criteria:
 We're looking for a street-based design that fits in with (though does not need
slavishly to follow) the surrounding streets
 It's got to be viable and it's got to be able to support improvements to the tube
station. We're therefore suggesting a minimum density of 177 homes / hectare which
would deliver the same number of homes as the 'Pole' however we'd encourage you
to provide more. You can get up to about 250 homes per hectare without 'breaking'
the feel of a traditional medium rise inner city
 In addition the total capacity for hospital use on the site should, we suggest, be
retained (we've estimated this at about 15,600m2). We'd also encourage
maintenance of existing commercial or hotel use
 We would encourage you to read the Westminster Tall Building Strategy which says
that only one site for a tall building has been identified in the area – and that this has
been granted at 1 Merchant Square.
 Any evidence that the scheme is popular with residents, has been worked up with
residents, or is likely to be popular with residents, will be well received
 The proposal does not have to remove all buildings – in fact we encourage proposals
that reuse or add to existing buildings wherever humanly possible. Perhaps some
could be increased in height internally. We would certainly not encourage you to
propose the destruction of listed buildings but to work within and around London's
historic grain
 We'll be looking for core numbers showing how much development there is (so called
Gross Internal Area or GIA)
 We're also keen to see proposed facades. What might it look like and feel like at
human level?
Of course, you might want to disagree with these suggestions and impress and surprise
us. Please be our guest…
Suggested template response
We're not looking for huge in-depth document, but would suggest:
(i) Page one: a master plan sketch of the whole site showing how streets, buildings
& blocks
(ii) Page two: one or two sketch elevations of streets
(iii) Page three: indications as to total GIA and how that might be split between uses
(iv) Page four: indication for how you've worked up the proposal and how you would
take it forward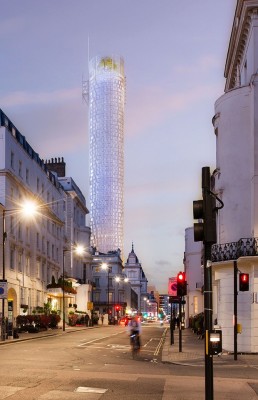 image of initial Paddington Pole tower proposal from architects
Who can enter ?
Anyone. Professionals are welcome. But we'd also actively welcome residents, neighbours,
London schools, people who work in the area. Perhaps best of all would be mixed groups of
residents or locals with a few professionals to help with the difficult bits ! That's how we'll be
running the judging panel and it's how Create Streets likes to work ! Give us a call and we
might be able to advise….
Why should I enter ?
This is not a 'normal' architectural competition. If all you want to do is win work this one may
not be for you. This competition is to encourage debate on an important site in central
London and it is a potentially important opportunity to influence the ongoing debate about
the future of London. High rise? Regeneration? Street-based intensification? Expanding into
the greenbelt?
Proposals should fit in with (but not necessarily replicate) the existing/surrounding
streetscape.
The existing hospital buildings (the hospital function and hospital floor space of these
buildings as they are now must be retained but increased density can bring more mixed uses
if appropriate).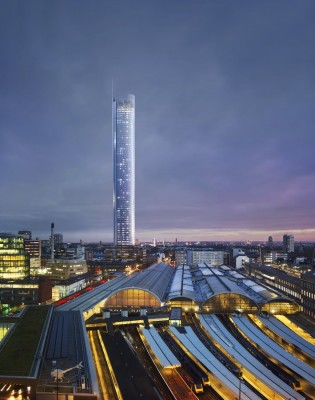 image of initial Paddington Pole skyscraper proposal from architects
Judges and judging
The final judging panel is composed of three local residents (Sophia Massey Cook, John
Zamit and Tessa Morrison), two local councillors (Cllr Brian Connell and Cllr Karen
Scarborough), Nicholas Boys Smith of Create Streets and David Taylor of Create Streets
and Urban Engineering Studio.
The final decision will be made by majority vote of the judges although entries will be prescreened
for deliverability and plausibility by David Taylor and Nicholas Boys Smith.
The prize is to be confirmed. It will certainly be the honour and (probably) the publicity. We
hope to make it more tangible as well ! Watch this space….
Timing and process
– The competition will close on Monday 9th May
– The winner will be announced by Monday 16th May
Who are Create Streets?
Create Streets is a non-partisan social enterprise and independent research institute
focusing on the built environment. We have produced co-designed master plans with local
residents at Mount Pleasant and Oval.
We encourage the creation of more and better urban homes with terraced streets of houses
and apartments rather than complex multi-storey buildings. We support reform of the
planning system to make it more effectively responsive to what people like in the built
environment and campaign for community-led building and locally-supported estate
regeneration to deliver homes that are popular and stand the test of time. Our work has led
to considerable discussion in the media and London politics.
Notes
Submissions will remain in the ownership of the entrants. However they will be in the public
domain. Create Streets will have unrestricted right of use of entries for publicity and
promotional purposes. Create Streets will have no liability for any unauthorised use by third
parties of the entrant's intellectual property arising from this competition.
Website: Create Streets Paddington Pole Competition
contact(at)createstreets.com
1 Feb 2016
Paddington Skyscraper Withdrawn from Planning Process
Paddington Place Tower by Renzo Piano Building Workshop – 31 London Street Development
Protests from Skyline and Historic England prompt developers to withdraw planning application for 72-storey tower in west London.
Public realm views: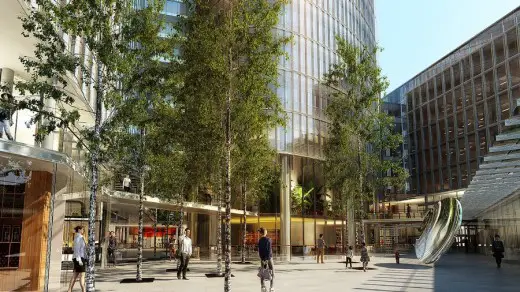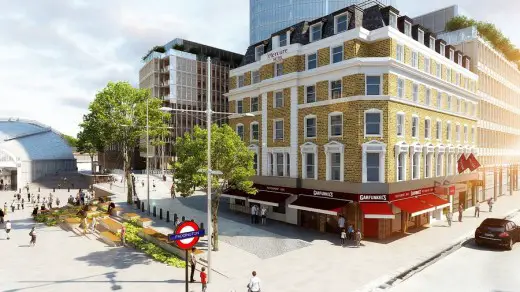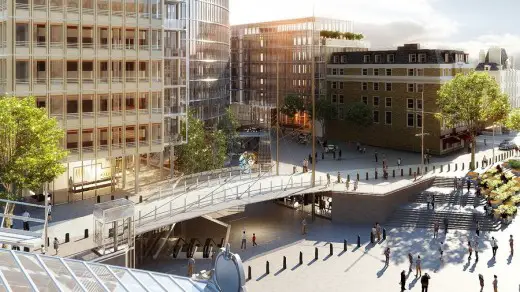 Bakerloo line ticket hall: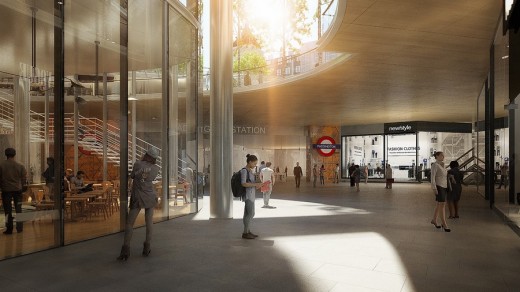 Paddington Place London architects : Renzo Piano Building Workshop, Italy
Renzo Piano Building Workshop (RPBW) were the architects of The Shard.
Paddington Skyscraper Design by Renzo Piano – article in The London Evening Standard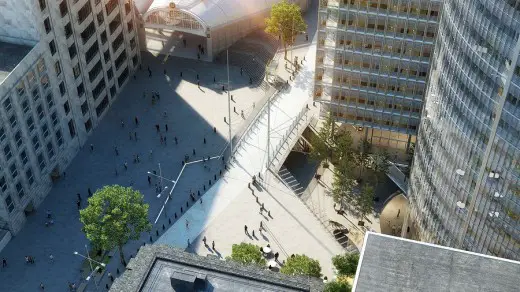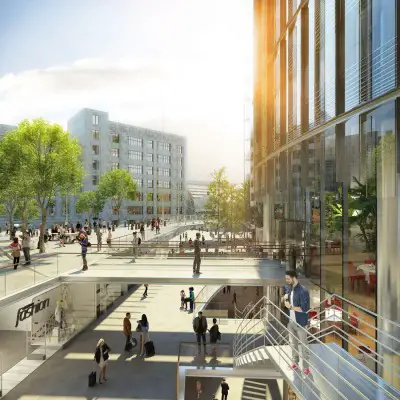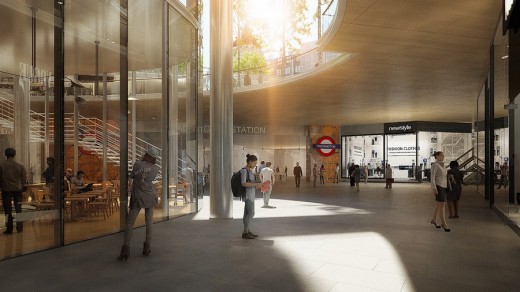 Paddington Place Multi-Use Scheme in London images / information from Create Streets
Paddington Place London by Renzo Piano Building Workshop – 31 London Street Development, 9 Dec 2015
Location: 31 London Street, Paddington, London, UK
Architecture in London
London Architectural Walking Tours
Comments / photos for the Paddington Place Alternative Design Competition page welcome