NYC Aquarium & Public Waterfront Design Competition, arch out loud New York Architecture contest, Building
NYC Aquarium & Public Waterfront Competition 2016
arch out loud New York Architectural Contest – open to architects + architecture students
29 + 28 Apr 2016
arch out loud NYC Aquarium & Public Waterfront Architecture Competition Winners
AQUARIUM IN QUESTION
pushing the limits of the aquatic realm within the urban environment
On a site that borders the East River and the Eleventh Street Basin in New York City, 556 designers looked to reinvent the aquarium.

NYC Aquarium & Public Waterfront Design Competition Winners
arch out loud invited students and professional designers to examine the relationship between urban cityscape and public domain. The challenge resulted in 178 proposals, representing 40 countries spanning six continents.
Each team tested the traditional "introverted" aquarium design by integrating a public waterfront park. The competition further asked designers to reverse the entire nature of the New York City riverfront property which is largely seized by high-end private residential buildings.
NYC Aquarium & Public Waterfront Architecture Competition 1st Prize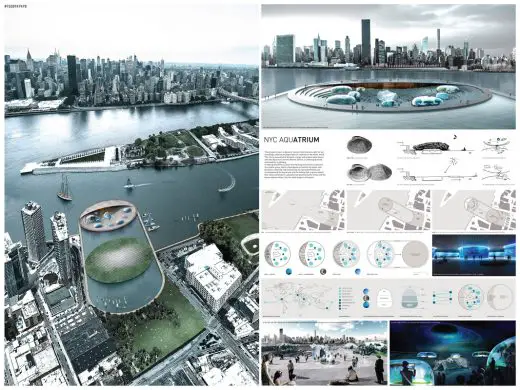 'NYC AQUATRIUM'
PIERO LISSONI, MIGUEL CASAL RIBEIRO, MATTIA SUSANI, JOAO SILVA
MILAN, ITALY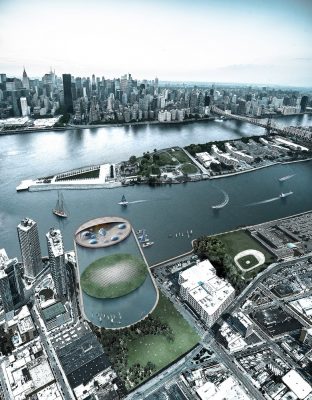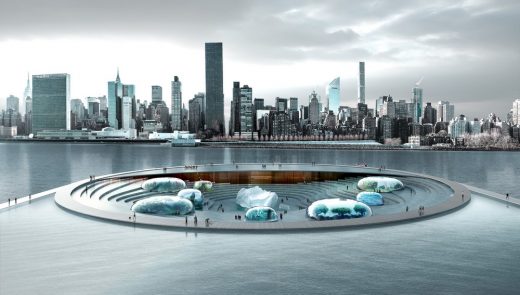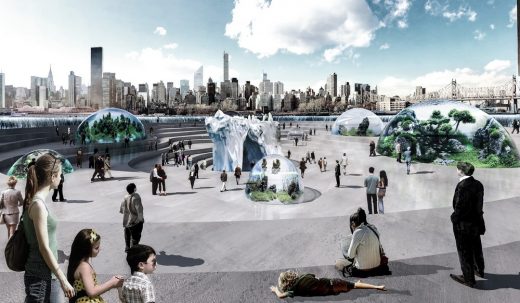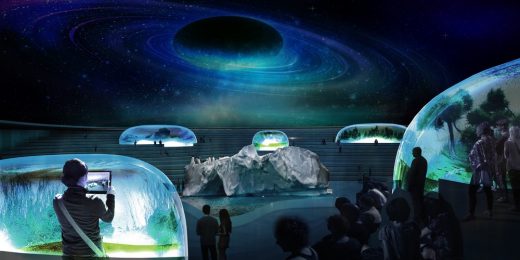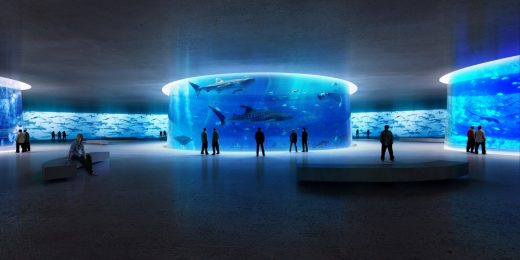 The project creates a dynamic system that interacts with its surroundings, offering multiple ways to experience the water world. The site is excavated to become a large and unique water basin, with the Aquarium and the Marine Centre a submerged island accessed via a pathway. A sloping beachfront covers the Parking area to form a panoramic public space, while a boardwalk surrounds the basin and becomes a floating ring connecting the two waterfronts and encompassing the Aquarium and its sliding roof, a green island that closes to become a planetarium protecting the arena and the biome domes within.
NYC Aquarium & Public Waterfront Architecture Competition 2nd Prize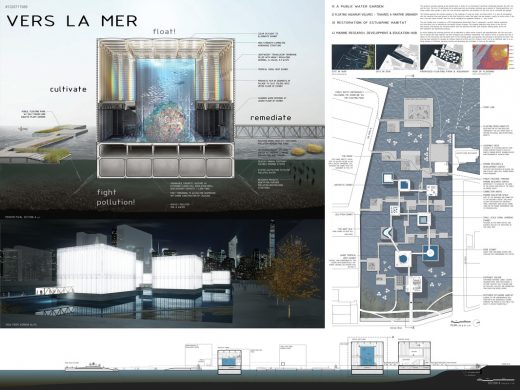 'VERS LA MER'
DOMINIK SIGG
BROOKLYN, NYC, UNITED STATES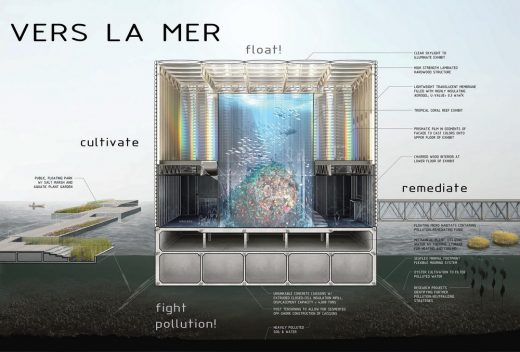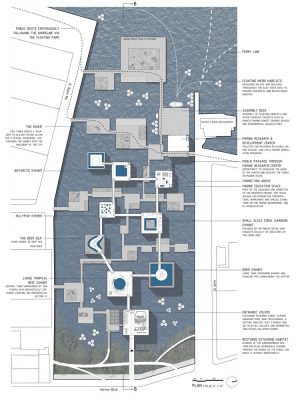 In light of rising sea levels and flooding events threatening metropoles around the world, this proposal investigates a maritime urbanism where the built fabric of the city shifts from traditional solid ground to a floating existence in harmony with the ocean. 'Vers la mer' – 'towards the sea' utilizes the potential of the Queens riverfront and Anable basin for such an investigation. Rectilinear volumes based on the built fabric on land are coming loose and float, anchored in the enlarged Anable basin and are surrounded by a floating water garden in which the public can enjoy and experience life on the water.
NYC Aquarium & Public Waterfront Architecture Competition 3rd Prize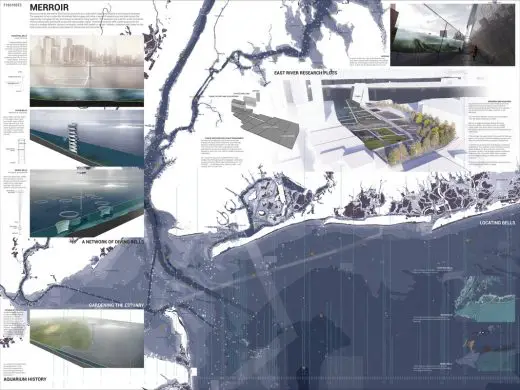 'MERROIR'
ROB HOLMES, LAUREL MCSHERRY, FREDERICK STEINER, DAVID BAYER
UNITED STATES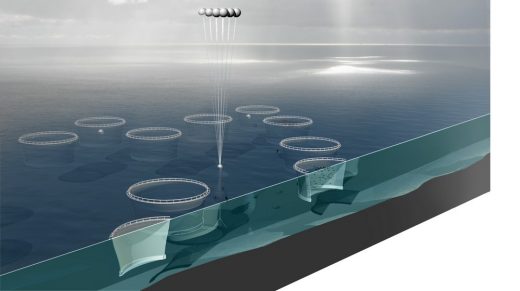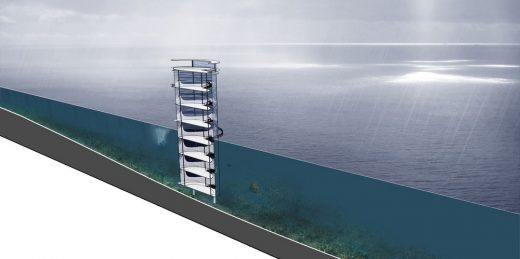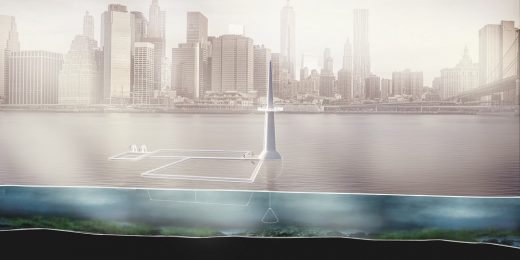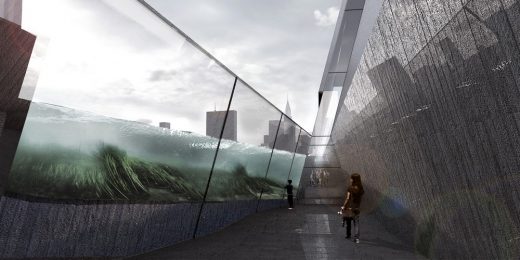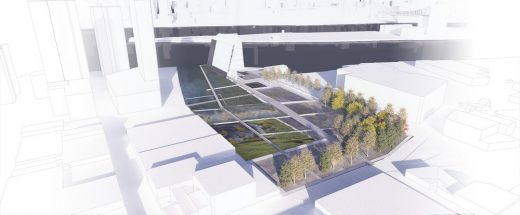 Merroir envisions the twenty-first century aquarium as a node within larger hydrological and ecological networks, an aquarium that is not a collection of animals behind glass but rather a series of experiences and encounters with an estuary as a dynamic living system. The aquarium site is at the center of a set of thirty diving bells distributed across the metropolitan region. Three distinct bell networks offer varied experiences for visitors to engage different, dynamic ecologies: mobile bells based on aquatic habitats, cadastral bells based on the built environment, and datum bells based on bathymetry and sea-level rise.​​
Each submission to the NYC AQUARIUM & PUBLIC WATERFRONT competition challenged physical boundaries, waterfront flooding issues and the very distinct makeup of what aquariums have been and might become.
View winners, honorable mentions and competition finalists: NYC Aquarium & Public Waterfront Design Competition Winners
2 Jan 2016
NYC Aquarium & Public Waterfront Design Competition
arch out loud NYC Aquarium & Public Waterfront Architecture Competition
Location: site bordering the East River and the Eleventh Street Basin
NYC AQUARIUM & PUBLIC WATERFRONT
INTRODUCTION
New York City has seen rapid redevelopment that has capitalized on previously undesirable locations. Sitting at the top of these locations are the sites that have access to waterfront. Most of the ventures in these areas are private economic interests that only address public value when there is a direct return on profit. If not taken into consideration many of these waterfronts will be absorbed and, with the constant return of people to the urban core, there lies a need to create public and cultural infrastructure. In a city that is filled with numerous icons, parks, theaters, and museums an aquarium is one of the few remaining public typologies that doesn't exist within the immediate area.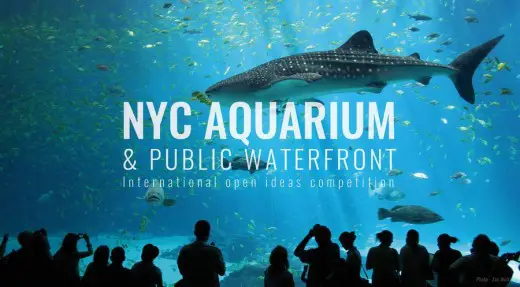 On a site that borders the East River and the Eleventh Street Basin in New York City, arch out loud proposes the implementation of a public aquarium and park to provide communal space for the surrounding city. arch out loud challenges designers to experiment with conventional interpretations of this program and investigate how it can create a relationship to its context.
REWARDS
1st Place – $2,000.
2nd Place – $1,000.
3rd Place – $500.
Director's Choice – $100.
5 Honorable Mentions.
JURY
Todd Degarmo – is the CEO of Studios Architecture. Todd has lead many projects in New York City, the U.S. and countries around the world. Todd is on the board of the New York Restoration Project and a Fellow of the American Institute of Architects.
Martha Schwartz – is the principal of Martha Schwartz Partners. She is a renown landscape architect based out of London, NYC and China. Martha has lead the design of many urban parks and public destinations.
James Hampton – is a Senior Associate at Peddle Thorp Architects, based out of Melbourne, Australia. James is the lead aquarium architect at PTA, who has designed many aquariums around the world.
Socrati Seretis – is a Senior Design Associate at Peddle Thorp Architects. Socrati is an innovative designer, pushing the limits of aquarium design. James and Socrati will be judging design submissions together to represent Peddle Thorp Architects.
Edouard Cabay – is an architect based out of Barcelona, where he leads his design firm Appariel and teaches at the Institute of Advanced Architecture. Edouard also currently teaches in Laussane, Switzerland and Paris, France.
Danny Ha – is Vice President and a Design Principal at The Jerde Partnership in Los Angeles, California. Danny leads many of the firm's projects based out of Asia, Russia and the United States. Danny is a graduate of Columbia University in New York City.
Anna Pietrzak – is a designer at KPF in New York City. Anna will be serving as the jury administrator and will be in communication with arch out loud to assure the selection process runs smoothly.

CALENDAR
Advanced Registration Deadline – December 31st, 2015
Early Registration Deadline – February 14th, 2016
Regular Registration and Submission Deadline – April 4th, 2016
Website: www.archoutloud.com/competitions
NYC Aquarium & Public Waterfront Design Competition image / information from arch out loud, 020116
Location: Eleventh Street Basin, New York, NY, USA
NYC Architecture
Met Breuer New York City Building, 945 Madison Avenue, Upper East Side
Original Architect: Marcel Breuer with Hamilton P. Smith
Renewal Architects: Beyer Blinder Belle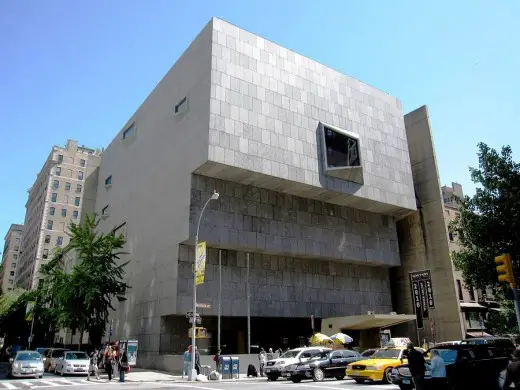 photo : Gryffindor, Wikimedia Commons
Met Breuer Building Manhattan
77 Greenwich Street Tower, Manhattan
Design: FXFOWLE Architects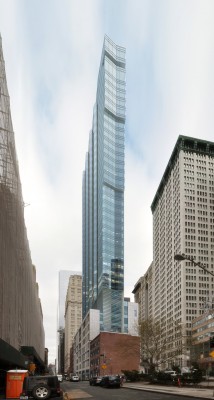 image from architects
77 Greenwich Street Tower NYC
Hudson Yards Development Manhattan
Architects: various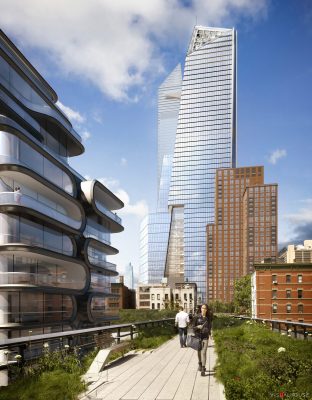 picture courtesy Related-Oxford
Hudson Yards Development Manhattan
340 Flatbush Avenue Skyscraper Brooklyn
Design: SHoP Architects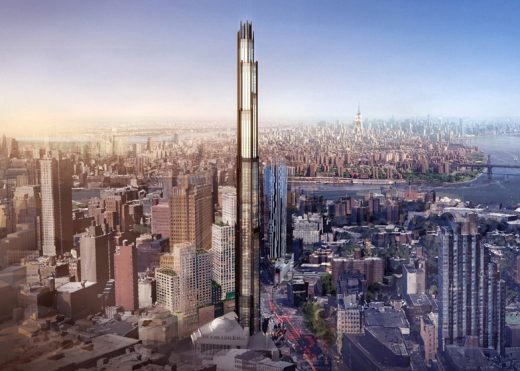 image courtesy of SHoP Architects
340 Flatbush Avenue Skyscraper Brooklyn
3 Sutton Place Tower Building, East Side, Manhattan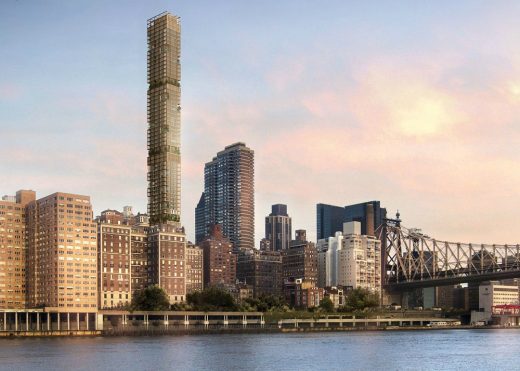 image courtesy Foster + Partners
3 Sutton Place Skyscraper NYC
Architecture Competitions
Design Competitions – Selection
Arquideas Central Park Summer Pavilion (CPSP) New York competition, NY, USA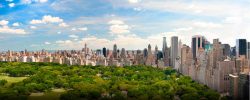 Central Park Summer Pavilion Architecture Competition
SixtyNine-Seventy, The Spaces Between: An Urban Ideas Competition, Utah, USA



image from organisers
SixtyNine-Seventy Architecture Competition
Symbolic World Cup Structure Competition, Rio de Janeiro, Brazil



image from competition organiser
Symbolic World Cup Structure Competition
Salt Lake City Design Competition, Utah



picture from AIA Utah
Boulder Civic Area Ideas Competition
Comments / photos for the NYC Aquarium & Public Waterfront Competition – New York Architecture Contest 2016 page welcome