Zaha Hadid Architect, London Studio, Designs, Photos, Practice, Office, News, Picture, UK
Zaha Hadid Architects 2016 News
ZHA Architecture: Buildings + Architectural Projects + Exhibitions + Books + Designs
Zaha Hadid News 2016 Archive
Zaha Hadid Architects News for 2106 – ZHA updates
Patrik Schumacher, Director of Zaha Hadid Architects, Controversy at WAF Berlin
25 Nov 2016 – Abolish social housing, scrap prescriptive planning regulations and usher in the wholesale privatisation of our streets, squares and parks, report The Guardian.
That was the message delivered by Patrik Schumacher, director of Zaha Hadid Architects, to a stunned audience of architects and developers at the World Architecture Festival in Berlin, provoking a flood of impassioned responses online – with both opponents and supporters declaring him to be "the Trump of architecture".
The late Hadid's work might have long been a source of astonishment, for its sci-fi forms and gravity-defying structural feats, but now she's gone, her practice is prompting incredulity for a very different reason. The queen of the curve has been supplanted by the king of free-market libertarianism. And the 55-year-old German architec is not holding back.
His uncompromising position on social housing estates provoked particularly audible disgust. "When socially renting tenants are asked to move and offered a new place somewhere else, they are given these new houses for free," he thundered. "What a tragedy for them." He even suggested building over Hyde Park.
Patrik Schumacher, director of Zaha Hadid Architects, article in The Guardian
16 Nov 2016
Guangzhou Infinitus Plaza breaks ground, China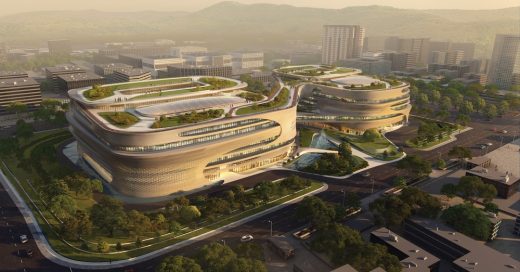 image from architect
Guangzhou Infinitus Plaza Building by Zaha Hadid Architects
The 167,000 sqm Guangzhou Infinitus Plaza will be a campus of integrated buildings that combine intelligent technologies and environmental sustainability, comprising key facilities for the group including a new global center for R&D a Chinese herbal medicine research and safety assessment center; as well as an exhibition center and gallery.
10 Nov 2016
Meta Utopia exhibition at the Zaha Hadid Design Gallery, Goswell Road, London
coming soon…opening mid November, more details online soon.
8 + 7 Nov 2016
Zaha Hadid Architects opens Middle East office, Dubai Design District, UAE
With 30 years' experience in the Middle East and North Africa, Zaha Hadid Architects (ZHA) is collaborating with visionary clients throughout the region on 16 transformational projects. ZHA's new office within the Dubai Design District continues our longstanding commitment to the region.
A recipient of the 2016 Aga Khan Award for Architecture, ZHA marries concepts of connectivity with the tremendous advancements in design technologies, material development and construction practices. ZHA is working with the many diverse histories and cultures of the region to address important issues in a meaningful way – contributing to the development of more ecologically sustainable and integrated built environments.
Opening on 7 November, 2016 ZHA's office in Dubai has been established in response to the solid growth in demand from new and existing clients across the region; providing even greater levels of assistance, coordination and communication with our increasing client base throughout the Middle East.
Zaha Hadid Architects Middle East
Unit 503, Building 8
Dubai Design District
Dubai, UAE
3 Nov 2016
Forest Green announces Zaha Hadid Architects as stadium design winner, Southwest England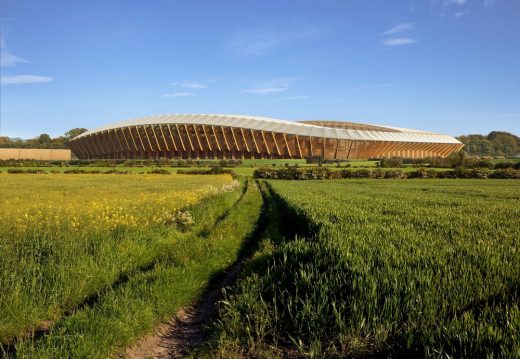 image © Zaha Hadid Architects, render by VA
Forest Green Rovers Stadium Building
Following a seven-month international competition, Forest Green Rovers has selected Zaha Hadid Architects to design its new 5,000 seater football stadium.
31 Oct 2016
Zaha Hadid announced as designer of the BRITs trophy
The BRIT Awards 2017 with Mastercard today confirm that the 2017 statue was designed by Zaha Hadid. With a career spanning four decades, Hadid redefined design in the 21st century with her ground-breaking vision. Like music, her work celebrated the creative richness and diversity of culture. The 2017 statue both honours and adds to Hadid's remarkable legacy. The 2017 BRIT Award winners will be rewarded with her unique creativity.
Brit statue concept sketch by Zaha Hadid Design: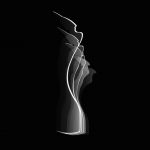 In March this year Zaha Hadid passed away suddenly in Miami after suffering a heart attack. Hadid, widely regarded as one of the worlds greatest architects, inspired people with her powerful creations. A visionary with an incredible imagination, she was no stranger to awards herself. Her work saw her pick up some of the most prestigious design awards in the world.
The BRIT design project has been led by Maha Kutay, Director at Zaha Hadid Design, and Niamh Byrne (on behalf of The BRIT Awards), since Hadid personally accepted and commenced on the brief in January of this year. BRITs Chairman Jason Iley initially reached out to Hadid at the start of the year and received an instant positive answer. Iley wanted to create something modern and culturally relevant for The BRITs and Hadid was the perfect choice. Iley then met Hadid in February at her party celebrating the winning of the 2016 Royal Gold Medal For Architecture, presented by the Royal Institute of British Architecture in recognition of a lifetimes work (approved personally by Her Majesty The Queen, Hadid was the first female recipient of this accolade).
Recalling this meeting and a subsequent one Iley said, "The party was for her family, friends and many renowned architects. This was a really big night for her and she was still prepared to talk about The BRIT Award and she was really excited about it. A couple of weeks later, as a guest of Sony at The BRIT Awards, she enthused 'I know exactly how I want to do it! I have a vision for it!' Which was amazing as she was one of the most brilliant, forward thinking architects in the world." Explaining his reasons for approaching Hadid, Iley continued, "Zaha's work is innovative, original and recognises diversity in culture. It has much in common with music. She was the perfect choice for progressing the Award into the future."
Speaking about the design Maha Kutay said: "Zaha was truly excited to be doing this. Her vision was, being an architect, to focus our efforts more on the 3D element, as the statue had previously been used as a canvas for artists to paint on for the last few years. Our design expresses Zaha's unwavering belief in progress and optimism for the future and a break from the norm. The biggest challenge was to create something different within certain guidelines, yet achieving a result recognisable to the public. You have to respect the existing to create something new."
The statue will be fully revealed later in the year. Zaha's team will produce a family of 5 statues bespoke for the 2017 BRIT Awards. Kutay explains the family of five idea, "the concept represents diversity, the family is connected by a wave of transition, they are different yet connected."
A huge music fan, Hadid had cited a range of artists including Drake, Bryan Ferry, The Beatles, Sam Smith and Adele amongst her favourites in an interview with Desert Island Discs shortly before she passed away. In 2015 she partnered with Pharrell Williams to collaborate on a design for a pair of trainers. At the time Williams said, "I'm a huge fan of Zaha's. I would venture to say that she's one of the most talented architects of our time, and of history in my opinion."
The BRIT Awards 2017 with Mastercard will be broadcast live on ITV – Wednesday 22nd February from London's O2 Arena.
27 Oct 2016
Jockey Club Innovation Tower wins RIBA Award for International Excellence and Heydar Aliyev Center shortlisted for RIBA International Prize
Selected from 30 projects from around the world, the Jockey Club Innovation Tower designed by Zaha Hadid Architects wins a RIBA Award for International Excellence and the Heydar Aliyev Center is shortlisted for the RIBA International Prize.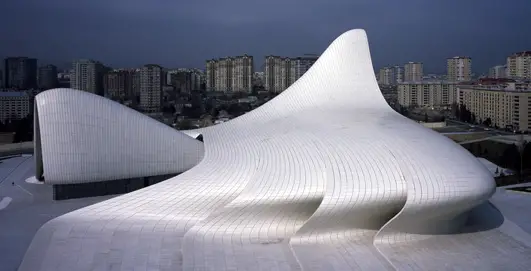 photo : Hélène Binet
Built on the site of a Soviet munitions factory, the Heydar Aliyev Centre's fluid architecture embodies an enlightened philosophical framework.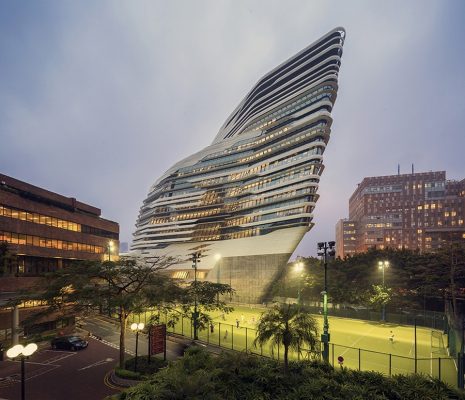 photo : Doublespace
The Jockey Club Innovation Tower (JCIT) is home to the Hong Kong Polytechnic University's School of Design, and the Jockey Club Design Institute for Social Innovation.
The new RIBA International Prize is open to all qualified architects anywhere in the world and reaffirms the visionary purpose of the RIBA as stated in its 1837 charter for 'the general advancement of Civil Architecture.'
The International Prize will be presented in December 2016 to the architects of the building thought by the judges to be the most significant and inspirational of the year, demonstrating visionary, innovative thinking and excellence of execution, while making a generous contribution to society and to its physical context – be it the public realm, the natural environment or both.
24 Oct 2016
Urban Heritage Administration Centre, Diriyah, Saudi Arabia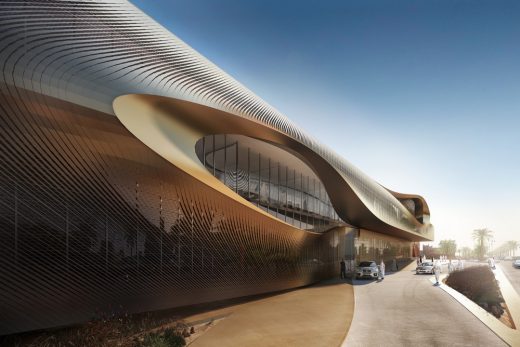 render : Methanoia
Urban Heritage Administration Centre in Diriyah
ZHA wins first prize in the competition for the 8,780m² head office of the Heritage Museum. The centre is integral to the on-going works to preserve Diriyah's historic UNESCO world heritage listed site, continuing the restoration programmes throughout the 120km Wadi Hanifah valley that also includes the re-establishment of its natural environments.
22 Sep 2016
Port House, Antwerp, Belgium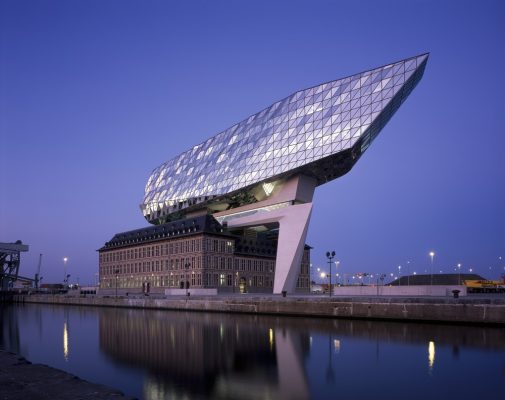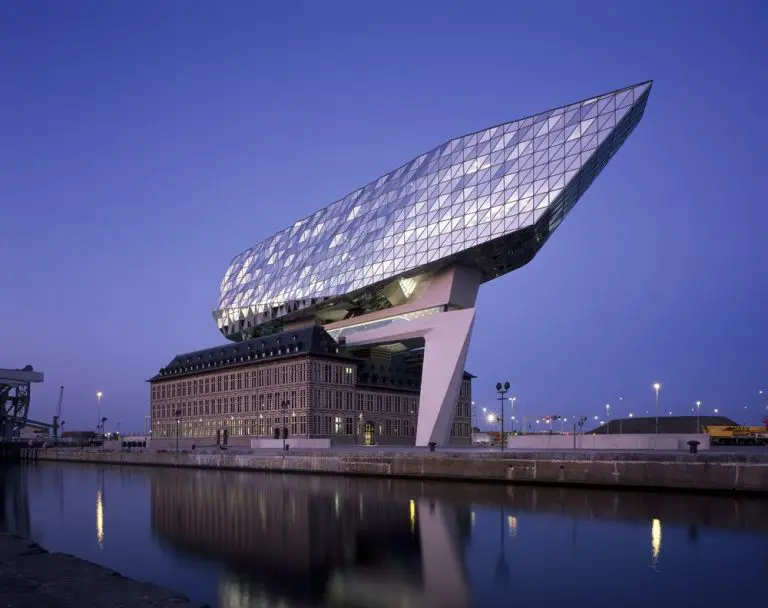 photograph © Helene Binet
Port House, Antwerp
The new Port House in Antwerp repurposes, renovates and extends a derelict fire station into a new headquarters for the port – bringing together the port's 500 staff that previously worked in separate buildings around the city.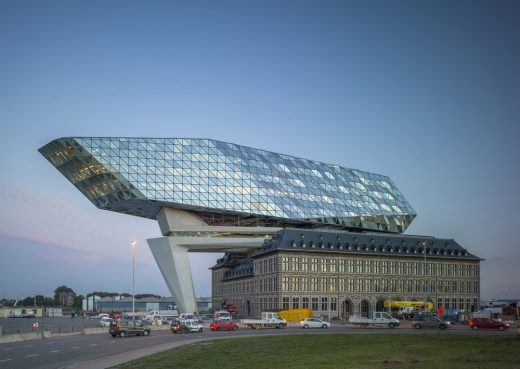 photo © Tim Fisher
8 Sep 2016
Zaha Hadid Pavilion at Chatsworth House, Bakewell, England, UK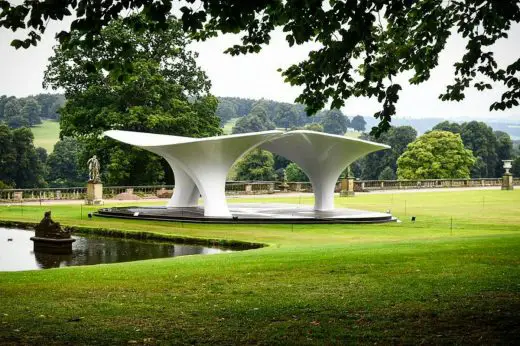 image from architects
Lilas Pavilion at Chatsworth House
The 'Lilas Pavilion' is exhibited as part of 'Sotheby's Beyond Limits'.
22 Jul 2016
Vitae Collection by Zaha Hadid Design for Porcelanosa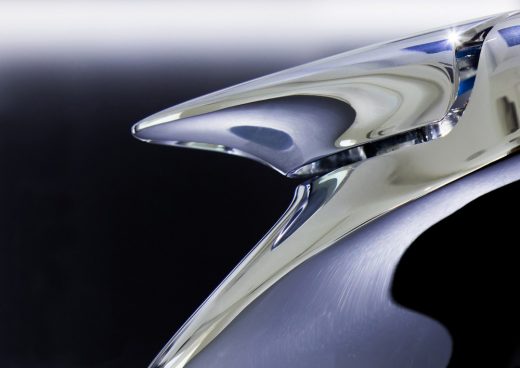 Vitae appears as an integral bathroom collection meant to arise as the new bathroom design. Noken and Zaha Hadid Design have come to a revolutionary notion for the bathroom. This new series features astounding elements that remind us of the spectacular designs created by Zaha Hadid.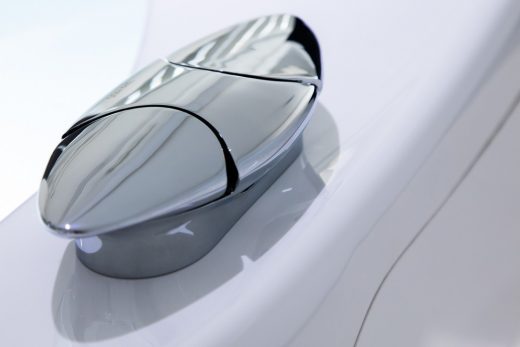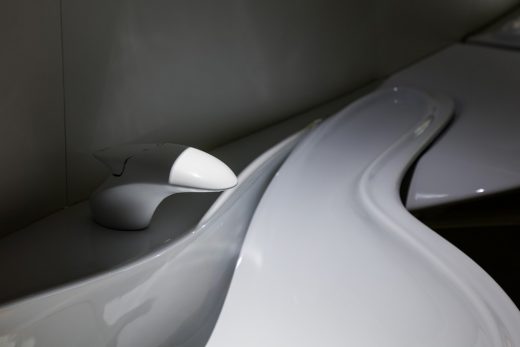 Fluid lines that evoke water flow are the leitmotif of this outstanding collection. For this reason it has been named Vitae ("life" in latin), because in water is where all sort of life begins. This is Vitae, a collection with incomparable designs that will stand for a revolutionary notion in the bathroom.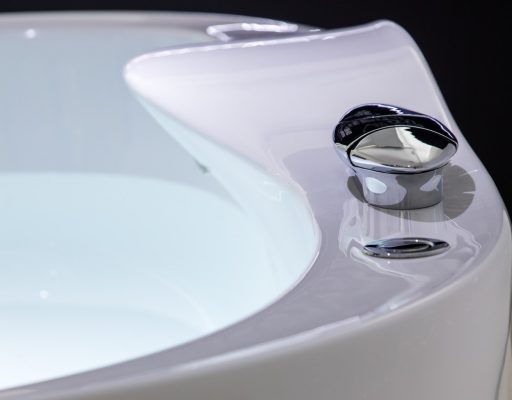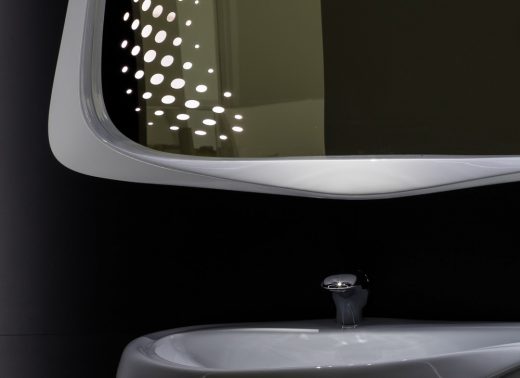 photos : Luke Hayes
With more than 40 years' experience, Porcelanosa Group works to its core values of innovation and quality in almost 100 countries worldwide.
Starting with the production of ceramic tiles, product diversification has played a key role in Porcelanosa's growth. Today, the group's eight companies and 5,000 staff create the widest range of products that include kitchens and bathrooms as well as inventive solutions for contemporary architecture.
Noken, a division of Porcelanosa Bathrooms, marries signature designs with unrivalled quality, craftsmanship and innovation.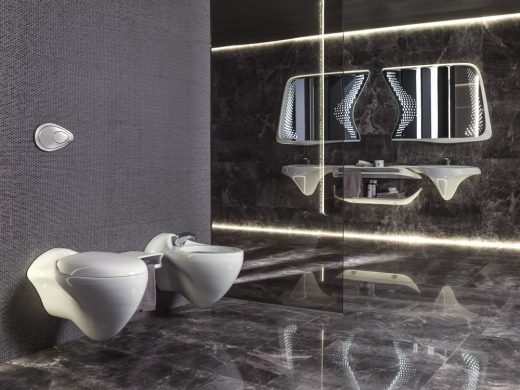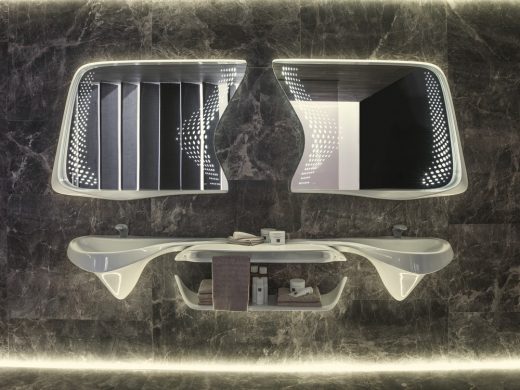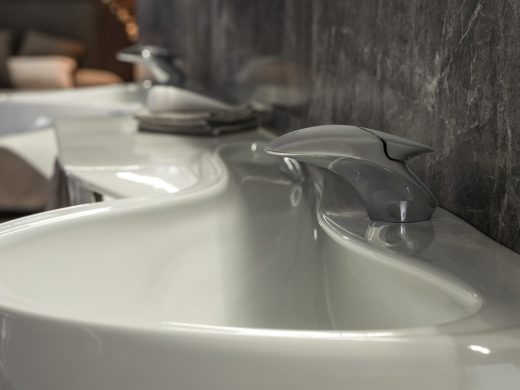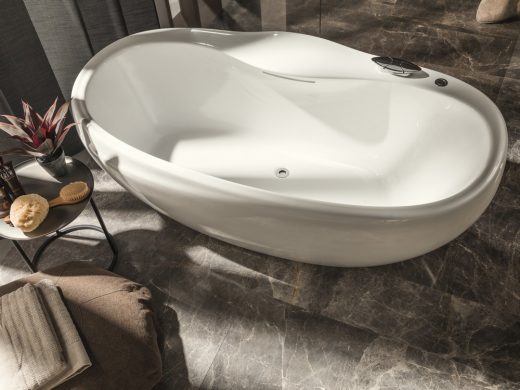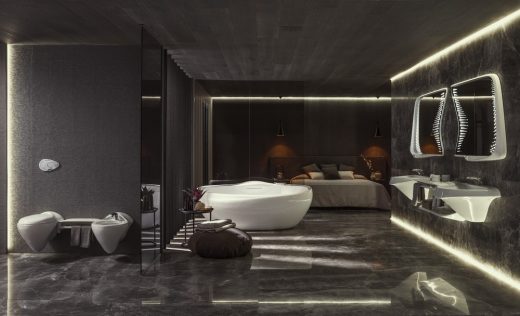 photos : Porcelanosa
The Vitae Collection, a new bathroom concept by Zaha Hadid Design for Noken, has been informed by Hadid's fluid architectural language; integrating each piece within the overall ensemble. Shaped by functional and ergonomic considerations, the design is also dependent on the overriding formal language of fluidity.
24 Jun 2016
Awards for Zaha Hadid Architects' projects in Oxford and Singapore
24th June 2016 – RIBA National Award 2016 for the Investcorp Building, Middle East Centre at St Antony's College, Oxford University
Investcorp Building, Oxford University
Following its recent awards from the Oxford Preservation Trust and RIBA South, the Investcorp Building, Middle East Centre at St Antony's College, Oxford University has received a RIBA National Award 2016.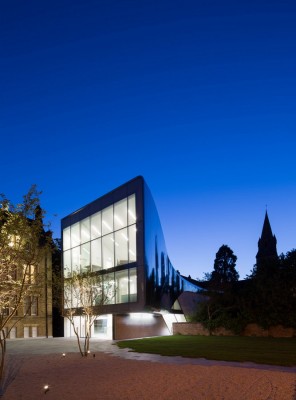 photo © Luke Hayes
Integrating new academic and research facilities within a design defined by the existing built and natural environment of the college, the Investcorp Building maintains the detached character of the college's existing buildings, allowing them to be read as separate elements. The design weaves through the restricted site at St Antony's College while its stainless steel façade softly reflects natural light to echo the building's context.
The curved form of the library reading room's western façade accommodates the century-old Sequoia tree and its extensive root network with a drainage system below the foundation slabs to ensure the tree receives enough moisture.
The new Investcorp Building connects disparate buildings within the college, defining a series of spaces for the centre's renowned archive, library and seminar programmes; allowing the Middle East Centre to expand its commitment as a vital forum of research and debate.
In its citation, the RIBA Award committee noted: "This is a project that demonstrates great virtuosity and a huge amount of technical skill… the architect, the contractor and the client worked well together to produce a superb building which will stand the test of time."
Investcorp Building, Oxford University's Middle East Centre at St Antony's College by Zaha Hadid Architects
d'Leedon Singapore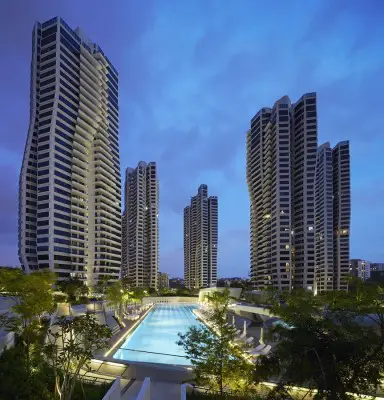 photo © Hufton+Crow
The FIABCI (International Real Estate Federation) Prix d'Excellence recognises projects that best embody excellence in the real estate disciplines, illustrating the ideals of 'providing society with the optimal solution to its property needs'. The jury panel is comprised of top real estate professionals and experts and rewards projects not just on their aesthetics, functionality or size, but on overall merit.
d'Leedon Singapore, designed and built for Capitaland, with 340 unique apartment layouts is the largest residential development in the city state. The petal-shaped floorplan for the 36 storey towers allows for windows on three sides of every apartment and natural ventilation in all kitchens and bathrooms. With varied geometries, the orientation and placement of the seven towers is optimized in response to environmental considerations.
The site presented a number of constraints with two MRT underground tunnels and the primary water main supply to Singapore from Malaysia running directly beneath the site, together with strict setback regulations at the western edge of the site. d'Leedon's design turns these challenges of the site to the advantage for residents, embracing the concept of differentiation, where single apartments have been customized and specifically designed according to their location and position within the site, as well as the requirements of the residents.
d'Leedon Singapore by Zaha Hadid Architects
Related External Links:
Investcorp Building, Oxford University's Middle East Centre at St Antony's College
St Antony's College, Middle East Centre
FIABCI World Prix D'Excellence Awards 2016
9 Jun 2016
220 Eleventh Avenue, West Chelsea, New York City, NY, USA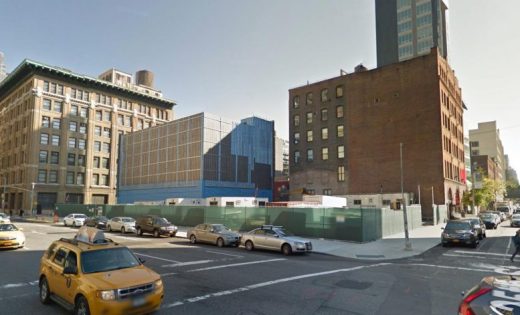 image of the site
220 Eleventh Avenue by ZHA
A mixed-use project, with condominiums and a space for a cultural institution. The project was one of the last that Zaha personally designed before she passed away earlier this year.
27 May 2016
Serpentine Sackler Gallery ZHA Exhibition, London, England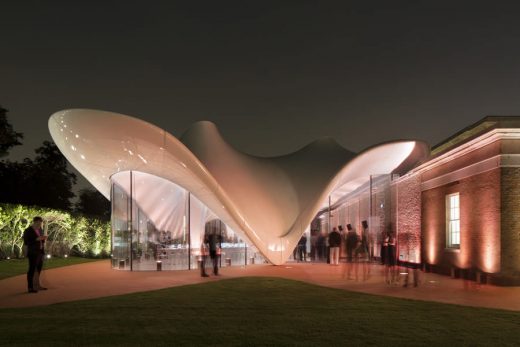 photograph courtesy of Luke Hayes
An exhibition of Zaha Hadid's art is to be staged at the gallery she converted for the Serpentine. The show at the Sackler in Kensington Gardens was conceived by Hadid and the gallery's curators before her death in March aged 65, reports Building Design. Rarely seen paintings, drawings, calligraphy and digital work will go on display this winter:
Serpentine Sackler Gallery extension
26 May 2016
Bournemouth Landmark Design Competition, England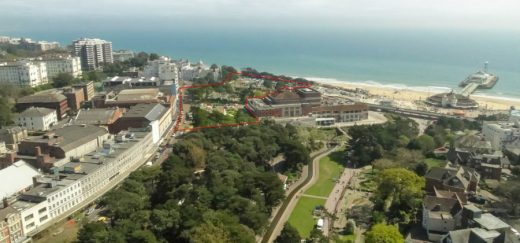 image from ZHA
Zaha Hadid Architects win Bournemouth Landmark Design Competition
The creation of a landmark 'cultural quarter' overlooking Bournemouth's world-famous seafront is under way following the appointment of leading international designers Zaha Hadid Architects. Initial proposals for the site include designing a mix of cultural attractions and public space improvements complementing Bath Road and the Pavilion Theatre. This could include a multi-use performance space, hotel and restaurants.
25 May 2016
Sunset Strip Billboard, West Hollywood, California, USA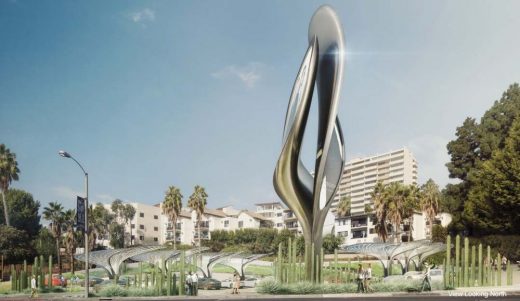 images from architects
West Hollywood is in the midst of reconsidering its policies toward billboards on the Sunset Strip—a stretch of street once known for its billboards—potentially adding new rules that would require future ads be more visually exciting, using lighting, three-dimensional elements, moving parts, and/or many other flashy accoutrements, reports curbed.com. In light of that, WeHo's gotten the ball rolling by starting up a pilot project that would install a striking, temporary billboard at 8775 Sunset Boulevard, a city-owned parcel.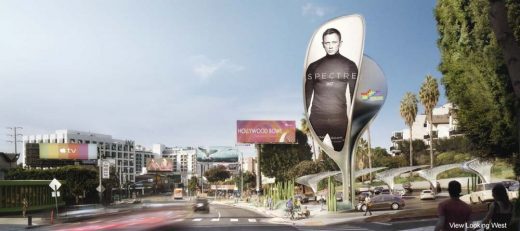 To decide what would go on the spot, West Hollywood accepted nine proposals and chose four finalists, a press release for the program says.
The four finalists design teams:
– JCDecaux and Zaha Hadid Project Management Ltd.
– Orange Barrel Media/Tom Wiscombe Architecture/MoCA
– Outfront Media/Gensler/MAK Center
– Tait Towers Inc.
The WeHo project page notes that, although architect Zaha Hadid died in March, "her legacy is enduring and embedded in the design studio she created."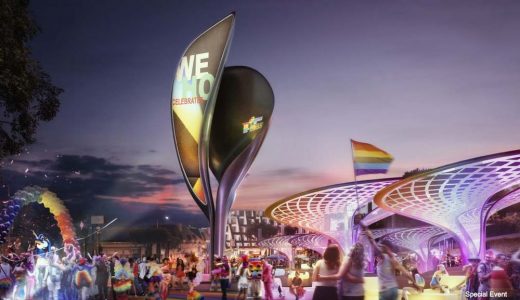 Website: Sunset Strip Billboard by Zaha Hadid Architects
23 May 2016
Penthouse 37 in NYC, 520 W 28th St, New York, NY 10001, United States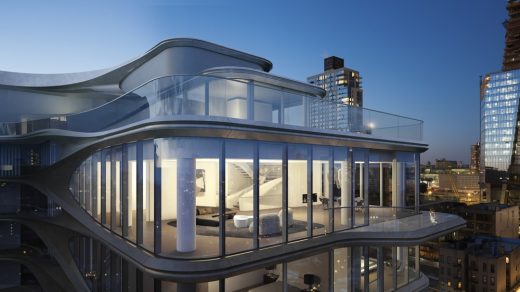 image from architects
Penthouse 37 at 520 West 28th Apartments in Manhattan
Five-bedroom penthouse home of 6,853 sqft with a 2,218 sqft terrace and two private balconies. The lower living level features an oversized, corner master suite complete with two large, windowed dressing rooms and two master baths.
13 + 11 May 2016
Zaha Hadid Retrospective at Venice Architecture Biennale, Italy
May 26 – November 27, 2016
Zaha Hadid Retrospective To Open At Venice Architecture Biennale in Late May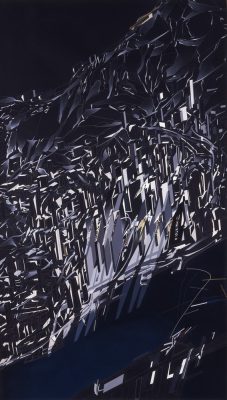 image : 1982-83 The Peak Hong Kong
The work of the pioneering architect will receive an impromptu retrospective at the upcoming Architecture Biennale in Venice, the New York Times reports.
Opening on May 28, the Biennale will host a 10-room exhibition at the Palazzo Franchetti . Financed by Fondazione Berengo, a Venetian glass-making foundation, the exhibition will celebrate the architect's 35-year-long career, showcasing both unrealized and in-progress projects, including the Port House Headquarters in Antwerp, and an apartment building on the High Line (Hadid's first New York project). The show will also highlight a circa-1985 proposal to transform Trafalgar Square in London.
All of Zaha's completed buildings will be shown, as well, via her own paintings, paper and 3D-printed models, drawings, photographs, and videos.
According to the New York Times, discussion of the exhibition began in October 2015 when the architect designed vase-like sculptures (that are as-yet unproduced) for Fondazione Berengo's glassmaking studio. She wanted to put on a small show that focused on the new technologies and computational design methods employed by her London-based firm. But after her death on March 31, the firm decided to pivot the show into an overview of her career.
May 26 – November 27
The Guggenheim Museum in New York ran a Hadid retrospective in 2006, as did the State Hermitage Museum in St. Petersburg, Russia, in 2015.
12 May 2016
Kurt Schwitters Retrospective, Zurich, Switzerland
An exhibition designed by ZHA for a major retrospective of artist Kurt Schwitters opens in Zurich in June.
'Kurt Schwitters: Merz'
Galerie Gmurzynska
12 June – 30 September
The gallery states: "This collaboration results from the idea of an architectural homage by Zaha Hadid to the famous 'Merz Bau' of Kurt Schwitters. Having successfully realised a similar project seven years ago, where Hadid transformed Galerie Gmurzynska, Zurich into a suprematist space in reference to Kasimir Malevich, this collaborative project pays tribute to the second important artistic influence on Hadid's work – Kurt Schwitters."
11 May 2016
Heathrow Airport Expansion Architects Shortlist, London, England
Heathrow Airport Expansion Architects Shortlist News
Heathrow names four architecture studios – including practices Zaha Hadid Architects, Grimshaw, HOK and Benoy – on shortlist for a 'hub airport of the future' concept as part of its expansion plans, reports the Architect's Journal.
10 May 2016
RIBA International Awards 2016 Longlist
ZHA in RIBA International Awards Longlist
30 Buildings Selected – The longlist includes:
Heydar Aliyev Centre Baku, Azerbaijan, by Zaha Hadid Architects and DiA Holding
Jockey Club Innovation Tower, Hung Hom, Hong Kong
10 May 2016
Aga Khan Award for Architecture, International
Building by ZHA shortlisted for Aga Khan Award for Architecture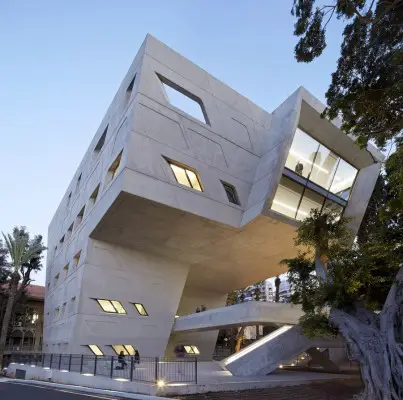 image from architects
Issam Fares Institute, Beirut
Issam Fares Institute, Beirut is one of the 19 shortlisted architectural projects for the 2016 Aga Khan Award for Architecture, selected from amongst 348 projects, will be competing for US$ 1 million in prize money.
6 May 2016
Masaryk Railway Station Area Regeneration, Prague, Czech Republic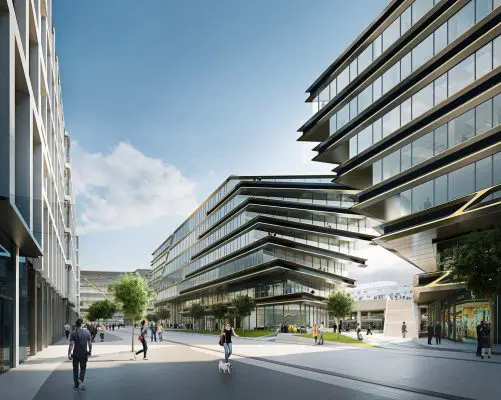 image from architects
Masaryk Railway Station Area Renewal by ZHA
Zaha Hadid Architects (ZHA) has worked with local partners and the city of Prague to develop the design that regenerates a brownfield urban site adjacent to the city's Masaryk Railway Station that has stood derelict for several decades, returning the site to active use.
26 Apr 2016
Sberbank Technopark in Skolkovo Innovation Centre, Moscow, Russia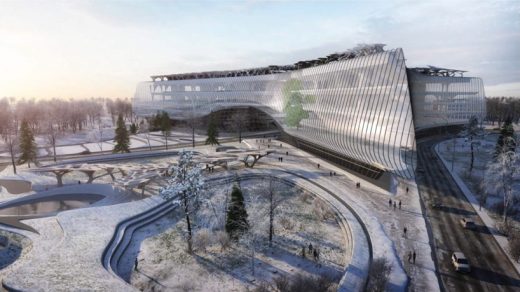 picture from architects
Sberbank Technopark Competition winning design by Zaha Hadid Architects
The results of the international competition to create the architectural concept for Sberbank's technopark in Skolkovo Innovation Centre have been announced.
25 Apr 2016
Maritime Terminal in Salerno, Italy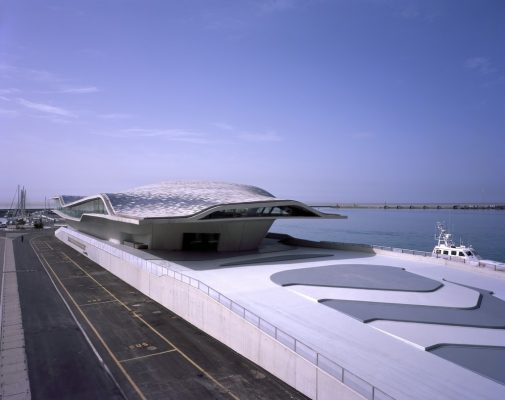 image from architects
Maritime Terminal Salerno Building
Inauguration – Italian Prime Minister Matteo Renzi pays tribute to Zaha Hadid
21 Apr 2016
Messe Hall 3C in Nuremberg, Germany
Construction begins on NürnbergMesse Hall 3C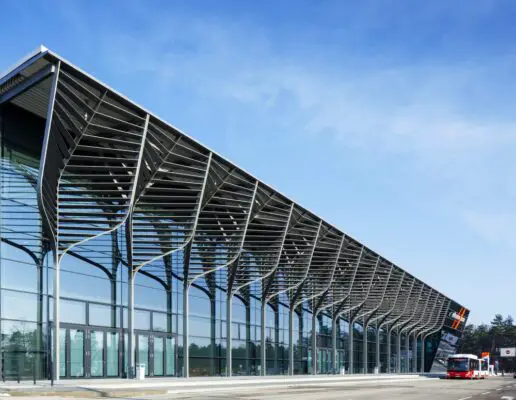 photograph : Heiko Stahl
NürnbergMesse is one of the world's largest exhibition companies with a portfolio of over 120 national and international exhibitions and congresses that include 30,000 exhibitors and 1.4 million visitors who attend in their own, partner and guest events of the NürnbergMesse Group.
3 Apr + 31 Mar 2016
Zaha Hadid
Architect Zaha Hadid was born in 1950 in Baghdad, Iraq.
Dame Zaha Hadid 1950-2016
Zaha Hadid Architects have confirmed that Dame Zaha Hadid, DBE died suddenly in Miami in the early hours of this morning. She had contracted bronchitis earlier this week and suffered a sudden heart attack while being treated in hospital.
Phaeno Science Centre: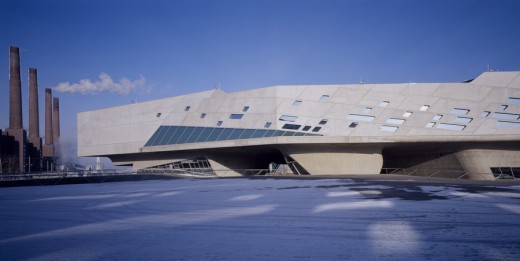 photograph : Werner Huthmacher
Speaking today RIBA President Jane Duncan said:
"This is absolutely terrible news. Dame Zaha Hadid was an inspirational woman, and the kind of architect one can only dream of being. Visionary and highly experimental, her legacy despite her young age, is formidable. She leaves behind a body of work from buildings to furniture, footwear and cars, that delight and astound people all around the world. It was only last month that I had the enviable task of awarding Zaha the 2016 Royal Gold Medal for architecture – she was delighted to receive the recognition and adds the medal to an amazing collection of awards, not least winning the RIBA Stirling Prize two years running. The world of architecture has lost a star today."
This film shows some of the people and projects of Zaha Hadid Architects. It aims to convey the ideas and ambitions behind ZHA work. Some of their academic design research, with students from AADRL and Vienna University of Applied Arts, is also featured:

Published on 15 Sep 2014
Galaxy Soho building, China: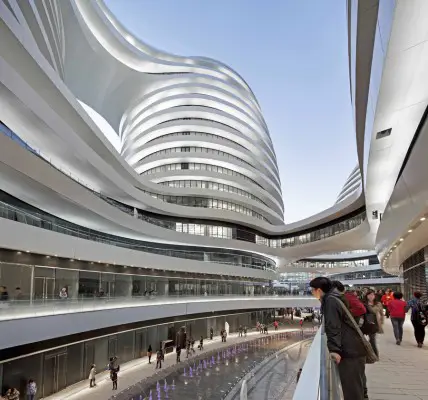 photo : Hufton and Crow
March 31, 2016
The Pritzker Family and the Pritzker Architecture Prize organization are deeply saddened by the passing of Dame Zaha Hadid.
DDP Seoul building: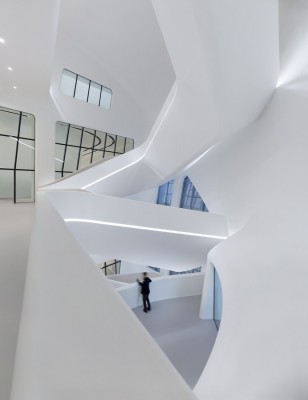 photo : Virgile Simon Bertrand
Tom Pritzker, Chairman of the Hyatt Foundation which sponsors the prize, said, "Zaha represented the highest aspirations of the Pritzker Architecture Prize. She combined her vision and intellect with a force of personality that left no room for complacency. She made a real difference."
BMW Central Building interior: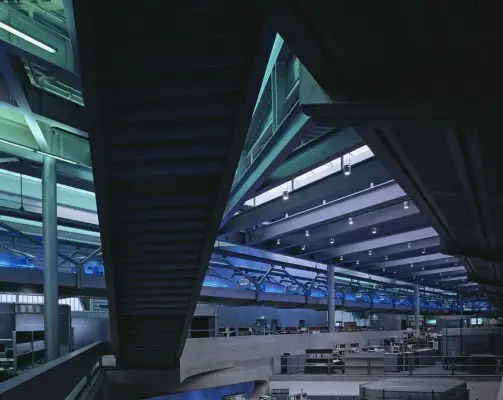 photo : Hélène Binet
The Chair of the Jury of the Pritzker Architecture Prize Jury, Lord Peter Palumbo said, "The world of culture has lost a standard-bearer for the art of architecture. Zaha Hadid fought prejudice all her life with great success. And this, in addition to her genius as an architect, will secure her legacy for all time."
DDP Seoul building: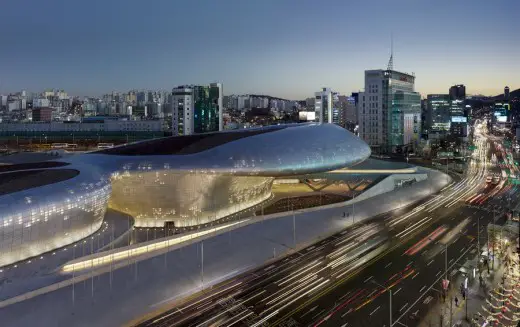 photo : Virgile Simon Bertrand
Hadid was the 2004 Pritzker Architecture Prize laureate, recognized for her extraordinary talent and prodigious artistic outpouring. She also served on the Pritzker Architecture Prize jury in 2012.


photo : Giovanna Silva
The globally-renowned architect Dame Zaha Hadid receives the 2016 Royal Gold Medal for architecture, the first woman to be awarded the prestigious honour in her own right.
She has become one of the most famous architects in the world.
Buildings nominated for the prestigious Stirling Prize include Evelyn Grace Academy building (winner – 2011), MAXXI (2010), Nordpark Cable Railway Station (2008), Phaeno Science Centre (2006) and the BMW Central Building (2005).
Zaha Hadid's style is boldly contemporary, organic and innovative. The architect pushes design through new technology and materials and never does ordinary. Besides creating architecture the architect is a celebrated painter, designer of furniture and interior products + fittings such as bowls and chandeliers.
Zaha Hadid Architect News
Architecture News – latest additions to this page, chronological:
Wangjing Soho wins Excellence Award from CITAB-CTBUH 2016 Best Tall Building China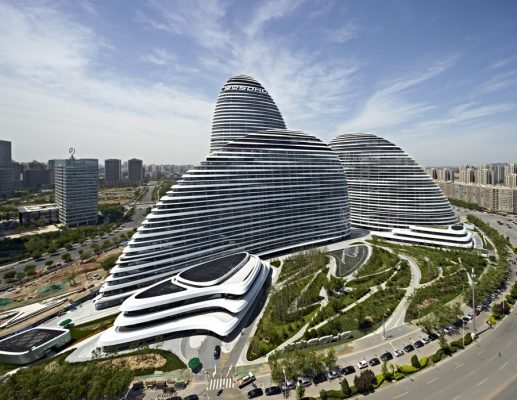 image © CCDI
CITAB-CTBUH 2016 Best Tall Building China – 6 Mar + 27 Feb 2016
The China International Exchange Committee for Tall Buildings and the Council on Tall Buildings and Urban Habitat announce the award recipients for the inaugural CITAB-CTBUH 2016 China Tall Building Awards. With the support of the Architectural Society of China and the Architectural Society of China Shanghai, the first year of this regionally focused awards program was very successful, with numerous high-quality projects entering into the running under six categories of recognition.
Link: http://www.zaha-hadid.com/architecture/wangjing-soho/
Zaha Hadid, Judith Turner: A Dialogue
Published by Axel Menges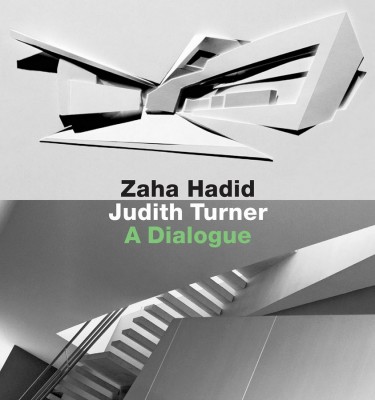 Photography © Zaha Hadid Architects & Judith Turner
Featuring drawings of six early architectural works by Zaha Hadid and photographs by Judith Turner of the completed projects, with an essay by Joseph Giovannini and texts by Zaha Hadid and Judith Turner.
(68pp. with 83 illus., 280 x 300 mm, hard-cover) ISBN 978-3-936681-91-8
The works include:
Bitar Furniture (1985-1986)
Vitra Fire Station, Weil am Rhein, Germany (1991-1993)
The Great Utopia installation, Guggenheim Museum, New York, USA (1992-1993)
Landesgartenschau Pavilion, Weil am Rhein, Germany (1996-1999)
Mind Zone installation, London, UK (1998-2000)
Hoenheim Nord Terminus, Strasbourg, France (1998-2001)
"I don't think that architecture is only about shelter, is only about a simple enclosure. It should be able to excite you, to calm you, to make you think." Zaha Hadid.
"I use architecture as subject matter to create spare, ambiguous and abstract photographs that do not explain buildings, but rather interpret them." Judith Turner.
One Thousand Museum, Miami, Florida, USA – 7 Jan 2014



Internationally renowned for her revolutionary designs of buildings in premier cities worldwide, including Beijing, Abu Dhabi, Rome, and London, Zaha Hadid was the developers' first choice for One Thousand Museum. "Miami has become a truly global city and we wanted to work with someone who has the vision to create an architectural icon that will capture its unique character," said Birdman and Covin in a joint statement.
Heydar Aliyev Centre Baku, Azerbaijan – 14 Nov 2013
Design: Zaha Hadid Architects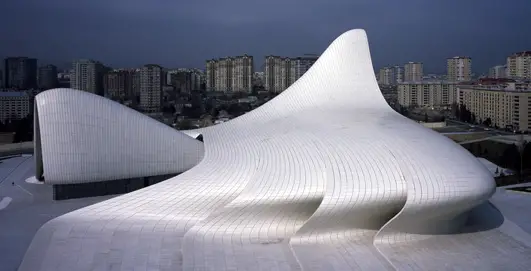 photo : Hélène Binet
The building design establishes a continuous, fluid relationship between its surrounding plaza and the building's interior. The plaza, as the ground surface, accessible to all, rises to envelop an equally public interior and define a sequence of event spaces within. Undulations, folds, and inflections modify this surface to create an architectural landscape that performs a multitude of functions: welcoming, embracing, and directing visitors throughout the center; blurring the conventional differentiation between architecture and landscape, interior and exterior.
Zaha Hadid designs Superyacht for Blohm+Voss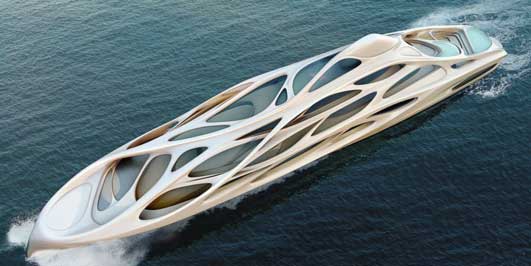 render © Zaha Hadid Architects
Zaha Hadid Super Yacht – 16 Oct 2013
Previsouly Zaha has designed a boat, now she has designed a pair of yachts: a sculptural form of a master prototype conceived for a 128m yacht and five 90m yachts that explore the design philosophies of the master prototype.
Prototype Liquid Glacial Table by Zaha Hadid



photo : Jacopo Spilimbergo
Prototype Liquid Glacial Table – 15 Oct 2013
David Gill presents the next evolution of Zaha Hadid's series of Liquid Glacial tables – unveiled at David Gill Galleries, St James's, on October 15. The exhibition will run until 16 November.
Serpentine Sackler Gallery, London, UK – 25 Sep 2013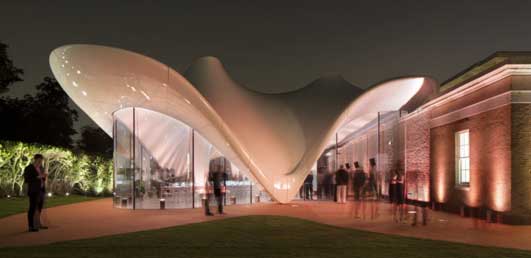 photograph courtesy of Luke Hayes
The latest building by ZHA – a combination of refurbishment and new-build, set right in the heart of one of London's major parks. The extension contains a social space intended to enliven the venue. The curvaceous design is intended to complement the existing classical building, located in the heart of one of London's largest parks.
Kasumigaoka National Stadium, Tokyo, Japan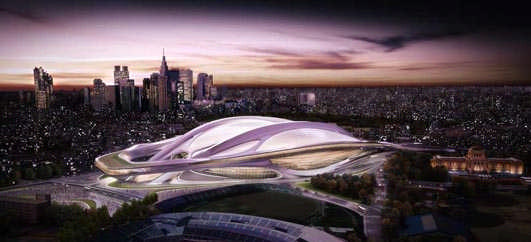 image © Courtesy of ZHA
National Stadium Tokyo : latest major design – 9 Sep 2013
ZHA was selected over of 45 other international architecture practices for the US $1.62bn development at the end of 2012. Architect Tadao Ando chaired the jury which included architects Norman Foster and Richard Rogers.
Galaxy SOHO, Beijing, China



images : Hufton and Crow
Galaxy Soho building – 22 Jul 2013
This large organic building by Zaha Hadid Architects has been shortlisted for the Lubetkin Prize by the Royal Institute of British Architects. Named in honour of Berthold Lubetkin who established the influential Tecton Group in London during the 1930's, the Lubetkin Prize is awarded to the architect of the year's best RIBA International Award winning building.
520 West 28th Street, New York City Condominium Building – 16 Jul 2013
Design: Zaha Hadid Architects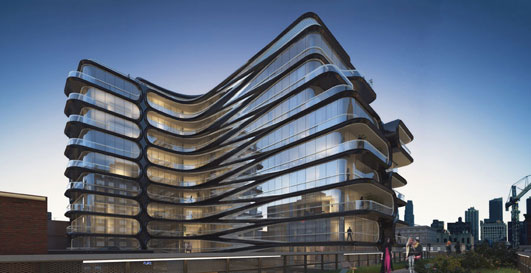 image from architects
Development Marks First Project in New York City for Internationally Acclaimed UK Architect. Related Companies, New York's premier residential developer, today announced that it has commissioned world renowned Zaha Hadid Architects to design a boutique condominium adjacent to the High Line at 520 West 28th Street in Chelsea just south of Hudson Yards. The 11 – story residential development will mark Hadid's first commission in New York City.
Zaha Hadid Architecture Exhibition, DAC, Copenhagen, Denmark



image from DAC
Prima Installation by architect Zaha Hadid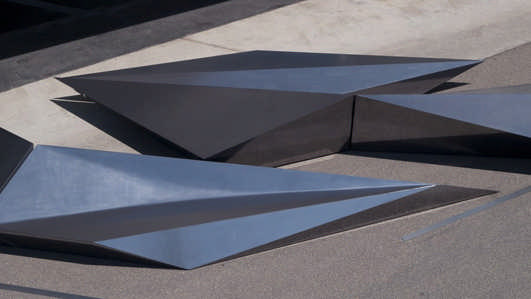 photograph : Hélène Binet
Prima Installation for Swarovski – 11 + 9 Jun 2013
Swarovski has commissioned Zaha Hadid to create a celebratory installation marking the completion twenty years ago of her first major built project, the Fire Station at Vitra Campus, Weil am Rhein, Germany. The installation, entitled Prima, is an angular piece made from five highly polished components that can be moved into different configurations. It will be installed in front of the Fire Station, reflecting and honouring the design process of the building.
Riverside Museum wins European Museum of the Year 2013



photograph : Hufton + Crow
20 May 2013 – The Riverside Museum Glasgow by Zaha Hadid Architects has won the European Museum of the Year Award (EMYA) at ceremony in Tongeren, Belgium.
Forty Museums from 21 countries across Europe entered this year's awards. The European Museum of the Year Award by the European Museum Forum was founded in 1977 under the auspices of the Council of Europe, with the aim of recognising excellence and encouraging innovative processes in a museum world.
Veuve Clicquot Business Woman Award
22 Apr 2013 – architect Zaha Hadid is the winner of the 2013 Veuve Clicquot Business Woman Award. The designer is known for her futuristic designs, which include the London Aquatics Centre and Guangzhou Opera House. She was presented the honour during a ceremony held at Claridge's tonight. The annual event celebrates the success of businesswomen worldwide, who share the same enterprising, determined spirit of Madame Clicquot – who, after becoming widowed at the age of 27, took on her husband's wine business and developed one of the first forms of Champagne.
22 Mar 2013
Changsha Mexihu International Cultural & Art Centre, Hunan Province, China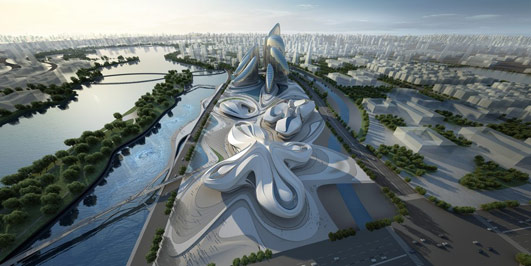 image courtesy Zaha Hadid Architects
Changsha Building
Ground breaking news – the building includes a grand theatre, a contemporary art museum and supporting facilities. The building composition is based around 'three fluid petals' and is beautifully flowing.
26 Feb 2013
Multi Runway Hub Airport, London, England
ZHA appointed to the team developing proposals for a multi-runway hub airport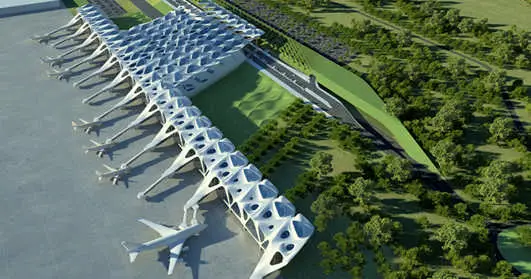 render : ZHA Proposal for New Passenger Terminal and Masterplan, Zagreb Airport
Multi Runway Hub Airport
The Mayor of London has appointed a team of experts to develop the plans for addressing the UK's aviation crisis. He wishes to see the fastest possible resolution to the debate on where to build a multi runway hub airport.
Power List
Zaha Hadid included in 2013 Power List of the 100 most powerful women in the UK
Compiled by BBC Radio 4's 'Woman's Hour', the Power List recognizes women who have the 'greatest influence and ability to change the way we live our lives in the UK today'. Hadid is the only architect feaured on the list which includes the Queen (1st place), JK Rowling, Stella McCartney, Adele and Camila Batmanghelidjh.
Arzu Studio Masters Collection
Arzu Rugs news
Arzu is a model of social entrepreneurship to help Afghan women weavers and their families by sourcing and selling the rugs they weave.
Gulf Business Power 100
Zaha Hadid listed in the 2013 Gulf Business Power 100
This year's Gulf Business Power 100 listed Hadid as one of the world's most powerful Arabs in real estate.
24 Jan 2013
Saint Antony's College, Oxford, England


image from architect
Saint Antony's College Oxford
The Middle East Centre of St. Antony's College is the University of Oxford's centre for interdisciplinary study of the Modern Middle East. The centre was founded in 1957 and it is focused on research on humanities and social sciences with a wide reference to the Arab World and its geographic adjacencies.
4 Apr 2013
Liquid Glacial Table and Galaxy SOHO Nominations + Z-Boat Award
Zaha Hadid Liquid Glacial Table



photograph : Jacopo Spilimbergo
The Liquid Glacial Table and Galaxy SOHO in Beijing have been nominated for the 2013 Designs of the Year Awards. The awards showcase the most innovative and imaginative designs from around the world over the past year. ZHA's nominated projects will be included in the 'Designs of the Year' exhibition at the Design Museum, London from 20 Mar 2013. Category winners and the overall winner will be announced on 17 Apr 2013.
17 Jan 2013



image courtesy of ZHA
The Z-Boat by Zaha Hadid was named overall winner of the inaugural VeryFirstTo Awards in London on 9 Jan. The jury that selected the Z-Boat included Giles Deacon, Sir John Hegarty, Joan Burstein CBE and Poppy Delevingne.
11 Jan 2013
Beko Masterplan, Belgrade, Serbia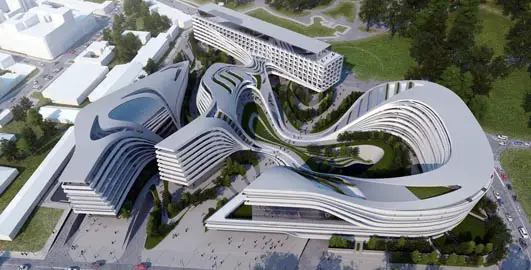 image : ZHA
Beko Masterplan
This building design is typical of the current style by the architect – swirling forms with striations creating rhythm and dynamic energy. The criticism of many signature architects -such as Frank Gehry or Norman Foster – often revolves around whether projects are unique to their context or just another design off the production line. With such a huge amount of work it will be a major challenge for the architects to keep design fresh and specific to context.
Design Cloning Controversy, China
4 Jan 2013 – Chongqing architect accused of copying the architect's Beijing building, the Meiquan 22nd Century building planned for Chongqing.
Miami Condo Tower, FL, USA
20 Dec 2012 – news circulated in last few days re a condo tower at 1000 Biscayne Boulevard, Miami, Florida, USA – design to be unveiled early 2013 – her first skyscraper in the west. The site for the building is currently occupied by a BP Station. The investment group funding 1000 Biscayne Tower is led by Florida developers Gregg Covin and Louis Birdman.
The architect owns a double condo at the W Hotel on Miami Beach. She recently designed the Collins Park Garage in Miami, approved for construction Nov 2012 by the Miami Beach Historic Preservation Board.
27 Nov 2012
London Olympic Aquatics Centre – Building Update, UK



photo : Hufton + Crow
London Olympics Buildings
The final piece of outer shell from the temporary seating stands at the Aquatics Centre has now been removed. This is very welcome as the building is so much more elegant without it.
14 Nov 2012
Eli and Edythe Broad Art Museum, Michigan State University, USA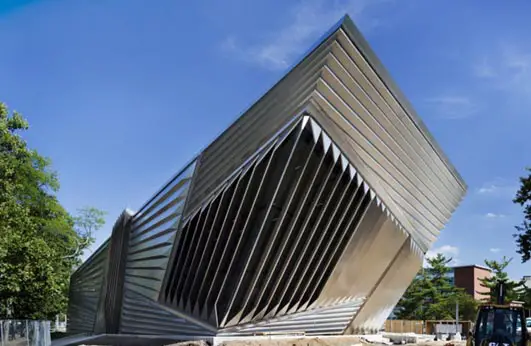 photograph Paul Warchol © 2012, Eli Broad
Broad Art Museum
This striking building features a pleated stainless steel and glass façade, with a steeply sloping end elevation. It will include a collection of more than 7,500 objects. The building – which looks shark-like in the photo above – features galleries for modern and contemporary art, special exhibitions, photography, new media and works on paper.
Zaha Hadid Architecture
We have various pages online about architect Zaha Hadid:
Zaha Hadid : main page – news + current work (this page)
Zaha Hadid Architects – All Projects + Practice Information
Recent News for Zaha Hadid Architects
House for Naomi Campbell, Moscow, Russia



picture from architects
House for Naomi Campbell – 30 Oct 2012
This is a futuristic home for Russian billionaire Vladislav Doronin and his girlfriend Supermodel Naomi Campbell. Zaha was asked to design the residence to look like a spaceship. The extraordinary home design features a tower that pushes high to gain good views. This unusual residence has an area of 2,650 sqm and is located Barvikha.
Jockey Club Innovation Tower, Hong Kong, China – building news



picture from architects
Hong Kong PolyU Innovation Tower – 28 Sep 2012
The Hong Kong Polytechnic University (PolyU) has topped out of the Jockey Club Innovation Tower on its campus. The 15-storey tower will become the new home for the PolyU School of Design and the newly established Jockey Club Design Institute for Social Innovation. The new building will be 76m high.
pierrevives, Montpellier, France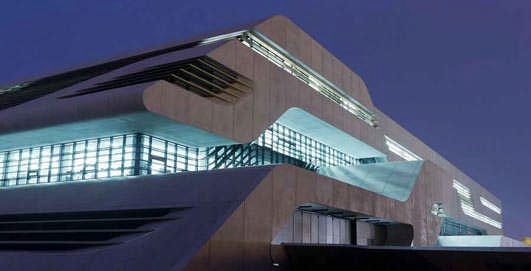 photo : Iwan Baan
Pierrevives Montpellier – 14 + 13 Sep 2012
The most important building by Zaha Hadid since the Guangzhou Opera House. The architecture is on a massive scale, but more importantly it is designed with almost no compromise, a huge example of the architect pushing her dynamic style to limits other architects can't reach.
Arum Installation
Venice Architecture Biennale 2012, Italy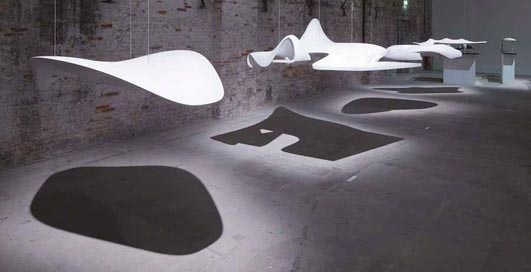 photograph courtesy of Iwan Baan
The Biennale theme for 2012 shows how the work of the key contemporary architects – often regarded as independent – is in fact based on historical lineages of collective research. This is also true of the work of ZHA. It is well known that early work of the architects was initially inspired by Russian Suprematism.
Guangzhou Opera House Award



photo : Virgile Simon Bertrand
Guangzhou Opera House award – 17 Aug 2012
Roca London Gallery, England



image from architects
Roca London – 14 Jun 2012
Roca London Gallery wins 2012 Design Week award recognizing excellence and innovation in design. The architect's inspiration was elemental water in all its forms and the result is a spectacular and influential space in the heart of London"s Chelsea Harbour.
Jane Drew Prize



photo : Steve Double, Jun 2007
Zaha Hadid architect awarded the Jane Drew Prize for her outstanding contribution to the status of women in architecture.
Riverside Museum wins European Museum Academy Micheletti Award 2012



photograph : Hufton + Crow
5 May 2012 – Riverside Museum, Glasgow, is named the most innovative museum in the fields of technology, labour and social history by the European Museum Academy. Riverside competed against museums in 12 other European countries to win the 17th annual Micheletti Award.
ZHA – Selected Building News 2009-11
Stirling Prize Winner
Zaha Hadid Architects win Stirling Prize for Evelyn Grace Academy building



picture : Luke Hayes
Pritzker Prize – Zaha Hadid Joins Jury
Pritzker Prize Architects
Zaha, and U.S. Supreme Court Justice Stephen Breyer, will join the jury that selects Pritzker Architecture Prize Laureates.
London Aquatics Centre Building, UK



photo : Hufton + Crow
London Aquatics Centre
World Building of the Year



photo : Roland Halbe
MAXXI Rome wins WAF Awards + Stirling Prize
MAXXI Rome : Italy's first national museum of contemporary art and its first national museum of architecture. Criticised by critic Ellis Woodman for placing form over function. The MAXXI building is not a new design direction for the practice, it is indeed a major project for the studio, but not a pivotal one in terms of programme or style. The architecture is undeniably powerful and dynamic but like many recent 'containers for art' – such as the stunning 'UFO' building in Graz by architects Cook / Fournier – there exists tension between form and function, between expressive exterior and an interior which its owners will want to function in a certain way.
Hadid, Complete Works 1979-2009



photograph : TASCHEN
Zaha Hadid Book by Philip Jodidio
Praemium Imperiale Architecture Laureate



image courtesy ZHA
Architect Zaha Hadid awarded Praemium Imperiale Architecture Laureate
Location: 10 Bowling Green Lane, London, EC1R 0BQ, UK
Zaha Hadid Architecture Designs – Work from 2011
Zaha Hadid Architecture – Work from 2008-10
Zaha Hadid Buildings – Work up to 2007
Buildings / photos for the Zaha Hadid Architects 2016 page welcome
Website: www.zaha-hadid.com