Zaha Hadid Events, ZHA Lectures, London Architect Studio, British Architecture Practice
Zaha Hadid Events 2013 News
ZHA Exhibitions + Lectures + Awards + Designs : Architecture
post updated 24 May 2021
Zaha Hadid Events News 2013
Zaha Hadid Exhibitions Designs : Salone del Mobile, Italy
Various Designs on Show in Milan in early April
Zaha Hadid Exhibitions Designs
Zaha Hadid Events News 2012
Zaha Hadid Design Gallery, London, UK
Fudge Pop Up Hair Salon
Zaha Hadid Design Gallery will be collaborating with Fudge on a pop up hair salon as well as showcasing unique design pieces from Zaha Hadid Architects.
17 – 21 Sep at 101 Goswell Road, EC1V 7EZ
Fudge Hair Salon opening times + details – follow @ZHA_News and Facebook.com/ZHANews
Liquid Glacial table by Zaha Hadid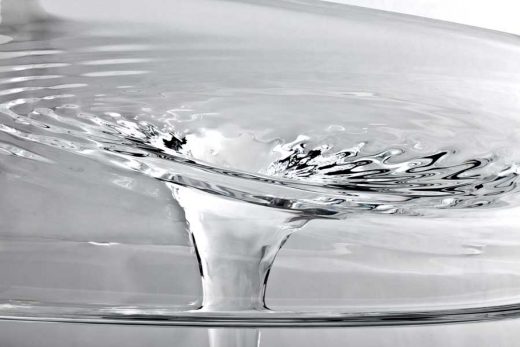 image from Zaha Hadid Architects
Liquid Glacial table presented at David Gill St James's inaugural exhibition.
Liquid Glacial is comprised of a series of tables resembling ice-formations made from clear and coloured acrylic. Their design embeds surface complexity and refraction within a powerful fluid dynamic.
The pristine geometry of the flat table top appears transformed from static to fluid by the subtle waves and ripples evident below the surface, which seem to pour from the horizontal through an intense vortex that forms the table legs. The transparent acrylic material amplifies this perception, adding depth and complexity through a flawless display of infinite kaleidoscopic refractions.
Dichotomy egg by Zaha Hadid



image from Zaha Hadid Architects
Dichotomy egg for the Fabergé Big Egg Hunt raises £45,000 for Charity.
The Dichotomy egg for the Fabergé Big Egg Hunt sold at Sotheby's London for £45,000 in aid of The Elephant Family and Action for Children charities.
The design evokes an exquisite degree of unfamiliarity from within the formal simplicity of this most recognizable of organic structures; a structured composition of fluidity that reinvents the equilibrium between solid and void. The dynamic curvilinear geometries invite further investigation to reveal a latent complexity; a journey of discovery into the very DNA of its creation.
Dame Zaha Hadid



photo : Simone Cecchetti
18 Jun 2012 – the architect has been awarded the title Dame Commander of the Order of the British Empire (DBE) for services to architecture in the Queen's birthday honours.
Dame Zaha Hadid said: "It is a tremendous honour for me to receive this award. I would like to thank all my colleagues and clients for their hard work and support. I am delighted that architecture has been recognised in this way. My father went to the London School of Economics in the 1930s, and everything he learned at the time is why I have always leaned towards the UK."
Zaha Hadid wins Jane Drew Prize



image from Zaha Hadid Architects
Zaha Hadid awarded the Jane Drew Prize for her outstanding contribution to the status of women in architecture.
The award was initially introduced in 1998 as a tribute to Jane Drew, the modernist English architect and town planner. It is awarded for respect of innovation, diversity – extending traditional categories valued in architecture – and inclusiveness – collaborative work – and is open to both men and women.
More than half of the women polled in the AJ Women in Architecture survey named Hadid as having made the greatest contribution to the status of women in architecture.
The judges said: 'Hadid has broken the glass ceiling more than anyone and is practically a household name. Her achievement is remarkable. She has successfully fostered a studio which has grown to be one of the top ten largest in the UK. The practice manages to be at the cutting edge of thinking, influencing the teaching in architecture schools worldwide, while also winning and delivering an impressive array of projects, from the London Olympic Aquatics Centre to the Guangzhou Opera House.'
Hadid said: 'Getting to where I am is hard. But it is do-able. Women architects do need some support from others who have made that journey.'
Zaha Hadid with CITCO
Apr 17-22, 2012



image from Zaha Hadid Architects
Citco with Zaha Hadid Architects – Salone del Mobile 2012, Milan, Italy The composition of each of the three showcased works is derived from the intricate beauty of organizational systems in the natural world. These fascinating scenarios are established when energy is applied to geology-developing a geometric set of repeated growth and erosion cycles. Each piece, immaculately crafted in marble by Citco, invites further investigation; revealing formal complexity, repetition and textures that celebrate the detailed process and fluidity of natural systems – a persuasive manifesto of nature's unrivalled logic and unity; a journey of discovery into the forces of their creation. The exacting arrangements, structural integrity and precision of these natural systems inform a rich architectural language with the inherent capacity for complex programming.


image from ZT
Orto Botanico dell'Accademia di Brera, 4 Via Fiori Oscuri, Milan, Italy



image from Zaha Hadid Architects
Zaha Hadid and Shigeru Ban will participate of the Arch.Future event
On 29 + 30 Mar 2012 Rio de Janeiro hosted an event on contemporary architecture. Two of the world's most respected architects, London-based Iraqi Zaha Hadid and Japan's Shigeru Ban, will be joining Harvard's Edward Glaeser and Princeton's José Alexandre Scheinkman, economists who study urban space, as well as Brazilian urbanists Augusto Ivan Pinheiro and Sérgio Magalhães, to exchange experiences and opinions.
Arq Futuro, Brazil
Zaha Hadid Architects signs agreement with CBI, Iraq
The Central Bank of Iraq and Zaha Hadid Architects sign the agreement for the new Central Bank of Iraq Headquarters.
LONDON, UK ‐ Zaha Hadid joined H.E. Dr Sinan Al‐Shabibi, Governor of the Central Bank of Iraq (CBI) at a ceremony to sign the agreement between the CBI and Zaha Hadid Architects (ZHA) for the design stages of the new CBI Headquarters building. The ceremony was hosted by H.E. Dr Muhielddin Hussein Abdullah, Charges d'Affaires of the Iraqi Embassy in London.
ZHA have already completed the client's Brief Development and will immediately commence the design process for the new CBI Headquarters to be built on the shores of the Tigris River in Baghdad. ZHA will lead the international team of specialist consultants including: Adams Kara Taylor, Max Fordham, Newtecnic, DEGW, Gross Max, Davis Langdon, Arup, Warringtonfire, Winton Nightingale and A2 Project Managers.
Dr Sinan Al‐Shabibi said: "The new building shall be a symbol of the Bank's role in the economic development of Iraq and a reflection of the determination to rebuild the country."
Zaha Hadid said: "I am deeply touched that I have been asked to design the new headquarters for the Central Bank of Iraq. I was born in Iraq and I still feel very close to it. I feel very privileged to be working in Iraq on a design of such national importance."
Zaha Hadid Events News 2011
Riverside Museum Exhibition, Kelvingrove Museum, Glasgow, Scotland
15 Apr – 14 Aug
Exhibition by Patricia Cain dedicated to the construction of the Transport Museum.
'Drawing (on) Riverside' – a free exhibition – will showcase around 100 works documenting the different phases of Glasgow Transport Museum construction.
The Riverside Museum will officially open to the public on 21 June. The £74m building is designed by Zaha Hadid Architects.



photograph © Adrian Welch
4 Apr
'Being Zaha Hadid' – special issue of Abitare – event on 12 Apr 2011 5.30pm at Salone del Mobile, Milan, Italy : Zaha Hadid and Patrik Schumacher in discussion
22 Mar
MAXXI: Museum of XXI Century Arts Rome
Mies van der Rohe Awards 2011 Finalist
Zaha Hadid Events News 2010
Having won the Stirling Prize already this year and other honours, and with a completed building in her own city (London) at last, 2010 will undoubtedly be the year to remember for Zaha Hadid.
Zaha Hadid Wins Best Culture Building at World Architecture Festival Awards 2010
4 Nov 2010
Commandeur de L'Ordre des Arts et des Lettres awarded to Zaha Hadid
13 Oct 2010
His Excellency M. Maurice Gourdault-Montagne, Ambassador of France to the United Kingdom awarded Zaha Hadid the Commandeur de L'Ordre des Arts et des Lettres at a ceremony at the French Ambassador's London residence on 13 October. Zaha Hadid received the award, France's highest honour for cultural achievement, from the Republic of France in recognition of her significant contribution to the arts.
Zaha Hadid presented with Outstanding Achievement award
11 Oct 2010
Zaha Hadid received Women Of The Year's Outstanding Achievement award in London. Founded in 1955, President Lady Lothian OBE, described the inspiration behind the Women Of The Year Awards : 'I hoped that it might be possible to bring together a wide cross section of working women who had distinguished themselves in their careers, to enable them to meet each other and hear the views of world-famous women on important issues.'
Zaha Hadid Architects Wins Stirling Prize
MAXXI Rome wins Stirling Prize, event on 2 Oct 2010
Zaha Hadid named UNESCO Artist for Peace
The Director-General of UNESCO, Irina Bokova, gave the distinction to Zaha Hadid at a ceremony in Paris on 24 June in recognition of Zaha Hadid's efforts to raise public awareness of intercultural dialogue, to promote excellence in design and creativity, and her dedication to the ideals and aims of the Organization.
"The arts have always bridged cultural, economic and social divides; teaching us that disparate worlds are not mutually exclusive, but rather layered upon each other and profoundly interlinked. I am honoured to join the Artists For Peace, furthering UNESCO's important message and programmes." said Zaha Hadid.
This distinction by UNESCO follows Hadid's recent inclusion in TIME magazine's 2010 list of the "100 Most Influential People in the World", This year's Time 100 list is divided into four categories: Leaders; Thinkers Artist and Heroes. Zaha Hadid placed top of the Thinkers category.
Holland Festival : Bach-pavilion goes to Amsterdam, The Netherlands



image courtesy Zaha Hadid Architects
JS Bach Chamber Music Hall – previously in Manchester, to relocate in June to the Westergasfabriek : "A single continuous ribbon of fabric swirls around itself, creating layered spaces to cocoon the performers and audience with in an intimate fluid space." said architect Hadid. Lecture by Zaha Hadid due in Muziekgebouw on 6 Jun
ZHA Architecture Practice News
Studio turnover in year to March 2009 increased by 11% to £29 million, profits down from 19% of turnover to 5%. Number of architects employed increased.
Zaha Hadid Events News 2009
Zaha Hadid Architects Exhibition : Design Museum, London
Super Contemporary – Celebrating Visionary Design from London's Creative Mavericks
LACOSTE footwear



photo from ZHA
LACOSTE footwear
LACOSTE launch footwear capsule collection designed in collaboration with Zaha Hadid
We have 7 key pages online re Architect Zaha Hadid:
Zaha Hadid : main page – Current Work
Zaha Hadid Architecture – Older Work from 2008-09
Zaha Hadid Buildings – Older Work up to 2007
Zaha Hadid Architects – All Projects + Practice Information
Office Contact – Zaha Hadid Architects : London, England, UK +44 (0)20 7253 5147
Location: London
Architectural Designs
Contemporary Architecture – architectural selection below:
Hotel Puerta America interior design, Spain
Milan Furniture Fair Zaha Hadid design
Pritzker Prize architects Architecture Award : Winner 2004
Buildings / photos for the Zaha Hadid Architects Events page welcome