Dame Zaha Hadid Architect, London Architecture Studio Designs, Practice News, Death, Picture, UK
Dame Zaha Hadid Architect
Remembering – ZHA Architecture: Major Buildings + Projects + Exhibitions + Books
2 & 1 Apr + 31 Mar 2016
Dame Zaha Hadid Dies
Dame Zaha Hadid Architect
1950-2016
It is with great sadness that Zaha Hadid Architects have confirmed that Dame Zaha Hadid, DBE died suddenly in Miami in the early hours of this morning. She had contracted bronchitis earlier this week and suffered a sudden heart attack while being treated in hospital.
Dame Zaha Hadid Architect was widely regarded to be the greatest female architect in the world today. Born in Baghdad in 1950, she studied mathematics at the American University of Beirut before starting her architectural journey in 1972 at the Architectural Association in London.
Dame Zaha Hadid Architect: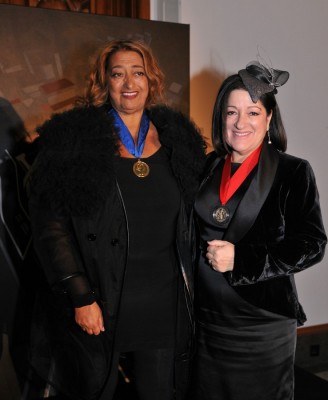 photograph © Philip Vile
By 1979 she had established her own architecture practice in London – Zaha Hadid Architects – garnering a reputation across the world for her ground-breaking theoretical works including The Peak in Hong Kong (1983), the Kurfürstendamm in Berlin (1986) and the Cardiff Bay Opera House in Wales (1994).
Heydar Aliyev Centre Baku, Azerbaijan: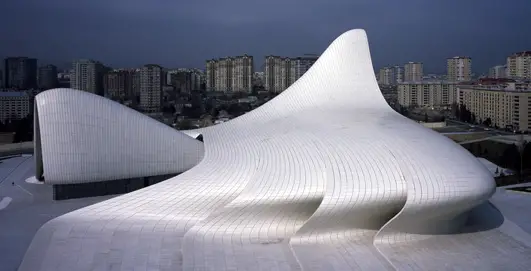 photo : Hélène Binet
Working with office partner Patrik Schumacher, her interest was in the interface between architecture, landscape, and geology; which her practice integrates with the use of innovative technologies often resulting in unexpected and dynamic architectural forms.
London Aquatics Centre: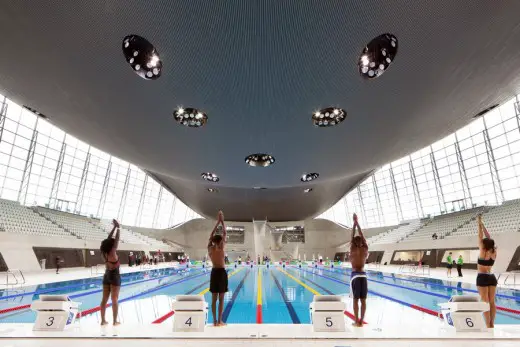 photo : Luke Hayes
Zaha Hadid's first major built commission, one that affirmed her international recognition, was the Vitra Fire Station in Weil Am Rhein, Germany (1993); subsequent notable projects including the MAXXI: Italian National Museum of 21st Century Arts in Rome (2009), the London Aquatics Centre for the 2012 Olympic Games (2011) and the Heydar Aliyev Centre in Baku (2013) illustrate her quest for complex, fluid space. Buildings such as the Rosenthal Center for Contemporary Art in Cincinnati (2003) and the Guangzhou Opera House in China (2010) have also been hailed as architecture that transforms our ideas of the future with visionary spatial concepts defined by advanced design, material and construction processes.
MAXXI Rome – former World Building of the Year:



photo : Roland Halbe
In 2004, Zaha Hadid became the first woman to be awarded the Pritzker Architecture Prize. She twice won the UK's most prestigious architecture award, the RIBA Stirling Prize: in 2010 for the MAXXI Museum in Rome, a building for the staging of 21st century art, the distillation of years of experimentation, a mature piece of architecture conveying a calmness that belies the complexities of its form and organisation; and the Evelyn Grace Academy, a unique design, expertly inserted into an extremely tight site, that shows the students, staff and local residents they are valued and celebrates the school's specialism throughout its fabric, with views of student participation at every turn.
Zaha Hadid's other awards included the Republic of France's Commandeur de l'Ordre des Arts et des Lettres, Japan's Praemium Imperiale and in 2012, Zaha Hadid was made a Dame Commander of the Order of the British Empire. She was made Honorary Member of the American Academy of Arts and Letters and Fellow of the American Institute of Architecture.
She held various academic roles including the Kenzo Tange Chair at the Graduate School of Design, Harvard University; the Sullivan Chair at the University of Illinois, School of Architecture. Hadid also taught studios at Columbia University, Yale University and the University of Applied Arts in Vienna.
Jockey Club Innovation Tower, at Hong Kong Polytechnic University: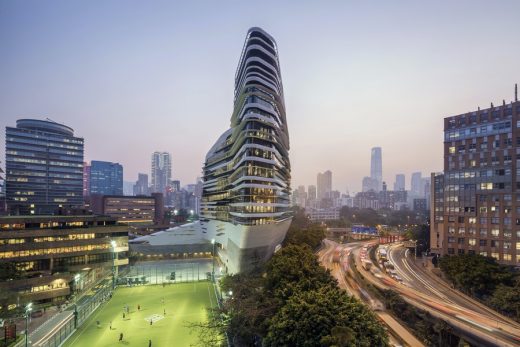 photo : Doublespace
Zaha Hadid was recently awarded the RIBA's 2016 Royal Gold Medal, the first woman to be awarded the prestigious honour in her own right. Sir Peter Cook wrote the following citation:
"In our current culture of ticking every box, surely Zaha Hadid succeeds, since (to quote the Royal Gold Medal criteria) she is someone "who has made a significant contribution to the theory or practice of architecture…. for a substantial body of work rather than for work which is currently fashionable." Indeed her work, though full of form, style and unstoppable mannerism, possesses a quality that some of us might refer to as an impeccable 'eye': which we would claim is a fundamental in the consideration of special architecture and is rarely satisfied by mere 'fashion'.
London Olympic Aquatics Centre Building, UK:



photo : Hufton + Crow
And surely her work is special. For three decades now, she has ventured where few would dare: if Paul Klee took a line for a walk, then Zaha took the surfaces that were driven by that line out for a virtual dance and then deftly folded them over and then took them out for a journey into space. In her earlier, 'spiky' period there was already a sense of vigour that she shared with her admired Russian Suprematists and Constructivists – attempting with them to capture that elusive dynamic of movement at the end of the machine age.
Dame Zaha Hadid Architect: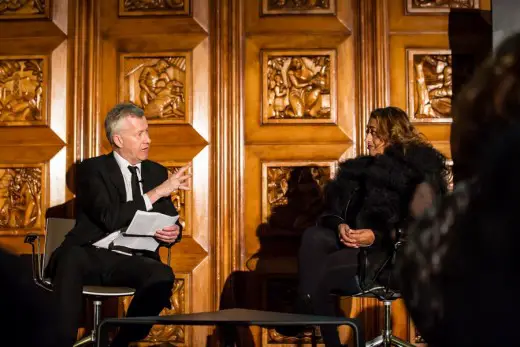 photo © Sophie Mutevelian
Necessarily having to disperse effort through a studio production, rather than being a lone artist, she cottoned–on to the potential of the computer to turn space upon itself. Indeed there is an Urban Myth that suggests that the very early Apple Mac 'boxes' were still crude enough to plot the mathematically unlikely – and so Zaha with her mathematics background seized upon this and made those flying machine projections of the Hong Kong Peak project and the like. Meanwhile, with paintings and special small drawings Zaha continued to lead from the front. She has also been smart enough to pull in some formidable computational talent without being phased by its ways.
pierrevives, Montpellier, France: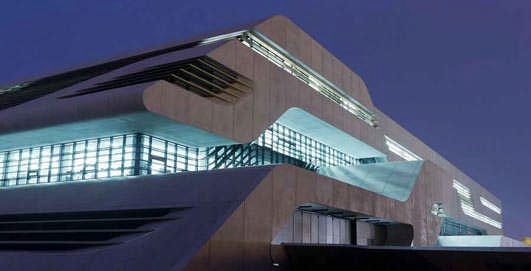 photo : Iwan Baan
Thus the evolution of the 'flowing' rather than spikey architecture crept up upon us in stages, as did the scale of her commissions, but in most cases, they remained clear in identity and control. When you entered the Fire Station at Vitra, you were conscious of being inside one of those early drawings and yes, it could be done. Yet at perhaps its highest, those of us lucky enough to see the Heydar Aliyev Center in Baku in the flesh, can surely never have been in such a dream-like space, with its totality, its enormous internal ramp and dart-like lights seeming to have come from a vocabulary that lies so far beyond the normal architecture that we assess or rationalize.
Heydar Aliyev Center, Baku: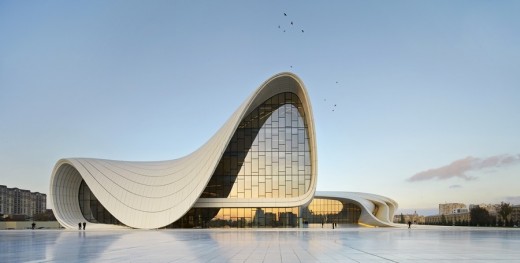 photo by Hufton+Crow
So we are presenting her with this Medal as a British Institution: and as a Dame Commander of the Order of the British Empire: thus she might seem to be a member of our British Establishment. Yet in reality, many of our chattering classes and not a few fellow architects have treated her with characteristic faint praise, and when she heroically won the Cardiff Opera House competition, blocking the scheme. Or when we awarded her the RIBA Stirling Prize for the school in South London – her second win in a row – we, the jury, were loudly derided by a number of distinguished architects. Of course, in our culture of circumspection and modesty her work is certainly not modest, and she herself is the opposite of modest. Indeed her vociferous criticism of poor work or stupidity recalls the line-side comments of the tennis player John McEnroe. Yet this is surely characteristic of the seriousness with which she takes the whole business: sloppiness and waywardness pain her and she cannot play the comfy British game of platitudinous waffle that is the preferred cushion adopted by many people of achievement or power. Her methods and perhaps much of her psychology remain Mesopotamian and not a little scary: but certainly clear.
Guangzhou Opera House, China:



photo : Virgile Simon Bertrand
As a result, it is perhaps a little lonely there up at the top, surrounded now by some very considerable talent in the office, but feared somewhat and distanced from the young. Yet in private Zaha is gossipy and amusing, genuinely interested in the work of talented colleagues who do very different architecture such as Steven Holl, and she was the first to bring to London talent such as Lebbeus Woods or Stanley Saiotowitz. She is exceptionally loyal to her old friends: many of whom came from the Alvin Boyarsky period of the Architectural Association: which seems to remain as her comfort zone and golden period of friendship. Encouraged and promoted at an early age by Boyarsky, she has rewarded the AA with an unremitting loyalty and fondness for it.
Dame Zaha Hadid Architect: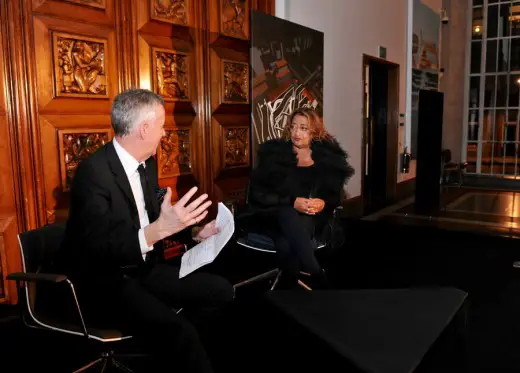 photograph © Philip Vile
The history of the Gold Medal must surely include many major figures who commanded a big ship and one ponders upon the operation involved that gets such strong concepts as the MAXXI in Rome – in which the power of organization is so clear – or the Bergisel Ski Jump in Innsbruck where dynamic is at last captured – or the Aquatics Centre for the London Olympics where the lines diving boards were as fluid as the motion of the divers – made into reality. And she has done it time and time again in Vienna, Marseilles, Beijing and Guangzhou.
Never has she been so prolific, so consistent. We realize that Kenzo Tange and Frank Lloyd Wright could not have drawn every line or checked every joint, yet Zaha shares with them the precious role of towering, distinctive and relentless influence upon all around her that sets the results apart from the norm. Such self-confidence is easily accepted in film-makers and football managers, but causes some architects to feel uncomfortable, maybe they're secretly jealous of her unquestionable talent. Let's face it, we might have awarded the medal to a worthy, comfortable character. We didn't, we awarded it to Zaha: larger than life, bold as brass and certainly on the case.
Our Heroine.
How lucky we are to have her in London."
Details of Zaha Hadid's memorial service will be announced shortly.
Messages of condolences can be sent to: [email protected]
Copyright © Zaha Hadid Architects.
Zaha Hadid – main page on this architect



photo : Giovanna Silva
One of the most famous architects in the world.
The globally-renowned architect Dame Zaha Hadid received the 2016 Royal Gold Medal for architecture, the first woman to be awarded the prestigious honour in her own right.
Vitra Fire Station, Weil am Rhein, Germany – a key early building by ZHA: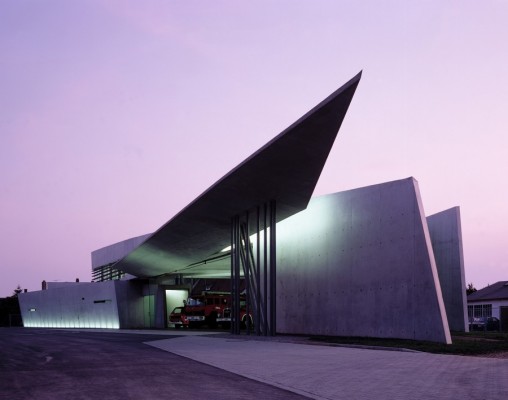 photo : Christian Richters
Zaha Hadid's style is boldly contemporary, organic and innovative. The architect pushes design through new technology and materials and never does ordinary. Besides creating architecture the architect is a celebrated painter, designer of furniture and interior products + fittings such as bowls and chandeliers.
Adrian Welch, Editor
Dame Zaha Hadid Architect Designs
Key Architecture Works
Heydar Aliyev Centre Baku, Azerbaijan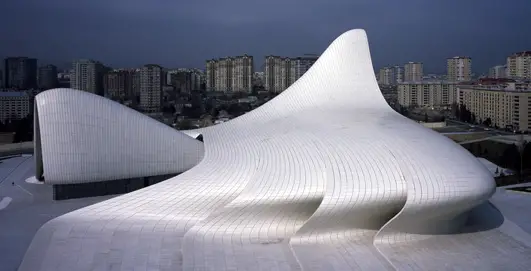 photo : Hélène Binet
Heydar Aliyev Centre Baku
pierrevives, Montpellier, France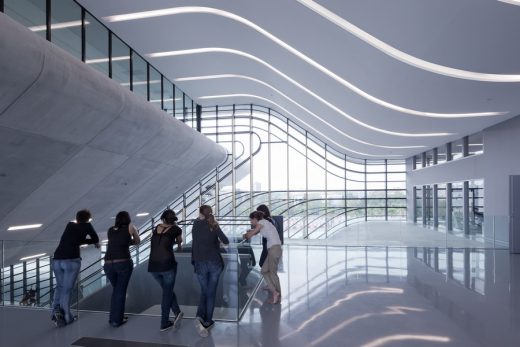 photo from architects
Pierrevives Montpellier
Guangzhou Opera House, China



photo : Virgile Simon Bertrand
Guangzhou Opera House
London Olympic Aquatics Centre Building, UK



photo : Hufton + Crow
London Olympics Buildings
Eli and Edythe Broad Art Museum, Michigan State University, USA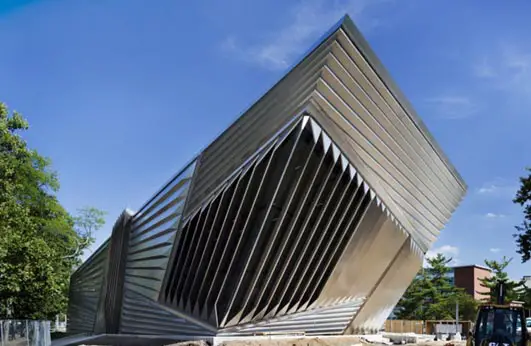 photograph Paul Warchol © 2012, Eli Broad
Broad Art Museum
Beko Masterplan, Belgrade, Serbia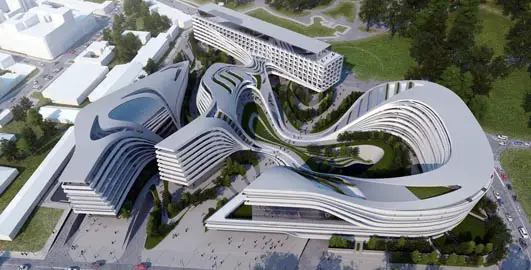 image : ZHA
Beko Masterplan
Serpentine Sackler Gallery, London, UK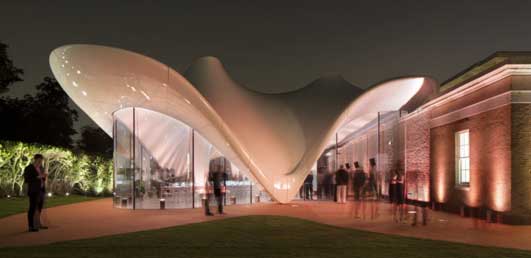 photograph courtesy of Luke Hayes
Serpentine Sackler Gallery Building
Wangjing Soho Building, China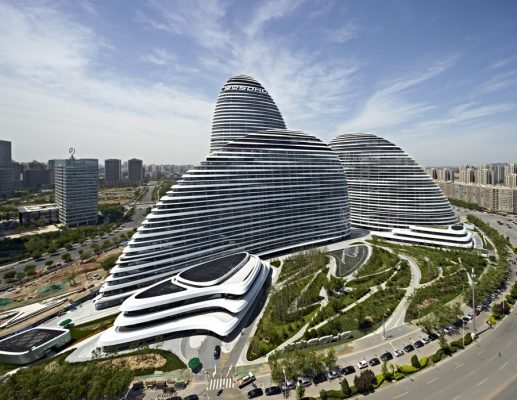 image © CCDI
CITAB-CTBUH 2016 Best Tall Building China – 6 Mar + 27 Feb 2016
Kasumigaoka National Stadium, Tokyo, Japan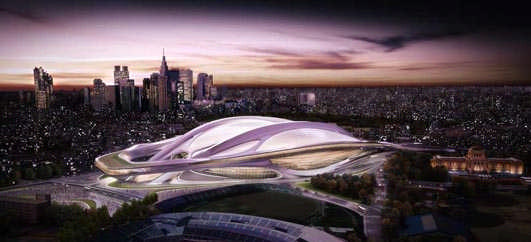 image © Courtesy of ZHA
National Stadium Tokyo
Galaxy SOHO, Beijing, China



image : Hufton and Crow
Galaxy Soho Building
520 West 28th Street, New York City, USA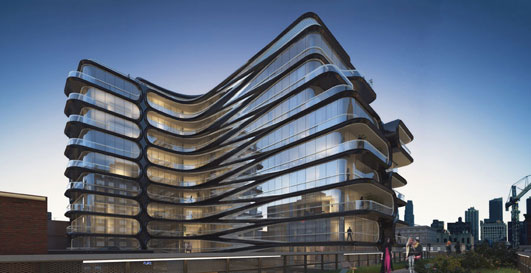 image from architects
520 West 28th Street
One Thousand Museum, Miami, Florida, USA



One Thousand Museum, Miami, Florida, USA
Riverside Museum, Glasgow, Scotland – European Museum of the Year 2013



photograph : Hufton + Crow
Riverside Museum Glasgow
Changsha Mexihu International Cultural & Art Centre, Hunan Province, China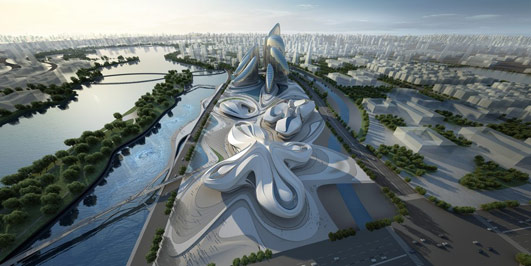 image courtesy Zaha Hadid Architects
Changsha Building
Saint Antony's College, Oxford, England


image from architect
Saint Antony's College Oxford
Multi Runway Hub Airport Proposal, London, England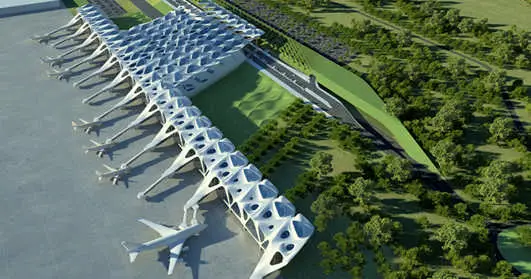 render : ZHA Proposal for New Passenger Terminal and Masterplan, Zagreb Airport
Multi Runway Hub Airport
Zaha Hadid Architecture
We have various pages online about architect Zaha Hadid:
Zaha Hadid : main page – news + current work
Zaha Hadid Architects – All Projects + Practice Information
Zaha Hadid Architecture Designs – Work from 2011
Zaha Hadid Architecture – Work from 2008-10
Zaha Hadid Buildings – Work up to 2007
Zaha Hadid's Death
Website: Zaha Hadid's Death – BBC report
"She died following a heart attack on Thursday in a Miami hospital, where she was being treated for bronchitis."
Riba president Jane Duncan said: "This is absolutely terrible news. Dame Zaha Hadid was an inspirational woman, and the kind of architect one can only dream of being.
"Visionary and highly experimental, her legacy despite her young age, is formidable. She leaves behind a body of work from buildings to furniture, footwear and cars, that delight and astound people all around the world. The world of architecture has lost a star today."
Website: Zaha Hadid, Groundbreaking Architect, Dies at 65 – New York Times report
Ms. Hadid "contracted bronchitis earlier this week and suffered a sudden heart attack while being treated in hospital," her office, Zaha Hadid Architects in London, said in a statement.
Website: Zaha Hadid dies – The Guardian report
'Queen of the curve' Zaha Hadid dies aged 65 from heart attack
Location: 10 Bowling Green Lane, London, EC1R 0BQ, UK
Past Architecture Designs by Zaha Hadid Architects
House for Naomi Campbell, Moscow, Russia



picture from architects
House for Naomi Campbell
Jockey Club Innovation Tower, Hong Kong, China



picture from architects
Hong Kong PolyU Innovation Tower
Roca London Gallery, England



image from architects
Roca London
Riverside Museum, Glasgow, Scotland



photograph : Hufton + Crow
Riverside Museum Glasgow
London Aquatics Centre Building, UK



photo : Hufton + Crow
London Aquatics Centre
MAXXI Rome



photo : Roland Halbe
MAXXI Rome wins WAF Awards 'World Building of the Year' + Stirling Prize
Key Awards
Pritzker Prize Architecture Award : Winner 2004
Stirling Prize 2010 + 2011
Hadid, Complete Works 1979-2009



photograph : TASCHEN
Zaha Hadid Book by Philip Jodidio
Praemium Imperiale Architecture Laureate



image courtesy ZHA
Architect Zaha Hadid awarded Praemium Imperiale Architecture Laureate
Stirling Prize Winner
Zaha Hadid Architects win Stirling Prize for Evelyn Grace Academy building



picture : Luke Hayes
Arum Installation – Venice Architecture Biennale 2012, Italy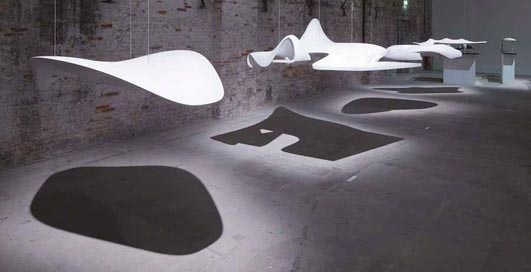 photograph courtesy of Iwan Baan
Jane Drew Prize



photo : Steve Double, Jun 2007
Zaha Hadid architect awarded the Jane Drew Prize for her outstanding contribution to the status of women in architecture.
Pritzker Prize – Zaha Hadid Joins Jury
Pritzker Prize architects
Zaha Hadid Architecture Exhibition, DAC, Copenhagen, Denmark



image from DAC
Zaha Hadid designs Superyacht for Blohm+Voss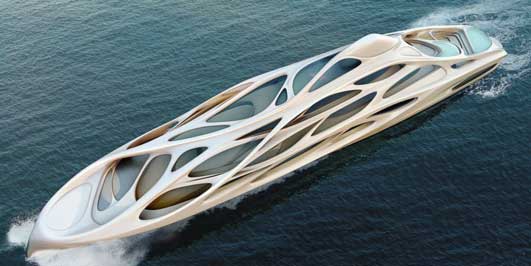 render © Zaha Hadid Architects
Zaha Hadid Super Yacht
Prototype Liquid Glacial Table by Zaha Hadid



photo : Jacopo Spilimbergo
Prototype Liquid Glacial Table
Prima Installation by architect Zaha Hadid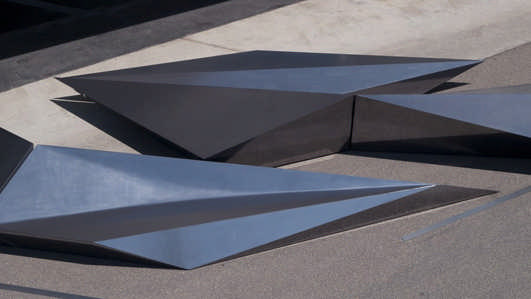 photograph : Hélène Binet
Prima Installation for Swarovski
Arzu Studio Masters Collection
Arzu Rugs
Z-Boat



image courtesy of ZHA
Z-Boat
Office Contact: +44 (0)20 7253 5147
Buildings / photos for the Dame Zaha Hadid Architect page welcome
Website: www.zaha-hadid.com