Zaha Hadid Serpentine Gallery Pavilion at Chatsworth House, Architect, Lilas Design, Pictures, Location
Zaha Hadid Pavilion at Chatsworth House
Lilas: Architecture in Bakewell, Derbyshire, England – ZHA Design for Serpentine Gallery London
8 Sep 2016
Zaha Hadid Pavilion at Chatsworth House, Bakewell
Zaha Hadid Pavilion displayed at Chatsworth House
Location: Bakewell, Derbyshire, DE45 1PP, North/Central England, UK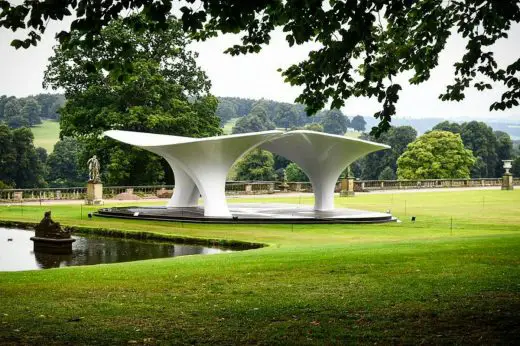 "An enormous, curvy, mushroom-like pavilion" designed by the late architect Dame Zaha Hadid is now installed in the grounds of Chatsworth House, one of Britain's grandest stately homes, reports The Guardian. The 'Lilas pavilion' is exhibited as part of 'Sotheby's Beyond Limits'.
The pavilion was an unexpected addition by the Serpentine Gallery back in 2007.
Rising steel prices meant the 2007 pavilion by artist Olafur Eliasson and architect Kjetil Thorsen was delayed, Zaha Hadid offered to help out.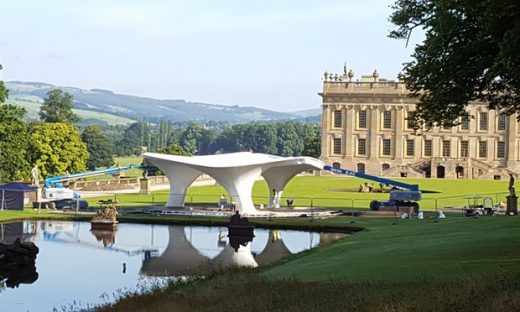 Chatsworth House is the magnificent home of the Duke and Duchess of Devonshire in the Peak District. The property was remodelled to designs by Talman 1686-1707.
Zaha Hadid Serpentine Pavilion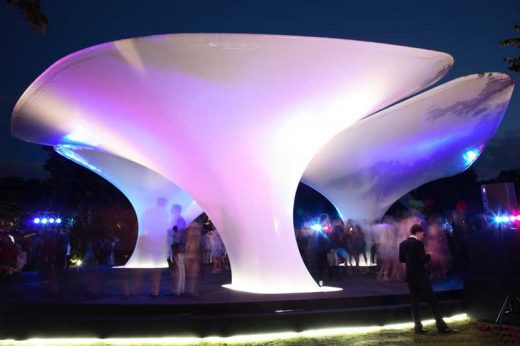 photograph © Luke Hayes
Sotheby's Beyond Limits
10 Sep – 30 Oct 2016
Sotheby's Beyond Limits has established itself as one of the most prestigious platforms for the display and sale of modern and contemporary outdoor sculpture, and a key event in the art world calendar.
The show integrates works by leading pioneers in this field into the historic garden.
At the heart of this year's exhibition will be Zaha Hadid's sculpturally stunning Lilas pavilion, created for the Serpentine summer party in 2007.
It is the most architecturally ambitious installation to be presented at Chatsworth to date. The show will also spotlight an enchanted installation by Cristina Iglesias, exploring the boundaries between appearance and reality.
Exhibition included with admission to the garden
Website: Sotheby's Beyond Limits at Chatsworth House
Serpentine Gallery – temporary shelters
2007
Design: Zaha Hadid and Patrik Schumacher, Zaha Hadid Architects
Location: Kensington Gardens, west London, Southern England, UK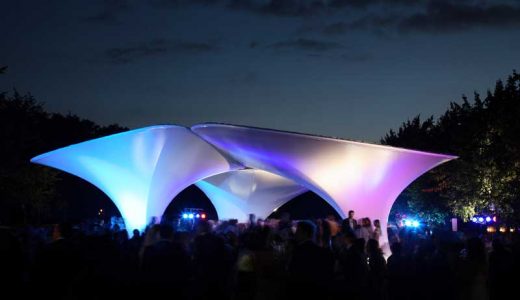 photo © Luke Hayes
Program: Temporary tensile fabric Installation consisting of 3 parasols for the Serpentine Gallery's Summer Party located in Kensington Gardens.
Client: Serpentine Gallery
Architect: Design Zaha Hadid with Patrik Schumacher
Project Architect Kevin McClellan
Consultants: Structural ARUP
Steel Fabrication: Sheetfabs Ltd.
Membrane Fabrication: Base Structures Ltd.
Lighting design: Zumbotel
Furniture provided by: Estabished & Sons, Kenny Schachter, Sawaya & Moroni, Serralunga, Max Protetch, Swarovski
Size / Area: Height 5.5 m Width 22.5 m Length 22.5 m Total Floor Area 310 m2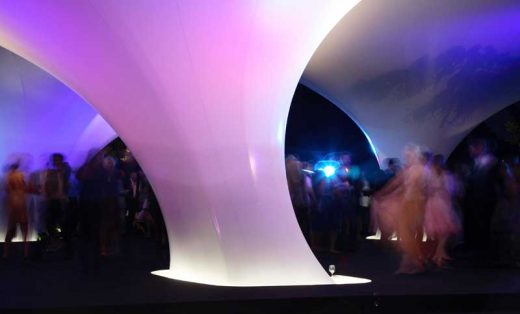 photo © Luke Hayes
The Serpentine Summer Party Installation is designed as an open air space raising 5.5m that consists of three identical tensile fabric structures or parasols arrayed around a central point. Each parasol develops sculpturally from a small articulated base to a large cantilevered diamond shape. Taking inspiration from complex natural geometries such as flower petals and leaves the three parasols overlap to create the pavilion's main conceptual feature: complex symmetry, interweaving all-the-while without touching, allowing air, light and sound to travel through narrow gaps in a state that is both open and likewise tending toward closure.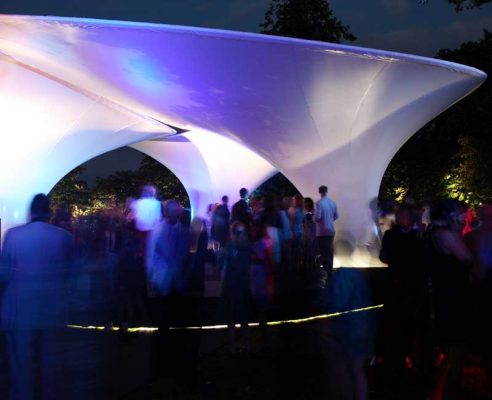 picture © Luke Hayes
Raised on a low platform located within an open field flanked by a row of trees just South of the Serpentine Gallery, the Serpentine Summer Party Pavilion is free standing and accessible from all sides. Accommodating movement throughout the site, the Pavilion is enigmatic. In the day it provides shading, while at night the pavilion undergoes an energetic transformation into a source of illumination. From continuous lighting around each base, light is thrown up the fabric surfaces along very thin seams that radiate about the parasols that act like corseting or the veining of flowers revealing the geometric intricacy of the pavilion and highlighting the overall architectural form in calligraphic arcs.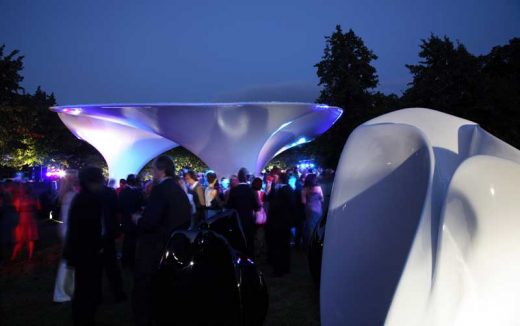 photo © Luke Hayes
Serpentine Gallery Pavilion info from Zaha Hadid Architects
Serpentine Gallery Pavilion Designs
Related Project by ZHA, in 2013:
Serpentine Sackler Gallery, Kensington Gardens, London, UK
Design: Zaha Hadid Architects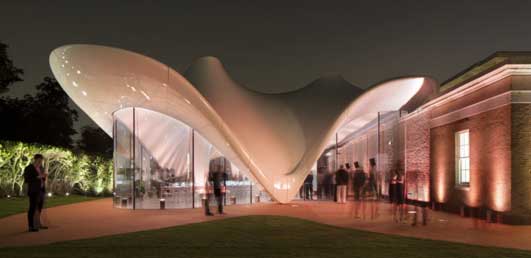 photograph courtesy of Luke Hayes
Location: Chatsworth House, Bakewell, Derbyshire, DE45 1PP, England, UK
Serpentine Pavilion Designs
Serpentine Gallery Pavilion 2015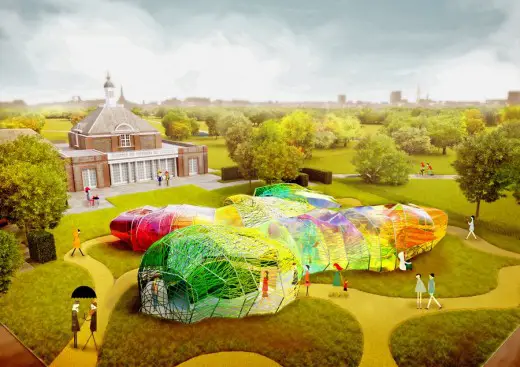 photo © Steven Kevin Howson / SelgasCano
Serpentine Gallery Four Summer Houses 2016
Four Summer Houses in the Serpentine 2016 Programme
Serpentine Pavilion 2013 design by Sou Fujimoto
Serpentine Pavilion 2013 video – external link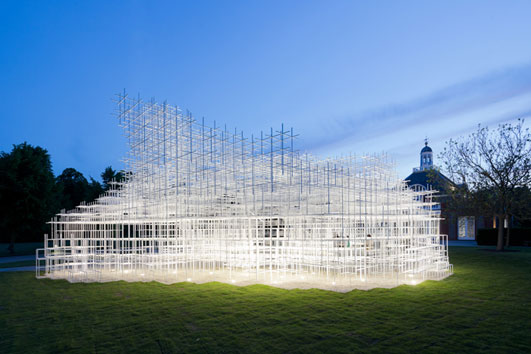 Serpentine Gallery Pavilion 2013 Designed by Sou Fujimoto © Sou Fujimoto Architects ; Image © 2013 Iwan Baan
Sou Fujimoto
Serpentine Pavilion 2012 design by Herzog + de Meuron with Ai Weiwei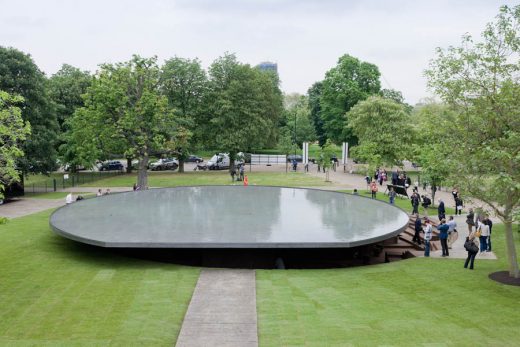 photo © 2012 Iwan Baan
Website: The Zaha Hadid Pavilion at Chatsworth – Patrik Schumacher with Farah Nayeri
Sunday 25 September 2016
2.30pm
South Lawn
Serpentine Gallery Pavilion – Past Designs
Serpentine Pavilion 2012 architects – Herzog & de Meuron Architects
Serpentine Pavilion 2012 designer – Ai Weiwei Architecture
Serpentine 2011 Pavilion by Peter Zumthor



picture from Serpentine Gallery
Serpentine Pavilion 2010 by Jean Nouvel
Serpentine Pavilion 2009 by SANAA Architects
Serpentine Pavilion 2007 original architect : Snøhetta
Serpentine Pavilion 2006 architect : Rem Koolhaas
Serpentine Pavilion 2005 architect : Álvaro Siza & Eduardo Souto de Moura
Serpentine Pavilion 2003 architect : Oscar Niemeyer
Serpentine Pavilion 2002 architect : Toyo Ito
Serpentine Pavilion 2001 architect : Daniel Libeskind
Serpentine Pavilion 2000 architect : Zaha Hadid Architects
English Architecture
Contemporary Architecture in England
London Architecture Walking Tours
Comments / photos for the Zaha Hadid Pavilion at Chatsworth House page welcome