Zaha Hadid Architect Book, UK, Children's Publication, The World Is Not a Rectangle, Volume
Zaha Hadid Book : Architecture Publication
Jeanette Winter Publication ; ZHA Architecture – Buildings – Projects – Images : by TASCHEN
15 Aug, 2017
Children's Book about Zaha Hadid
The World Is Not a Rectangle – Children's Book About Zaha Hadid's Inspiring World
Author: Jeanette Winter
Non-fiction picture book about the famed architect's life and her triumph over adversity from celebrated author-illustrator Jeanette Winter.
In her latest children's book, "The World Is Not a Rectangle," author and illustrator Jeanette Winter portrays the life of the late architect Zaha Hadid, a selection of her works, and her inspirations.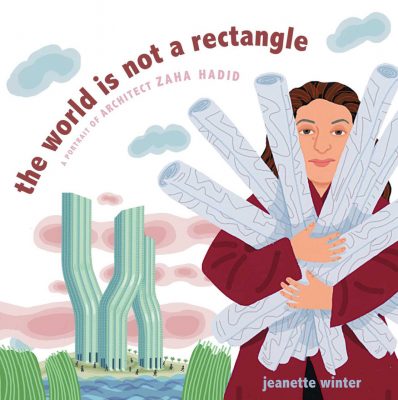 images from 'The World Is Not a Rectangle'
With colorful illustrations, Jeanette Winter tells the story of Zaha and how she became a radical architect. Starting from the beginning, she depicts Zaha as a child living with her family in Baghdad, being inspired by the country's beautiful rivers, dunes, and above all ruins of ancient cities.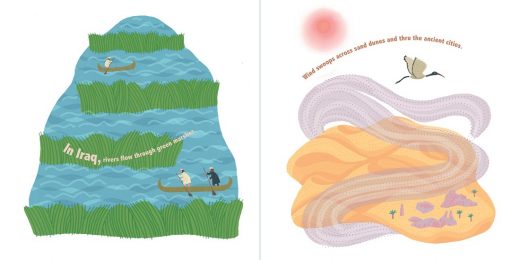 Winter offers a playful glimpse into Zaha's world, inviting the young readers to approach things with Zaha's perspective, who was able to see beyond everyday objects. In an excerpt from her book, Winter depicts the young Zaha standing on a carpet. "[She] looks long and hard at patterns in her Persian carpet and sees how the shapes and colors flow into each other, like the dunes and rivers and marshes," writes Winter.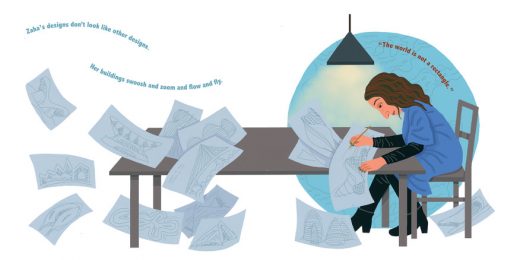 images from 'The World Is Not a Rectangle'
Zaha Hadid grew up in Baghdad, Iraq, and dreamed of designing her own cities. After studying architecture in London, she opened her own studio and started designing buildings. But as a Muslim woman, Hadid faced many obstacles. Determined to succeed, she worked hard for many years, and achieved her goals—and now you can see the buildings Hadid has designed all over the world.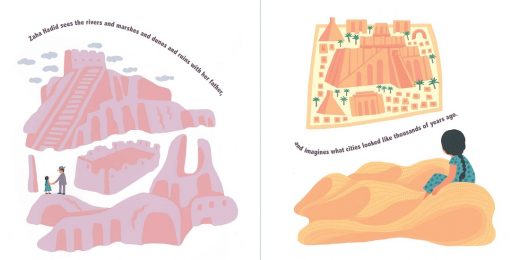 Winter then depicts Zaha's unbuilt Cardiff Bay Opera House, which was slated for Cardiff, Wales, and the controversial story of how her winning design never received the support needed for construction. "The idea that… the place was designed by an Arab lady interested in abstract painting, did not sit well with many of the Welsh," writes John Seabrook in an article for the New Yorker. After facing discrimination from the architecture world, Zaha vowed to never let a piece she designed go to waste. "I made a conscious decision not to stop," said Zaha of the unfortunate incident, which Winter uses in her book.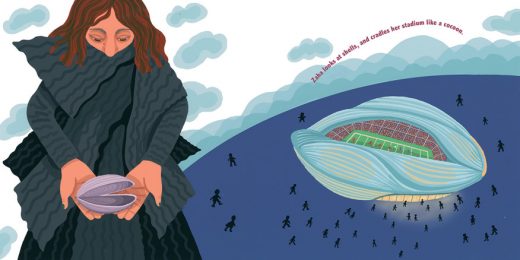 image from 'The World Is Not a Rectangle'
Winter then illustrates some of Zaha's eye-catching buildings including Qatar's Al Wakrah Stadium, Signature Towers in Dubai, Guangzhou Opera House in China, Beijing's Galaxy Soho, and Phnom Penh, Cambodia's Sleuk Rith Institute, and, with a simple language, explains how each of those buildings were inspired by natural elements.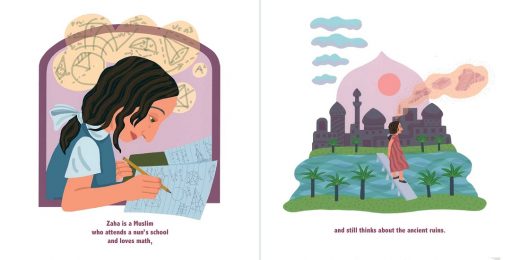 "Zaha remembers the grasses in the marshes swaying, and sees tall buildings dancing like grass…Zaha looks at stones in a stream, and builds an opera house like the pebbles in the water…Zaha looks up at the stars and galaxies and sees swirling buildings."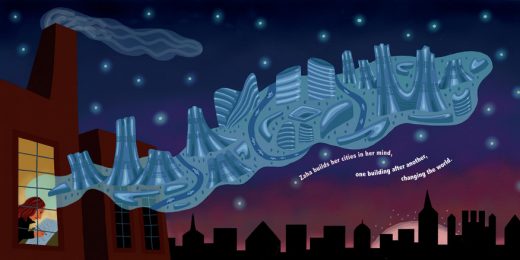 image from 'The World Is Not a Rectangle'
Published by Simon & Schuster, "The World Is Not a Rectangle" will be released on Aug. 22.
Children's Book about Zaha Hadid – publication post by Simon & Schuster
amazon link: https://www.amazon.com/World-Not-Rectangle-Portrait-Architect/dp/148144669X
previously on e-architect:
18 Aug 2010
Hadid, Complete Works 1979-2009
Latest Zaha Hadid Book
Book by Philip Jodidio



photograph : TASCHEN
Hadid, Complete Works – by TASCHEN
Zaha Hadid – Buildings in more detail
Zaha Hadid: The Complete Works
Gordana Fontana Giusti, Patrick Schumacher
List Price: £75.00
Our Price: £52.50
You Save: £22.50 (30%)

Zaha Hadid: The Complete Works
Hardcover 448 pp (Nov 2004) Publisher: Thames and Hudson Ltd ISBN: 0500342008
Synopsis of The Complete Works
Zaha Hadid is the most famous woman architect in the world, and the first to win the Pritzker Prize. Having achieved international recognition through her striking images and design, the Iraqi-born, London-based architect is now of the profession's most sought-after figures. Her buildings are now appearing across the globe, from Europe to the United States, in China and Japan. Zaha Hadid's moment has arrived. Zaha Hadid: Complete Works is one of the most exciting and complex architectural monographs ever published. This brilliantly conceived and designed publication comprises four volumes of differing sizes that offer multiple perspectives on more than a hundred projects and over twenty years at the vanguard of architecture.
Major and Recent Projects is a large-scale presentation of Hadid's recently built work and famed paintings, while the thematically organized Projects Documentation identifies the strands of her work through detailed descriptions and illustrations. Models and Sketches is a selection of the architect's groundbreaking explorations in perspective, many taken from her private sketchbooks, and previously unpublished. Essays and References features essays by international critics, an appreciation by maverick Peter Cook and an exhaustive reference section, including a bibliography and project data.
Zaha Hadid Architecture – Background
Zaha Hadid is an architect whose work ranges from masterplans to interiors and furniture. She is best known for her Vitra Fire Station and recently the Contemporary Arts Center, Cincinnati.
Hadid studied architecture at the Architectural Association (AA) in London from 1972 and was awarded the AA Diploma Prize in 1977. Zaha became a partner of the Office for Metropolitan Architecture (OMA).


Maggies Centre image by Zaha Hadid Architects
Despite competition entries in the UK for the Victoria & Albert Museum's Boilerhouse Gallery, Habitable Bridge Competition, Theatre for the Hackney Empire, all London, and of course the Cardiff Bay Opera House, Zaha's first real buildings (note Interbuild stand, Birmingham) are appearing in Scotland – at Kirkcaldy and then Glasgow:


Architecture Books
Architecture Design Books – chronological list of publications
Famously architect Zaha Hadid did one of her earliest building designs for The Peak architecture competition.
Contemporary Architecture Books
Website: >Architectural Walking Tours
European Architecture Walking Tours : city walks by e-architect
Comments / photos for the Zaha Hadid Books page welcome
Zaha Hadid Book – page