Woods Bagot Architects, UK / Australia Architecture Studio, Project News, Office, Asia
Woods Bagot Architects Office
Contemporary Architecture Practice – London, Sydney, Melbourne Design Practice News
post updated 2 November 2021
Woods Bagot News
Woods Bagot Architects News – latest additions to this page, arranged chronologically:
2 Nov 2021
St Mary's Calne School Library, Wiltshire, Southwest England, UK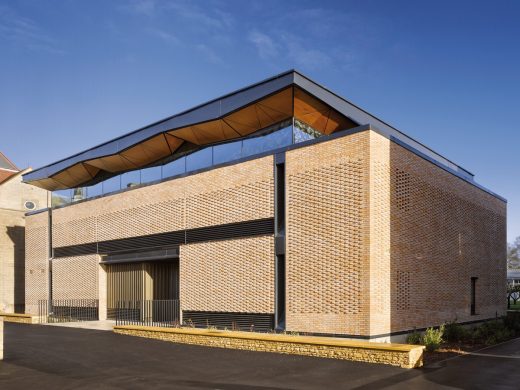 photograph : Will Pryce
St Mary's Calne School Library
The Woods Bagot London Studio has put the finishing touches on a beautiful new library at the heart of the St Mary's Calne School campus in Wiltshire, UK. The library will act as a hub of inspiration and learning, with a striking design that incorporates the adjacent apple orchard and surrounding century-old buildings.
May 22, 2020
SFO International Terminal Building Passenger Experience, San Francisco, California, USA
Design: Woods Bagot Architects / Tsao Design Group



photo : Emily Hagopian
SFO International Terminal Building Passenger Experience
Woods Bagot has implemented guest improvements throughout the two main food courts at SFO's International Terminal Building, and created one of the first outdoor observation decks in the country.
12 Dec 2018
Woods Bagot Designs Three New Towers for Chinese Giant, Sunshine Insurance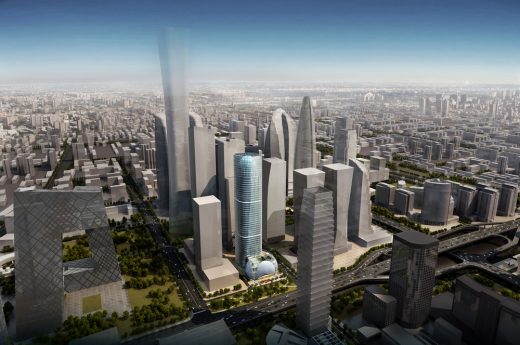 image courtesy of architecture office
Sunshine Insurance Towers in China
To accommodate its growing business across China, insurance behemoth Sunshine keeps returning to Woods Bagot. The two global firms have teamed to create three new towers: the firm's headquarters in Sanya Bay was completed in March 2018, while towers in Beijing and Shenzhen are currently under construction.
30 Nov 2018
Lincoln University and AgResearch Joint Facility in Christchurch, New Zealand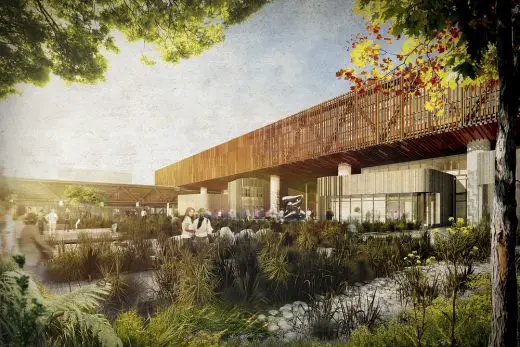 image courtesy of architects
The 'Education – Future Projects' category winners were Warren and Mahoney Architects with Woods Bagot for their Lincoln University and AgResearch Joint Facility in Christchurch, New Zealand. Judges were impressed by collaborative engagement of six client partners and the local community, allowing for the creation of a building "with a profound relationship to both the cultural meaning and physical manifestation of the landscape."
This building is one of the World Architecture Festival Awards 2018 Day Two Winners
16 Aug 2018
Adelaide Convention Centre, North Terrace, Adelaide, South Australia
Design: Woods Bagot Architects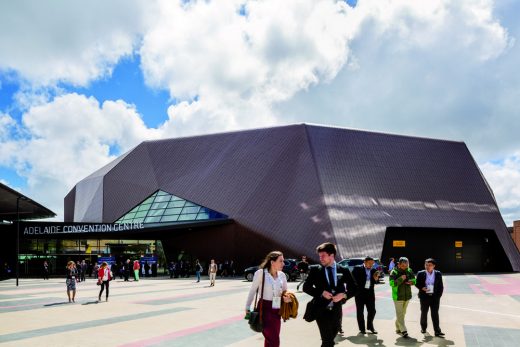 photo : Trevor Mein
Woods Bagot Architects WAF Shortlist 2018 Buildings
A locally-driven design intent has delivered a building that not only responds to the local environment, but has become part of a wider place making strategy.
28 Jun 2018
Woods Bagot Architects WAF Shortlist 2018 News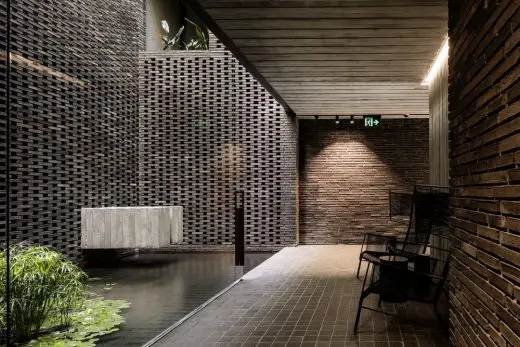 photo : Trevor Mein
Woods Bagot Architects WAF Shortlist 2018 Buildings
Seven projects – three future projects and four completed buildings – are finalists in this year's World Architecture Festival Awards – the world's largest, live architectural award program – and its sister program, the INSIDE World Festival of Interiors.
20 Jun 2018
SAHMRI 2 Building, Adelaide, South Australia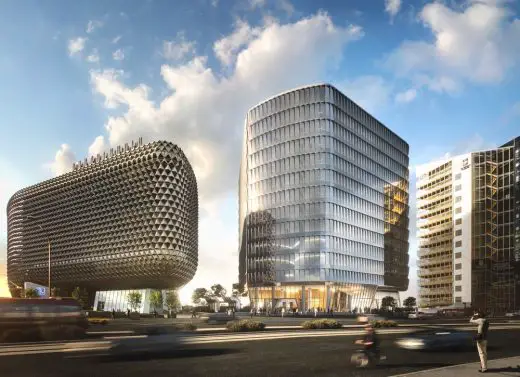 image courtesy of architects
SAHMRI 2 Building
Concept images have been released of Australia's newest clinical and research facility, in Adelaide's growing health and biomedical precinct. SAHMRI 2 will house Australia's first proton therapy unit for cancer treatment – the Australian Bragg Centre for Proton Therapy and Research.
13 Jun 2018
Grade A Office Tower in Manila, The Philippines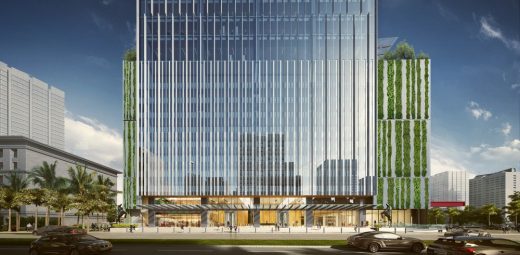 image courtesy of architecture office
Manila Office Tower Building
The first major project in Manila for tyhis architectural office: a 36-storey otower in the city's prominent Makati financial district. Developed by BPE Asia Real Estate Fund, L.P., the building will provide a first-class environment for a mix of international companies operating in the Philippines' flourishing business process outsourcing sector.
29 May 2018
Hongqi Zhen Sugar Factory Town Master Plan , Jinwan District, Zhuhai, southern Guangdong province, southern China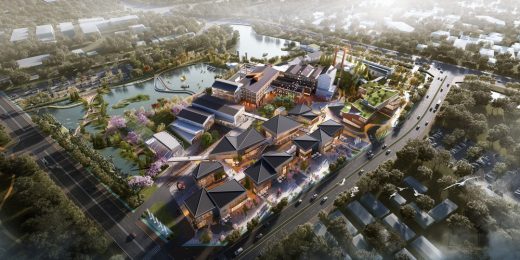 picture © Woods Bagot
Hongqi Zhen Sugar Factory Town Master Plan
A disused sugar factory in Zhuhai's Jinwan District is set to be revitalized into an integrated cultural, tourism and leisure park. Woods Bagot's master plan both celebrates the proud heritage of Zhuhai's once prosperous sugar industry, while creating a future for the Hongqi Zhen Sugar Factory site.
16 May 2018
Fengpu Avenue Master Plan, Fengxian New City, Shanghai, China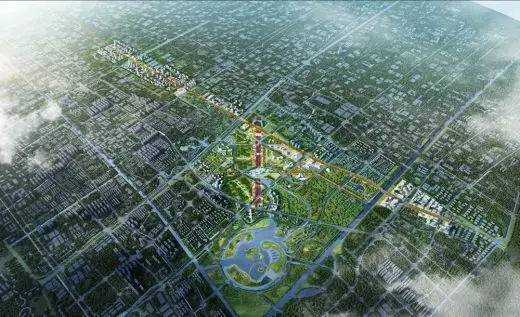 image © architecture office
Fengpu Avenue Masterplan
Integration, health, wellness and sustainability are the key elements guiding Woods Bagot's concept master plan for an 8.62-kilometre stretch of Fengpu Avenue – an important pioneer development axis in Shanghai's Fengxian New City.
12 Apr 2018
Tonsley Main Assembly Building (MAB), Adelaide, South Australia
Architect: Woods Bagot with Tridente Architects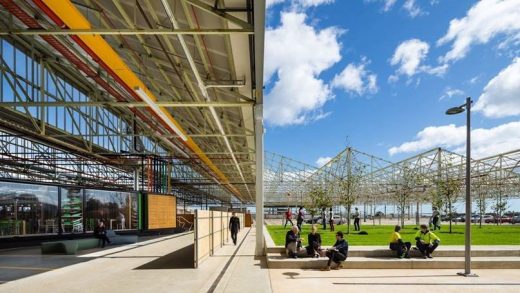 image courtesy of architects
Tonsley Main Assembly Building
The globally recognised adaptive reuse project, Tonsley, is one of 14 to be showcased in the Australian Pavilion at this year's Venice Biennale Architettura 2018, in an exhibit presenting architectural approaches to repairing the environment through design.
11 Apr 2018
Carlton Connect Initiative Address, Melbourne, Victoria, Australia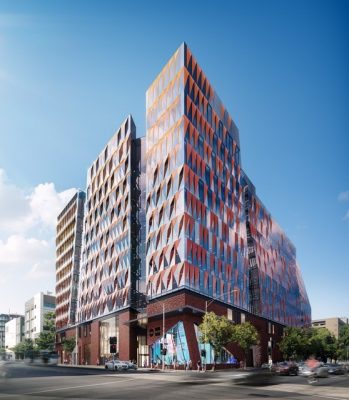 image courtesy of architects
Carlton Connect Initiative Address by Woods Bagot Architects
The Victorian Government has approved the University of Melbourne's plan to develop the site of Melbourne's former Royal Women's Hospital into Australia's leading innovation precinct.
10 Apr 2018
PT Telkom Landmark Tower, Jakarta, Java, Indonesia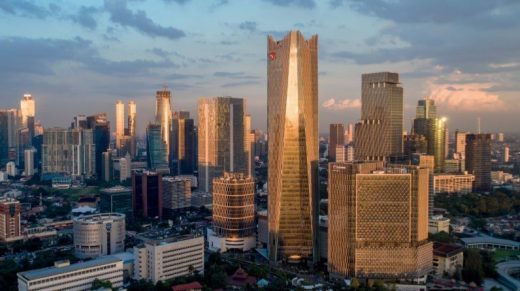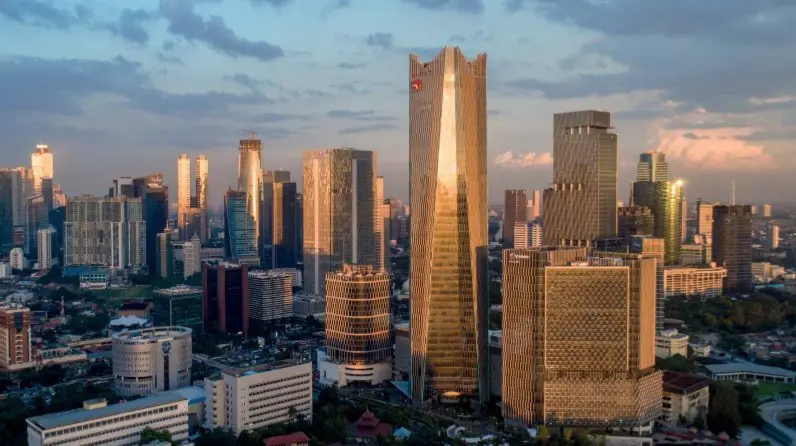 photo : William Sutanto
Telkom Landmark Tower Jakarta Building
Emphasizing connectivity and cohesion, Telkom Landmark Tower is the new headquarters for Indonesia's largest telecommunications services company. The complex establishes a powerful presence in Jakarta's central business district while consolidating its previously scattered operations in one downtown location.
6 Feb 2018
Qantas' international lounge at Heathrow Terminal 3, London, England, UK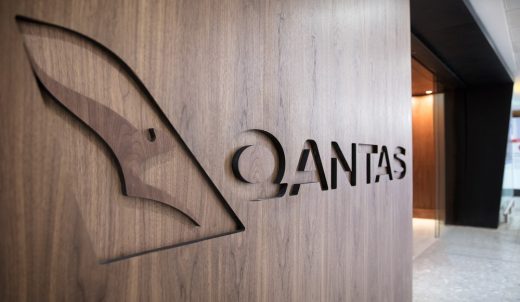 image from architects office
Qantas Lounge at Heathrow Terminal 3
Qantas' latest international lounge, has opened at Heathrow Terminal 3. Designed collaboratively by Woods Bagot's London and Sydney studios, the Qantas London Lounge showcases global interior design and world-class service.
16 Dec 2017
Hard Rock Hotel Davos Building, Switzerland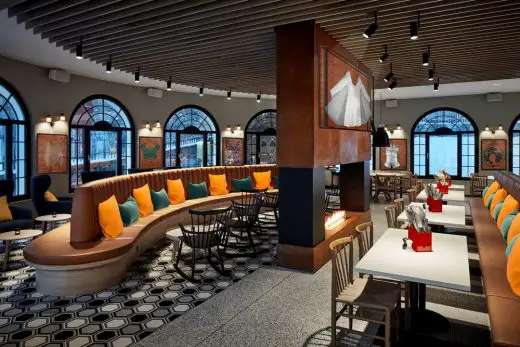 image from architects office
Hard Rock Hotel Davos Building
Hard Rock Hotels has announced the opening of their first hotel in continental Europe, Hard Rock Hotel Davos, which has been designed by the architecture practice's London-based team.
23 Oct 2017
Aljada Masterplan Sharjah, UAE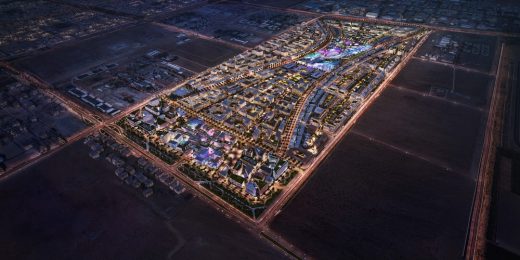 image from architects office
Aljada Development Masterplan in Sharjah
Development with property developer Arada offers a lifestyle that integrates Living, Working and Entertainment into a vibrant urban environment.
2 Oct 2013
Woods Bagot Singapore
This international architecture office today announced the launch of a Singapore studio:
Woods Bagot Singapore
20 Aug 2013
The Cairns Institute, James Cook University, Queensland, Australia
Design: Woods Bagot / RPA Architects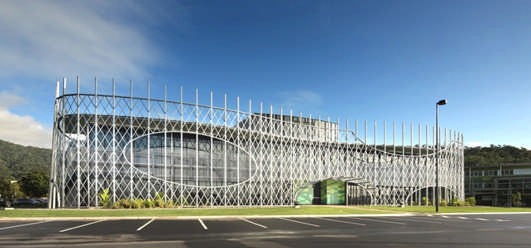 photograph : Scott Burrows
The Cairns Institute, a revolutionary education and research space, has opened. The design reflects the beautiful, tropical landscape of far North Queensland while also providing a contemporary teaching and research environment with the highest technological standards. Cradled on three sides by rain-forested slopes, the landscape setting was inherent to the idea of a tropical campus – drawing the rainforest into the campus, enriching the urban campus heart, and in turn stimulating thought leadership from the students.
21 Aug 2012
Leading Sports and Entertainment Architect Dan Meis to Head Woods Bagot Sport
Staples Center, Paul Brown Stadium architect to leverage global studio to serve clients worldwide.
London — award-winning sports and entertainment architect Dan Meis, FAIA, will lead the firm's new global group, Woods Bagot Sport. One of a small number of sports specialists worldwide, Dan's past notable projects include Staples Center in Los Angeles, Safeco Field in Seattle, Paul Brown Stadium in Cincinnati, Lincoln Financial Field in Philadelphia, Saitama Super Arena in Saitama, Japan, and facilities at the United States Tennis Association's National Tennis Center in Queens, New York.
Woods Bagot Architects : Practice Information
16 Apr 2012
China Southern Airport City, Guangzhou, China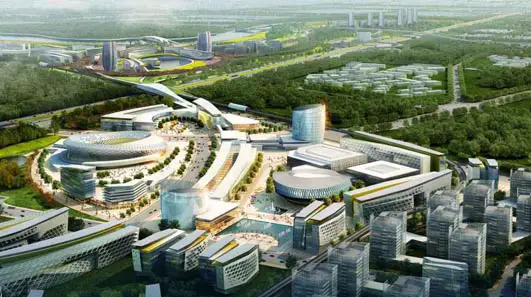 picture from Woods Bagot, architects
China Southern Airport City Guangzhou
The global studio has won the international competition to design China Southern Airport City, a 400 hectare mixed-use development set on the Liuxi River, in Guangzhou, China. Amidst fierce competition from some of the world's most admirable design houses such as Zaha Hadid and Airport de Pari with Paul Andreu, the win optimises Woods Bagot's one global studio model and continued expertise across both urban design and aviation sectors.
5 Apr 2012
Collaborative design process creates unique cultural centre in Western Australia
Zig Zag Cultural Centre designed by Woods Bagot.
Located in Western Australia's Darling Ranges, Kalamunda's Zig Zag Cultural Centre talks to its local environment, yet also appeals to a broader international market.
Commissioned following the win of the design competition, the architecture office set out to create a series of spaces that reflect and enhance its local surroundings, yet also offer a sophisticated response to speak to a wider audience.
"The design of the centre has been carefully thought-out to create a balance between heritage and modern design that melds gently and unobtrusively into the natural surrounds," said Ken Anderson, Senior Associate, Woods Bagot.
Kalamundah's Zig Zag Cultural Centre:



image : Robert Frith
Working closely with both the Shire and the community of Kalamunda, the final design proposed consisted of several smaller buildings, as opposed to the original request of one large building.
"The Zig Zag Cultural Centre seeks to provide a diverse range of cultural activities in a boutique-style gallery environment. The purpose of the space is to encourage, stimulate, promote and enable a series of local and regional cultural activities to occur simultaneously throughout the space," continued Ken.
Unique to the design includes vast expanses of glass that allow visitors to see and appreciate the beautiful natural bush surrounds. Additionally, timber eaves and corrugated metal roofs used that are typical of the surrounding heritage buildings, complement the existing landscape.
Well known for designing world class civic buildings, this international architecture office were instrumental in the realisation of the award-winning Melbourne Convention and Exhibition Centre (in collaboration with NH Architecture), and are currently designing the Adelaide Convention Centre in collaboration with Vx3.
Deakin University Building, Melbourne, Australia



image from architecture office
Deakin University Building – 15 Mar 2012
Waterfront Place, Brisbane, Australia



photograph : Scott Burrows
Waterfront Place Brisbane – 6 Mar 2012
Winning an invitation only design competition that called for greater opportunity for tenant interaction, Woods Bagot's design approach was derived from a careful analysis of how people use the foyer, in addition to the immediate context and a wider understanding of its direct surroundings.
10 Feb 2012
LK Jewellery Boutique, Sydney, NSW, Australia



photograph from architects
LK Jewellery Boutique
Designed by Woods Bagot, LK Jewellery's new boutique stores in Melbourne and Sydney speak to their sense of place and boast 'ultimate prestige' through the embodiment of clean-lines, combined with a sophisticated and luxurious material palette.
10 Nov 2011
Pekin Hotel – Restoration + Extension, Moscow, Russia


image from Woods Bagot Architects
Pekin Hotel
Architectural practice Woods Bagot has been appointed to restore and extend one of the most iconic, historic properties in the heart of Moscow – the Pekin Hotel – for operator Fairmont Hotels and Resorts.
Recent Buildings by Woods Bagot
Recent Buildings by Woods Bagot
South Australian Health and Medical Research Institute, Adelaide, Australia



picture courtesy architecture office
Deakin University Building, Melbourne, Australia



photo : Peter Bennetts
Small House, Surry Hills, Sydney, Australia



photo : Trevor Mein
Sydney House
Nakheel Harbour & Tower, Dubai



image from architect
Nakheel Harbour & Tower
Melbourne Convention Centre, Australia



photograph : Peter Bennetts
Deakin University Building, Melbourne, Australia



photo : Peter Bennetts
Deakin University Building
Noumea Masterplan, Melanesia, Pacific – 13 Jan 2011



image from architects
Noumea Masterplan
Qatari Science and Technology Park wins Arabian Property Award



photo : Trevor Mein Photography
Qatari Science and Technology Park
Modular 'Icebergs', New York, USA



image from architects practice
Modular Icebergs
Tower 8, Adelaide, Australia



image from Woods Bagot, architects
Tower 8 Adelaide
MCN Building, Melbourne, Australia
Melbourne Centre of Nanofabrication Building
Shijiazhuang Conference Center, North China



image from Woods Bagot, architects
Shijiazhuang Convention Center
Australian Catholic University Health and Wellbeing Centre, Melbourne, Australia
2010-



image from Woods Bagot, architects
Australian Catholic University Health and Wellbeing Centre
Key Projects by Woods Bagot
Designs, alphabetical:
10 Trinity Square, City of London, England
2009-



picture from Woods Bagot, architects
10 Trinity Square London
110 Fetter Lane, City of London, England
2008-



photo © Nick Weall
110 Fetter Lane
Bank of New Zealand, Auckland, New Zealand
–
Central St Martins campus development, Southampton Row, west London, UK
2008-



picture from Woods Bagot, architects
Central St Martins Campus
Ducie Street Tower – proposal, Manchester, England
2007-11
60 storeys for developer: Inacity
Hong Kong University of Science & Technology, Hong Kong
2007-
Ivy Venue, Sydney, Australia
2009
Design: Woods Bagot and interior designers Hecker Phelan Guthrie



picture from architecture office
Ivy Sydney
Liverpool Central Village, Liverpool, northwest England
2007-



picture from Woods Bagot, architects
Millennium & Copthorne Hotels
Nakheel Harbour & Tower, Dubai, UAE
2008-



picture from Woods Bagot, architects
Nakheel Harbour & Tower
One Shelley Street Sydney Building:



photo : Shannon McGrath
One Shelley Street Sydney
Piccadilly Central Tower, Manchester, UK
2007-
Silk Road, Melbourne, Australia
2008



picture from Woods Bagot, architects
Silk Road Melbourne
100 West Cromwell Road, London, UK
2007-
More Woods Bagot projects online soon
Location: – international offices
Architects Practice Information
Woods Bagot Architects
Woods Bagot Shanghai : New Studio – Dec 2009



image from architect
Website: www.woodsbagot.com
Architectural Design
Sydney Architects Studios
Woods Bagot Architecture Office – practice info archive
Buildings / photos for the Woods Bagot Architects page welcome