Woods Bagot Singapore, Architects Studio Southeast Asia, Design Office News
Woods Bagot Architects Singapore
Contemporary Architecture Practice Southeast Asia: Design Practice News
2 Oct 2013
Woods Bagot Singapore
Woods Bagot launches Singapore Studio with Forum Architects
Singapore – 2nd October 2013 — Woods Bagot today announced the launch of a Singapore studio through an alliance between Woods Bagot and award-winning local practice Forum Architects. This means that Woods Bagot now has an on-the-ground presence in 16 cities globally and in all the crucial regional business hubs – London, New York, Sydney, Dubai, Hong Kong and now, Singapore.
NL to R: Mark Mitcheson-Low, Woods Bagot Executive Chairman, Sweet Woon, Ross Donaldson, Woods Bagot Group Managing Director, Tan Kok Hiang, Neil Salton, Woods Bagot Principal: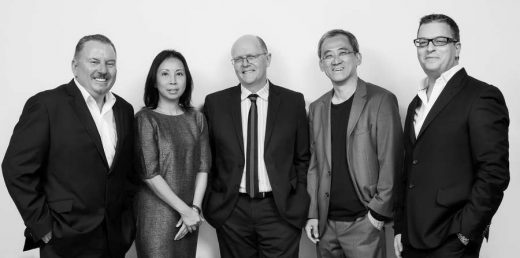 image from architects
Woods Bagot has been registered in Singapore since February 2013. The new studio will be led by Neil Salton, a Principal of Woods Bagot, who has lived in Singapore since 2008 and delivered a number of workplace projects regionally. Working closely with Tan Kok Hiang, founder and director of Forum Architects, Salton will build the 50-strong practice to meet existing and future client need in the region.
Woods Bagot and Forum Architects have, over a period of 15 years, developed a professional and collaborative relationship, based on a similar approach to design, and an emphasis on excellence in the same sectors: workplace; education and science, health and lifestyle. Most notably the two firms worked together on the East Coast Park master plan.
"Singapore is a crucial market for us for two reasons," said Neil Salton, Principal at Woods Bagot. "Many corporates are attracted to the potential cost savings of using Singapore as a location for their regional headquarters, as well as the opportunity to transform their working environments. Our landmark project for one of Singapore's largest employers – to be unveiled towards the end of 2013 – is indicative of these trends.
Second, we see Singapore as a key hub for our work throughout Southeast Asia. We are currently involved in seven high-rise projects in Jakarta – including the Telkom Landmark Tower, the new headquarters for Indonesia's largest telecommunications company. We will continue to support these projects from the Singapore studio."
Ross Donaldson, Group Managing Director, Woods Bagot, said: "Our clients have been increasingly looking for us to build a presence in Singapore and this joint venture allows us to fast-track our strategy in that market. Kok Hiang has a fantastic reputation and we have had the privilege of working alongside the Forum team on a number of projects. I have no doubt he and Neil will maintain this status as best-in-class in the local market while linking with Woods Bagot's Global Studio.
"Over recent years, our One Global Studio strategy has delivered the best of our thinking and expertise to multi-national clients wherever they are in the world, resulting in strong financial growth. Globally we currently have over 200 projects, worth AUS 21 billion, under design and construction."
Forum Director, Tan Kok Hiang said: "The collaboration provides Forum with access to international expertise and project intelligence in particular in the areas of health, transport and Activity Based Working consultancy. Combining Forum's local and regional experience with Woods Bagot's global knowledge and insight will enrich our approach to responsive contextual design. Woods Bagot + Forum will run alongside Forum Architects, coming together to complement specific client and project requirements. Forum Architects will remain an independent practice."
"Woods Bagot + Forum will run alongside Forum Architects, coming together to complement specific client and project requirements."
Mark Mitcheson-Low, Executive Chairman of Woods Bagot in Australia, said: "We have been active in Singapore for a number of years. Formalising our relationship with Forum Architects will create a strong regional hub for Woods Bagot and enhance the collaboration between Australia and Asia. The Singapore team will be supported by the huge talent pool we have across the world."
According to Alice Tan, Head of Singapore research at Knight Frank: "Companies who are looking to establish themselves in Asia may choose Singapore as the most cost-effective business city over Hong Kong, where rents are 70% higher. Furthermore, Singapore's position as a regional hub is further boosted by the entry of more certified Qualifying Foreign Law Practice firms."
About the senior team of Woods Bagot + Forum Architects
Neil Salton is an experienced workspace consultant. Based in Singapore, he has lived in Asia for several years. Through his career, he has delivered projects in Singapore, India, Australia, Europe and North America, for a range of blue chip clients, including HSBC, Standard Chartered Bank, Macquarie Bank, Barclays, SAP, Nokia, Deloitte and Rio Tinto.
Tan Kok Hiang formed Forum Architects in 1994 with his wife, Sweet Woon, and has won more than 30 awards, including seven from international bodies. He sits on the URA Design Advisory Panel for Orchard Road projects. He is a Guest Critic at the National University of Singapore Architecture School and sits on the Faculty's Advisory Committee.
Woods Bagot Singapore Studio image / information received 021013
Woods Bagot – main page
Woods Bagot Architects – Practice Information
Location: Singapore, Southeast Asia
Singapore Architects Practice Information
About Woods Bagot
Woods Bagot is a global design and consulting firm, with a team of over 850 people working across Australia, Asia, the Middle East, Europe and North America.
The firm's unique 'One Global Studio' philosophy drives unprecedented knowledge sharing and true collaboration across time zones, producing innovative, inspired and functional design solutions.
Underpinning Woods Bagot's knowledge culture is Public, the firm's research arm, created in collaboration with leading thinkers and academics.
Specialising in five key sectors – Aviation and Transport; Education, Science and Health; Lifestyle; Sport; and Workplace – Woods Bagot's diverse portfolio spans more than 140 years, a legacy of design excellence. The firm's high-profile projects include: China Southern Airport City [Guangzhou, China], South Australian Health and Medical Research Institute [SAHMRI, Australia], 100 Bishopsgate [London], Qatar Science and Technology Park, Melbourne Convention and Exhibition Centre [in joint venture with NHArchitecture], Ivy, Sydney [in collaboration with Merivale, Cornwell Design, Hecker Guthrie], Sunshine Insurance Tower [Beijing], Delhi One [Noida, India] and current WAF 2013 shortlisted project Knox Innovation Opportunity and Sustainability Centre [KIOSC, Australia].
Disciplines: Architecture, Consulting, Interior Design, Urban Design, Master Planning
Singapore Architecture
Buildings / photos for the Woods Bagot Architects Singapore page welcome
Website: www.woodsbagot.com