Tonsley Main Assembly Building, MAB Adelaide, New South Australia Architecture
Tonsley Main Assembly Building (MAB), Adelaide
Australian Pavilion at 2018 Venice Biennale – South Australia Project design by Woods Bagot / Tridente Architects
24 May 2018
Tonsley Main Assembly Building in Adelaide
Tonsley Main Assembly Building (MAB), Adelaide
Architect: Woods Bagot with Tridente Architects
Tonsley's MAB among those to shine at Australia's exhibition at Venice Biennale 2018
The globally recognised adaptive reuse project, Tonsley, is one of 15 to be showcased in the Australian Pavilion at this year's Venice Biennale Architettura 2018, in an exhibit presenting architectural approaches to repairing the environment through design.
The Venice Biennale 2018 is open to the public from 26 May to 25 November.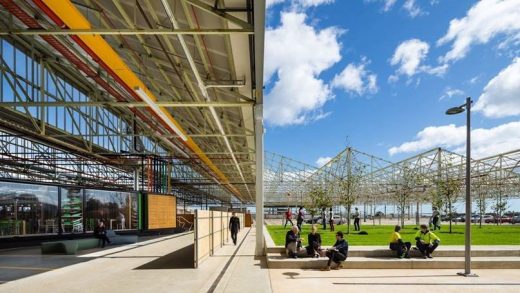 REPAIR is the theme of the Australian exhibition curated by creative directors Mauro Barraco and Louise Wright (Baracco+Wright Architects), in collaboration with artist Linda Tegg. The creative approach of the Australian exhibit is central to the Biennale's overall theme, Freespace.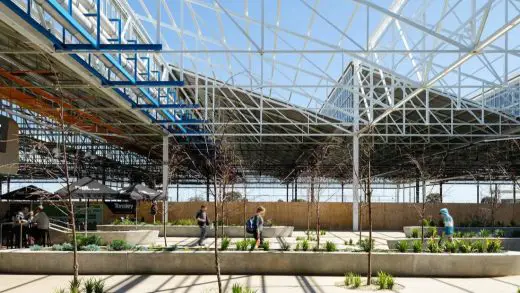 Louise Wright has said that while ideas of repair are internationally relevant, they are particularly applicable to Australian architects, who work cheek-by-jowl in one of the most diverse and ecologically sensitive landscapes in the world.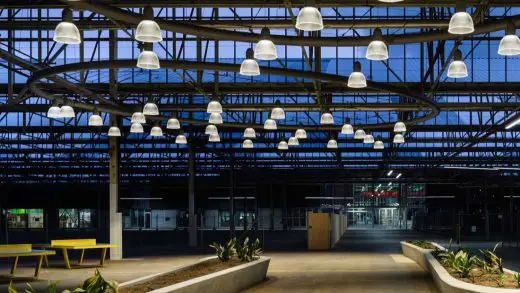 "We want to provoke and stimulate this discussion and position Australian architects at the cusp of international architectural consciousness around issues of repair," Ms Wright said.
Presented by the Australian Institute of Architects, the thought-provoking exhibit will display an unprecedented collection of indigenous Australian grassland species, featuring 10,000 plants and over 60 species of a Victorian Western Plains Grassland plant community.
Accompanying the grassland installation is an experimental video series entitled Ground, which will present Australian projects that demonstrate diverse iterations of repair. Tonsley Main Assembly Building (MAB) is one of these 14 projects to be showcased inside the Pavilion on five-metre-high screens, displaying a series of striking visuals that reinforce Australia's conscious efforts to instil the notion of repair in today's architectural practice.
Against the backdrop of Australia's declining car manufacturing industry, the Tonsley MAB project transformed the site of a former car factory into a vibrant, mixed use employment precinct supporting clean technologies, sustainable industries, advanced manufacturing, education, and research.
The award-winning repurposing of the building into a hub for an innovative living and working community is the work of global architecture studio Woods Bagot, with Tridente Architects.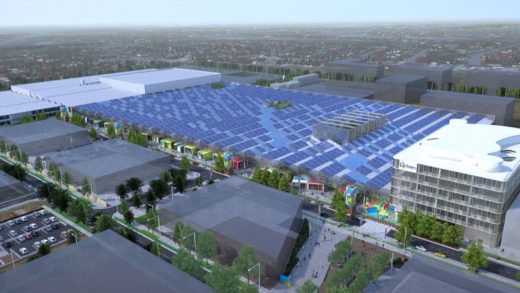 Part of the brief was to create an environment to support new manufacturing employment in Adelaide, South Australia. This was achieved this by delivering a structure that would support a community in a vibrant mixed-use precinct that will evolve over time while maintaining connection to its industrial past.
"Rather than follow the typical industrial park approach, which would have had limited value to the industry and the wider community, we chose to imagine a thriving community within the significant industrial remains of the Tonsley site," said Milos Milutinovic, project leader for Woods Bagot.
Sustainability was paramount – not only in environmentally sustainable design but also through the impact economically, socially and culturally of the site's regeneration.
"A critical issue of contemporary culture and the architectural profession is the role architecture can play in repairing the built environment and giving new life to tired places for great community benefit," said Woods Bagot director Thomas Masullo. "It's a great honour to present the Tonsley project on the world stage, and to advocate for the relevance of architecture, particularly in re-thinking the design of our cities, public places and buildings for a viable future."
In Venice, the Tonsley Main Assembly Building features in an experiential video series, titled Ground and part of the REPAIR exhibit, showcasing 15 Australian projects that exemplify various approaches to repairing the natural environment. The projects are displayed on five-metre-high screens within the Australian Pavilion.
Australia's exhibit is curated by creative directors Mauro Barraco and Louise Wright, in collaboration with artist Linda Tegg. The Venice Biennale is open to the public from 26 May 2018 to 25 November 2018.
Repair will be Australia's seventh exhibition at the Biennale Architettura, where Australia has had a presence since 2006. Australia is one of 63 nations participating.
Open to the public from Saturday May 26 to Sunday November 25 2018, the 16th International Architecture Exhibition, FREESPACE, is curated by Yvonne Farrell and Shelley McNamara and organised by La Biennale di Venezia chaired by Paolo Baratta.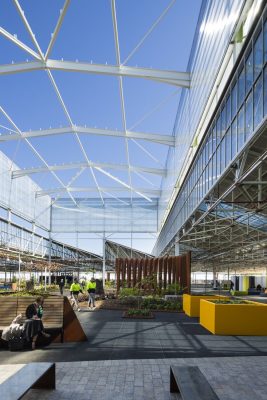 Tonsley Main Assembly Building and Pods – Building Information
Project name: Tonsley Main Assembly Building and Pods
Client: Renewal SA
Location: Adelaide, South Australia
Area: Site 61ha, building 47,000sqm
Project scope: Architecture, Masterplanning
Project status: Completed
Completion date: May 2015
Collaborative partner: Tridente Architects
Woods Bagot design team: Thomas Masullo / Milos Milutinovic / Nicholas Ng / Yeung Cheng
KEY SUSTAINABILITY FACTS – MAIN ASSEMBLY BUILDING
• The adaptive re-use saved 90,000 tons of embodied carbon, equivalent to 25,000 cars being taken off the road
• A 4 megawatt solar array on the roof produces affordable and sustainable energy for tenants
• Communications infrastructure provides connected technology as a basis for a Smart Grid Energy system
• Four urban forests inside the building provide naturally shaded green spaces, cool the air and reduce the sun's thermal load on the roof
AWARDS
World Architecture News Awards (2015) – Winner, Adaptive Reuse
AIA National Architecture Awards (2016) – Winner, David Oppenheim Award for Sustainable Architecture
AIA South Australian Architecture Awards (2016) – Winner, Award for Sustainable Architecture
Urban Development Institute of Australia, National Awards (2017) – Winner, Urban Renewal
Australian Urban Design Awards (2017) – Winner, Large Scale Project
Good Design Award for Sustainability (2017)
Australian Urban Design Awards – Delivered Outcome – Large Scale (2017)
Property Council of Australia (2018) – Winner, South Australian Development of the Year
Property Council of Australia, Innovation & Excellence Awards (2018) – Winner, Best Development Innovation
MORE INFORMATION
architecture.com.au/venicebiennale/ (Australian Institute of Architects)
Biennale Architettura 2018 (official website)
Tonsley Main Assembly Building (MAB), Adelaide image / information received 24/05/18 & 110418
Location: Tonsley, Adelaide, South Australia
Adelaide Architecture
Adelaide Convention Centre, North Terrace, Adelaide, South Australia
Design: Woods Bagot, Architects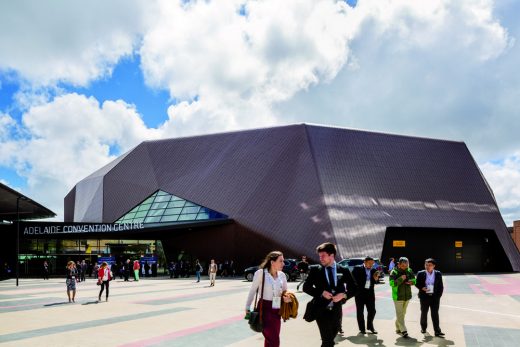 photo : Trevor Mein
Woods Bagot Architects WAF Shortlist 2018 Buildings
SAHMRI 2 Building
Design: Woods Bagot, Architects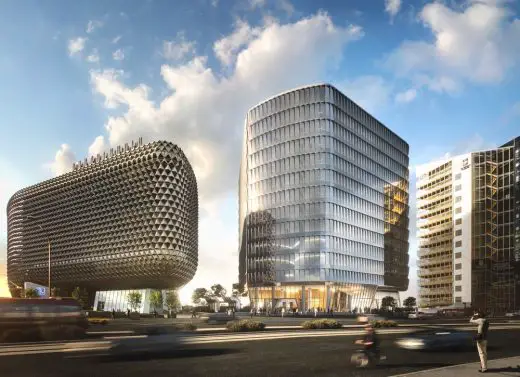 image courtesy of architects
SAHMRI 2 Building
Adelaide Contemporary Designs by Shortlisted Architects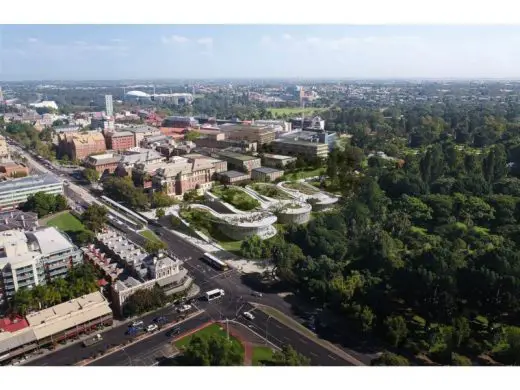 image courtesy of architects
Adelaide Contemporary Designs
Adelaide Oval Western Grandstand
Website: Tonsley Main Assembly Building Adelaide
Buildings / photos for the Tonsley Main Assembly Building (MAB), Adelaide – page welcome
Website: Tonsley Adelaide