MAD Martian Collection DesignMiami, Ma Yansong Furniture, Chinese Design Studio
MAD Martian Collection by Ma Yansong at DesignMiami
Furniture by Ma Yansong in FL, USA – Contemporary Chinese Architectural Practice
Dec 8, 2017
MAD Martian Collection by Ma Yansong at DesignMiami in 2017
Gallery ALL presents MAD Martian Collection by Ma Yansong at DesignMiami/ 2017
Gallery ALL presents the MAD Martian Collection at DesignMiami/2017. Designed by Ma Yansong, founder and principal partner of MAD Architects, the contoured forms of the furniture pieces recall elements of natural, albeit foreign, extra-terrestrial environments.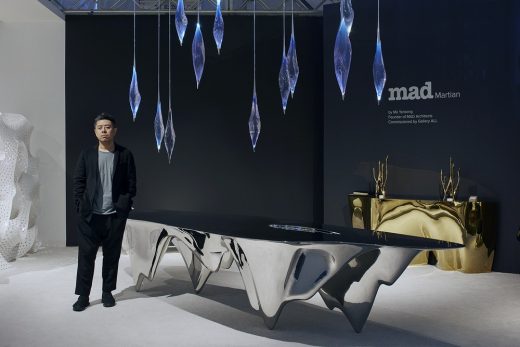 The collection comprises seven pieces and is finished in a fluid, highly reflective metallic skin that suggests the inherent ability of the designs to respond to their changing environments, while expressing a nostalgia for utility and human culture.
They represent an exercise in interpreting MAD's Shanshui City philosophy in the context of a science fiction narrative.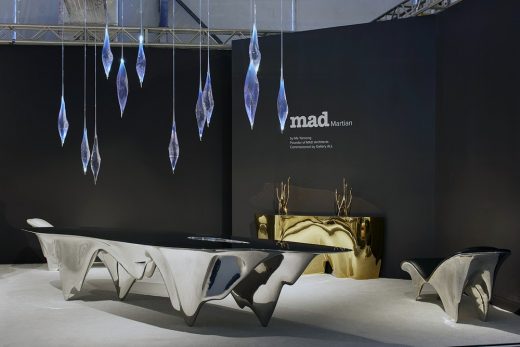 The MAD Martian collection is part of an ongoing series of in-house commissions by curation-led Los Angeles and Beijing-based Gallery ALL. It is the first collection of furniture designed by Ma Yansong.
The MAD Martian Collection is on show at DesignMiami/ 2017 until December 10th.
Come drop by and visit at Booth G26.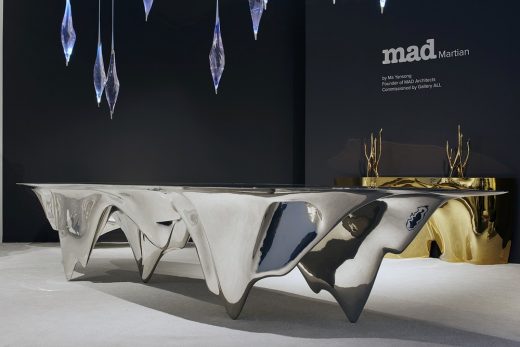 MAD Martian Collection
1. MAD Martian Dining Table
Material: Aluminum
Dimensions: 435W x 127D x 80H (cm)
Edition units: 8+2AP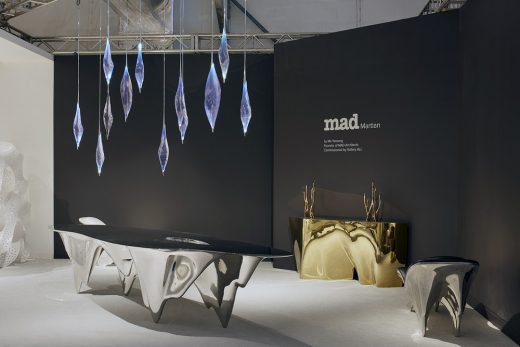 2. MAD Martian Chaise Lounge
Material: Aluminum, Leather upholstery
Dimensions: 176W x 63D x 74H (cm)
Edition units: 12+2AP
3. MAD Martian Candelabra
Material: Bronze/Stainless Steel
Dimensions: 23W x 22D x 54H (cm) or 23W x 21D x 52H
Edition units: 25+2AP for each design
4. MAD Fish-tank Floor Lamp
Material: Polyurethane
Dimensions: 31W x 35D x180H (cm)
Edition units: 12+2AP
5. MAD Martian Suspension Lights
Material: Polyurethane, Bronze
Dimensions: Custom
Edition units: 25 sets/3 lamps per set
6. MAD Martian Console Table
Material: Aluminum
Dimensions: 200W x 46D x 85H (cm)
Edition units: 12+2AP
7. MAD Martian Feature Wall Piece
Material: Aluminium
Dimensions: TBD
Edition units: 12+2AP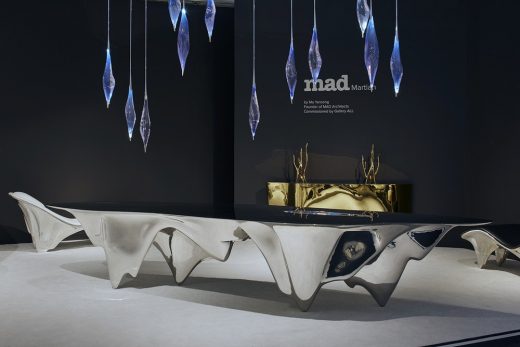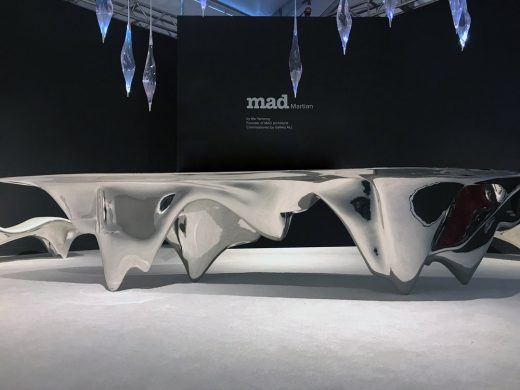 MAD Martian Collection
2016-2017
Typology: Furniture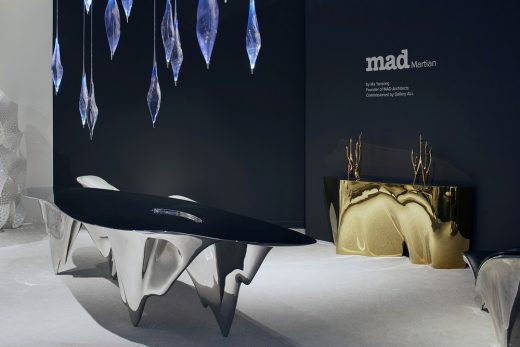 Directors in Charge: Ma Yansong, Dang Qun, Yosuke Hayano
Design Team: Kin Li, LI Guangchong, Casey Kell, Dmitry Seregin, Dixon Lu, ZHU Yuhao, YAN Ran, Matthew Pugh, Marco Gastoldi
Ma Yansong: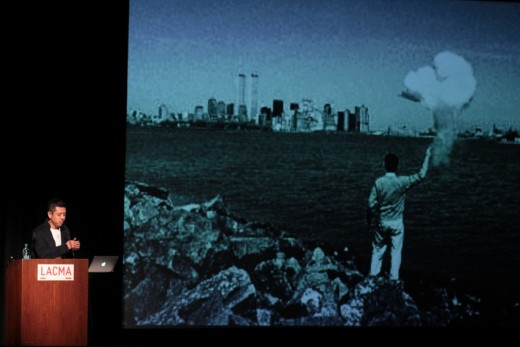 photo : MAD Architects
Design Miami/ Offices
3841 NE 2nd Avenue, Suite 400, Miami, FL 33137
Call +1 305 572 0866
[email protected]
Location:n3841 NE 2nd Avenue, Suite 400, Miami, FL 33137, USA
MAD Architects – Key Projects
Chaoyang Park Plaza, Beijing, Republic of China
Chaoyang Park Plaza Buildings by MAD Architects
13 Nov 2017
Huangshan Mountain Village, Republic of China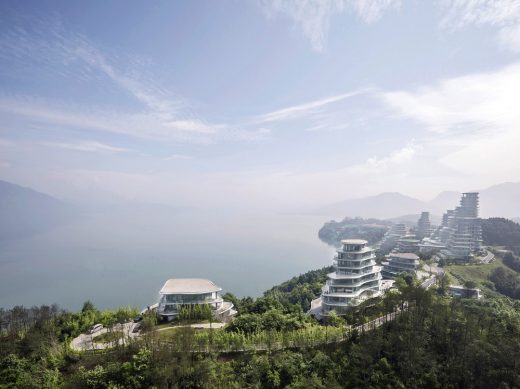 image form architects office
Huangshan Mountain Village Buildings
21 Sep 2017
Mirage – Montparnasse Tower Renovation, Pairs, France
Design: MAD Architects / Executive Architect: DGLa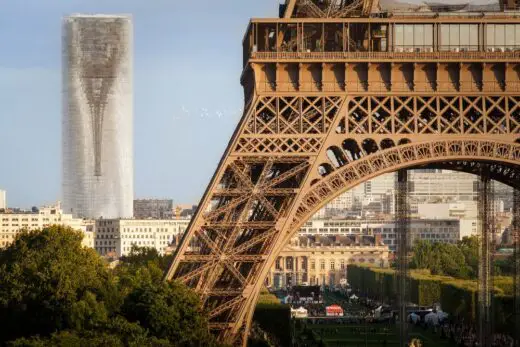 image form architects office
Mirage – Montparnasse Tower design by MAD Architects
28 May 2017
MAD Completes Beijing Roca Gallery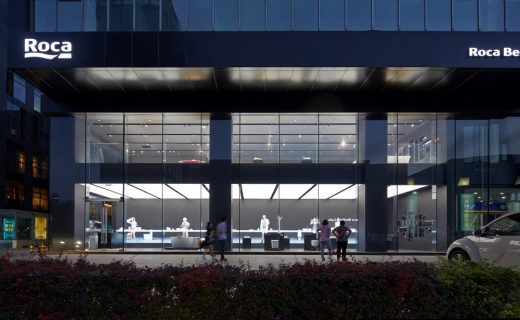 photograph : Shu He, Action Media
Beijing Roca Gallery
8 Apr 2017
Historical Future: Milan Reborn for the Scali Milano Masterplan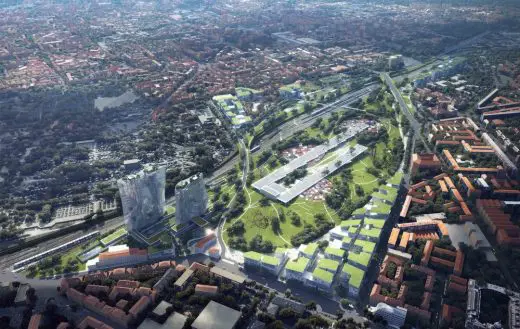 image courtesy of architects
Historical Future: Milan Reborn for the Scali Milano Masterplan
China Philharmonic Hall Building, Beijing, China
Design: Ma Yansong of MAD architects with Yasuhisa Toyota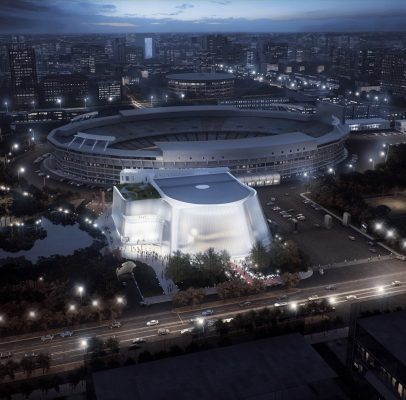 image courtesy MAD
China Philharmonic Hall Building
Xinhee Design Center Offices, Xiamen, China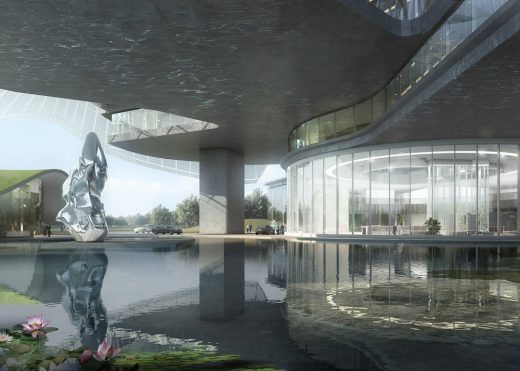 image courtesy MAD
Xinhee Design Center Building by MAD
Absolute Tower, Mississauga, Canada



image from architect
Absolute Tower – 'Marilyn Monroe Skyscraper'
Beihai Fake Hills, China



image from architect
Beihai Fake Hills
Erdos Museum, Gobi Desert, Mongolia



image from architect
Erdos Museum
Hutong Bubble 32, Beijing, China



photo from architect
Hutong Bubble 32
MAD : Beijing Architect – studio contact details
Galleria O. at Design Miami / Basel 2017
Furniture Architecture Designs – chronological list
Chinese Architect – Architect Listings
2017 MAD Architecture Travel Fellowship
Website: DesignMiami
Comments / photos for the MAD Martian Collection at DesignMiami 2017 – Furniture by Ma Yansong Architect, Beijing page welcome
MAD Martian Collection at DesignMiami 2017 – page
Website: www.i-mad.com