Beyer Blinder Belle Architects buildings, US design studio, NY office news, American project photos
Beyer Blinder Belle : Architecture
BBB New York City: Contemporary NYC Architects Practice, United States of America
post updated November 3, 2023
Beyer Blinder Belle Architects and Planners News
May 22, 2023
200 Montague Street, Brooklyn Heights, New York City, NY, United States of America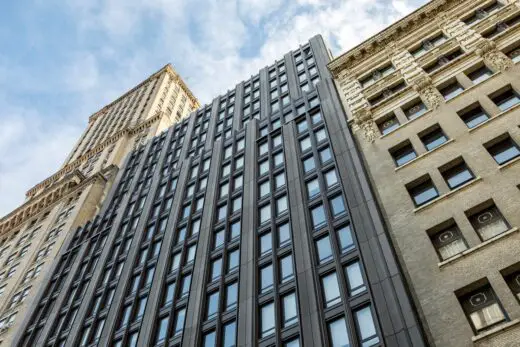 photo : Paul Rivera
200 Montague Street Brooklyn Heights
200 Montague Street, a new 20-story, 121-unit residential building in Brooklyn Heights, is completed. Located in the Borough Hall Skyscraper Historic District, 200 Montague reinterprets the architectural essence of its historic neighbors to create a contemporary residential building for today's Brooklyn Heights.
March 1, 2023
Beyer Blinder Belle Architects and Planners Acquires NYC-based Environmental Graphics Studio LVCK
Beyer Blinder Belle Acquisition News
NEW YORK – Beyer Blinder Belle, Architects and Planners, LLP (BBB), an award-winning architecture, planning, and interiors firm with offices in New York City, Washington, DC, and Boston, has acquired LVCK, LLC, a Manhattan-based and internationally recognized environmental graphics firm. The addition of LVCK will augment BBB's robust in-house environmental graphics practice and leverage the creative energies of two leading design firms.
LVCK founders Laura Varacchi and Christopher King are at the forefront of digital and physical signage and environmental design, each with more than 20 years of experience working for clients including Fortune 500 corporations, government agencies, and non-profits. LVCK will integrate into BBB's interdisciplinary design practice and will continue to serve its existing clients under the name LVCK—A Beyer Blinder Belle Studio from BBB's New York office at 120 Broadway.
Laura and Chris have developed their firm with a mission, mindset, and commitment to excellence that aligns with BBB's own values and culture. "We are very excited to bring LVCK to BBB, to offer clients industry-leading expertise in environmental graphic design and wayfinding," said Elizabeth Leber, AIA, LEED AP, Managing Partner of Beyer Blinder Belle. "Their ethos of discovery and of memorable, authentic experiences meshes with our design philosophy and mission."
"It is a rare, but delightful occurrence," said Laura Varacchi, Creative Strategist of LVCK—A Beyer Blinder Belle Studio, "when team members of different disciplines lift up, support, and enhance one another's solutions for the same client. This acquisition is proof BBB knows how to evolve in dynamic ways while staying true to their mission. I look forward to expanding our reach and mentoring a new generation of graphic design talent on par with the architectural talent at BBB."
"BBB recognized the value in who we are and what we do," said Chris King, Creative Director of LVCK—A Beyer Blinder Belle Studio. "LVCK's approach to design has always been to buck the trend; we focus on solutions crafted for each client's unique situation. I am thrilled to work shoulder to shoulder with BBB, and excited to see the future we will create."
About Beyer Blinder Belle
Founded in 1968, Beyer Blinder Belle (BBB) has offices in New York City, Washington, DC, and Boston.Planning, restoration, and the design of new buildings are the fundamental underpinnings of the practice and encompasses a wide range of building typologies and sectors, including cultural, civic, educational, residential, and commercial.
A persistent exploration of historic, cultural, and civic meaning guides the firm's work, while its design is contemporary and reflects the materials and technologies of today. BBB's work has been recognized with hundreds of awards, including the American Institute of Architects Firm Award, the highest honor given to a practicing firm, as well as three Presidential Design Awards and the Preservation League of New York's most prestigious commendation, the Pillar Award.
For more information, please visit www.beyerblinderbelle.com
About LVCK
LVCK is a New York-based environmental graphics studio founded in 2013. Partners Laura Varacchi and Christopher King are each hands-on in designing, managing, and implementing their projects. LVCK's practice specializes in environmental graphic design, signage, print, and digital wayfinding.
For more information, please visit www.lvckdesign.com
Previously on e-architect:
post updated November 10, 2022
Beyer Blinder Belle Architects News
Beyer Blinder Belle News
Nov 10, 2022
Rubell Museum DC, Washington, D.C., United States of America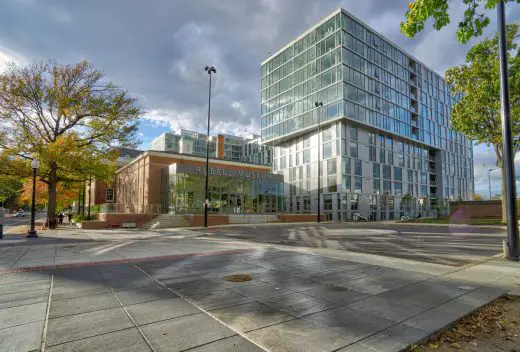 photo : Chi Lam
Rubell Museum DC
Dec 17, 2021
Colony Square, Atlanta, Georgia, USA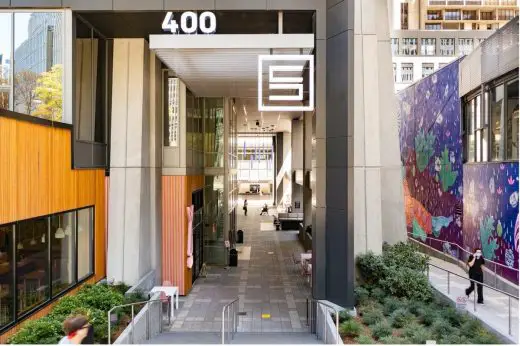 image : Iran Watson
Colony Square Atlanta
The transformation of Colony Square pulls retail and dining closer to the street with new contemporary additions while inviting the public into the previously insular site. This new site is poised to become "Midtown's Living Room," a cultural and entertainment destination within a burgeoning commercial, residential, and arts district.
Oct 30, 2021
National Presbyterian Church, 4101 Nebraska Ave NW, Washington, D.C., USA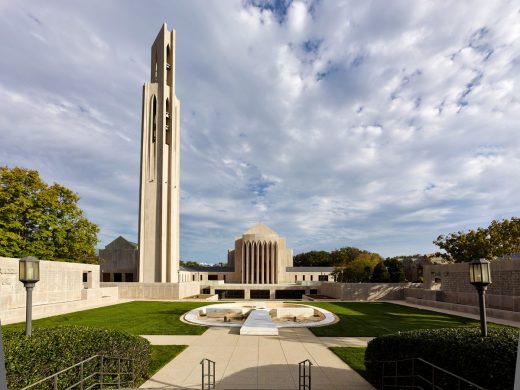 photo : Alan Karchmer
National Presbyterian Church Washington, D.C.
Beyer Blinder Belle Completes Renovation and Expansion of D.C. Modern Gothic Landmark, the National Presbyterian Church. The renovation honors the iconic building while providing modern upgrades, improving accessibility, and revitalizing the surrounding public space.
Sep 22, 2021
Gallery 64, 65 Eye Street, SW, Washington, D.C., USA
Design: Beyer Blinder Belle Architects & Planners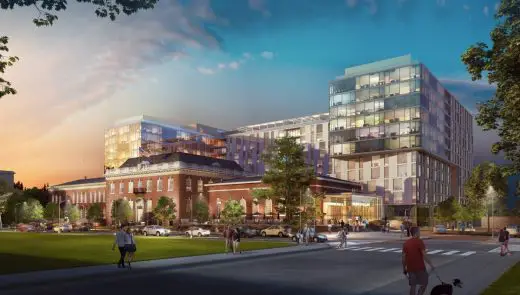 rendering courtesy Beyer Blinder Belle
Gallery 64, Washington, D.C.
Beyer Blinder Belle Announce Groundbreaking of Gallery 64, Mixed Use Multifamily Development And Future Home of Rubell Museum on Historic Site. The renovation, adaptive reuse, and redevelopment of the historic, former Randall Junior High School and site will create a vibrant arts campus with a contemporary art museum and Gallery 64, a new 12-story apartment building.
Jun 18, 2021
Beyer Blinder Belle-designed TWA Hotel Recognized By American Institute Of Architects
TWA Hotel (Architecture) and Essex Crossing (Regional & Urban Design) Received National AIA Awards, and Columbian Quarter (Urban Design & Master Planning) Received a DC Chapter Design Award:
TWA Hotel Award
NYC Architecture Practice News 2006 – 2020
June 12, 2020
Beyer Blinder Belle Launches BBB University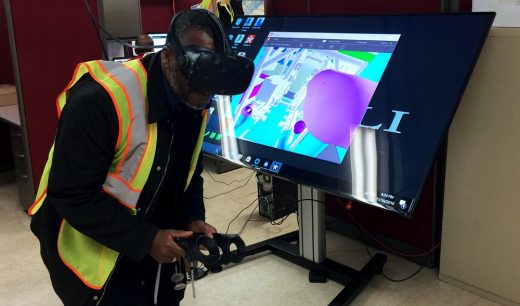 photo courtesy Beyer Blinder Belle
Beyer Blinder Belle BBB University
A homegrown initiative that provides staff with training in emerging technologies and explores new project approaches and delivery methods. Created during difficult times and changes in the business environment, BBB Uni is one of several recent BBB strategies implemented to address new skill sets and technologies needed to adapt to change.
Apr 5, 2019
Trans World Flight Center at JFK International Airport Redevelopment
Renewal Design: Beyer Blinder Belle Architects
Building refurbishment in Queens, NY, to reopen in mid May:
TWA Flight Center Redevelopment News
Nov 18, 2017
Stephen A. Schwarzman Building, New York City, NY, USA
Design: Mecanoo with Beyer Blinder Belle, architects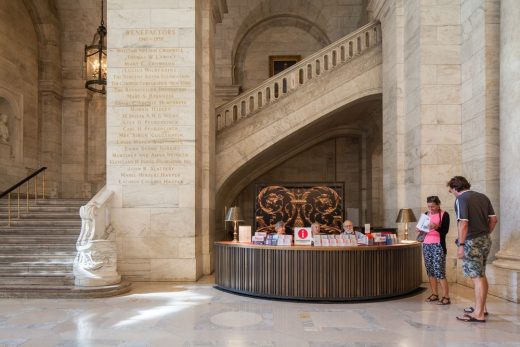 image courtesy of architects
New York Public Library Stephen A. Schwarzman Building Master Plan
The $317 million plan for the historic Midtown building on Fifth Avenue and 42nd Street was shared at the Library's Board of Trustees meeting, and calls for an approximate 20% increase in public space for research, exhibitions, and educational programs.
May 27, 2017
Longwood Gardens' Main Fountain Garden, Pennsylvania, USA
BBB's rehabilitation of the Main Fountain Garden at Longwood will revitalize the historic heart of one of the most celebrated public gardens in the world.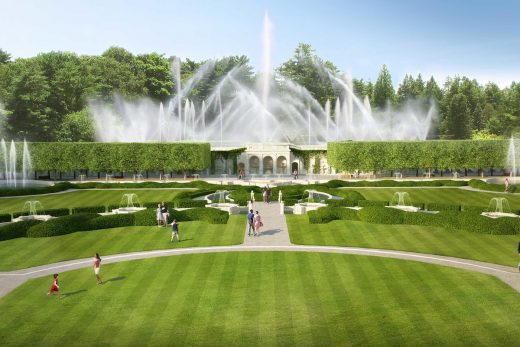 image courtesy of Longwood Gardens / Squint Opera
Longwood Gardens, located in the Brandywine Valley of Pennsylvania, was conceived, designed, and constructed by Pierre S. du Pont during the first half of the 20th century. Inspired by many of the great water gardens of Europe, the Main Fountain Garden is among the most prominent features at Longwood, consisting of a variety of significant water features and set within an architectural context of Italianate renaissance loggias, arcades and basins, and an elaborate and rich horticultural display.
BBB has designed a major rehabilitation for the 80 year-old complex which had been chronically compromised by numerous mechanical problems and aging infrastructure. BBB's scope of work focuses on the restoration of the original design; repair and improvements to mechanical and electrical systems; introduction of a series of new architectural elements such as the new Grotto, Grand Stairs, and a series of subterranean service structures; and enhancements to the plantings, fountains, and visitor amenities
Landscape architecture by West 8 – more info
Longwood Gardens' Main Fountain Garden by Beyer Blinder Belle
Nov 18, 2016
New Mid-Manhattan Library Building, New York City, USA
Design: Mecanoo and Beyer Blinder Belle, architects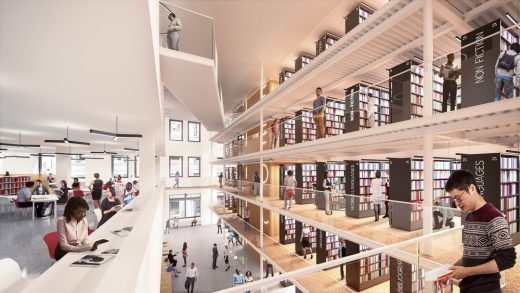 image from architect
New Mid-Manhattan Library Building
Sep 20 + 12, 2016
John Belle
John Belle, the retired founding partner of Beyer Blinder Belle, the US architectural and planning firm that has specialized in preservation, restoration and contextual design, died, reports the New York Times. He was 84 years old.
New York City "has lost an architect who conveyed a genial joy in resuscitating the masterworks of his predecessors. That made him an appealingly modest figure in a room full of big architectural egos, since he was at his best when his own interventions were least obvious."
Key buildings with input from John include Grand Central Terminal renovation, the main building on Ellis Island and the Enid A. Haupt Conservatory at the New York Botanical Garden.
Grand Central New York with Metlife Building: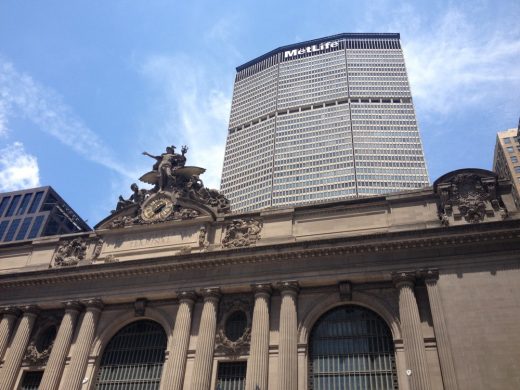 photo © Adrian Welch
Grand Central Station Building in New York City
John Belle was born on June 30, 1932, in Cardiff, Wales. He received diplomas from the Portsmouth School of Architecture in England and the Architectural Association in London before moving to the United States in 1959.
Once in America, he worked for José Luís Sert and Victor Gruen before starting his own architecture practice in 1968 with Richard L. Blinder and John H. Beyer. Mr. Blinder died in 2006. Mr. Beyer is still active.
Website: John Belle Architect – article in NY Times
Beyer Blinder Belle Architects – Key Projects
Major Development by this New York City design studio:
Mar 28, 2016
Met Breuer New York City Building, 945 Madison Avenue, Upper East Side, New York City, NY, USA
Former Whitney Museum of American Art
Original Architect: Marcel Breuer with Hamilton P. Smith ; Renewal Architects: Beyer Blinder Belle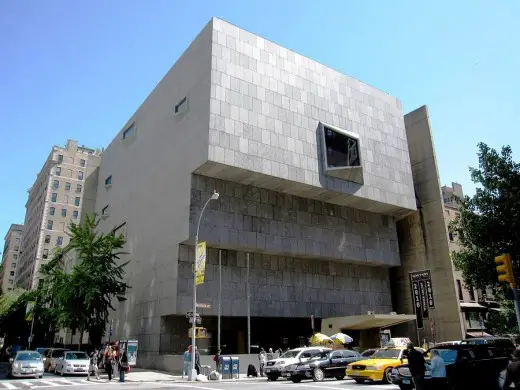 photo : Gryffindor, Wikimedia Commons
Met Breuer Building
Mar 20, 2014
551 West 21st Street in West Chelsea, New York City, NY, USA
Date: 2014-
Design: Foster + Partners, Architects ; Executive Architect – Beyer Blinder Belle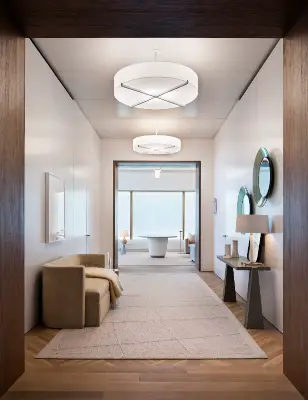 photo © Michael Moran/OTTO
551W21 New York Condo Building
Beyer Blinder Belle Architects & Planners is an international, award-winning architecture, planning and interiors practice with a demonstrated commitment to design excellence, social integrity and sustainable practices.
Notable projects include restorations of New York City Hall and the Empire State Building's Public Lobbies, 100 11th Avenue with Ateliers Jean Nouvel and The Carlton House.
Natick Collection, Natick, Massachusetts, USA
2007
Natick Mall expansion
Location: 23 miles west of Boston
One of the first malls built east of the Mississippi River
Landscape: Martha Schwartz
James A. Farley Building Redevelopment – General Post Office, by Pennsylvania Station, New York City, NY, USA
Date: (1998)
Design entry with Santiago Calatrava (unsuccessful)
Ellis Island National Museum of Immigration, New York, USA
Date: 1990
Renovation and restoration of the abandoned Ellis Island immigration station buildings.
When the Haupt Conservatory at the botanical garden in the Bronx was restored in 1997, Herbert Muschamp, who was then the architecture critic at The New York Times, said it could "once again hold its sparkling glass head up high amid the great architectural symbols of New York."
More architecture projects by Beyer Blinder Belle Architects online soon
Location: 41 East 11th Street, New York, NY 10003, USA
Manhattan Architects Practice Information
Beyer Blinder Belle Architects Architect office based in USA – with offices in New York, NY and Washington, DC.
According to this US architecture studio:
The architects office "was founded in 1968, in the wake of the urban renewal movement in the United States, when the social fabric of cities, communities, and buildings was compromised by the prevailing attitudes about planning and architecture. We pioneered and defined a different approach to the design of the built environment that focused on architecture empowering people — their interaction with each other on streets and in neighborhoods, their pleasure in moving through the city, and their connections to the surrounding physical fabric.
This mission has guided us for more than four decades and has shaped a broad and award-winning practice — now 195 professionals in New York City and Washington, DC engaged in architecture, planning, and interiors. A persistent exploration of historic, cultural and civic meaning guides our work, while our design is contemporary and reflects the materials and technology of today.Planning, restoration and the design of new buildings are the fundamental underpinnings of our practice.
Many of our projects involve the stewardship of historic buildings in sensitive urban sites — the work for which we have become best recognized. Our deep sense of identity and evolving perspectives on design have guided our practice in new construction as well as master planning and urban design. With our clients and friends, we continue the dialogue."
American Architectural Designs
New York Architects – major NYC design studios
Areas of specialization by this architecture practice include:
Civic, Commercial, Cultural, Education, Historic Preservation, Interiors, Planning & Urban Design and Residential.
Grand Central Station Building NYC
Buildings / photos for the Beyer Blinder Belle Architecture – New York City Design Office page welcome
Website: www.beyerblinderbelle.com