New York Public Library Manhattan Master Plan, NYC Architecture Refurbishment, SASB Photos
New York Public Library Stephen A. Schwarzman Building
NYPL 42nd Street Building, Manhattan, NY design by Mecanoo / Beyer Blinder Belle architects
Nov 18, 2017
New York Public Library Building News
Stephen A. Schwarzman Building
Design: Mecanoo with Beyer Blinder Belle, architects
The New York Public Library Unveils Master Plan for Its Iconic Stephen A. Schwarzman Building
Plan calls for an increase in public space, the restoration of historic rooms, and a vastly improved visitor experience
The New York Public Library has unveiled a Master Plan for its iconic Stephen A. Schwarzman Building, one of the nation's leading research libraries, which for over a century has stood as a symbol of open and free access to information and opportunity.
Images below from Mecanoo architecten
Beletage Astorhall Information Desk: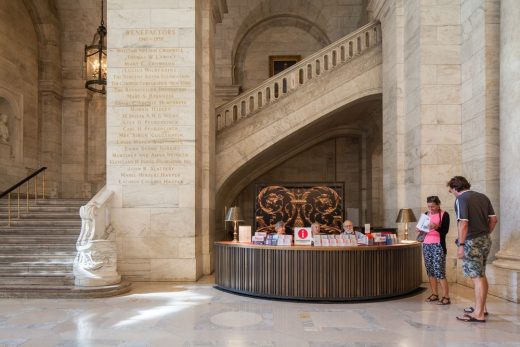 The $317 million plan for the historic Midtown building on Fifth Avenue and 42nd Street was shared at the Library's Board of Trustees meeting, and calls for an approximate 20% increase in public space for research, exhibitions, and educational programs.
Beletage Astorhall: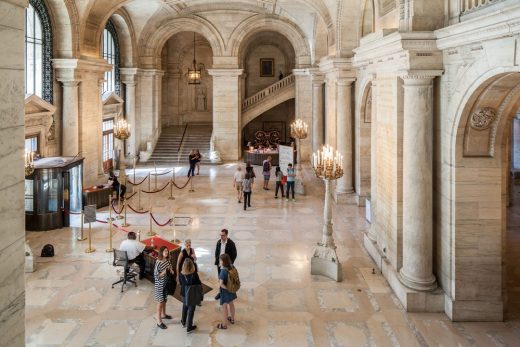 The Master Plan was developed by Dutch architecture firm and experts on library design Mecanoo, led by Francine Houben, and Beyer Blinder Belle, a New York City-based firm known for its work on historic buildings, led by Elizabeth Leber.
Bryant Park: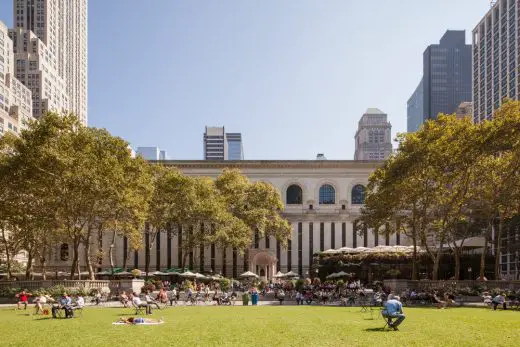 Mecanoo and Beyer Blinder Belle are also leading the renovation of Mid-Manhattan Library, the Library's largest circulating branch, located across Fifth Avenue. It is scheduled to reopen as the completely renovated Stavros Niarchos Foundation Library in early 2020.
Level 2 East Corridor: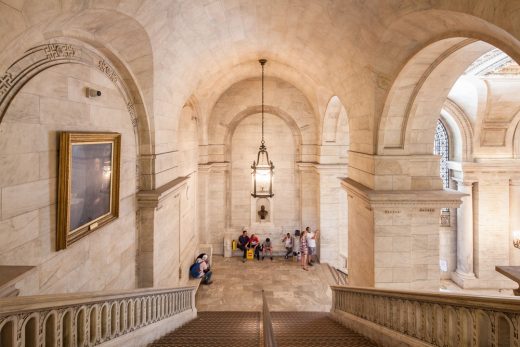 "For over a century, the Schwarzman Building has been a beacon of open access to information and a tireless preservationist of the world's knowledge," said New York Public Library President Tony Marx. "We have a responsibility to preserve its architectural wonder and its role as an important civic space, while also preparing it for the future, and another century of best serving the public. We believe this plan does just that."
Level 3 Rose Reading Room: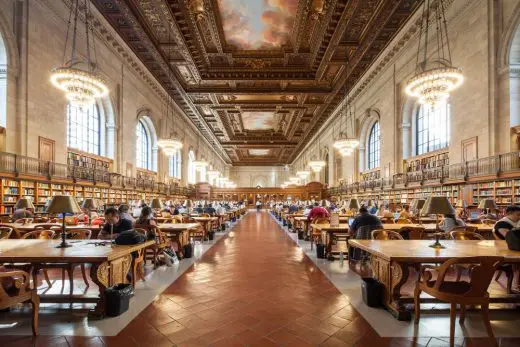 The Stephen A. Schwarzman Building Master Plan calls for future investment beginning in 2018 and continuing through 2021. Work will be done in two phases utilizing private funds.
Specific elements include:
• The transformation of former staff or storage spaces into public spaces for research, exhibitions, and educational programs
• The transformation of long-underutilized, historic spaces for research and programs, including the new Lenox and Astor Room
• A much-needed entrance on 40th Street with a plaza and new elevator bank to ease congestion throughout the building
• An improved patron experience with new bathrooms and improved and modernized infrastructure, including a café and expanded shop
• A new Center for Research and Learning that will introduce high school and university students to the array of collections and uses of the research library
• A new permanent but rotating exhibition of NYPL treasures in the library's Gottesman Hall
NYPL and MML: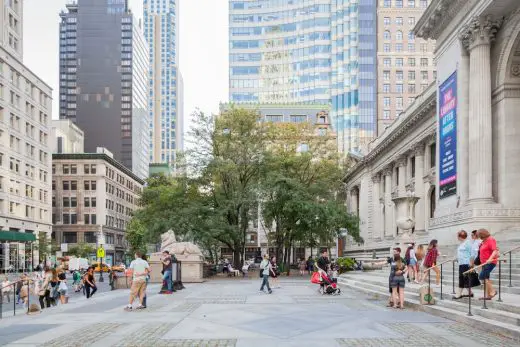 "We have developed a Master Plan that inherently adheres to the logic of a Beaux-Arts building," said Mecanoo's Francine Houben. "Our changes are both subtle and clever—to direct the flow for different user groups, for example, or to improve the quality and function of currently underused spaces."
NYPL Front close up: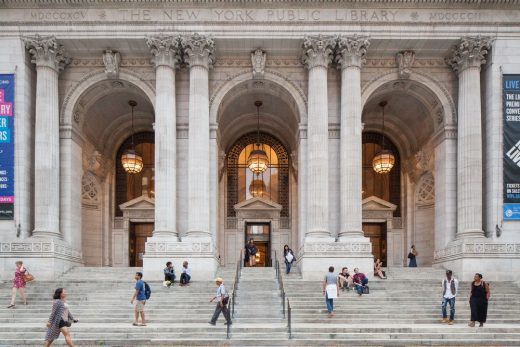 These elements will prepare the library for the future while maintaining the building's architectural integrity and complementing existing historic spaces such as the landmarked Rose Main Reading Room, the Maps, Periodicals, and Genealogy reading rooms, and Astor Hall.
NYPL Frontage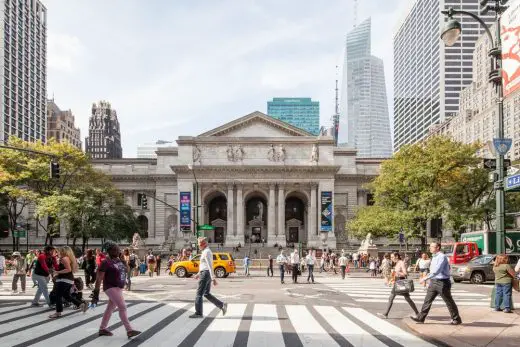 "The Master Plan builds on the framework of this historic building and icon of New York City architecture," said Beyer Blinder Belle's Elizabeth Leber. "We are seeking to instill clarity and ease of circulation, and to support new uses and programs, while only enhancing its significant architectural features."
New York Public Library Stephen A. Schwarzman Building front elevation: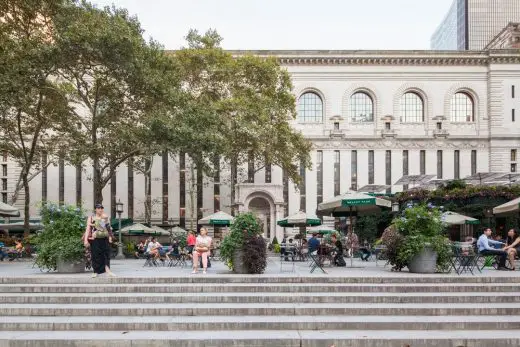 Mecanoo and Beyer Blinder Belle developed the Master Plan utilizing feedback from a variety of stakeholders, including a Trustees working group, staff, researchers and scholars, and members of the public via meetings, surveys, and smaller group discussions.
A public presentation on the master plan will be held on Monday, November 20 at 5 PM in the Schwarzman Building's Celeste Auditorium.
Renders below of proposal:
SASB new entrance on 40th Street, near Fifth Avenue: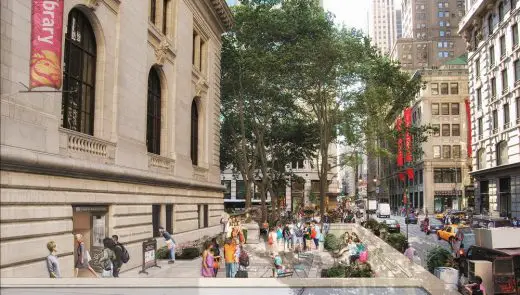 While the Master Plan does not include a definiteive plan for the central stacks—seven floors of shelving built with the library in 1911—the Library also announced at the Board meeting that it has commissioned Mecanoo and Beyer Blinder Belle to do a study examining possibilities for the 175,000-square-foot space.
SASB new exhibition spaces: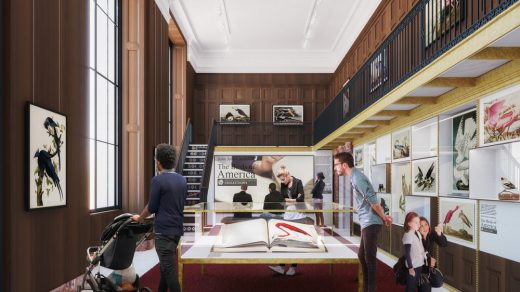 The stacks are currently housing circulating books while Mid-Manhattan Library is closed for renovation, but are no longer fit to hold research materials as originally intended for preservation reasons: the space lets in natural light and does not meet acceptable standards for temperature, humidity, and fire safety.
The purpose of the study is to evaluate the current state of the stacks, and then—with input from a broad range of stakeholders, including staff, architects, and a group of non-Library advisors and planners—to identify a series of potential options for the space. Once those possible scenarios are identified, the public will have the opportunity to provide feedback.
William Kelly, the Library's Andrew W. Mellon Director of the Research Libraries said, "The Library, through this study, plans to evaluate as many options as possible, with the primary goal of best serving the researchers who rely on this great institution now and in the future."
SASB new Lenox and Astor Room will house books and artwork by Brooke Astor: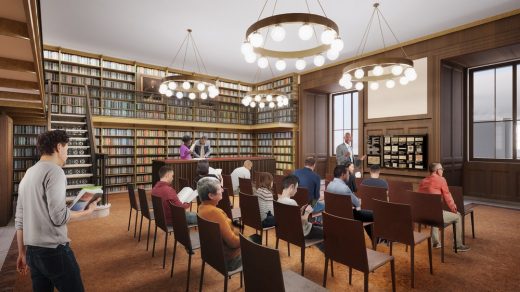 All of this work is a continuation of a series of improvements and investments that the Library has already undertaken at the Schwarzman Building since 2006. Approximately $144 million in funding has been invested in the building for projects including:
• The build-out of a second level of state-of-the-art underground storage for research materials (the Milstein Research Stacks), and the barcoding of all research materials that had been located in the central stacks
• The restoration of two historic fountains on the plaza
• The restoration of the Rose Main Reading Room ceilings and the Bill Blass Public Catalog Room ceiling and murals. Both of these spaces were landmarked this year.
• A new, modern, more efficient book delivery system to bring materials from underground storage to the Rose Main Reading Room
• Essential infrastructure improvements, such as a new fire alarm system
The new 40th Street entrance will lead to the Center for Research and Learning: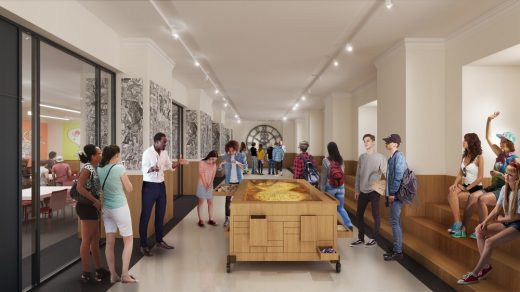 The New York Public Library is a free provider of education and information for the people of New York and beyond. With 92 locations—including research and branch libraries—throughout the Bronx, Manhattan, and Staten Island, the Library offers free materials, computer access, classes, exhibitions, programming and more to everyone from toddlers to scholars, and has seen record numbers of attendance and circulation in recent years.
The New York Public Library serves more than 18 million patrons who come through its doors annually and millions more around the globe who use its resources at www.nypl.org. To offer this wide array of free programming, The New York Public Library relies on both public and private funding. Learn more about how to support the Library at nypl.org/support.
New York Public Library Stephen A. Schwarzman Building Renewal mages / information from Mecanoo
Nov 18, 2016
New Mid-Manhattan Library Building
Design: Mecanoo and Beyer Blinder Belle, architects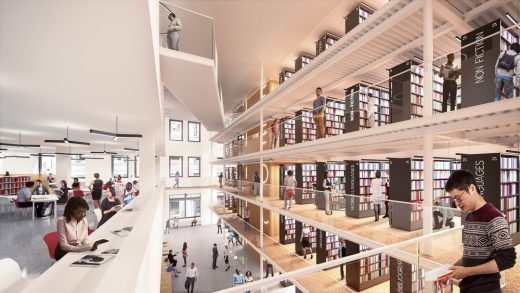 image from architect
New Mid-Manhattan Library Building
May 12, 2014
New York Public Library News
Designs for the New York Public Library abandoned
Design: Foster + Partners
In a striking about-face, the New York Public Library has abandoned its much-disputed renovation plan to turn part of its research flagship on Fifth Avenue at 42nd Street into a circulating library and instead will refurbish the nearby Mid-Manhattan Library, several library trustees sa, m reports the New York Times.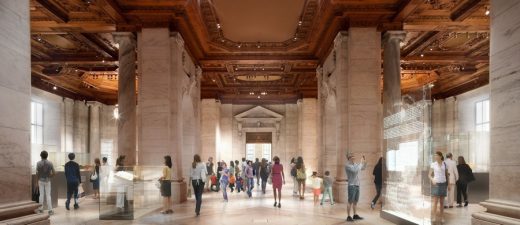 image : dbox – Foster + Partners
New York Public Library Redevelopment – Stephen A. Schwarzman Building by architects Foster + Partners
New York Public Library Building design : Foster + Partners
Address: Mid-Manhattan Library, 455 5th Ave, New York, NY 10016, USA
Phone: +1 212-340-0863
Location: Stephen A. Schwarzman Building, New York City, NY, USA
New York Architecture
New York Architecture Designs – chronological list
New York Architecture



photo from architect
425 Park Avenue – shortlisted design by Zaha Hadid:



image from architects
New York Architecture Walking Tours



photo © Joe Lekas
Manhattan Architecture – Recent Selection
425 Park Avenue
Foster + Partners wins competition for new tower



image : dbox / Foster + Partners
50 United Nations Plaza Manhattan
Ground-raising ceremony news



image : dbox / Foster + Partners
Grand Central Terminal Building
The Next 100 – Foster + Partners re-imagines Grand Central Terminal for 2013 Centenary



image : Foster + Partners
New York City Architecture Selection
One World Trade Center
Design: SOM Architects



picture : Wrightstyle
Empire State Building
Design: Shreve, Lamb & Harmon, Architects



photo © Andrew McRae
Comments / photos for the New York Public Library Stephen A. Schwarzman Building page welcome
Website: New York City