New York Public Library Building in Mid-Manhattan, NYC Architecture Images, 42nd Street
New Mid-Manhattan Library
Stephen A. Schwarzman Building, NYC – design by Mecanoo + Beyer Blinder Belle, architects
Nov 18, 2017
Stephen A. Schwarzman Building
Design: Mecanoo with Beyer Blinder Belle, architects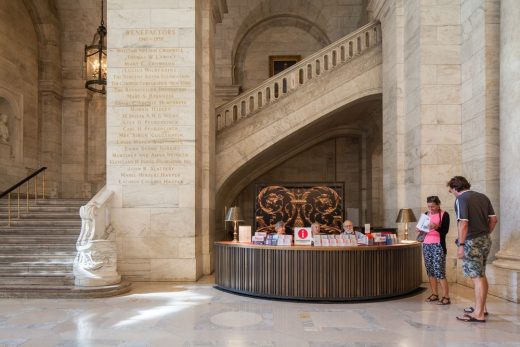 image courtesy of architects
New York Public Library Stephen A. Schwarzman Building
The New York Public Library has unveiled a $317 million Master Plan for its iconic Stephen A. Schwarzman Building. The plan calls for around a 20% increase in public space for research, exhibitions, and educational programs.
Nov 18, 2016
New Mid-Manhattan Library Building News
Designs for the New Mid-Manhattan Library Building
Design: Mecanoo and Beyer Blinder Belle, architects
The New York Public Library unveils early designs of Mecanoo-led renovation plans
Renderings show a completely renovated Mid-Manhattan Library that will serve and inspire all New Yorkers
Delft – November, 2016 – New Yorkers are getting their first look at a completely renovated, vastly improved Mid-Manhattan Library – The New York Public Library's largest circulating branch – which is set to undergo a transformation that will increase seats, expand services, and add public space. The largest public-private rehabilitation in NYPL's history will create a new, state-of-the-art library that will serve as both a model and catalyst for a rejuvenated library system.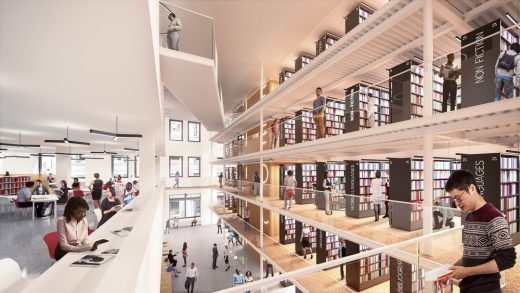 The schematic designs released by The New York Public Library provides an early idea of what the Midtown branch will look like after a complete interior renovation, which is scheduled to begin in 2018. The project is much-needed at Mid-Manhattan, which opened in the 1970s in a space originally designed for a department store. The branch receives approximately 1.7 million visits annually and circulates approximately 2 million items each year.
The schematic designs for the project were developed by the project's design team, led by architects Francine Houben of Mecanoo and Elizabeth Leber of Beyer Blinder Belle. The team worked for over a year analysing library usage data, interviewing staff, surveying the public, and meeting with community stakeholders to ensure that the new branch will best meet the needs of library patrons.
The renovated branch – located at Fifth Avenue and 40th Street – will have a dramatic, multi-storey wall of bookshelves; an employment skills centre occupying a full floor as well as an adjacent floor providing job-search help and small-business support; a full-floor dedicated to a library for children and a separate library for teens; the only free public roof terrace in Midtown; and hundreds more seats than the current branch.
"New Yorkers will soon have the central circulating library that they need and deserve," said NYPL President Tony Marx. "This library will transform lives by providing books, classes, and programs for New Yorkers of all ages, and it will transform our city – as it will be a model for how libraries can strengthen communities."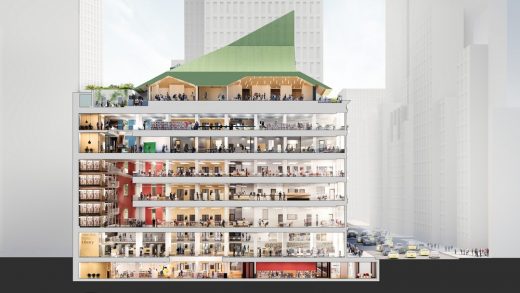 Key elements of the new Mid-Manhattan Library include:
– An over 100,000-square-foot facility, providing more public space than the current Mid-Manhattan Library and Science, Industry and Business Library combined.
– More public space (by 35 percent) than the current Mid-Manhattan Library, created by moving back-office staff out of multiple floors of the building to an adjacent facility; utilizing the roof to add an additional floor; and utilizing the lower level for the public (with a design that brings in light from the street level).
– Capacity for approximately 400,000 books and other circulating materials.
– A "Long Room" – the largest element in the new branch – offering five floors of open, browsable book stacks, and two floors of meeting rooms. The shelves will all be located on one side of the building, maximizing capacity and efficiency.
– The only rooftop terrace in Midtown that will be free and open to the public.
– A dedicated business library occupying an entire floor and offering the services and circulating collections of the Science, Industry and Business Library.
– An adult learning centre – one of the largest in the city – which will be adjacent to the business library and provide a seamless continuum of educational opportunities.
– A floor of dedicated space for children and teens; the current Mid-Manhattan does not have spaces for kids and teens.
– Approximately 17,000 square feet of general reading and study space – including seating for almost 1,500 library patrons, an increase of 30 percent over the combined capacity of the current Mid-Manhattan Library and Science, Industry and Business Library.
– Over 11,000-square-feet of multipurpose space that can be used for classes, events, one-on-one consultations, seminars, and a host of other programs, maximizing efficiency and diversity of public offerings.
"The building that was originally designed in 1914 to house the Arnold Constable department store will now really become a library," said Francine Houben of Mecanoo, the project's lead architect. "By creating the iconic Long Room for the circulating collection, dedicated spaces for children and teens, an adult learning centre and business library, plus a rooftop destination for multipurpose use, the building will inspire serendipity and the discovery of all functions of a modern library."
"The next phase of New York Public Library's Midtown branch renovation is a great step toward moving New York's public library into the 21st century," said Mayor Bill de Blasio. "The city of New York is very lucky to have such an extensive system of public libraries, and when completed, this renovated library will offer New Yorkers even more opportunities to organize, learn and study. I look forward to seeing this plan move forward, and hope this project can be a model for others to follow."
"The Mid-Manhattan Library will be a gleaming centre for reading, research, and learning in the heart of the city," said Manhattan Borough President Gale A. Brewer. "I'm proud to support this project and look forward to seeing these schematics and plans come to life."
The new Mid-Manhattan Library will cost approximately $200 million, which includes a $150.7 million allocation for the project from New York City. The Library's Board of Trustees approved the budget at its meeting tonight. The Library is currently fundraising for the project, as the remaining $50 million will come from private funds.
Mid-Manhattan will temporarily close for construction in late 2017. The renovated building will also include a business library incorporating services and resources currently housed at the nearby Science, Industry, and Business Library, which is slated to move out of its current building once the new Mid-Manhattan is ready to open. During construction, to maintain the large variety of services currently available at Mid-Manhattan, NYPL will use a combination of four Midtown buildings: the Stephen A. Schwarzman Building, on Fifth Avenue and 42nd Street; Grand Central Library; the Science, Industry and Business Library; and 53rd Street Library.
The Schwarzman Building – located across Fifth Avenue from Mid-Manhattan – will temporarily take in the primary functions of the branch, including its circulating collections, computer stations, and many of its public programs. Over the past three years, NYPL has greatly increased public space in the Schwarzman Building by reclaiming for public use several rooms on multiple floors that had been either vacant or used by staff. The Mid-Manhattan Library services will be relocated to spaces on the Schwarzman Building's ground floor in an area originally designed for public use. The Library will outfit the ground floor rooms with shelving, tables, and more, first as a temporary site for Mid-Manhattan services, and then for continued use by the public after the branch reopens. Construction on the ground floor space – work that will not impact service in the rest of the building – will begin in 2017. The Schwarzman Building will also become the permanent home for Mid-Manhattan's Picture Collection.
Grand Central Library will host Mid-Manhattan's community resources, including IDNYC and SingleStop, while technology classes and programs will be moved to the Science, Industry and Business Library, which will remain open until the new Mid-Manhattan reopens.
For updates on the Mid-Manhattan project, visit: nyplmidtown.org
New York Public Library Building Manhattan images / information from Mecanoo architecten
Address: Mid-Manhattan Library, 455 5th Ave, New York, NY 10016, USA
Phone: +1 212-340-0863
Location: Mid-Manhattan Library, 455 5th Ave, New York City, USA
New York City Architecture
Contemporary New York Buildings
Manhattan Architecture Designs – chronological list
New York City Architecture Tours by e-architect
May 2014
New York Public Library News
Designs for the New York Public Library abandoned
Design: Foster + Partners, architects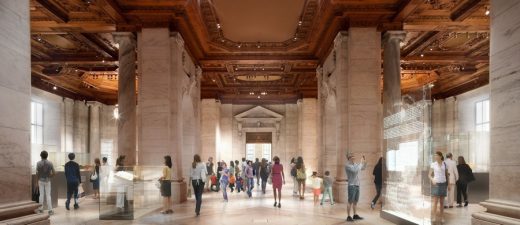 image : dbox – Foster + Partners
In a striking about-face, the New York Public Library has abandoned its much-disputed renovation plan to turn part of its research flagship on Fifth Avenue at 42nd Street into a circulating library and instead will refurbish the nearby Mid-Manhattan Library, several library trustees sa, m reports the New York Times.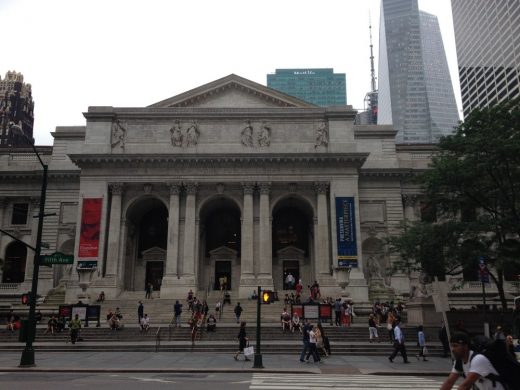 photo © Adrian Welch
New York Public Library Building design : Foster + Partners
425 Park Avenue – Foster + Partners wins competition for new tower
50 United Nations Plaza Manhattan by Foster + Partners
Grand Central Terminal Building – Foster + Partners re-imagines Grand Central Terminal
Comments / photos for the New Mid-Manhattan Library Building – Stephen A. Schwarzman Building page welcome