MVRDV Architects, Netherlands Buildings, Winy Maas, Dutch Architectural Projects, Paris, Photo, Designs
MVRDV Architecture Office
Contemporary Dutch Architecture Studio Opens in Paris, France – Rotterdam Design Office, NL
MVRDV News
MVRDV Architects News
Oct 1, 2020
Glass Mural, Detroit, Michigan, USA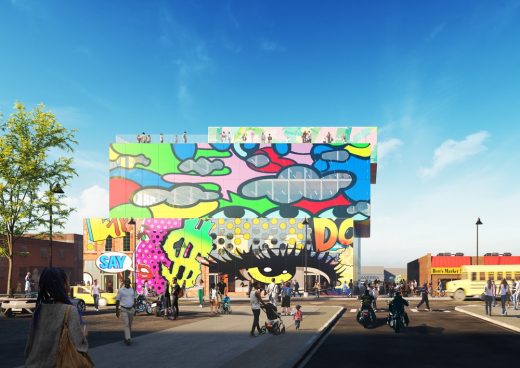 photo : MVRDV
Glass Mural Detroit
The Netherlands-based architecture and design firm MVRDV has released details about Glass Mural, a one-of-a-kind, four-story office and retail building located in Detroit's beloved Eastern Market neighborhood.
11 Nov 2019
The Imprint, Paradise City, Seoul, South Korea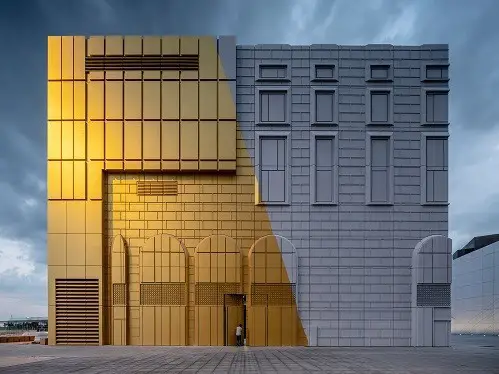 photograph © Ossip van Duivenbode
The Imprint at Paradise City in Seoul
A new 2-building art-entertainment complex close to Incheon Airport. Featuring a nightclub in one building and indoor theme park in the other, the windowless structures feature three key design elements: imprints of the façade features of surrounding buildings, lifted entrances, and a golden entrance spot covering one corner of the nightclub building.
15 Sep 2018
MVRDV Recommendations For a Resilient Future in the San Francisco Bay Area, CA, USA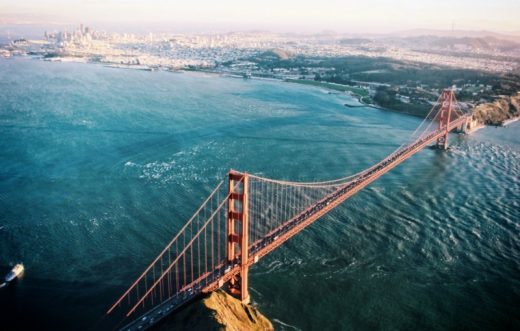 image © 2018 Kubany Judlowe
San Francisco Bay Area Recommendations by MVRDV
On September 12th at the Global Climate Action Summit in San Francisco, MVRDV presented a new report titled 'Too Much + Too Little' that offers 5 recommendations to Bay Area officials on the region's plans for a resilient future.
30 Jul 2018
The Stack for Southbank, Melbourne, Victoria, Australia
Architects: MVRDV and Woods Bagot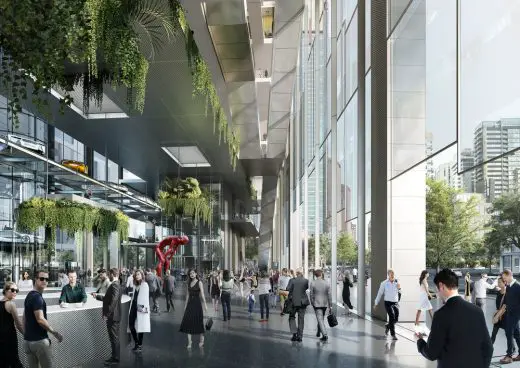 image courtesy of architects office
The Stack for Southbank
MVRDV and Woods Bagot have proposed a "new kind of skyscraper" for a landmark mixed-use site in Melbourne's Southbank. The Stack is one of six invited entries in an architectural competition organised by the site's owners Beulah International, a Melbourne-based developer known for its commitment to excellence in local design.
17 May 2018
MVRDV opens new Paris office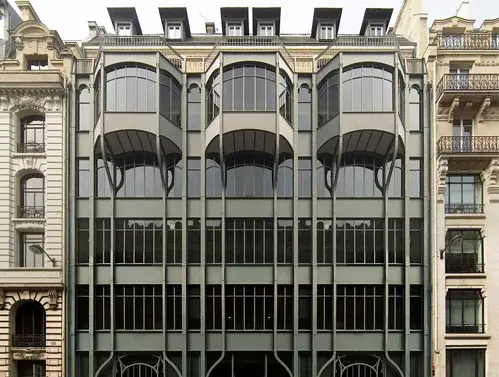 France has become an important country for MVRDV. In fifteen years, the Rotterdam practice realised various projects in France. For example, Pushed Slab (2014), a large office complex in Paris and the transformation of the Teletech Campus (2012) in Dijon.
In 2009 MVRDV, in collaboration with ACS Architects, Palo Alto, and AAF Architects and Urbanists, Paris, the firm took on the challenge of the then-president Nicolas Sarkozy to devise a masterplan for Paris and its suburbs. This resulted in Grand Paris, an urban vision for 2030. "We have already worked for a long time and intensely in France. We want to deepen that love with our presence," says Winy Maas, co-founder, MVRDV.
2018 looks promising: a start has been made with the reconstruction of the Part-Dieu shopping centre in Lyon, and with the extensive renovation of the Gaite-Montparnasse shopping centre in Paris, a porous façade connecting the mall to the street, library and station. For Bordeaux and Rennes, MVRDV designed striking apartment complexes situated next to the waterfront. The construction of Maison du Projet in Bordeaux and Ilot l'Octroi in Rennes will commence later this year.
By opening an office in Paris alongside a head office in Rotterdam and an office in Shanghai, MVRDV wants to strengthen its presence in France and provide a solid basis for future assignments. The new office will be led by architect Bertrand Schippan, who was involved in various French projects and it is located near the famous Marché de Montorgueil in a six-storey Art Nouveau building from 1905 that was designed by Gustave Eiffel.
MVRDV Architects News 2018 – latest additions to this page, chronological:
27 Feb 2018
Gaité Montparnasse, Paris, France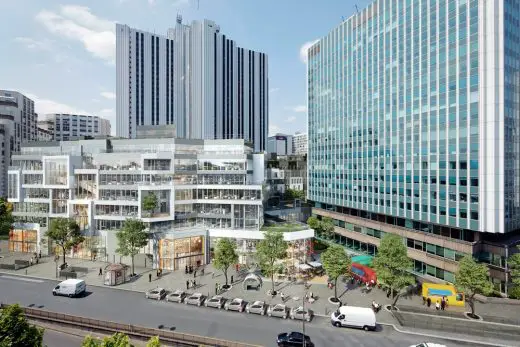 image © L'Autre Image
Gaité Montparnasse Development
Construction start for this 108,000 sqm mixed-use development on the large roof of the shopping centre Les Ateliers Gaité. The project includes a hotel, offices, social housing units and a kindergarten.
26 Feb 2018
Weenapoint Complex, Rottterdam, The Netherlands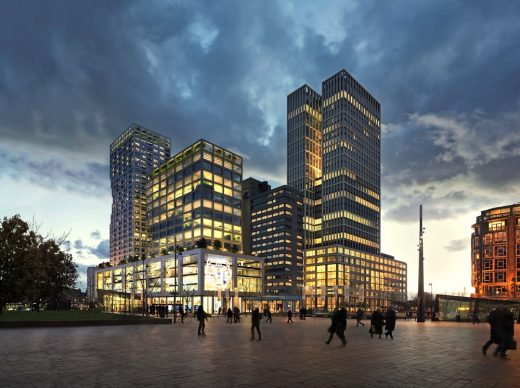 image courtesy of architects office
Weenapoint Complex
A mixed office, residential and commercial program by the Maarsen Groep. Dutch architects MVRDV was selected as architects after a design competition for this inner-city development. The complex will consist of approximately 17,000 sqm of offices, a transparent commercial plinth and between 200 to 300 apartments. Completion is set for mid-2022.
8 Feb 2018
Fabryczna offices, Lódz, central Poland
Design: MVRDV, Architects with Piotr Bilinski Architects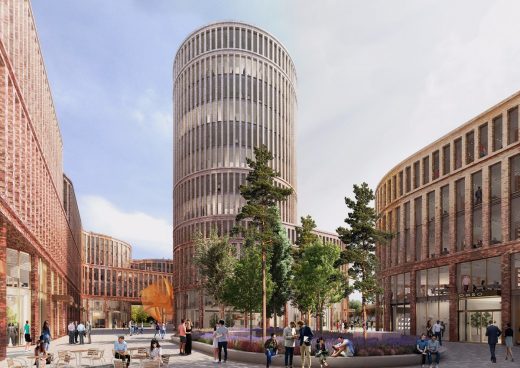 image courtesy of architects office
Fabryczna Offices Lódz
This is a proposed 13-storey office and retail building with 31,000m2 of space in Lódz. The project was commissioned by Invest Company and is due to start on site this summer, with completion set for 2020.
7 Feb 2018
The Milestone Building, Esslingen, Germany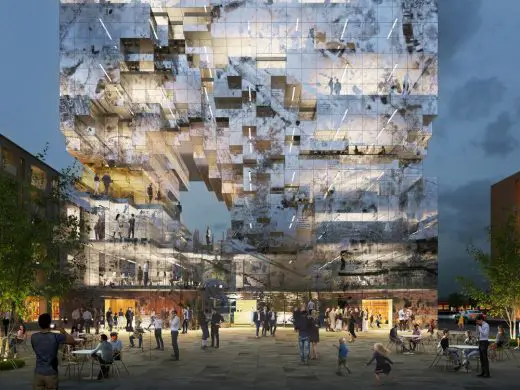 image courtesy of architects
The Milestone Building
The Milestone is a new 6,500 sqm mixed-use office building by MVRDV with a distinct part-reflective façade and open geometric core has been selected by a jury for the city of Esslingen. The building will literally be a milestone, its façade designed like a crystal rock is interactive and carries the topography of the town and messages about the history and people of Esslingen. In this sense, it will become a new landmark for Esslingen that celebrates its past whilst looking forward towards the future. RVI developers have commissioned the project and construction start is envisioned for 2020.
7 Nov 2017
MVRDV completes Tianjin Binhai Public Library, China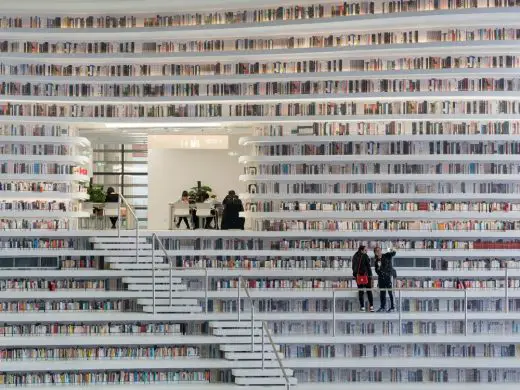 photo : Ossip van Duivenbode
Tianjin Binhai Public Library Building
This new building is a 33,700 sqm cultural centre featuring a luminous spherical auditorium around which floor-to-ceiling bookcases cascade. The undulating bookshelf is the building's main spatial device, and is used both to frame the space and to create stairs, seating, the layered ceiling and even louvres on the façade.
2 Nov 2017
The Why Factory – Research, Education and Public Engagement – TU Delft + MVRDV
Location: SpazioFMG per l'Architettura, Milan, Italy
Dates: 8 Nov – 1 Dec 2017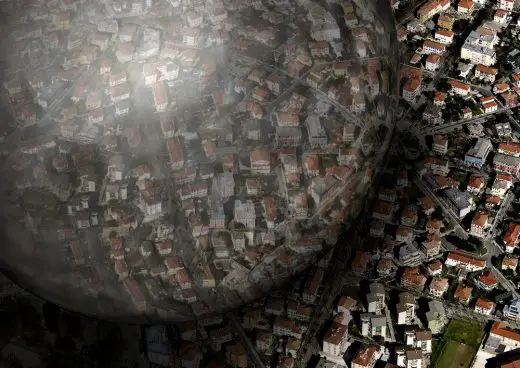 photo : Frans Parthesius
Wednesday 8th November sees the opening at SpazioFMG per l'Architettura of a new exhibition presented by the Milan gallery in 2017:
The Why Factory Exhibition Milan
6 Sep 2017
Magasin 113, Gothenburg, Sweden
Design: MVRDV and BSK Arkitekter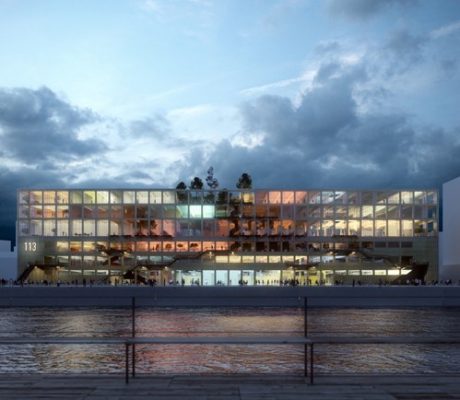 image : MVRDV
Magasin 113 Gothenburg
Vision for a former warehouse: transformation into a 16,500sqm mixed-use building located in Frihamnen RiverCity. It is one of the few remaining multi-story warehouses in this Swedish city. The cultural development with both private and public functions.
5 Sep 2017
Valley, CBD Zuidas, Amsterdam, Netherlands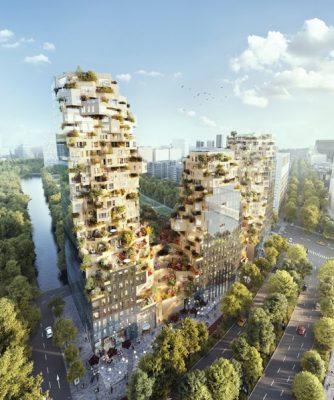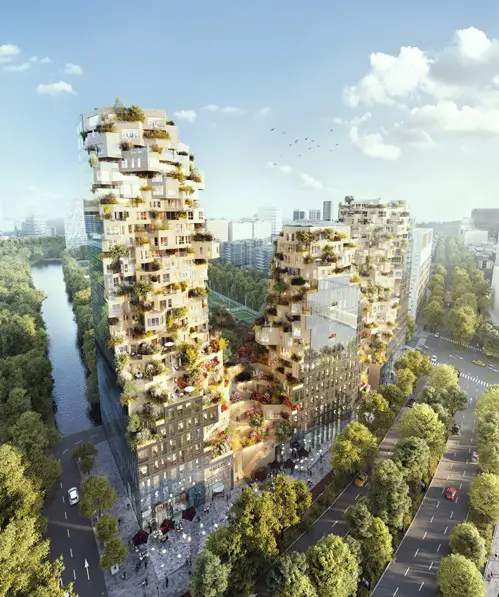 picture : Vero Visuals
Valley Amsterdam CBD Zuidas
A 75,000m2, green-terraced, mixed-use building located on the Amsterdam's Central Business District Zuidas. The design for OVG Real Estate was selected by the Municipality of Amsterdam in 2015. It will include apartments, offices, an underground parking, a sky bar and various retail and cultural facilities.
1 Aug 2017
The Sax Tower, Rotterdam, The Netherlands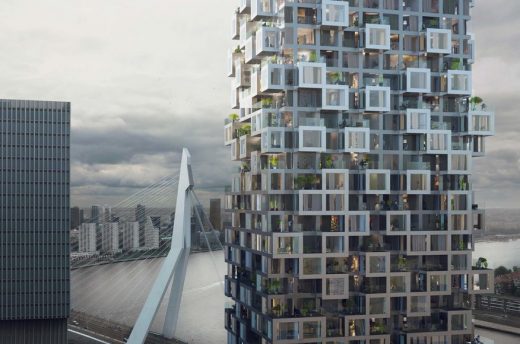 images courtesy of MVRDV and WAX Architectural Visualisations
The Sax in Rotterdam
Development partners BPD Bouwfonds Property Development, Ontwikkeling B.V. and SYNCHROON Ontwikkelaars in consultation with the municipality of Rotterdam, have been working since 2015 on the development of residential buildings Philadelphia & Havana.
15 Jun 2017
Ilot Queyries Mixed-Use Development, Bordeaux, France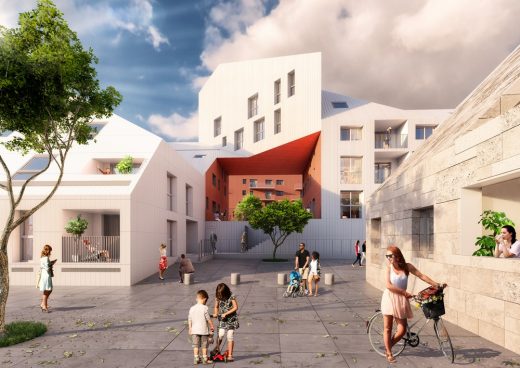 image : MVRDV
Ilot Queyries Mixed-Use Development
Designed to fully exploit this exceptional location, Ilot Queyries' facades adapt to their opposite views towards the River Garonne and the historic city.
1 Dec 2016
Y House by MVRDV in Northeast Tainan, Taiwan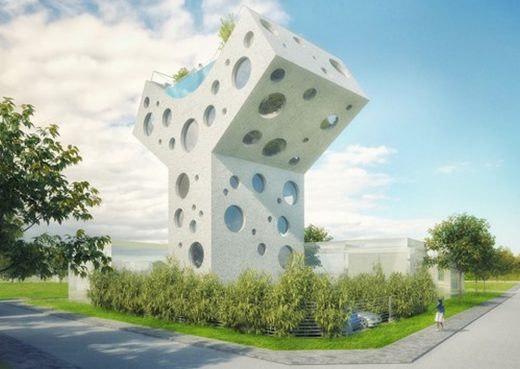 image : MVRDV
Y House by MVRDV
A private villa offering escapism from city life and a sky-high rooftop swimming pool
10 Oct 2016
MVRDV win competition for Xili sports and cultural centre Shenzhen
Design: MVRDV with Zhubo Architecture Design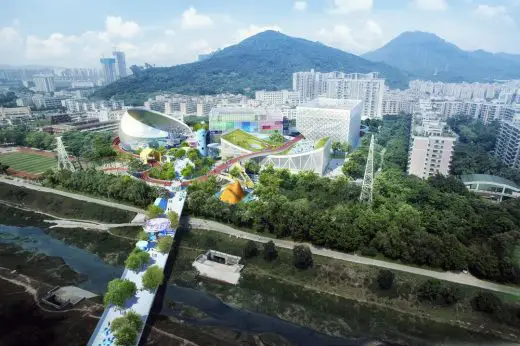 image : MVRDV
Xili Sports and Cultural Centre Shenzhen
Chinese architectural competition win: The project will bring together a wide range of activities in this new experience centre with four distinct volumes and a total surface area of 105,000m2 including a theatre, a basketball and badminton arena, a multifunctional arena and a swimming pool, set to become 'the' social and well-being focal point of Shenzhen's Dasha Green corridor.
13 Sep 2016
Hamburg Innovation Port Master Plan, Germany
Design: MVRDV with morePlatz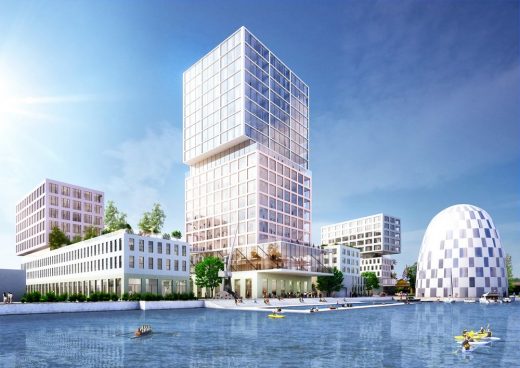 image : MVRDV
Hamburg Innovation Port Master Plan
MVRDV wins the masterplan competition of Hamburg Innovation Port, a new 70.000m2 development in Channel Hamburg, the Hanse City's southern high-tech hub. The project connects existing port typologies with urban dynamic and architectural diversity to realise a strong identity and innovation on the site. One existing hall is absorbed into the composition.
31 + 29 Aug 2016
Glasgow City Centre Regeneration Strategy, Scotland
Glasgow City Council launch the latest phase of a 10-year city centre regeneration strategy by MVRDV and Austin-Smith:Lord.
Regeneration work will focus on nine districts: Anderston ; Broomielaw ; Centre ; Cowcaddens ; Merchant City and High Street ; Sauchiehall ; St Enoch ; Townhead ; University and Cathedral.
MVRDV have a worldwide reputation for freethinking, innovative design. Designs by these Dutch architects are often exuberant. It will be interesting to see how they can weave fresh ideas into this civic renewal.
Given the amount of public realm involved one might have expected input from practices such as Gehl Architects (Jan Gehl, architect and urban design consultant based in Copenhagen) or GROSS MAX (Edinburgh-based award-winning landscape architects with a reputation for work at the cutting edge of landscape design).
However Austin-Smith:Lord (offices across the UK) has a good pedigree in civic renewal. The Glasgow studio was responsible for the award-winning revitalised town centre public realm in Helensburgh.
Initial consultations for the Sauchiehall district outlined the need for an urban park over the M8 near Charing Cross, providing better cycle and pedestrian access.
The focus now switches to Broomielaw, Blythswood, Central and St. Enoch.
Stakeholders are invited to bring forward ideas and opinions to Winy Mass of MVRDV and Graham Ross of Austin-Smith:Lord.
Ref. news further down this page dated 3 + 2 May 2016 – Glasgow City Centre District Regeneration Frameworks
18 Jul 2016
MVRDV House – Our House in the Middle of the Street, Rotterdam, Netherlands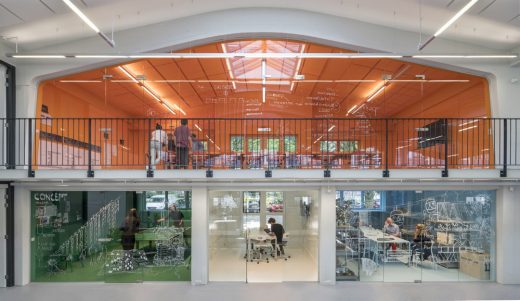 photograph © Ossip van Duivenbode
MVRDV House Rotterdam
MVRDV has moved into the MVRDV House, their new offices in central Rotterdam, marking a new chapter for the expanding architectural practice. The new location, in the iconic post-war monument Het Industriegebouw, is situated in the heart of Rotterdam's city centre and is moments away from the firm's Markthal.
23 Jun 2016
Tianjin Binhai Library, China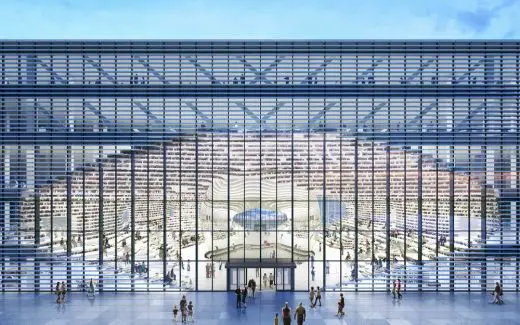 image from architects firm
Tianjin Binhai Library Building
MVRDV are nearing the completion of a library in Tianjin, China. The 34,200 m2 building forms part of the new Binhai Cultural Centre, the masterplan of which was designed by German architects GMP, and joins four other buildings through a series of 'cultural corridors'.
3 + 2 May 2016
Glasgow City Centre District Regeneration Frameworks, Scotland
MVRDV and Austin-Smith:Lord to lead regeneration of Glasgow's City Centre Districts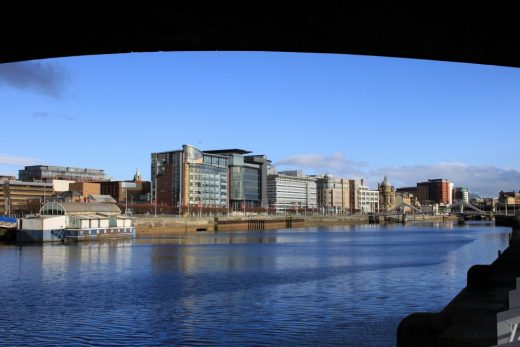 image from architectural office
Glasgow City Centre District Regeneration Frameworks
Glasgow City Council have appointed a team led by MVRDV and Austin-Smith:Lord, supported by Space Syntax and a multidisciplinary team, to embark on the design of District Regeneration Frameworks for four districts of Glasgow City Centre. These Regeneration Frameworks will look to create a clear urban structure to realise Glasgow's economic, cultural and social potential.
Winy Maas of MVRDV said, "We have an incredibly exciting opportunity to further elaborate Glasgow centre's potential on every scale. For the residents it is to make the city a vibrant and exciting place to live in at this moment. But we have to look ahead as well and create the plan for a city that can adapt and change in response to whatever the future throws at it; whilst at the same time capturing and developing the identity of the city and its people and further stimulating programmatic and economic development."
20 Apr 2016
Crystal Houses, Amsterdam, the Netherlands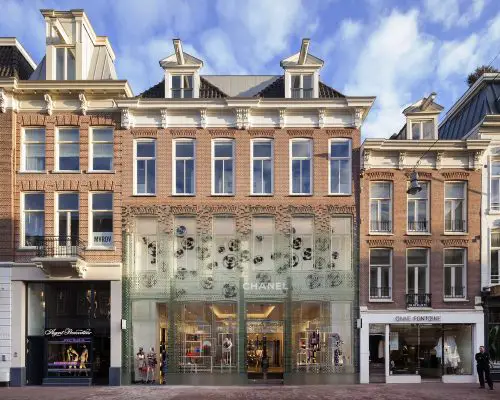 photography : Daria Scagliola & Stijn Brakkee
Crystal Houses Amsterdam
Flagship store with a replica façade made entirely out of glass: The glass doors of Crystal Houses has opened, a visionary exploration into reimagining the possible uses of glass in construction. The entirely transparent façade of a high-end flagship store on Amsterdam's upmarket shopping street, PC Hooftstraat, uses glass bricks, glass windows frames and glass architraves in a way to evoke the vernacular of the area with the goal to maintain the character of the site.
7 Apr 2016
The Stairs in Rotterdam from Stationsplein to top of Groot Handelsgebouw, Netherlands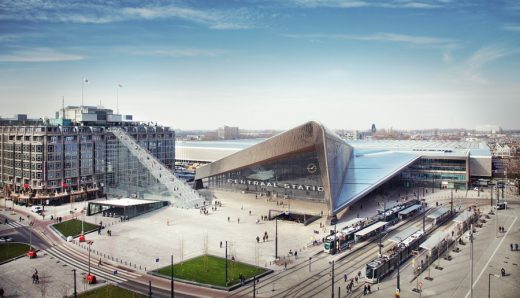 image : Frank van Dam/MVRDV
The Stairs in Rotterdam
The arrival of The Stairs follows the Rotterdam tradition of celebrating reconstruction milestones. Large cultural events often provide beautiful vantage points, such as the Euromast, which was built for the Floriade in 1960 and the cable cars on the Coolsingel for the reconstruction event C70.
1 Mar 2016
Transformation of shopping centre Part-Dieu in Lyon, France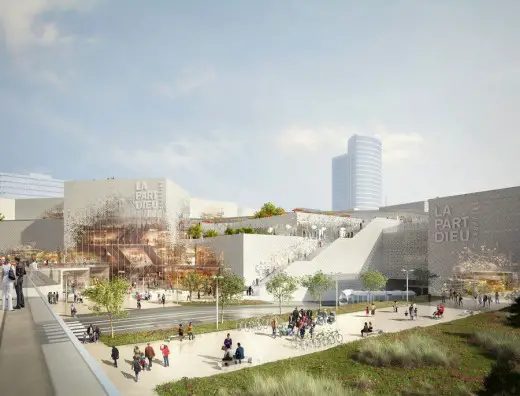 image from architect
Shopping Centre Part-Dieu in Lyon
Gérard Collomb, the Mayor of Lyon, has officially announced MVRDV's transformation of Lyon's large Part-Dieu shopping centre, the centre piece in a major renovation which includes the surrounding district.
8 Feb 2016
La Grande Mosaïque, 600 hectare urban plan in Caen, Normandy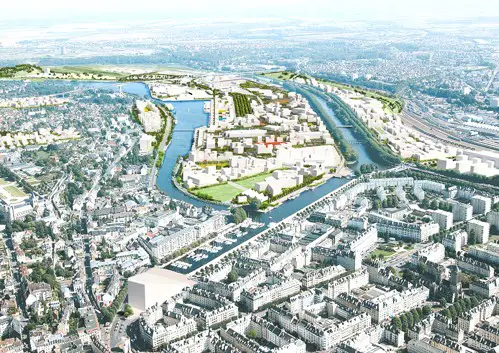 La Grande Mosaique in Caen
La Grande Mosaïque, MVRDV's urban planning project in Caen, France, has been in development for two years and has already seen a series of projects under construction within the masterplan, with many more breaking ground in the coming years. The 600 hectare masterplan tackles the problems caused by the area's heavy industry and rapid de-industrialisation, integrating the historic aspects of the site with the natural environment.
20 Nov 2015
Tainan Urban Lagoon Transformation, Taiwan
Design: MVRDV / The Urbanist Collaborative / LLJ Architects
Tainan Urban Lagoon by MVRDV
The transformation of China-Town Mall and its perpendicular axis Haian Road, which together form the T-axis, aims to re-establish the waterfront connection and provide an important stimulus to the redevelopment of the neighbourhood by encouraging the use of public spaces and creating a cohesive urban language.
16 Nov 2015
The Why Factory Publishes Research on Nanotechnology in Architecture
The Why Factory Research on Nanotechnology in Architecture
Rotterdam, November 16, 2015 – Is the end of brick and mortar near? How could nanotechnology change buildings and cities in the future? A speculation of The Why Factory on this topic is illustrated in the best tradition of science fiction in the newly published book Barba.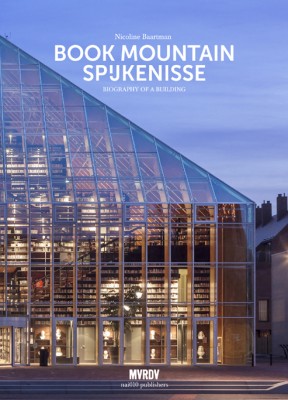 image by architects
More architectural projects by MVRDV online soon
MVRDV Architects – older building projects + alphabetical list
Location: Dunantstraat 10 3024 BC, Rotterdam, Netherlands, Europe
Rotterdam Architecture Practice Information
MVRDV Architects Background
1984-1990 – Technical University Delft, Faculty of Construction, Engineering, Departments of Architecture and Urban Design
1991 – Winy Maas co-founded MVRDV with Jacoiv van Rijs & Natalie de Vries – the 'Office of Architecture and Urbanism' in Rotterdam. He worked with Unesco and with OMA (Office of Metropolitan Architecture) in Rotterdam.
Winy Maas teaches and lectures at the Architectural Association, London, the Technical University, Delft, the Berlage Institute, Amsterdam, and the Academies of Architecture and Urban Planning in Rotterdam and Amsterdam.
MVRDV
Architects office based in Rotterdam
Dutch design studio founded in 1990/91 after winning first prize in Berlin Europan Competition
Website: www.mvrdv.nl
Dutch Architectural Designs
Borneo Amsterdam Buildings : Dutch houses by this design studio
Comments / photos for the MVRDV Architects page welcome